What's better than bombing down a forest trail, mud and dirt flying, the engine chugging along under you like an unleashed demon, and flicking the rear wheels a little sideways around the bends to get the grin on your face permanently etched there? Strange concept, but doing so safely is even better. 
We're not talking about reducing the level of fun you're having, not by a country mile. What we're meaning here is wearing good off-road gear. Boots, gloves, knee and elbow armor, maybe even full chest and torso armor. But definitely, always, and forever: wear a helmet.
Some of the best off-road helmets out there are also some of the most expensive, coming from brands such as Arai, Kryos, and the like. However, you are a budget-conscious buyer, and you want the best value for money you can get for under $300. Well, if you are that person, today's list is perfect for you!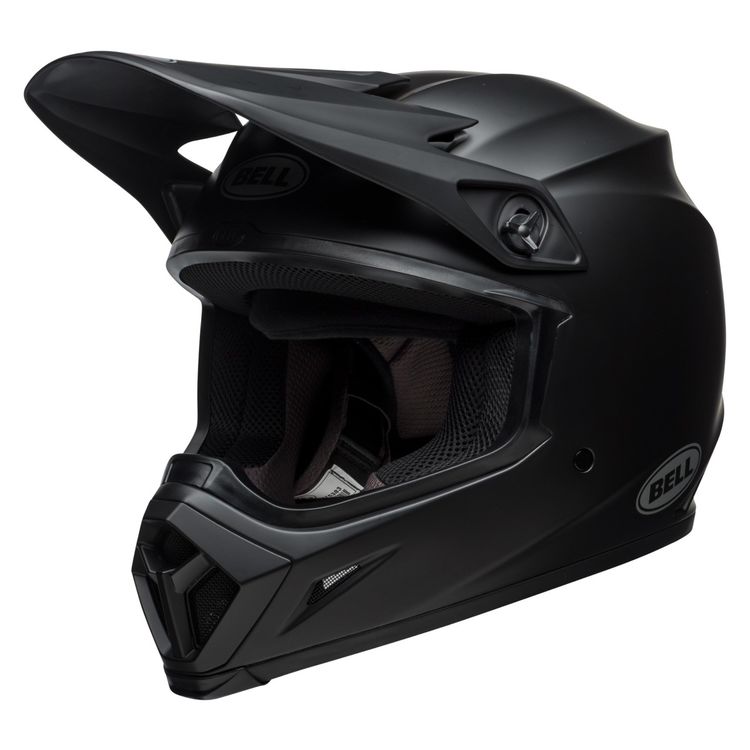 Bell MX-9 MIPS Helmet
Price: $169.95
Where to Buy: RevZilla / Amazon
Why?
The MX-9 MIPS is what you get when you combine one of the best rated, most popular off-road helmets ever with a new bit of technology. MIPS stands for "Multi-Directional Impact Protection System," and has trickled down from motorcycle racing.

What does it do? In short, it is a cradle system behind the top liner of the helmet that, in the event of an impact, it absorbs the first millisecond of rotational energy on the helmet. This diffuses the energy across the cradle, preventing that initial rotational shock from rotating the helmet itself, which in turn protects the neck from sudden rotations.
Specs:
MIPS Multi-Directional Impact Protection System for dramatically improved rotational impact energy displacement

Lightweight polycarbonate shell

3 shell sizes

SM: XS and SM Helmets

MD: MD and LG Helmets

LG: XL and 2XL Helmets

Velocity-flow ventilation system for cooling and comfort

Moisture wicking, removable/washable air channeled comfort liner

EPS-lined chin bar

Integrated vented roost guard

Padded chin strap with D-ring closure and strap keeper

Five-year warranty

DOT and ECE certified
Protection & Safety
MIPS system to prevent harsh rotations to the head or neck

Fully EPS lined chin bar for frontal impacts

Highly effective ventilation to keep your head cool without compromising safety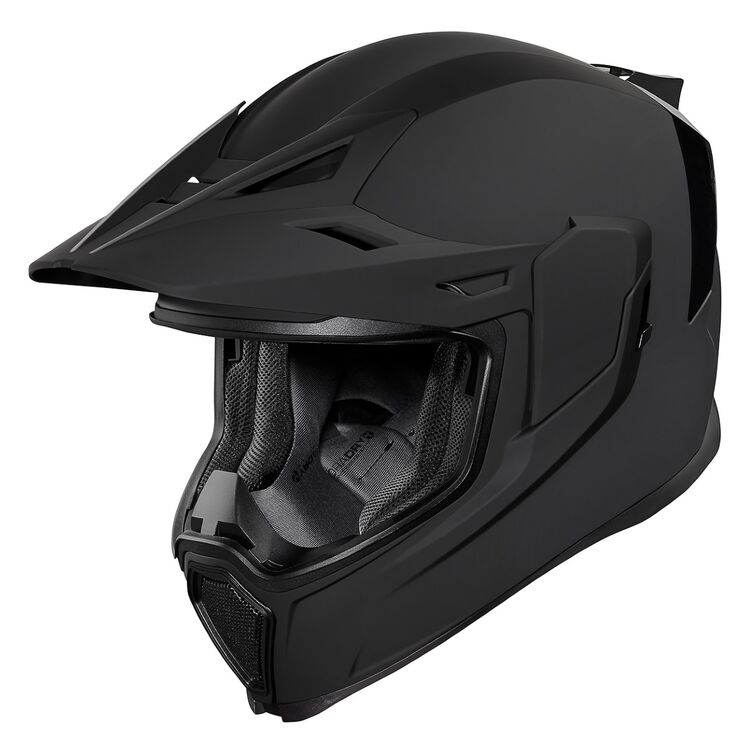 ICON Airflite Moto Rubatone Helmet
Price: $265.00
Where to Buy: RevZilla / Amazon
Why?
The Airflite series from ICON has become legendary in just how many different helmets belong to the range. The Moto Rubatone version is the perfect helmet for someone that not only rides ATV's, but also has a motorcycle and doesn't want to have to shell out for two different helmets.
The Moto Rubatone, in off-road spec, removes the clear visor and instead installs a sunpeak over the visor opening. The opening is shaped so that even the biggest of goggles will fit, and the peak is designed to break away should a crash happen. In motorcycle spec, the sunpeak comes off and a clear visor is installed. In both specs, it is fully ECE and DOT rated.
And best of all, all the ventilation is designed to work in either mode!
Specs:
Injection molded polycarbonate shell for strength

3 shell sizes: XS-SM, MD-LG, XL-3XL

Clear face shield included

Aerodynamic, removable visor peak included

Multiple oversized intake and exhaust ports

Removable side plates

Molded breath deflector

Chin curtain

Removable Hydradry moisture wicking liner

Recessed twin channel supervent cooling system

All world standard, meets or exceeds the following: DOT FMVSS 218 (US), ECE 22-05 (EUROPE), SAI AS1698 (AUSTRALIA) and SG (JAPAN) safety and testing standards. Does not ship with SAI OR SG Certification stickers unless purchased from an authorized dealer in that country
Protection & Safety
Injection molded polycarbonate shell is resistant to almost every weather condition, and is strong and elastic to disperse some impact force

Sunpeak is designed to break away in the event of a crash to disperse energy and not force pressure into the neck of the rider.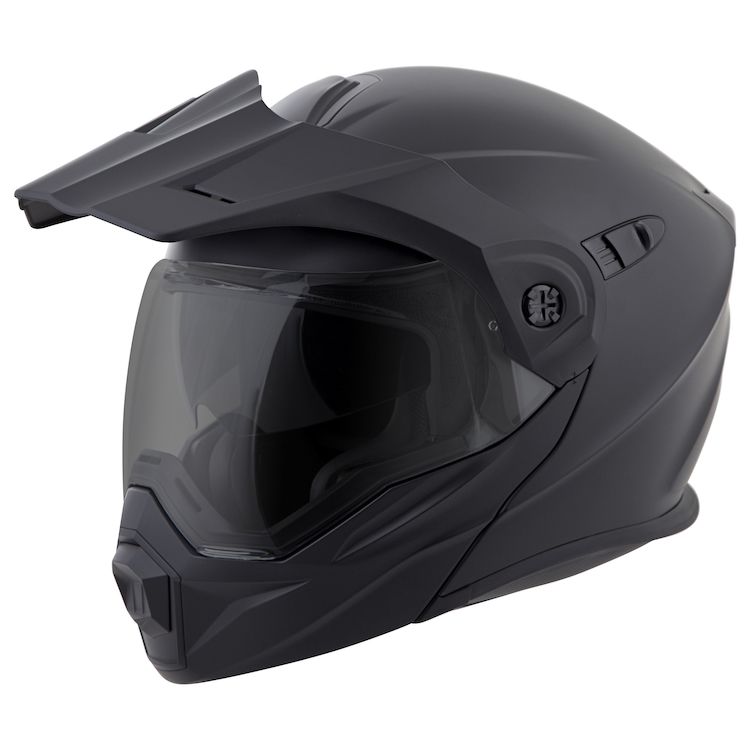 Scorpion EXO-AT950 Helmet
Price: $269.95
Where to Buy: RevZilla / Amazon
Why?
Scorpion has a well-earned reputation of making great gear at very affordable prices. This is true of the EXO-AT950, quite possibly the most feature-laden helmet in today's lineup. 
FIrst of all, it is a modular helmet, which for running around the trails and muddy fields is important if you need to do some small repairs or stop for a rest break. Simply flip up the chin bar, and the visor and peak both rotate up out of the way with it. The sunpeak is removable if you want to ride with simply the visor, and the opposite is true, with the visor removable and putting the sunpeak back on if you want to ride with goggles.
If it gets sunny, you have a drop down sunshield inside, activated by a sturdy slide switch to the left behind the visor. The visor opening is also massive, allowing you extremely good vision of the trail ahead, the obstacles ahead, as well as peripheral vision to catch things coming at you from the side.
Check out webBikeWorld's review of the Scorpion EXO-AT950 helmet.
Specs:
Advanced LG Polycarbonate shell engineered to be lightweight, strong and maximize impact displacement

Dual Density EPS advanced multi-layer EPS provides superior energy displacement

Intake vents on top force cool air in while exhaust vents maximize movement of hot air out of the helmet

Dual position mouth vent 1st position acts as defroster and 2nd position acts as defroster and ventilation

Ellip-Tec

Ratchet System uses an elliptical motion that creates 7.6mm of travel which pulls the shield securely against the eye port, ensuring a proper seal and allows for 100% tool-less shield changing in a matter of seconds

EverClear No-Fog Face Shield optically-clear shield with state-of-the-art fog-free technology, anti-scratch hardened coating, 100% UV-A & UV-B protection

Wide eye port (11cm tall) allows for greater peripheral vision and downward visibility

EverClear SpeedView drop down sun visor features EverClear anti-fog coating on both surfaces

KwikWick II anti-microbial helmet liner keeps you cool and dry in warm weather, and warm in cool weather

Kwikfit cheek pads allow easy on and off of the most common styles of eye glasses.

Easy-use flip-up chin bar allows the chin bar to be raised or lowered with either hand.

Communication system speaker pockets

Removable block off plates included for use when visor is not on helmet

Folding metal visor hardware

DOT

5 year warranty

3 shell sizes
Protection & Safety
Chin bar latch system is strong, stainless steel against stainless steel

Full dual density, multi-layer EPS foam protection

In all configurations except with the chin bar raised, fully DOT compliant and can be, and often is, used as an ADV motorcycle helmet alongside use on the ATV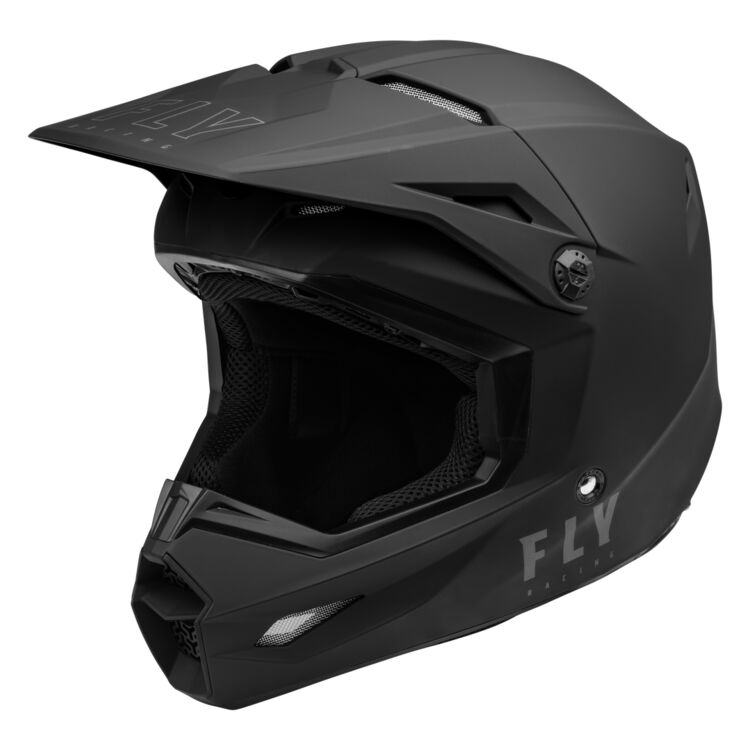 Fly Racing Dirt Kinetic Helmet
Price: $139.95
Where to Buy: RevZilla
Why?
Quite possibly the best value helmet of this list (we won't say cheap because it's not "cheap"), the Fly Racing Kinetic Helmet will do everything the ATV rider of today wants a helmet to do. 
The shell is made of a polymer alloy to be both robust in strength, but elastic enough to absorb some impact energy. It is backed by dual density, dual layer EPS foam for energy absorption. But where the helmet truly stands as a great all around helmet is the excellent ventilation. Riding an ATV hard along the trail gets you warm, and having a helmet with proper ventilation to both feed you cool, fresh air and whisk away heat and perspiration is key.
It should also be mentioned that the Fly Racing Kinetic carries some of the best safety certifications you can achieve, including ECE 22.06, the new EU certification for 2022 and beyond that is extremely stringent. In other words, you can go wheelin' with the assurance that you have one of the best "budget" helmets in the market on your head.
Specs:
Durable and lightweight polymer shell

Dual-density EPS (Expanded Polystyrene) liner

Custom molded rubber trim with integrated nose guard

Three shells and four EPS sizes provide a precise fit

Removable and washable comfort liner and cheek pads absorb sweat while providing ventilation

All FLY helmets have TFV (True Functional Ventilation). When in motion air is forced through multiple air intake vents, then passed through aligned vent channels in the EPS and exits out multiple rear exhaust vents

High-flow mouthpiece is replaceable

Soft fleece helmet bag

DOT approved

ECE 22.06 Certified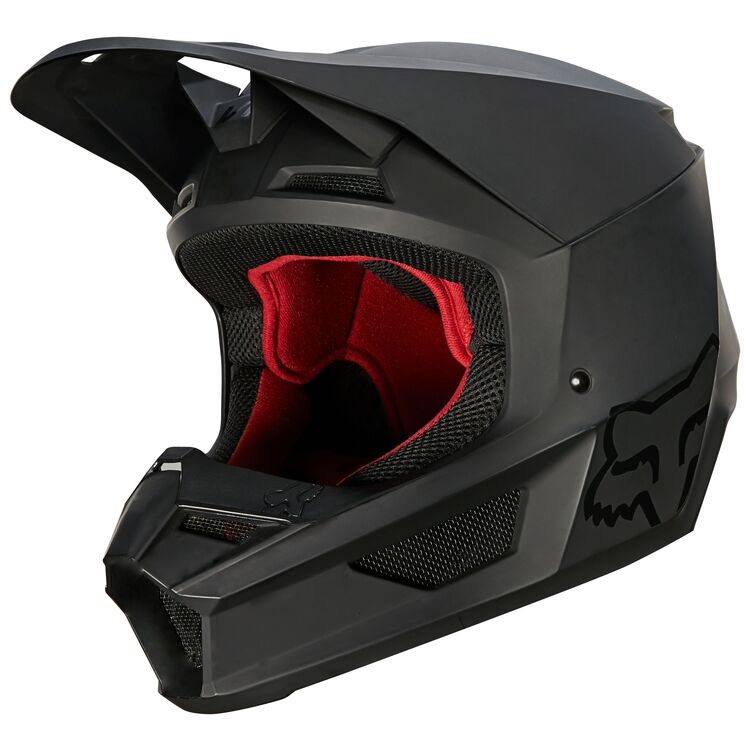 Fox Racing V1 Matte Helmet
Price: $179.95
Where to Buy: RevZilla / Amazon
Why?
Fox Racing is a name nearly synonymous with off-road adventure through some type of motorized vehicle with two or more wheels. As such, the V1 Matte helmet is one of the best helmets to have ever come from the legendary company.
Not only is the helmet made of injection molded polycarbonate, not only does it have dual density, multi-layer EPS foam for impact energy absorption, it also is the only other helmet apart from the Bell MX-9 to feature a MIPS rotational protection system. 
It also features a magnetic sunpeak release system that pulls the peak away from the helmet during a crash or impact, reducing any torsion on the head or neck. It also, as evidenced by the multiple grilles all over the helmet, features insane ventilation. 
Specs:
Multi-Directional Impact Protection System (MIPS)

Lightweight, injection molded polycarbonate and ABS shell construction

4 shell and 4 EPS sizes for a precise fit

Magnetic Visor Release System (MVRS)

Removable, washable comfort liner and cheek pads

9 intake vents and 5 exhaust vents

Meets ECE 22.05 and DOT certification
Protection & Safety
One of three helmets in this list to meet the much more stringent ECE 22.05 regulations

MIPS system to prevent twisting and torsion of the head and neck

Sunpeak release system uses magnets to attach the peak to the helmet, meaning it will simply come off if exposed to enough force, preventing torsion to the head and neck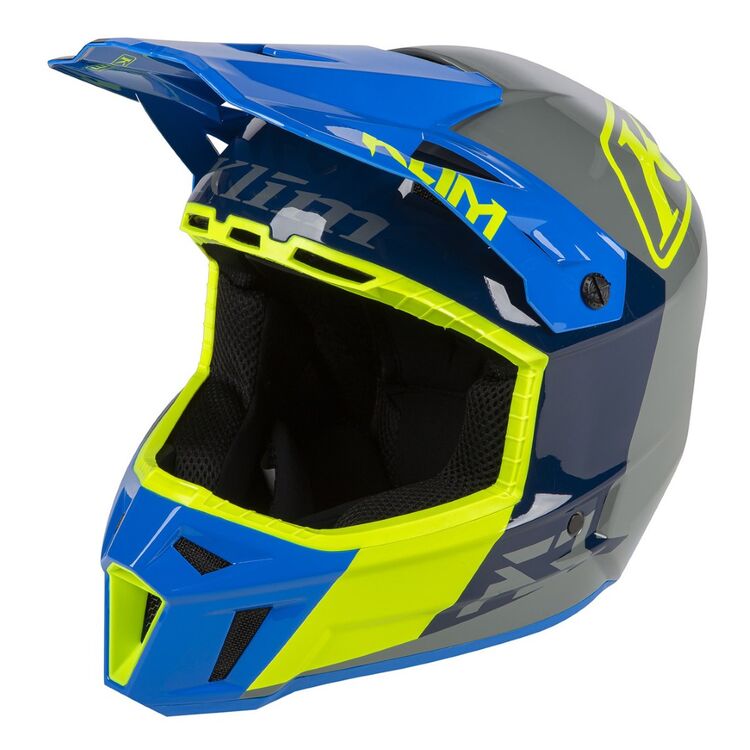 KLIM F3 Prizm Helmet
Price: $279.99
Where to Buy: RevZilla / Amazon
Why?
KLIM is the name in the adventure and adventure touring motorcycle space, so it only fits that they also make some of the best off-road helmets. The F3 Prizm helmet features KLIM's patented Structure Mapped Composite, layering up the shell to make it lightweight but extremely strong. 
The EPS layers inside are dual-density, and specially shaped to provide the most protection from the most angles. Because of this, KLIM was able to stuff a simply unbelievable 13 intakes and 6 exhausts for ventilation, meaning that it is literally impossible to overheat in this helmet.
The liner and padding are all designed with the most head sizes and shapes possible considered and should fit 90% of people that try this helmet on. As well, the helmet can work either on its own or be combined with a neck brace system for competitive ATV races.
Specs:
Engineered to minimize neck fatigue and maximize impact protection

Constructed with KLIM's Structure Mapped Composite base material lay up, the F3 optimizes strength in all the right areas while reducing overall weight

Three shell sizes: SM, MD-LG, XL-4XL

Effective intelligent ventilation system with thirteen intake vents combined with six exhaust ports to provide optimal heat dispersion even while stationary

Features the widest unobstructed field of view in its class

Custom EPS and internal liner systems to secure the rider's head completely

3D ergonomic cheek pads and liner foam are optimized for a great fit

Works in conjunction with market leading neck brace technology

Meets or exceeds ECE and DOT standards

Klimatek Fabric liner systems utilize adaptive smart foam technology and anti-microbial/bacterial fast-wicking textiles
Protection & Safety
KLIM's Structure Mapped Composite makes the shell the strongest where the most impacts happen, while keeping the rest of the helmet strong and resilient

Massive ventilation prevents overheating, preventing heat related exhaustion while riding

EPS foam is customized to absorb the most energy from the most common angles, while remaining strong throughout the helmet

Meets and exceeds ECE 22.05 stringent testing standards