The 12th Annual 
web

BikeWorld.com 

Motorcycle Product of the Year Awards! Best Wishes for a Great 2017!

December 31, 2016 – Best wishes to all of our visitors, contributors and affiliates for a happy, healthy, joyous and prosperous 2017!

2017 brings the 18th year that webBikeWorld has been online and the webBikeWorld Motorcycle Product of the Year Awards are a webBikeWorld New Year's tradition.

This is when we recognize our favorite motorcycle products and accessories, chosen from all of the interesting gear we reviewed in the prior year.
w

BW

 Motorcycle Product of the Year Awards

The criteria for a webBikeWorld Motorcycle Product of the Year is simple: it's a product which, in our opinion, combines the most unique, interesting and useful features along with good value to make it stand out from the crowd.

Just as in the webBikeWorld product reviews, the Product of the Year Award is completely subjective and totally unscientific. You may or may not agree with our choices and that's perfectly fine.

Note that the award categories vary from year to year, depending upon the products and our whimsy.
Thanks to YOU!
As always, webBikeWorld wouldn't be what it is without the support of millions of motorcyclists from around the world like you who support the site.
And don't forget the hard-working evaluators, reviewers and contributors who deliver the detailed reviews.
Your opinions and our high-quality, detailed reviews have made webBikeWorld.com the world's largest motorcycle product review resource, with millions of visitors each year from over 200 countries around the world.
Support 
web
BikeWorld.com
Managing and maintaining webBikeWorld takes a lot of cash and I would like to thank all of our visitors for supporting the site through your purchases by clicking through these links to RevZilla,Twisted Throttle and Amazon.com.
I have a sincere request for 2017. We need your support to keep this website going. How? It's simple. Just click through any of the webBikeWorld affiliate advertisements before you buy any motorcycle product.
Each sale generates some revenue and that's what keeps webBikeWorld running.
Like it or not, that revenue is what keeps this website going. So please use our affiliate advertisers, all of whom have been vetted by us to provide outstanding service to the motorcycling community.
I have deliberately kept advertising to a minimum, with a focus on the product reviews and I will keep on doing that as long as you continue to use the webBikeWorld affiliate links.
You don't see any advertisements on the home page, nor will you ever see a popup ad or "interstitial" ad (those nasty ads that hijack your web page) or those fake news ads like you do on all those other websites and you don't see ads in our YouTube videos.
So please continue to click through any of the webBikeWorld Affiliate links you'll find on webBikeWorld to purchase any and all of your gear from our outstanding affiliate retailers.
To make it even easier, feel free to bookmark this page and just click through one of our affiliates before you buy any motorcycle gear.
And don't forget: by using the carefully selected webBikeWorld affiliates, you'll get the best deals and the best customer service in the business.
Best Wishes for the New Year!
From all of us to all of you, best wishes for a healthy and prosperous 2017!
Rick Korchak
webBikeWorld.com
Owner, Editor and Publisher

Motorcycle Product of the Year: NOLAN N87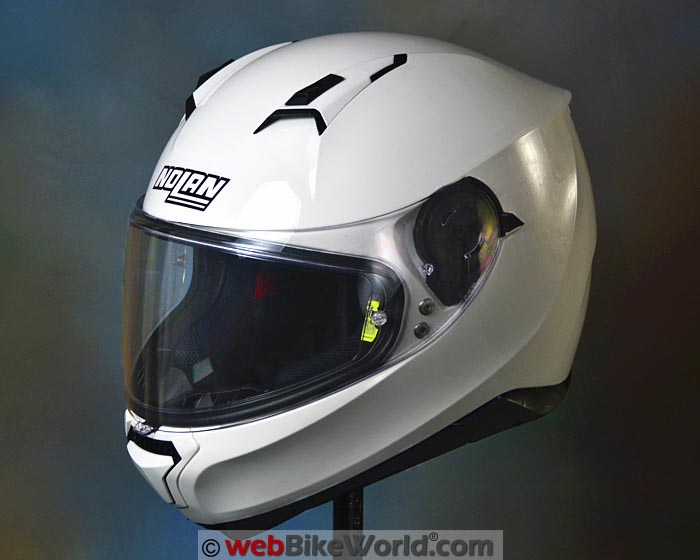 There's no doubt about this one, the Nolan N87 (review) is the standout product of the year in any category.
It has style, performance, comfort and every feature you need in a motorcycle helmet, all at an amazingly low price.
That's why the Nolan N87 gets the overall webBikeWorld Motorcycle Product of the Year Award!
---
Motorcycle Product of the Year
Category: Motorcycle Gloves
KNOX ORSA GLOVES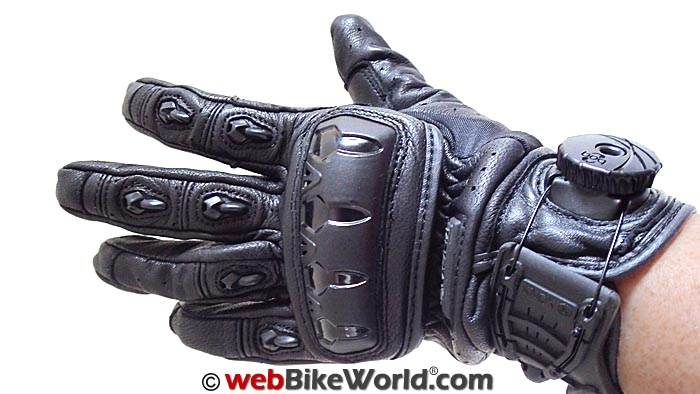 Motorcyclists have been searching for a combination of two hard-to-find features in hot-weather riding gloves: comfort with protection.
After nearly a year of riding in varied European conditions, the Knox Orsa gloves (review) have proven their mettle.
They're cool and comfortable for summer, yet they have all of the protective features you'd expect from Knox.
And they're CE certified to EN13594:2012 for everything from design and construction to the pH value of the leather. Even the perforations were specially designed to meet the standard.
And, of course, the CE certification also includes abrasion resistance, impact resistance and tear and seam strength.
Here's the bonus: the Boa lacing system ensures a snug and comfortable fit.
On top of all that, the goat hide leather is soft and pliable.
That's why the Knox Orsa gloves get the webBikeWorld Motorcycle Product of the Year Award in the Motorcycle Gloves category!
---
Motorcycle Product of the Year
Category: Action Cameras
SENA TUBE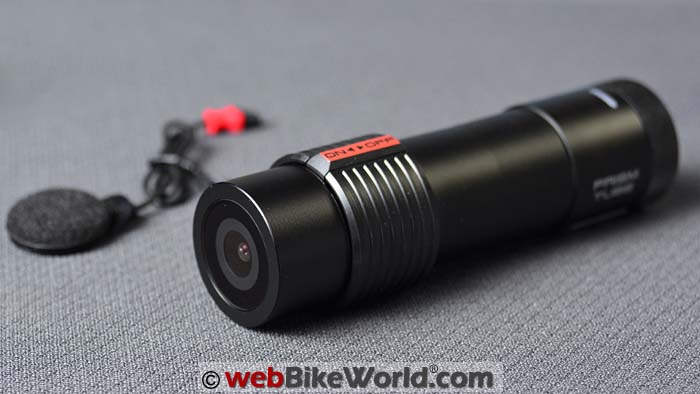 Almost all action cameras fail when it comes to mounting on a motorcycle or helmet. Not theSena Tube (review).
It's super easy to use, it comes with the best helmet mounting system available today and it takes excellent quality video.
Bonus: it even has an add-on microphone to capture your voice as you narrate the ride!
Double Bonus: the $119.00 list price.
No, it's not a continuous recording dash cam and it won't record the 3 hours of boring continuous video that no one wants to watch and you won't be able to edit anyway.
If you want a motorcycle front and rear dash cam, get the INNOVV K1 (review). If you want to record hours-long clips, you'll need to feed your audience Red Bull.
But when you just want to capture some fun video without the hassle, the Sena Tube is the only way to go.
That's why the Sena Tube gets the webBikeWorld Motorcycle Product of the Year Award for the Motorcycle Action Camera category.
---
2016 Merit Awards
The INNOVV Power Hub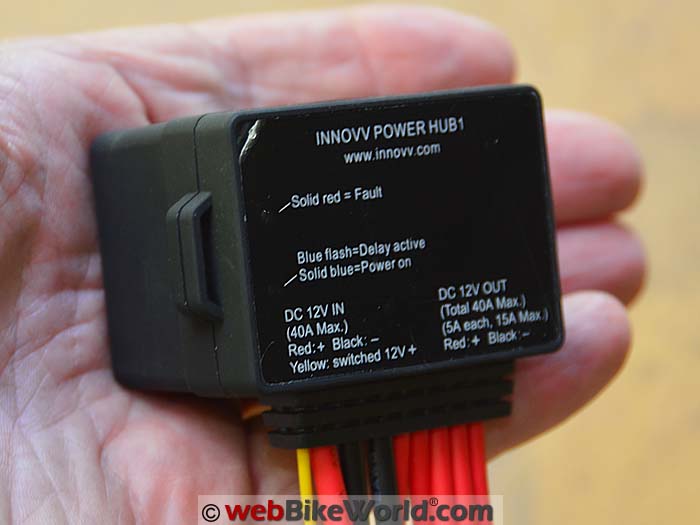 Two products deserve honorable mentions for 2016:
INNOVV Power Hub
The INNOVV Power Hub (review) allows you to connect up to 5 different accessories such as lights, horns, power outlets and more.
It's powered with the ignition so it turns on and off with the bike. A shared ground connection keeps everything tidy.
It's simple, easy to use and rugged. And it's very inexpensive.
---
The Kawell LED Light Bar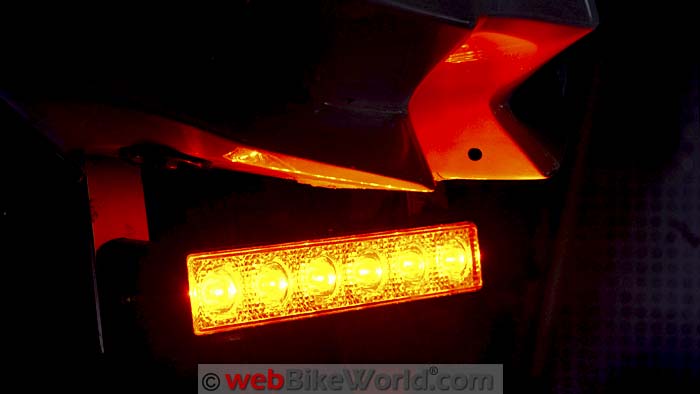 Kawell LED Light Bar
We took a chance on the Kawell LED Light Bar (review), which isn't really designed for motorcycles and we liked it so much, there are now 7 of them in use between three of us.
It's bright but not overwhelming, it's ruggedly built, it uses micro power, it's dirt cheap and it makes any bike much more conspicuous to oncoming traffic.
Get one — or two — in amber or white for just $19.99 and maybe — just maybe — you'll win the fight against those texting SUV jockeys.
Best wishes to everyone for a happy, healthy, safe and prosperous 2017!
Master Listing of All wBW Motorcycle Product Reviews
Note:
 For informational use only. All material and photographs are Copyright © webWorld International, LLC since 2000. All rights reserved. See the webBikeWorld® 
Site Info page
. Product specifications, features and details may change or differ from our descriptions. Always check before purchasing. Read the
Terms and Conditions
!
Owner Comments and Feedback