So, you're a new rider. Maybe you just passed your riding test or took a training course. You might even own a bike already. No matter what, you're at the beginning of your motorcycling career, and there's one thing you shouldn't overlook at this stage—the proper gear.
Gear can save your life. It can save you a lot of pain. It can also make your riding experience better. Many new riders see gear as a hindrance. That's the wrong way to look at it. Proper gear is as important as a proper bike.
Why You Should Never Ride Without Gear
If you read motorcycle magazines or talk to motorcyclists at all you'll hear discussions of accidents. Some stories are worse than others, but everyone knows at least one person who has had a serious accident or died while riding.
Gear won't keep you from getting in an accident, but it will help keep the damage of that accident as low as possible. You've probably heard people say you should wear All The Gear All The Time (ATGATT). I'm a fan of it. You're taking a pretty stupid chance if you don't get your gear on before every ride.
On a much less serious note, gear can help you stay comfortable in addition to staying safe. The right jacket can keep you warm when the temperature drops. Also, with how motorcycle jackets and gear are vented now, you'll stay comfortable even when it's warm out. It's all about having the right gear.
The Gear You Need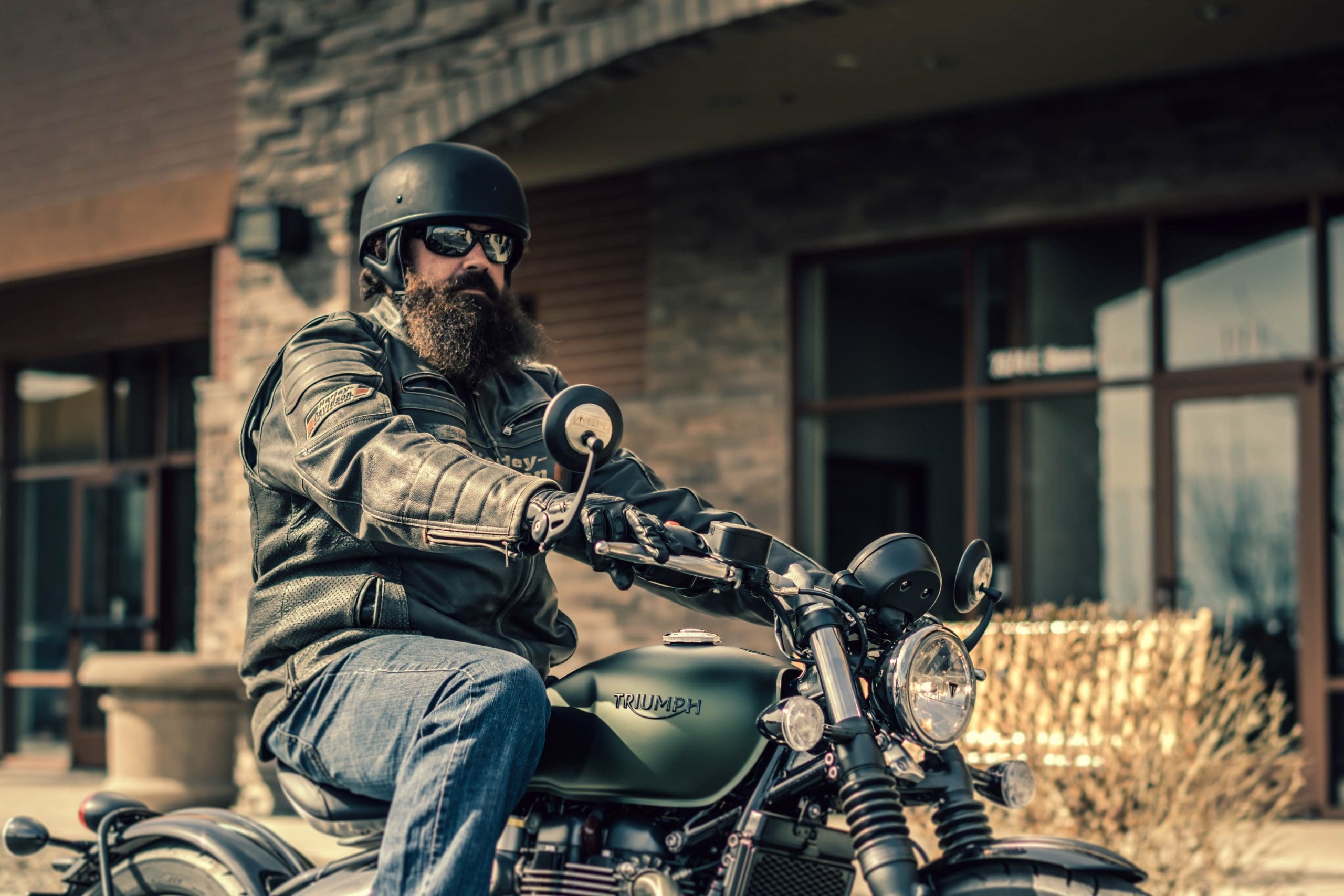 As a beginner motorcyclist, you might just think you're going to get a helmet and call it good. Don't make that mistake. There are countless stories out there of people who just wore a helmet and regretted it.
Your helmet is an important part of gear, but it's far from the only piece of gear you need.
You must wear a helmet, jacket, gloves, pants, and boots that are designed for motorcycling. This will keep you the safest and the most comfortable. Now, let's take a closer look at each piece of gear you need.
Motorcycle Helmet
Your helmet is probably the most important piece of gear. As I mentioned above, most important doesn't mean it's the only piece you need to have. The helmet will keep your head, and in the case of a full face helmet, your face as safe as possible in an accident.
There are many different helmets out there at a variety of price points, so saying you don't have the money for one won't fly. If you can afford to buy the bike, you can afford a quality helmet.
Types of Helmets
Helmets come in a variety of designs. You can get a half helmet, open face helmet, modular helmet, or full face helmet. There are also helmets designed for specific types of riding like off-road or dual sport.
You first need to understand that a full-face helmet provides the best protection. I know a lot of guys that despise full-face helmets though. So my advice is to choose the type of helmet that fits your riding style. A half helmet isn't suitable for a dirt bike rider. It's better than nothing, but if you're riding off-road get a helmet designed for it. The same goes for any other style of riding.
Once you know how you plan to ride, you need to think about what you want. Do you want the wind on your face or do you favor the higher level of safety that comes with a full-face lid. If you're really going to practice ATGATT you'll opt for a full face.
Personally, I prefer either a full-face helmet or a modular one. The modular gives you an option between full face and open face, which is why they're extremely popular. With all that said, let's look at some smart modular options for beginner riders.
Shoei Neotec 2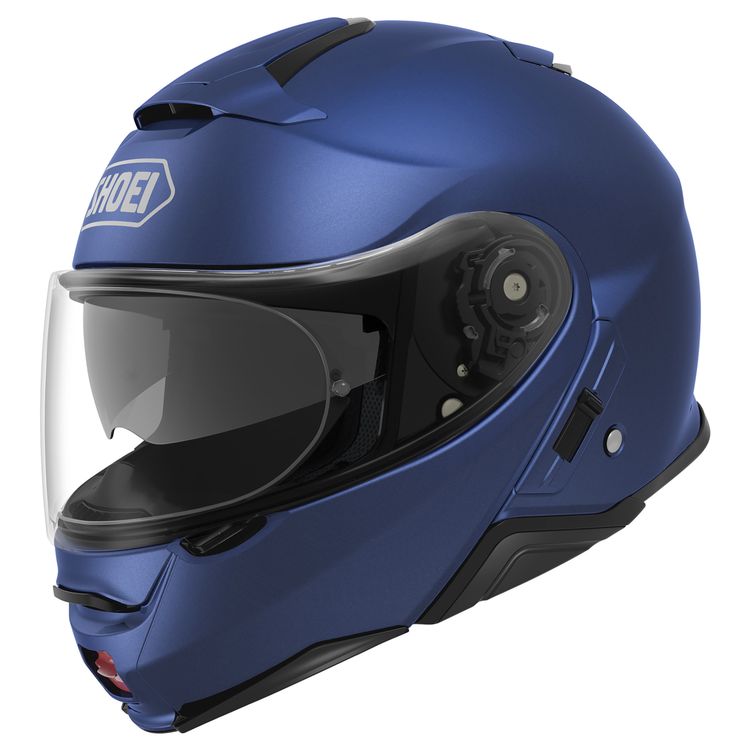 If you're looking for a top-of-the-line helmet with excellent features, the Shoei Neotec 2 is a smart choice. While the modular helmet can be may be out of your price range, it is one of the best modulars on the market, with an aerodynamic shell, light overall weight, and plenty of desirable features.
Shark EVO One 2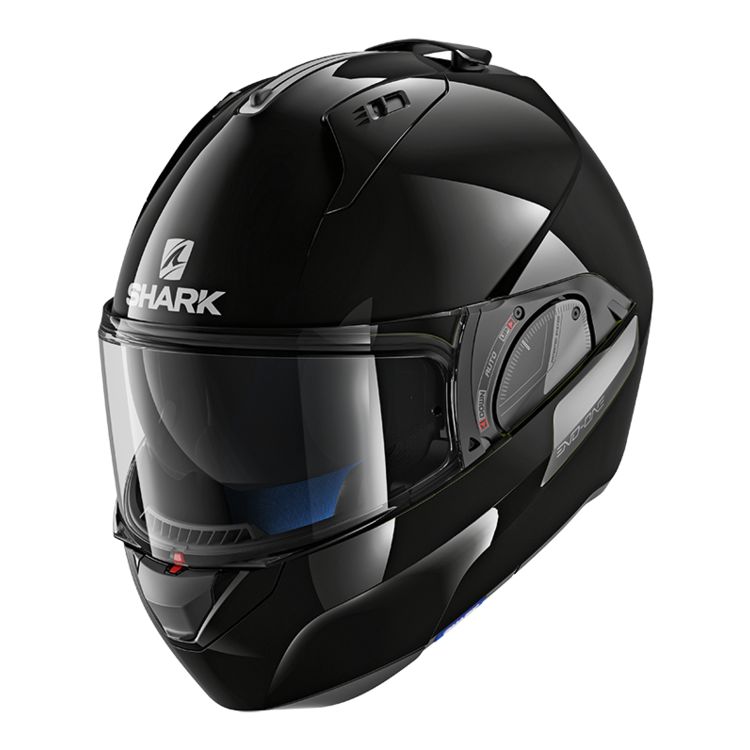 Similar things can be said for the Shark EVO One 2. The helmet is a smart take on the modular design and comes with a long list of features and an aerodynamic shell. The helmet comes in at a reasonable price, too, which is nice if you don't want to drop a ton of money on the Shoei Neotec 2 shown above.
GMax MD01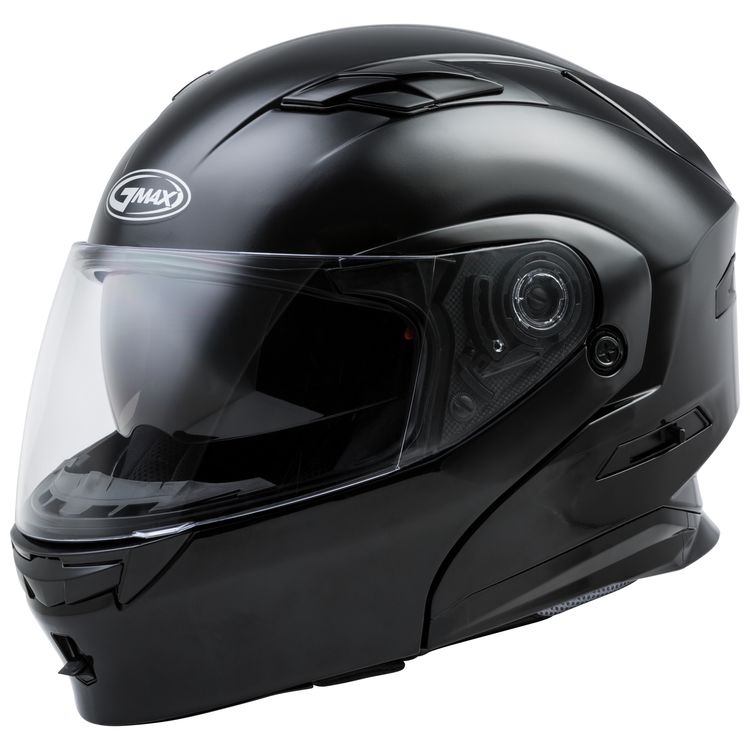 If you're looking for a bargain buy, the GMax MD01 is a good choice. It offers some quality protection and a long list of features, including a dropdown sun visor, a removable and washable liner, scratch-resistant face shield, and internal speaker pockets.
If these choices don't jive with what you're looking for, there are plenty more high quality helmets out there. Look for helmets with ECE, and SNELL ratings. A DOT approved helmet is legal for riders in the U.S. but DOT approval doesn't always mean you've got a good helmet.
Motorcycle Jacket
When it comes to a good motorcycle jacket, you have several choices. While style might be one of your concerns, you need to think about protection first and foremost. Look for jackets with removable internal armor or pockets for it and proper venting.
You're bound to end up with several jackets over time. I like having different jackets for different times of the season. However, for your first jacket, look for something that's going to be good in a general sense..
Types of Jackets
Motorcycle jackets fall into three main categories: leather, textile, and mesh. As you can imagine, textile and mesh jackets will breathe better and generally have a more modern look. Leather jackets are more likely to have a retro style and be more stylish overall.
All types of jackets can provide fantastic levels of protection, depending on the product. You want to stick to well-known and well-liked brands here.
In addition to choosing a leather, textile or mesh jacket, you also need to think about the style of rider you are and get a jacket designed for it. Jackets built for sportbike riders are contoured and built to be most comfortable while tucked in on a sportbike. Jackets for touring offer long-distance comfort and protection from the elements.
Think about how you ride and then look for a jacket that suits you. With that said, many beginners will be best-served by a jacket that can be worn just about anywhere and on any bike. Here are a few to check out.
Roland Sands Ronin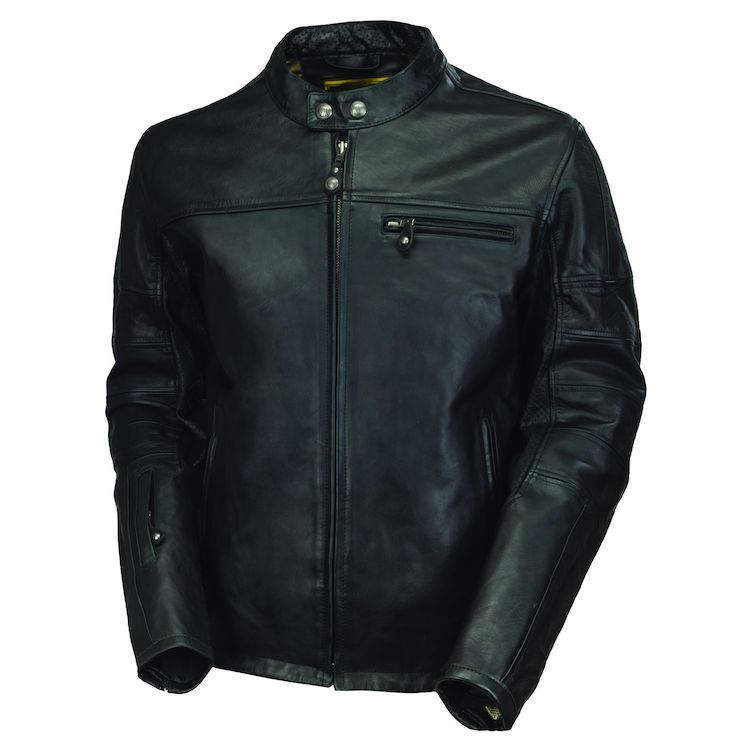 Roland Sands Design makes some of the best gear out there. However, you're going to pay a premium price. Take this Ronin leather jacket, it comes with strong leather, retro style, and is ready for the addition of armor for added protection. The jacket has venting at the sleeves and waist adjustment.
REV'IT! Gibson Jacket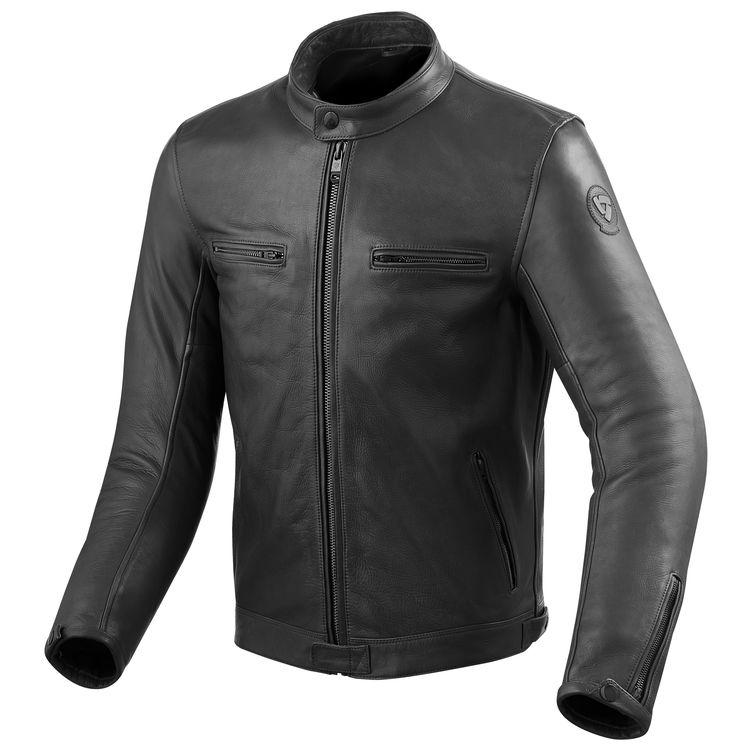 If the Roland Sands jacket is a little too much, but you like the style and features, then consider this REV'IT! Gibson Jacket. It has perforated leather interior trim, perforated venting on the sleeves, zippers on the cuffs, soft-lined interior pockets for your smartphone, and pockets for armor in the elbows, shoulders, and back.
Joe Rocket Atomic 5.0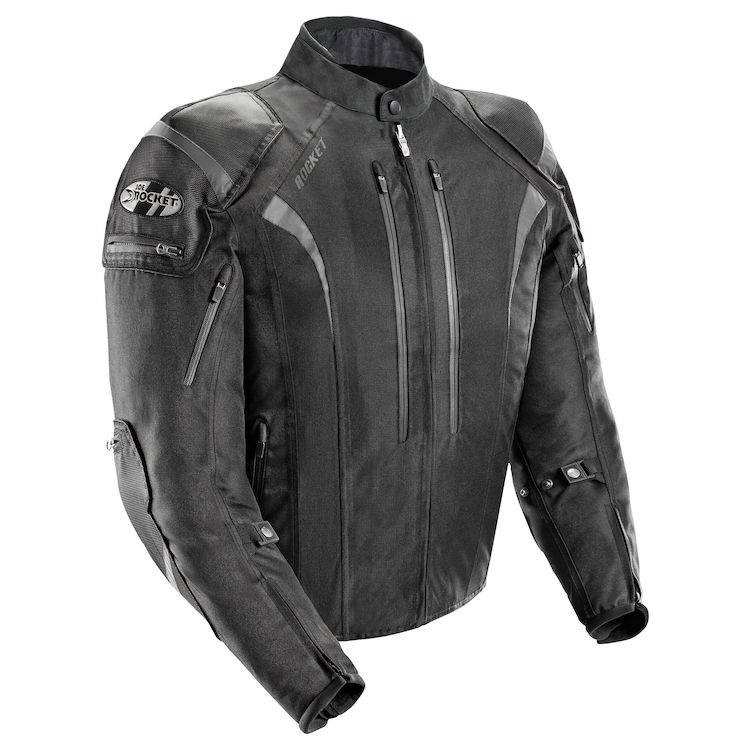 If you don't want a leather jacket and need something pretty versatile, the Joe Rocket Atomic 5.0 jacket is a good option at a bargain-level price. It features tons of vents for airflow, CE armor that's accessible via external pockets, a six-point adjustable fit system, and a removable insulated liner. It's also waterproof and comes in a wide variety of colors.
If the jackets above aren't what you're looking for, you'll be able to find other options, and many good options at an affordable price point. Look for a jacket that offers quality construction, pockets for armor, and at least a little venting for airflow.
Motorcycle Gloves
Gloves are an extremely important piece of gear. If you go down, your hands are going to hit the pavement. They need some protection. They're also the first thing on your body that's going to get cold.
A good pair of gloves will go a long way towards making your ride as enjoyable as possible. Look for gloves with reinforced areas at the knuckles and palms.
Types of Gloves
There are leather gloves and textile gloves. Both offer fantastic protection and most textile gloves will have some small panels of leather.
Gloves are typically designed for a specific use. This is no different when it comes to motorcycle gloves. You'll find gloves made for off-road riding, street riding, sport riding, and nearly every other facet of the motorcycling world.
You'll also need to decide between gauntlet-style gloves or gloves with a shorter wrist area. What's best depends on your riding style and the rest of your gear. I personally prefer short gloves with a leather exterior, but gauntlet gloves offer seriously good protection.
Held Air N Dry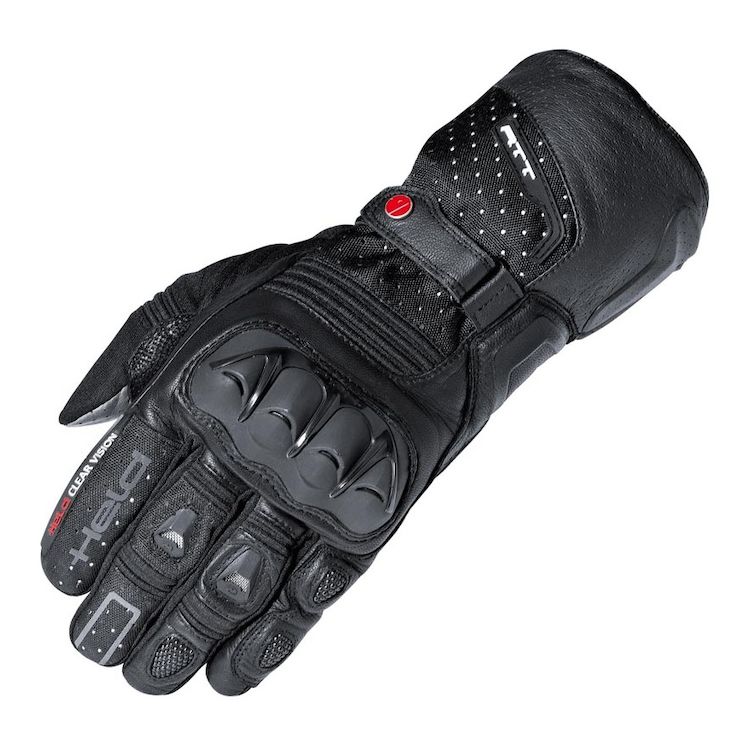 The Held Air N Dry gloves are a top-quality piece of gear. The innovative design has two channels for your hand. One features a Gore-Tex waterproof liner and the other doesn't. This gives you some options depending on the weather. Pair that with quality construction and some other interesting features, like a visor wipe on the index finger, and you have a glove that's designed to do it all.
REV'IT! Fly 2 Gloves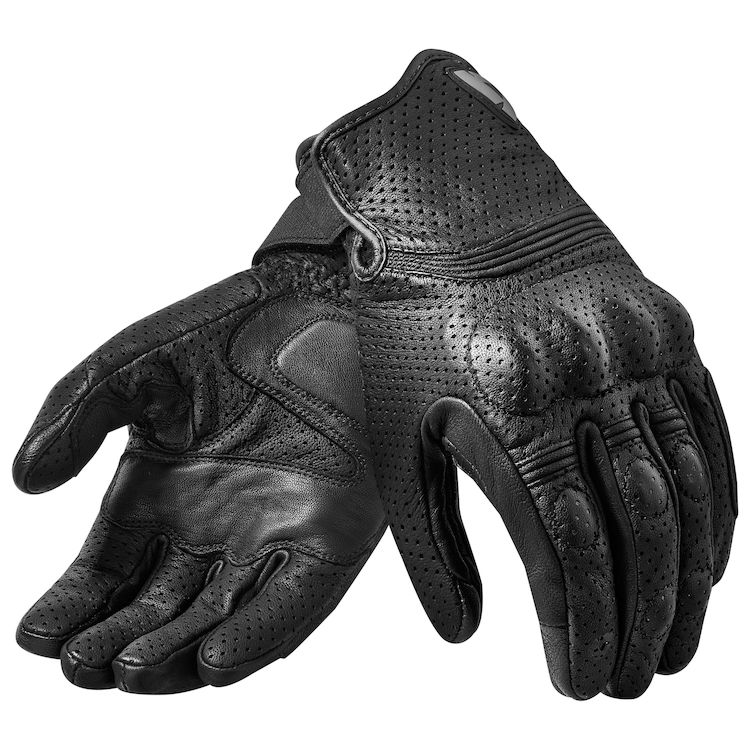 If the pair of gloves above is too expensive or complicated for you, then how about something at the other end of the spectrum? These REV'IT! Fly 2 gloves offer a goatskin leather construction with a hard-shell knuckle and a reinforced palm. The liner is polyester and almost all of the leather is perforated for good airflow.
Dainese Blackjack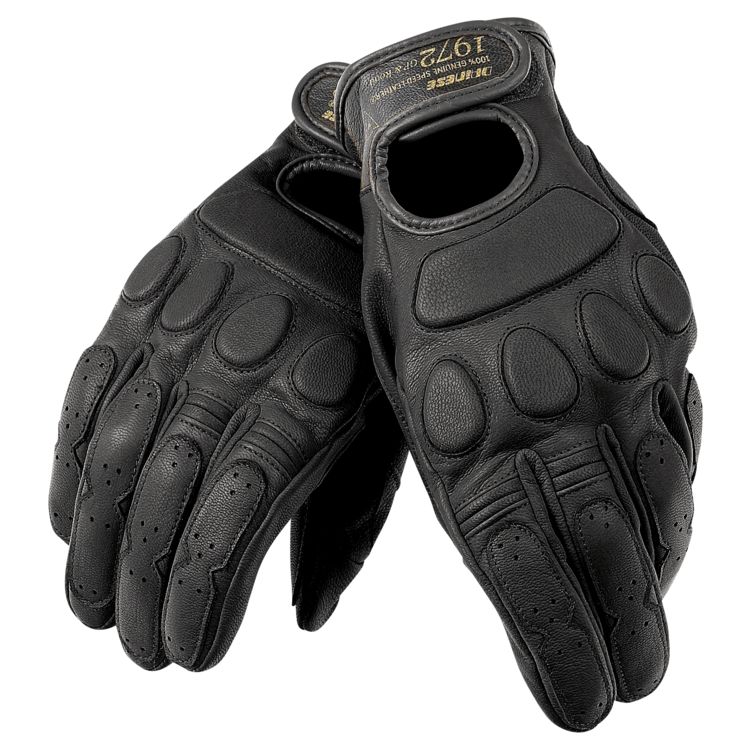 If you're looking for a more affordable but still stylish pair of gloves, Dainese has you covered with the Blackjack. These goatskin leather gloves are pretty simple, but they get the job done. They feature leather reinforcement through the palm, pre-curved fingers, soft inserts on the knuckles and back of the hand, and a hook and loop wrist closure.
Your choice of gloves can differ from the selections above. There are many different pairs of good motorcycle gloves. Look for something that's going to offer comfort and protection in a variety of environments.
Motorcycle Pants
Pants are an often overlooked piece of gear that's actually extremely important. If you do go down, you backside, hips, and knees are likely to be sliding across the pavement.
A good pair of motorcycle pants will help keep you from getting some serious road rash or suffering an even worse injury. Comfort is key here, because you don't take the pants off once you get to your destination like you do with your helmet, gloves, and jacket. Modern motorcycle pants and jeans are also pretty stylish. It doesn't just have to be about protection.
Types of Pants
You'll be able to find riding pants in a variety of materials, including textile, mesh, and leather. Each different material has its own merits and faults. There's also a growing number of high-quality motorcycle jeans out there.
While motorcycle jeans don't provide the best level of protection, they can be had at an inexpensive price point and offer a look that doesn't let the whole world know you just got off a motorcycle, which is something a lot of guys prefer.
Klim Kodiak Pants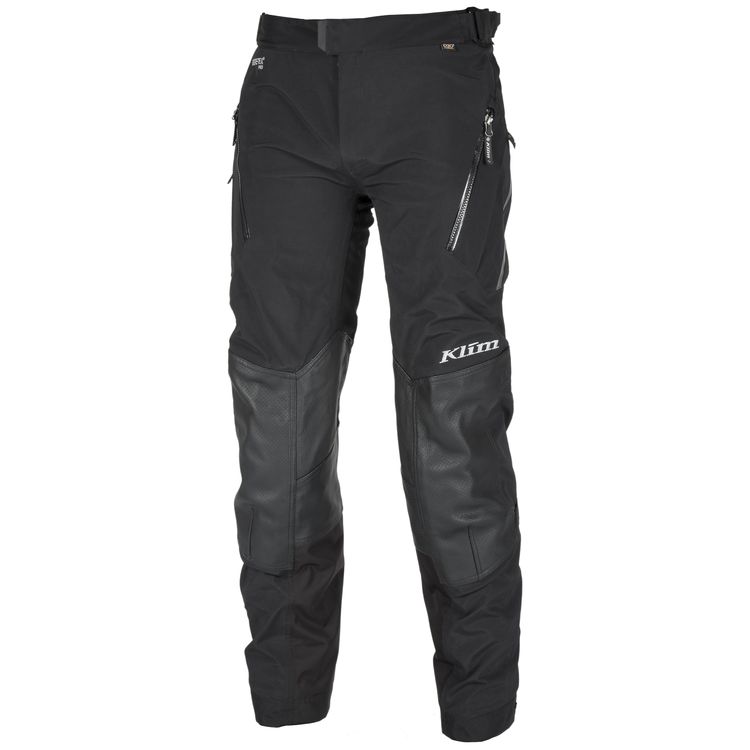 Klim's Kodiak pants were designed for the ADV community, but they'll work well for any rider, really. The long list of features and quality protection is what makes them worthy of consideration and their high price tag. They come with a Gore-Tex liner, armor in the hips and knees, intake vents for airflow, and a slimmer fit than many other pants out there.
REV'IT! Ignition 3 Pants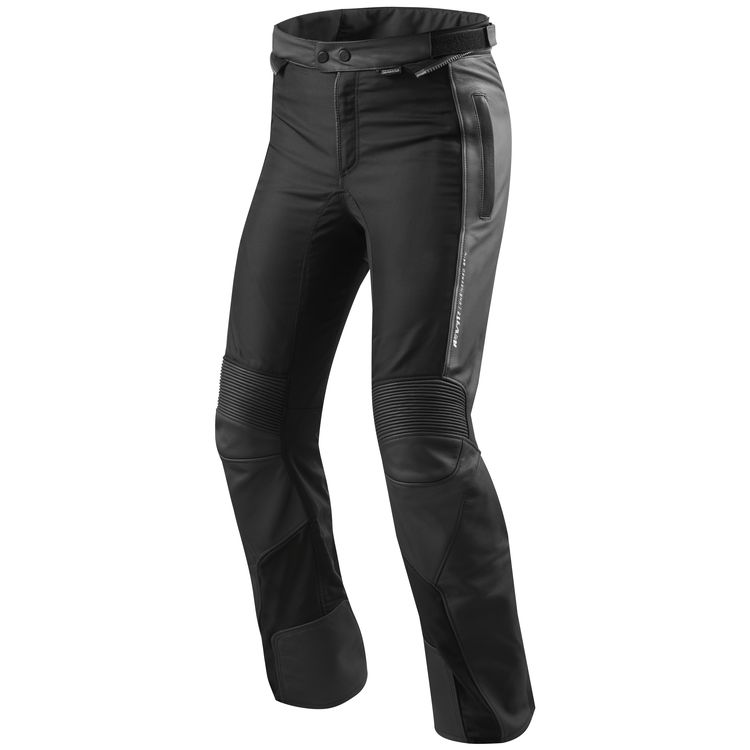 If you're looking for something a little different and more affordable than the Klim Kodiak pants, then the REV'IT Ignition 3 pants are a quality option. The pants feature a mixture of textile materials and leather. This makes for good airflow and high levels of protection where you need it. Add to that the CE armor in the knees and hips and you have a quality pair of pants.
Street & Steel Oakland Jeans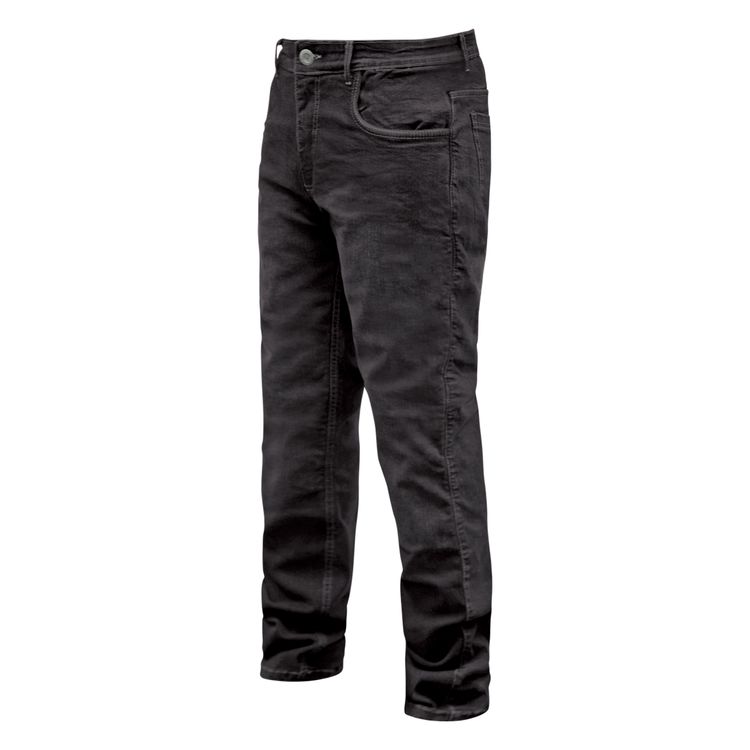 If you're looking for an affordable pair of pants suitable for riding, these Street and Steel Oakland jeans are a good option. The jeans feature a traditional five-pocket design, 12-ounce stretch denim, aramid reinforced seat, hips, and knees, and removable CE armor in the knees that are also adjustable.
As you can imagine, there's a lot to choose from when it comes to pants. The bottom line is, don't just throw on your Levis and go for a ride. You need something with reinforcement through the seat and knees as well as some armor. If the selections above aren't for you, then browse around. You should be able to find something that offers quality protection for a fair price.
Motorcycle Boots
Boots help keep your feet comfortable, dry, and safe. Comfort is a big factor here. You'll likely spend a lot of time wearing them. Like with motorcycle pants, your boots stay on once you reach your destination.
Types of Boots
There are all different kinds out there, and you'll have plenty to choose from. Boots offer various styles, designs, and materials. Different boots are designed for different types of riders. There's classic looking leather ones, boots built for touring that offer advanced materials and advanced features, and racing boots built for supreme protection.
When shopping for boots you need something with a sturdy construction, anti-slip sole, good levels of comfort and the ability to keep rain and moisture out. Here are a few options to think about.
Stylmartin Rocket Boots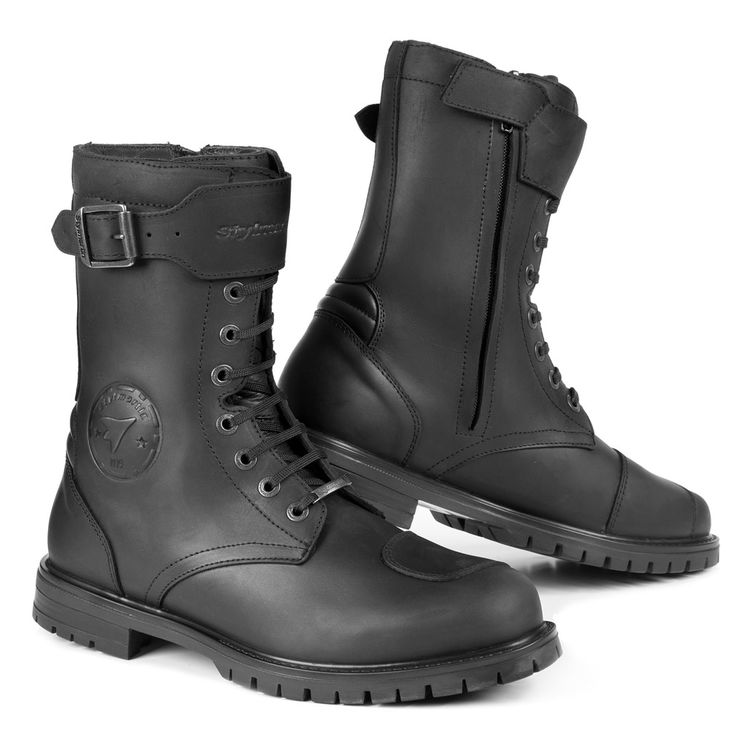 The Stylmartin Rocket Boots offer a good mix of style, high-quality construction, and top notch features. The boots offer full-grain leather, a waterproof liner, leather reinforcement on the toe for the gear shifter, zipper closure, adjustable ankle strap and laces, anti-slip and oil-resistant sole, and a removable antibacterial footbed.
Stylmartin Wave Boots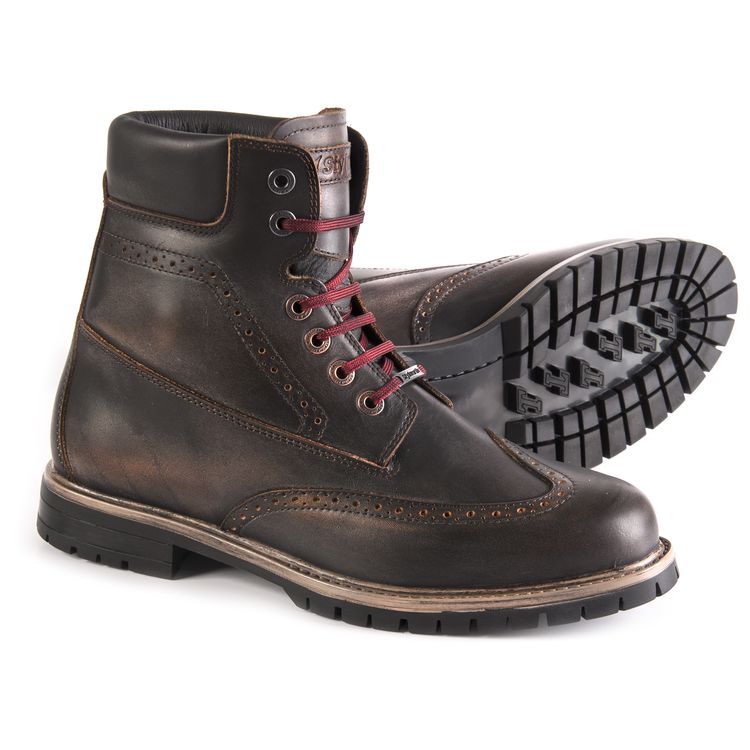 Are you a fancy guy? Then get some fancy boots. The Stylmartin Wave Boots are a stylish pair of boots that will keep you safe on your bike and looking good no matter where you go. They're a little more affordable than the other Stylmartin boots listed here, and but they offer similar high-quality construction and list of features. They offer waxed leather construction, a waterproof liner, PU ankle protective inserts, and an anti-slip oil-resistant rubber sole.
TCX X-Blend WP Boots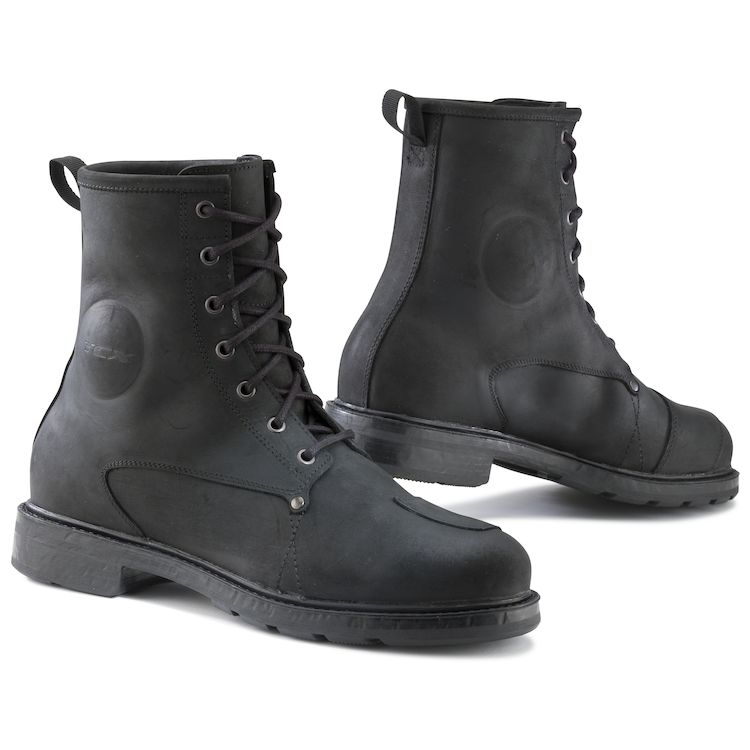 Need something with a little bit lower price point that still offers good protection and style? Check out the TCX X-Blend WP Boots. These offer a simple lace-up design, full-grain leather construction, reinforced toe and heel, replaceable footbed, and a wear resistant rubber sole. For the price there are few better pairs of good looking boots out there.
As you can see from the selections above, I like boots that have a classic style but still offer good protection. They can work for a wide variety of riders. However, you might not like them, and that's fine. Just make sure to look for boots that offer protection for your foot and ankle, reinforcements in the toe and heel, and the proper laces, buckles, or straps to keep the boots on your feet.
In Conclusion
Gear isn't just about one single piece of protective equipment. It's really about having the right pieces in all of the important areas. You don't have to go with the products I mention above, but you should take note of their features and look for pieces of gear that offer similar qualities.
You don't have to spend a ton of money to get good gear either. Quality pieces of gear can be found at all price points, so lack of funds isn't a valid excuse for not wearing the right gear when you ride. If you can afford your bike, you can afford the proper gear.
Most importantly, once you get your gear, you need to wear it every time you ride. A good pair of riding pants or a quality helmet does you no good sitting at home. I don't care what the temperatures like, where you're riding, or how good of a rider you think you are, you need to suit up every time.
Make it a part of your pre-ride ritual and you'll never forget. It'll become second nature, which is exactly the kind of habit you want to build as a new rider.