There's a lot of hubbub in the news right now about face masks, but here's the thing, many motorcyclists already know the many benefits of wearing a face mask. Not only can face masks be a great tool for keeping the bugs and debris off your face out there on the road, but they can be a style statement, and keep you covered from other things off the bike, too. 
Not all face masks are treated the same, though, and if you're buying one, you need it to make sure it's one of the best options out there for you to buy. Don't waste your time wearing a sub-par face mask that won't provide you with protection from the elements.
What to Look for in a Motorcycle Face Mask?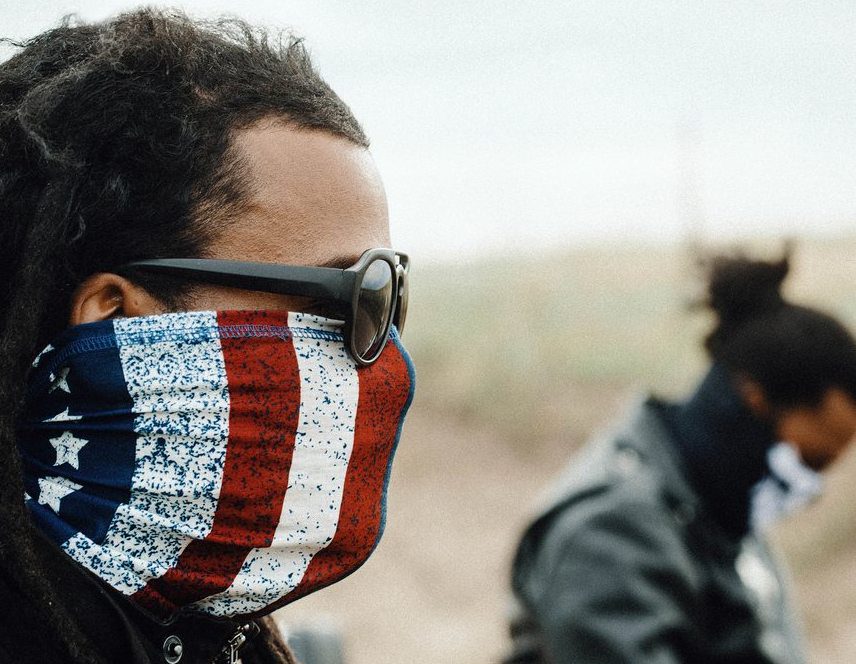 A face mask comes in handy for keeping debris and other unwanted dirt, bugs, and dust from hitting your face. Have you ever got home from a long ride and just felt like your face is dirty? Yeah, motorcycle face masks prevent this. They add a layer of protection you won't get any other way. 
When it comes to what you should be looking for, you want to find a mask that can protect you from the elements, is made of soft material, and most importantly is comfortable and easy to wear. I'd stay away from things that have perforations over the mouth or have a cut-out for your nose because they won't block out the dust, debris, and other things you want to keep from inhaling.
If the face mask isn't comfortable, then you won't wear it, plain and simple. With that in mind, it needs to be something you can put on easily and wear for hours without feeling like you need to take it off. Here are some great options for you to choose from. 
The 8 Best Motorcycle Face Masks
1. Indie Ridge Old Glory Face Mask
Feeling patriotic? Indie Ridge has the perfect face mask for you. Check out this Old Glory face mask. It combines the Stars and Stripes design of the American flag with the comfort and usability of a good face mask. 
With the Old Glory, you're getting a mask made of breathable lightweight microfiber fabric. It's a mask that you can easily wear on or off the bike. The design is seamless and tagless for ultimate comfort and is perfect not only for motorcycle riding but for all outdoor activities. 
The Indie Ridge Old Glory face mask is also extremely affordable, which is another added bonus. While the American flag motif might not be for every rider out there, many wouldn't want anything else. 
2. Indie Ridge Paisley Face Mask
Are you a fan of the Indie Ridge face mask above but don't really want an American flag design? How about a Paisley one? This design you've surely seen before on regular bandanas, so if you like that design, this face mask is for you. 
The construction of the Paisley face mask from Indie Ridge is more or less the same as Old Glory shown above. It's a microfiber material that's breathable and lightweight but still durable and long-lasting. The design is also seamless and tagless so you don't have any uncomfortable spots anywhere in the mask.
Another plus for the Indie ridge Paisley face mask is that it's just as affordable as the Old Glory mask. You're looking at spending less than $15, which is really great for something that is this comfortable and this high-quality.  
3. Vcoros Monster Skull Bandana Face Mask
Not a fan of the Indie Ridge masks shown above? How about this Vcoros Monster Skull Bandana Face Mask? This option gives you a colorful but still bad-ass design unlike many others on the market. It takes the classic skull motif and adds some color to it to make it stand out. 
The face mask features digital heat transfer printing technology, with the design on either side of the face mask. That makes this a reversible option. The high-quality microfiber material is breathable but it helps keep out everything that you don't want to get through. It's also soft and comfortable, ensuring you'll wear it every second that you should. 
Perhaps the best part about this face mask is the fact that it is even more affordable than the Indie Ridge masks discussed below. For less than $10 you can find this mask, depending on the retailer. 
4. Obacle Skeleton Face Mask 
The skeleton motif is a good one for a motorcycle face mask and so is the American flag, but few face masks combine both. However, that's exactly what the Obacle Skeleton Face Mask does. It has a skull design up near the top of the mask and the American flag's stars and stripes down low. It's all in black and white, though with no bright colors. 
This bad-ass mask is made of a microfiber material that's moisture-wicking, lightweight, and breathable. It's a design that helps keep you comfortable and the elastic built into the material will keep the mask from sliding down your face and exposing you to the elements. The unique design is digitally printed, meaning it won't fade over time.  
Roughly the same price as the Indie Ridge face masks seen above, the Obacle Skeleton Face Mask won't break the bank and should be a good option for this riding season and seasons to come. It's also important to note that Obacle offers several other designs for you to choose from should the skeleton not be your thing.
5. Sibosen American Flag Masks
Some riders love the American flag design but aren't taken with the Indie Ridge Old Glory mask. If you fit into this category, then you should check out the Sibosen American Flag Masks. This mask comes with a unique American flag design that also combines some unique-looking design elements adding some texture to print.
The mask itself is made of premium polyester microfiber fabric that's designed to be breathable but also keeps out all of the dust, debris, and other unwanted things from aking their way to your nose and mouth. The elastic nature of the material ensures it won't slip down or shift too much while riding or wearing it out and about.
The version linked below is for a three-pack. That three-pack is roughly the same cost as the Indie Ridge face masks shown above, so your getting way more for your dollar with the Sibosen face mask. 
6. Born of Water Flag Neck Gaiter Face Mask
Are you a fan of the Lone Star state? The Texas state flag is synonymous with freedom, which is what most of us chase after on our motorcycles. That makes this face mask a great option for any rider out there. 
The face mask features 100 percent spun microfiber polyester fabric that's comfortable and breathable but will do the job of keeping out particles and dust that you don't want to breathe in. The mask provides protection from UV rays and moisture-wicking technology. 
Born of Water face masks are a little more expensive than the other options here, but it should last a long time and the company also sells face masks with different designs printed on them, so if you want an American flag mask or a Canada flag mask you can get that, too. 
7. Indie Ridge Skull Face Mask
We're back to Indie Ridge. I know I already discussed some other designs from the company above, but the Skull mask from Indie Ridge is another fantastic option. It gives a bad-ass design of a skull missing a few teeth, and like the other Indie Ridge masks, it's top-quality. 
The mask is made of breathable microfiber fabric that's super lightweight. It provides the protection you need and the comfort you want. The seamless and tagless design makes it one of the most comfortable face masks on the market. 
The Skull mask from Indie Ridge is priced the same as the other options from the company and that means you'll be below $15, which is right on par with much of the competition out there. There is little not to like with this mask. 
8. Olarveo Skull Face Mask
Looking for another option? This Olarveo face mask featuring a monster-like skull design could be a good one for you. 
The face mask features excellent dust and wind protection thanks to a unique polyester microfiber material. That material will keep the cold weather off your face and keep the bugs from smacking your teeth as you ride. 
The face mask is extremely affordable. Linked below is a two-pack of masks for less than what most other masks run. That means the bag for your buck with this option is pretty great. If you and a family member need masks, then you should consider this two-pack.