1: Sena SMH5-01 Low-Profile Motorcycle and Scooter Bluetooth Headset / Intercom (Single)
Product Description:
The Sena SMH5-01 Bluetooth Headset is designed to provide riders with the ability to call hands free on any Bluetooth enabled smartphone. This innovative unit is also perfect for listening to stereo music, voice instructions including GPS navigation, and for two-way intercom conversations between passengers and other motorcycle or scooter riders. The SMH5-01 offers some of the best sound quality in its class thanks to the advanced Bluetooth v3.0 technology.
When out taking a ride on your bike safety should always be your number one priority. The Sena SMH5-01 Bluetooth is designed with safety in mind. The unit incorporates the use of a large, easy to use jog dial, and other oversized buttons in order to make it extremely simply to operate, even at higher speeds. Simply push the main button and cycle through all of the amazing features that this headset system has to offer. In this case, the less fuss the better off you are. Sena knows how important it is to stay connected while on the move.
That is exactly why this high tech device works within a range of four hundred meters. That means you will be able to communicate with your riding buddies that are within four hundred and thirty yards away. Sena has though of everything with this headset. The Bluetooth music playback system features play, pause, and track forward/track backward. Each audio source contains its own volume adjustment level, in addition to delivering a crystal clear sound that contains an automatic boost when your surrounding are extremely noisy.
The Advanced Noise Control function works amazingly well in regards to cutting down those unwanted background noises. The Sena Bluetooth Headset has up to eight hours of talk time and seven days of standby on a single charge. When you register the product, Sena will provide you with access to free firmware upgrades so that your device is always in compliance with the latest software upgrades. This product works well with non-Sena brands due to the built in Universal Intercom protocol.
The Bluetooth Headset/Intercom is most definitely a great purchase due to the fact that it blends high end features and amazing sound quality with an affordable price tag. The unit is also water resistant so you do not need to worry about using it even in wet conditions. It also comes with a two-year warranty card that is included with the product packaging.
2: Veetop Bluetooth Motorcycle Helmet Intercom Headset (2Pack)
Product Description:
If you have been looking for an extremely affordable solution to on road communication while riding your motorcycle than your search is over. The Veetop Bluetooth Motorcycle Helmet Intercom Headset enables you to ride safely and securely. This innovative device even has a water resistant design, so you certainly will not need to worry about using it when riding in the rain or through large puddles. Speak with up to three other riders within a range of eight hundred meters in open space.
This headset also connects to Walkie Talkie devices providing you with the ability to speak to an additional four buddies. The sound is actually transferred through the earpiece, and the microphone of your Bluetooth enabled devices. Please keep in mind that the rider quantity supported typically depends on the Walkie-Talkie unit. The Veetop Bluetooth Motorcycle Helmet Intercom Headset is an excellent hand free device that allows your mobile phone to work in conjunction with your helmet in order provide you with a way to communicate, as well as for entertainment purposes.
For example, this device supports Bluetooth wireless music streaming in a hands free manner so that you have the ability to listen to your favorite music without the hazards and risks of taking your eyes off of the road in order to switch songs, or channels. It also supports hands free phone functions such as rejecting the incoming cal, re-dialing the last call, and automatic call receiving functions. The Veetop Bluetooth Motorcycle Helmet Intercom Headset includes a built-in FM radio, which is typically a feature that is only included with more expensive units.
The Veetop Bluetooth Motorcycle Helmet Intercom Headset supports GPS voice navigation so you will never get lost again. Easily transmit the GPS voice to your headset through the use of the built in Bluetooth technology. This device is super easy to operate even while wearing motorcycle gloves. It also installs with great ease onto your helmet. The Veetop Bluetooth Motorcycle Helmet Intercom Headset works up to eight hours on a single charge at speeds well over one hundred kilometers per hour.
The Veetop Bluetooth Motorcycle Helmet Intercom Headset is a high quality device that is available at an extremely affordable price point. The package actually includes two units so you can communicate with either a passenger or a riding buddy for the price of less than what one unit typically costs. The Veetop Bluetooth Motorcycle Helmet Intercom Headset is an excellent choice.
3: Sena SMH5-02 Low-Profile Motorcycle and Scooter Bluetooth Headset / Intercom for Full-Face Helmets (Single)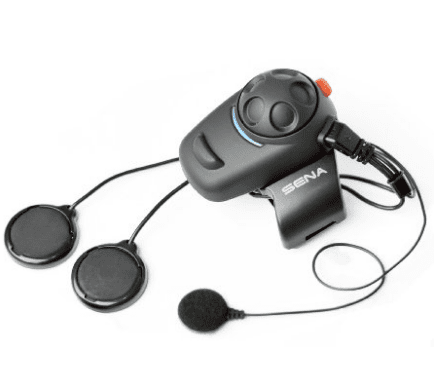 Product Description:
Compact, convenient and full of great features, the Sena SMH5-02 Low-Profile Motorcycle and Scooter Bluetooth Headset for Full-Face Helmets certainly offers a ton of high-end performance for daily use or even for occasional motorcycle or scooter drivers that require multiple features at a reasonable price. With its easy and quick installation process, owners of the Sena SMH5D-02 full-face helmet intercom may instantly enjoy the benefits of Bluetooth technology while out on the road.
This headset is also is equipped with the latest digital processing technology for far better sound quality. This high-tech device offer a two-way intercom that allows you to talk with your companion at the back or other motorcycle riders. The Sena SMH5D-02 is the perfect device for motorcycle riders, especially those that go for long drives. Not only does it provide a convenient way of communicating but it also gives you an excellent form of entertainment while on the road.
The Bluetooth v3.0 wireless technology provides motorcycle and scooter riders the ability to avoid danger when answering calls while driving. You can simply answer or make calls without the need to physically hold your phone or attach any cords in order to make it a hands-free device. In addition, this Bluetooth technology offers riders the convenience and enjoyment of listening to your favorite music while driving. It is both safe and convenient due to the fact that the headset's operation is extremely smooth when using the large, accessible buttons.
This innovative headset is integrated with voice prompt feature that provide you with the ability to completely focus on the road while doing other functions other than driving. In essence this eliminates the need to you're your hands off the bar in order to control your headset. This feature is especially useful when especially when controlling functions such as volume control, making calls and GPS. The voice prompt feature is multi-lingual with English, French Italian, German and Spanish languages to choose from.
The Sena SMH5-01 Bluetooth Headset provides motorcycle and scooter owners with the ability to communicate, listen to music, and follow GPS directions in a compact and extremely durable, and easy to use device. The device is extremely easy to install, and has the ability to connect up to four headsets in order to communicate with up to four people at once.