If you've already got your hands on a riding helmet, a good pair of ATV goggles is one of the next pieces of gear you must invest in. Goggles are often written off by riders who are just getting into the sport as a piece of equipment used only by competitive riders. However, we feel that they're an essential part of your kit and can make a world of difference.
The best ATV goggles will protect your eyes from debris, moisture, sunlight, and condensation—all elements you're likely going to run into on a ride. They're also quite durable, so if you're riding through a narrow trail in the woods, they'll withstand potential impact from an outstretching branch or root thrown up by the rider in front of you.
We've compiled a list of some of the best ADV goggles out there. Just like with any piece of gear, you can find goggles across various price brackets, and we're sure there's at least one pair on this list that's right for you.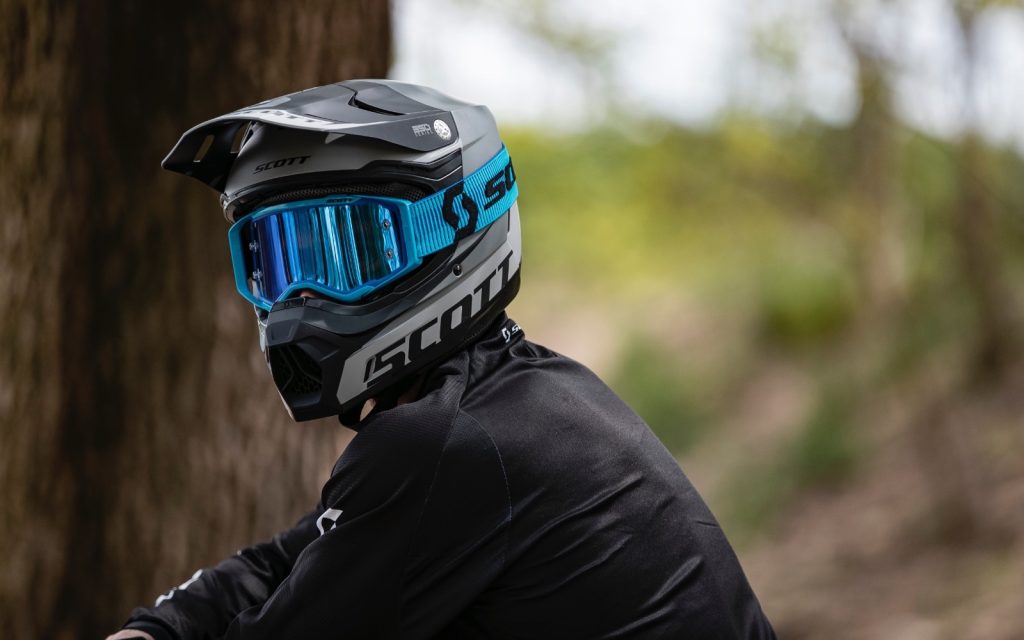 Best Premium ATV Goggles
Oakley Airbrake MX Goggles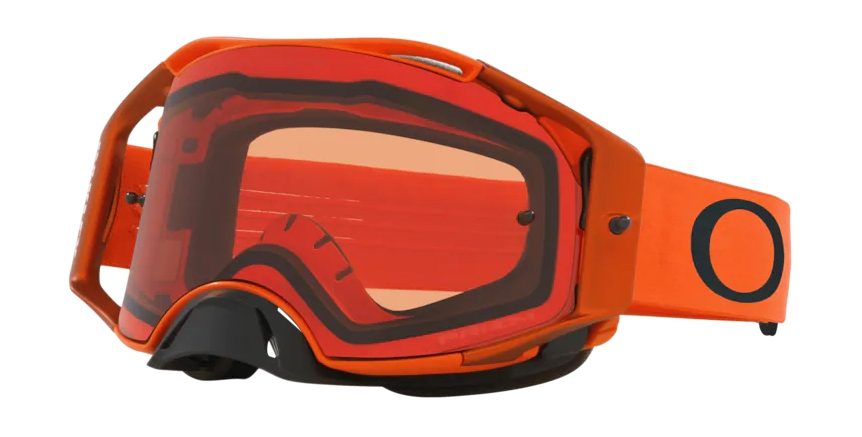 Why?
Oakley is a well-known name when it comes to both sunglasses and goggles. The Airbrake MX Goggles are their top-of-the-line product worn by athletes worldwide. These are the first pair of Oakleys to feature the company's trademarked Plutonite lens—made from a durable, high-grade polycarbonate material. The lens also comes with tear-offs, so you can peel a layer off if they ever get mucky in the middle of a ride.
These goggles are incredibly comfortable and come with triple-layer foam lined with moisture-wicking fleece. The foam is removable for easy cleaning and washing. We also like the Switchlock Technology that makes it super simple to switch between lenses. Speaking of which, the price for the Airbrake MX varies depending on what kind of lens and strap you choose—so you get a little flexibility when it comes to your budget if you're willing to make a compromise or two.
Specs:
Lens Features:
Injection-molded Plutonite lens material provides 100% protection against ambient UVA, UVB, UVC, and harmful blue light up to 400nm
Expanded lens volume for optimized peripheral vision
Fog elimination of lens with Flow-Coat Anti-Fog coating
Integrated tear-off posts for mounting of optional laminated or standard tear-offs
Meets impact requirements based on ANSI Z87.1 and EN 1938:2010 standards tested from 190 to 380 nanometers
Frame Features:
Exoskeleton chassis construction combines a rigid O Matter exterior with a pliable thermoplastic urethane faceplate that conforms to your face comfortably
Dual Switchlock mechanisms lock the lens securely in place
Rigid O Matter strap connections provide even distribution of goggle pressure
Twin surge ports at the top of the chassis channel airflow into the helmet
Low-profile frame design provides increased visibility and improved helmet compatibility
All-day comfort of O-Hydrolix triple-layer foam with moisture wicking polar fleece lining
Matte black textured inner frame surface for glare reduction
Microcellular urethane lens gasket seals out dust and moisture
Dual-adjustable strap with silicone lining provides a versatile, secure fit
Included:
7-pack of Oakley Laminated tear-offs
Fox Racing Vue X Stray Goggles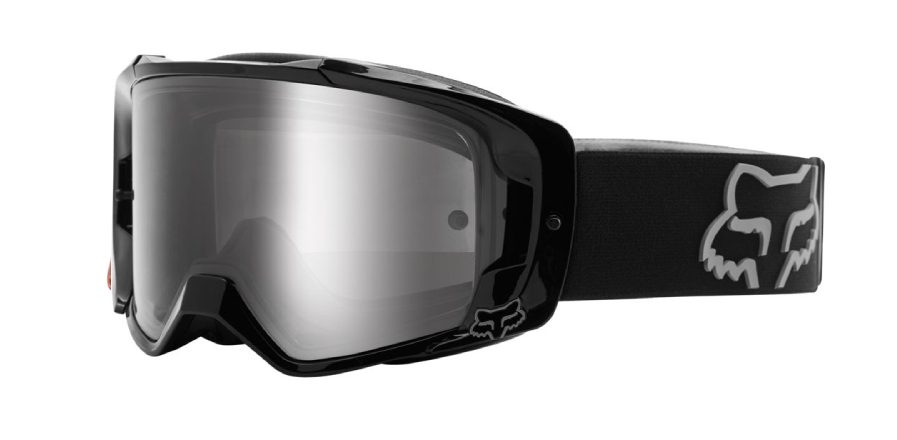 Why?
The Vue X Stray is designed predominantly for MX riders and adheres to pretty high standards. It uses a dual-paned, anti-fog lens to reduce fogging on cold rides while also featuring multiple vent ports to allow air circulation in hotter climates. The pre-curved polycarbonate lens has a generous field of view, and you'll barely notice these goggles after a couple of minutes of wearing them.
The Vue Goggles feature Fox Racing's TruLock system, which employs a simple turn-to-release tab so you can change lenses in a matter of seconds. While they're a lovely pair of goggles, they're only available in black. So if you place form over functionality and are looking for something a little more brightly colored, this may not be the pair for you.
Specs:
Designed and developed exclusively with Ken Roczen
Dual-pane injected polycarbonate lens is designed to provide optical clarity and protect against roost impact while working to reduce fog in adverse conditions
Quick change locking outrigger system makes lens replacement fast and easy
A wide view port provides exceptional peripheral vision
360 venting optimizes airflow, keeping the rider cool and reducing fogging
45mm strap with backing silicone provides superior helmet grip
Dual compound frame–soft TPR faceplate shapes to rider's face with durable ABS/Nylon outer frame
3-layer molded face foam for a comfortable fit
Anti-fog lens treatment minimizes moisture
Five pack non-laminated Tear-offs included
Clear dual-pane lens included
100% Armega Goggles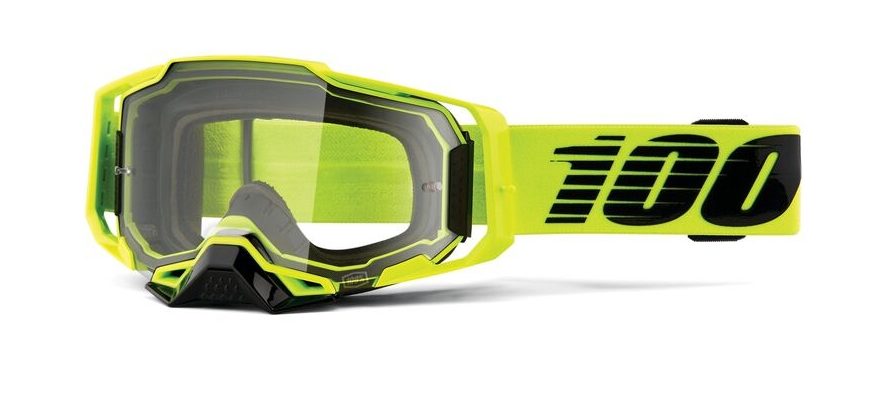 Why?
The 100% Armega Goggles are some of our favorite ATV goggles out there, and we think they offer the best bang for your buck. The Armega frame comes with a sweat management system that draws moisture away from the lens and out of the goggles via an integrated channel in the frame. There are also air intakes that increase ventilation and allow for a fog-free experience.
The lens is exceptionally durable and made of a shatterproof material. This is also one of the most transparent lenses that you will ever see through. It's mounted onto the frame with a secure 6-point locking tab and is very simple to swap. Depending on what lens you choose—Clear, Silver Finish, or something else—prices for these goggles vary between $90 and $120. The cost of individual lenses ranges between $25 and $35, and there are several options to choose from.
Specs:
Category-defining Ultra HD lens provides unmatched optical clarity
Quick-release system offers simple lens-changing capabilities
6-point locking tabs integrate with quick-change system, maximizing lens retention
Injection-molded 2mm impact-rated, shatter-resistant lens
Bonded, dual-injection frame construction maximizes strength and durability
Forced air intake ports increase circulation and maximize humidity evacuation
Contouring compression seal technology keeps goggles in place
Next-generation sweat collection management and drainage system
Perforated triple-layer face foam manages sweat and increases ventilation
Ultra-wide 48mm strap with thick silicon bead for maximum grip
Removable nose guard for extra deflection against roost and debris
Best Mid-Range ATV Goggles
Leatt Velocity 6.5 Goggles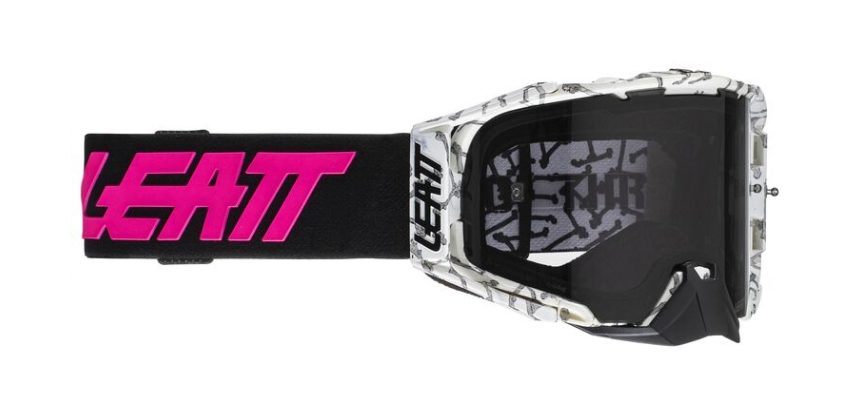 Why?
Leatt is one of the top players in the MX space for armor. Their roost deflectors and guards are considered some of the best, and the brand delivers just as much quality with the Velocity 6.5. Leatt says these goggles are "bulletproof" and can easily withstand both roost and impacts from branches.
The lens also has a wide 170° field of view and can be swapped out in under 20 seconds. The Velocity 6.5 also comes with some features we saw in the more expensive goggles, like tear-offs and a removable nose guard. Our only complaint about the Velocity 6.5 is that it's a little on the pricier side for what it has to offer—for just a bit more money, you can get your hands on the 100% Armega, which is a better pair of goggles, overall.
Specs:
ANSI Z87.1-2015 impact test certified
Military Ballistic Impact Standard (MIL-DTL-43511D)
Certified CE EN 1938:2010 impact test
Outriggers with a 50mm anti-slip coated strap
WideVision (170°) Anti-Fog lens
Permanent anti-fog function built into the inner lens polymer
Self-draining lens/frame design
Easy clip-in/out lens change
Dual-density frame for fit, seal, and comfort
Tapered custom shape to fit even those difficult helmets
OTG (over-the-glasses) fit
Triple-layer, dual-density foam with anti-sweat fleece backing
Roll-off ready for WideVision 48mm system (optional)
Tear-off ready with posts
Tear-off pack included
Removable nose guard
Soft bag included
Optional lenses available from 22 to 83% light transmission (VLT)
Scott Prospect Goggles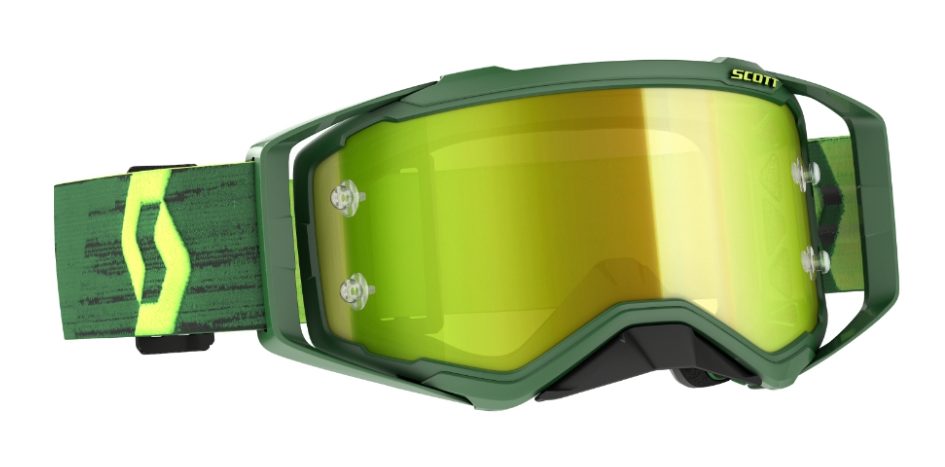 Why?
The Scott Prospect goggles are arguably the best-looking pair on this list. They come in multiple color combos, all of which look pretty spectacular. Apart from the aesthetics, these goggles also come with some neat features. For instance, they have pivoting outriggers that can be used to adjust the fit of your goggles. This way, you can ensure a snug fit, irrespective of the shape or size of your helmet.
For a few extra dollars, you can also get Scott's WFS50 Click-On canister that easily lets you switch from roll-offs to tear-offs. We're also a fan of the lens-locking system, which is incredibly simple to use. Overall, this is an excellent value-for-money option and even gives some of the more expensive goggles on this list a serious run for their money.
Specs:
Lens lock system
Articulated outriggers
3-layer molded face foam
NoFog anti-fog lens treatment
Extra-wide 50mm no-slip silicone strap
One chrome finish and one clear lens included
Removable nose guard
Microfiber goggle bag included
Works 4-pin tear-off system (tear-offs sold separately)
100% Accuri 2 Goggles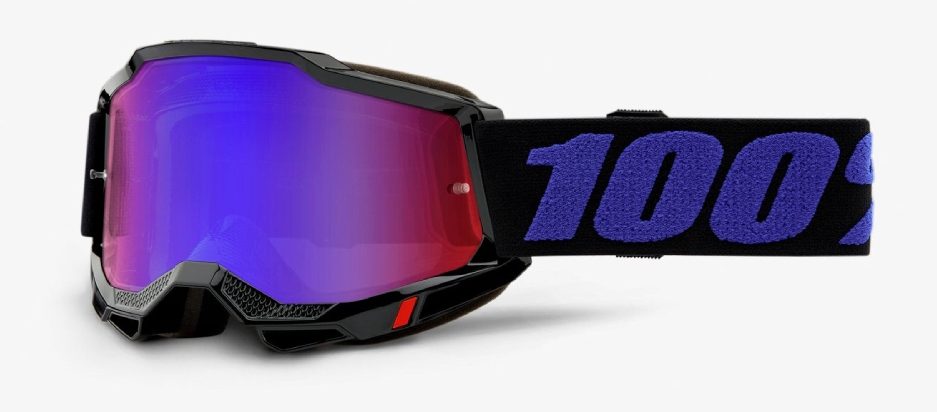 Why?
The Accuri 2 is another pair of great goggles from the house of 100%. It draws inspiration from the range-topping Armega and shares features like the triple-layer closed-cell foam for the eye ports. The lenses are made of a high-impact Lexan and come with a fog-resistant coating.
What makes 100% lenses so great is that the lenses are interchangeable across the lineup. So, if you also have a Racecraft 2 or Strata 2 pair of goggles, you can use the same lens across all your goggles.
Specs:
Features:
Improved fitment and seal with increased field of view
Supports triple post tear-offs for secure fitment
Ultra-thick triple-layer face foam soaks up sweat
45mm wide silicone-coated strap for maximum grip
9-point lens retention system secures lens in the frame
Anti-fog coated polycarbonate lens for clear vision
Shares the same replacement lenses and tear-off films as Racecraft 2, Accuri 2, and Strata 2 Goggles
In the box:
Extra clear replacement lens (for mirrored lens goggles)
Sublimated microfiber carry bag
Best Budget ATV Goggles
Oakley O Frame MX Goggles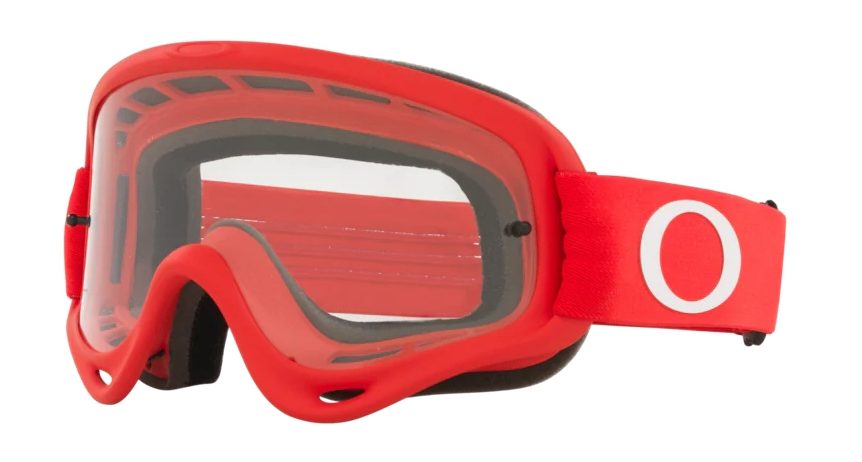 Why?
The O Frame MX is another excellent pair of goggles from the house of Oakley. They're not as feature-rich as the Airbrake MX, but they're still a solid pair for casual and competitive use. These are Ricky Carmichael's go-to pair when he's competing in motocross. If that doesn't attest to their quality, I'm unsure what will.
Some stand-out features on the O Frame MX include a scratch-resistant Lexan lens, triple-layer face foam, a non-slip silicone treated strap, and mounts for laminated tear-offs.
Specs:
Flexibility even in extreme cold via urethane frame construction
Comfortable and secure fit of a wide, adjustable elastic strap
Minimized reflective glare via interior surface texturing
Convenience of the 2-pin attachment system for tear-offs
Comfort and fit of triple-layer face foam
Scratch resistance and optical clarity of Lexan lens material
Secure and stable fit via silicon lining on the inside of the strap
Compatible with Attack Mask nose guard
Meets ANSI Z87.1 for high-velocity impact
Meets EN 1938 for MX goggles requirements
100% Strata 2 Goggles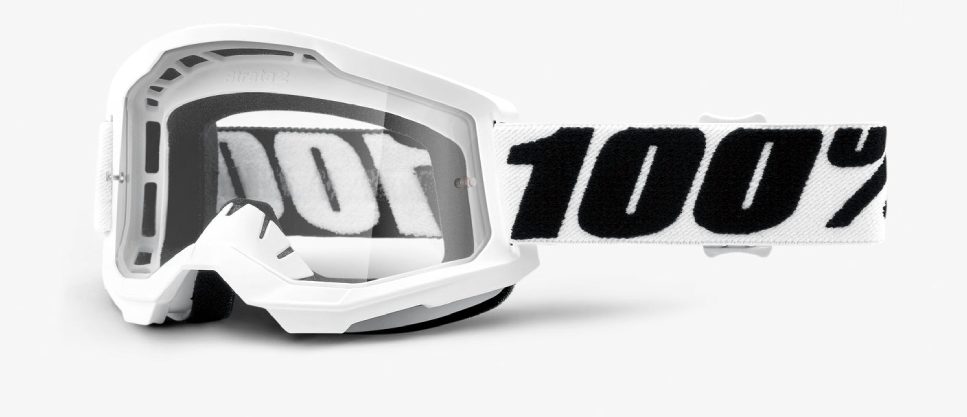 Why?
100% is on this list multiple times simply because the brand makes excellent ATV and MX gear. The Strata 2 Goggles are a shining example of that. With prices starting at just $25, these offer excellent value for money. These goggles come with a dual-layer foam eye port seal and grippy silicone-lined head strap. While the frame is durable, it allows for a bit of flex so you can have a comfortable fit.
Like some of the more expensive units we looked at above, the Strata 2 also comes with Lexan lenses with a fog-resistant coating. The lens mounting system of all the 100% goggles is the same 9-pin design, and this is one of the most straightforward and secure systems we've used. And, just like the 100% Accuri 2, the lens on this is compatible with the rest of the brand's goggle lineup.
Specs:
Clear anti-fog coated Lexan lens for flawless vision
Nine pin lens retention system
Plush dual-layer moisture managing foam around the eye-port
40mm wide strap with silicone backing to eliminate slippage
Shares the same replacement lenses and tear-off films as Racecraft 2, Accuri 2, and Strata 2 Goggles
Microfiber storage bag
Fly Racing Focus Goggles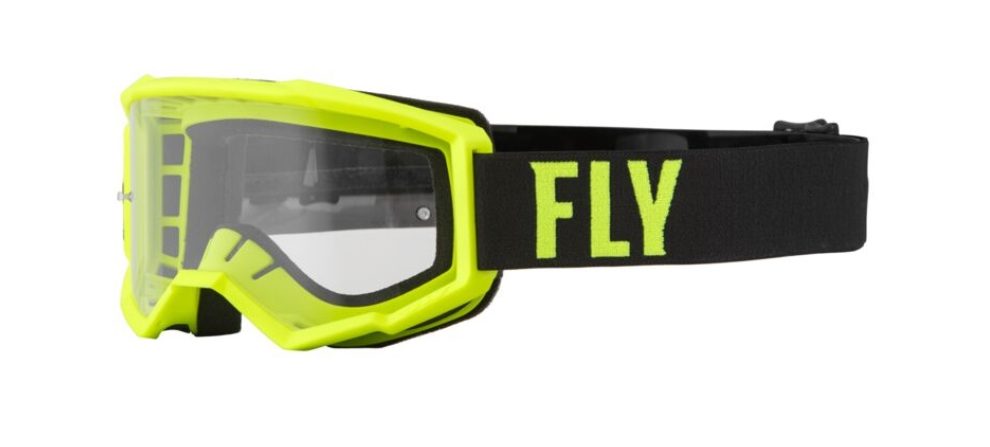 Why?
The Fly Racing Focus goggles may be the most affordable ones on this list, but that does not mean they compromise on safety or performance. The Focus uses a polyurethane frame and polycarbonate lens. The clarity through the lens isn't on par with some of the more premium goggles on this list, but if this is your first pair of goggles, you'll find no reason to complain. It also comes with an anti-scratch and anti-fog coating.
The rest of the features that Fly Racing offers here is quite similar to those seen on the 100% Strata 2. These include the dual-layer cell foam eye-port seal and silicon-lined head strap.
Specs:
Polycarbonate lens with premium anti-scratch & anti-fog coatings
Lightweight yet durable polyurethane frame
Engineered frame design increases field of view, providing massive peripheral vision
Quick change replacement lens
Two-layer face foam provides all-day comfort and a tight seal
Optional accessories and lens colors are available
Compatible with FLY nose guards
40mm adjustable double buckle strap for easy goggle tension adjustment
Non-slip silicone on the inside of the strap ensures a secure fit to your helmet