Lane filtering laws that are gradually filtering into more and more jurisdictions have created a precedent in our road rules that I believe should be exploited further.
These rules now recognise that motorcycles are different from other vehicles because they are narrower.
The road rules should also recognise other unique dynamics of motorcycles and change some of the road rules in accordance.
For example, I would suggest that motorcycles be allowed to overtake on single unbroken lines and to exceed the speed limit in overtaking lanes.
Allowing overtaking on unbroken white lines may seem radical and dangerous, but there are many cases where single white lines have been painted on roads yet it is safe for motorcycles to pass.
After all, motorcycles can accelerate a lot quicker than almost any car and therefore can overtake a vehicle in less time and distance than other vehicles.
That means the bike is on the wrong side of the road for less time and therefore not exposed to the danger of a head-on collision.
Let's face it, centre line marking on many country roads has been painted for the "slowest common denominator".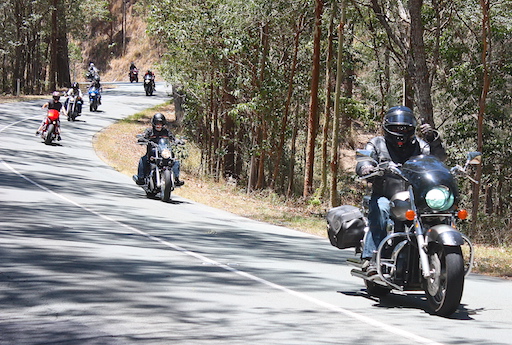 I know of many winding scenic roads such as Mt Glorious and the Black Spur where there is a solid white line for much of the distance. In fact, for too much of the distance.
There are plenty of places on these roads where a motorcycle can easily and safely overtake a vehicle travelling at the speed limit, let alone the slow-moving Sunday drivers that frequent these roads.
In fact, it is not uncommon to witness riders flouting the centre line law and overtaking slow drivers.
Police have been known to exploit this by driving slowly on these roads in unmarked cars and videoing riders who overtake, then sending them a fine in the post. Some might call this entrapment!
I'm not suggesting open slather on all roads with single unbroken lines, but perhaps on some country roads there needs to be a sign advising that motorcycles are permitted to cross the white line when it is safe.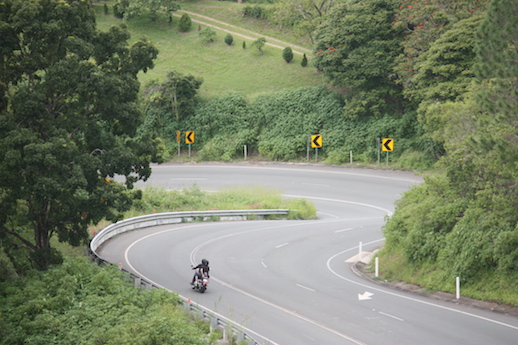 Also, setting up speed camera traps in double-lane overtaking sections on single-lane highways or on steep uphill sections is counter productive and dangerous.
All vehicles – not just motorcycles – should be allowed to marginally exceed the speed limit in these zones to make the passing manoeuvre shorter and safer.
If a vehicle is travelling at 10km/h below the speed limit and holding up a line of traffic, it can sometimes take the entire length of the double-lane section just for one or two vehicles to pass if they stay within the speed limit.
If motorists in the right lane were allowed to travel at 10km/h over the posted limit, then at least more vehicles could get past and relieve some frustration, therefore reducing the likelihood of road rage or dangerous overtaking.
What do you think?