The Breakdown
The Belstaff Classic Tourist Trophy jacket is a true original survivor, brought up to modern standards with a discreet infusion of modern technology. The jacket looks good on and off the bike and it will serve you well for many years to come. While it's missing a true abrasion-resistant exterior and some other features of modern techno-jackets, it is what it is and if you understand where it's coming from, that's not a problem.
Pros
Looks good on and off the bike,
Cons
Missing a true abrasion-resistant exterior
The One and Only Ultra-Classic
The Belstaff Tourist Trophy jacket is based on the iconic Belstaff Trialmaster jacket (review). But it's now modernized with D3O protectors and a removable quilted lining. This type of waxed cotton water-resistant design has been used for well over 100 years and has been proven by sailors and anyone requiring protection from the elements.
The Tourist Trophy jacket has several other new features that bring it into the 21st Century and make it more suitable for motorcycle riding. Extra sections of waxed cotton on the elbows and shoulders cover removable d3O protectors. The sleeves have an attached storm cuff with elastic and adjusters to block wind and water, whether you wear your gloves on the inside or out. There's even a pocket on the inside for a back protector if you so desire. These modern additions take nothing at all away from the truly classic design of the Tourist Trophy jacket.
The price may seem stiff, but this jacket never goes out of style and with some care and a re-waxing now and then, it can last for decades, looking good both on and off the bike.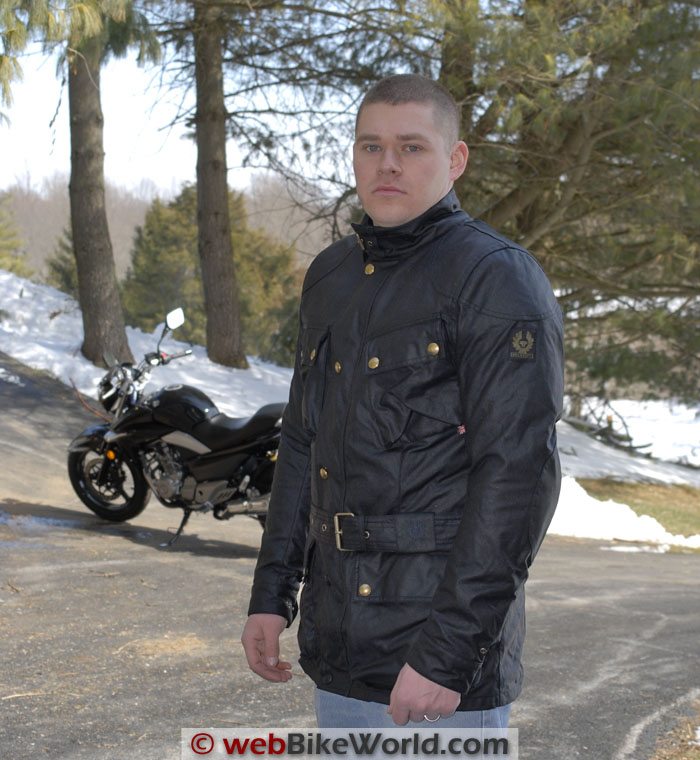 Background
Black leather and waxed cotton are the dual icons of motorcycle jacket design. While most have heard of the former, many are not aware of the latter, especially on this side of the pond.
Waxed cotton is said to have been an adaptation of a sailor's makeshift waterproofs, using old canvas sails coated with grease or wax.
While this may sound crude compared to our modern breathable and waterproof membranes, it worked then and it still works today.
Waxed cotton waterproofs were then discovered by motorcyclists who were throwing a leg over the very first powered two-wheeled vehicles more than 100 years ago.
And believe it or not, the styling of those early waxed cotton jackets really isn't all that different from the Belstaff and Barbour jackets of today. "If it works, don't fix it", couldn't be more appropriate.
That's not to say that at least some modern tricks haven't been used in this traditional design.
The Belstaff Classic Tourist Trophy jacket may look like it walked out of the past but it includes a removable quilted liner with some extra "Micro-Valtherm padding" in the sleeves and body.
Very modern D30 elbow and shoulder protectors (removable) are also included and the TT jacket even has a pocket for a back protector.
Not that you'd ever notice any of these features; they're well hidden so as not to ruffle the die-hard traditionalists or those metro apartment dwellers who have made Belstaff clothing very fashionable.
One other "modern" feature that is just as well hidden is the sculpted waist, formed by adding an extra section of tapered fabric on either side in the rear of the jacket.
This serves to give the Tourist Trophy jacket a much better and more tailored fit than the somewhat boxy shape of the original Trialmaster or that other classic, the Barbour International jacket (review).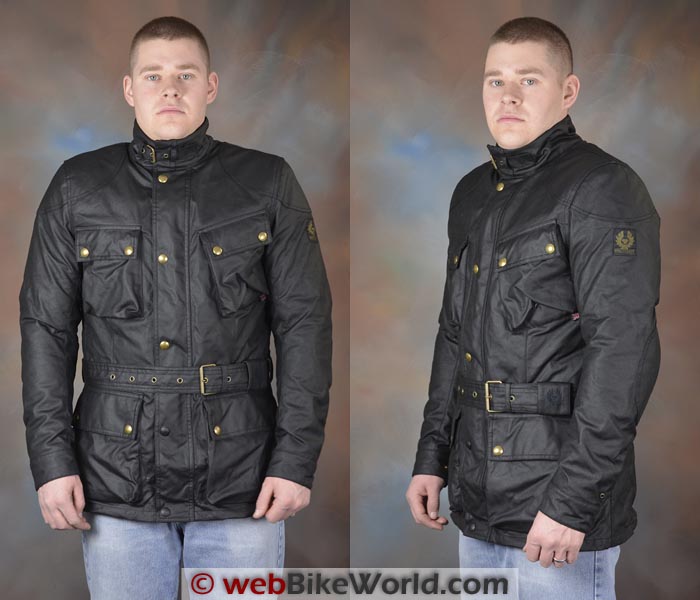 ---
Where to Buy Belstaff Tourist Trophy Jacket
Check Reviews & Prices on Amazon
Check Reviews & Prices On RevZilla
Also: Motorcycle Jackets, Motorcycle Gloves, Motorcycle Boots, Motorcycle Pants
---
Origins
We reviewed the original Belstaff Trialmaster (review) way, way back in 2005 and followed it up with our review of the Barbour International a year later.
Both have been enjoyed by motorcyclists for some time, with the Trialmaster perhaps a bit more familiar to some.
The Belstaff Classic Tourist Trophy jacket is an evolution of the Trialmaster design, but it actually looks to me like it has a lot of influence from the Barbour International also.
The Belstaff brand was itself an icon in the world of motorcycling, although perhaps not as much now as then.
The brand has moved through a couple of different owners over the last 15 years or so and many of the Belstaff motorcycle-specific products like gloves, boots and textile jackets are long gone.
The brand can seem a bit puzzling to modern motorcyclists because the current owners use Belstaff's motorcycling roots to market rugged outdoor style to city fashionistas.
Take one look at the Belstaff website and you'll see what I mean.
The clothing designs have bounced back and forth between pure fashion to nearly-pure motorcycling and back again, but now quite a few of the designs appear to be motorcycle-centric once more.
The Italian designs, blended with a pinch of real-world functionality is apparently working.
That's because "in the know" motorcycle and non-motorcycle clothing distributors and boffins alike have told me the stuff is selling as fast as Belstaff can make it.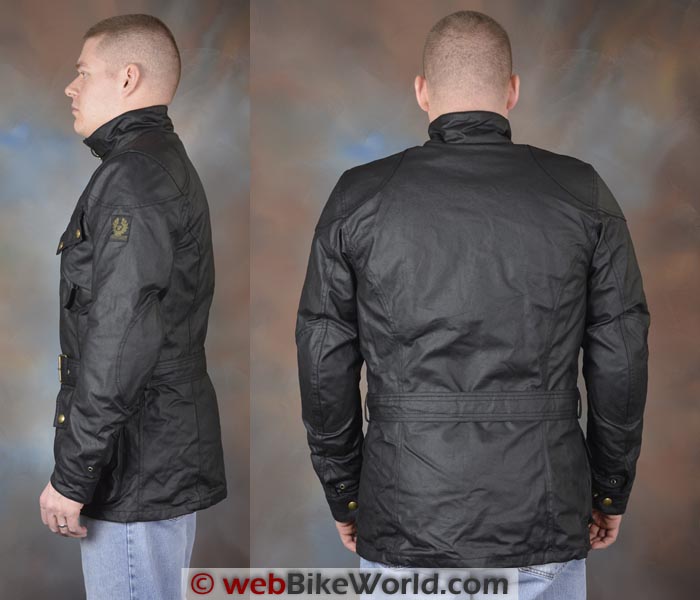 The Belstaff Classic Tourist Trophy Jacket: Technology
I'll concede with no argument that a waxed cotton jacket with an historical design and styling may not be appreciated by all motorcyclists.
Café racers, retro riders, adventure-tourers and maybe even some cruiser types will love it; street-sport-stunters will look askance.
But the Tourist Trophy jacket and its parent, the Trialmaster, are really the archetypes of the modern textile motorcycle jacket.
Once you start looking at it, you'll realize that the Tourist Trophy is the no-frills, stripped-down true original great-great grandpappy of them all.
The beauty of the thing is that it looks just as good today as it did in the 1960's, '50's and beyond…and it will look just as good way out in the foreseeable future. That's the definition of "classic". Timeless.
The function is all there, too. It uses an "organic" technology for wind- and water-resistance: the waxed 10 oz. cotton shell, with seams sealed with what Belstaff somewhat vaguely refers to as a "Miporex" membrane.
It's not clear if that means the entire jacket has an attached breathable/waterproof membrane similar to the Gore-Tex type or not. I think not.
(UPDATE: See explanation in the Owner Comments section below).
But it does appear that the seams of the Tourist Trophy jacket are sealed, however, and that's the most important thing.
Because while the waxed cotton is surprisingly effective at keeping the rain out, the seams with their stitched holes are the weak link in the chain. Sealing the back of the seams with some type of waterproof taping is an excellent idea.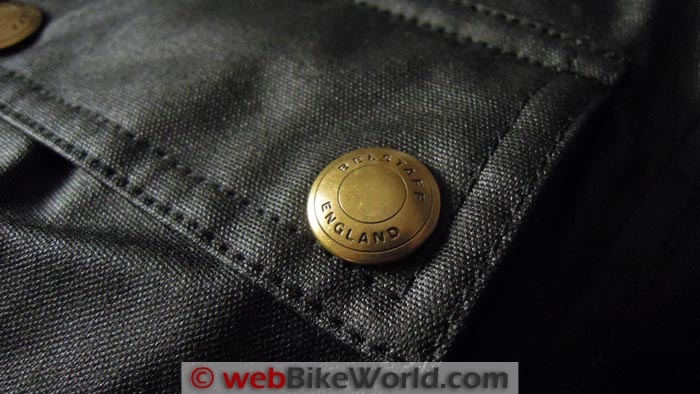 The Belstaff Classic Tourist Trophy Jacket: Waxed Cotton Tech
While the Tourist Trophy jacket is available in both black and brown in Europe, only the black version is sold in the U.S.
It's not really a black black actually; there seems to be a very subtle and very dark forest green tint that shows up in certain lighting.
On close inspection, the 10 oz. cotton fabric base looks and feels different from the Trialmaster and Barbour International jackets as I remember them.
And it's quite different from my street-oriented Barbour "Bedale" jacket that I use on rainy days.
The wax coating has been evolved over the years and although I haven't a clue on how it's done, the jacket doesn't really have a "waxy" feel…but it does feel different.
The jacket is slightly stiff-feeling but, based on my other experience with waxed cotton jackets (I've owned the Bedale for 30 years), the owner can expect quite a lot of break-in, with softer-feeling fabric and a nice patina settling in after a while.
One of the nice features of a waxed cotton jacket is that it can be "reproofed" or re-waxed when required.
This can be done by the owner; basically, you warm the jacket with a hair dryer or heat gun (see our Steinel heat gun review).
Barbour has an in-house service to do this if you'd like; my wife just sent her long Barbour horse riding jacket back for a reproofing and it cost just $35.00.
Reproofing or re-waxing isn't needed very often; in 30 years, I have never re-waxed my Barbour Bedale, although I can't say I wear it as much as my wife wears hers.
She beats the heck out of hers on the horse farm — the jacket is also 30 years old and she's re-waxed it twice.
Think about that for a second: what motorcycle jacket do you own that's 30 years old and still functions like new and still looks as good today as it did then?
This is why the asking price of the Tourist Trophy is actually a bargain.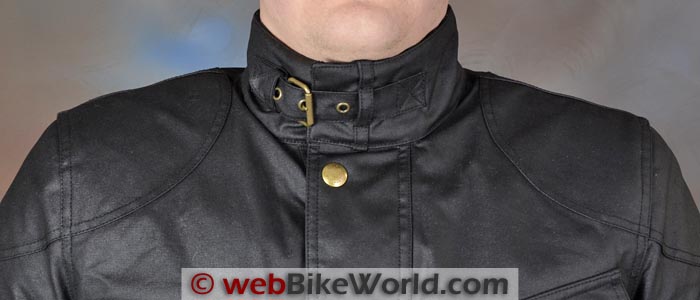 ---
Where to Buy Belstaff Tourist Trophy Jacket
Check Reviews & Prices on Amazon
Check Reviews & Prices On RevZilla
Also: Motorcycle Jackets, Motorcycle Gloves, Motorcycle Boots, Motorcycle Pants
---
Tourist Trophy Jacket Features
Probably the most distinguishing features of the Tourist Trophy jacket — other than the distinctive waxed cotton finish — are the belts.
The waist belt may look a bit strange, but it doesn't take long to become accustomed to it and it serves a nice function of keeping the wind from breezing up into the jacket from underneath.
This gives a nice warm 'n' cozy feeling inside the jacket.
The belt and all of the hardware on the TT jacket is made from antiqued brass — one of the reasons these types of jackets last for decades (Belstaff and Barbour also have repair services if needed).
The belt easily buckles up and the loose end goes through one narrow keeper and a wider sliding keeper with the Belstaff logo discreetly embossed.
The only issue here is that the belt hangs by just two fabric loops, sewn only at the top for some reason.
The loop hangs down and holds the belt but the small amount of stitching surface area seems like it could easily break.
The waist belt it matched by the neck belt; another anachronism that actually works pretty well, again once you become accustomed to the difference.
The collar can be worn up or down and it's lined with a nice, thick, old-school corduroy of the type not seen much any more.
Even with the collar up and done with the belt, it feels less thick or intrusive than many other textile motorcycle jacket collars and it also serves to keep out wind and water. Once more, "If it ain't broke, don't fix it".
Fit and Sizing
This Tourist Trophy jacket is a men's size large and it fits as expected for that size.
The tailoring and added panels in the rear help to give the jacket a more tapered profile than the Belstaff Trialmaster or Barbour International.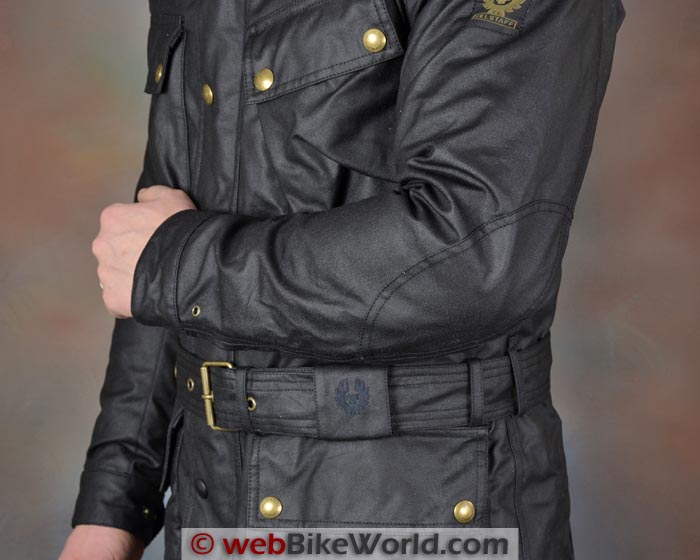 Pockets
The other style/function standouts are the big cargo pockets on the front of the Tourist Trophy jacket.
These are the archetype pockets for all other textile motorcycle jackets to come.
Each pocket has a fold-over flap inside and they're lined with the same nice plaid fabric — the same plaid used since 1948 — as the body of the jacket.
The large outer flap secures with two brass snaps, embossed with "Belstaff" and "England" text.
Curiously, the jacket is made in Romania, despite the Italian style and British fabric, so that "England" embossing is a bit misleading.
There are four of the big cargo pockets and they work well and are very useful.
Another modern touch is a zippered pocket on the inside of the left placket, which can hold a cell phone or wallet.
Snaps and Zippers
The Tourist Trophy jacket has the classic big metal zipper in front with the dual runner.
The upper half of the runner has a big metal ring as the pull, which is apparently standard for waxed cotton jackets, at least in any I have seen. It's a very nice feature because it makes finding and pulling the zipper a breeze.
The front has a separate wind/rain gutter and the main entry flap folds over both the zipper and the gutter and closes with more antiqued brass snaps.
The bottom two snaps are covered with a rubberized coating to help prevent paint scratches.
The sleeve cuffs also close with a brass snap and they're three-way adjustable.
The cuff is lined with the same corduroy found in the collar. Inside the sleeve is a vinyl storm cuff that's attached about 140 mm up inside the sleeve.
It has an elastic end and it's also adjustable and it serves to keep out wind and water.
This is another apparently standard feature on this type of jacket because my Barbour Bedale has the same system.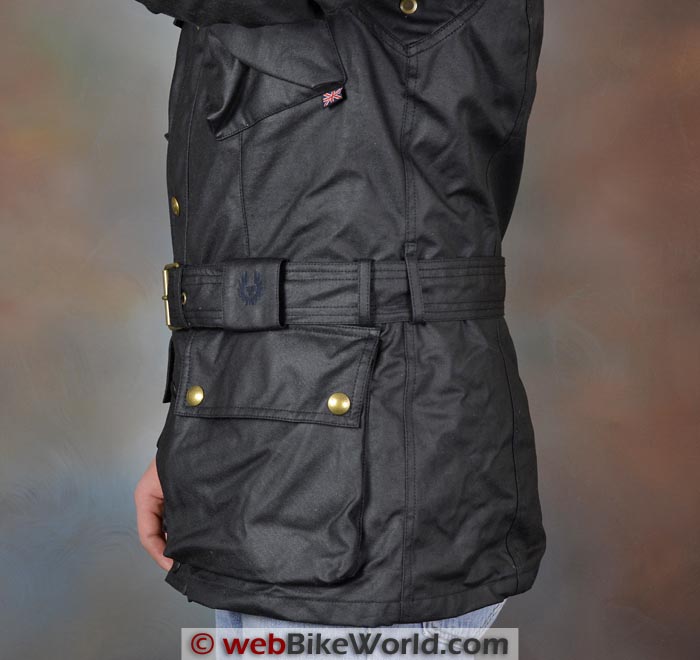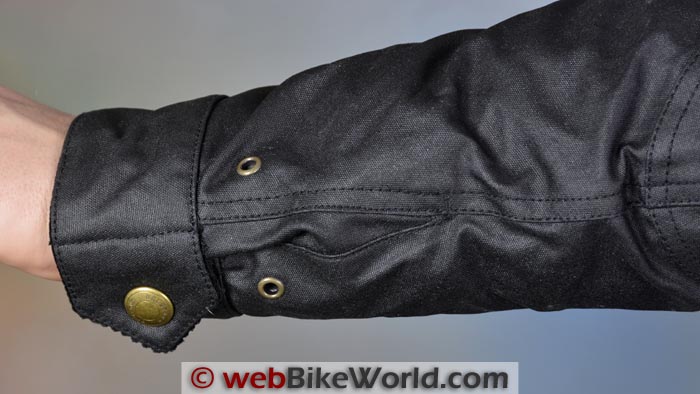 ---
Where to Buy Belstaff Tourist Trophy Jacket
Check Reviews & Prices on Amazon
Check Reviews & Prices On RevZilla
Also: Motorcycle Jackets, Motorcycle Gloves, Motorcycle Boots, Motorcycle Pants
---
Removable Insulating Liner
The jacket has a removable insulating quilted liner; it attaches with a full zipper around the perimeter and with two snaps along the bottom of the jacket hem.
It's a vest only, so there are no sleeves.
The liner is another difference or update from the Trialmaster jacket, which did not have a zip-in liner but did have a separate wearable liner available as an option.
The wind-resistant waxed cotton jacket shell and the inner plaid fabric lining, combined with the quilted vest insert, do a pretty good job at keeping me warm but this obviously isn't a jacket for extreme cold.
The problem is the sleeves; with no insulation, the cold can be felt. A potential solution is to wear a windproof layer underneath.
But overall, the jacket works well in temperatures ranging down to about 7 C (45 F).
w

BW

 Video: Belstaff Classic Tourist Trophy Jacket Details
D3O Protectors
The most modern update featured in the Tourist Trophy jacket surely must be the use of removable D3O protectors in the elbows and shoulders.
I'm not convinced about D30 protectors but they are rated to the EN 1621-1:2011 (Level 1) standard and there's no question that they're thinner and probably more comfortable than other "armor" types.
In addition, there's a semi-hidden pocket in the back of the jacket that can hold a back protector.
I'm not sure what type of protector it will hold and the zippered opening is rather narrow, so I can't get a spare SAS-Tec back protector inserted.
I don't see anything listed on the Belstaff or British Motorcycle Gear websites about which type of protector will fit.
The jacket obviously is not designed to have the same type of abrasion protection as a modern textile or leather motorcycle jacket with technology such as SuperFabric or Knox hard protectors.
All I can say about that is a trite "It is what it is" and you'll either buy into the zeitgeist or not.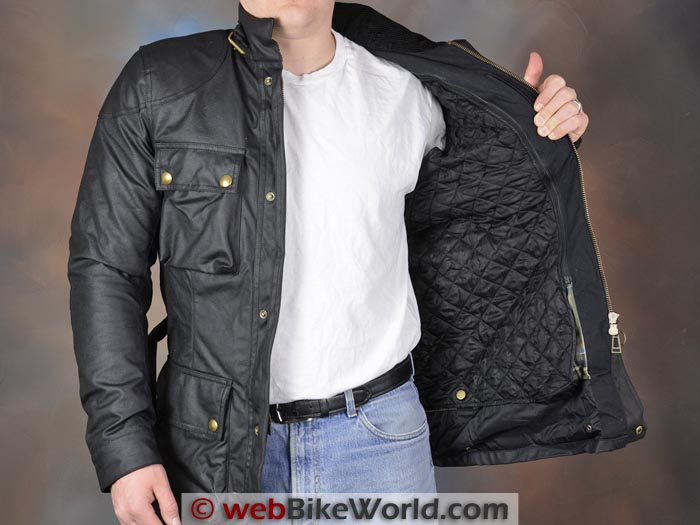 Conclusion
The Belstaff Classic Tourist Trophy jacket is a true original survivor, brought up to modern standards with a discreet infusion of modern technology.
The jacket looks good on and off the bike and it will serve you well for many years to come.
While it's missing a true abrasion-resistant exterior and some other features of modern techno-jackets, it is what it is and if you understand where it's coming from, that's not a problem.
w

BW

 Product Review: Belstaff Classic Tourist Trophy Jacket
Manufacturer: Belstaff
List Price: $695.00
Colors: Black (Brown also in Europe)
Made In: Romania
Sizes: S to 4XL.
Review Date: October 2013
Note: Item provided by a retailer, distributor or manufacturer with these Terms and Conditions.
Note:
 For informational use only. All material and photographs are Copyright © webWorld International, LLC since 2000. All rights reserved. See the webBikeWorld® 
Site Info page
. Product specifications, features and details may change or differ from our descriptions. Always check before purchasing. Read the
Terms and Conditions
!
---
Where to Buy Belstaff Tourist Trophy Jacket
Check Reviews & Prices on Amazon
Check Reviews & Prices On RevZilla
Also: Motorcycle Jackets, Motorcycle Gloves, Motorcycle Boots, Motorcycle Pants
---
Owner Comments and Feedback
---
From "D" (October 2014): "Just read your Belstaff Classic Tourist Trophy review and you misunderstood about the Miporex membrane.
We used to get quite a few complaints about the previous incarnation of this jacket leaking.
The modern wax treatment is more palatable to the modern consumer, it is not as greasy as the treatment of yesteryear and it doesn't smell, but it is slightly less durable.
It is prone to drying out in wind and sun, and loses its effectiveness after repeated exposure to rain.
The effectiveness can be restored by reproofing with the Belstaff wax dressing but again this is something which the modern consumer is less inclined to do.
For these reasons Belstaff decided to fit the wax cotton jackets in the Pure Motorcycle collection (i.e. the protective motorcycle wear, not the fashion garments) with a seam sealed Miporex membrane.
This is a full Miporex membrane.
They have not attempted to seal the seams of the wax cotton fabric as the review suggests, that wouldn't be possible and wouldn't address the real issues I outlined above.
So you have the heritage of the wax cotton, the appeal of the wax cotton fabric but the jacket isn't relying on the wax cotton fabric to keep it waterproof. It relies on the seam sealed Miporex membrane for that.
The owner should still reproof the jacket occasionally as the fabric also relies on this treatment to protect it from wear.
If you don't reproof a wax cotton jacket you leave the cotton fabric prone to wear and it will soon rub through once the dressing has worn off.
Another popular misconception is that wax cotton jackets are "breathable". In reality if the jacket is well treated with wax it does not really allow moisture to evaporate from within the jacket.
This is why the jackets can feel a bit clammy in warmer weather, they don't really breathe. Fitting a Miporex membrane doesn't really help in this respect.
You also query about the pocket for the back protector. This is designed to take the D3O Viper back protector."
---
From "J.K." (April 2014): "I enjoyed reading the review of the Belstaff Tourist Trophy Jacket, and it is great to see a few garments not emblazoned like a billboard.
I am curious what sort of real-world protection waxed cotton provides and I hope some readers will respond with their experiences (and I hope nobody was hurt!). One question — how about ventilation for riding when it's not so cool?"
Editor's Reply: No vents in these jackets and the waxed cotton breathes slightly but it can get a bit sticky inside. It's not like wearing vinyl though; it breathes more than that.
This type of waterproof system has been used for probably more than 100 years by old-school sailors, fishermen, etc. so it's proven.
Regarding real-world protection, other than the protectors now included in the TT jacket, not much for abrasion protection although the cotton duck is fairly thick.
But, back in the day, this was considered high-tech motorcycle riding gear compared to the other junk that was available at the time!
Other WebBikeWorld Jacket Posts