The Steinel Ultra Heat SV800 Heat Gun is an excellent quality tool with a rugged power cord and it puts out a lot of heat.
This is an excellent tool to have for shrink tubing and removing decals or vinyl transfers or for general heat-up chores around the garage.
And it's a lot safer than an open flame…
I've been meaning to get an "official" heat gun for some time, to replace the wife's hair dryer and the propane torch I've used in the past on shrink tubing.
Let me give you a tip: a match or a propane torch is probably not the safest method for heating shrink tubing when you're working under the gas tank of a motorcycle. But you knew that, right?
If you do any type of electrical work on a motorcycle, like installing auxiliary lights, horns or other electrical gear, shrink tubing is the perfect way to seal and protect the splices.
I even use shrink tubing over Posi-Lock connectors, just to be on the safe side, although that sort of kills the idea of the reusable Posi-Lock.
Sometimes when I'm working in the depths of the bike on a permanent splice to lengthen a connection or other project, I'll still use a soldering gun.
Whenever I do, it's shrink tubing for sure.
Don't be a cheesehead like I used to be and use electrical tape to cover up your splices — that's strictly for rubes, not intelligent webBikeWorlders. Do it right and use shrink tubing.
It not only looks better — more "professional" — it does a better job at protecting the connection.
The last thing you want is a loose wire somewhere under the bike causing a short and electrical meltdown in the middle of rush hour. I learned the hard way.
I went to a local electrical supply store and bought a selection of heat shrink tubing in three foot lengths to keep in the garage, and I cut it to size when needed.
Just remember to slide the shrink tubing over the wires before you solder them together!
It took me a while, but I recently decided to splurge on a real, live, honest-to-goodness "industrial" heat gun designed specifically for the purpose.
Believe me, it's one of those tools that once you use it, you'll wonder how you worked without it.
So you don't want to spend money on a tool you'll only use once in a while? Then put it on the holiday, birthday, anniversary, Father's or Mother's day wish list.
A tool that you want and will use but don't necessarily want bad enough to drop 50 bucks on is a perfect gift. Or buy one for your wife on your anniversary. Wait — on second thought, you better not…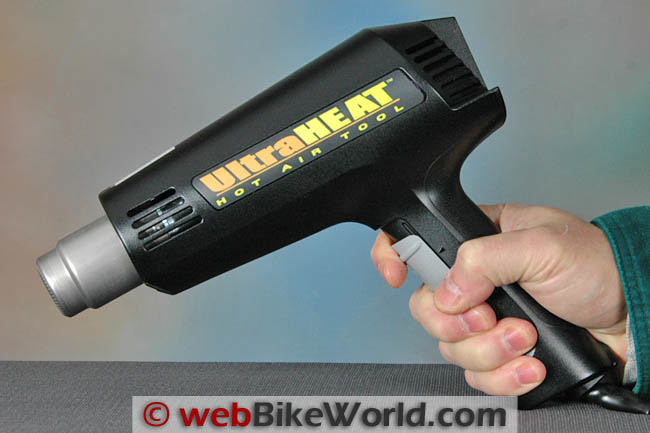 The Steinel Ultra Heat SV 800 Heat Gun
Search for a heat gun and you'll find dozens of different brands, models and types in a wide range of prices. So how do you decide which one to buy?
I learned a long time ago that you don't save money buying cheap tools.
When it comes to heat guns, there are some differences, however.
I've used "pro" industrial heat guns on the job in a factory once, and these are very heavy-duty metal tools that are built to last because they're used for hours a day, years on end.
This type of heat gun can be found, but it's overkill for the garage unless you're doing an awful lot of wiring. But on the other hand, I didn't want some cheap piece of junk that would melt the first time I used it.
There's not much to go by when researching a heat gun because it isn't the most popular tool and not everyone owns one.
They can be found anywhere from about $20.00 to $200.00, and I decided that I wanted a nice mid-range type that would do the job and last pretty much for the lifetime of use I'd be giving it anyway.
Any search for heat guns will come up with the name Steinel, which is a fairly well-known company when it comes to heat guns (and glue guns). The German manufacturer has a U.S. office and they make a nice variety of heat guns from the basic (including the SV 800 shown here) to the heavy-duty industrial type (the HG 4000 and HG 5000 series).
The Steinel Ultra Heat SV 800 heat gun is pretty much their entry-level version, although "entry level" to Steinel is mid- or top-range to most other brands. This is a very nice heat gun that should last a long time.
The SV 800 is about the size of an electric drill and it handles like one too. It weighs exactly 1 kg and it has a thick plastic case that should take a lot of abuse.
One of the features that first impressed me about the SV 800 is the gauge (thickness) of the 2 meter long power cord ; it's pretty hefty — more heavy-duty than the power cords on any of the electric drills I own.
It also has a separate sleeve where it comes out of the handle to prevent chafing.
The quality of the power cord is a good thing to have on an electric tool that's going to use a lot of juice and I figure if Steinel didn't cut corners here (and many of the cheap heat gun brands do), it gives me confidence that the rest of the tool is well made also.
In fact, the Steinel SV 800 comes with a one-year warranty, which is also a bonus.
The SV 800 a dual-heat model, with 600 degree Fahrenheit and 950 degree F settings (316 and 510 C). It puts out 1,300 Watts at 120 Volts.
Using the Steinel Heat Gun
The heat temperature settings on the SV 800 are controlled via a two-way switch on the handle. Push the switch up once to put it on low and push it up again to get the high heat setting.
The tool heats up very quickly — almost instantaneously. It does a great job on heat shrink — better than any other method I've ever used.
It shrinks even old tubing quickly and evenly.
Put it on high and get it near the shrink tube and the tube will quickly tighten around the wire. The fan is also relatively quiet — not as loud as a hair dryer, which is good.
The basic SV 800 doesn't come with any attachments, but I use the cardboard box it came in to store it. They also have an SV 800 kit that includes a carrying case and a couple of attachments that clip on to the nozzle to change the size of the air flow.
At first I thought I'd need the attachments but the reality is that the slightly wider stock round nozzle is just about perfect for surrounding the type of smaller-gauge heat shrink tubing used on motorcycles.
The cardboard box that the tool comes in is useful to  this one came in
The other "entry level" Steinel heat gun is the SV 803 Ultra Heat II, which is nearly identical to the VS 800 but has a third fan setting to blow cool air, which may be occasionally useful.
A heat gun is also useful for removing old decals or vinyl transfers or bumper stickers or old stick-on reflective tape.
Heat it up and it peels right off — a lot easier than trying to pick it off with a fingernail or razor blade, and safer on the painted surface also.
We used the Steinel heat gun to warm up the Stompgrip traction pads (review) that were installed on Rick's DR650 also.

Conclusion
The Steinel SV 800 Ultra Heat heat gun is a high-quality device that is simple but works well.
Plug it in, turn it on, it works. It's fairly quiet and it heats up very quickly.
The nozzle is designed to flood the shrink tubing with even heat and it does the job and doesn't overheat the vinyl.
If you're going to do it right by using shrink tubing on electrical work, you may as well have a quality tool and this is it.
I know there are many choices when it comes to heat guns, but I can definitely recommend this one, which can be found for around  $40.00 street price.
More:  wBW Motorcycle Tool Reviews  |  wBW Reviews Home
w

BW

 Review: Steinel Ultra Heat SV 800 Heat Gun
Manufacturer:  Steinel Vertrieb GmbH
List Price: $59.99
Colors: Black.
Made In: Romania
Review Date: May 2011
Note:
 For informational use only. All material and photographs are Copyright © webWorld International, LLC since 2000. All rights reserved. See the webBikeWorld® 
Site Info page
. Product specifications, features and details may change or differ from our descriptions. Always check before purchasing. Read the
Terms and Conditions
!
Owner Comments and Feedback
---
From "S.V." (06/2011):  "You're totally on target. The finish and lasting durability you can achieve on a wiring job with a proper heat gun is invaluable.
I bought a two speed gun a few years ago at Harbor Freight for $9.00 and haven't looked back.
It has served me well and several motorcycles are sporting proper wiring additions due to it's use. It hangs proximately in my shop."