You'd think I'd know what sort of bike I'm customising, but it seems I don't.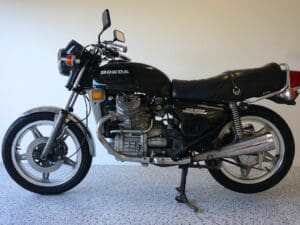 Nor does the Department of Transport. You see, my 1980 Honda CX500 Custom is not a Custom after all, despite the registration documents saying it is.
In fact, it's a Standard.
There are also Deluxe and Sports models. I never even knew there were different types!
Not that there is much difference, except handlebars and seat to make the Custom more of a cruiser to suit the American market, while the Deluxe drops the "Plastic Maggot" cowl and the Sport has a less confronting cowl.
This mix-up only became a problem when I ordered a cafe racer seat from the US to fit the bike. Of course, it fits a Custom and not my Standard.
My daughter's partner and I didn't realise the model dilemma until after we had put the grinder to the original seat fittings, so there was no going back to the original lounge seat.
Rather than returning the custom seat for the correct version and paying for expensive postage three times, we have decided that the mis-matched seat will actually serve us well on our customising project.
The seat sits a little high above the frame, leaving a gap which we will fill with some of the electronics so we can tidy up the battery cover area and maybe make it a clearway right through.
The solution is to fabricate of a metal tray with black sides so that it hides the gap.
Ah, the trials of backyard customising!
Apart from that, we have also replaced the blinkers and rear stop light and, of course, taken off the original seat and taillight. If anyone wants them, please contact me at mark@webbikeworld.com.
We're still working on a recurrent sticking clutch problem and about to replace the rusted rear suspension before setting about removing the Plastic Maggott cowl and instrument pod which will also be available for anyone restoring one of these Standards to their "former glory"!