Australia's Barkbusters is celebrating 30 of motorcycle handguards with some new products to be announced next week at the Intermot motorcycle show in Cologne.
There are no details yet, but they are bound to be up to the usual high standard of build that has made Barkbusters synonymous with motorcycle handguards just like Vespa is with scooters. "People often walk into a motorcycle store and ask for a set of Barkbusters in reference to all handguards," says company spokesman Michael Jobson.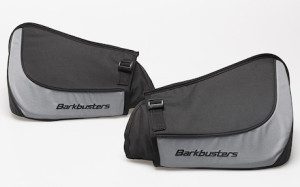 Barkbusters began in 1983 when Ted Goddard was asked by a rider to make some crash protection. Ted registered the Barkbusters trademark in 1984 and in 1998 the brand was bought by Matthew Phillpott, owner of Rideworx Pty Ltd.
The Aussie company is constantly researching and developing handguards for the plethora of new motorcycles that hit the market each year. They also continue to tweak current product to improve comfort and protection with new and improved materials and designs.
Their model list has specific fitment for more than 300 models across over 24 motorcycle manufacturers making them the most comprehensive handguard on the market.
Michael says Barkbusters is the most recognised handguard in the world with "new distributors popping up regularly in developing and established countries".
He says several motorcycle manufacturers use Barkbusters as original equipment including Honda, Yamaha, KTM and Kawasaki. They also make the backbones and fitting kits for all SW-Motech Handguard products.
Rideworx continue to manufacture Barkbusters Handguards in Australia despite the GFC and decline in local manufacturing. It now employs 10 people in their Unanderra factory in New South wales and outsources work to other Australian businesses.
They also claim next year will be a boom year with several new products in development and an "exponential growth" in distributors.