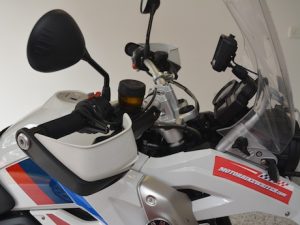 The first accessory you should add to your adventure bike is a set of Barkbusters.
Many adventure, dual-sport and dirt bikes come with plastic hand guards. However, these are not strong enough to protect your hands from hitting trees or to protect the integrity of your levers in a crash. Some are just flimsy plastic for brushing the bushes out of the way. Bigger adventure bikes have more robust hand guards, but even these may not be strong enough.
I once dropped my KTM 640 Adventure off its stand while stationary. It hit a rock and broke off the clutch lever because the standard plastic guards weren't strong enough.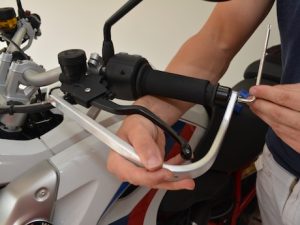 Similarly, Andy White of Andy Things which produces Andy Strapz says Barkbusters are "essential kit" that should be waiting in the shed when you buy your new bike so they can be fitted straight away. "I dropped mine (brand new Triumph Tiger) on the dirt crest between my drive and the gravel road I live on."
Mathew Phillpott of Barkbusters says incidents like these drove them to design a range of handguards to fit most adventure bikes.
"We manufacture a two-point-mount hardware kit that includes the aluminium backbone and all mounting hardware," he says.
Handguards aren't just about protection, but also comfort, keeping stones, rain and cold weather off your precious pinkies.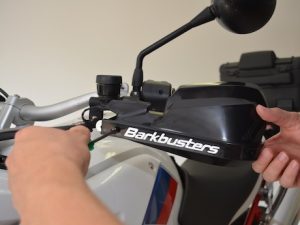 Barkbusters also come with VPS plastics with a variable-height wind deflector that can be removed for a more compact feel or Storm plastics that are larger and wrap around your hand for even more protection from the elements.
A friend of mine hit a kangaroo on a bitumen road and went straight down. The Barkbusters skidded along the coarse tarmac for about 30m and when he picked it up, the plastics were scarred, but the levers were in perfect condition so he could keep riding.
They are easy to fit but although it could be easier if they didn't use two different size bolts in the assembly kit.