Baja 90 ATV In-Depth Guide
The Baja 90 is a 309lb all-terrain vehicle(ATV) manufactured by Baja Motorsports. Baja 90 ATVs have a 7 horsepower 4-stroke 90cc engine with a rev limited top speed of 15MPH. The Baja ATV requires the use of SAE 10W30 oil. In cold weather SEA 10W50 can be used but should be changed back to 10W30 for summer riding.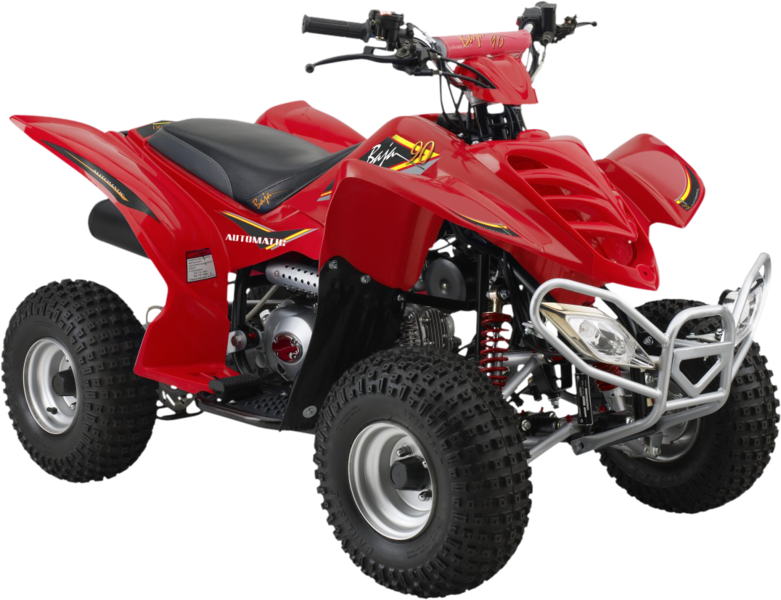 The Baja 90 ATV is a fun little all terrain vehicle for kids. I had the pleasure of enjoying a BBQ lunch with my good friend Bill this afternoon and his two sons, age 13 and 14, we're having a blast motoring around the backyard on two 90cc Baja ATVs. He bought the first quad in 2005 and the other is a 2007 90cc Baja ATV. Besides needing to fix one flat tire they have been 100% problem free for him.
Baja 90 ATV Specs
Engine Type: four-stroke 85.9cc with electric starter
Baja 90 ATV Top Speed: 15MPH (/w rev limiter)
Drive-train: Automatic transmission
Suspension: dual a-arm front and swing arm with mono shocks in rear
Braking: front dual drum, rear hydraulic disc
Baja 90 ATV Seat Height: 25.6 Inches
Baja 90 ATV Horsepower: 7 HP
Tires: front 16 x 8-7, rear 16 x 8-7
Baja 90 ATV Weight: 309 LBS
Chassis dimensions: 57.8 x 43.3 x 34.6 inches (L x W x H), 291 pounds dry weight
Special Features: parental control, throttle control with key start
Baja 90cc Review
Overall, after having watched two teenage boys ride around on them for over 45 minutes, I'd recommend this fun little quad to anyone. Please make sure to keep your 90cc ATVs well maintained and to follow local age laws and safety regulations and they could very well last you for many enjoyable years.
Baja Parts are relatively inexpensive and the original MSRP price was low at $580.00.