Motorcycle Helmet Review Summary
Motorcycle Helmet Image Gallery
Very quiet, high quality helmets made for Baehr by FM in Italy to Baehr's specifications.
This helmet includes the unique Baehr electronic active microphone and two speakers.
The outlet for the wiring hides in small pocket near chin.
Face shield has slight tendency to fog up quicker than other helmets.
Slightly fussy strap and latch.
One of these days, just for for fun, I'll rig up a spare helmet to see how easy (or hard) it is to install a set of speakers and a microphone.
I'm guessing that it will be difficult; both to get the microphone correctly mounted on the backside of the chin bar and to get the speakers and wiring installed correctly.
Some helmets come with ear "pockets" that make for a nice place to hold the speakers, but the shape of the liner of other models may make it very difficult to install your own.
All Baehr intercoms are supplied with two speakers and one of the unique Baehr electronic active microphones.
But it sure is nice to simply purchase the factory designed, installed and integrated helmet system and not have to break out the soldering iron.
Baehr Intercoms was kind enough to provide us with a couple of their Silencer II helmets for use with their intercoms in the companion piece to this review (see the wBW Review of Baehr Intercoms).
Baehr has partnered with Fimez S.p.a in Italy, makers of FM helmets, to produce their Silencer II model, which is the top-of-the-line in the range. FM helmets are very popular in Europe, and are of high quality.
The Silencer II is based on the FM "Force 10" model sold in Europe.
The Silencer II is available in 7 sizes, from XXS (52) to XXL (64).
According to the brochure that came with the helmet, it's homologated for ECE 22-03, NFS 72-305, BS 6658 Type A, Snell M90, and DOT.
There are no DOT stickers on the back of the helmets we have, so I'm assuming that this list is accurate but that we have a pair of the European branded samples.
Baehr's mission is to provide motorcyclists with "crystal-clear communications", so it's only natural that a properly designed helmet will help accomplish that task.
The installation of the speakers and microphone in this helmet is first-rate, and it's apparent that a lot of thought went into the design to make it as seamless as possible.
I don't think there's any way that a do-it-yourselfer could integrate the electronics in the same way.
The speakers are virtually invisible somewhere in the lining, and the microphone is precisely located as a flush mount on the inside of the chin bar.
Baehr Helmets Intercom System
A unique feature of the Silencer II is a short plug that lives inside of a zippered pocket on the lower right side neck roll of the helmet. It's designed to connect to a Baehr intercom.
The plug disappears into the helmet, and unless someone took off the helmet and turned it over and pointed it out, you'd never know it was there..
I'm not sure why Baehr picked FM's Force 10 model as a basis for the Silencer II, but some reasons are fairly obvious. The Silencer II fits round heads best, and the helmets are sized rather small.
Shell Size and Noise Levels
I'm guessing that the outer shell is a bit smaller than normal, to help reduce air intrusion, which causes noise. I usually take a size large in about every helmet brand I've tried — Shoei, Arai, KBC, Suomy, HJC, etc.
But the size large Silencer II was way too small.
Baehr sent us one size XL and a size XXL, and the XXL fits my (admittedly round) head perfectly.
But even the XXL took quite a stretch of the lower part of the helmet to pull it over my cranium..
Since a lot of helmet noise is generated by air rushing up into a helmet from underneath, I'll bet that this particular model from FM's lineup was chosen as a basis for use with Baehr's intercoms because it has a narrower than normal bottom, which helps keep out noisy drafts.
There's nothing wrong with that — other than a bit of a push to get the helmet on, it's very comfortable, and has a tight and secure feeling neck roll that does indeed help to keep it quiet.
Another great feature of the Silencer II is a good sized vinyl draft curtain that uses hook-and-loop fastener and a metal button snap to keep it closed and keep the air from rushing up underneath your chin.
This is apparently one of the secrets to keeping this helmet so quiet, and I hope more helmet manufacturers copy this, because it's an easy, cheap, lightweight and efficient method of quieting a helmet down a few dB.
The point is that a snug-fitting helmet with a close fit around the neck area, combined with a healthy sized draft guard, is a recipe for a quiet helmet, relatively speaking.
Ventilation and Face Shield
The Silencer II also has a minimum of holes, protrusions or other appendages on its exterior surface, which also helps to keep things quiet.
Remember that I always wear earplugs (and a helmet liner) with every helmet on every ride, so your experience may vary..
Note that there may be a downside to keeping out all this noisy air.
I didn't notice any difference in air movement at all with the front chin vent open or closed, and the relatively small shell size meant that my face was a bit closer than usual to the front of the helmet and the visor.
On cool mornings, it does get a bit foggy inside, but the Silencer II has one feature that I really look for in helmets.
The visor has a nice, strong detent at the first "click" open position.
I like to ride with a visor opened just a tiny bit — about 1/8″, because it usually results in a nice flow of air on my face, helping me avoid that "closed in" feeling, and it also allows me to enjoy the smells of nature as I'm tooling along.
Visors that have a positive detent for the first click seem to be rare nowadays.
I surmise it's because of the tolerances necessary in the plastic molding to allow this to work. It's nice to find that the Silencer II's designers saw fit to include this minor but important feature as part of their requirements.
As a bonus, the Silencer II has another really nice feature — a built in sun shade. It's not removable (at least that I can tell), and it doesn't slide up and down, but it comes in handy on bright days.
It's pretty unobtrusive; in fact, I didn't even realize it was there until the first sunny day. Just another nice touch that brings this helmet a bit above the competition.
The overall shape of the Silencer II is fairly basic. No fancy scallops, molding or graphics. But I'd much rather see the development money spent on functionality rather than flash any day.
One more feature that's both good and bad is the Silencer II's chin strap; I guess the designers went a bit overboard here.
Instead of a simple strap and D-rings, there's a rather complex latch mechanism, unlike any others I've seen on helmets, either in the U.S.A. or Europe.
It sort of works in reverse; you have to fumble with it a bit to get it on or off.
The strap also has not one, but two length adjusters.
The bad news is that it takes a bit to get the strap adjusted for your chin the first time you wear the helmet, but the good news is that once you're buckled in, it feels much more secure than helmet straps with one or no adjusters.
Also, the Silencer II has a nice, wide, padded under-chin piece that fits between the strap and your neck, and the cushioning helps to protect the sensitive neck area from chafing.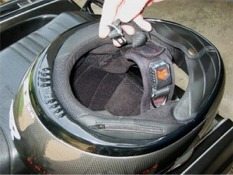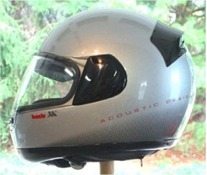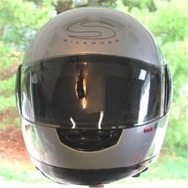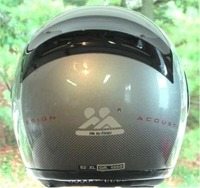 Conclusion
We've covered the features of the Baehr intercoms in Part 1 of this review.
So it goes without saying that the speakers, microphone and helmet really form a kind of "system" that adds much to the overall functionality and performance of the Baehr intercoms.
It's very quiet and quiet helmets add only to the enjoyment of riding.
But in this helmet, the quietness also adds a little something special, because you can actually talk to and hear your passengers or riding friends in a normal conversational voice.
Pre-wired helmets are almost always more expensive than unwired. The Silencer II is no exception, but if you're serious about perfect sound quality, this is the icing on the cake.
The question to ask yourself is if you're serious about planning on spending the money and time to rig up a communication system for your bike.
If you are, I'll bet that you're probably a pretty dedicated rider.
The few bucks more that you'd spend on a system like this should easily be amortized over the length of time you'll be enjoying yourself. Hey, you only live once!
w

BW

 Review: Baehr Silencer II Helmet
Available From: Baehr Intercoms (apparently no longer in business).
List Price (2005): €459; $1195-00NZ; $645.00US
Colors: Black, White, Anthracite, Silver.
 Made In: Italy
Review Date: 2004?
Note:
 For informational use only. All material and photographs are Copyright © webWorld International, LLC since 2000. All rights reserved. See the webBikeWorld® 
Site Info page
. Product specifications, features and details may change or differ from our descriptions. Always check before purchasing. Read the
Terms and Conditions
!
Owner Comments and Feedback
---
From "B.C.K.": "After reading your review, I purchased a Baehr Silencer II from NC Sales Corporation, the US importer.
Your review is pretty much spot on.
Sound quality through the built- in speakers is excellent, the visor is crystal clear, and fit and finish is exceptional. It has never fogged up, ever.
The integrated sun shade is indeed removable, and does a good job of blocking out the sun (although I think a Schuberth-style flip down sun shade would be better).
Something not discussed in your article but worth mentioning is that it is fairly lightweight, certainly the lightest full face helmet I have ever worn. Ventilation is good.
The only thing I don't like is the complicated latch system; a simple D-ring would be better."