Baehr Intercoms Image Gallery
Crystal-clear communications for rider-to-rider and rider-to-passenger (pillion).
Baehr has various models with capabilities ranging from basic bike-to-bike or rider to passenger communications.
Optional interface attachments for mobile phones, MP3 or CD players, radios, talking GPS and more are available.
I used to think of motorcycling as a solo retreat from the worries of the world. Stick in my earplugs and cruise to the thrum of the engine and exhaust. Just me and the bike…
And that's ok; nothing wrong with a bit of escapism. But ride with a friend or two (or more), and things are different.
Think about how much more fun you'd have riding with your mates if you could communicate?
It puts a whole different perspective on riding. And once you can freely talk to your riding companions en route, you can't imagine how you got along without the capability.
Let's face it — this is the age of instant communication. Why shouldn't we be able to chat up our pals while storming the back roads so that we can razz the hell out of 'em when they make a dumb mistake?
And wouldn't it be nice to be able to talk in a normal conversational manner with your passenger, rather than using caveman-like back-thumping signals in a desperate attempt to send a signal?
One of the reasons I don't take passengers very often is that once you get on the bike, you're both riding solo, for all practical purposes, if you don't have the ability to converse.
It sure is great to be able to speak without shouting and to hear the crystal-clear stereo sound of your friend's voice in your ears.
Bike-to-bike communication isn't as simple as hooking up a couple of cheap radios and expecting results. Motorcycle communication gear operates in probably one of the harshest environments possible.
There's the wind and motor noise to overcome; the ability to work in the rain; extremes of hot and cold temperatures; the close proximity of high-powered ignition systems, and a limited amount of surplus electrical power.
Also, it seems that the slightest bit of interference or static becomes very annoying very fast. This all means that it pays to have the best equipment available.
Baehr Intercoms
Discussions about high-quality intercom systems eventually come around to the name Baehr.
Manfred Baehr and ace electronic designer Bernd Gaebler have developed a worldwide reputation for making some of the highest quality communication devices for motorcycling available anywhere.
If you've got a communication need, Baehr Intercoms have a solution.
The continuously evolving Baehr product line includes about a dozen models to choose from.
That includes everything from basic bike-to-bike or rider-to-passenger communication to the sophisticated devices that allow the connection of cell phones, CD, radio or MP3 players, the new "talking" Global Positioning Systems and, of course, CB or other radio devices.
Baehr Intercoms also manufactures an electronically activated microphone to use with the intercoms.
This unique products automatically blocks background noise, yet it also doesn't need to be placed directly on or immediately close to the speaker's lips, like many other microphones on the market.
Intercom Details and Accessories
In addition to the intercoms, accessories, microphones and speakers, Baehr has also partnered with Fimez S.p.a in Italy, makers of the famous FM helmets, to produce a high-quality helmet that's pre-wired with Baehr speakers and a microphone (see Part 4 of this review).
Tony Jericevich of Challenger Motors, Ltd. kindly sent us an assortment of Baehr products that we've been using over the winter.
Tony sells, installs and supports Baehr equipment worldwide from his shop in New Zealand, and he was very helpful in answering all of our questions and getting us up and running on the other side of the planet.
Tony's an incredibly patient bloke (do they call 'em "blokes" in New Zealand?) and he has a great reputation with his customers around the world.
I chose the Baehr Basic Plus and the Ultima XL intercoms to for this review, to get a feel for both ends of the Baehr product line. All Baehr intercoms have the same quality of sound — that is, excellent.
The differences are only in the type and number of features. For example, the Ultima XL allows the attachment of just about any type of device you can think of.
It has four interface cables to attach your choice of UHF or CB radios for bike-to-bike communications, cell phones, and AM/FM, CD or MP3 players.
It also features automatic volume adjustment to compensate for background noise, and it provides individual control over many functions, like sound mixing, setting of channel priorities, fade, balance and more.
Some other nice features to note are that all Baehr products come with a two year warranty, and all of the intercoms are completely sealed and waterproof.
By the way, Baehr also makes custom headsets for Gold Wings, Yamahas and other touring bikes that can interface directly with their factory installed radio systems.
The Baehr Ultima XL Intercom
The Ultima XL is Baehr's top-of-the-line intercom, and it's designed to be semi- or permanently mounted in touring bikes. It weighs about 365 grams (about 13 oz.) and its waterproof aluminum case runs about 7.5″ by 3.5″ by 1″ thick.
This unit includes the ability to attach (and voice activate) a mobile telephone, a two-way radio, CD, MP3 or AM/FM radio or a voice-activated Global Positioning System device.
The Ultima XL has many different settings to custom-tailor the sound mixing, and it can be set to allow priority for any of the various devices that can be attached to it.
For example, bike-to-bike communication can be set as the main priority for listening, and a mobile phone or discussion with a passenger can take over the main channel priority when necessary.
The Ultima XL also has an auto-shutoff feature, which turns the intercom off as soon as the rider's helmet is disconnected.
One of the unique features of the Ultima XL is its automatic audio volume control, which gradually raises the volume of the speakers as the bike's speed and background noise increases.
This is a wonderful feature which allows the owner to simply "set and forget" the volume control, with no worries about ensuring a comfortable sound level for any of the attached accessories, whether at a stop light or at speed.
The automatic volume control also means that the unit can provide clear reception up to a claimed 200km/h (approx. 125 mph!).
At that speed, you best be concentrating on your riding and not chatting about where to stop for dinner!
And no, I didn't test it at anywhere near that speed, but I can report that the sound from both the Ultima XL and the Basic Plus was crystal-clear at any of the speeds that I'm comfortable with, either behind a fairing or head-in-the-breeze on a "naked" sport bike.
I always wear earplugs when I ride, and I wondered how they would affect the Baehr's sound quality.
At first it seemed rather strange to be wearing earplugs while using a device to communicate and hear other people's voices.
But both systems worked just fine with the earplugs in. I only had to use about 1/3 of the available volume to obtain perfectly clear reception, even through the 'plugs.
The Ultima XL is also available as a direct plug-in for either the BMW R1150RT or the K1200LT.
The standard wiring has been modified in these units to plug directly in to the BMW radio interface.
In addition, the LT has a special installation kit that holds the unit right under the seat. Since both of the wiring harnesses in these model-specific intercoms easily attach to the BMW tourers, it makes for a very slick and easy installation.
The Baehr Basic Plus Intercom
We didn't notice any difference in the sound quality of the Baehr Basic Plus intercom — it was just as clear as it's big brother, the Ultima XL. The Basic Plus has a smaller footprint (about 2″ by 3″ by 1″ thick) and weighs about 100 grams (about 3.5 oz.).
This model allows connection of a CB or FRS (Family Radio Service, the small home units popularized by Motorola) radio; the rider's and passenger's helmet, and a CD, MP3 or other personal listening device.
The petite size of this unit allows it to be mounted in the smallest of cubby holes on just about any bike — as you'll see below, we took good advantage of its small size to rig up the ultimate in portable communication systems (see below)!
Intercom Wiring 101
A visit to a store or website that sells motorcycle communication products can be a frustrating experience for a wire-phobic like me.
There are a bewildering array of choices in intercom systems.
And then you have to consider all of the wiring.
Like the wiring harnesses to tap in to your bike's power, intercom and helmet accessories, speakers and microphones…
And that's before you even get to pick a radio!
I'll admit, I was baffled by how this all worked, and went away more than once frustrated enough to forget about ever finding an easy solution.
But I'm now here to tell you that it doesn't have to be that difficult. Let's see if I can clear up some of the confusion…
Intercom systems use wires to connect their various components together.
A basic package to communicate with a passenger or bike-to-bike will need power from the bike's electrical system to run the intercom.
Also, a connection that runs from the intercom to the speakers and microphone in the helmet.
And typically there is a "push to talk" button, which connects at one end to the intercom, and at the other end to a convenient spot near the bike's hand controls (the push-to-talk button is only needed for bike-to-bike conversation).
The other miscellaneous intercom wires (as illustrated in this photo) are to connect any auxiliary devices (such as a CD player, Walkman, etc.) and also for a line to the passenger's helmet if desired.
For bike-to-bike communications, throw in a radio and you're in business!
Don't let all the wiring scare you — even electrical blockheads like me can get these babies wired up in no time.
The hardest part is tapping in to the bike's electrics to power the intercom, but once you do that, everything else is just "plug-and-play".
Accessing your bike's power grid means that you'll need some type of either permanent or non-permanent electrical connection to your bike's battery.
Probably the best way is to hard-wire the intercom into an accessory that comes on when the bike starts, and turns off when the ignition is off.
If the intercom is permanently mounted, this will help prevent the battery from running down if you forget to turn off the radio.
But my idea was to make the communication system as portable as possible, so I wanted an easy plug-in to access some juice.
There are numerous ways of accomplishing this — most BMW's have one or more of the European-type accessory outlets; if your bike has one, you're pretty much all set.
These outlets are common on many different types of motorcycles, and they're very handy for powering intercoms and many other types of accessories.
I have a "Euro" accessory outlet on my '86 BMW R65″S", and I have a semi-permanently mounted "male/female" SAE-type plug on my '99 Triumph Thunderbird Sport that I use to connect a Battery Tender when the bike's in storage.
So I simply spliced in a male/female connector on the intercom's power cord.
This allows me to either plug the intercom directly in to the T-Bird, or attach the adapter (photo right) and use the male Euro plug in the Beemer.
These adapters are readily available anywhere that Battery Tenders are sold, and the male/female ends for splicing can be purchased at many auto parts stores.

Uniden Radios
Various types of radios are available to work with the Baehr intercoms.
They provide attachments for CB, UHF, and the "Family Radio Service" or FRS radios, similar to Kenwood's Freetalk or Motorola's Talkabout models.
Tony supplied us with two excellent (and home-grown) choices of UHF radios: a pair of the powerful Uniden UH-050XR units, which are switchable between one and five Watts.
Five Watts is a lot of power in a two-way radio, and this model has a claimed range of up to about 5 miles.
The greatest distance we tried was about two miles, and the 050's worked fine.
The 050's take either a rechargeable NiCad battery pack, or in our examples, an adapter that takes power from the bike's electrical system (650mA at the 1 Watt setting or or 1500mA at 5 Watts).
Tony also supplied us with two of Uniden's UH-040XR models, each with 0.5 Watts and good for about a 1.0 – 1.5 mile range.
The 040's are powered by three AA batteries, either alkaline or rechargeable.
The 040 weighs only about 150 grams, and is only about half the size of the 450 gram 050.
With its AA batteries, it doesn't need to be tied in to the bike's electrical system, and this worked out better for my goal of maximum portability.
I'm not sure how long the AA alkalines in the 040's will last; they haven't seemed to drain with all the workout they've received so far.
Carrying a few spare batteries seems to be a good tradeoff for the light weight and small size of the 040 if you aren't planning on a permanent installation.
The 040 worked fine at a distance of up to about one mile in the clear, but are noticeably weaker when obstructions like hills or buildings come between riders.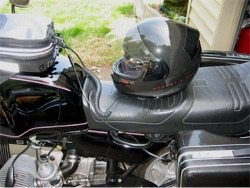 A Portable Communications System
OK, so what was so different about this setup? Well, I wanted a completely portable system — one which you could instantly pick up and walk away with when you stopped riding.
Let's face it: motorcycle intercoms and radios are mostly thought of as accessories used only on big-rig touring bikes. But the point was to demonstrate that you don't need a touring bike to enjoy these systems.
It really does open open up a whole new world of riding enjoyment!
What do I mean by portable?
Even though the Ultima XL is really meant to be permanently installed in a touring bike, I wanted to see if I could fit the entire unit, complete with all wiring and radio, into a small tank bag (with room to spare for a few goodies).
The goal for the Basic Plus was to get even more compact — would the entire system fit into a backpack or even into a jacket pocket?
In fact, I was able to fit the Basic Plus and the Uniden 040 into the lower pockets in an Aerostich Darien jacket, and the system can be easily carried in the back storage pocket of riding jackets like the Roadgear XCaliber and others.
It's not really a good idea to carry gear like this around in your pockets — if you do have a fall, the hard case of the radio and/or the intercom can give you a serious bruise or more.
I'm not suggesting that the equipment is made to be pocket sized.
The point is that you can carry good quality communications equipment in a small space; it's not necessary to have a big touring bike or even saddlebags.
The 040 or other similar-sized radio and the Basic Plus system should fit neatly in the smallest tank bag.
The only connections you'll need is the wire to the helmet (for the speakers and microphone), one wire for the intercom's power, and the push-to-talk button.
I also managed to fit the Ultima XL and the 050 radio, with all its wiring, into a small 10-liter Marsee "Rocket Pocket" magnetic tank bag. This bag is petite enough to fit on just about any bike (see the wBW Review of the Marsee Rocket Pocket tank bag).
Freedom and Speech
All of the Baehr products used in this review performed flawlessly.
The Baehr products proved their reputation for high quality sound — at every speed that we tried them, we could speak in a normal voice and and the reception was exceptional.
This was true for both rider-to-passenger and bike-to-bike communications.
The number one complaint of most motorcycle intercom owners is poor sound quality, especially as speeds increase. We had no problems clearly understanding everything that was said with the Baehr systems.
Rider-to-passenger communications were always clear, as were the bike-to-bike conversations (as long as we were within the range of the UHF radios).
Many intercom owners also report problems with their microphones — many brands of microphones must be very precisely located right in front of the speaker's mouth to work properly.
The Baehr products feature electronically activated microphones that work very well and seem to cancel out almost all background noise, and also allow a fairly wide range of placement.
What's also interesting about the system is that you don't hear your own voice in the speakers as you talk, which seems more natural than hearing your voice, like talking on a telephone.
Conversing with a passenger is fine, but it's really a lot of fun being able to talk to other riders.
Other than remembering to press the "push to talk" button before speaking bike-to-bike, it feels completely natural to use the system. I was surprised at how quickly one gets used to this capability.
For some reason, it doesn't seem anywhere near as distracting as talking on a cell phone while driving a car.
Maybe it's the sound quality, or not hearing your own voice in the speakers, or having to press the push-to-talk button before saying anything, but it's just really nice to be able to talk to your friends.
By the way — the passenger can hear all of the bike-to-bike conversation also, which adds to the enjoyment.
We also used the Baehr/FM "Silencer II" helmets for the review (see Part 4 for a detailed review).
These helmets start life as the high-quality FM "Force 10" model, and are modified according to Baehr's specifications with speakers and the electronic microphone.
The Silencer helmets are pre-wired with a jack that neatly tucks into the liner of the helmet in a tiny compartment that can be zippered shut.
The Silencer helmets are very quiet, which helps improve the sound quality of the Baehr intercoms.
There's a section of material that snaps shut under the chin to keep out air drafts and decrease any noise that can be generated by wind, and it really seems to help.
The Baehr speakers and electronic active microphone are provided with all of the Baehr intercoms, so you can "roll your own" with a home-made installation, but the pre-wired helmet is really a great way to go.
The Ultima XL has so many features, I'm still not sure if we tried them all! For example, if your mobile phone has an auto-answer feature, the Ultima XL can be set so that you can talk hands-free.
Once the phone's auto-answer is activated, the phone will ring a few times and the Baehr system will give it priority and connect to the call.
It's a completely hands-free operation, as you can talk without pressing any buttons, and after the caller hangs up, the phone is disconnected.
The Bottom Line
The ability to efficiently communicate really does add a whole new level of enjoyment to motorcycling. It's just so much fun to be able to talk to your friends as you ride! But not all systems are created equal.
You shouldn't have to put up with interference, microphone problems or other annoyances; the technology should not get in the way of the ability to communicate.
The Baehr systems in this review worked very well and provided a range of clear and effortless communication capabilities.
Motorcycle intercoms seem to fall in to the category of "you get what you pay for".
The Baehr systems cost more than the competition, but provide some of the highest quality sound available.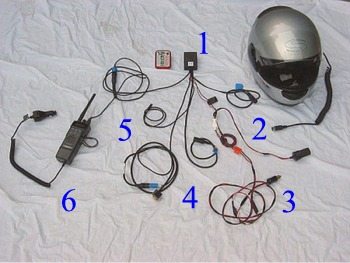 Addendum: Wiring the Basic Plus
The Basic Plus system is small enough to be carried in some coat pockets if necessary. Here's a look at the basic wiring setup for the Baehr Basic Plus. Believe me, it's not as complicated as it looks! Moving clockwise:
1.) The Basic Plus is about the same size as the box of Altoids mints.
2.) The helmet's speaker and microphone wire plugs into the wire curled up just above the numeral 2.
3.) This is the power cord; it looks messy because we were experimenting with various setups.
We spliced in both a wire to take power from the bike's European-style outlet and an American-style cigarette lighter outlet for when we need to power the 050, also shown in this photo at number 6.
This mess can easily be pared down to a single pair of wires (about 14 guage) and plugged in to your bike's power grid.
4.) Just above the numeral 4 is the passenger's helmet connection, and to the left of the numeral 4 is the push-to-talk button on the end of its wire.
5.) This is a wire to connect a CD or Walkman-type radio.
6.) The big 050, with its power cord attached to the auxiliary power adapter. The power cord is eliminated when using the battery pack, and the 040 is about half this size.
w

BW

 Review: Baehr Ultima XL and Basic Plus Intercom Systems
Manufacturer: Baehr Intercoms (apparently no longer in business).
List Price: Varies
Colors: Black or Silver
Made In: Germany
Review Date: 2003?
Note: Item provided by a retailer, distributor or manufacturer with these Terms and Conditions.
Note:
 For informational use only. All material and photographs are Copyright © webWorld International, LLC since 2000. All rights reserved. See the webBikeWorld® 
Site Info page
. Product specifications, features and details may change or differ from our descriptions. Always check before purchasing. Read the
Terms and Conditions
!
Owner Comments and Feedback
---
From "C.M.": "I found your website in the spring of this year. It is great.
I have used it extensively as a source for parts for my 2002 BMW K1200RS. It has proved invaluable as a source. I wrote you once before regarding a part I purchased and feel compelled to write again.
When I initially purchased my bike, I had installed an Autocom intercom system. I ride a lot with my 7 year old son and it is important that I be able to speak with him while riding, for both his safety and my sanity.
Since installation I have been extremely unhappy with the Autocom system. I can't even stress how unhappy.
My son was so upset because many times he could barely communicate with me and this frightened and frustrated him (and me).
About a month and a half ago I saw the review for the Baehr communication system on your website. Given my troubles with the Autocom system I was obviously interested and even a little skeptical.
I read the reviews and thought the system sounded a little to good to be true.
I called Tony at Challenger Motors and spoke with him at length on at least two occasions regarding the system that would be right for me and the installation on my bike.
I discussed my problems with the Autocom system and he assured me that I would not have these problems with the Baehr system.
On my second call I ordered the Ultima XL model along with the cables for Walkman and radar interface.
I installed the system myself in about two hours and the helmet speakers and mike in two helmets in about one hour each. I called Tony for advice on the helmet headset installation and he directed me to his website where there were detailed instructions.
Long story, but the system works great. This is a quality piece of electronic gear.
The installation instructions were precise and accurate. Adjustment was a snap. Most importantly, the communication between passenger and rider is exceptional, clear and loud.
My son and I have never been so pleased with any previous purchase for our bike.
This device really lives up to its billing. I like the numerous adjustments that allowed us to tailor the system to our needs, this is very important with any intercom.
By comparison the Autocom stuff is really garbage (not my chosen word but appropriate for PG audiences). Helmet installation tolerance with the Autocom system is under 1/4″, what a crock.
There is virtually no way of being that precise in a motorcycle helmet on a repeatable basis.
Lastly, Challenge Motors and specifically Tony are a real pleasure to deal with.
I recently purchased some additional cable for cell phone etc. from Tony. Despite calling after hours, he took the time to speak with me about my experience with the installation and the parts I wanted to order.
All while he was late for a 360 KM ride. He took the time to explain some additional adjustments to improve the system performance.
All I can say is thanks. Without your website I would still be using the Autocom … and would be unhappy. Keep up the good work you are making a difference, at least to me. I recommend your website all the time."
NOTE: Here's a follow-up from C.M., received a few months later:
"Rick: I had written to you during the summer about my purchase of the Baehr Intercom from Challenger Motors.
You placed the information on your review section. I would like to take this opportunity to provide some supplemental information.
As you will remember from my previous write up, on installation the unit functioned better than expected. Both my son and I were overwhelmed with the performance.
However, about one month after the installation I began to have some problems with the unit. Specifically an extremely loud crackling noise in the headsets.
The noise was so loud and often that it became impossible to use the intercom without being distracted while driving.
I called Tony of Challenger and we agreed that I should return the unit for some testing or replacement.
Within two hours I received both an e-mail and a telephone call from Tony in which he stated that he thought he knew what the problem was.
Unfortunately I had already sent the unit out by Federal Express (this was on a Saturday). The unit arrived in NZ on Wednesday, Tony immediately checked out the unit and he was correct.
One of the extension wires shipped separately by the manufacturer was defective. He packed up the unit included two new wires to replace the defective one and I had the unit back for re-installation on Saturday.
The unit's performance is back to where it was on installation, overwhelming.
I guess I was just the unlucky person to get a defective wire. He even threw in a Baehr Hat and some earplugs.
I can't say enough about the service I received from Challenger and Tony.
I think one of the factors which people worry about when buying through the internet is customer support, service and the reliability of the vendor should something go wrong.
We live in a very imperfect world and don't want to be stuck paying a lot of money for something and find out it doesn't meet expectations or the vendor only wants your money and doesn't want to hear about any problems.
This was my experience with my previous intercom, which we had to throw out. I paid good money for it but it never lived up to the billing it got.
When I would talk with the customer service people all they would say was that I had installed it incorrectly ( the headphones had to be within 1/8″ tolerance to work properly).
My experience with Tony was completely the opposite.
When I called to tell him of my problems (waking him up at 1 am at home by accident) he kept apologizing for my inconvenience and telling me he would take care of the problem.
When I received the call from later that day, I was blown away. Here was a guy who really cared about me and my problem. When I had the unit back within a week, working perfectly, I was sure that I had purchased the right unit from the right people.
Yes I had a problem but it was fixed in minimal time and I was back to enjoying my product.
I can't say enough good things about Tony and Challenger. All I can say is that if you want an intercom system, you would have to be crazy to buy from anyone else.
I know the unit is a little more expensive but the peace of mind and customer satisfaction are well worth the additional money, not to mention the better performance.
I hope you will add this to my previous review so that everyone will know what a great product the Baehr Intercom is and what a great company Challenger Motors is."