Confusion about whether a three-wheeler is a trike, roadster or a three-wheel car seem to have been further confounded by Texas which has classed the new Polaris Slingshot as an autocycle.
The Texas motor vehicle department wouldn't let drivers register Slingshots as motorcycles when they were launched last year because riders sit inside the vehicles instead of straddling them.
However, new legislation now defines a three-wheeled vehicle with a steering wheel and interior seating like the Slingshot as an autocycle, obviating the need for the driver or passengers to wear helmets.
Some other US states are still debating the issue, but may follow the Texas lead.
Meanwhile, Polaris Australia spokesman Robert Rosengarten says plans to import the three-wheeler Slingshot are still "unsure".
But it sure does look like a whole lot of fun, even though it has a steering wheel, seats, floor-mounted five-speed transmission and seatbelts.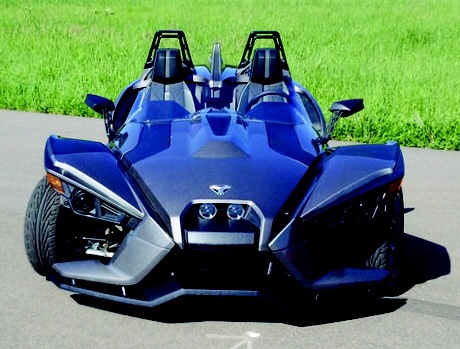 In the US, Slingshot comes in base trim for $19,999, premium Slingshot SL for $23,999 and SL LE for $24,999.
The low-slung, open-cockpit Polaris Slingshot, weighs just 782kg (1725 pounds) and is powered by a 2.4-litre straight-four engine with 129kW (173 horsepower) and 225Nm (166 foot-pounds) of torque. Safety features include ABS, electronic stability control, traction control and three-point seatbelts.
While the Polaris Slingshot has the same wheel configuration as the BRP Can-Am Spyder with two wheels in front, rather than the traditional trike with two wheels on the back, it is a cockpit-style vehicle, rather than a motorcycle you sit on. Polaris calls it a "reverse trike", but now might have to refer to the vehicle as an autocycle.
Polaris aims the vehicle at people interested in a motorcycle experience but not ready for two-wheels, plus mature-aged riders concerned about the weight of a big motorcycle.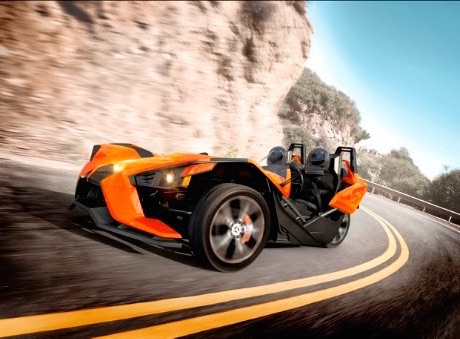 The company has the largest share of the North American powered two- and three-wheeler market ahead of Harley-Davidson and Honda.
While Polaris is best known for snowmobiles, all-terrain vehicles and side-by-side off-roaders, in recent years it has added Victory and Indian motorcycles. However, this is the first time the Minnesota company has produced a "motorcycle" under the Polaris name.
Polaris considers its motorcycle sales have another 50% to grow and the Slingshot is an important ingredient in that success.