Harley-Davidson is tipped to start producing their electric LiveWire motorcycle in five years and a Harley executive believes Australians are ready.
The American company's senior vice-president of global demand, Sean Cummings, was reported by the Milwaukee Business Journals as saying they would start production of an electric motorcycle within five years.
However, Harley-Davidson Australia marketing director Adam Wright says they have not received any confirmation from HQ "at this stage" as to when the electric LiveWire will be manufactured.
However, he believes Australians are ready for an electric motorcycle.
"Australians as a nation are very fast to embrace new technologies and Tesla is a great example of this," he says. "We are now seeing more and more of these vehicles on our roads everyday.
"Last week I was in Melbourne and noticed Tesla charging stations in carparks across the city with cars being charged during the day.
"It's proof that Australians are keen to move into new technologies such as electric vehicles that have style, function and reliability."
Harley has never committed to a timeline for the production of LiveWire, saying they would wait until battery technology advances improved range and recharging times.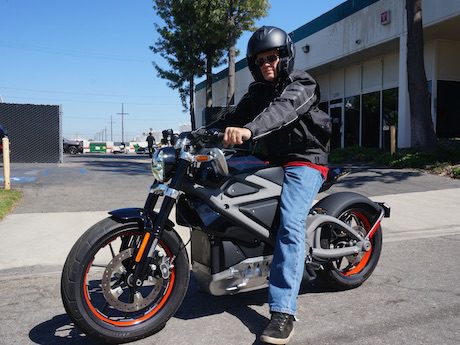 The production-ready-standard prototype that MBW rode in LA in 2014 takes three-and-a-half hours to fully charge and has range of less than 100km and about half that if used in high-performance mode.
Adam says battery technologies are developing at a rapid rate.
"We believe it won't be too long before we see long-distance riding capability from these technologies. This is the biggest hurdle at present for the industry. It's a very exciting future for us as a brand."
While Harley has been displaying prototype LiveWire bikes at various motorcycle shows and featuring it in an Avengers movie, fellow American motorcycle manufacturer Polaris has bought the Brammo electric motorcycle company and rebadged the Brammo Empulse as the Victory Empulse TT.
We rode the TT in Colorado in 2015 and it has been offered for sale in the US, but it is not yet available for export.
Meanwhile, Victory Racing surged to a second consecutive podium finish at the SES TT Zero race on the Isle of Man this month after William Dunlop rode the Empulse TT a 115.844mph lap to take second place.
Victory will also race last year's IOM electric bike in the 100th annual Pikes Peak International Hillclimb in July 2016.
It shows the American motorcycle companies are getting serious about electric bikes.
Are Aussies ready for electric motorcycles? What do you see as the major hurdle? Write a comment in the "Leave a reply" section below.