A plan by three Australian states plan to introduce a road-user fee on electric vehicles (EVs) could hamper the country's fledgling electric motorcycle industry.
NSW, South Australia and Victoria have all announced a road user charge for low and zero emission vehicles (LZEVs), while the Tasmanian Government's plans to go 100% electric vehicles for their government fleet by 2030.
This comes as the Melbourne-based says Savic Motorcycles launches their production model C-Series this Friday (26 November 2020).
Company founder Dennis Savic (pictured above) says "perception plays an important role" in taxing electric vehicles.
Government currently receives 42c/L of petrol or $11 billion a year which goes toward funding road infrastructure and maintenance.
"If everyone moves to electric, the question is how we will pay for new roads and road maintenance?" asks Dennis.
"Implementing a new tax that replaces the old one like-for-like is one solution.
"And the way it was communicated appears to have a negative impact towards EVs – but the government is kind of discounting their current taxes for EVs. So taxing EVs isn't incorrect, but isn't a perfectly accurate statement either.
"I wonder if a scheme was considered (and it probably was) where the public would be incentivised to buy and use electric vehicles, while the government recouped the potential lost taxes in another way.
"If the government invested in charging infrastructure to make charging more affordable and convenient to the public, the government could charge people for using them (no pun intended).
"I'm sure this is easier said than done.
"Electric vehicles cost less to run and maintain than ICE vehicles. Period.
"The industry will have to adapt and innovate if it would like to continue along its growth trajectory by offering products and services that suit the ever evolving customer. "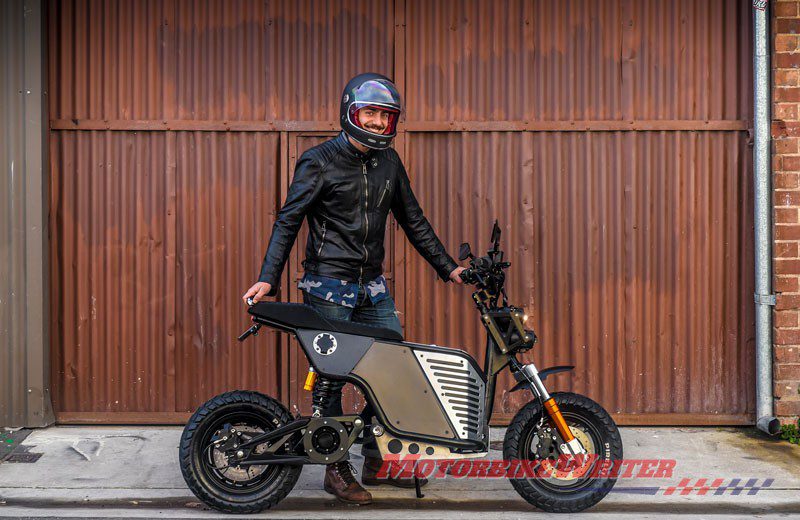 Michelle Nazzari, MD and founder of Australia's award-winning Sydney-based Fonzarelli electric scooter and minibike company, says "any government imposing an EV tax when we lag behind so greatly in EV uptake, their policymakers require a sanity check".
In September, Australia's first electric motorcycle company won the Australian Good Design Awards' Automotive – Best Exterior category for the fun, electric, dual-sport Fonzarelli Grom-sized NKD minibike.
Federal Chamber of Automotive Industries (FCAI) boss Tony Weber says the road-user fee would "destroy the path to a greener and cleaner motor vehicle fleet for this and future generations".
"Don't worry about health outcomes, don't concern yourself about the environment –  short-term revenue collection comes first," he says.  
"Other countries bend over backwards to increase the use of EVs and other low emission vehicles, because they recognise the benefits.  
"Australian state governments want to kill the technology at its infancy.  Is this because some states want to substitute the Commonwealth excise tax with their own tax?  Are motorists being caught in a petty game in which the states want to establish a new revenue base at the expense of the Commonwealth?
"The FCAI recognises that the decline in excise, the taxation of motorists and their vehicles, is a long-term issue that needs to be addressed.  We also understand that road user charging may play a role in Australia's future tax regime.
"However, such a transition needs to be undertaken in a holistic and nationwide manner, recognising the importance of EVs and other low emission vehicles.  Let's not kill EVs in their infancy."
Meanwhile, Tony has applauded Tasmania's decision as "forward-thinking".
"Tasmania's unique position with its renewable energy advantage means that the fleet will utilise domestic energy sources and create a more affordable second-hand electric vehicle market that will support the longer-term widespread adoption of low emission vehicles," Tony says.
"This proposal shows great leadership by the Tasmanian Government and will hopefully inspire some less progressive governments around Australia."