Australian Toby Price has achieved a stunning and significant third place in the world's most gruelling motorsports event, the Dakar Rally.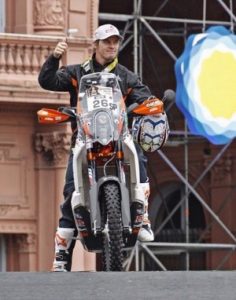 The 27-year-old Hunter Valley rider is not only the top-placed rookie but also the equal highest-placed Aussie finisher in the event's history after fellow rookie and privateer Andy Haydon placed third in 1998.
Even more significant is the fact that Toby broke his neck in a massive crash in the US in May 2013. He came within millimetres of becoming a quadriplegic. Toby had rods and screws inserted into three vertebrae and spent several months recuperating.
Then he bounced back last year with victories in both the Finke and Hattah desert races, a fourth Australian Off-Road Endurance title and a class victory for Australia in the International Six-Day Event.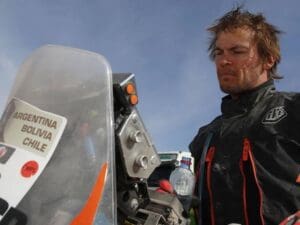 Toby's third place on a KTM Rally Replica in the Dakar Rally included a stage win and a second place, along with consistent and ever-improving performances throughout the two-week, 9000km rally.
The KTM Rally Factory Team rider started his career in motocross before switching to enduro and offroad racing. He has won the Finke Desert race four times and finished second in the 2012 Baja 1000.
"Being here in third place is insane," says Toby. "I'm at a loss for words. When I decided to sign up three or four months ago, I was quite nervous, I didn't know what I was getting into. And now I'm on the finish line … happy."
Before this year's rally, Toby spent a week training in Morocco with KTM's number one rider, Marc Coma who won this year's Dakar. It was Marc's fifth title and KTM's 14th consecutive victory.
Second place went to Honda rider Paulo Gonçalves of Portugal.
Other Aussie riders in the event were New York-based Clayton Jacobsen who withdrew on the tough eighth stage which claimed 14 other riders, and father-and-son team Simon Pavey and Llewellyn Sullivan-Pavey on KTM 450 Rally Replicas. Simon finished in 63rd place, one behind his son.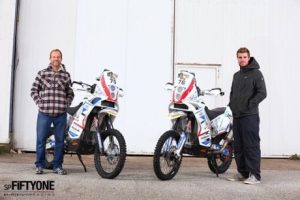 The quads section was won by Pole Rafal Sonik on a Yamaha, ahead of Argentinian Jeremias Gonzalez Ferioli, also on a Yamaha, and Bolivian Walter Nosiglia on a Honda. Qatari Nasser Al Atiyah won his second Dakar in the cars section in a Mini, followed by South African Giniel De Villiers in a Toyota and Pole Krzysztof Holowczyc in a Mini. The top three trucks were all Kamaz.
The 2015 rally included 4500km of special stages through deserts, high altitudes, scorching heat and freezing conditions in Bolivia, Argentina and Chile.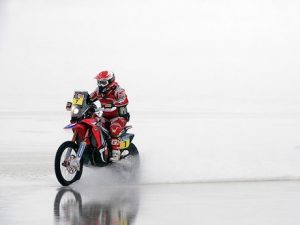 This year, 665 competitors from 53 countries lined up in 414 vehicles including 164 motorcycles, 48 quad bikes, 138 cars, 64 trucks. Of these, only 79 bikes, 18 quads, 68 cars and 51 trucks finished.