The new 1299 Panigale will arrive in Australia in the next month at $1000 more than the previous model, but with a lot more technology and power.
It will deliver more than 200 horsepower for the first time with a peak of 205hp and 10% more torque at 144.6Nm, but weighin only 166.5kg.
The 1299 Panigale will cost $27,990 plus on-road costs and the S will be $34,990 when they arrive in late April/early May.
They come with hi-tech electronics including the Bosch Inertial Platform for cornering ABS and DTC, Ducati Wheelie Control (DWC), Ducati Quick Shift – Up/Down (DQS), ride-by-wire throttle and riding and power modes.
The S version also has a titanium Akrvpovic racing exhaust and semi-active suspension and electronic steering damper controlled by the Öhlins Smart EC system. The suspension system changes the damping characteristics according to the lean angle.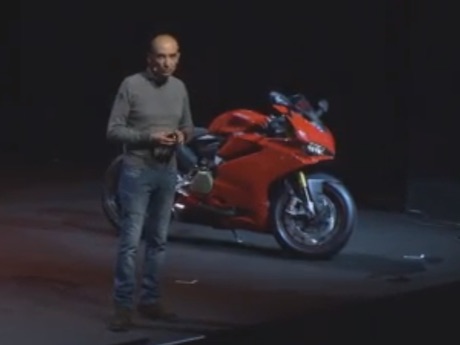 Ducati CEO Claudio Domenicali says it not only has a "big heart", light weight and speed, but also "connectivity" thanks to the electronics which make the bike manageable and "not a problem to ride".
Claudio says they changed every component on the motorcycle.
The 1299 Panigale looks substantially different with a wider front to improve rider protection at high speed, more rounded lines and narrower headlights.
The chassis has also been changed with a new swingers pivot position, steeper rake and more comfortable seat.