ATV Pull Behind Mower Guide
About Pull Behind Mowers– A pull behind mower, also called a gang-mower, is a lawn and brush cutting machine that consists of a small combustion engine mounted on top of a steel or aluminum deck that is designed to be pulled or towed behind an ATV or lawn tractor. Pull behind mower engines typically range in power from 5 to 25 HP and run on gasoline or similar combustible liquid.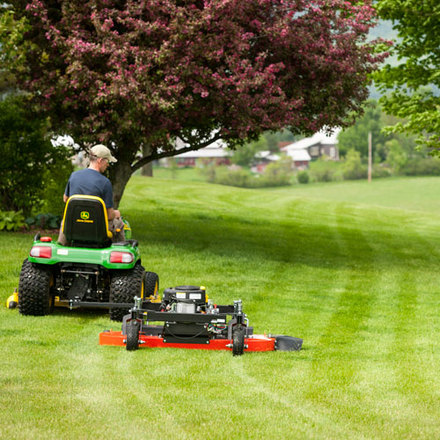 Larger commercial and farm grade pull behind mowers can be powered by a direct shaft drive from a tractor and not have an engine at all however the cost of such mowers is high and they are not designed for normal home, cottage or trail use. Currently the most popular pull behind mowers range from 44 inches to 60 inches in width and rely on a sharp rotary blade to cut grass and brush while spinning in a circular motion. Some models use a cylindrical blade instead and are designed to provide a better finish to grassy surfaces, as is required on sports fields.
Pull Behind Mower Safety
Always follow manufacturer recommended safety procedures. General safety concerns specific to a pull behind mower are in fact related to the manner in which the driver is using the equipment and not necessarily due to pull behind mower design. Speed, hidden objects in the path of the mower and improper use are the main cause of injury from pull mowers and the results of an accident can be extreme.
According to the Center For Injury Research and Policy there were approximately 9,400 injuries involving children and lawnmowers within the United States in 2004. Children under age 16 shouldn't be operating a pull mower at all nor should they be in the immediate vicinity when one is in use.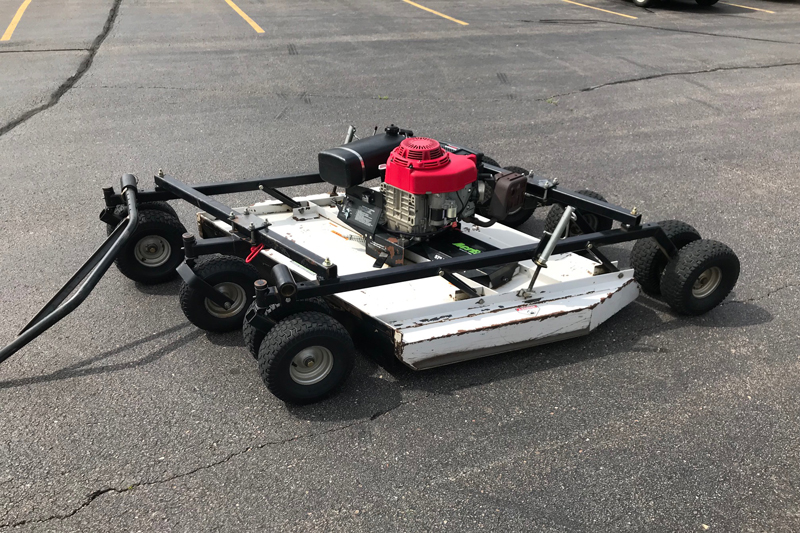 ATV Pull Behind Mower Uses
A typical pull behind mower available from most lawn and garden stores is capable of cutting wood-like materials up to 1.5 inches in diameter and will last 8-10 years with proper maintenance, fuel and storage. Home owners and facility maintenance workers with a lot of land to take care of, or seasonal locations which often become overgrown with brush in the off-season, are where a pull behind mower is most useful.
Public trails and parks may also require the use of a pull behind mower depending on their size. To speed up the process of cutting a large area of grass most pull behind mowers can be attached to a lawn tractor in a manner that makes it ride partially beside the tractor thus cutting a wider path with each pass. (see first image for side attachment)
Pull Behind Mower Environmental Impact
Most small two and four stroke engines designed for yard work do not require the use of environmental protection devices such as a catalytic converter in order to operate. As a result small engines tend to burn fuel a lot less cleanly that an average car, 4 times as much per hour on average according to the EPA, and more on larger pull behind mowers or 2-stroke engine models requiring a mixture of oil with the fuel.
As a result it's good practice to take into consideration the impact of such small engines and use the appropriate pull behind mower capacity for the job at hand. Using a pull behind mower with a larger engine won't make a job finish any faster but more fuel is burned in the process which means more pollution reaches the atmosphere. A well maintained engine is critical to environmental protection to your tow behind mowers ATV usefulness rating.
Pull Behind Mower Cost
Several manufacturers sell pull behind mowers in the US including Swisher and Kunz Engineering and price will depend on your individual needs. Finish Cut and Rough Cut pull behind mowers are common can range from several hundred dollars to several thousand dollars depending on features and engine size. ATVStyle recommends renting a pull behind mower and testing it on your property under real conditions before deciding which pull behind mower is right for your needs, the American Rental Association can help you find a local rental store.
You can also find an occasional bargain by buying used however due diligence is extremely important when buying second hand, you don't need to purchase second hand problems by surprise. These are currently available, when picking up a used machine test it thoroughly before buying.