British helmet company Ruroc is about to launch its updated Atlas 2.0 carbon-fibre helmet with several improvements and a clever magnetic quick-release chin strap clasp.
The official launch is on 27 February  2020, but we've had one for a couple of weeks now and been testing it in the real world.
The carbon-fibre Atlas 2.0 is Euro approved for Australia and will come in a range of 15 colours, raw carbon and three limited-edition graphics with prices from $US430 ($A620) to $US490 ($A720). (More colour images at the end of the article)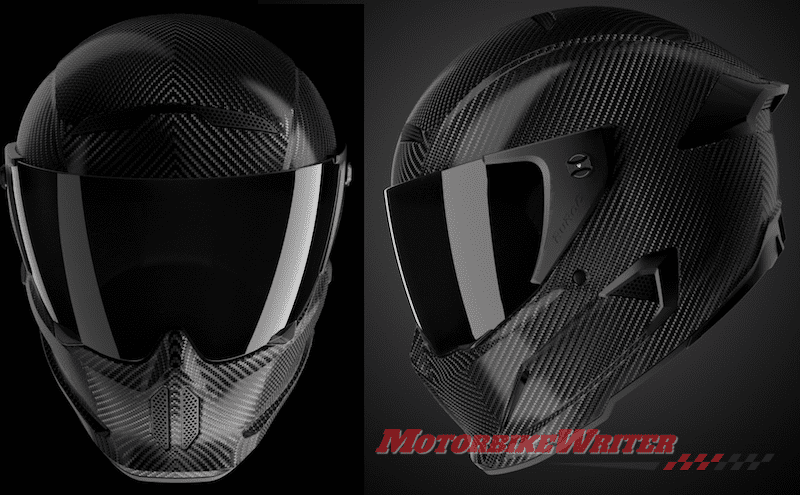 Improved Atlas 2.0
Elijah Weir of Ruroc says they listened to feedback from Atlas 1.0 owners to improve the quality.
That includes less wind noise yet better ventilation, a tricky combination that they seem to have got right.
There is also a Bluetooth compatibility section for their Shockwave audio system which we have also tested.
The most interesting feature is the quick-release chin strap buckle, called a Fidlock magnetic strap.
It clasps together like a monkey grip, but holds together by magnetics.
Now that might not sound strong, but we defy anyone to tear the connection apart.
Yet when you pull the red tag it immediately releases.
Simple, easy, secure and convenient. We love it.
They say the visor shape has been improved, but we still find the view a bit limited when you look back over your shoulder.
It now comes with a very solid visor lock that makes it a little difficult to snap shut the first few times, but it certainly won't be coming open at 200+km/h on the track!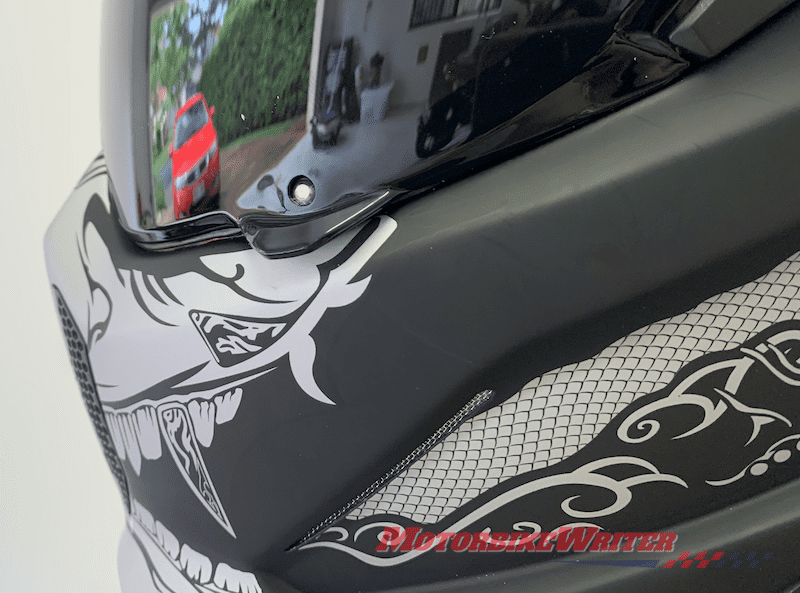 The lock and rubber gasket around the visor opening also ensure you get no water in through the visor gap.
Atlas 2.0 comes Pinlock ready and the specially shaped anti-fog Pinlock visor is difficult to fit into place but it snaps so tightly into position it will never move.
Once in place, it is a very effective anti-fog visor, but the ridges around the bottom of the visor can be distracting at first.
Air and aero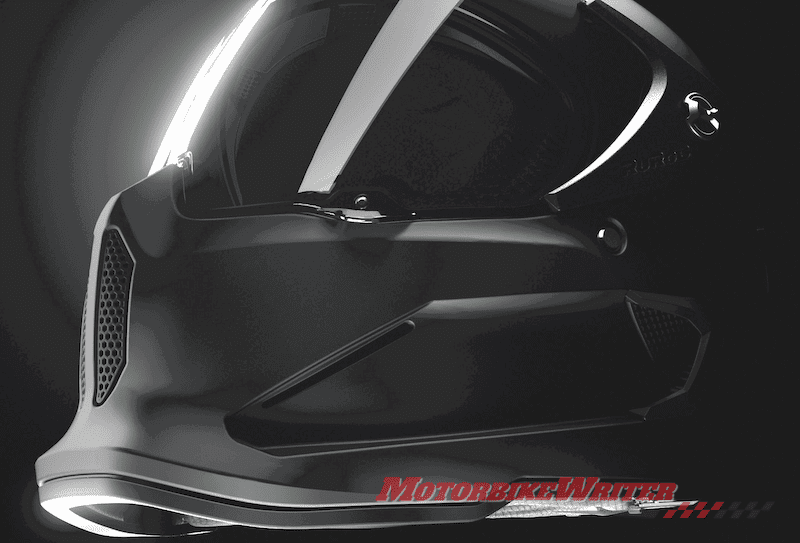 There are plenty of air vents in the chin, on each side and on the top plus three exhaust vents at the back.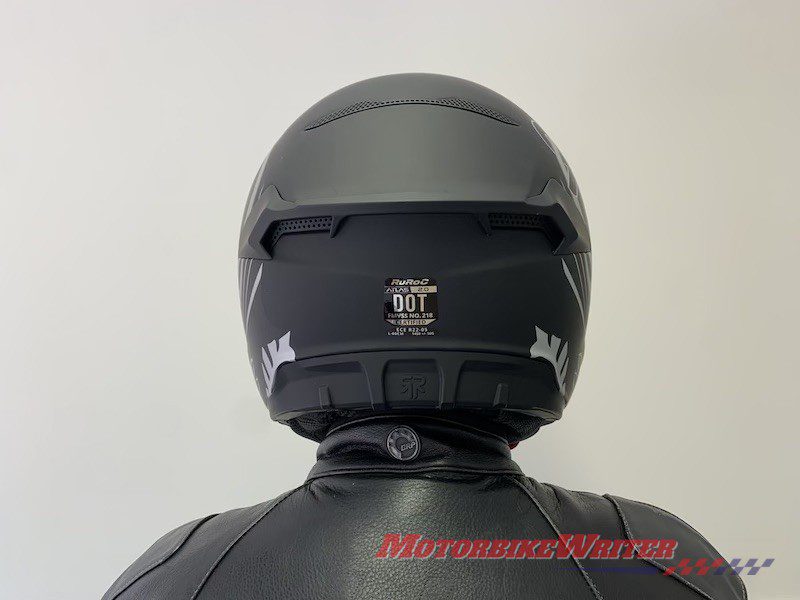 While the ventilation is excellent, on these really hot days, we've occasionally opened the visor for more air and found there is a fair amount of wind whistle.
However, it's pretty quiet with the visor closed as the side intake vents have been pushed back behind the ears.
The visor can also be removed now without tools, but there is a fiddly system with plastic brackets on the ends of the visor and a swivel plug that can easily be dropped in the process.
There are other quicker and more secure ways of removing a visor.
However, this one does have a very strong ratchet system when in place and you can put the visor in just about any position.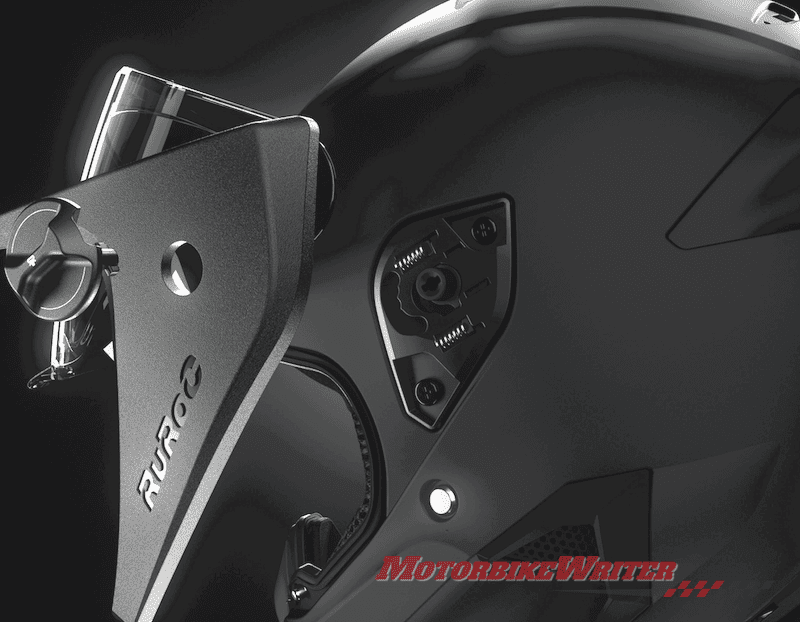 The aerodynamic shape may look little like a Stormtrooper's helmet, but it works. There is little drag at high speed and therefore no neck ache or fatigue at the end of a long day's riding.
It also means the helmet is pretty quiet and there is a chin wind guard and longer neck rolls to further dampen wind noise.   
Comfy fit
Inside, the helmet feels plush and immediately comfortable even when new and tight fitting.
The cheek pads can also be quickly released by first responders so the helmet can be taken off a crashed rider without damaging their neck or spine.
They are marked with bright red "Emergency" loop tags on each side so they are obvious to first responders.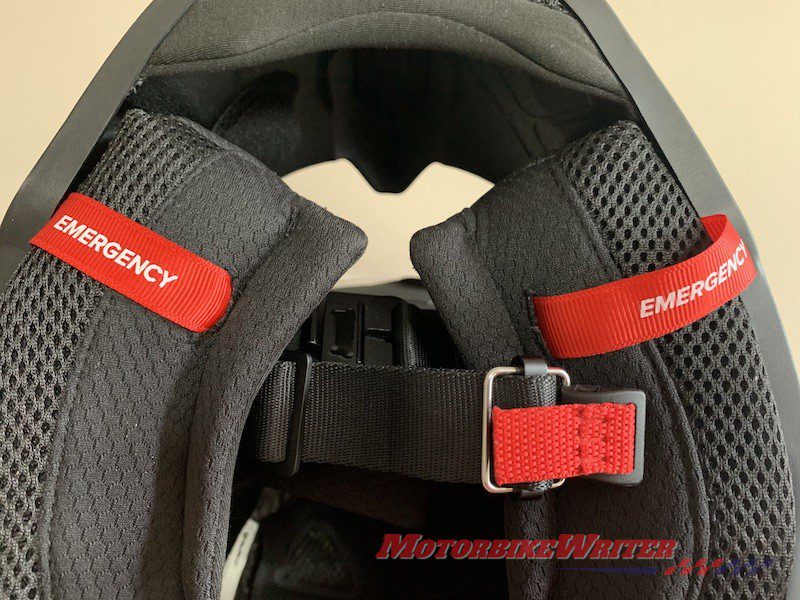 The Atlas 2.0 helmet feels light yet strong, weighing 1538g or 1618g with the Shockwave Bluetooth system installed.
Shockwave audio
The audio system is just for phone calls and listening to music and/or satnav directions at this stage.
However, Elijah tells us Ruroc developers are looking to integrate intercom and extras very soon.
It's a neat little system that tucks away discretely without any wires or extraneous parts that could cause neck rotation in a slide down the road.
It screws flush into a pocket in the very back of the helmet with two good quality speakers and a bud mic that sticks inside the chin piece.
There was a rubber plug for the charge socket, but it fell out and we lost it. However, riding in the rain didn't seem to affect the unit.
There are three small buttons for on/off as well as play, answer call and pause functions, plus volume/track up and down buttons.
They are all very small and difficult to feel with a gloved finger.
Also, it's quite difficult reaching all then way around the back to access them. Much less convenient than controls on the side of the helmet.
In fact, the down track/volume button on the right that — unless your an orangutan — can really only be accessed with your throttle hand, which is certainly not recommended.
Voice command would be a nice extra in future versions.
We'd also like to see the system get a bit more volume as it is difficult to hear them with our filtered MotoSafe earplugs in place.