AMC = Associated Motor Cycles
BIRTH OF AN EMPIRE
Associated Motor Cycles was more popularly known as AMC (not to be confused with 'the other AMC', American Motors Corporation, the US company that owned Rambler, Metro & Jeep, which sold out to Chrysler in 1987). Associated Motor Cycles was the result of various takeovers & acquisitions. In 1931, at the height of the Great Depression, the Colliers Brothers at Matchless acquired AJS from the Stevens' Brothers. Then in August 1937, Matchless acquired Sunbeam Motorcycles from ICI (Imperial Chemical Industries) who had taken over the troubled company. This left the Colliers owning 3 different marques of motorcycles: Matchless, AJS & now Sunbeam, each famous brands on their own account. On October 12, 1937 the company re-registered as Associated Motor Cycles Ltd. as a way to encompass all three brands. Things went well under the new arrangement. By the close of the 1930's, AMC (Associated Motor Cycles) was being well-managed & was in sound financial shape.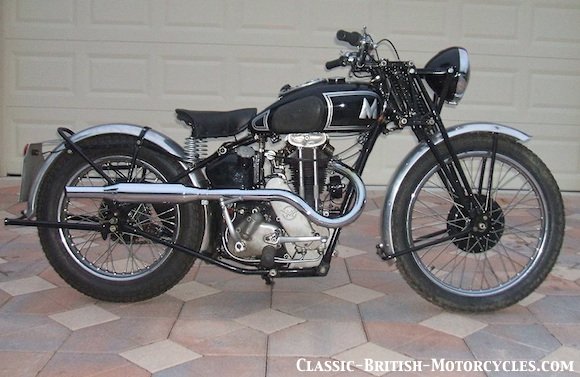 ABOVE: 1936 Matchless G3C Trails model.
ENGINE SUPPLIER
Matchless Motorcycles were so well respected for their quality & reliability that several other companies, both within & outside the motorcycle industry, contracted Matchless to provide their engines. The most famous of these would be Brough Superior, regarded as perhaps the finest motorcycle of its day & made famous by Lawrence of Arabia, who rode one across the Middle East in circa World War I. But Matchless also provided engines for Calthorpe, Coventry Eagle, and OEC, all motorcycle makers, and the Morgan Car Company. They supplied V-twins to Morgan for their funny little 3-wheeled car (2 in front & one out back). Things looked pretty bright for Associated Motor Cycles and its brands. Yet in 1940, AMC (Associated Motor Cycles) sold the Sunbeam brand name to the BSA Group.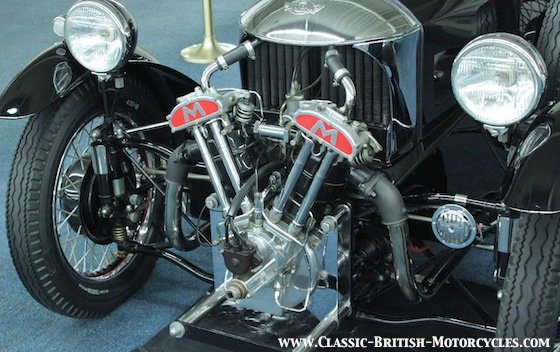 ABOVE: Morgan 3-wheelers were powered by Matchless V-twins as well as JAP V-twins on some models. This one is obviously Matchless-powered, as evidenced by the large "M" logos on the rocker boxes.
WAR PRODUCTION
World War II halted all civilian motorcycle production & AMC (Associated Motor Cycles) along with everyone else, began producing motorcycles for the War Department (WD) to their specification, however they were all Matchless Motorcycles. These were mostly G3L 350cc OHV singles equipped with Teledraulic front forks. They produced huge quantities of them, only exceeded by the Norton 16H and BSA M20 that were ordered for the British Army. The reason for this is that the Triumph factory was bombed in 1940, curtailing the War Department's plans to mass-produce the Triumph 3TW 350cc OHV twin. Bad for Triumph, good for Associated Motor Cycles, who had been trying to win a major military contract. In 1940, prior to the air raid, the War Office issued a specification encouraging motorcycle manufacturers to reduce the weight of their machines. Matchless pared 56 pounds off their civilian G3 & thus created the G3/L (L for 'Light'). It had ultra-modern telescopic front forks ("Teledraulic") when all other British marques were still using Girder front ends. It gave the G3 a distinctly modern look compared to the other bikes. After snatching the contract away from Triumph after the air raid, Matchless produced some 55,000 G3/Ls for the military. The next most numerous Matchless military machine was the G3WO, another 350cc OHV single, of which 18,500 were built. It was really an interim model, bridging the gap between the pre-war civilian G3's & the lighter, Teledraulic-equipped G3/L. There was also a Sunbeam-badged (but Matchless-engined) 990cc OHV V-twin intended as a sidecar tug, but it never reached production.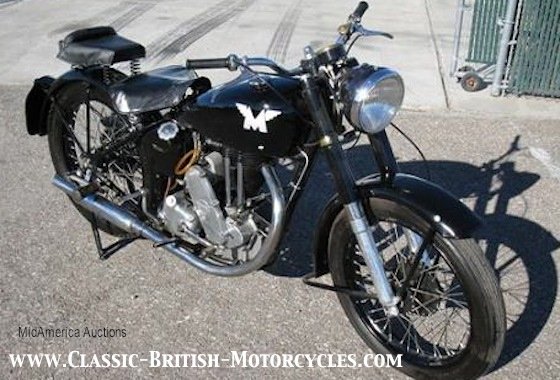 ABOVE: 1941 Matchless G3/L, military bike, now painted black.
TAKEOVER FEVER
With all this prosperity, it was time for the Associated Motor Cycles (AMC) Empire to expand. This began an era of acquisitions. It started in 1947 with the takeover of the Francis-Barnett company of Coventry, who were building Villiers-powered autocycles & lightweight motorcycles. They followed up with the 1950 takeover of the James Motorcycle Company, Birmingham. Next was the crown jewel, Norton Motorcycles in 1953. But this one was different. Unlike James & Francis-Barnett, Norton had real market cache' & Associated Motor Cycles wanted them a lot more. So it was decided to leave the existing management in place & allow Norton to operate as a separate entity, albeit part of the AMC Empire. In retrospect, the entire move to acquire Norton wasn't all that it was cracked up to be. Other than the Norton Dominator, their entire product line was obsolete, with much investment required. In addition, major Norton shareholders, the Pearl Assurance Co., exercised some outside control, nothing very new to AMC.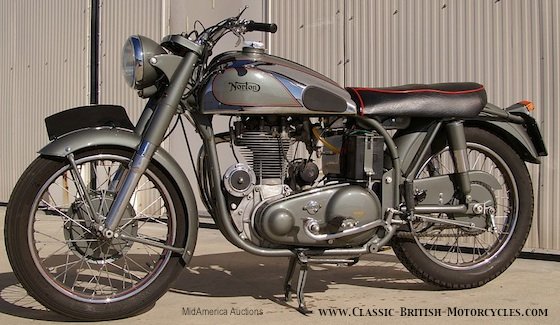 ABOVE: 1954 Norton 350 International.
TROUBLE IN PARADISE
In August 1954, Managing Director Charlie Collier, the last of the original Collier family who started the Matchless company, died at age 69. He had devoted his life to the company & had great knowledge & skill that the company would sorely miss. A few weeks later, H.J. (Ike) Hatch, Associated Motor Cycles chief development engineer, passed away in October at age 68. Late in 1954, Associated Motor Cycles (AMC) also announced they would discontinue their factory racing efforts, although they would continue to support a few selected privateers, riding the AJS 7R, Matchless G45 & Norton Manx.
JOCK WEST FIXES NORTON
Jock West, who had been vehemently opposed to AMC's purchase of Norton, was now asked to 'turn Norton around' & make is successful. He didn't relish the job, having just spent the better part of a decade trying to fix up the James brand, & he wasn't anxious to take on the same kind of thing again with Norton. But Associated Motor Cycles lured him with a seat on the Board of Directors & he took the job. He would be instrumental in the improvement of the Norton brand, starting with the Dominator 88, then the Dominator 99. In fact, Norton sales were so good that Jock West was offered the Managing Directors' position at Norton in 1959, but this time he said no, preferring to continue on in his Sales Director's role.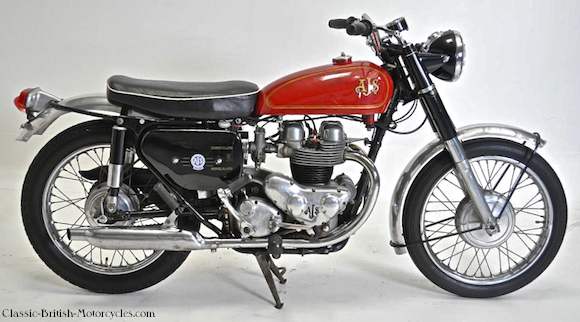 ABOVE: 1959 AJS CSR twin.
THE LATE 1950's
Jack Williams had filled the void left by Ike Hatch's death, as chief development engineer. He was instrumental in the improvement he made to the AJS 7R & in bringing the Matchless G50 to production. Associated Motor Cycles announced an end to their ban of the motorcycling press & kicked it off with a road test of their new Matchless G11CS Sports Twin 600 by 'The Motor Cycle' magazine. After achieving nearly 104mph on a closed circuit, they they tore the engine down for inspection, revealing it to be in excellent condition. It was a true marketing coup for AMC.
ONE MORE ACQUISITION
In 1959, AMC (Associated Motor Cycles) acquired the Brockhouse Engineering Group, who themselves had purchased the ailing Indian Motor Cycle Co. of Springfield, Mass in 1951. Indian had discontinued production of it's legendary V-twin in 1953 & had since been engaging in importing British motorcycles to America, including Norton, Vincent, Royal Enfield, AJS & Matchless. This arrangement ended in 1960. The US distributorship was awarded to Berliner Corp. in New Jersey. Berliner also imported Zundapps from Germany & Ducatis from Italy.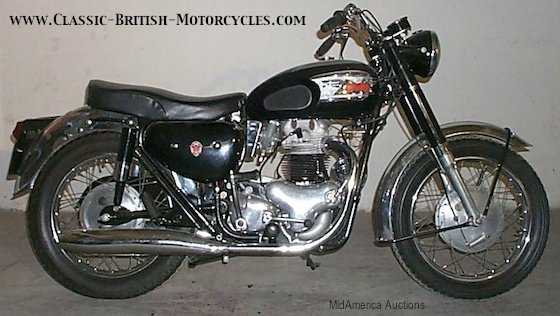 ABOVE: 1965 Matchless G15 750 twin.
MATCHLESS-AJS TWINS
AMC (Associated Motor Cycles) had been badge-engineering the Matchless & AJS Motorcycle lines for years, the two brands shared essentially the same basic machinery, with a few detail & cosmetic changes to differentiate them. So, when Matchless launched its first vertical twin, AJS soon followed with a sister-bike. The first twins were the 498cc Matchless G9 & it's twin, the AJS Model 20, introduced in 1948 at the Earls Court Show. These were bumped up to 593cc in 1956, creating the Matchless G11 & AJS Model 30, then again to 646cc in 1959 for the G12, and again to 745cc in 1965 for the Matchless G15. Matchless actually built a very good vertical twin, at least when compared to the other British marques. Things like a center main bearing & full-length studs fastening the head & barrels, were unique at the time. They were sound machines & should have done better in the market place. As far as AMC twins go, however, most of the attention was being lavished on the Norton twins, as they were seen to have the best chance of success.
THE END DRAWS NEAR
It seems that Associated Motor Cycles got caught in the same time warp that swallowed up every other once-successful British motorcycle maker. When things were going gangbusters in the 1950's, they failed to reinvest any of the money into new designs or modern manufacturing equipment. They seemed content & intent on soldiering through by buffing up ancient outdated designs. That might have worked had it not been for a person name Soichiro Honda, who showed the motorcycling world what was possible. Suddenly, every British design looked sadly out of date. Another thing that hurt AMC was a loss of direction, caused by the deaths of the Colliers & the exodus of much-needed talent like Bert Hopwood & Jock West.
INTERNAL SHAKE-UPS
In 1960, after roaring success in the 1950's, things had sunk so low that shareholders revolted & demanded the resignation of the entire board, with the exception of Jock West. Somehow, the Board outflanked this move & stayed, all except Jock West, the only one worth keeping. He moved on to bigger & better things. In 1961, AMC announced that it had lost 350,000 Pounds, cause for another Board shakeup. In 1962, Associated Motor Cycles (AMC) announced it's new 'Standardization Program' in which they would close down the Norton plant at Bracebridge & moved production into the Matchless-AJS facility in Plumstead. They also moved Francis-Barnett production into the James factory in Greet.
BADGE-ENGINEERING GONE WILD
Always known as one of the most blatant badge-engineers, having placed both AJS & Matchless logos on essentially the same machines for decades, the implications of 'standardization' were immediately obvious to the motorcycling public. It disenchanted many brand-loyal enthusiasts who never returned. Then there was the failure of the Piatti-designed 2-stroke engines they were installing in all James & F-Bs, and a subsequent move back to Villiers engines.
FINAL DEATH THROES
By the end of 1962, sales were declining rapidly & a new chariman was appointed, Sir Norman Hulbert MP, who promptly announced that the company was "on the road to recovery". But of course, they weren't. Things just went from bad to worse. By 1965, the model lineup included mostly a jumbled collection of AJS, Matchless & Norton engines being swapped into AMC, Jubilee & Featherbed frames, trying to hit the magic combination. None of it worked. By 1966, the directors quit & Associated Motor Cycles slipped into receivership. In September, Manganese Bronze Holdings headed by Denis Poore took it over, renaming it Norton Matchless Ltd. This later became a part of Norton Villiers, who a few years later would also take over the ailing BSA empire, including Triumph, renaming itself Norton-Villiers-Triumph (NVT). By 1967, the last of the Matchless-AJS motorcycles were built. From then on, of all the companies that Associated Motor Cycles had originally thrown into the pot together, Matchless, AJS, James, Francis-Barnett & Norton, only Norton would survive, for a few more years, at least. Another sad tale of the classic British motorcycle industry falling behind the times.
---
AMC Motorcycles BRAND-BY-BRAND
---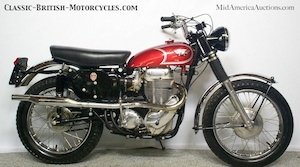 An early example of 'badge-engineering', Matchless & AJS bikes are almost identical. They built sturdy OHV singles & twins, following the standard British mold.
---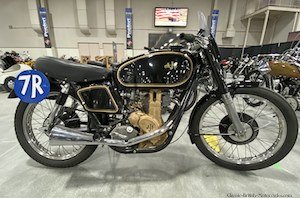 AJS was the 'badge-engineered' sister-brand to Matchless. They also built sturdy OHV singles & twins, following the standard British mold.
---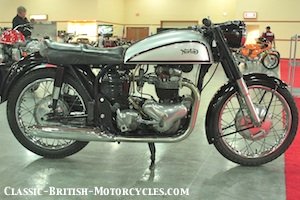 AMC owned Norton in the early days of the Norton Manx, Dominator and the like.
---