Arai Pro Shade Image Gallery
The Arai Pro Shade system adds a fold-down tinted sun shade to an Arai SAI-type face shield.
The system cannot be installed on a standard Arai face shield; instead, it replaces it with a modified face shield that has the special attachment for the sun shade.
The sun shade sits over the face shield and it can be tilted up or down manually.
It has a single detent, so it's an on or off device and the sun shade can be removed for cleaning.
When it's in the up position, the sun shade locks into position to prevent sudden closing.
The system may look slightly odd, but it works well and doesn't seem to change the aerodynamics or sound levels of the helmet, whether the sun shade is in the lowered or raised position. The new face shield also has adjustable brow vents.
The downside is the expense. Since you're replacing the entire face shield to get the sun shade, the cost is significant.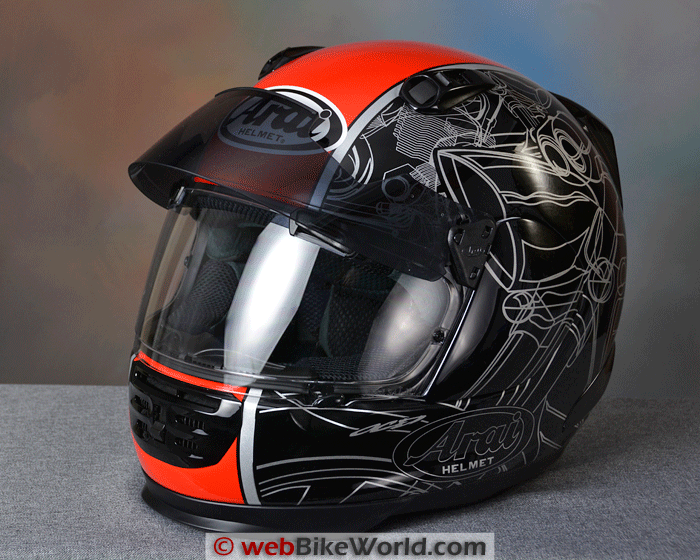 Background
Evolution at Arai is deliberate and conservative and the company has specific design beliefs about the way a face shield should be attached to a helmet.
That is, the helmet shell should not be compromised with indents or recesses for the face shield rotating mechanism.
But the popularity of the sun shade in recent motorcycle helmets has apparently motivated Arai to develop a unique solution that would not require an internal recess for the rotating sun shade.
According to the Otte helmet study (YouTube video) and others, approximately 22% of measured helmet impacts in a crash are focused on the left and right brow portion of the motorcycle helmet.
This means that the addition of an internal sun shade must be carefully designed and implemented so that it doesn't compromise safety.
Some or most helmets with an internal sun shade have either a thinner shell in the forehead area or thinner EPS underneath (or both) to fit the device inside the helmet, which can compromise safety.
That's not Arai talking; it's me.
And since in my opinion, most of the sun shades perform poorly anyway, add weight and complexity and don't offer as much tint as a good pair of sunglasses, I'll take safety over a mild tint any day.

The Arai Pro Shade
Arai had to come up with a sun shade system that wouldn't compromise the "impact energy management" of its helmet shell design philosophy. That meant designing some type of an add-on device for the sun shade.
I'll admit, when I first looked at the Arai Pro Shade, I thought it looked a bit clumsy at best and perhaps even slightly goofy.
I've seen add-on sun shades like this before and they look kind of dorkish.
So the Pro Shade sat in the box for a while, until one sunny day I decided to mount it on a new Arai Defiant we're reviewing.
The installation was easy enough — as long as you're familiar with the idiosyncrasies of installing an Arai face shield. Remove the original face shield and install the Pro Shade system and you're ready to go.
The Pro Shade flips up and down manually; it has one "up" position. When you lift it, you sort of automatically push it back anyway and this locks it into place in the raised position so that it can't suddenly close.
There are triangle-shaped clips on either side that hold the sun shade in place on the Pro Shade face shield.
These can be removed if you need to clean the shade or the face shield.
The new Arai SAI (Super AdSis "I") face shield with the Pro Shade system has specially designed brow vents that are different from the Arai standard brow vents on the original equipment face shields.
The new vents can be opened half-way by tilting up the inner edge or opened fully.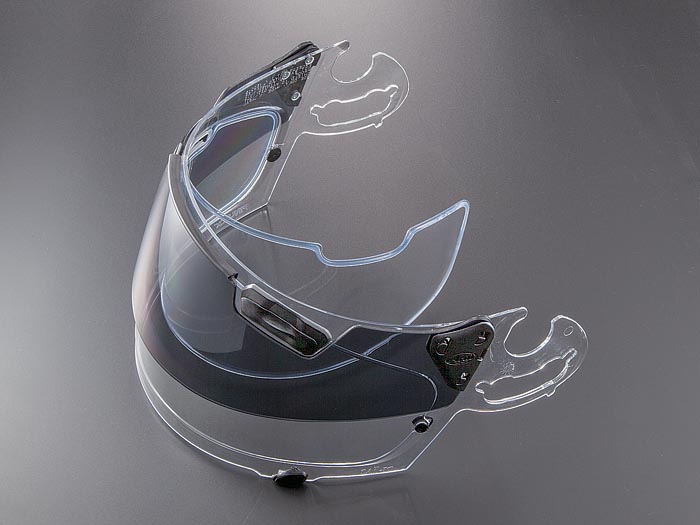 On the Road With the Arai Pro Shade
All told, the Pro Shade system works very well and the sun shade provides good coverage with excellent optical quality.
When engaged, the sun shade angles up on either side but I quickly became accustomed to it. The clear area below the sun shade allows a good view of the bike's instrument panel.
I was surprised to find that there doesn't seem to be any difference in aerodynamics or sound levels with the Pro Shade installed. This is true whether the sun shade is raised or lowered; I just don't notice any difference.
It's also easy enough to use with a quick left-hand tug to lower the sun shade or a quick push to raise it.
[NOTE: Always lock the helmet's face shield when riding with the Pro Shade in the raised position! Otherwise, the wind can catch under the Pro Shade and pull the face shield up and even detach it from the helmet. See "S" comments below.]
I have to say, I'm not a big fan of riding with dark tinted face shields because I think it's important for the people in other vehicles to see your eyes and realize there's an actual human being under that helmet. A dark shield somehow de-humanizes the rider, in my opinion.
I recently asked several non-motorcyclist drivers what they think about motorcycle riders with dark tinted visors and the consensus was roughly that they don't like it because — in their words — it makes the rider look "weird" and "like a robot".
I suspected this, which is why I don't use a tinted face shield, but at least the Arai Pro Shade can be lifted up and then employed only if it's really necessary.
Arai says that with the Pro Shade in the raised position, the rider only has to tilt his or her head a little bit to get some sun blocking capability.
I didn't find this to be the case, however, because when it's raised, there's only a tiny sliver of Pro Shade up above my brow.
Video: Arai Pro Shade
Alternatives for a Sun Shade in Arai Helmets
By the way, another option for shading inside an Arai helmet is the Sunax Max Sun Shield (review), which fits between the liner and the shell in Arai and other helmets.
I have been using one on my Arai RX-Q (review) for a couple of years and it works well.
Cost
The downside of the Arai Pro Shade is the cost. The Pro Shade, which includes the sun shade on the specially designed face shield, has a list price of $100.95 (current street price is ~$91.00).
The Arai Pro Shade system is Pinlock-ready, but if you already have a Pinlock insert on your OE Arai face shield, you'll have to buy another.
That's a significant cost difference that adds to the already very high price of an Arai helmet.
Conclusion
The Arai Pro Shade system works very well and provides good coverage with about the darkest legal tint available.
The cost is significant but if you can get over that, the Pro Shade is a worthwhile option.
w

BW

 Review: Arai Pro Shade
List Price (2014): $105.95
Made In: Japan
Colors: Dark Smoke.
Sizes: Arai SAI-type visors
Review Date: May 2014
Note:
 For informational use only. All material and photographs are Copyright © webWorld International, LLC since 2000. All rights reserved. See the webBikeWorld® 
Site Info page
. Product specifications, features and details may change or differ from our descriptions. Always check before purchasing. Read the
Terms and Conditions
Owner  Comments and Feedback
---
From "S" (July 2016): "I upgraded my Signet-Q with a Pro Shade two months ago, and could not be happier…until this past weekend.
I have extremely sensitive eyes and must wear sunglasses underneath a tinted visor.
Before the Pro Shade, that meant that varying lighting brought on by trees and tunnels, as well as reading my GPS, were constant difficulties (the GPS readout got "double shaded", meaning that its brightness took a severe hit).
The Pro Shade allows me to remove or add the extra tint layer at the drop of a hat, plus even when down it leaves a clear band across the bottom of my vision to leave gauge readouts unaffected.
I really loved it until this weekend. Why this weekend? Because, while I was tilting my head up while yawning, the wind caught the tinted Pro Shield flip panel and ripped the entire visor clean off the helmet! (Both the Pro Shield and the face shield were gone).
After getting my wits I stopped the bike and walked back to pick up the shield. And, of course, when I was about 80 feet away a car ran over it and crushed it to little pieces. Leaving me on a 70MPH highway, on a holiday weekend, 400 miles from home with no wind protection at all.
I will almost certainly buy another Pro Shield (plus the clear Pinlock insert that was also lost – OUCH $$$), as it was the best solution I've ever tried to my lighting issues.
But, saying that, best keep your visor locked when fitted with a Pro Shield when you are not using the tinted flip!
As usual, wBW is the best motorcycle information resource on the internet. Thanks and keep up the great work!"
Follow-up from "S" (July 2016): "I spoke to Arai. Their policy is to have the face shield locked any time it is down, and with the Pro Shade that seems especially important.
If you can, pass along that important point to any current or prospective Pro Shade users.
It is certainly not especially convenient, having to make sure you take the extra effort to lock your shield every single time you start moving, but the Pro Shade's design seems to make that imperative.
As I said, the Pro Shade is a fine solution to my light sensitivity problem but I guess it brings problems of its own."
Editor's Reply: Probably most of the helmet manufacturers recommend keeping the face shield locked when riding. It's especially important with Arai helmets since the face shield rotating system does not have detents.
---
From "D.M." (October 2015): " 'Hello Pro Shade, Good-bye sunglasses!' I wear photochromic eyeglasses, but they don't darken in two cases when you need it the most: behind a helmet face shield and a car windshield.
So — I have spent years experimenting with clip-on, fit-over, and fit-behind types of sunglasses. All work, but all are a pain.
Like the editor, I prefer a clear shield. Light conditions change, sometimes rapidly, and I don't want to stop every time I need to take off or put on sunglasses, let alone change face shields.
Plus, where do you store glasses or extra face shields?
Enter the Arai Pro Shield. I now ride through changing light conditions — changing cloud cover, dark woods, shady canyons, bright sun, even tunnels (yes, they do exist) — with no stopping, no fuss, no muss.
I just flip up or down the dark shield as needed, on the fly. Life is good!
Addressing some criticisms others have expressed:
1. Incomplete coverage. At first you are acutely aware of the bottom of the dark shield. After two or three rides, I was used to the partial coverage, and appreciate some advantages: clear (i.e. undarkened) view of instruments, especially LCD panels.
Clear view of mirrors and clear peripheral view, doing head checks. A new "long" dark shield is coming, which may be fine, but the original configuration seems fine to me.
2. Face shield vent sliding "doors" are sloppy or cheap, compared to the traditional pivoting doors. I find the sliding doors easy enough to manipulate with gloved thumbs. Once opened or closed, they stay in position. Seems like that's all they need to do.
3. Cut-outs or "notches" which give clearance to open the dark shade without interfering with face shield vents. This is my biggest complaint about the Pro Shade system, but hardly a deal-breaker.
At certain lighting angles, your face gets illuminated through the cut-outs, which reflects on the inner side of the dark shield. Once I figured out what was causing these reflections, they bothered me less. And, really, all you need to do is move your head a few degrees in whatever direction helps.
4. HIgh cost, especially after you've just purchased an EXPENSIVE Arai helmet. As of this writing,MotorcycleGear.com is selling the Pro Shade for $77.81, plus $3.99 postage (Click through wBW to purchase), which seems reasonable to me.
One final comment is that it is EASY to remove the dark shade from the clear shade, in order to thoroughly clean both. There are a few videos that show it clearly.
Oh, and I can now easily negotiate dark places, like convenience store bathrooms, and my tank filler neck as I attempt to fill up, since my dark shield flips up out of the way with the clear shield.
When the Pro Shade first hit the market, I thought it was plenty goofy looking, and I was sure it would quickly fade from the scene. Now, after a few rides, and with sunglasses left at home, I think it is a GENIUS product.
Arai designers and engineers definitely go their own way, but they are putting some serious thought into their products. This is a good example."
---
From "S.S." (May 2015): "I just completed a 2500 mile, 13-day trip using the Pro Shade in a variety of conditions. My experience was mostly negative.
There are several issues that I had with the system which I will share:
The sun visor flips down unexpectedly in high winds. Whether this is an issue because of the windscreen position on my bike, or just riding in high winds, it was very frustrating, and I ended up removing the tinted visor completely and using it as a clear visor.
The redesigned air vents are very sloppy in their engagement, and I had lots of pollen, bugs and dust leak through and get into my eyes. Fortunately, I had brought an extra Pinlock clear visor for rain, and I finished the ride using this all of the time, even though I prefer not to use a Pinlock unless it is necessary.
For folks with progressive lenses such as myself, the tinted portion only covered the distance portion of my eyeglasses, and the seam dividing the clear from the tinted section fell in my middle vision range, which made it useless in heavy traffic riding such as city streets.
The exclusion of the Pinlock insert is painful considering some entire helmets can be had for the cost of this visor alone.
The clear portion of my visor is showing some wear at the location where the tinted portion lies when down.
On the positive side, with the visor up, it did tend to work like the brim of a hat and help to keep sun out of my eyes.
In summary, this was an expensive mistake for my individual situation, and I will just go back to wearing my prescription sunglasses and a standard clear visor.
Thanks for the reviews!"
---
From "B.H." (May 2014): "One thing that was not mentioned in your review of the Arai Pro Shade was if you could open/close the main shield with the Pro Shade either up or down. This was not covered in the Arai video link either."
Rick's Reply: Yes, you can, I guess I thought that was obvious but maybe not. If you look at the image from Arai of the face shield in the review — the image of the face shield with Pro Shade and Pinlock attached — you can see that the rotating mechanism for the face shield is separate from the rotating mechanism for the Pro Shade. Here's a photo: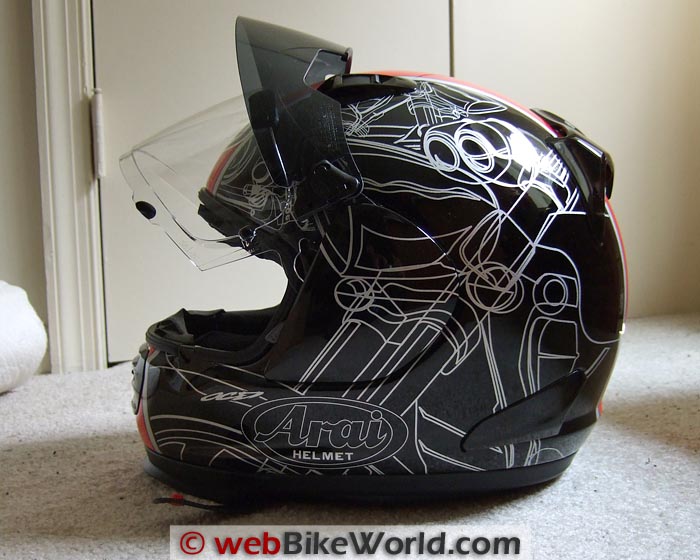 ---
From "M.R." (May 2014): "When I initially saw the Pro Shield publicity material online I was most skeptical. However, I decided to put my faith in Arai and their conservative principles and get one.
I quite literally bought the demo unit off the Tucker Rocky rep early this month when he was at Bobs BMWs open house. Ended up paying full list plus tax.
After riding with it everyday for about 3 weeks now I'm very satisfied. There has been no significant increase in wind noise or any whistling and the system plain works.
Having used a similar system on an AGV and Nolan modulars in the past my only caution to buyers would be that they ensure that grit and debris trapped between the two shields if any is cleaned after every ride to prevent scratches on both shields.
The system though a bit clunky, works well. I also feel the price of under $100 is justifiable for a sun shield system that preserves the thickness of the EPS liner in the crucial forehead area and therefore retains the helmet's Snell rating.
The only full face helmet with an internal sun shield from Arai's traditional competitor Shoei, the GT-Air is not Snell certified. An added benefit of the external design is it helps reduce raindrops on the clear face-shield ensuring just that extra bit of clearer vision in heavy rain. Highly recommend with the caveat that it works for me."