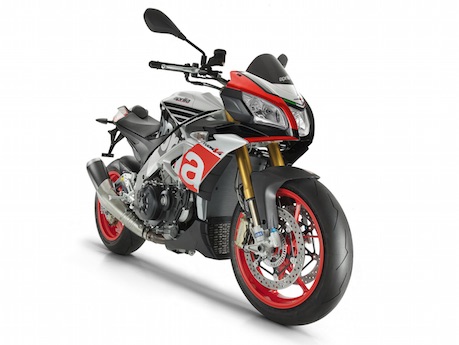 Australian Aprilia importers John Sample Automotive have issued a voluntary recall on their Dorsoduro 750/1200, Caponord and Tuono V4 1000/1100 motorcycles over a brake issue.
The notice says the dust gaiter/push-rod assembly in the brake master cylinder is defective.
"The motorcycle may require longer than normal stopping distance. This could cause an accident, possibly injuring the rider or other road users," it says.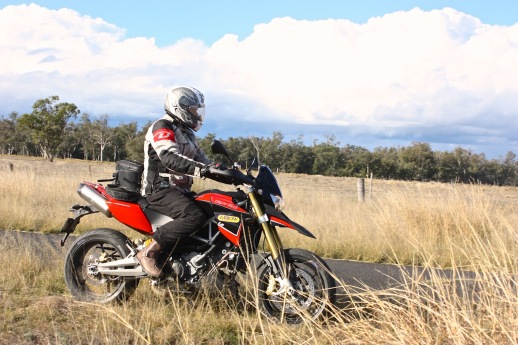 "Owners of affected motorcycles will be sent a letter containing instruction on how to make a minor adjustment to the brake lever setting.
"Owners should then contact their nearest Aprilia Dealer to arrange for inspection and replacement of components. Until the motorcycle is repaired by an Aprilia dealer, riders should maintain a longer than normal braking distance when riding.
Since the notice affects so many current Aprilia motorcycles and models going back to 2012, we have included the long list of VIN number at the end of this article so owners can check if their bike is affected.
Recall notices are issued by the manufacturer through a voluntary industry code under the ACCC.
Despite hundreds of recalls by various automotive manufacturers, none has ever been mandatory.  All have been issued by the manufacturer.
While any recall is not good news for the manufacturer, it shows that they are largely diligent in fixing problems.
If you believe there is an endemic problem with your bike that should be recalled, contact the ACCC on 1300 302 502.
To check whether your motorcycle has been recalled, click on these sites:
| | | | |
| --- | --- | --- | --- |
| VINs | Description | Engine nr. | Prod date |
| ZD4SMB031CS000217 | DORSODURO 750 ABS FACTORY VUL.BLACK | M551M   27645 | 10/02/12 |
| ZD4SMB033CS000252 | DORSODURO 750 ABS FACTORY VUL.BLACK | M551M   28005 | 19/06/12 |
| ZD4SMB035CS000219 | DORSODURO 750 ABS FACTORY VUL.BLACK | M551M   27463 | 10/02/12 |
| ZD4SMB035CS000222 | DORSODURO 750 ABS FACTORY VUL.BLACK | M551M   27992 | 28/05/12 |
| ZD4SMB037CS000223 | DORSODURO 750 ABS FACTORY VUL.BLACK | M551M   27996 | 28/05/12 |
| ZD4SMB038CS000215 | DORSODURO 750 ABS FACTORY VUL.BLACK | M551M   27479 | 10/02/12 |
| ZD4SMB03XCS000250 | DORSODURO 750 ABS FACTORY VUL.BLACK | M551M   29283 | 19/06/12 |
| ZD4TVA000CS002025 | DORSODURO 1200 ABS BIANCO GLAM AU | M555M   3405 | 12/04/12 |
| ZD4TVA000CS002039 | DORSODURO 1200 ABS ROSSO FLUO AU | M555M   3540 | 12/04/12 |
| ZD4TVA000CS002185 | DORSODURO 1200 ABS ROSSO FLUO AU | M555M   3819 | 31/05/12 |
| ZD4TVA000CS002235 | DORSODURO 1200 ABS BIANCO GLAM AU | M555M   3731 | 5/06/12 |
| ZD4TVA000CS002266 | DORSODURO 1200 ABS ROSSO FLUO AU | M555M   3876 | 26/07/12 |
| ZD4TVA001CS002017 | DORSODURO 1200 ABS BIANCO GLAM AU | M555M   3403 | 12/04/12 |
| ZD4TVA001CS002020 | DORSODURO 1200 ABS BIANCO GLAM AU | M555M   3545 | 12/04/12 |
| ZD4TVA001CS002034 | DORSODURO 1200 ABS ROSSO FLUO AU | M555M   3536 | 12/04/12 |
| ZD4TVA001CS002115 | DORSODURO 1200 ABS BIANCO GLAM AU | M555M   3707 | 7/05/12 |
| ZD4TVA001CS002258 | DORSODURO 1200 ABS BIANCO GLAM AU | M555M   3864 | 26/07/12 |
| ZD4TVA001CS002261 | DORSODURO 1200 ABS ROSSO FLUO AU | M555M   3875 | 26/07/12 |
| ZD4TVA002CS002026 | DORSODURO 1200 ABS ROSSO FLUO AU | M555M   3569 | 12/04/12 |
| ZD4TVA002CS002186 | DORSODURO 1200 ABS ROSSO FLUO AU | M555M   3804 | 31/05/12 |
| ZD4TVA002CS002236 | DORSODURO 1200 ABS BIANCO GLAM AU | M555M   3758 | 5/06/12 |
| ZD4TVA002CS002267 | DORSODURO 1200 ABS ROSSO FLUO AU | M555M   3879 | 26/07/12 |
| ZD4TVA002CS002270 | DORSODURO 1200 ABS ROSSO FLUO AU | M555M   3850 | 26/07/12 |
| ZD4TVA003CS002018 | DORSODURO 1200 ABS BIANCO GLAM AU | M555M   3547 | 12/04/12 |
| ZD4TVA003CS002021 | DORSODURO 1200 ABS BIANCO GLAM AU | M555M   3548 | 12/04/12 |
| ZD4TVA003CS002035 | DORSODURO 1200 ABS ROSSO FLUO AU | M555M   3526 | 13/04/12 |
| ZD4TVA003CS002116 | DORSODURO 1200 ABS BIANCO GLAM AU | M555M   3696 | 7/05/12 |
| ZD4TVA003CS002259 | DORSODURO 1200 ABS BIANCO GLAM AU | M555M   3863 | 26/07/12 |
| ZD4TVA003CS002262 | DORSODURO 1200 ABS ROSSO FLUO AU | M555M   3880 | 26/07/12 |
| ZD4TVA004CS002030 | DORSODURO 1200 ABS ROSSO FLUO AU | M555M   3575 | 12/04/12 |
| ZD4TVA004CS002187 | DORSODURO 1200 ABS ROSSO FLUO AU | M555M   3809 | 1/06/12 |
| ZD4TVA004CS002240 | DORSODURO 1200 ABS BIANCO GLAM AU | M555M   3756 | 6/06/12 |
| ZD4TVA004CS002268 | DORSODURO 1200 ABS ROSSO FLUO AU | M555M   3874 | 27/07/12 |
| ZD4TVA005CS002019 | DORSODURO 1200 ABS BIANCO GLAM AU | M555M   3554 | 12/04/12 |
| ZD4TVA005CS002022 | DORSODURO 1200 ABS BIANCO GLAM AU | M555M   3557 | 12/04/12 |
| ZD4TVA005CS002036 | DORSODURO 1200 ABS ROSSO FLUO AU | M555M   3589 | 13/04/12 |
| ZD4TVA005CS002117 | DORSODURO 1200 ABS ROSSO FLUO AU | M555M   3723 | 8/05/12 |
| ZD4TVA005CS002120 | DORSODURO 1200 ABS ROSSO FLUO AU | M555M   3706 | 8/05/12 |
| ZD4TVA005CS002182 | DORSODURO 1200 ABS ROSSO FLUO AU | M555M   3816 | 1/06/12 |
| ZD4TVA005CS002263 | DORSODURO 1200 ABS ROSSO FLUO AU | M555M   3869 | 27/07/12 |
| ZD4TVA006CS002028 | DORSODURO 1200 ABS ROSSO FLUO AU | M555M   3571 | 12/04/12 |
| ZD4TVA006CS002031 | DORSODURO 1200 ABS ROSSO FLUO AU | M555M   3573 | 12/04/12 |
| ZD4TVA006CS002188 | DORSODURO 1200 ABS ROSSO FLUO AU | M555M   3737 | 1/06/12 |
| ZD4TVA006CS002238 | DORSODURO 1200 ABS BIANCO GLAM AU | M555M   3735 | 6/06/12 |
| ZD4TVA006CS002269 | DORSODURO 1200 ABS ROSSO FLUO AU | M555M   3881 | 27/07/12 |
| ZD4TVA007CS002023 | DORSODURO 1200 ABS BIANCO GLAM AU | M555M   3556 | 12/04/12 |
| ZD4TVA007CS002037 | DORSODURO 1200 ABS ROSSO FLUO AU | M555M   3583 | 13/04/12 |
| ZD4TVA007CS002040 | DORSODURO 1200 ABS ROSSO FLUO AU | M555M   3584 | 13/04/12 |
| ZD4TVA007CS002118 | DORSODURO 1200 ABS ROSSO FLUO AU | M555M   3727 | 8/05/12 |
| ZD4TVA007CS002121 | DORSODURO 1200 ABS ROSSO FLUO AU | M555M   3710 | 8/05/12 |
| ZD4TVA007CS002183 | DORSODURO 1200 ABS ROSSO FLUO AU | M555M   3815 | 1/06/12 |
| ZD4TVA008CS002029 | DORSODURO 1200 ABS ROSSO FLUO AU | M555M   3576 | 12/04/12 |
| ZD4TVA008CS002032 | DORSODURO 1200 ABS ROSSO FLUO AU | M555M   3539 | 12/04/12 |
| ZD4TVA008CS002113 | DORSODURO 1200 ABS BIANCO GLAM AU | M555M   3709 | 7/05/12 |
| ZD4TVA008CS002189 | DORSODURO 1200 ABS ROSSO FLUO AU | M555M   3783 | 1/06/12 |
| ZD4TVA008CS002239 | DORSODURO 1200 ABS BIANCO GLAM AU | M555M   3759 | 6/06/12 |
| ZD4TVA008CS002256 | DORSODURO 1200 ABS BIANCO GLAM AU | M555M   3865 | 26/07/12 |
| ZD4TVA009CS002024 | DORSODURO 1200 ABS BIANCO GLAM AU | M555M   3549 | 12/04/12 |
| ZD4TVA009CS002038 | DORSODURO 1200 ABS ROSSO FLUO AU | M555M   3534 | 13/04/12 |
| ZD4TVA009CS002041 | DORSODURO 1200 ABS ROSSO FLUO AU | M555M   3533 | 13/04/12 |
| ZD4TVA009CS002119 | DORSODURO 1200 ABS ROSSO FLUO AU | M555M   3720 | 8/05/12 |
| ZD4TVA009CS002122 | DORSODURO 1200 ABS ROSSO FLUO AU | M555M   3722 | 8/05/12 |
| ZD4TVA009CS002184 | DORSODURO 1200 ABS ROSSO FLUO AU | M555M   3791 | 1/06/12 |
| ZD4TVA009CS002234 | DORSODURO 1200 ABS BIANCO GLAM AU | M555M   3730 | 6/06/12 |
| ZD4TVA009CS002265 | DORSODURO 1200 ABS ROSSO FLUO AU | M555M   3891 | 27/07/12 |
| ZD4TVA00XCS002016 | DORSODURO 1200 ABS BIANCO GLAM AU | M555M   3555 | 12/04/12 |
| ZD4TVA00XCS002033 | DORSODURO 1200 ABS ROSSO FLUO AU | M555M   3475 | 12/04/12 |
| ZD4TVA00XCS002114 | DORSODURO 1200 ABS BIANCO GLAM AU | M555M   3667 | 7/05/12 |
| ZD4TVA00XCS002257 | DORSODURO 1200 ABS BIANCO GLAM AU | M555M   3871 | 26/07/12 |
| ZD4TVA00XCS002260 | DORSODURO 1200 ABS BIANCO GLAM AU | M555M   3877 | 26/07/12 |
| ZD4TYB028FS001191 | TUONO V4 R APRC ABS MATTE WHITE AU | V4 TY   16133 | 16/10/14 |
| ZD4TYG000FS000256 | TUONO V4 1100 RR DONINGTON BLUE AU | V4-G     1440 | 16/04/15 |
| ZD4TYG000FS000337 | TUONO V4 1100 RR PORTIMAO GREY AU | V4-G     1763 | 21/05/15 |
| ZD4TYG000FS000354 | TUONO V4 1100 RR DONINGTON BLUE AU | V4-G     1907 | 21/05/15 |
| ZD4TYG001FS000332 | TUONO V4 1100 RR PORTIMAO GREY AU | V4-G     1853 | 21/05/15 |
| ZD4TYG002FS000338 | TUONO V4 1100 RR PORTIMAO GREY AU | V4-G     1762 | 21/05/15 |
| ZD4TYG002FS000341 | TUONO V4 1100 RR PORTIMAO GREY AU | V4-G     1761 | 21/05/15 |
| ZD4TYG002FS000355 | TUONO V4 1100 RR DONINGTON BLUE AU | V4-G     1909 | 21/05/15 |
| ZD4TYG002FS000386 | TUONO V4 1100 RR PORTIMAO GREY AU | V4-G     2095 | 11/06/15 |
| ZD4TYG003FS000249 | TUONO V4 1100 RR DONINGTON BLUE AU | V4-G     1528 | 16/04/15 |
| ZD4TYG003FS000333 | TUONO V4 1100 RR PORTIMAO GREY AU | V4-G     1646 | 21/05/15 |
| ZD4TYG003FS000350 | TUONO V4 1100 RR DONINGTON BLUE AU | V4-G     1880 | 21/05/15 |
| ZD4TYG003FS000431 | TUONO V4 1100 RR PORTIMAO GREY AU | V4-G     2185 | 24/06/15 |
| ZD4TYG003GS000575 | TUONO V4 1100 RR PORTIMAO GREY AU | V4-G     3046 | 28/10/15 |
| ZD4TYG004FS000258 | TUONO V4 1100 RR DONINGTON BLUE AU | V4-G     1506 | 17/04/15 |
| ZD4TYG004FS000339 | TUONO V4 1100 RR PORTIMAO GREY AU | V4-G     1752 | 21/05/15 |
| ZD4TYG004FS000342 | TUONO V4 1100 RR PORTIMAO GREY AU | V4-G     1648 | 21/05/15 |
| ZD4TYG004FS000356 | TUONO V4 1100 RR DONINGTON BLUE AU | V4-G     1929 | 21/05/15 |
| ZD4TYG005FS000253 | TUONO V4 1100 RR DONINGTON BLUE AU | V4-G     1498 | 16/04/15 |
| ZD4TYG005FS000334 | TUONO V4 1100 RR PORTIMAO GREY AU | V4-G     1647 | 21/05/15 |
| ZD4TYG005FS000432 | TUONO V4 1100 RR PORTIMAO GREY AU | V4-G     2203 | 24/06/15 |
| ZD4TYG006FS000343 | TUONO V4 1100 RR PORTIMAO GREY AU | V4-G     1854 | 21/05/15 |
| ZD4TYG006FS000357 | TUONO V4 1100 RR DONINGTON BLUE AU | V4-G     1911 | 22/05/15 |
| ZD4TYG006FS000388 | TUONO V4 1100 RR PORTIMAO GREY AU | V4-G     2089 | 11/06/15 |
| ZD4TYG006GS000571 | TUONO V4 1100 RR PORTIMAO GREY AU | V4-G     3029 | 29/10/15 |
| ZD4TYG007FS000254 | TUONO V4 1100 RR DONINGTON BLUE AU | V4-G     1502 | 16/04/15 |
| ZD4TYG007FS000335 | TUONO V4 1100 RR PORTIMAO GREY AU | V4-G     1857 | 21/05/15 |
| ZD4TYG008FS000344 | TUONO V4 1100 RR PORTIMAO GREY AU | V4-G     1858 | 21/05/15 |
| ZD4TYG009FS000336 | TUONO V4 1100 RR PORTIMAO GREY AU | V4-G     1855 | 21/05/15 |
| ZD4TYH000FS000490 | TUONO V4 1100 FACTORY SUPERPOLE AU | V4-G     2488 | 22/07/15 |
| ZD4TYH001FS000594 | TUONO V4 1100 FACTORY SUPERPOLE AU | V4-G     2764 | 25/09/15 |
| ZD4TYH001GS001505 | TUONO V4 1100 FACTORY SUPERPOLE AU | V4-G     3561 | 14/04/16 |
| ZD4TYH002FS000488 | TUONO V4 1100 FACTORY SUPERPOLE AU | V4-G     2496 | 22/07/15 |
| ZD4TYH002FS000586 | TUONO V4 1100 FACTORY SUPERPOLE AU | V4-G     2840 | 25/09/15 |
| ZD4TYH004FS000590 | TUONO V4 1100 FACTORY SUPERPOLE AU | V4-G     2834 | 25/09/15 |
| ZD4TYH006FS000588 | TUONO V4 1100 FACTORY SUPERPOLE AU | V4-G     2826 | 25/09/15 |
| ZD4TYH006FS000591 | TUONO V4 1100 FACTORY SUPERPOLE AU | V4-G     2825 | 25/09/15 |
| ZD4TYH006GS000768 | TUONO V4 1100 FACTORY SUPERPOLE AU | V4-G     3215 | 12/11/15 |
| ZD4TYH006GS000771 | TUONO V4 1100 FACTORY SUPERPOLE AU | V4-G     3221 | 13/11/15 |
| ZD4TYH006GS001497 | TUONO V4 1100 FACTORY SUPERPOLE AU | V4-G     4506 | 14/04/16 |
| ZD4TYH007FS000177 | TUONO V4 1100 FACTORY SUPERPOLE AU | V4-G     1573 | 20/04/15 |
| ZD4TYH007FS000180 | TUONO V4 1100 FACTORY SUPERPOLE AU | V4-G     1571 | 20/04/15 |
| ZD4TYH007FS000485 | TUONO V4 1100 FACTORY SUPERPOLE AU | V4-G     2473 | 22/07/15 |
| ZD4TYH007FS000583 | TUONO V4 1100 FACTORY SUPERPOLE AU | V4-G     2563 | 25/09/15 |
| ZD4TYH007GS000763 | TUONO V4 1100 FACTORY SUPERPOLE AU | V4-G     3214 | 12/11/15 |
| ZD4TYH007GS000911 | TUONO V4 1100 FACTORY SUPERPOLE AU | V4-G     3702 | 17/02/16 |
| ZD4TYH007GS000925 | TUONO V4 1100 FACTORY SUPERPOLE AU | V4-G     3688 | 17/02/16 |
| ZD4TYH008FS000186 | TUONO V4 1100 FACTORY SUPERPOLE AU | V4-G     1645 | 20/04/15 |
| ZD4TYH008FS000589 | TUONO V4 1100 FACTORY SUPERPOLE AU | V4-G     2845 | 25/09/15 |
| ZD4TYH008FS000592 | TUONO V4 1100 FACTORY SUPERPOLE AU | V4-G     2846 | 25/09/15 |
| ZD4TYH008GS000769 | TUONO V4 1100 FACTORY SUPERPOLE AU | V4-G     3188 | 13/11/15 |
| ZD4TYH008GS000772 | TUONO V4 1100 FACTORY SUPERPOLE AU | V4-G     3174 | 13/11/15 |
| ZD4TYH008GS000903 | TUONO V4 1100 FACTORY SUPERPOLE AU | V4-G     3568 | 12/02/16 |
| ZD4TYH008GS000920 | TUONO V4 1100 FACTORY SUPERPOLE AU | V4-G     3708 | 17/02/16 |
| ZD4TYH008GS000934 | TUONO V4 1100 FACTORY SUPERPOLE AU | V4-G     3706 | 17/02/16 |
| ZD4TYH009FS000178 | TUONO V4 1100 FACTORY SUPERPOLE AU | V4-G     1570 | 20/04/15 |
| ZD4TYH009FS000231 | TUONO V4 1100 FACTORY SUPERPOLE AU | V4-G     1902 | 22/05/15 |
| ZD4TYH009FS000391 | TUONO V4 1100 FACTORY SUPERPOLE AU | V4-G     2106 | 22/06/15 |
| ZD4TYH009FS000486 | TUONO V4 1100 FACTORY SUPERPOLE AU | V4-G     2472 | 22/07/15 |
| ZD4TYH009FS000584 | TUONO V4 1100 FACTORY SUPERPOLE AU | V4-G     2562 | 25/09/15 |
| ZD4TYH009GS000764 | TUONO V4 1100 FACTORY SUPERPOLE AU | V4-G     3176 | 12/11/15 |
| ZD4TYH009GS000778 | TUONO V4 1100 FACTORY SUPERPOLE AU | V4-G     3232 | 13/11/15 |
| ZD4TYH009GS000926 | TUONO V4 1100 FACTORY SUPERPOLE AU | V4-G     3674 | 17/02/16 |
| ZD4TYH00XFS000495 | TUONO V4 1100 FACTORY SUPERPOLE AU | V4-G     2536 | 22/07/15 |
| ZD4TYH00XFS000593 | TUONO V4 1100 FACTORY SUPERPOLE AU | V4-G     2844 | 25/09/15 |
| ZD4TYH00XGS000918 | TUONO V4 1100 FACTORY SUPERPOLE AU | V4-G     3673 | 17/02/16 |
| ZD4TYH00XGS000921 | TUONO V4 1100 FACTORY SUPERPOLE AU | V4-G     3676 | 17/02/16 |
| ZD4VK0000ES000564 | CAPONORD 1200 ABS ROSSO FORMULA AU | M558M   3638 | 28/05/14 |
| ZD4VK0002ES000582 | CAPONORD 1200 ABS NERO COMPETITION AU | M558M   3819 | 25/07/14 |
| ZD4VK0007ES000559 | CAPONORD 1200 ABS ROSSO FORMULA AU | M558M   3669 | 28/05/14 |
| ZD4VK0008ES000568 | CAPONORD 1200 ABS NERO COMPETITION AU | M558M   3640 | 28/05/14 |
| ZD4VKA000DS001122 | CAPONORD 1200 ABS ADD GRIGIO METALLO AU | M558M   2744 | 8/10/13 |
| ZD4VKA005DS000886 | CAPONORD 1200 ABS ADD GRIGIO METALLO AU | M558M   2525 | 26/06/13 |
| ZD4VKA005DS001133 | CAPONORD 1200 ABS ADD GRIGIO METALLO AU | M558M   2866 | 9/10/13 |
| ZD4VKA005ES001697 | CAPONORD 1200 ABS ADD ROSSO FORMULA AU | M558M   3761 | 19/06/14 |
| ZD4VKA007DS000601 | CAPONORD 1200 ABS ADD GRIGIO METALLO AU | M558M   1927 | 23/04/13 |
| ZD4VKA007DS001148 | CAPONORD 1200 ABS ADD ROSSO FORMULA AU | M558M   2851 | 10/10/13 |
| ZD4VKA009DS000857 | CAPONORD 1200 ABS ADD GRIGIO METALLO AU | M558M   2370 | 21/06/13 |
| ZD4VKA009DS001149 | CAPONORD 1200 ABS ADD ROSSO FORMULA AU | M558M   2845 | 10/10/13 |
| ZD4VKA00XDS000608 | CAPONORD 1200 ABS ADD GRIGIO METALLO AU | M558M   1923 | 23/04/13 |
| ZD4VKA00XDS000611 | CAPONORD 1200 ABS ADD GRIGIO METALLO AU | M558M   1924 | 23/04/13 |
| ZD4VKA00XDS000687 | CAPONORD 1200 ABS ADD ROSSO FORMULA AU | M558M   2167 | 17/05/13 |
| ZD4VKA00XDS000690 | CAPONORD 1200 ABS ADD ROSSO FORMULA AU | M558M   2211 | 21/05/13 |
| ZD4VKA00XDS000933 | CAPONORD 1200 ABS ADD GRIGIO METALLO AU | M558M   2609 | 24/07/13 |
| ZD4VKA00XDS001032 | CAPONORD 1200 ABS ADD GRIGIO METALLO AU | M558M   2649 | 25/09/13 |
| ZD4VKA00XDS001063 | CAPONORD 1200 ABS ADD ROSSO FORMULA AU | M558M   2809 | 7/10/13 |
| ZD4VKA00XDS001130 | CAPONORD 1200 ABS ADD GRIGIO METALLO AU | M558M   2827 | 9/10/13 |
| ZD4VKA00XES001243 | CAPONORD 1200 ABS ADD ROSSO FORMULA AU | M558M   2969 | 29/01/14 |
| ZD4VKA00XES001288 | CAPONORD 1200 ABS ADD ROSSO FORMULA AU | M558M   3182 | 26/02/14 |
| ZD4VKA00XES001369 | CAPONORD 1200 ABS ADD ROSSO FORMULA AU | M558M   3328 | 7/03/14 |
| ZD4VKA00XES001372 | CAPONORD 1200 ABS ADD NERO COMPET AU | M558M   3316 | 7/03/14 |
| ZD4VKA00XES001551 | CAPONORD 1200 ABS ADD ROSSO FORMULA AU | M558M   3569 | 28/04/14 |
| ZD4VKA00XES001694 | CAPONORD 1200 ABS ADD NERO COMPET AU | M558M   3756 | 19/06/14 |
| ZD4VKA00XES001839 | CAPONORD 1200 ABS ADD ROSSO FORMULA AU | M558M   3942 | 3/09/14 |
| ZD4VKA00XES001842 | CAPONORD 1200 ABS ADD ROSSO FORMULA AU | M558M   3943 | 3/09/14 |
| ZD4VKB000FS000299 | CAPONORD 1200 RALLY GRIGIO SAFARI | M558M   4454 | 16/03/15 |
| ZD4VKB001FS000733 | CAPONORD 1200 RALLY GRIGIO SAFARI | M558M   5035 | 16/06/15 |
| ZD4VKB003FS000300 | CAPONORD 1200 RALLY GRIGIO SAFARI | M558M   4452 | 16/03/15 |
| ZD4VKB003FS000457 | CAPONORD 1200 RALLY GIALLO DUNE | M558M   4671 | 16/04/15 |
| ZD4VKB006FS000369 | CAPONORD 1200 RALLY GIALLO DUNE | M558M   4609 | 23/03/15 |
| ZD4TYB020DS000212 | TUONO V4 R APRC ABS MATTE BLACK AU | V4 TY   14491 | 19/07/13 |
| ZD4TYB020DS000436 | TUONO V4 R APRC ABS MATTE BLACK AU | V4 TY   14819 | 23/10/13 |
| ZD4TYB020DS000503 | TUONO V4 R APRC ABS MATTE BLACK AU | V4 TY   14904 | 7/11/13 |
| ZD4TYB020DS000517 | TUONO V4 R APRC ABS MATTE WHITE AU | V4 TY   14945 | 11/11/13 |
| ZD4TYB020DS000520 | TUONO V4 R APRC ABS MATTE WHITE AU | V4 TY   14944 | 11/11/13 |
| ZD4TYB020ES000714 | TUONO V4 R APRC ABS MATTE BLACK AU | V4 TY   15369 | 20/03/14 |
| ZD4TYB020ES000891 | TUONO V4 R APRC ABS MATTE BLACK AU | V4 TY   15698 | 15/05/14 |
| ZD4TYB020ES000955 | TUONO V4 R APRC ABS MATTE WHITE AU | V4 TY   15733 | 4/06/14 |
| ZD4TYB020ES001023 | TUONO V4 R APRC ABS MATTE BLACK AU | V4 TY   15934 | 11/07/14 |
| ZD4TYB020FS001217 | TUONO V4 R APRC ABS MATTE BLACK AU | V4 TY   16206 | 17/10/14 |
| ZD4TYB020FS001220 | TUONO V4 R APRC ABS MATTE BLACK AU | V4 TY   16201 | 17/10/14 |
| ZD4TYB020FS001248 | TUONO V4 R APRC ABS MATTE WHITE AU | V4 TY   16244 | 24/11/14 |
| ZD4TYB021DS000235 | TUONO V4 R APRC ABS MATTE WHITE AU | V4 TY   14562 | 30/07/13 |
| ZD4TYB021DS000395 | TUONO V4 R APRC ABS MATTE BLACK AU | V4 TY   14783 | 8/10/13 |
| ZD4TYB021DS000400 | TUONO V4 R APRC ABS MATTE BLACK AU | V4 TY   14804 | 8/10/13 |
| ZD4TYB021DS000509 | TUONO V4 R APRC ABS MATTE BLACK AU | V4 TY   14903 | 7/11/13 |
| ZD4TYB021DS000512 | TUONO V4 R APRC ABS MATTE WHITE AU | V4 TY   14950 | 11/11/13 |
| ZD4TYB021ES000981 | TUONO V4 R APRC ABS MATTE WHITE AU | V4 TY   15748 | 11/06/14 |
| ZD4TYB021FS001257 | TUONO V4 R APRC ABS MATTE BLACK AU | V4 TY   16238 | 25/11/14 |
| ZD4TYB022DS000177 | TUONO V4 R APRC ABS MATTE WHITE AU | V4 TY   14327 | 18/07/13 |
| ZD4TYB022DS000213 | TUONO V4 R APRC ABS MATTE BLACK AU | V4 TY   14494 | 19/07/13 |
| ZD4TYB022DS000387 | TUONO V4 R APRC ABS MATTE WHITE AU | V4 TY   14784 | 8/10/13 |
| ZD4TYB022DS000390 | TUONO V4 R APRC ABS MATTE WHITE AU | V4 TY   14789 | 8/10/13 |
| ZD4TYB022DS000437 | TUONO V4 R APRC ABS MATTE BLACK AU | V4 TY   14863 | 23/10/13 |
| ZD4TYB022DS000440 | TUONO V4 R APRC ABS MATTE BLACK AU | V4 TY   14864 | 23/10/13 |
| ZD4TYB022DS000504 | TUONO V4 R APRC ABS MATTE BLACK AU | V4 TY   14909 | 7/11/13 |
| ZD4TYB022DS000518 | TUONO V4 R APRC ABS MATTE WHITE AU | V4 TY   14942 | 11/11/13 |
| ZD4TYB022ES000715 | TUONO V4 R APRC ABS MATTE BLACK AU | V4 TY   15357 | 20/03/14 |
| ZD4TYB022ES000908 | TUONO V4 R APRC ABS MATTE WHITE AU | V4 TY   15725 | 15/05/14 |
| ZD4TYB022ES000956 | TUONO V4 R APRC ABS MATTE WHITE AU | V4 TY   15732 | 4/06/14 |
| ZD4TYB022ES001024 | TUONO V4 R APRC ABS MATTE BLACK AU | V4 TY   15924 | 11/07/14 |
| ZD4TYB022FS001218 | TUONO V4 R APRC ABS MATTE BLACK AU | V4 TY   16203 | 17/10/14 |
| ZD4TYB022FS001221 | TUONO V4 R APRC ABS MATTE BLACK AU | V4 TY   16187 | 17/10/14 |
| ZD4TYB022FS001249 | TUONO V4 R APRC ABS MATTE WHITE AU | V4 TY   16242 | 24/11/14 |
| ZD4TYB023DS000396 | TUONO V4 R APRC ABS MATTE BLACK AU | V4 TY   14800 | 8/10/13 |
| ZD4TYB023DS000401 | TUONO V4 R APRC ABS MATTE BLACK AU | V4 TY   14798 | 8/10/13 |
| ZD4TYB023DS000432 | TUONO V4 R APRC ABS MATTE WHITE AU | V4 TY   14859 | 22/10/13 |
| ZD4TYB023DS000513 | TUONO V4 R APRC ABS MATTE WHITE AU | V4 TY   14943 | 11/11/13 |
| ZD4TYB023ES000979 | TUONO V4 R APRC ABS MATTE WHITE AU | V4 TY   15749 | 11/06/14 |
| ZD4TYB023ES001016 | TUONO V4 R APRC ABS MATTE WHITE AU | V4 TY   15782 | 11/07/14 |
| ZD4TYB023FS001244 | TUONO V4 R APRC ABS MATTE WHITE AU | V4 TY   16235 | 25/11/14 |
| ZD4TYB024DS000214 | TUONO V4 R APRC ABS MATTE BLACK AU | V4 TY   14498 | 19/07/13 |
| ZD4TYB024DS000388 | TUONO V4 R APRC ABS MATTE WHITE AU | V4 TY   14788 | 8/10/13 |
| ZD4TYB024DS000391 | TUONO V4 R APRC ABS MATTE WHITE AU | V4 TY   14756 | 8/10/13 |
| ZD4TYB024DS000438 | TUONO V4 R APRC ABS MATTE BLACK AU | V4 TY   14857 | 23/10/13 |
| ZD4TYB024DS000505 | TUONO V4 R APRC ABS MATTE BLACK AU | V4 TY   14884 | 7/11/13 |
| ZD4TYB024DS000519 | TUONO V4 R APRC ABS MATTE WHITE AU | V4 TY   14955 | 11/11/13 |
| ZD4TYB024ES000716 | TUONO V4 R APRC ABS MATTE BLACK AU | V4 TY   15358 | 20/03/14 |
| ZD4TYB024ES000909 | TUONO V4 R APRC ABS MATTE WHITE AU | V4 TY   15724 | 15/05/14 |
| ZD4TYB024ES000974 | TUONO V4 R APRC ABS MATTE BLACK AU | V4 TY   15577 | 5/06/14 |
| ZD4TYB024FS001219 | TUONO V4 R APRC ABS MATTE BLACK AU | V4 TY   16189 | 17/10/14 |
| ZD4TYB025DS000397 | TUONO V4 R APRC ABS MATTE BLACK AU | V4 TY   14801 | 8/10/13 |
| ZD4TYB025DS000402 | TUONO V4 R APRC ABS MATTE BLACK AU | V4 TY   14780 | 8/10/13 |
| ZD4TYB025DS000433 | TUONO V4 R APRC ABS MATTE WHITE AU | V4 TY   14855 | 22/10/13 |
| ZD4TYB025DS000514 | TUONO V4 R APRC ABS MATTE WHITE AU | V4 TY   14949 | 12/11/13 |
| ZD4TYB025ES001017 | TUONO V4 R APRC ABS MATTE WHITE AU | V4 TY   15784 | 11/07/14 |
| ZD4TYB025ES001020 | TUONO V4 R APRC ABS MATTE WHITE AU | V4 TY   15931 | 11/07/14 |
| ZD4TYB025FS001245 | TUONO V4 R APRC ABS MATTE WHITE AU | V4 TY   16243 | 24/11/14 |
| ZD4TYB026DS000215 | TUONO V4 R APRC ABS MATTE BLACK AU | V4 TY   14497 | 19/07/13 |
| ZD4TYB026DS000392 | TUONO V4 R APRC ABS MATTE WHITE AU | V4 TY   14785 | 8/10/13 |
| ZD4TYB026DS000439 | TUONO V4 R APRC ABS MATTE BLACK AU | V4 TY   14705 | 23/10/13 |
| ZD4TYB026DS000506 | TUONO V4 R APRC ABS MATTE BLACK AU | V4 TY   14885 | 7/11/13 |
| ZD4TYB026ES000717 | TUONO V4 R APRC ABS MATTE BLACK AU | V4 TY   15356 | 20/03/14 |
| ZD4TYB026ES000975 | TUONO V4 R APRC ABS MATTE BLACK AU | V4 TY   15578 | 5/06/14 |
| ZD4TYB026FS001187 | TUONO V4 R APRC ABS MATTE WHITE AU | V4 TY   16132 | 16/10/14 |
| ZD4TYB026FS001190 | TUONO V4 R APRC ABS MATTE WHITE AU | V4 TY   16134 | 16/10/14 |
| ZD4TYB026FS001254 | TUONO V4 R APRC ABS MATTE BLACK AU | V4 TY   16239 | 25/11/14 |
| ZD4TYB027DS000210 | TUONO V4 R APRC ABS MATTE WHITE AU | V4 TY   14493 | 19/07/13 |
| ZD4TYB027DS000398 | TUONO V4 R APRC ABS MATTE BLACK AU | V4 TY   14782 | 8/10/13 |
| ZD4TYB027DS000434 | TUONO V4 R APRC ABS MATTE WHITE AU | V4 TY   14858 | 22/10/13 |
| ZD4TYB027DS000515 | TUONO V4 R APRC ABS MATTE WHITE AU | V4 TY   14946 | 12/11/13 |
| ZD4TYB027ES000712 | TUONO V4 R APRC ABS MATTE BLACK AU | V4 TY   15359 | 20/03/14 |
| ZD4TYB027ES001018 | TUONO V4 R APRC ABS MATTE WHITE AU | V4 TY   15932 | 11/07/14 |
| ZD4TYB027ES001021 | TUONO V4 R APRC ABS MATTE BLACK AU | V4 TY   15927 | 11/07/14 |
| ZD4TYB027FS001246 | TUONO V4 R APRC ABS MATTE WHITE AU | V4 TY   16237 | 25/11/14 |
| ZD4TYB028DS000393 | TUONO V4 R APRC ABS MATTE BLACK AU | V4 TY   14777 | 8/10/13 |
| ZD4TYB028DS000510 | TUONO V4 R APRC ABS MATTE BLACK AU | V4 TY   14882 | 7/11/13 |
| ZD4TYB028ES000718 | TUONO V4 R APRC ABS MATTE WHITE AU | V4 TY   15361 | 20/03/14 |
| ZD4TYB028ES000976 | TUONO V4 R APRC ABS MATTE BLACK AU | V4 TY   15741 | 11/06/14 |
| ZD4TYB028FS001188 | TUONO V4 R APRC ABS MATTE WHITE AU | V4 TY   16135 | 16/10/14 |
| ZD4TYB028FS001255 | TUONO V4 R APRC ABS MATTE BLACK AU | V4 TY   16240 | 25/11/14 |
| ZD4TYB029DS000211 | TUONO V4 R APRC ABS MATTE WHITE AU | V4 TY   14492 | 19/07/13 |
| ZD4TYB029DS000399 | TUONO V4 R APRC ABS MATTE BLACK AU | V4 TY   14781 | 9/10/13 |
| ZD4TYB029DS000435 | TUONO V4 R APRC ABS MATTE WHITE AU | V4 TY   14821 | 23/10/13 |
| ZD4TYB029DS000516 | TUONO V4 R APRC ABS MATTE WHITE AU | V4 TY   14959 | 12/11/13 |
| ZD4TYB029ES000713 | TUONO V4 R APRC ABS MATTE BLACK AU | V4 TY   15363 | 20/03/14 |
| ZD4TYB029ES000890 | TUONO V4 R APRC ABS MATTE BLACK AU | V4 TY   15705 | 15/05/14 |
| ZD4TYB029ES000954 | TUONO V4 R APRC ABS MATTE WHITE AU | V4 TY   15734 | 4/06/14 |
| ZD4TYB029ES001019 | TUONO V4 R APRC ABS MATTE WHITE AU | V4 TY   15914 | 11/07/14 |
| ZD4TYB029ES001022 | TUONO V4 R APRC ABS MATTE BLACK AU | V4 TY   15944 | 11/07/14 |
| ZD4TYB029FS001247 | TUONO V4 R APRC ABS MATTE WHITE AU | V4 TY   16236 | 25/11/14 |
| ZD4TYB02XDS000234 | TUONO V4 R APRC ABS MATTE BLACK AU | V4 TY   14569 | 30/07/13 |
| ZD4TYB02XDS000394 | TUONO V4 R APRC ABS MATTE BLACK AU | V4 TY   14736 | 9/10/13 |
| ZD4TYB02XDS000508 | TUONO V4 R APRC ABS MATTE BLACK AU | V4 TY   14939 | 7/11/13 |
| ZD4TYB02XDS000511 | TUONO V4 R APRC ABS MATTE WHITE AU | V4 TY   14948 | 12/11/13 |
| ZD4TYB02XES000719 | TUONO V4 R APRC ABS MATTE WHITE AU | V4 TY   15360 | 20/03/14 |
| ZD4TYB02XES000980 | TUONO V4 R APRC ABS MATTE WHITE AU | V4 TY   15767 | 11/06/14 |
| ZD4TYB02XFS001189 | TUONO V4 R APRC ABS MATTE WHITE AU | V4 TY   16140 | 16/10/14 |
| ZD4TYB02XFS001192 | TUONO V4 R APRC ABS MATTE WHITE AU | V4 TY   15901 | 16/10/14 |
| ZD4TYB02XFS001256 | TUONO V4 R APRC ABS MATTE BLACK AU | V4 TY   16186 | 25/11/14 |
| ZD4TYG000FS000273 | TUONO V4 1100 RR PORTIMAO GREY AU | V4-G     1576 | 20/04/15 |
| ZD4TYG000FS000340 | TUONO V4 1100 RR PORTIMAO GREY AU | V4-G     1852 | 21/05/15 |
| ZD4TYG000FS000385 | TUONO V4 1100 RR PORTIMAO GREY AU | V4-G     2090 | 11/06/15 |
| ZD4TYG000GS000579 | TUONO V4 1100 RR DONINGTON BLUE AU | V4-G     2970 | 29/10/15 |
| ZD4TYG001FS000248 | TUONO V4 1100 RR DONINGTON BLUE AU | V4-G     1439 | 16/04/15 |
| ZD4TYG001FS000251 | TUONO V4 1100 RR DONINGTON BLUE AU | V4-G     1510 | 16/04/15 |
| ZD4TYG001FS000346 | TUONO V4 1100 RR PORTIMAO GREY AU | V4-G     1764 | 21/05/15 |
| ZD4TYG001GS000574 | TUONO V4 1100 RR PORTIMAO GREY AU | V4-G     3051 | 28/10/15 |
| ZD4TYG002FS000260 | TUONO V4 1100 RR PORTIMAO GREY AU | V4-G     1575 | 21/04/15 |
| ZD4TYG003FS000252 | TUONO V4 1100 RR DONINGTON BLUE AU | V4-G     1505 | 16/04/15 |
| ZD4TYG003FS000266 | TUONO V4 1100 RR PORTIMAO GREY AU | V4-G     1641 | 21/04/15 |
| ZD4TYG004FS000261 | TUONO V4 1100 RR PORTIMAO GREY AU | V4-G     1643 | 21/04/15 |
| ZD4TYG004FS000275 | TUONO V4 1100 RR PORTIMAO GREY AU | V4-G     1642 | 21/04/15 |
| ZD4TYG004GS000567 | TUONO V4 1100 RR PORTIMAO GREY AU | V4-G     3028 | 29/10/15 |
| ZD4TYG004GS000570 | TUONO V4 1100 RR PORTIMAO GREY AU | V4-G     3033 | 29/10/15 |
| ZD4TYG005FS000267 | TUONO V4 1100 RR PORTIMAO GREY AU | V4-G     1644 | 21/04/15 |
| ZD4TYG005FS000270 | TUONO V4 1100 RR PORTIMAO GREY AU | V4-G     1610 | 21/04/15 |
| ZD4TYG005FS000351 | TUONO V4 1100 RR DONINGTON BLUE AU | V4-G     1923 | 22/05/15 |
| ZD4TYG006FS000276 | TUONO V4 1100 RR PORTIMAO GREY AU | V4-G     1609 | 21/04/15 |
| ZD4TYG007FS000268 | TUONO V4 1100 RR PORTIMAO GREY AU | V4-G     1612 | 21/04/15 |
| ZD4TYG007FS000271 | TUONO V4 1100 RR PORTIMAO GREY AU | V4-G     1602 | 21/04/15 |
| ZD4TYG007FS000349 | TUONO V4 1100 RR DONINGTON BLUE AU | V4-G     1926 | 22/05/15 |
| ZD4TYG007GS000577 | TUONO V4 1100 RR PORTIMAO GREY AU | V4-G     3052 | 29/10/15 |
| ZD4TYG008GS000572 | TUONO V4 1100 RR PORTIMAO GREY AU | V4-G     3034 | 29/10/15 |
| ZD4TYG009FS000255 | TUONO V4 1100 RR DONINGTON BLUE AU | V4-G     1503 | 17/04/15 |
| ZD4TYG009FS000269 | TUONO V4 1100 RR PORTIMAO GREY AU | V4-G     1603 | 21/04/15 |
| ZD4TYG009FS000272 | TUONO V4 1100 RR PORTIMAO GREY AU | V4-G     1624 | 21/04/15 |
| ZD4TYG00XFS000250 | TUONO V4 1100 RR DONINGTON BLUE AU | V4-G     1501 | 17/04/15 |
| ZD4TYG00XFS000264 | TUONO V4 1100 RR PORTIMAO GREY AU | V4-G     1622 | 21/04/15 |
| ZD4TYG00XFS000345 | TUONO V4 1100 RR PORTIMAO GREY AU | V4-G     1915 | 21/05/15 |
| ZD4TYH000FS000179 | TUONO V4 1100 FACTORY SUPERPOLE AU | V4-G     1590 | 20/04/15 |
| ZD4TYH000FS000182 | TUONO V4 1100 FACTORY SUPERPOLE AU | V4-G     1572 | 20/04/15 |
| ZD4TYH000FS000232 | TUONO V4 1100 FACTORY SUPERPOLE AU | V4-G     1887 | 22/05/15 |
| ZD4TYH000FS000585 | TUONO V4 1100 FACTORY SUPERPOLE AU | V4-G     2561 | 25/09/15 |
| ZD4TYH000GS000927 | TUONO V4 1100 FACTORY SUPERPOLE AU | V4-G     3559 | 12/02/16 |
| ZD4TYH001FS000370 | TUONO V4 1100 FACTORY SUPERPOLE AU | V4-G     2133 | 19/06/15 |
| ZD4TYH001FS000496 | TUONO V4 1100 FACTORY SUPERPOLE AU | V4-G     2551 | 22/07/15 |
| ZD4TYH001GS000774 | TUONO V4 1100 FACTORY SUPERPOLE AU | V4-G     3023 | 13/11/15 |
| ZD4TYH001GS000905 | TUONO V4 1100 FACTORY SUPERPOLE AU | V4-G     3572 | 12/02/16 |
| ZD4TYH001GS000919 | TUONO V4 1100 FACTORY SUPERPOLE AU | V4-G     3571 | 12/02/16 |
| ZD4TYH002FS000183 | TUONO V4 1100 FACTORY SUPERPOLE AU | V4-G     1578 | 20/04/15 |
| ZD4TYH002FS000233 | TUONO V4 1100 FACTORY SUPERPOLE AU | V4-G     1888 | 22/05/15 |
| ZD4TYH002FS000376 | TUONO V4 1100 FACTORY SUPERPOLE AU | V4-G     2160 | 19/06/15 |
| ZD4TYH002GS000914 | TUONO V4 1100 FACTORY SUPERPOLE AU | V4-G     3565 | 12/02/16 |
| ZD4TYH002GS000928 | TUONO V4 1100 FACTORY SUPERPOLE AU | V4-G     3564 | 12/02/16 |
| ZD4TYH002GS000931 | TUONO V4 1100 FACTORY SUPERPOLE AU | V4-G     3560 | 12/02/16 |
| ZD4TYH003FS000208 | TUONO V4 1100 FACTORY SUPERPOLE AU | V4-G     1636 | 22/04/15 |
| ZD4TYH003FS000368 | TUONO V4 1100 FACTORY SUPERPOLE AU | V4-G     2134 | 19/06/15 |
| ZD4TYH003FS000371 | TUONO V4 1100 FACTORY SUPERPOLE AU | V4-G     2156 | 19/06/15 |
| ZD4TYH003FS000497 | TUONO V4 1100 FACTORY SUPERPOLE AU | V4-G     2495 | 22/07/15 |
| ZD4TYH003GS000775 | TUONO V4 1100 FACTORY SUPERPOLE AU | V4-G     3021 | 13/11/15 |
| ZD4TYH004FS000184 | TUONO V4 1100 FACTORY SUPERPOLE AU | V4-G     1582 | 20/04/15 |
| ZD4TYH004FS000203 | TUONO V4 1100 FACTORY SUPERPOLE AU | V4-G     1633 | 22/04/15 |
| ZD4TYH004FS000234 | TUONO V4 1100 FACTORY SUPERPOLE AU | V4-G     1891 | 22/05/15 |
| ZD4TYH004FS000489 | TUONO V4 1100 FACTORY SUPERPOLE AU | V4-G     2494 | 22/07/15 |
| ZD4TYH004FS000492 | TUONO V4 1100 FACTORY SUPERPOLE AU | V4-G     2251 | 22/07/15 |
| ZD4TYH004FS000587 | TUONO V4 1100 FACTORY SUPERPOLE AU | V4-G     2842 | 25/09/15 |
| ZD4TYH004GS000767 | TUONO V4 1100 FACTORY SUPERPOLE AU | V4-G     3230 | 12/11/15 |
| ZD4TYH004GS000770 | TUONO V4 1100 FACTORY SUPERPOLE AU | V4-G     3008 | 13/11/15 |
| ZD4TYH004GS000929 | TUONO V4 1100 FACTORY SUPERPOLE AU | V4-G     3557 | 17/02/16 |
| ZD4TYH005FS000498 | TUONO V4 1100 FACTORY SUPERPOLE AU | V4-G     2535 | 22/07/15 |
| ZD4TYH005GS000762 | TUONO V4 1100 FACTORY SUPERPOLE AU | V4-G     3212 | 12/11/15 |
| ZD4TYH005GS000910 | TUONO V4 1100 FACTORY SUPERPOLE AU | V4-G     3694 | 17/02/16 |
| ZD4TYH006FS000185 | TUONO V4 1100 FACTORY SUPERPOLE AU | V4-G     1581 | 20/04/15 |
| ZD4TYH006FS000204 | TUONO V4 1100 FACTORY SUPERPOLE AU | V4-G     1614 | 22/04/15 |
| ZD4TYH006FS000235 | TUONO V4 1100 FACTORY SUPERPOLE AU | V4-G     1920 | 22/05/15 |
| ZD4VK0001ES000556 | CAPONORD 1200 ABS ROSSO FORMULA AU | M558M   3643 | 28/05/14 |
| ZD4VK0001ES000573 | CAPONORD 1200 ABS NERO COMPETITION AU | M558M   3670 | 28/05/14 |
| ZD4VK0003ES000574 | CAPONORD 1200 ABS NERO COMPETITION AU | M558M   3684 | 28/05/14 |
| ZD4VK0004ES000566 | CAPONORD 1200 ABS NERO COMPETITION AU | M558M   3639 | 28/05/14 |
| ZD4VK0004ES000583 | CAPONORD 1200 ABS NERO COMPETITION AU | M558M   3818 | 25/07/14 |
| ZD4VK0008ES000540 | CAPONORD 1200 ABS NERO COMPETITION AU | M558M   3470 | 28/04/14 |
| ZD4VK000XES000569 | CAPONORD 1200 ABS NERO COMPETITION AU | M558M   3621 | 28/05/14 |
| ZD4VKA000DS000603 | CAPONORD 1200 ABS ADD GRIGIO METALLO AU | M558M   1931 | 23/04/13 |
| ZD4VKA000DS000682 | CAPONORD 1200 ABS ADD GRIGIO METALLO AU | M558M   2206 | 17/05/13 |
| ZD4VKA000DS000696 | CAPONORD 1200 ABS ADD ROSSO FORMULA AU | M558M   2205 | 17/05/13 |
| ZD4VKA000DS001105 | CAPONORD 1200 ABS ADD GRIGIO METALLO AU | M558M   2767 | 8/10/13 |
| ZD4VKA000DS001119 | CAPONORD 1200 ABS ADD GRIGIO METALLO AU | M558M   2755 | 8/10/13 |
| ZD4VKA000DS001136 | CAPONORD 1200 ABS ADD ROSSO FORMULA AU | M558M   2823 | 9/10/13 |
| ZD4VKA000DS001153 | CAPONORD 1200 ABS ADD ROSSO FORMULA AU | M558M   2846 | 10/10/13 |
| ZD4VKA000ES001378 | CAPONORD 1200 ABS ADD NERO COMPET AU | M558M   3330 | 7/03/14 |
| ZD4VKA000ES001767 | CAPONORD 1200 ABS ADD NERO COMPET AU | M558M   3798 | 18/07/14 |
| ZD4VKA000ES001770 | CAPONORD 1200 ABS ADD NERO COMPET AU | M558M   3801 | 18/07/14 |
| ZD4VKA001DS000609 | CAPONORD 1200 ABS ADD GRIGIO METALLO AU | M558M   1845 | 23/04/13 |
| ZD4VKA001DS000612 | CAPONORD 1200 ABS ADD GRIGIO METALLO AU | M558M   1908 | 23/04/13 |
| ZD4VKA001DS000688 | CAPONORD 1200 ABS ADD ROSSO FORMULA AU | M558M   2204 | 17/05/13 |
| ZD4VKA001DS000691 | CAPONORD 1200 ABS ADD ROSSO FORMULA AU | M558M   2201 | 17/05/13 |
| ZD4VKA001DS000755 | CAPONORD 1200 ABS ADD ROSSO FORMULA AU | M558M   2320 | 29/05/13 |
| ZD4VKA001DS000920 | CAPONORD 1200 ABS ADD ROSSO FORMULA AU | M558M   2662 | 19/07/13 |
| ZD4VKA001DS001100 | CAPONORD 1200 ABS ADD GRIGIO METALLO AU | M558M   2763 | 8/10/13 |
| ZD4VKA001DS001131 | CAPONORD 1200 ABS ADD GRIGIO METALLO AU | M558M   2858 | 9/10/13 |
| ZD4VKA001ES001244 | CAPONORD 1200 ABS ADD ROSSO FORMULA AU | M558M   2973 | 29/01/14 |
| ZD4VKA001ES001289 | CAPONORD 1200 ABS ADD ROSSO FORMULA AU | M558M   3196 | 26/02/14 |
| ZD4VKA001ES001373 | CAPONORD 1200 ABS ADD NERO COMPET AU | M558M   3339 | 7/03/14 |
| ZD4VKA001ES001695 | CAPONORD 1200 ABS ADD NERO COMPET AU | M558M   3753 | 19/06/14 |
| ZD4VKA001ES001762 | CAPONORD 1200 ABS ADD ROSSO FORMULA AU | M558M   3808 | 18/07/14 |
| ZD4VKA002DS000604 | CAPONORD 1200 ABS ADD GRIGIO METALLO AU | M558M   1925 | 23/04/13 |
| ZD4VKA002DS000683 | CAPONORD 1200 ABS ADD ROSSO FORMULA AU | M558M   2220 | 17/05/13 |
| ZD4VKA002DS000697 | CAPONORD 1200 ABS ADD ROSSO FORMULA AU | M558M   2222 | 17/05/13 |
| ZD4VKA002DS001106 | CAPONORD 1200 ABS ADD GRIGIO METALLO AU | M558M   2764 | 8/10/13 |
| ZD4VKA002DS001137 | CAPONORD 1200 ABS ADD ROSSO FORMULA AU | M558M   2835 | 10/10/13 |
| ZD4VKA002DS001154 | CAPONORD 1200 ABS ADD ROSSO FORMULA AU | M558M   2856 | 10/10/13 |
| ZD4VKA002ES001365 | CAPONORD 1200 ABS ADD ROSSO FORMULA AU | M558M   3369 | 7/03/14 |
| ZD4VKA002ES001379 | CAPONORD 1200 ABS ADD NERO COMPET AU | M558M   3355 | 7/03/14 |
| ZD4VKA002ES001768 | CAPONORD 1200 ABS ADD NERO COMPET AU | M558M   3799 | 18/07/14 |
| ZD4VKA003DS000613 | CAPONORD 1200 ABS ADD GRIGIO METALLO AU | M558M   1892 | 23/04/13 |
| ZD4VKA003DS000689 | CAPONORD 1200 ABS ADD ROSSO FORMULA AU | M558M   2221 | 17/05/13 |
| ZD4VKA003DS000692 | CAPONORD 1200 ABS ADD ROSSO FORMULA AU | M558M   2219 | 17/05/13 |
| ZD4VKA003DS000921 | CAPONORD 1200 ABS ADD ROSSO FORMULA AU | M558M   2661 | 24/07/13 |
| ZD4VKA003DS001132 | CAPONORD 1200 ABS ADD GRIGIO METALLO AU | M558M   2863 | 9/10/13 |
| ZD4VKA003ES001374 | CAPONORD 1200 ABS ADD NERO COMPET AU | M558M   3332 | 7/03/14 |
| ZD4VKA003ES001617 | CAPONORD 1200 ABS ADD NERO COMPET AU | M558M   3700 | 23/05/14 |
| ZD4VKA003ES001620 | CAPONORD 1200 ABS ADD NERO COMPET AU | M558M   3701 | 23/05/14 |
| ZD4VKA003ES001651 | CAPONORD 1200 ABS ADD ROSSO FORMULA AU | M558M   3628 | 28/05/14 |
| ZD4VKA003ES001696 | CAPONORD 1200 ABS ADD ROSSO FORMULA AU | M558M   3760 | 19/06/14 |
| ZD4VKA003ES001763 | CAPONORD 1200 ABS ADD ROSSO FORMULA AU | M558M   3811 | 18/07/14 |
| ZD4VKA004DS000605 | CAPONORD 1200 ABS ADD GRIGIO METALLO AU | M558M   1922 | 23/04/13 |
| ZD4VKA004DS000684 | CAPONORD 1200 ABS ADD ROSSO FORMULA AU | M558M   2152 | 17/05/13 |
| ZD4VKA004DS000698 | CAPONORD 1200 ABS ADD ROSSO FORMULA AU | M558M   2197 | 17/05/13 |
| ZD4VKA004DS001074 | CAPONORD 1200 ABS ADD ROSSO FORMULA AU | M558M   2822 | 7/10/13 |
| ZD4VKA004DS001107 | CAPONORD 1200 ABS ADD GRIGIO METALLO AU | M558M   2757 | 8/10/13 |
| ZD4VKA004DS001138 | CAPONORD 1200 ABS ADD ROSSO FORMULA AU | M558M   2826 | 10/10/13 |
| ZD4VKA004DS001155 | CAPONORD 1200 ABS ADD ROSSO FORMULA AU | M558M   2852 | 10/10/13 |
| ZD4VKA004ES001240 | CAPONORD 1200 ABS ADD ROSSO FORMULA AU | M558M   2970 | 29/01/14 |
| ZD4VKA004ES001285 | CAPONORD 1200 ABS ADD ROSSO FORMULA AU | M558M   3195 | 26/02/14 |
| ZD4VKA004ES001366 | CAPONORD 1200 ABS ADD ROSSO FORMULA AU | M558M   3356 | 7/03/14 |
| ZD4VKA004ES001769 | CAPONORD 1200 ABS ADD NERO COMPET AU | M558M   3800 | 18/07/14 |
| ZD4VKA004ES001836 | CAPONORD 1200 ABS ADD ROSSO FORMULA AU | M558M   3952 | 3/09/14 |
| ZD4VKA005DS000614 | CAPONORD 1200 ABS ADD GRIGIO METALLO AU | M558M   1899 | 23/04/13 |
| ZD4VKA005DS000628 | CAPONORD 1200 ABS ADD GRIGIO METALLO AU | M558M   1956 | 24/04/13 |
| ZD4VKA005DS000693 | CAPONORD 1200 ABS ADD ROSSO FORMULA AU | M558M   2195 | 17/05/13 |
| ZD4VKA005DS000838 | CAPONORD 1200 ABS ADD ROSSO FORMULA AU | M558M   2383 | 20/06/13 |
| ZD4VKA005DS000922 | CAPONORD 1200 ABS ADD ROSSO FORMULA AU | M558M   2658 | 24/07/13 |
| ZD4VKA005DS001097 | CAPONORD 1200 ABS ADD GRIGIO METALLO AU | M558M   2758 | 8/10/13 |
| ZD4VKA005DS001102 | CAPONORD 1200 ABS ADD GRIGIO METALLO AU | M558M   2756 | 8/10/13 |
| ZD4VKA005DS001147 | CAPONORD 1200 ABS ADD ROSSO FORMULA AU | M558M   2850 | 10/10/13 |
| ZD4VKA005DS001150 | CAPONORD 1200 ABS ADD ROSSO FORMULA AU | M558M   2854 | 10/10/13 |
| ZD4VKA005ES001375 | CAPONORD 1200 ABS ADD NERO COMPET AU | M558M   3331 | 7/03/14 |
| ZD4VKA005ES001618 | CAPONORD 1200 ABS ADD NERO COMPET AU | M558M   3691 | 23/05/14 |
| ZD4VKA005ES001652 | CAPONORD 1200 ABS ADD ROSSO FORMULA AU | M558M   3630 | 28/05/14 |
| ZD4VKA005ES001764 | CAPONORD 1200 ABS ADD ROSSO FORMULA AU | M558M   3812 | 18/07/14 |
| ZD4VKA006DS000606 | CAPONORD 1200 ABS ADD GRIGIO METALLO AU | M558M   1903 | 23/04/13 |
| ZD4VKA006DS000685 | CAPONORD 1200 ABS ADD ROSSO FORMULA AU | M558M   1911 | 17/05/13 |
| ZD4VKA006DS000699 | CAPONORD 1200 ABS ADD ROSSO FORMULA AU | M558M   2153 | 17/05/13 |
| ZD4VKA006DS000931 | CAPONORD 1200 ABS ADD GRIGIO METALLO AU | M558M   2617 | 24/07/13 |
| ZD4VKA006DS001044 | CAPONORD 1200 ABS ADD GRIGIO METALLO AU | M558M   2834 | 26/09/13 |
| ZD4VKA006DS001075 | CAPONORD 1200 ABS ADD ROSSO FORMULA AU | M558M   2798 | 7/10/13 |
| ZD4VKA006DS001139 | CAPONORD 1200 ABS ADD ROSSO FORMULA AU | M558M   2818 | 10/10/13 |
| ZD4VKA006ES001241 | CAPONORD 1200 ABS ADD ROSSO FORMULA AU | M558M   2964 | 29/01/14 |
| ZD4VKA006ES001286 | CAPONORD 1200 ABS ADD ROSSO FORMULA AU | M558M   3171 | 26/02/14 |
| ZD4VKA006ES001367 | CAPONORD 1200 ABS ADD ROSSO FORMULA AU | M558M   3367 | 7/03/14 |
| ZD4VKA006ES001370 | CAPONORD 1200 ABS ADD ROSSO FORMULA AU | M558M   3299 | 7/03/14 |
| ZD4VKA006ES001692 | CAPONORD 1200 ABS ADD NERO COMPET AU | M558M   3722 | 19/06/14 |
| ZD4VKA006ES001840 | CAPONORD 1200 ABS ADD ROSSO FORMULA AU | M558M   3946 | 3/09/14 |
| ZD4VKA007DS000615 | CAPONORD 1200 ABS ADD GRIGIO METALLO AU | M558M   1905 | 23/04/13 |
| ZD4VKA007DS000811 | CAPONORD 1200 ABS ADD GRIGIO METALLO AU | M558M   2307 | 30/05/13 |
| ZD4VKA007DS000839 | CAPONORD 1200 ABS ADD ROSSO FORMULA AU | M558M   2395 | 20/06/13 |
| ZD4VKA007DS000923 | CAPONORD 1200 ABS ADD ROSSO FORMULA AU | M558M   2695 | 24/07/13 |
| ZD4VKA007DS001151 | CAPONORD 1200 ABS ADD ROSSO FORMULA AU | M558M   2849 | 10/10/13 |
| ZD4VKA007ES001619 | CAPONORD 1200 ABS ADD NERO COMPET AU | M558M   3687 | 23/05/14 |
| ZD4VKA007ES001698 | CAPONORD 1200 ABS ADD ROSSO FORMULA AU | M558M   3759 | 19/06/14 |
| ZD4VKA008DS000607 | CAPONORD 1200 ABS ADD GRIGIO METALLO AU | M558M   1919 | 23/04/13 |
| ZD4VKA008DS000610 | CAPONORD 1200 ABS ADD GRIGIO METALLO AU | M558M   1921 | 23/04/13 |
| ZD4VKA008DS000686 | CAPONORD 1200 ABS ADD ROSSO FORMULA AU | M558M   2170 | 17/05/13 |
| ZD4VKA008DS000932 | CAPONORD 1200 ABS ADD GRIGIO METALLO AU | M558M   2616 | 24/07/13 |
| ZD4VKA008ES001242 | CAPONORD 1200 ABS ADD ROSSO FORMULA AU | M558M   2965 | 29/01/14 |
| ZD4VKA008ES001287 | CAPONORD 1200 ABS ADD ROSSO FORMULA AU | M558M   3169 | 26/02/14 |
| ZD4VKA008ES001368 | CAPONORD 1200 ABS ADD ROSSO FORMULA AU | M558M   3300 | 7/03/14 |
| ZD4VKA008ES001371 | CAPONORD 1200 ABS ADD ROSSO FORMULA AU | M558M   3303 | 7/03/14 |
| ZD4VKA008ES001693 | CAPONORD 1200 ABS ADD NERO COMPET AU | M558M   3686 | 19/06/14 |
| ZD4VKA008ES001760 | CAPONORD 1200 ABS ADD ROSSO FORMULA AU | M558M   3802 | 18/07/14 |
| ZD4VKA008ES001841 | CAPONORD 1200 ABS ADD ROSSO FORMULA AU | M558M   3947 | 3/09/14 |
| ZD4VKA008ES001855 | CAPONORD 1200 ABS ADD NERO COMPET AU | M558M   3957 | 3/09/14 |
| ZD4VKA009DS000602 | CAPONORD 1200 ABS ADD GRIGIO METALLO AU | M558M   1920 | 23/04/13 |
| ZD4VKA009DS000681 | CAPONORD 1200 ABS ADD GRIGIO METALLO AU | M558M   2351 | 17/05/13 |
| ZD4VKA009DS000695 | CAPONORD 1200 ABS ADD ROSSO FORMULA AU | M558M   2194 | 17/05/13 |
| ZD4VKA009DS000941 | CAPONORD 1200 ABS ADD GRIGIO METALLO AU | M558M   2595 | 24/07/13 |
| ZD4VKA009DS001037 | CAPONORD 1200 ABS ADD GRIGIO METALLO AU | M558M   2578 | 25/09/13 |
| ZD4VKA009DS001068 | CAPONORD 1200 ABS ADD ROSSO FORMULA AU | M558M   2796 | 7/10/13 |
| ZD4VKA009DS001071 | CAPONORD 1200 ABS ADD ROSSO FORMULA AU | M558M   2788 | 7/10/13 |
| ZD4VKA009DS001135 | CAPONORD 1200 ABS ADD ROSSO FORMULA AU | M558M   2821 | 10/10/13 |
| ZD4VKA009DS001152 | CAPONORD 1200 ABS ADD ROSSO FORMULA AU | M558M   2848 | 10/10/13 |
| ZD4VKA009ES001377 | CAPONORD 1200 ABS ADD NERO COMPET AU | M558M   3349 | 7/03/14 |
| ZD4VKA009ES001699 | CAPONORD 1200 ABS ADD ROSSO FORMULA AU | M558M   3762 | 19/06/14 |
| ZD4VKA009ES001766 | CAPONORD 1200 ABS ADD NERO COMPET AU | M558M   3889 | 18/07/14 |
| ZD4VKA009ES001833 | CAPONORD 1200 ABS ADD ROSSO FORMULA AU | M558M   3917 | 3/09/14 |
| ZD4VKA009ES001847 | CAPONORD 1200 ABS ADD NERO COMPET AU | M558M   3959 | 3/09/14 |
| ZD4VKA009ES001850 | CAPONORD 1200 ABS ADD NERO COMPET AU | M558M   3956 | 3/09/14 |
| ZD4VKB001FS000442 | CAPONORD 1200 RALLY GRIGIO SAFARI | M558M   4792 | 16/04/15 |
| ZD4VKB002FS000370 | CAPONORD 1200 RALLY GIALLO DUNE | M558M   4570 | 23/03/15 |
| ZD4VKB002GS000841 | CAPONORD 1200 RALLY GRIGIO SAFARI | M558M   5183 | 14/10/15 |
| ZD4VKB003FS000460 | CAPONORD 1200 RALLY GIALLO DUNE | M558M   4670 | 16/04/15 |
| ZD4VKB004FS000368 | CAPONORD 1200 RALLY GIALLO DUNE | M558M   4614 | 23/03/15 |
| ZD4VKB005FS000301 | CAPONORD 1200 RALLY GRIGIO SAFARI | M558M   4413 | 16/03/15 |
| ZD4VKB005FS000735 | CAPONORD 1200 RALLY GRIGIO SAFARI | M558M   5027 | 16/06/15 |
| ZD4VKB007FS000297 | CAPONORD 1200 RALLY GRIGIO SAFARI | M558M   4442 | 16/03/15 |
| ZD4VKB007FS000302 | CAPONORD 1200 RALLY GRIGIO SAFARI | M558M   4506 | 16/03/15 |
| ZD4VKB007FS000364 | CAPONORD 1200 RALLY GIALLO DUNE | M558M   4486 | 23/03/15 |
| ZD4VKB007FS000459 | CAPONORD 1200 RALLY GIALLO DUNE | M558M   4765 | 16/04/15 |
| ZD4VKB009FS000365 | CAPONORD 1200 RALLY GIALLO DUNE | M558M   4610 | 23/03/15 |
| ZD4TYH00XGS000904 | TUONO V4 1100 FACTORY SUPERPOLE AU | V4-G     3574 | 17/02/16 |
| ZD4TVA004CS002027 | DORSODURO 1200 ABS ROSSO FLUO AU | M555M   3572 | 12/04/12 |
| ZD4TYG001GS000932 | TUONO V4 1100 RR PORTIMAO GREY AU | V4-G     4475 | 14/04/16 |
| ZD4VKA003DS000837 | CAPONORD 1200 ABS ADD ROSSO FORMULA AU | M558M   2412 | 20/06/13 |
| ZD4TYH006GS000933 | TUONO V4 1100 FACTORY SUPERPOLE AU | V4-G     3701 | 17/02/16 |
| ZD4TYH007GS000908 | TUONO V4 1100 FACTORY SUPERPOLE AU | V4-G     3686 | 17/02/16 |
| ZD4VKA003DS001101 | CAPONORD 1200 ABS ADD GRIGIO METALLO AU | M558M   2753 | 8/10/13 |
| ZD4TYB026DS000389 | TUONO V4 R APRC ABS MATTE WHITE AU | V4 TY   14786 | 8/10/13 |
| ZD4TYB029FS001216 | TUONO V4 R APRC ABS MATTE BLACK AU | V4 TY   16196 | 17/10/14 |
| ZD4VKA005DS000841 | CAPONORD 1200 ABS ADD GRIGIO METALLO AU | M558M   2394 | 20/06/13 |
| ZD4VKA007ES001376 | CAPONORD 1200 ABS ADD NERO COMPET AU | M558M   3337 | 7/03/14 |
| ZD4VKA009DS000700 | CAPONORD 1200 ABS ADD ROSSO FORMULA AU | M558M   2169 | 17/05/13 |
| ZD4TYG000GS000582 | TUONO V4 1100 RR DONINGTON BLUE AU | V4-G     2969 | 29/10/15 |
| ZD4TYG005FS000348 | TUONO V4 1100 RR DONINGTON BLUE AU | V4-G     1928 | 21/05/15 |
| ZD4TYH00XGS001504 | TUONO V4 1100 FACTORY SUPERPOLE AU | V4-G     4374 | 14/04/16 |
| ZD4VKB004GS000842 | CAPONORD 1200 RALLY GRIGIO SAFARI | M558M   5190 | 14/10/15 |
| ZD4VK0009ES000577 | CAPONORD 1200 ABS BIANCO AU | M558M   3787 | 25/07/14 |
| ZD4VKB002FS000367 | CAPONORD 1200 RALLY GIALLO DUNE | M558M   4572 | 23/03/15 |
| ZD4TVA007CS002264 | DORSODURO 1200 ABS ROSSO FLUO AU | M555M   3878 | 27/07/12 |
| ZD4TYG002GS000583 | TUONO V4 1100 RR DONINGTON BLUE AU | V4-G     3002 | 29/10/15 |
| ZD4TYG003FS000347 | TUONO V4 1100 RR DONINGTON BLUE AU | V4-G     1914 | 21/05/15 |
| ZD4TYH007GS000777 | TUONO V4 1100 FACTORY SUPERPOLE AU | V4-G     3191 | 13/11/15 |
| ZD4VK0009ES000580 | CAPONORD 1200 ABS BIANCO AU | M558M   3693 | 25/07/14 |
| ZD4VK0006ES000567 | CAPONORD 1200 ABS NERO COMPETITION AU | M558M   3616 | 28/05/14 |
| ZD4VKB00XFS000441 | CAPONORD 1200 RALLY GRIGIO SAFARI | M558M   4767 | 16/04/15 |
| ZD4TYG001FS000265 | TUONO V4 1100 RR PORTIMAO GREY AU | V4-G     1574 | 21/04/15 |
| ZD4TYG008GS000569 | TUONO V4 1100 RR PORTIMAO GREY AU | V4-G     3031 | 29/10/15 |
| ZD4TYH001GS001648 | TUONO V4 1100 FACTORY SUPERPOLE AU | V4-G     4643 | 17/05/16 |
| ZD4TYH001GS001651 | TUONO V4 1100 FACTORY SUPERPOLE AU | V4-G     4642 | 17/05/16 |
| ZD4TYH009GS000912 | TUONO V4 1100 FACTORY SUPERPOLE AU | V4-G     3563 | 17/02/16 |
| ZD4VK0008ES000585 | CAPONORD 1200 ABS NERO COMPETITION AU | M558M   3821 | 25/07/14 |
| ZD4VKA007DS001134 | CAPONORD 1200 ABS ADD GRIGIO METALLO AU | M558M   2831 | 9/10/13 |
| ZD4VKB009FS000298 | CAPONORD 1200 RALLY GRIGIO SAFARI | M558M   4508 | 16/03/15 |
| ZD4TYG002FS000257 | TUONO V4 1100 RR DONINGTON BLUE AU | V4-G     1507 | 17/04/15 |
| ZD4VKB001FS000750 | CAPONORD 1200 RALLY GIALLO DUNE | M558M   4983 | 17/06/15 |
| ZD4VKA006ES001837 | CAPONORD 1200 ABS ADD ROSSO FORMULA AU | M558M   3945 | 3/09/14 |
| ZD4TYH006GS000902 | TUONO V4 1100 FACTORY SUPERPOLE AU | V4-G     3575 | 12/02/16 |
| ZD4TYG002FS000274 | TUONO V4 1100 RR PORTIMAO GREY AU | V4-G     1577 | 21/04/15 |
| ZD4VKA007ES001765 | CAPONORD 1200 ABS ADD NERO COMPET AU | M558M   3888 | 18/07/14 |
| ZD4VKB008FS000440 | CAPONORD 1200 RALLY GRIGIO SAFARI | M558M   4342 | 16/04/15 |
| ZD4TYG008FS000389 | TUONO V4 1100 RR PORTIMAO GREY AU | V4-G     2087 | 11/06/15 |
| ZD4TYH003GS001649 | TUONO V4 1100 FACTORY SUPERPOLE AU | V4-G     4556 | 17/05/16 |
| ZD4TYH008GS000917 | TUONO V4 1100 FACTORY SUPERPOLE AU | V4-G     3685 | 17/02/16 |
| ZD4VK000XES000572 | CAPONORD 1200 ABS NERO COMPETITION AU | M558M   3651 | 28/05/14 |
| ZD4VKB008FS000650 | CAPONORD 1200 RALLY GIALLO DUNE | M558M   4952 | 18/05/15 |
| ZD4TYH006GS001502 | TUONO V4 1100 FACTORY SUPERPOLE AU | V4-G     4499 | 14/04/16 |
| ZD4VKB003FS000796 | CAPONORD 1200 RALLY GIALLO DUNE | M558M   5159 | 23/07/15 |
| ZD4VKB001FS000439 | CAPONORD 1200 RALLY GRIGIO SAFARI | M558M   4788 | 16/04/15 |
| ZD4TYG007FS000352 | TUONO V4 1100 RR DONINGTON BLUE AU | V4-G     1908 | 22/05/15 |
| ZD4TYH00XGS001647 | TUONO V4 1100 FACTORY SUPERPOLE AU | V4-G     4649 | 17/05/16 |
| ZD4VKB005FS000458 | CAPONORD 1200 RALLY GIALLO DUNE | M558M   4669 | 16/04/15 |
| ZD4VK0007ES000576 | CAPONORD 1200 ABS BIANCO AU | M558M   3898 | 25/07/14 |
| ZD4VK0001ES000590 | CAPONORD 1200 ABS ROSSO FORMULA AU | M558M   3855 | 25/07/14 |
| ZD4TYG006GS000568 | TUONO V4 1100 RR PORTIMAO GREY AU | V4-G     3032 | 29/10/15 |
| ZD4TYB028DS000507 | TUONO V4 R APRC ABS MATTE BLACK AU | V4 TY   14881 | 7/11/13 |
| ZD4TYG009FS000384 | TUONO V4 1100 RR PORTIMAO GREY AU | V4-G     2066 | 11/06/15 |
| ZD4VKA008ES001838 | CAPONORD 1200 ABS ADD ROSSO FORMULA AU | M558M   3944 | 3/09/14 |
| ZD4VKB001FS000795 | CAPONORD 1200 RALLY GIALLO DUNE | M558M   5162 | 23/07/15 |
| ZD4TVA004CS002237 | DORSODURO 1200 ABS BIANCO GLAM AU | M555M   3734 | 6/06/12 |
| ZD4TYH006GS000916 | TUONO V4 1100 FACTORY SUPERPOLE AU | V4-G     3699 | 17/02/16 |
| ZD4TYH009GS000909 | TUONO V4 1100 FACTORY SUPERPOLE AU | V4-G     3707 | 17/02/16 |
| ZD4TYB020DS000209 | TUONO V4 R APRC ABS MATTE WHITE AU | V4 TY   14503 | 19/07/13 |
| ZD4TYH000GS000930 | TUONO V4 1100 FACTORY SUPERPOLE AU | V4-G     3569 | 12/02/16 |
| ZD4TYG005GS000576 | TUONO V4 1100 RR PORTIMAO GREY AU | V4-G     3027 | 29/10/15 |
| ZD4VKA00XES001761 | CAPONORD 1200 ABS ADD ROSSO FORMULA AU | M558M   3775 | 18/07/14 |
| ZD4TYG006FS000259 | TUONO V4 1100 RR DONINGTON BLUE AU | V4-G     1511 | 17/04/15 |
| ZD4VKB009FS000303 | CAPONORD 1200 RALLY GRIGIO SAFARI | M558M   4511 | 16/03/15 |
| ZD4TYG009FS000353 | TUONO V4 1100 RR DONINGTON BLUE AU | V4-G     1883 | 22/05/15 |
| ZD4TYH004GS001501 | TUONO V4 1100 FACTORY SUPERPOLE AU | V4-G     4449 | 14/04/16 |
| ZD4TYG006FS000262 | TUONO V4 1100 RR PORTIMAO GREY AU | V4-G     1611 | 21/04/15 |
| ZD4VKB005FS000752 | CAPONORD 1200 RALLY GIALLO DUNE | M558M   4994 | 17/06/15 |
| ZD4VKB008FS000504 | CAPONORD 1200 RALLY GIALLO DUNE | M558M   4336 | 20/04/15 |
| ZD4VK0000ES000578 | CAPONORD 1200 ABS BIANCO AU | M558M   3909 | 25/07/14 |
| ZD4VK0003ES000557 | CAPONORD 1200 ABS ROSSO FORMULA AU | M558M   3659 | 28/05/14 |
| ZD4VK0003ES000560 | CAPONORD 1200 ABS ROSSO FORMULA AU | M558M   3663 | 28/05/14 |
| ZD4VK0003ES000588 | CAPONORD 1200 ABS ROSSO FORMULA AU | M558M   3851 | 25/07/14 |
| ZD4VK0005ES000558 | CAPONORD 1200 ABS ROSSO FORMULA AU | M558M   3660 | 28/05/14 |
| ZD4VK0005ES000561 | CAPONORD 1200 ABS ROSSO FORMULA AU | M558M   3664 | 28/05/14 |
| ZD4VK0005ES000589 | CAPONORD 1200 ABS ROSSO FORMULA AU | M558M   3852 | 25/07/14 |
| ZD4VK0005ES000592 | CAPONORD 1200 ABS ROSSO FORMULA AU | M558M   3849 | 25/07/14 |
| ZD4VK0009ES000563 | CAPONORD 1200 ABS ROSSO FORMULA AU | M558M   3656 | 28/05/14 |
| ZD4VK000XES000586 | CAPONORD 1200 ABS NERO COMPETITION AU | M558M   3817 | 25/07/14 |
| ZD4VKB000FS000366 | CAPONORD 1200 RALLY GIALLO DUNE | M558M   4380 | 23/03/15 |
| ZD4TYG001GS000588 | TUONO V4 1100 RR DONINGTON BLUE AU | V4-G     2968 | 29/10/15 |
| ZD4TYG003GS000933 | TUONO V4 1100 RR PORTIMAO GREY AU | V4-G     4484 | 14/04/16 |
| ZD4TYG005GS000934 | TUONO V4 1100 RR PORTIMAO GREY AU | V4-G     4444 | 14/04/16 |
| ZD4TYG006GS000585 | TUONO V4 1100 RR DONINGTON BLUE AU | V4-G     2971 | 9/11/15 |
| ZD4TYG007GS000580 | TUONO V4 1100 RR DONINGTON BLUE AU | V4-G     2924 | 9/11/15 |
| ZD4TYG007GS000935 | TUONO V4 1100 RR PORTIMAO GREY AU | V4-G     4447 | 14/04/16 |
| ZD4TYG008GS000930 | TUONO V4 1100 RR DONINGTON BLUE AU | V4-G     4354 | 14/04/16 |
| ZD4TYG009GS000581 | TUONO V4 1100 RR DONINGTON BLUE AU | V4-G     2931 | 9/11/15 |
| ZD4TYG00XGS000587 | TUONO V4 1100 RR DONINGTON BLUE AU | V4-G     2922 | 9/11/15 |
| ZD4TYG00XGS000931 | TUONO V4 1100 RR DONINGTON BLUE AU | V4-G     4443 | 14/04/16 |
| ZD4TYH00XGS001650 | TUONO V4 1100 FACTORY SUPERPOLE AU | V4-G     4786 | 17/05/16 |
| ZD4VKB001GS000880 | CAPONORD 1200 RALLY GIALLO DUNE | M558M   5325 | 20/10/15 |
| ZD4VKB003GS000881 | CAPONORD 1200 RALLY GIALLO DUNE | M558M   5328 | 20/10/15 |
| ZD4VKB005FS000797 | CAPONORD 1200 RALLY GIALLO DUNE | M558M   5161 | 23/07/15 |
| ZD4VKB005GS000879 | CAPONORD 1200 RALLY GIALLO DUNE | M558M   4194 | 20/10/15 |
| ZD4VKB005GS000882 | CAPONORD 1200 RALLY GIALLO DUNE | M558M   5306 | 20/10/15 |
| ZD4VKB006GS000843 | CAPONORD 1200 RALLY GRIGIO SAFARI | M558M   4473 | 14/10/15 |
| ZD4VKB007FS000798 | CAPONORD 1200 RALLY GIALLO DUNE | M558M   5160 | 23/07/15 |
| ZD4VKB007GS000883 | CAPONORD 1200 RALLY GIALLO DUNE | M558M   5327 | 20/10/15 |
| ZD4VKB008GS000844 | CAPONORD 1200 RALLY GRIGIO SAFARI | M558M   5189 | 14/10/15 |
| ZD4VKB009FS000799 | CAPONORD 1200 RALLY GIALLO DUNE | M558M   4797 | 23/07/15 |
| ZD4VKB00XGS000845 | CAPONORD 1200 RALLY GRIGIO SAFARI | M558M   5191 | 14/10/15 |
| ZD4TYG000GS001151 | TUONO V4 1100 RR PORTIMAO GREY AU | V4-G     5046 | 20/06/16 |
| ZD4TYG001GS001157 | TUONO V4 1100 RR PORTIMAO GREY AU | V4-G     5318 | 20/06/16 |
| ZD4TYG002GS001152 | TUONO V4 1100 RR PORTIMAO GREY AU | V4-G     5251 | 20/06/16 |
| ZD4TYG004GS001153 | TUONO V4 1100 RR PORTIMAO GREY AU | V4-G     5257 | 20/06/16 |
| ZD4TYG006GS001154 | TUONO V4 1100 RR PORTIMAO GREY AU | V4-G     5247 | 20/06/16 |
| ZD4TYG008GS001155 | TUONO V4 1100 RR PORTIMAO GREY AU | V4-G     5319 | 20/06/16 |
| ZD4TYG009GS001150 | TUONO V4 1100 RR PORTIMAO GREY AU | V4-G     5315 | 20/06/16 |
| ZD4TYG00XGS001156 | TUONO V4 1100 RR PORTIMAO GREY AU | V4-G     5300 | 20/06/16 |