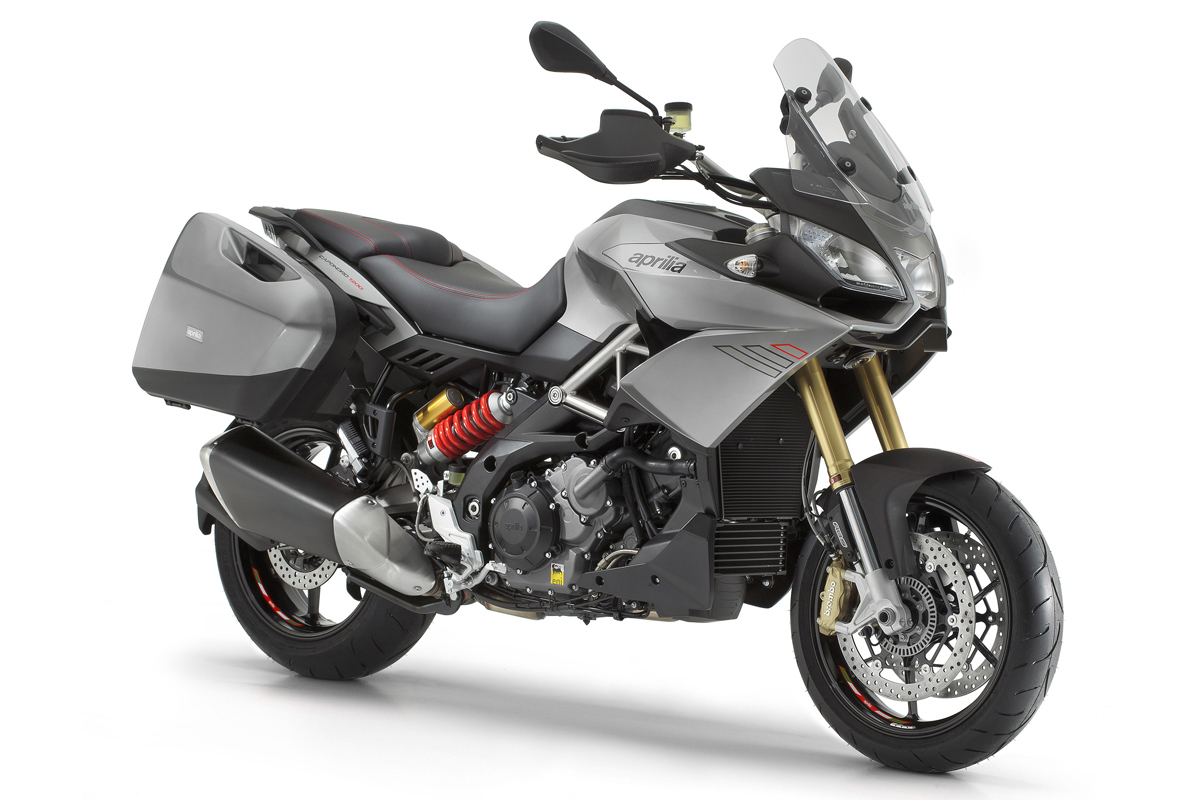 Motorbikewriter.com gives readers an opportunity to review your own bike or a bike you may have ridden. In coming months I hope to have some rider apparel giveaways for the best contributions. Send your review to hinchm@hotmail.com.
This review comes from "Dakar tragic" Guy Basile who travelled to South American in January 2013 to follow the racers in the world's most gruelling event. He's also quite an accomplished off-roader himself, so his review of the new Aprilia Caponord (meaning "cape north" or "head north") makes interesting reading: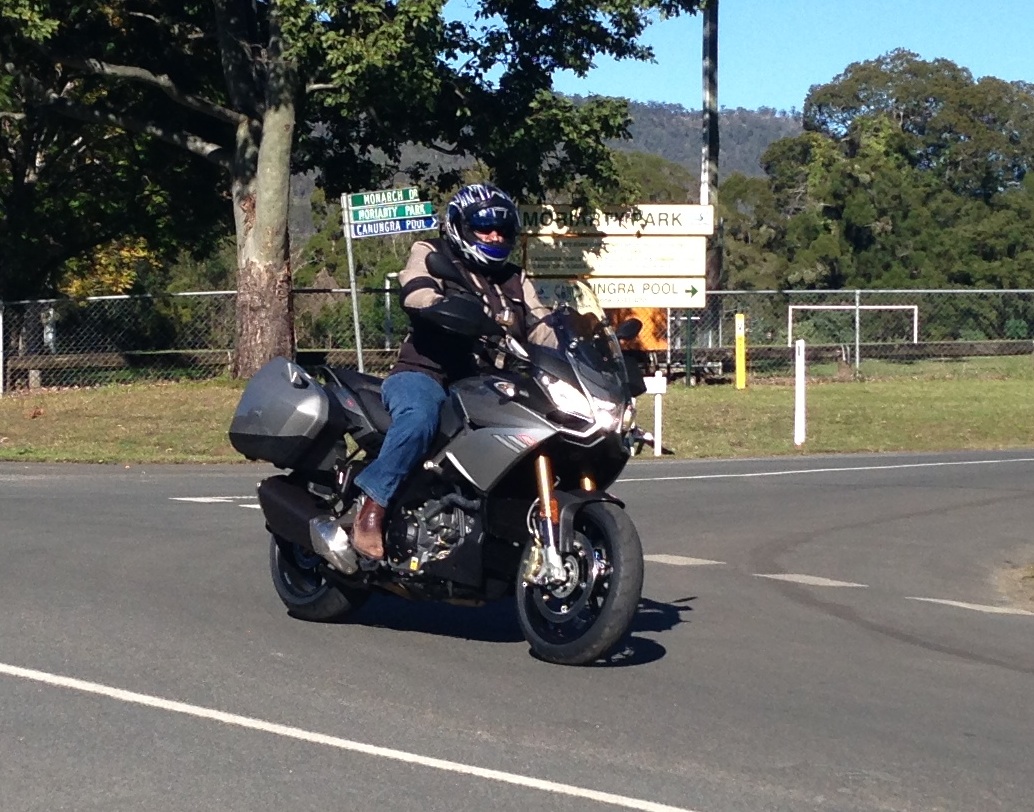 So it's time for a new bike to replace my 2008 Suzuki DL1000 V-Strom. Not that there is anything wrong with the Strom. I have spent a heap of time and money setting it up how I want it and has served me very well, including a tour around New Zealand, 2 trips to Tasmania , a trip to the Isle of Man and 5 weeks touring around the Euro Alps, as well as countless weekend jaunts usually with my wife Samantha happily perched on the back. During this time I have had zero problems and only replaced the normal consumables like brakes and tyres etc.
But it's time for change, but what to?  The criteria is this. Must be large capacity to cope with the rigours of two-up plus luggage touring. Preferably twin cylinder just 'cause I love the noise they make and the narrowness in the chassis. Must be chain drive (I have seen too many shaft-drive failures). It must have a modicum off-road prowess. I'm not talking out-and-out off-road bike. I have other bikes for that. But it must be able to travel along some of our back country dirt roads and tracks at a reasonable pace.
The options are limited. My V-Strom has fulfilled all the above requirements, but it's getting a few kays on it and the technology is getting a bit dated.
One option is the Ducati Multistrada. Nice bike, bit wide at the seat/tank junction for a short ass like me and probably out of my price range anyway. Another is the Triumph 1050 Tiger Sport. I haven't ridden one of the new ones but the previous model wasn't all that comfortable for the misses, but it does make a glorious sound out of its three-cylinder motor. The 17-inch front wheel is probably not ideal on dirt roads, but I could live with that. I have ridden quite a few KTM 990s. they are awesome bikes, but too big and tall for little me to handle and pillion comfort isn't great. I'm keen to ride the new 1190 with the 19-inch front. It just might fit the bill. The more dirt-orientated 1190R is just too big for me. I even took a Benelli TreK for a ride thinking it might be a chance but it was too road-orientated for my liking and the are some reports about reliability issues.
So what does that leave? Not much, but when I saw some info on the New Aprillia Caponord my interest was sparked. It has a 1200cc V-twin engine with all the computer wizardry of the Multistrada but 10 grand less. Let's investigate further; V-twin motor "tick", comfy for passenger "tick", a bit of dirt road capability "tick", albeit again the 17-inch front wheel might limit it a bit. Why are the manufacturers doing that? Especially for us here in Australia where if you get off the main freeways chances are the roads are going to be dirt or potholed tar.
Finally a Caponord became available for test, so my wife and I arrived at our appointed time, were thrown the keys and told to go for as long as we liked. First impressions were good. It looks great with the front fairing reminiscent of the RSV4R race bike. Fit and finish is very nice. Seating positions are comfortable although the bars are very wide. Muffler is massive and ugly but emits a nice note when the revs rise. The bike is fitted with all manner of computer wizardry including switchable mapping, switchable traction control, and something called ADD which automatically adjust the suspension depending on load and speed etc. Bery clever stuff. The bike is also fitted with electronic cruise control and there is a switch for the genuine grip heaters. No idea why they would fit a switch but not the heaters themselves. I am sure potential buyers would cough up the extra couple of bucks and why not a 12 volt accessory plug while you're at it? Hand guards are a nice touch and should be standard on all bikes like this.
The Caponord also comes complete with a pair of colour-coded panniers, that use a very clever mounting system that negates the need for ugly frames. The shape makes them a bit impractical, but they are ok for overnighters. There is a very small top box available from the accessory list as well as few other things like gel seats and other bling.
It has Brembo brakes, but what's with the cheap plastic master cylinder reservoirs for brake and clutch? Looks like they came straight from the Repco shelf.
The sitting position for me was very nice and Samanatha was quite happy as we set off for the cafe at Canungra. The power compared with my bike was fantastic. We started off in touring mode and it comes on very quickly and strong. Rain mode was positively doughy, but that's what is supposed to happen.
The amount of buffeting over the screen was quite annoying. I tried a few different heights  and got it a little better but it is worse than I would have liked. Even worse than the V-Strom which are known for having buffeting issues.
Handling is quite heavy, probably due to the wide-section tyres fitted. It took quite an effort to get it to turn in despite the wide bars. Suspension was quite firm and while it was really nice on very smooth roads, It did get a bit upset on some of the rougher sections.
You need to stop to change the suspension and traction control settings but you can change the engine mapping on the go by selecting the mode you want and engaging the clutch.
Sport mode was great fun but the ride-by-wire throttle was quite snatchy especially at lower speeds. Heaps of torque off the bottom and it needs it as the gearing is very high. I almost stalled it a couple of times getting going and sixth gear is superfluous unless you're doing over 160km/h. Nice on the autobarns though. I would be gearing this thing down at the first chain and sprocket change. Not sure how this would affect the speedo and fuel consumption though. From all reports the bike has a fuel range of over 350km from the 24 litre tank, which is pretty good for this type of bike.
The bike comes standard with electronic cruise control and on the M1 coming back I tried it out and found it awkward to use. I have an aftermarket electronic cruise fitted to the Strom and it works heaps better and is easier and smoother.
The centre stand also took some effort to use, but it's nice to see one fitted as standard although it touch down on a couple of occasions.
It had an issue with the digital dash which blacked out for a few minutes later and flashed an error code. Not what you want to see on your new pride and joy.
All up, we did about 150km and I was so looking forward to this bike being everything I wanted. Everything I read had promised so much but I must admit to coming away disappointed. But none of the issues are huge and most could be sorted out.
Aprilia Caponord 1200
Price: from $21,990 (+ on-road costs)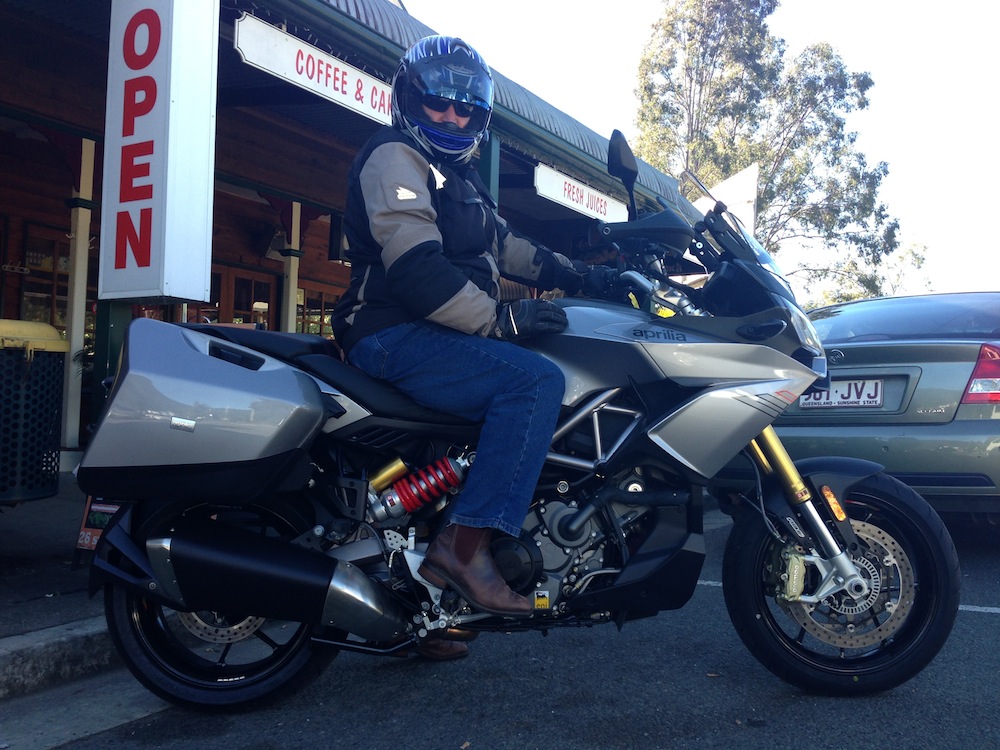 Engine: 1197cc, liquid-cooled, 8-valve, DOHC 90° V‐twin
Bore x stroke: 106 x 67.8mm
Compression: 12:1
Power: 91.9kW at 8250rpm
Torque: 115Nm at 6,800 rpm
Transmission: 6-speed, chain drive, Multiplate wet clutch
Chassis: Modular tubular steel frame, removable steel rear subframe
Suspension 43mm Sachs upside‐down forks with fully adjustable compression and rebound damping and spring preload, 167mm wheel travel 167mm; alloy swingarm, Sachs hydraulic shock absorber with adjustable rebound and preload, 150mm wheel travel; plus Aprilia Dynamic Damping
Brakes: Dual 320mm stainless steel floating discs, 32mm Brembo M432
monoblock four‐piston radial callipers, metal braided brake hoses (front); 240mm stainless steel disc, Brembo 34mm single piston calliper, metal braided brake hose (rear); plus Continental two channel ABS and Aprilia Traction Control
Wheels: 3.50 X 17; 6 x 17
Tyres: tubeless 120/70‐R17; 180/55‐17
Length: 2245mm
Height: 1440mm
Seat: 840mm
Wheelbase: 1565mm
Trail: 125mm
Steering angle: 26.1°
Dry weight: 214kg
Tank: 24 litres (5 litre reserve)