A County Court appeal has been lodged after a Victorian Magistrate last month upheld a $150 fine against a motorcycle rider for wearing a helmet camera. 
Law firm Maurice Blackburn is acting on behalf of Max Lichtenbaum, who was fined $289 and lost three demerit points after being pulled over by police in Frankston in March 2014 for having a GoPro camera stuck to his helmet. 
The firm will argue that the cameras are a safety device, do not make a helmet non-compliant, the laws about helmets are not freely available and the use of helmet cameras has been condoned by a previous police minister.
Maurice Blackburn principal Malcolm Cumming says that in September 2014, the then Police and Emergency Services Minister Kim Wells wrote to another motorcyclist and said: "There is no offence in the use of a GoPro attached to a bicycle or motorcycle helmet…". Mr Wells added that any helmet camera must not damage the helmet shell nor distract the rider or other road users. 
Malcolm says that if the Frankston Magistrates Court had interpreted the Road Rules in the same way as Mr Wells, Mr Lichtenbaum would have been found not guilty.
"If the police officer who issued the infringement interpreted the law as the then-Police Minister did, the infringement notice would not have been issued in the first place," he says.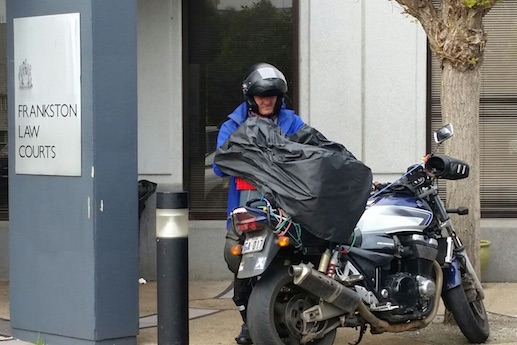 Maurice Blackburn is also arguing that helmets need to meet the relevant standard at date of manufacture and supply and that helmets do not and cannot become 'unapproved' at some later date.
"There are important legal principles that need to be clarified on the use of helmet cameras. Riders everywhere deserve certainty. In Queensland and in South Australia, it is legal to use helmet cameras. Why should riders face a fine when they ride over the border? The road rule Mr Lichtenbaum was fined under is also an Australian Road Rule and should be interpreted to operate consistently with other states." 
It will also be argued in the County Court Appeal that the Australian Standard that governs motorcycle helmets is not freely accessible to the public, and riders cannot be found guilty of breaching a standard that is not publicly available.
Malcolm says riders use cameras to improve safety.
"In our work supporting riders injured in road accidents, we know that video from helmet cameras is some of the best evidence you can have if you are in a collision.
"We hope this test case will lead to an end in Victoria of motorcyclists being fined for attaching cameras and tinted visors to helmets to help improve their safety while riding."
A date for the Appeal hearing is yet to set.