She has ridden in snow, through cyclones, fixed her chain with a piece of pipe by the side of the road and now Amanda Chan is developing a unisex sportbike gear brand Flying Solo Gear.
The 29-year-old Canadian moved to Melbourne in May 2015 and one of the first things she did was lap the continent on her K7 Suzuki GSX-R600 called "Sheba".
"I had to learn how to ride on dirt roads on a sportbike, and experienced two cyclones along the way (one of them being Cyclone Debbie) along with six long water crossings and heading straight down the centre to Uluru," Amanda says.
"I did this 18,000km, 40-day solo adventure so that I learned to rely on myself and so that every subsequent challenge I had in daily life felt like nothing.
"For example, I had to adjust my chain using a metal pipe I found, while on the side of the road, 300km from the nearest city (Cairns)."
Unisex sportbike gear brand
Now she is developing her unisex sportbike gear brand called Flying Solo Gear Co.
Her first product was a kevlar-carbonfibre waist pack she designed after crashing her GSX-R600 on a racetrack.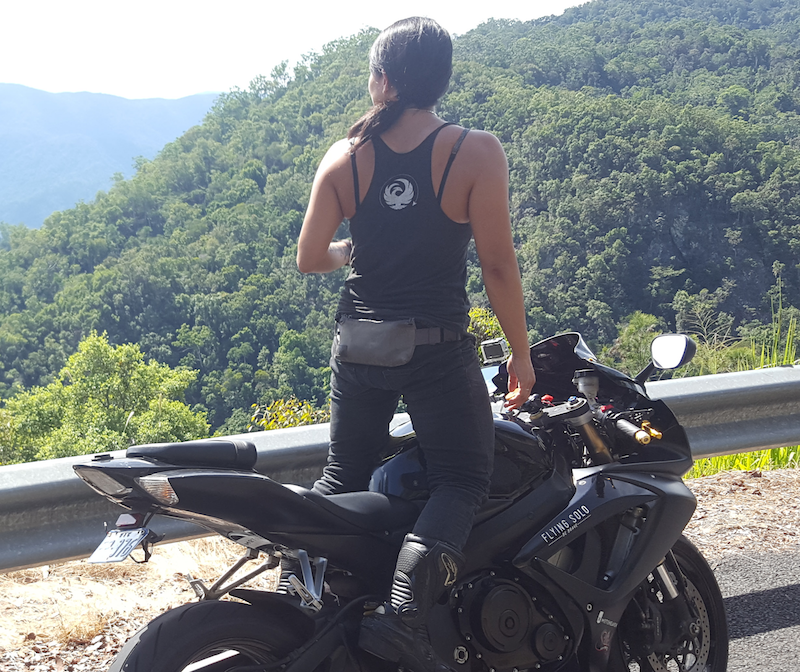 "I thought it would be a good idea to get phone, keys, and wallet away from the midsection where you could get seriously injured, and in a convenient place behind the body," she says.
Her company sells men's and women's clothes equally and doesn't just specialise in women's gear as some might expect from a female rider.
It's mainly a business decision.
"The number of riders in Australia is already low compared to North America and Europe, and the number of female riders is even lower," she says.
"So I understand why there is so much limited (female) gear. That's why I want to stick to making unisex gear as much as I can."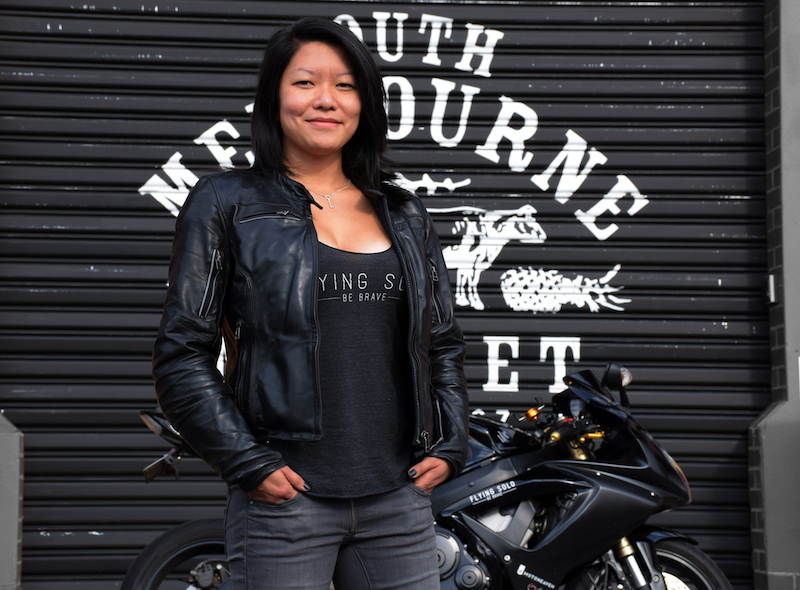 However, she is not full of praise with the female riding gear that is available.
"A lot of women's gear has pink and swirly bits on it, and female-owned brands often have an actual image of a girl within the logo," she says.
As she has developed her Flying Solo Gear Co brand, the number of male supporters has far outweighed female supporters.
"I may have an unpopular opinion amongst my female counterparts, but I want to break the stereotype that all they see are sex objects, because it simply isn't true.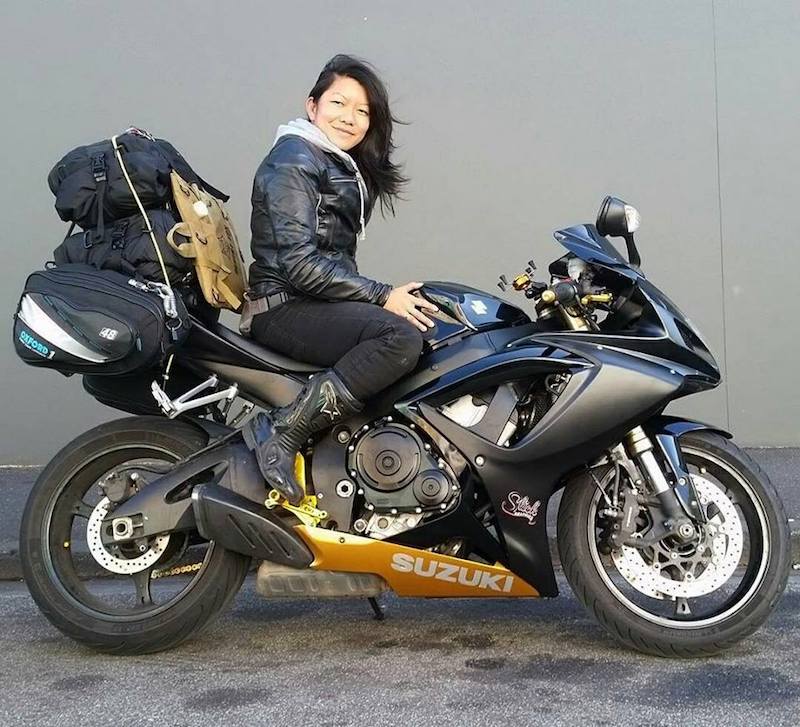 "The vast majority of male riders respect a girl who wears all her gear, rides well, and wants to contribute to the industry.
"I think being female comes with an inherent doubt that we can keep up with the boys, but that view is changing every day.
"I'm not about to win a race on a circuit anytime soon, but I do feel like there's something totally badass about lapping the country by myself," she says.
Amanda plans to introduce design, manufacture and market a range of high-quality sportsbike products including quiet knee sliders.