Alpinestars TechAir 3 Review Summary
Review Summary
Airbags for motorcyclists are relatively new, at least for nonroad racers. Alpinestars released their TechAir 5 and 10 products a few years back. Both of those products offered protection for both racers and street riders. Those products are intended to be worn underneath other safety garments. The TechAir 3 (TA3) can be worn over or under street gear and is only designed for street use and light off-road excursions.
Pros
Very comfortable
Can be worn over or under a jacket
Excellent companion app
Excellent deployment time
Easy to store
Cons
The left shoulder area has minimal expansion in deployment
The lower coccyx area was not covered during the deployment
Must be returned to an authorized Alpinestars service center for reactivation after deployment
Alpinestars TechAir 3 Image Gallery
Review Summary
With an MSRP of $600, the TechAir 3 (TA3) can be worn over or under street gear and is only designed for street use and light off-road excursions.
It features a comfortable design and during our testing, we wore it over and under multiple motorcycle jackets.
The TechAir3 has a companion app that provides convenience to the user along with some added features that aren't associated with the safety of the vest, such as tracking battery life remaining.
It's easy to store and will fit in a motorcycle tail bag.
Once activated and deployed, it must be returned to an authorized Alpinestars service center for reactivation, but at least it's saved your ass!
Introduction
I want to start by saying that this review was never intended to replace a user's guide. None of my reviews have that intent. If you've purchased the TA3, then you should read the A* user's guide. I review items to give my view to potential buyers of features I have found in evaluating any product. I've been lucky enough to test several motorcycle airbag systems. Invariably someone will ask "How does the TA3 compare to 'fill in the blank.'?" wBW has asked me to compare all currently available consumer airvests. I speak more about that in the Conclusion section. You will never find me saying anything "Is the best" because what is best for me, does not mean it's best for someone else. OK, I wanted to clear that up.
Just by chance when I was at the dealer who sold me my Ducati, two representatives from Alpinestars were there setting up a demo table of TechAir 5s. They had never seen an electronic Helite Turtle which I had purchased and was wearing. After explaining how it works, I mentioned that I have reviewed three versions of Helite airbag vests. The first was the analog version of the Helite Turtle 2 vest in August of 2022, the Helite e-Turtle 2 Airbag, and the most recent were my reviews of the Helite HMOOV tethered backpack airbag and the Mo'Cycle airbag jeans. One of the men asked if I would be interested in reviewing Alpinestars Techair 3 and/or 5 and gave me his business card. After writing to him, an Alpinestars Media and Company Communications Department employee contacted me. I let him know that I'd be happy to review both vests if they'd allow me to electronically deploy the vests and send them in for servicing.
My belief is to offer potential buyers a 'soup to nuts' review of products. I like to know how something works, see it work, and for those vests that need to be sent in for service, how long it takes and the results once returned.
I'm not naive. I understand that I 'may' get extra fast service sending the vest in after deployment since A* is aware I'm reviewing the product service. But I can assume that the amount of time it takes to get the TA3 back would be the quickest… or not. Either way, being able to experience the service is something I value in a full review. AND A* was willing to send me their proprietary cell phone trigger to deploy the vest. Very nice since all of my friends wanted to know if I'd have to crash my bike to see if the vest worked. And who gets my Multistrada if it doesn't and I die? Ah, good friends are irreplaceable.
In The Box
Apple started it, the whole packaging thing. I'm not an unboxing fan but wanted to illustrate how the TA3 is packaged and arrived at my doorstep. It has a clear security seal to show the vest had not yet been opened.
I've included a link to the TECH-AIR® 3 AND STELLA TECH-AIR® 3 AIRBAG SYSTEM USER MANUAL. Why did I decide to photograph a USB C cable? BECAUSE I HATE MICRO USB CABLES and am so happy A* chose to use an included 2023 version of a USB cable and NOT an 1883 version.
Construction
I'm including a screenshot of the TA3's tech specs here rather than copying and pasting the text. I'm known here at wBW to be overly enthusiastic from a word count standpoint, so an image of text when appropriate keeps my editors happy.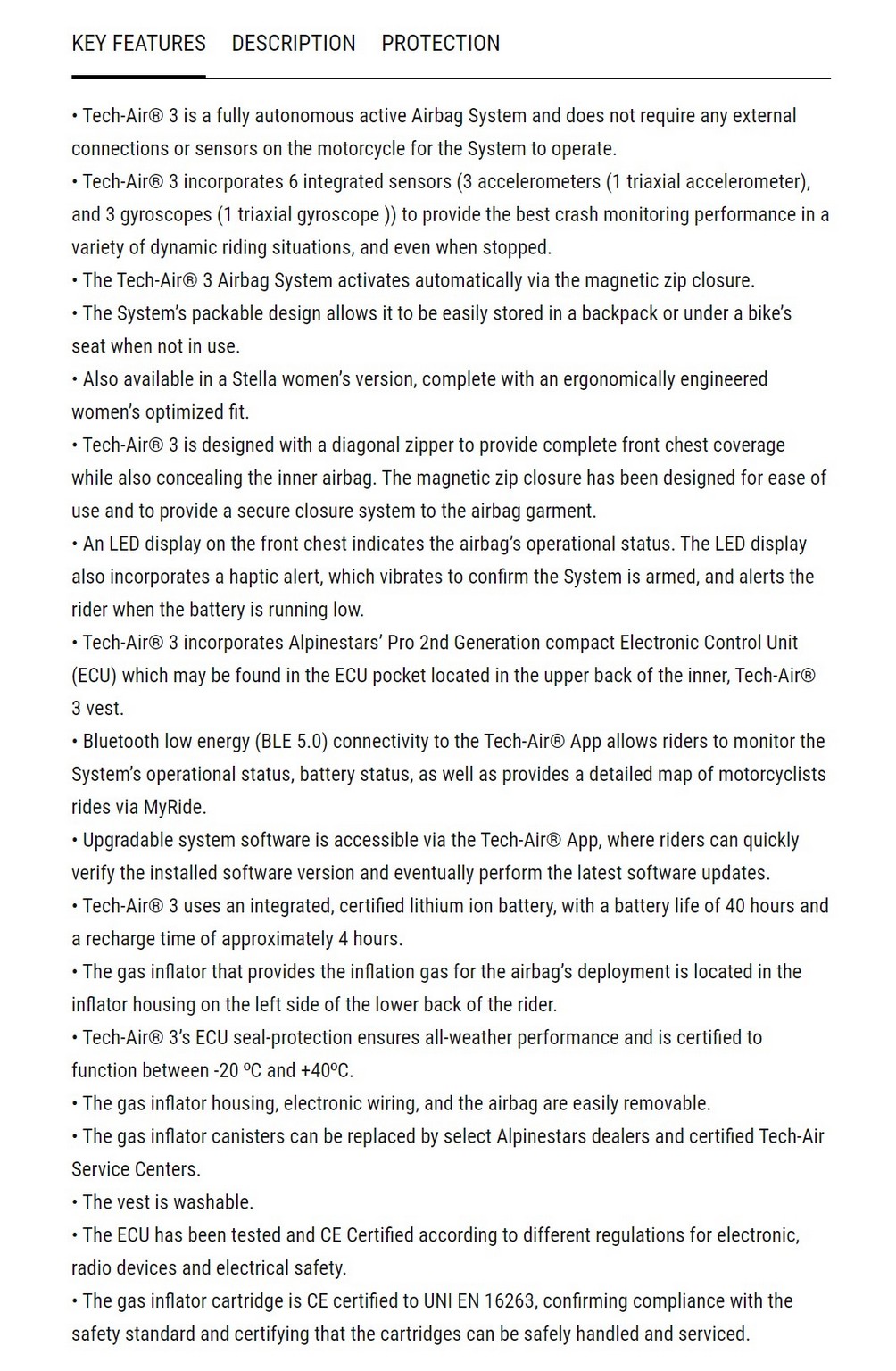 The right-hand side of the TA3 has a zippered slash pocket, which is very convenient to hold items when wearing it outside of your jacket. It's a decent size too and could hold your cell phone. Since I mount my phone on a dedicated mount I prefer to store a small burrito in the pocket. Sorry if the vest smells like good Mexican food when I return it to A*… it's washable anyway, I'm just too lazy to do so.
I fully charge things when I first get them, it's just my protocol which A* recommends anyway. Here is the small USB-C charge port located on the left side of the interior of the TA3 under a small velcro flap just behind the exterior on/off/active LED indicator. When new A* has a labeled card to identify the battery charger location.
This screenshot of the TA3 User's Guide helps explain the different indicators of the LED panel:

Clicking on the video links below shows how each level appears during charging.
Later as I explain the A*'s TA3 app, you will be able to see the exact battery levels of the vest.
The App
Like all other apps on your phone, downloading an app depends on whether you're an Android or IOS user. I'm an Android fella, so I got mine from the Google Play Store. Please note that using the app is not necessary to use the TA3. The vest works fine without it. The app provides convenience to the user along with some added features that aren't associated with the safety of the vest.
Since this was my first time, I used the Signup link filled out my information, and made my unit of measurement selection, Miles.
Because I had charged my TA3 when I first unpacked it, I checked for any system updates. You can do this while charging too. Before activating the system by zipping it up, this is the app screen you will see. As you can see the battery percentage and system status are displayed.
I was messing around with the TA3 before activating it, you can see how the battery percentage dropped. One of my 'wishes' would be to have time remaining to replace the percentage in the app. Much like the fuel gauge on my bike can be toggled between a fuel level or miles remaining. My Princess wish would be to have the ability to toggle between both. My tiara is showing….
Going into the Settings menu there are help settings that can be accessed. A very good system that allows you to select your issue and contact A* through the app.
Your rides can also be recorded. I had not recorded mine.
Once the system is fully activated by completely zipping up the vest, this screen will appear on the app. Once you slide the button down to turn off the system, a failsafe screen will appear asking you to enter the four-digit code. This prevents accidental deactivation of the system. You should note that you cannot arm the system from the app. Reactivation can only be done by unzipping and rezipping the vest.
Construction
Examining the overall construction of the TA3 revealed that it is well-sewn and constructed. The seams are not frayed and there were no loose threads on this unit. Below are photos where you can judge for yourself the quality of the construction.
The chest airbag can be viewed in the following Activating the System section. Here are the back airbag channels along with the CPU which is located on the lower left side on the rear of the TA3.
Activating the System
There are no 'on/off' buttons on the TA3. The magnet that connects with the LED alert panel is apparent in the photos below. It mates easily with the LED sensor once the zipper is fully zipped. The hepatic (vibration) feature is great and physically alerts you if the vest is correctly or incorrectly armed. I found it can be felt through my thick riding jacket.
Here are photos of the chest magnet that ensures the chest protector is in the correct position.
The magnet that connects with the LED alert panel is apparent in the photo above. It mates easily with the LED sensor once the zipper is fully zipped. The hepatic (vibration) feature is great and physically alerts you if the vest is correctly or incorrectly armed. I found it can be felt through my thick riding jacket.
The TA3 does not come supplied with a physical back protector other than its air bladders. A*s has sewn a pocket into the vest that allows the user to insert a back protector that then resides outside of the back air bladders. I decided to place my KLIM Marrakesh back protector in the pocket. A*s does offer a level 1 back protector for the TA3.
Sizing
Because I own a few (read many) riding jackets I opted to try the TA3 on over them and under one of them. I wear a large in all of my jackets and the TA3 sent to me is large. I mentioned earlier that A* recommends going down one size from your normal riding jacket size if you plan to wear it under your jacket. So in my case, that would be a medium. The only jacket where I placed the TA3 underneath is my Halo Drystar. All others are worn underneath the TA3.
Worn outside
Worn Inside
I found wearing the TA3 outside of my Halo to be quite comfortable. The size is too large to be worn underneath the jacket. A smaller size – medium as A* recommends may have made it more comfortable. Removing my KLIM back protector from the TA3 improved the comfort while worn inside my Halo, but it was more comfortable when worn outside that jacket.
Jacket – Aerostich Transit 3
Jacket – KLIM Marrakesh
Jacket – Knox Urbane Pro MKII
Wearing the TA3 on the outside of all of my jackets was very comfortable. I did find that it greatly restricts airflow and since the vest must be completely zipped up to remain active, it's not like having the ability to slightly unzip the vest to allow air to enter the chest area. The Inflator Housing on the lower left side can be felt, not to the point where it is painful or restricts movement, but it's always apparent it's there. I ride an ADV bike which is very upright in the riding position. Getting into a semi-tuck position seemed comfortable as well.
Wearing the TA3 on the inside is a different story. I can only say that with a large and the back protector in or out, the vest is too restrictive for my taste. I'd suggest that if you have as many existing jackets as I do, it would be more comfortable to wear the TA3 on the outside rather than inside a jacket. If you plan to purchase the TA3 and THEN a new jacket with plans to wear the TA3 inside, plan your sizing accordingly.
The TA3's outer fabric is washable after removing the airbag and CPU portion of the device. Please refer to the PDF link I attached earlier in this review for instructions on how to remove and reinstall the airbag.
Deploying the TA3
Alpinestars was gracious enough to supply me with a remote trigger tied to their cell phone so I could deploy and record the TA3's expansion. The recorded video can be seen here. Below are still images of the vest deployed. Even though this vest can be worn either inside or outside of a jacket, I chose to display the inflated vest sans any jacket so its expanded coverage is readily visible.
After deployment, it was apparent to me that the left shoulder expansion was much less in volume than the right shoulder. I inquired about this situation and this was Alpinestar's response:
"Regarding the TA3's bladder on the upper left side: Motorcycle accidents on the street are predominantly head-on collisions and impacts, and we wanted to make sure that the average street rider had the best and highest level of protection on the chest and back, which would be Airbag CE Level 2, which the TA3 is certified to both front and back. 
 In order for the chest to be certified Airbag CE Level 2, it has to be a full panel (like in the TA3's case). And the only way to ensure a full chest panel construction is to channel the airbag over one of the rider's shoulders (the right one in the TA3's case). If we were to cover both shoulder areas equally, the TA3 would have to be put on and taken off over the rider's head, as opposed to a regular jacket or vest."
Their explanation of the design makes sense. Everything is a compromise and how they've engineered and built the TA3 is based on their best decisions. I appreciate their candor.
Storing the TA3
One of the tail bags I use is the Nelson Rigg CL-1060-ST2 Black Commuter Tour Motorcycle Tail Bag. The TA3 fits nicely into that tail bag without the need to expand it. I realize that one of the reasons people don't want to wear an airbag vest is the inability to store it when off the bike. No such excuse will fly with this vest.
Conclusion
I was not able to test the battery life of the TA3 as I had with the Helite eTurtle vest, so I will trust A*'s battery life estimate. The vest is well constructed, fits well inside most luggage compartments, and is comfortable. Having the app to monitor battery life and other aspects of the garment as well as your ride is very slick too. I'm testing almost all of the currently available models of air vests available to consumers. The TA3 is one of the most comfortable. Its ability to be worn both inside and outside of a riding jacket is a plus.
Something to consider when purchasing a TA3 or for that matter any air vest that is designed to be worn under a jacket is the space required for expansion upon deployment. I will be speaking about this in my upcoming comparison of all currently available consumer air vest models including the TA3
The vest must be returned to Alpinestars once it is deployed for repacking and certification. I am writing a separate article comparing all currently available air vests which will include any repacking/inspection/recharging services and the cost for each vest. I am also including body temperature readings for each vest. So check back for that comparison and information including turnaround times for those vests which must be sent to the manufacturer once it is deployed.
Choosing to wear or not wear any piece of safety gear is a personal decision. The exception is in those states where a helmet is required. When I visit my cousin in Hawaii and see many folks riding around in flip-flops and no helmet, I winch. It is the same as if I was on an airplane and people were still smoking, it's that shocking to me. And I'm a former smoker.
We each choose our own poison, it's our right. I choose to wear the best safety gear I can. Mostly because I've experienced crashes at speed.
Pros
Very comfortable
Can be worn over or under a jacket
Excellent companion app
Excellent deployment time
Easy to store
Cons
The left shoulder area has minimal expansion in deployment
The lower coccyx area was not covered during the deployment
Must be returned to an authorized Alpinestars service center for reactivation after deployment
Specs
Manufacturer: Alpinestars
Price: (When Tested) $599.00
Weight, 3.98 pounds (size L)
Colors: Black (as tested)
Sizes: XS, S, M, L (as tested), XL, XXL, XXXL Sizing guide
Available in a Stella women's version, complete with an ergonomically engineered women's optimized fit
Review Period: April to October 2023
Important Links / Where to Buy