Editor's note: This review is unique in that it provides an in-depth and exhaustive look at the '22 Multistrada V4S Sport. If you're a regular webBikeWorld reader, that the review is a small novella probably isn't surprising to you – Mark worked hard to provide an incredibly insightful and comprehensive look at this bike.
The review summary distills the key points into bullets; we invite you to dig deeper if you want the details behind Mark's perspective. This is easily the most thorough assessment of this bike you will ever read.
Review Summary
Aesthetics, Design, & Ergonomics
The fourth generation of Ducati's Multistrada looks are unmistakably Multistrada, other than the monocoque frame replacing the traditional steel trellis structure.

The design of the MSV4S compares to an MMA fighter in a tuxedo while holding the hand of his favorite six year old niece. Strong AF, but gentle at the same time.

Ergonomically I feel like I'm on a Temperapedic foam couch suspended by the most incredible suspension that constantly adjusts in 10 milliseconds to what the wheels are encountering. 
Drivetrain, Engine, & Transmission
I've never owned or ridden a bike with a Quickshfter. So smooth, but not so much in lower gears around town.

Engine is the child conceived when a v-twin has hot AF sex with an inline four.
Riding Experience
Like looks, how a bike feels is SO INDIVIDUAL. Sure you can say

"Wow so and so test editor says the MS is wonderful."

Another

"MEH it's not as good as this or that."

For me, it's WONDERFUL.
Key Upsides
Incredible suspension. Like having a pro suspension tuner adjusting the suspenders in 10 milliseconds as you ride…but better, no bathroom breaks!.

An engine that for me defines Jekyll and Hyde or in today's 2023 speak bipolar!

Usable Tech that applies in the real world.
Key Downsides
Expensive. Only 6K less than my parents first custom built 2100 sq. ft. 3br/2.5 bath home in California!

Heavy and tall.
In-Depth: The 2022 Ducati Multistrada V4S Sport
I had hoped with all hope that my editor would allow me to title this piece, "An HONEST review of THE PERFECT, ULTIMATE, BEST, AND BETTER THAN Any Other Motorcycle for Plus Sized Senior Citizens." I believe that he was fine with all of the words except for Plus Sized….
I sent my early 40ish-year-old pal Gabe this photo of my bike with my friend Julian sitting on it. Julian is a long-time Duck owner, also in his forties, with his 2014 V2 Panigale which you can see in the background. Gabe's comment: "Looks great. I'm tempted by the touring bikes, but it kinda feels like taking that irrevocable step into admitting middle age." When I shared his comment with Julian, HE FELT THE EFFING SAME!!!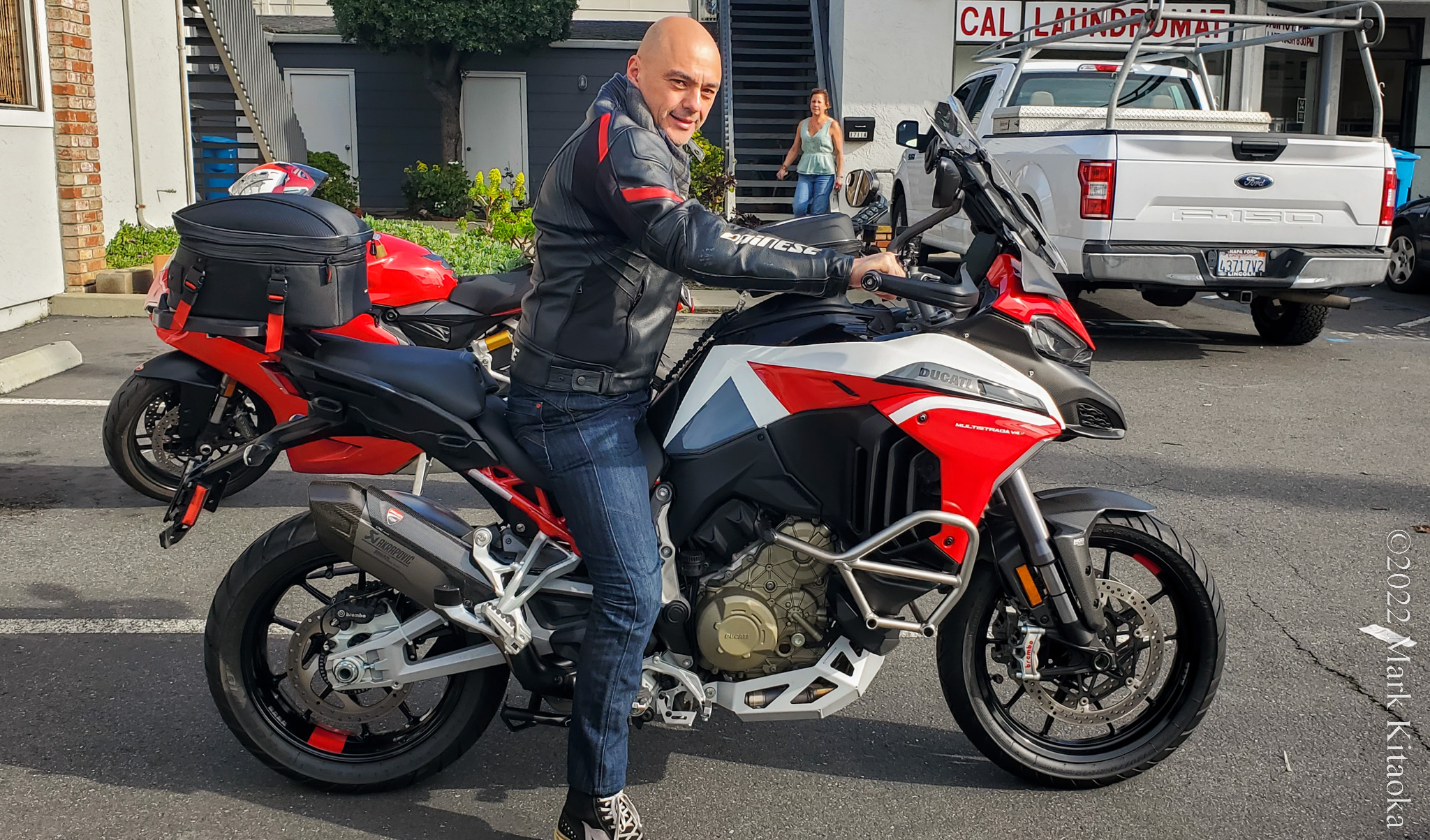 I want to state up front that I'm against any clickbait titles that include, "Best" "Winner" "Perfect" etc simply because I find those things bullshit. What's best for me does not mean it's best for anyone else, plain and simple. And for me, the WORST statement in any title is "An Honest Review!" Does that mean unless you say 'an honest' everything you're saying is an effing lie!!! In my former life, I was a trained interrogator. We were trained to pick up indications of lies and 'an honest' statement was one of those indicators. I understand that it's "just a saying", but it still bugs the crap out of me.
Unlike press launch rides, I'd like to think this article differs. For one thing, IT'S LONG and not a video. "Subscribes and Likes" don't mean squat to me since I'm not making income off of those factors. One that is from an actual owner's perspective, having owned and ridden the bike since September 2022, putting enough miles on the clock to give an owner's initial assessment. Not a ton, but enough to give me a decent idea about the bike's capabilities compared to my skill level. Much like a taking a new girlfriend on a multi-day vacation, the warts and jewels come out which are impossible to hide like on just a few dates versus on a 24/7 basis! That includes hers and MINE. When I watch marketing videos I tend to have a less emotional, more realistic eye since my day job involves imagery for marketing. Sales are driven primarily by emotion and seeing riders blasting down or up tough gravel or dirt roads, wheeling at 50+ MPH is all very cool. But the riders in those videos are often pros who specialize in those types of terrains and are hired by Ducati to make those videos, not to even mention the editing involved. I've never considered a new 'thing' will give me the skills to match that new thing; cameras, guns, motorcycles, etc. Nope, it takes skill, time, practice, and talent to master any tool.
Only owning the bike for a few months in no way represents what I consider to be a full assessment. In the past, a few months would suffice to cover a large percentage of features on my bikes. But with this bike, its sophistication and customization are so vast it would take me at least 8 months to get comfortable with most of the features. So to get this review out before the bike turns a full year old, well here it is.
I have done 3 tips overs too in less than one mile!!!! More on that later. All of my pals say I shouldn't even mention that, that they would be embarrassed. I'm not.
Pros
Electronically controlled semi-active suspension

Liter size sport bike performance and handling in a comfortable package

Ride modes are useful for where I ride and can be customized or left as is

LED lighting including cornering lights

Adjustable and

comfortable

heated seats, both rider and passenger

Self-canceling turn indicators

Blind spot warning indicators

Vehicle Hold Control 

Excellent wind protection via an adjustable windscreen with side wind deflectors

37,000 valve adjustment intervals

9,000-mile or 2-year oil changes, whichever occurs first

Fully backlit control switches

Adaptive cruise control

remains active during up or downshifting 

Keyless ignition

Included pannier set, easy on and off. Incorporated mounting points, no rails. Rear mounting points swivel to adjust load during turns

Tire plug repair and inflation canisters included

Easy-to-use chain adjustment gauge

The engine performs well in town or wringing it out

Brembo Stylema brakes are wonderful. Great feel and modulation

Three-level heated grips using just the right control button to activate

Engine braking is strong like a V Twin

OEM tires hold well on the tarmac, not bad on gravel roads

Throttle control is refined and smooth

Minimum preload feature very useful for a 30" or shorter inseams

Electronic fork lock. Allows both left or right steering lock positions

Incredible linear top-end power

Docile and smooth low-speed power delivery

Quickshifter for both up and downshifts with auto blipping

V Twin feel in the lower rev range, inline-four feel in the upper rev range

V Twin engine braking force
Cons
The cell phone holder pocket is too small and becomes too hot for modern-sized cell phones

The Ducati Connect app needs serious development for the user interface

An intermittent dash black screen on start-up after the bike sits for weeks

Intermediate to high ABS settings makes the brakes feel glazed

Non-X ring chain installed

Mirrors can be buzzy

Tire (Tyre) Calibration does not improve speedo accuracy remains 12-17% over optimistic versus GPS speed measurement

The rear brake pedal is too low, and not a lot of adjustment is available

Pegs are too thin for standing for any length of time

Quickshift upshifts are a bit bumpy at lower RPM

Not a popular motorcycle class with the Botox and Liposuction crowd

Inability to rename Modes

(Princess whine)

Gas cap requires a key *

(Princess whines)

Tire pressure monitors not included *
* Available as add-on options
Why I Chose the MSV4S
I have explained my desire for a dual sport bike in the review I've written for wBW on the Zero DSR. To recap, I'd always wanted a bike that I could RIDE to/from off-road trails for as long as I can remember. But since all of my bikes, before the DSR was purpose-built, meaning I'd need a truck or trailer to get there, the DSR was my first.
After owning the DSR for some time and riding it to/from off-road trails I discovered that the majority of my riding was on tarmac. My perception of my desire was different from my reality. In an article, I wrote about Why I Went Back to ICE from Electric Motorcycles I explain my reasons. In the comments, I was amused by how narrow-minded and myopic some can be. To each their own.
As a former road racer and racetrack instructor, suspension, brakes, and tire pressures are the elements that determined how fast and controlled I could go. So when I read about Ducati's Skyhook suspension; its ability to adjust preload, rebound, and compression damping WITH A JOYSTICK I was blown away. Just a little knowledge passed onto me by the largest Ohlins Dealer in the world and the crew chief for Erion Racing gave me the confidence to adjust those things to my riding ability with a wrench and flat-end screwdriver. The ONLY element necessary to use a wrench to adjust any part of the MSV4S' suspension is the front pre-load. And after fiddling with that I found it didn't need any adjusting for my weight and riding ability. As set by the factory it hit the sweet spot for me! But I got ahead of myself….
So I rode my Zero up to Munroe Motors in San Francisco, to just look at the bike in real life. No plans to buy, just see if my 5'-8" 30" inseam body would even fit on the thing. Well, one of the sales guys wheeled one out so I could sit on it, and guess what!? I could be on the balls of my feet on both sides and the bike didn't feel too heavy. Now what?
The fourth generation of Ducati's Multistrada looks are unmistakably Multistrada, other than the monococ frame replacing the traditional steel trellis structure.
As I explained in why I returned to gas article the price of the MSV4S was close to the EV bikes I was considering and in one case less than the Zero DSR/X. The MSV4S easily ECLIPSING all EV bikes I was considering in terms of features. So I asked the store manager what kind of deal he could work. He said that their demo bike had just gone on sale since they have a limit on the number of miles done before selling. He walked me outside and when I saw the MSV4S Sport livery I was in love. Remember the emotion I talked about before? I felt as if Sofia Vergara was standing in front of me with 'that kinda' smile. Nuff said.
When I asked Andy to give me the best price he could, he went into his office, got on his computer, and after around 15 minutes, came to me with an offer for $22,153.39.
DEAL!!! I asked him if he had the crash bars in stock, which he did so I purchased them and had his service team install the bars while I waited.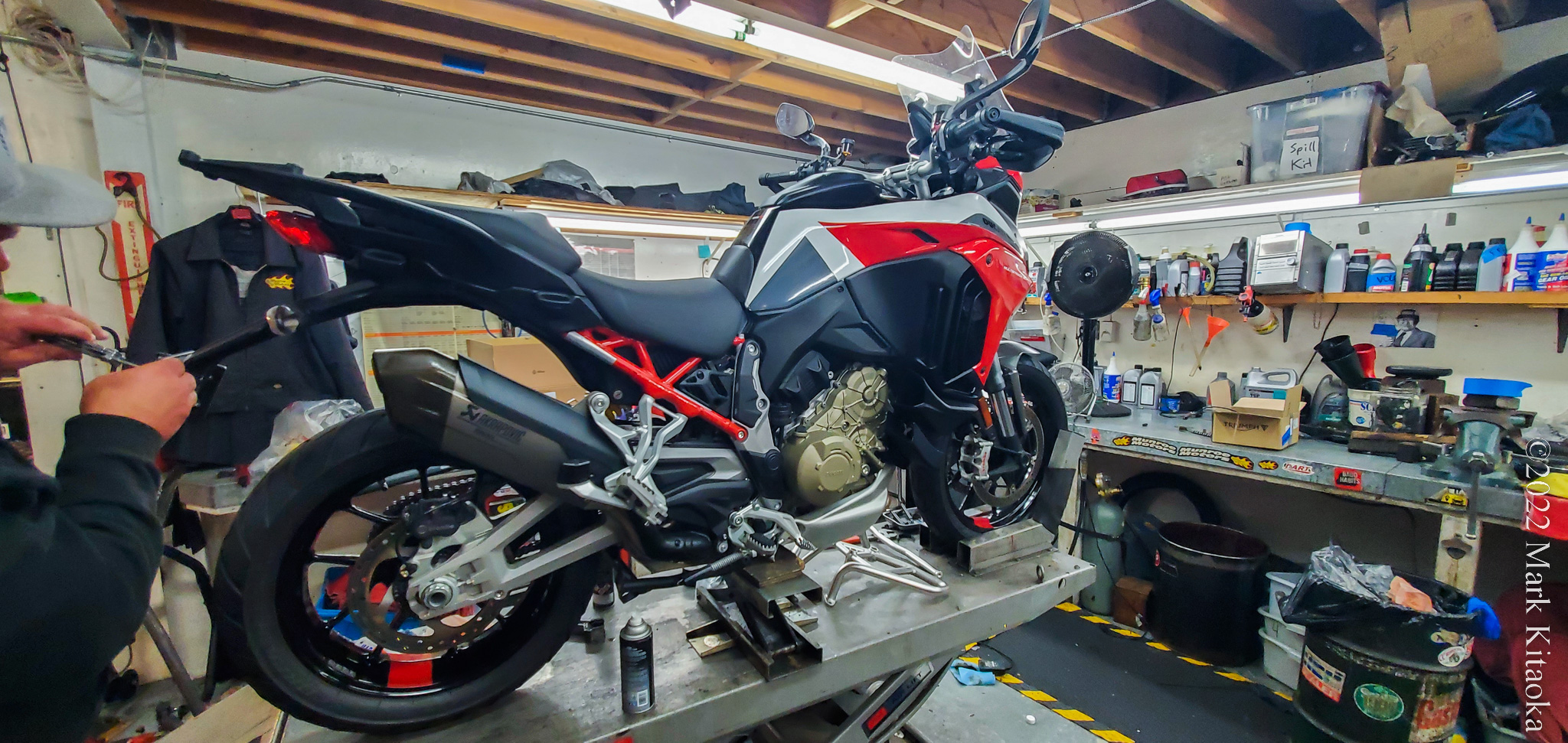 While this was going on I called my gf and said I bought a new bike (she's never surprised about the stuff I end up doing) and I would be home soon. The shop is only a 35-minute ride from where I live so I told her it would be 'about an hour.'
After completing the paperwork, buying an extended warranty, and the crash bar installation, the bike was rolled out to the street. By this time Munroe was about to close for the day. But once on the street, Andy announced to me, "I need to go over some things with you…" which sounded a bit like when my gf says "We need to talk" but I knew this would not be as tough to hear! Just the basics of what I needed to know about the settings were mind-boggling to me. So off I went to head for home.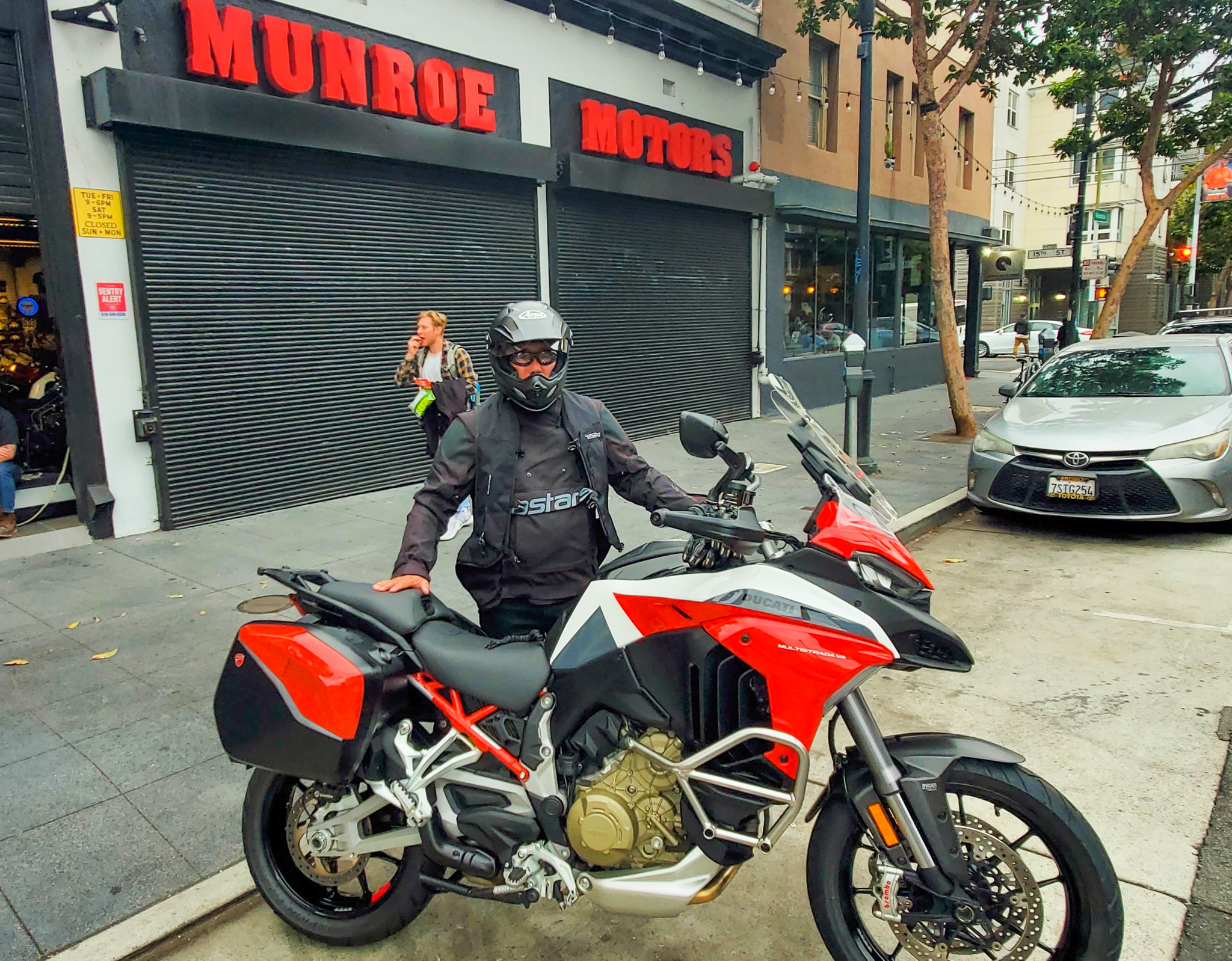 When I pulled into my driveway, my gf was opening the door. Rather than her normal friendly face, she had her hands on her hips and her eyes had tears. I put up my visor and said "Babe what's wrong?" never considering for a moment it had to do with me. I thought something may have happened in her family….what an idiot! "Do you have ANY idea how much I've worried? You called me 3 hours ago saying you were coming home!!!"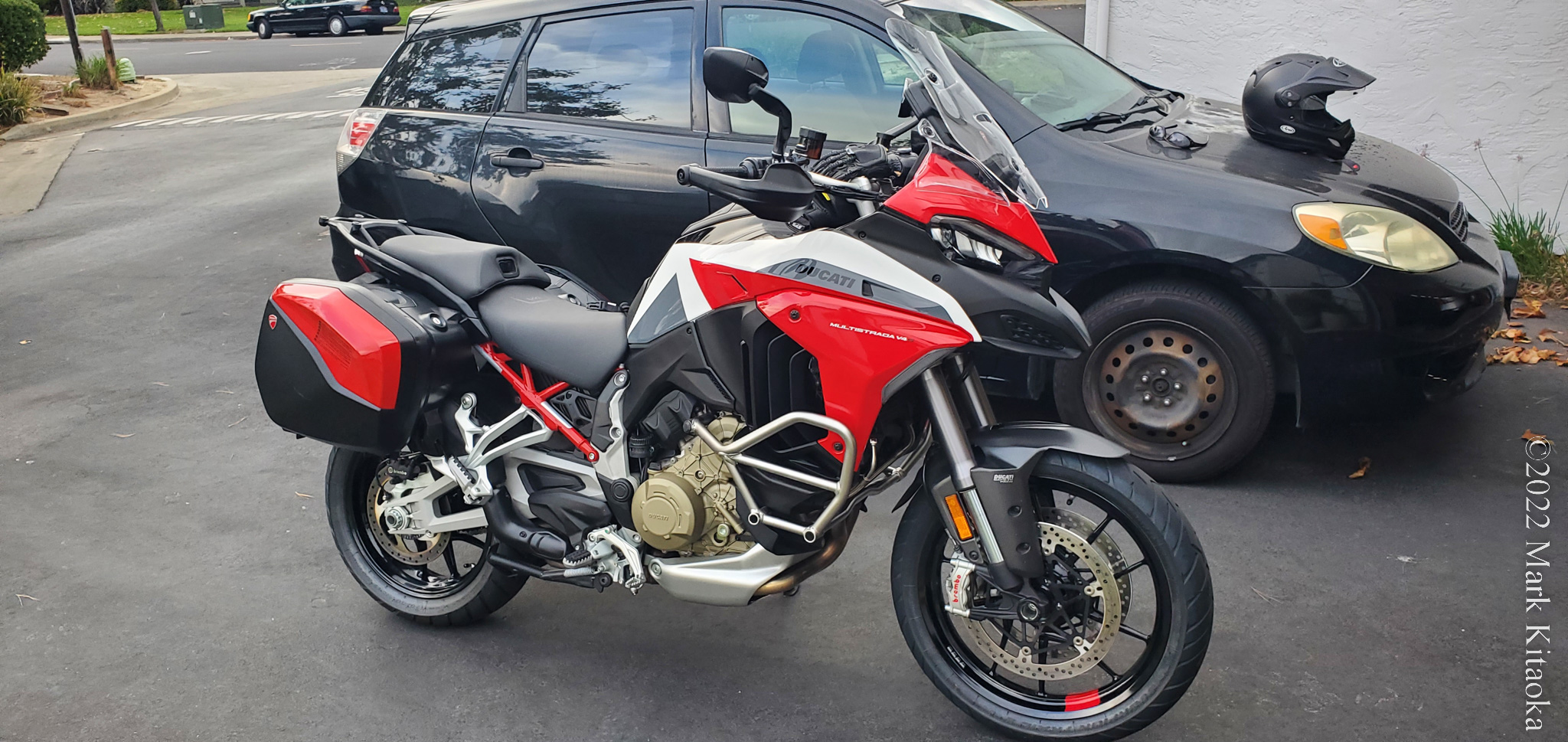 Yep end of my fun for the day….
My Observations of the Bike
Because this is such a sophisticated motorcycle I find it will be best to section my observations into the following categories:
Power

Brakes

Handling

Suspension

Features

Controls

Usage

Luggage
For the categories like Power, Brakes, Handling, and Suspension I will do my best to compare those 'feelings' to something familiar to most of us. Riding is about feelings, acceleration, turn-in, braking, etc. For example, if I am trying to explain the immediate sense of power I may compare it to a sneeze. Not the lead-up to your sneeze, but the feeling of the sneeze. In videos, I see how power, acceleration, and such are illustrated, but in the context of the written word, I'll be using metaphors or examples I hope are understandable to most.
An engine that for me defines Jekyll and Hyde or in today's 2023 speak bipolar!
Power
For some background, my last smoker bike was a 2000 Honda RC51 which was modified for the track. Kyle Racing in Sand City, CA programmed my PowerCommander and installed a Moriwaki dogbone, Ohlins RT front forks, Ohlins rear shock, and steering damper to replace my Scott's unit. On the Dyno, the bike produced 125 HP at the rear tire with a very flat torque curve after Dan created a custom map for the bike. He did a remarkable job for me. Before the RC I owned a Honda 1000 VTR which was the predecessor of the RC51. That was the first VTwin I took to a track day. The inline fours I owned were both Honda 600s, and F4 models, so I am familiar with the power delivery of an inline four.
My roommate at the time owned a Honda VFR 750 and after trying it during a track day I came away mildly impressed. I appreciated its smooth powerful nature but missed the 'kick' of my big VTwin. The suspension and brakes were MEH, but then again the bike was not designed for the track. To be fair both the VTR and RC were larger displacement engines. It's just the VFR felt a tad anemic compared to the twins and didn't have the hit at the higher rev ranges as my inline fours. The largest 1000cc inline fours I had track tested were my teammate's 2002 Honda RR and a Kawasaki Ninja 1000. Both had been tuned for the track and were wicked at the upper rev ranges, but nowhere near as flat a torque curve as my twin. I compare them to salsa that is 'sneaky spicy' where the initial hit on my tongue is flavorful, but after around 20 seconds it gets HOT.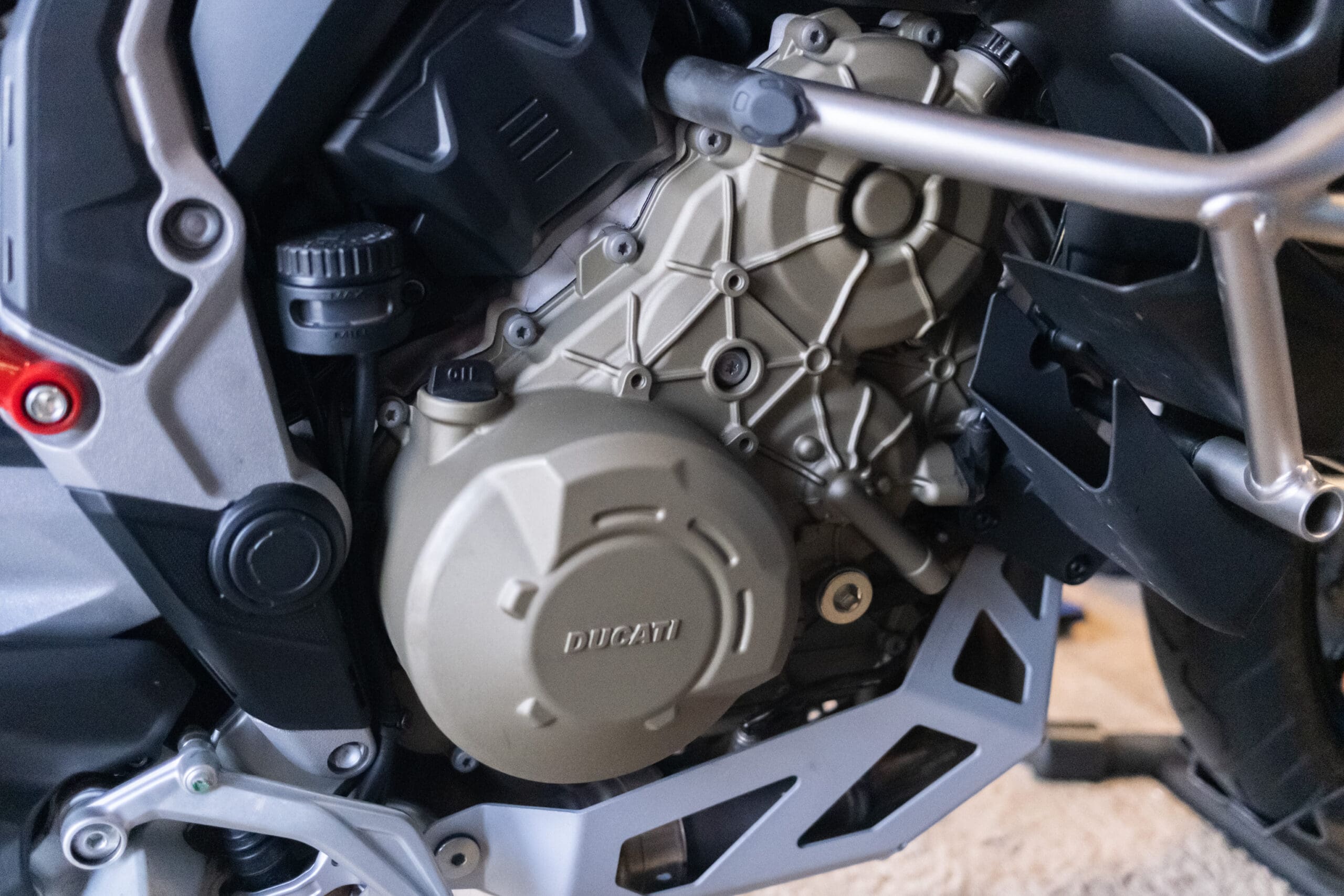 Engine is the child conceived when a vTwin has hot AF sex with an inline four.
As I was riding home through the Mission District of San Francisco, I was taken aback by how docile the MS felt. Because I had traded in my Zero DSR which has a completely flat torque curve and INSTANT torque, I felt a bit at home. Why? Because the engine on the MS felt a lot like my RC51, especially in the engine braking area yet smooth like the Zero. Make no mistake, NOTHING feels as smooth as an electric motor, but I was shocked by the MS's smooth nature at low speed. I should mention that I had the bike in Touring mode and Andy, the manager had reset all of the bike's features to their defaults as he was guiding me through the menu controls. When I refer to the smooth nature of the engine I'm referring to 0-5500 RPM around town where 35-50 MPH roads, stop signs, and traffic lights combined with stop-and-go traffic exist—typical SF city traffic. There is no jerking or hunting of the engine and the only time the bike feels like a large vTwin is during deceleration, but not in a lumpy way, simply a vtwin like level of engine braking. I like the level of engine braking since before my Zero it was what I had become accustomed to with the RC51 when on the street. Those who ride inline fours or Zero motorcycles may find the engine braking more than they are accustomed to.
At this point, I should illustrate how the MS controls power other than by using your right wrist. So let me go over some of the dash screen controls. In the upper left-hand corner of this screen just below the fuel gauge (which can be changed to show fuel level or number of miles remaining based on how you're riding), you will see the upper menu selection. In this case, I've highlighted the Setting menu section. This is where you will set the power parameters for the bike. Pressing the joystick in while any of the current menu items are highlighted will move you to its submenu(s). Be aware that I'm in the SETTING menu, NOT the Mode selection. The Setting menu is where I can determine the level of power available to me in each Mode.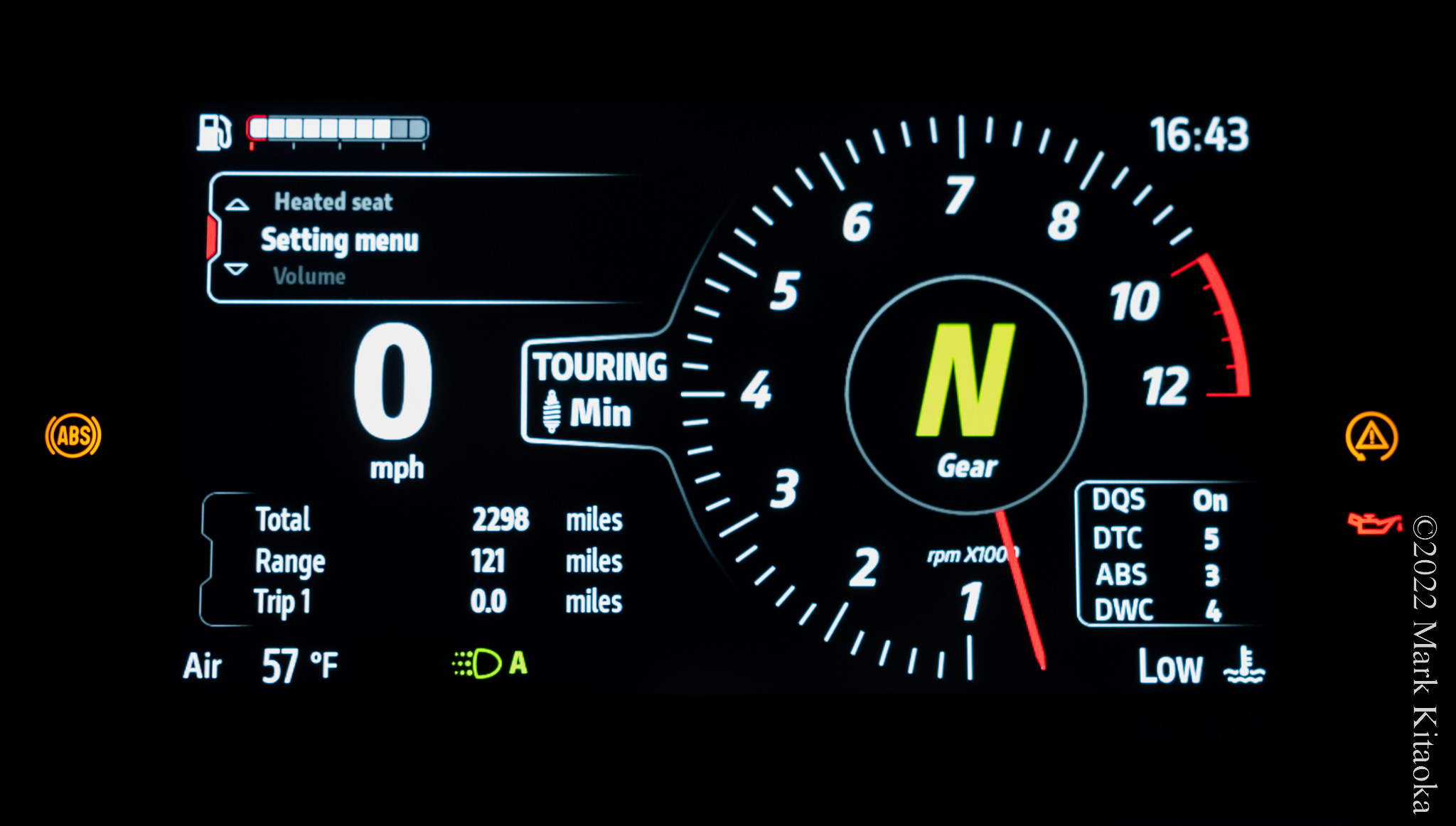 For this example, we will move into the Setting Riding Mode section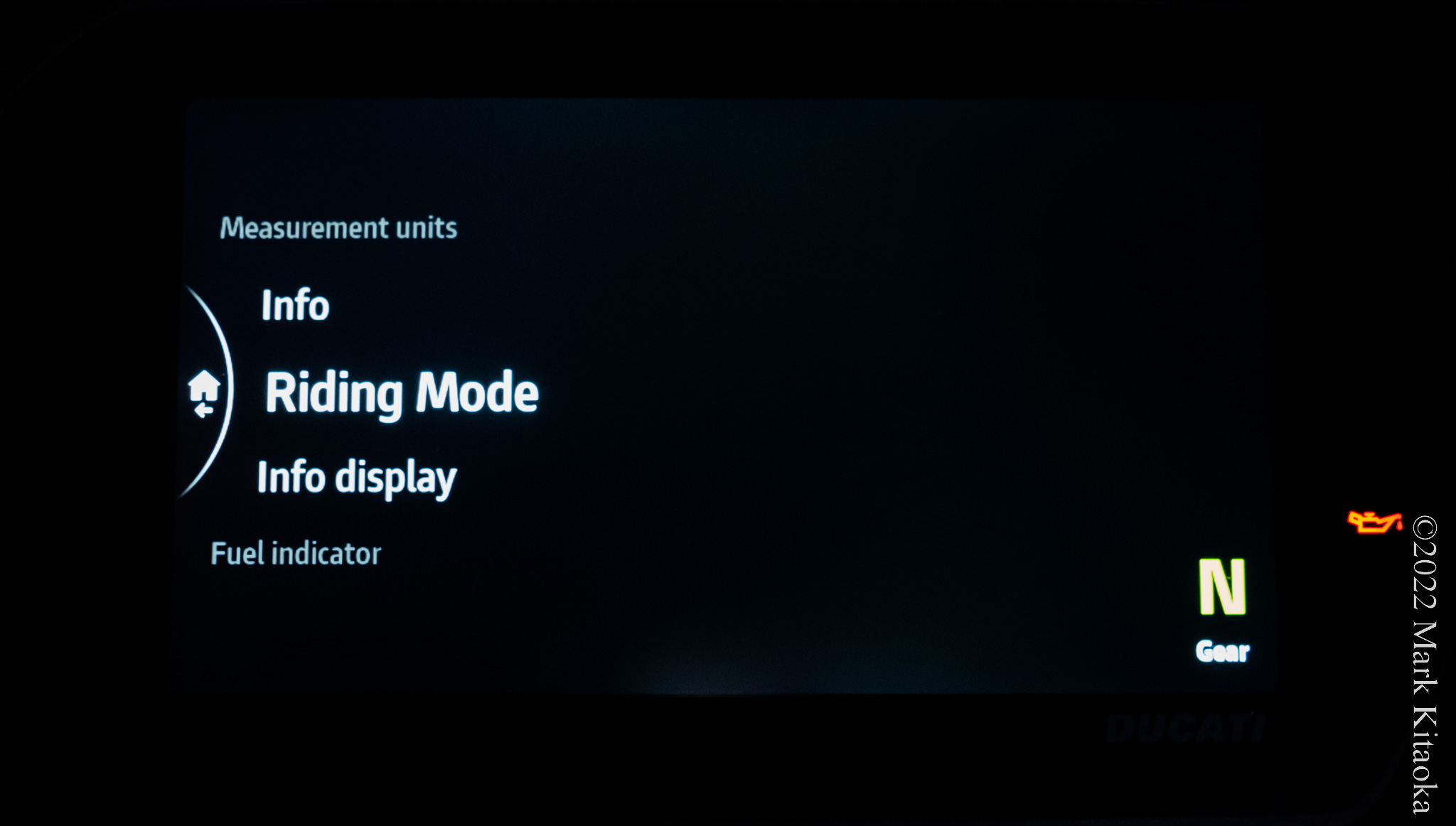 Selecting the highlighted mode will move us further into the menu. In this case, Touring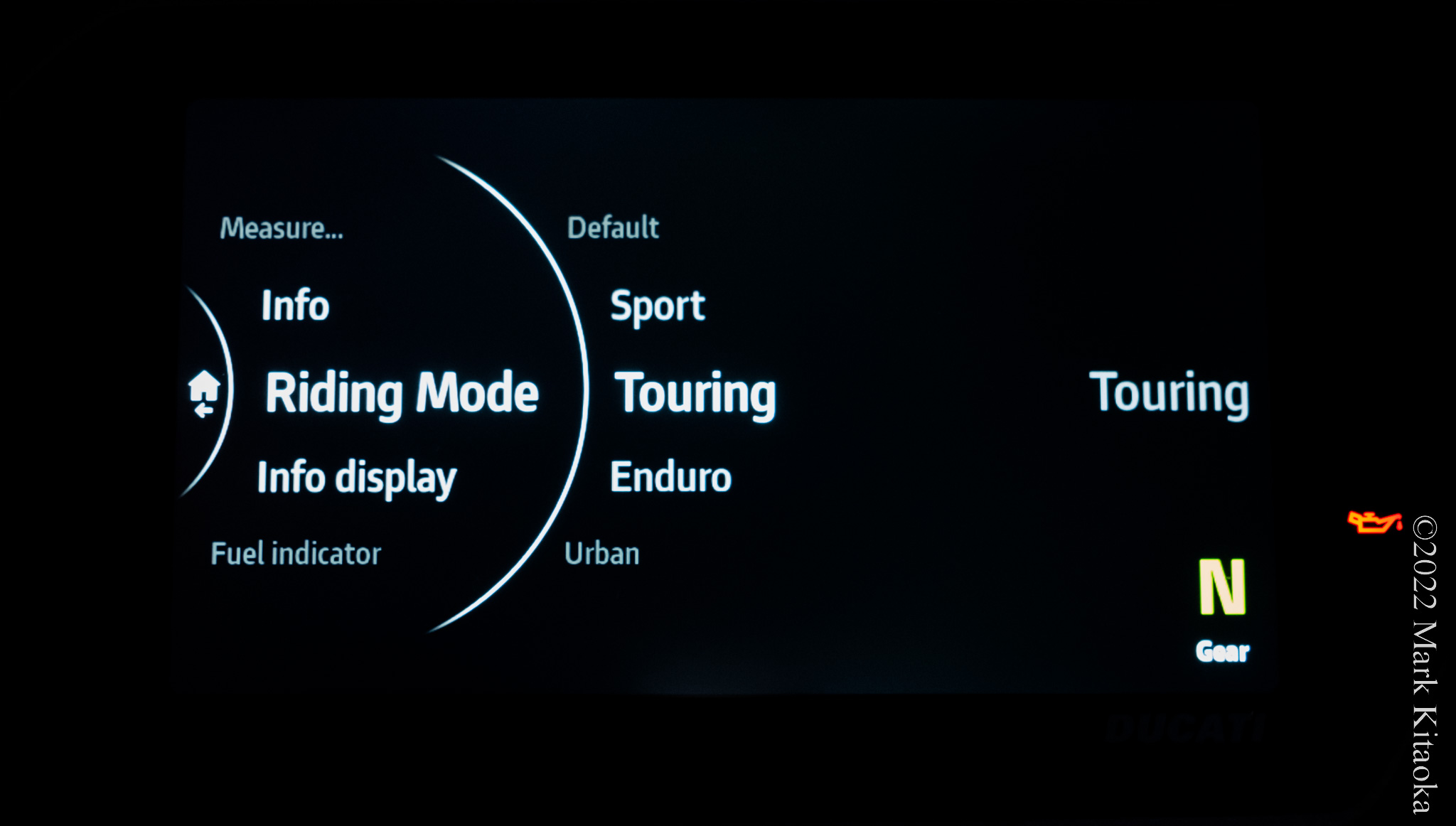 In each Riding Mode Section, Sport, Touring, Enduro, and Urban, three power levels are available to select. Low, Medium, and High. Each should be self-explanatory.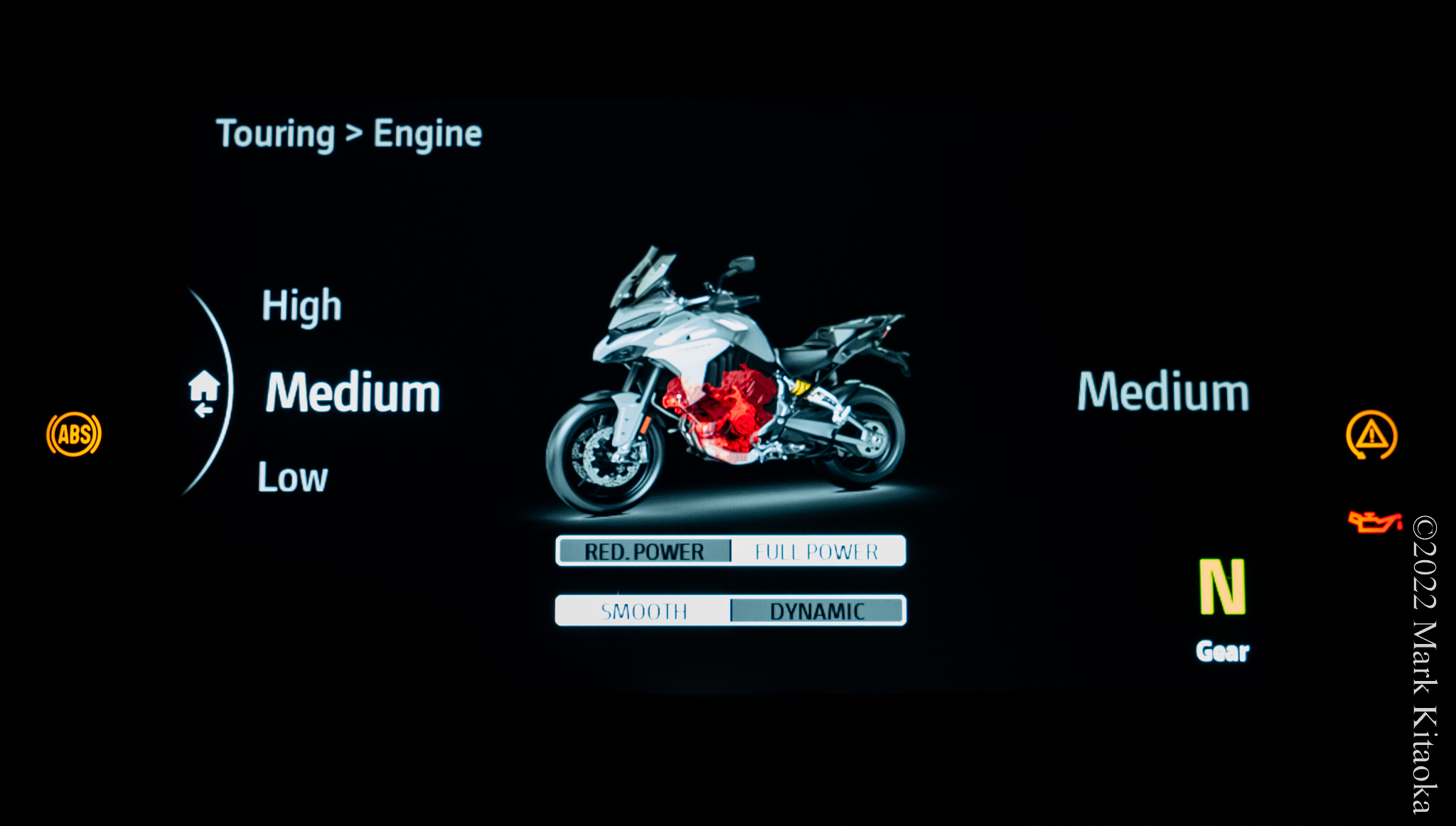 As you scroll through each level of power, just below the MS's graphic is a bar that displays your selection's power characteristics, beyond just Low/Medium/High. In the case of Medium, Full Power and Smooth are the characteristics of the Medium setting. Low is for Red(uced) Power and Smooth. High is for Full Power and Dynamic. As you select each L/M/H level the bars dynamically change. Once you select your power setting by pressing the joystick, your setting appears on the right. In this case, Medium is what I have selected. I'm not going to include every friggin screen selection in this review. My editor would have a fit! I will state here that this protocol is the same for each adjustment, not just power. What you have selected appears on the right-hand side of the menu. All modes, Sport, Touring, Urban, and Enduro offer the ability to adjust the power levels to Low/Medium/High. Low limits power to 115HP with smooth throttle response. Medium offers all of the available HP (170), but with a smooth throttle response. High offers all of the available HP combined with dynamic throttle response.
OK onto how the power FEELS!
The evil sister personality of the MS came about as I was entering the freeway on an uphill onramp about a half mile in length. I had the bike in Touring Mode which means I have all HP available but delivered in a 'less aggressive' smooth manner than in Sport Mode. It was clear so I gave it ½  throttle while in second gear. The front end lifted almost immediately when I hit 5500 RPM and although it surprised me, I held the throttle and clicked the quick shifter up into third. The bike's front tire kissed the pavement and then immediately lifted again until I let off the throttle. WOW had the bike not had any DWC (Ducati Wheelie Control) programmed, the bike 'may have' gone too far. What impressed me (besides not dumping my brand-new bike within 5 miles!) was how smoothly the bike reacted to the lift. I smiled thinking an observer might think I knew what I was doing.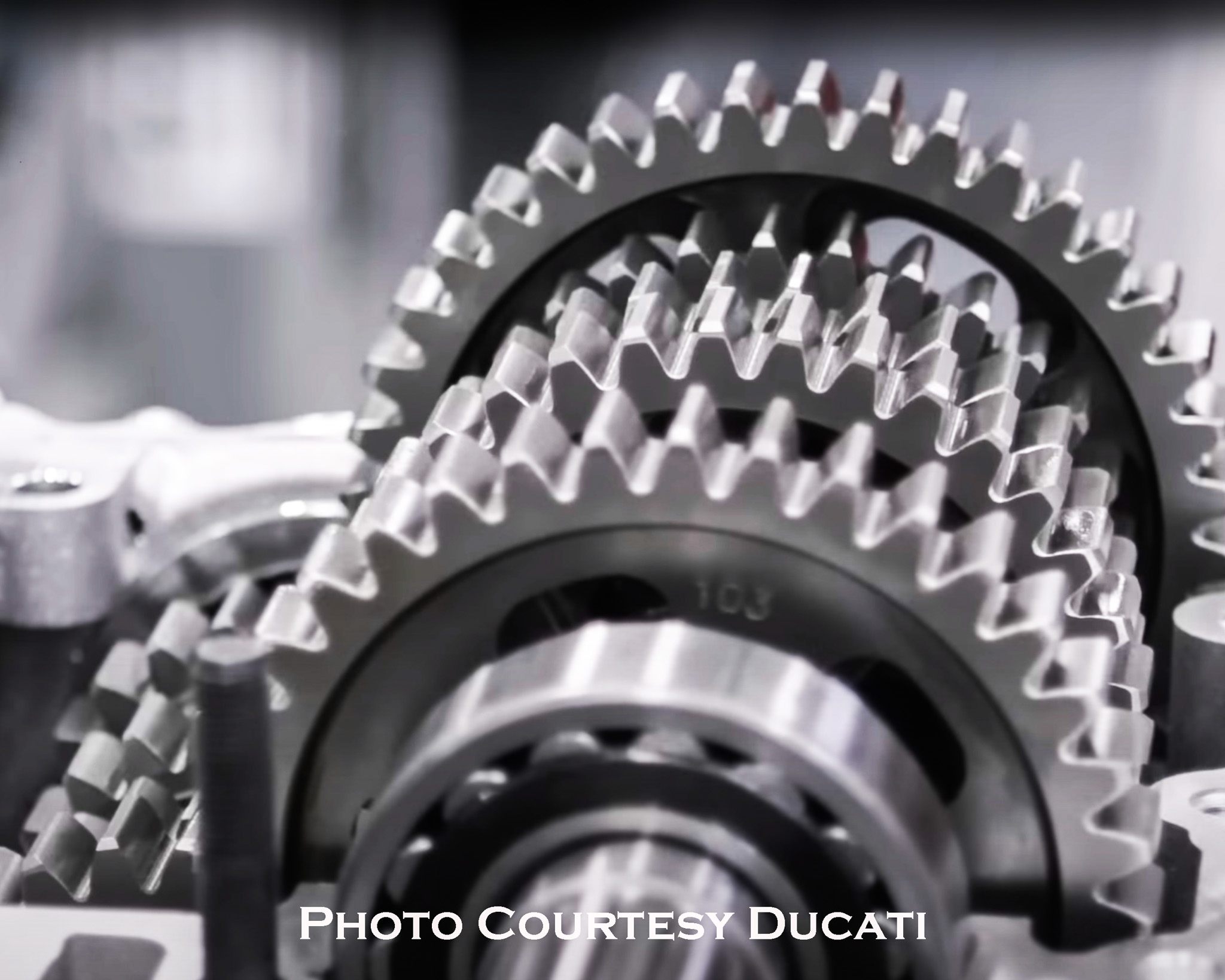 In the past, if I wanted to wheelie, I'd pull in the clutch, shift down, increase the revs and dump the clutch which brought up the front end. I'd feather the throttle and cover the rear brake to modulate how high I wanted the front wheel to ascend and got pretty decent at holding a wheelie. And just like when ABS came out (which I HATED!) DWC seems to take some of the 'skill' out of wheelies. But my age is showing here. Like autofocus replacing all manual focus on cameras, automatic car transmissions replacing shifters and a clutch, ATM cards replacing standing in line to get cash at the bank, and red dot sights replacing steel sights. Time and tech move on… I'm out of date too.
I don't understand how the counter-rotation of the crank design functions other than in theory. But no matter, the engine at all RPMs is incredibly smooth. And I'm using my memory references from 600cc inline fours, two 1000cc VTwins, and three electric motorcycles. The ride-by-wire throttle control is also well done, very smooth, and linear. I have read that in the lower rev range the fueling seems a bit thin, but I found no such evidence of that. At least in the short time, I've owned and ridden the bike. Others may be more skilled in identifying those aspects or it could also be a variance in bikes. I know press bikes can take a thrashing.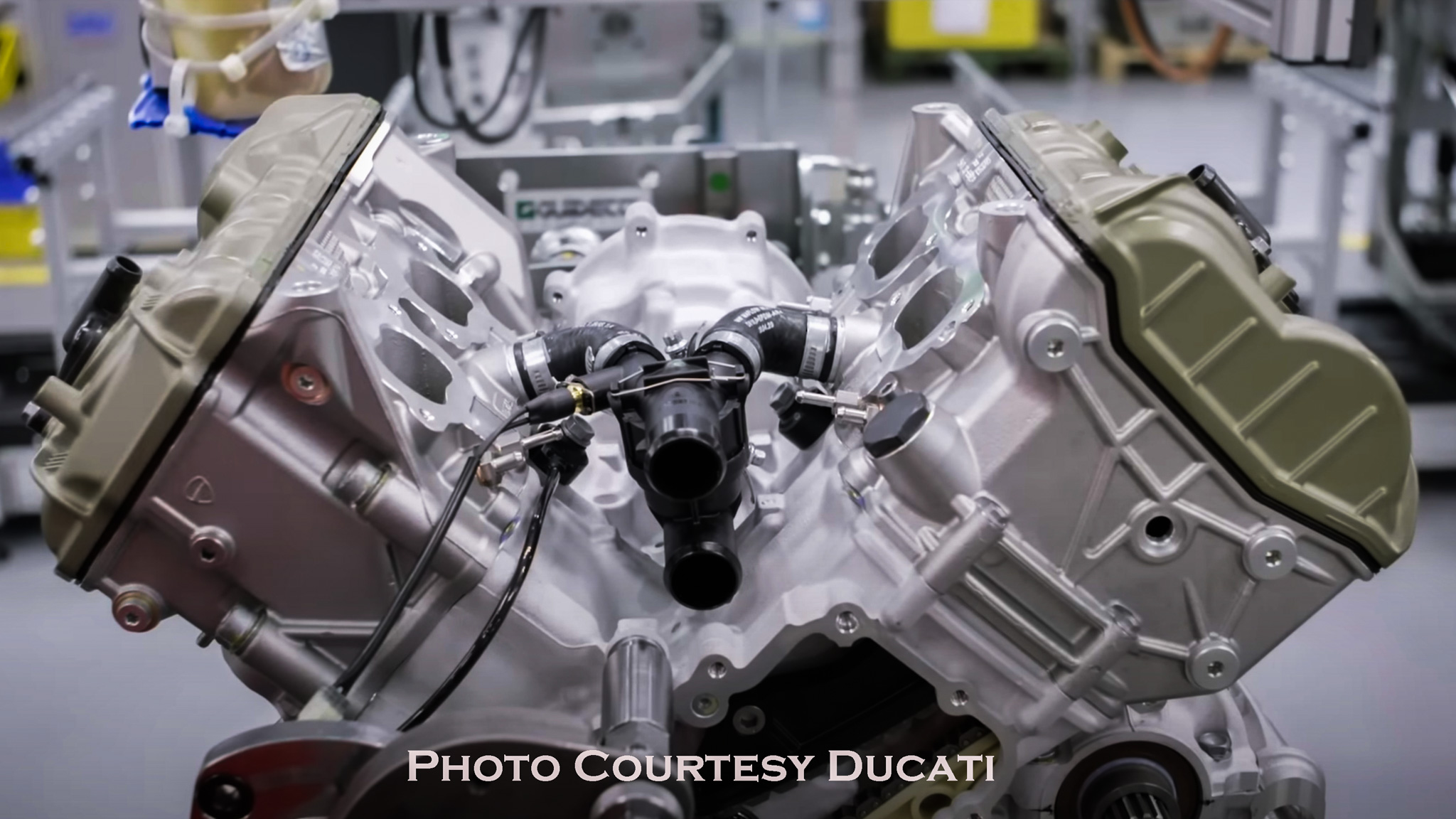 I also want to mention that when I switched from an inline four to my first VTwin I thought I had made a mistake. It just 'felt slower' than before, compared to the inline bikes I was accustomed to riding, then racing. BUT I was passing other riders in the corners who NORMALLY passed me. After pulling into the pits, I asked each one of them, "Hey were you just warming up during those laps?" Each one said, "No man WTF is up with you today! I can normally smoke you through those corners, but today you are so hooked up it pisses me off!" VTwin power puts it down to the ground very differently than my former inline fours. And this was before I had done suspension or dogbone upgrades!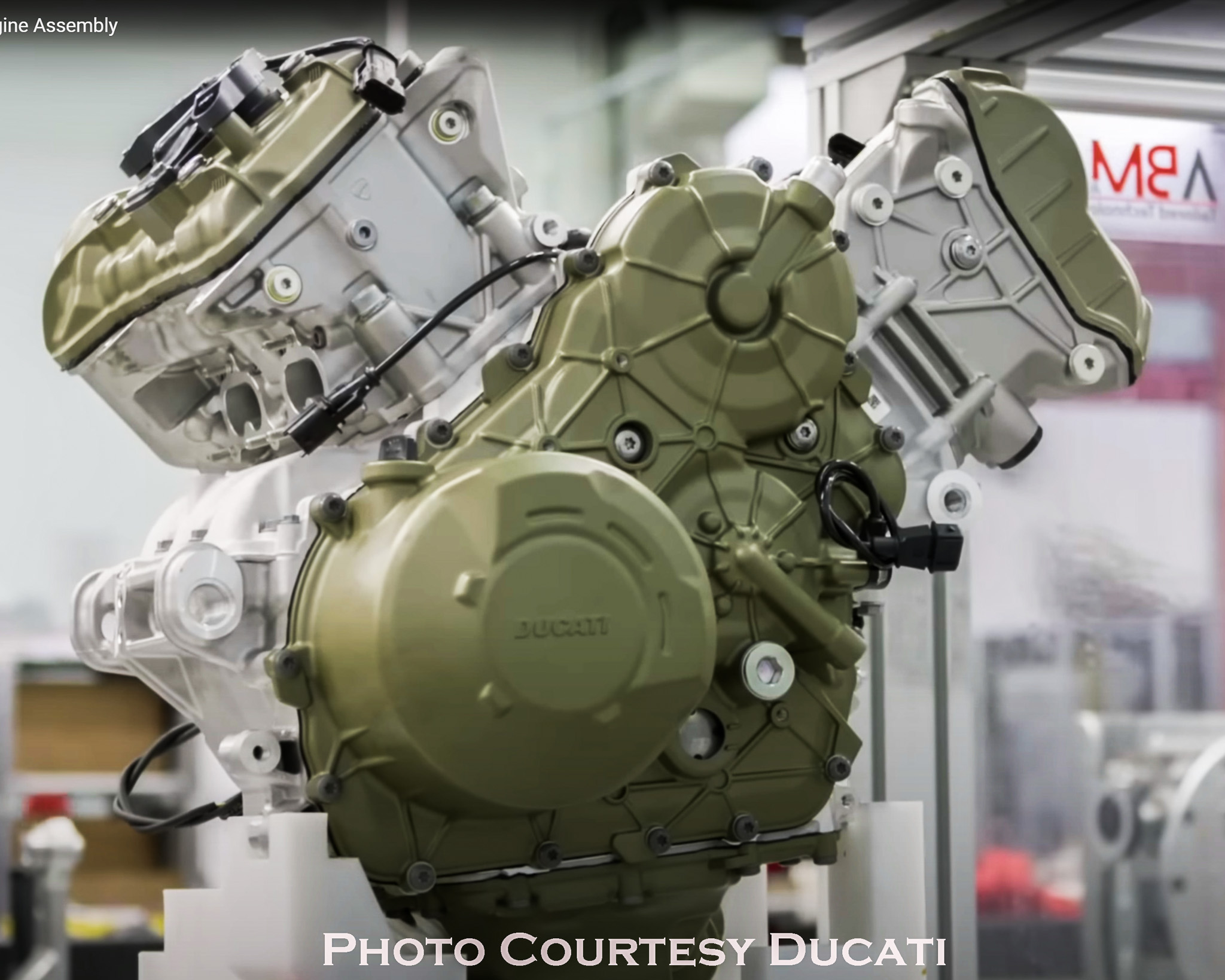 Below are the Ducati Wheelie Control (DWC) dash adjustment images that relate to power:
The adjustments range from Off up to level 8, where maximum containment of the front wheel lift resides at that level choice. I am not skilled enough to consider riding a bike with this amount of grunt without any wheelie control. Sure, I've owned bikes in the past way before electronic controls, but after experiencing the smooth nature of DWC, I don't want to ride without it now.
As I merged into the traffic flow, I was in third hovering around 6k RPM and going 70 MPH. I found a break in the traffic, clicked her up into fourth, and goosed her, yet not at full throttle. No, the front end didn't pick up in fourth, but the level of acceleration took me to 105 in no time at all. It was at this exact moment that I felt I had purchased two separate bikes. One was a docile well behaved commuter and another was like the proverbial "whore in the sheets" that of course, I liked as well….very much. And since I'm on the subject, (!) the sound that Joy makes is also wonderful. I had become very fond of the complete silence of my Zero DSR. It allowed me to ride in 'secret spots' offroad where no one would hear me. And on those occasions when I encountered other humans, they smiled. Of course, Joy makes a sound, one that I find delicious as well. Mine came with the Akropovic slip-on, it is NOT noisy, but not quiet; combining the airbox intake note with just the right amount of low-frequency exhaust music is just right for my ears. For those that like screamers, the OEM Akra may be too quiet for your taste.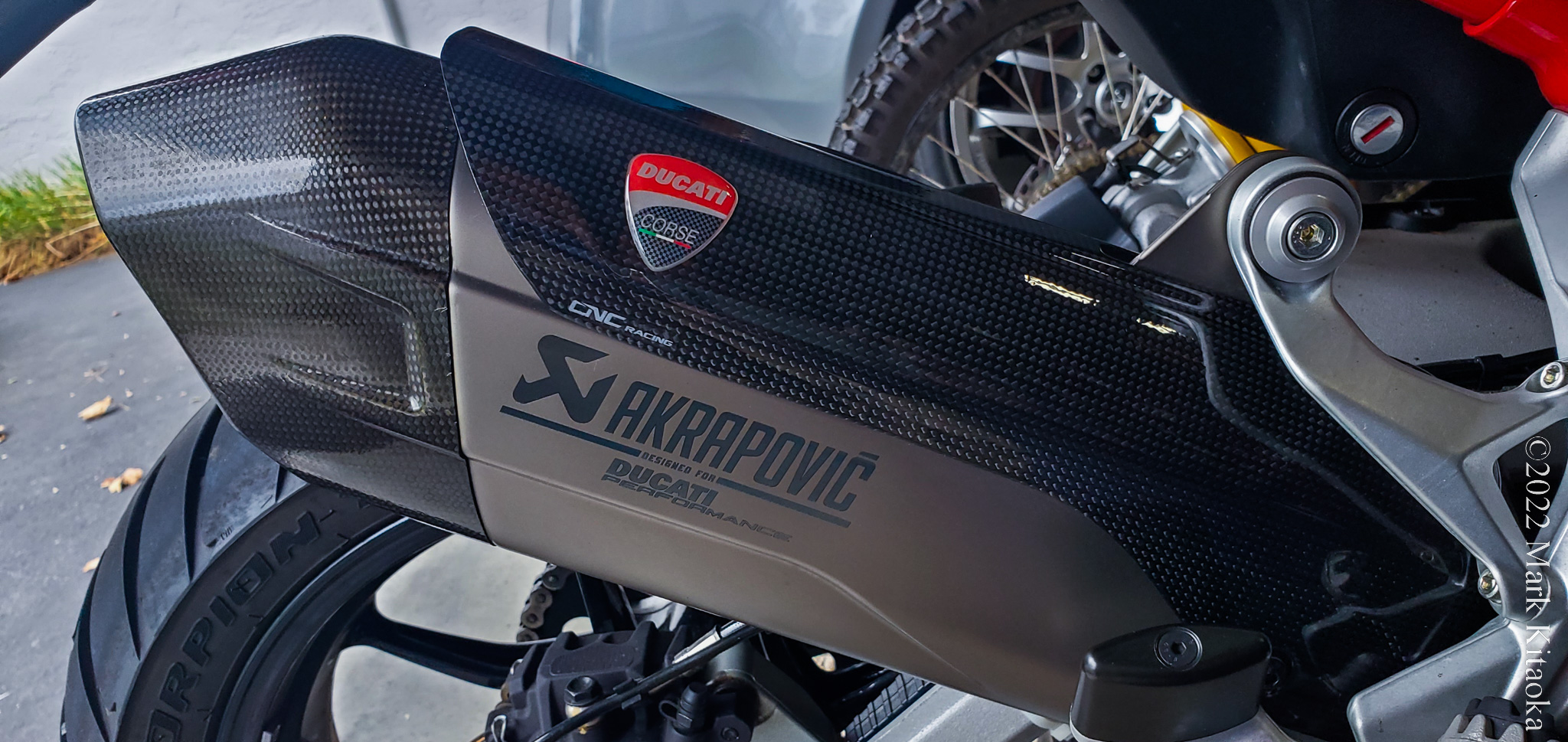 I know that some owners may take their MS's to track days. I have no plans to do so, yet I can understand the desire. Nope, the reason I bought mine is for the versatility of the design. It's heavier and taller than I'd like, but just like all things in life you never get something for nothing. When I use that saying most feel I'm talking about money. Sure that fits too, but I'm referring to if you get large amounts of horsepower/suspension travel/beautiful gf/wonderful property views, your trade-offs can be heat/high seat height/high maintenance, high property taxes, etc. Why combine so many seemingly unrelated things? To illustrate my point, YOU NEVER GET SOMETHING FOR NOTHING in life, regardless of the topic. Life is about compromise and that includes motorcycles.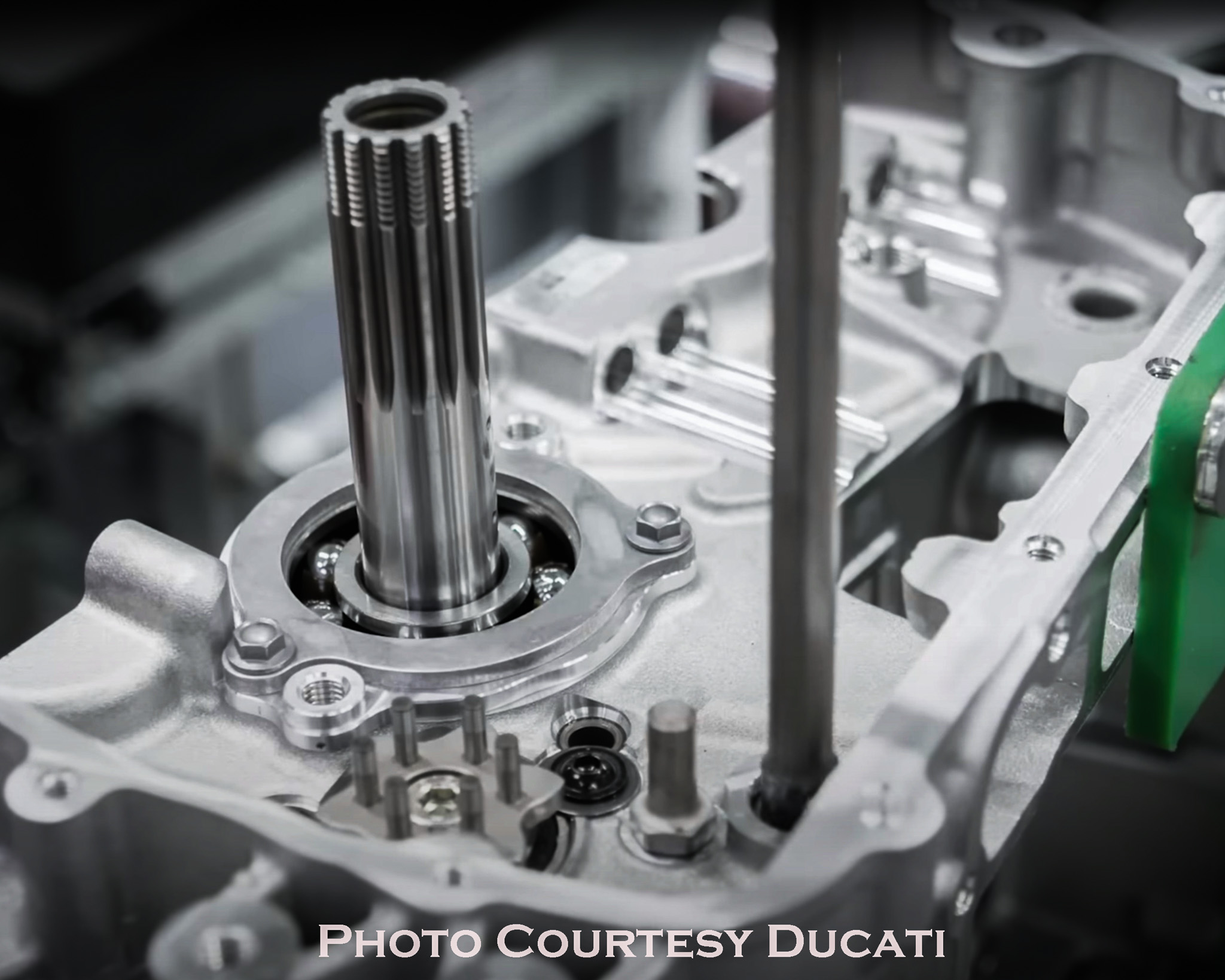 Expensive. Only 6K less than my parents first custom built 2100 sq. ft. 3br/3bath home in California!
I will also address one other item that many consider "The elephant in the room" which I didn't mention above – the cost of the MS. It's not quite four letter word expensive as I reserve that honor for six figure motorcycles or cars. Yep it's an expensive piece of kit for sure. 20 years ago I would have never considered a Duck because I found them too expensive and maintenance-focused to fit into my lifestyle at that time. Kids, careers, and families all took priority over buying a five-figure toy. But like all things in my sphere, I'm a saver and as time evolves so changes my priorities. When I needed to replace my car, I would pay myself a 'car payment' each month, beginning five years before I knew I'd need to replace my car. The money would go into a separate savings account. And I tend to keep my cars for 18-20 years. Anyway, at the 'end of my loan', I'd decide if I needed/wanted a car, then searched for the car I want and go to the private party, negotiate and pay cash. I also keep my living expenses low, which means having the fewest monthly payments possible. When some like to boast about their annual income, stock portfolio, etc., those things never impress me. It's how much I KEEP that impresses me. My priorities are my own. I don't drink, go out to eat often, on long vacations, buy clothing, or go to concerts like I used to. I quit smoking in 2016 cold turkey and figured out it saved me $3,213.00 a year in 2016 dollars! Doing the math, I saved up $19,278.00 to put toward the MSV4S! I do have a bad tool addiction, but hey we all have our vices and priorities.
How much I expect to pay for a motorcycle depends on many personal factors. My income, my personal 'debt ceiling', how much I'll use the bike, etc. Compared to having kids any motorcycle is cheap. Mine are grown adults with their education debts payed off thanks in part to dad. "Shoulda, Coulda, Woulda" can be said about anything. I chose the MSV4S based on the value it presents to me – period.
So yes 25k is a lot to pay for a pleasure vehicle. Way less than a trailer/RV/Jetski/snowmobile/boat/dirt bike/truck to haul it/store it/etc. And for me, the enjoyment of no payments is greater for any toy than if I had to make payments each month. Just meant I delayed my satisfaction long enough to meet my own goals. Everyone marches to a different tune.
June 22, 2020 – "Ashley" on the day I sold her. All of her street gear was reinstalled and after 26,000 track miles, it still pains me to know that she's gone. In total, with all of the mods I did to her, she ended up being almost the same price as Joy. But that was in 2004 dollars! $10.5k purchase price in 1999 and another $15k in 'improvements.' That does NOT count things like normal fluid changes, safety wire, radiator replacements, crash repairs, etc. Thank goodness Dunlop sponsored our team!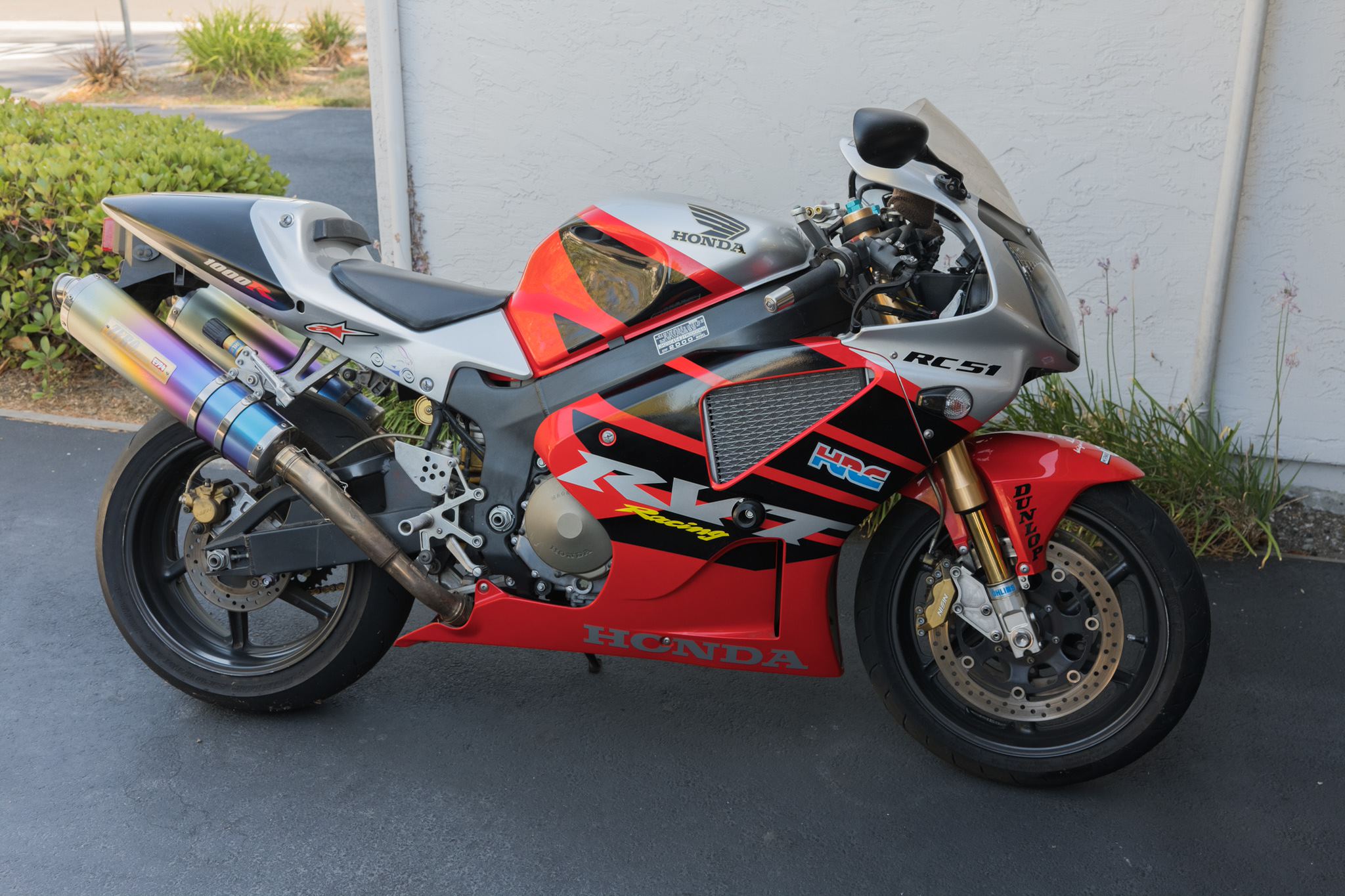 It's tough for me to imagine developing enough skill to skillfully utilize all of the power the MS has in OEM form, whether that be on or off-road. For me the power is delicious, which is my highest compliment for most things, be that art or something with an engine or great legs. In the case of Joy, she brings me all three. I love to look at her, ride her, and she has a great silhouette. Not much more I want to ask for. I like to improve so if I feel a part weighs too much, I'd rather lose weight in my body. And if the bike isn't fast enough I ALWAYS ask myself if improving my skill level will make it faster. Most love the feeling of twisting the throttle or pressing our car accelerator into the floor. Feels great and helps us self-justify the money we've invested in the toy. But hell even my 80-ish mom can mash down a throttle. No skill is needed, but still feels fun!
Buying new sh!t is fun! I do that too. "Carbon fiber is to a Ducati, as what chrome is to a Harley." Yep making Joy look good is fun too. 
In summary, the engine's power reminds me that if a 1000cc inline-four conceived a child with a 1000cc VTwin. It is just as happy doodling around in traffic as it is pulling my arms off at the top end. No big hit, no drama, just delicious, powerful, and incredible linear pull. My eyes widen as does my smile every single time I twist that throttle.
Brakes
I may have stated before that the three things I concentrated on the most during my track time were suspension, brakes, and tire pressure. Sure power is great, but on the track, skill passing is done by entering or exiting the corners. A faster bike in the straights is great, but if that time is lost in the corners, well we all knew what that meant. Late braking set me up for passing or getting passed, so brakes were paramount. I was trained by a coach who practiced only braking FOR TWO FULL YEARS! He could out brake any AMA racer I knew, incredible. I sure don't race or train track skills any longer, but what I expect in brakes remains. These are the very first Brembos calipers I've owned on any bike. It is the second bike I've owned with ABS. My Zero DSR didn't have adjustments for ABS, but the MS does.
Three levels of ABS intervention are incorporated into the menu system. Because the bike has a six-axis Bosch IMU the ABS is affected by the angle of the bike as I apply the brakes. The 'bite' of the brakes varies depending on what level of ABS intervention is selected. I have changed the ABS to level 1 which I find works well for me. Level 2 made the brakes feel as if the rotors were glazed. I'm not sure if the rear Brembo feels weak due to pads/break in or a combo of both. I plan to change the rear pads soon. Because I bought this bike as a demo, I'm not sure how the pads were bedded in. David (my teacher) taught me how to bed in new pads properly. So when I switch to different pads it 'may' affect which level of ABS I choose. For now level 1 works for me.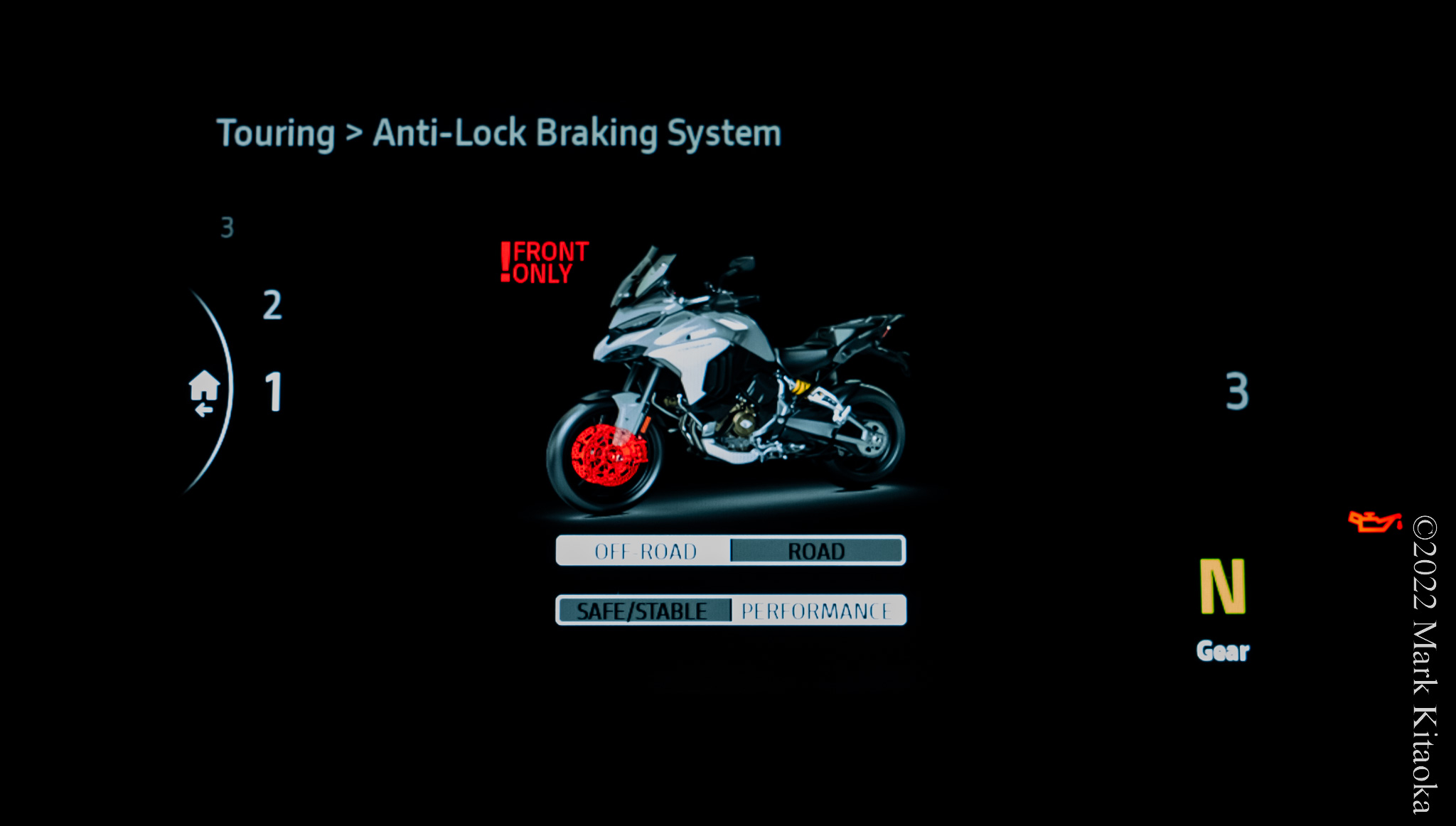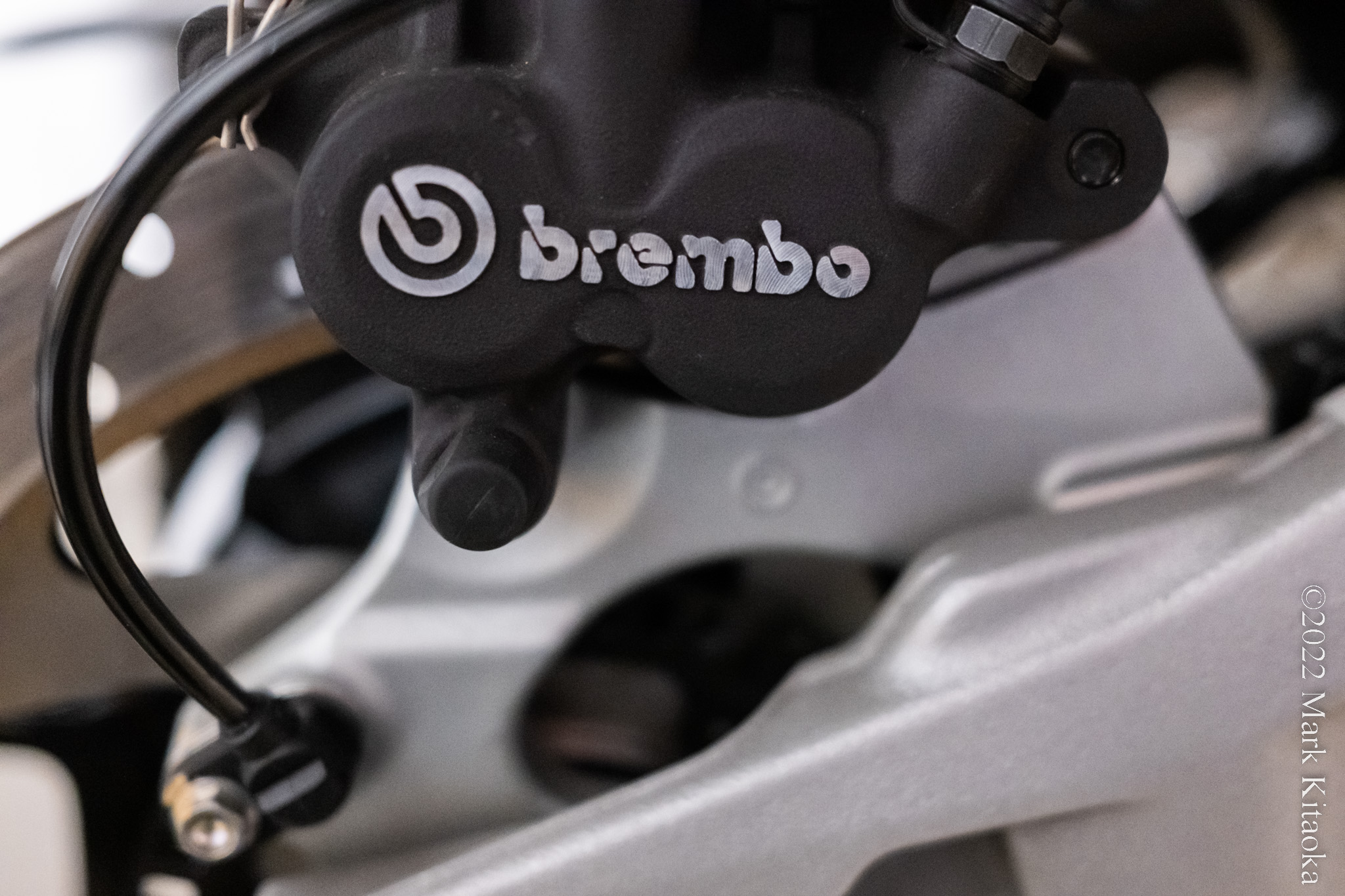 At this point, I want to mention that the rear brake pedal was too low for my taste. I could not put enough pressure on the pedal to effectively engage the rear brake enough for my style of riding. Pressing the pedal hard enough placed too much of an angle on my right foot. There is an adjustment screw on the rear brake, but its adjustment range is not enough to bring the pedal up for me. I searched for a different height brake pedal, but at the time of this review, could not locate one. I did contact a company that makes aftermarket brake pedals for Ducatis, but they stated there wasn't enough interest, so…
I made my own, increasing the height by 13mm using aluminum bar stock. Cut to size, then drilled and tapped the bar stock to attach the new 'pedal' to the OEM unit, scored the top, and then used grip tape for boot traction. Works well now! Doesn't look OEM, but who cares when it serves the purpose.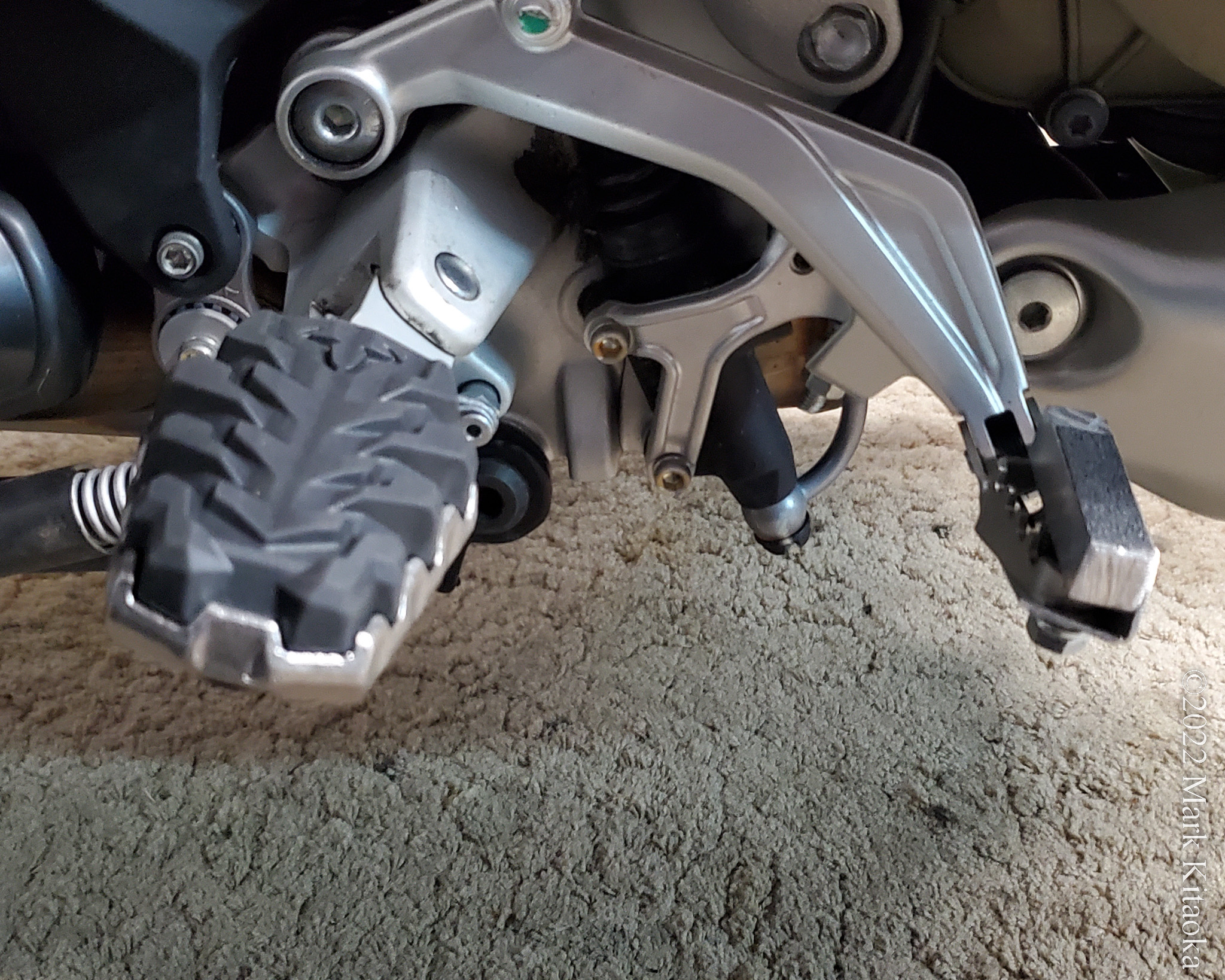 Yes, I have changed my pegs, but will explain why further on.
I appreciate that the Brembo master allows for lever adjustment for various hand sizes. I've owned an earlier version of the master that I installed on my RC51. It's a fantastic and improved master cylinder which I was happy to see on the MS.
In terms of feeling, after changing the ABS level to level 1, the brakes have more initial 'bite' than before. Increasing the pressure on the front brake lever results in a stronger bite. Not as strong as on my track bike, but I would not expect that since I used HRC racing pads which needed to be changed every other race or track day. I have yet to test the brakes in an emergency stop situation, not that it's not yet happened, I just have not done that drill yet. I am confident that they will perform well. The rear brake can only be locked up under the Level 1 ABS setting which is the default in the Enduro mode.
Handling
I've been so impressed with the handling of the MS! The wheel combination for me does not affect street handling 'as some' have talked or fretted about. Perhaps it is due to me coming off a 19/17 wheel combination with the DSR. I love cornering more than any other part of riding, so I like to think of myself as a decent cornering rider. I'm not talking about racing, I'm talking about street riding. The bike does not fall into corners, never fails to hold a line, and is damn stable. It can be affected by throttle steering and late braking. But all bikes can. Trail braking yields a stable feeling when done properly of course.
Ergonomically I feel like I'm on a Temperapedic foam couch suspended by the most incredible suspension that constantly adjusts in 10 milliseconds to what the wheels are encountering.
The most impressive aspect I find about the bike is how 'plush' the bike absorbs road irregularities, yet is firm and does not wallow in corners. Even when pressed hard, perhaps harder than I should be pressing on the street. I've been an Ohlins whore most of my life, but the Skyhook system that Ducati and Marzocchi have developed negates my desire to even think about switching to Ohlins. That's a first. Unexpected decreasing radius turns don't cause drama when the bike is pressed further down or smoothly reducing power mid-corner, to make the corner. Of course, ANY bike will cause me drama on a decreasing radius bend if I've gone in WAY TOO HOT, but that isn't the fault of the bike.
The bike does not have excessive dive under hard braking. I have NOT yet braked as hard as I have done on the track, but can tell from the amount of dive under moderately hard braking that the bike remains composed. I have yet to test the IMU braking in turns, meaning harder braking than normal for me.
I have not jumped the bike, so I cannot say firsthand how it will handle jumping. I've seen those who are skilled in off-road riding and jumping and the bike appears to do well. I just cannot comment firsthand at this point. I already talked about wheelies in the Power section. All in all this bike handles remarkably well and is very versatile. It reminds me of when I photograph dancers. There are some who don't have 'the classic dancer body' but move as well if not better than those with conventional lithe figures. And after my initial observation of their form, all of that doesn't matter. The movement impresses me. 
Malia is the strongest dancer I know.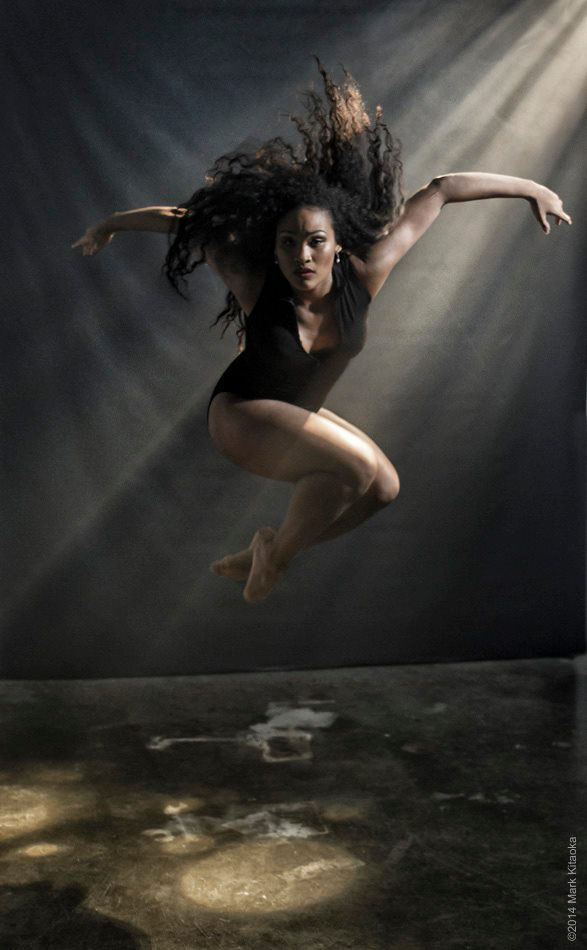 The MS, is a heavy girl, but man I'll take her over a slender one any day that can't dance nearly as well. The suspension of the MS combined with its power delivery has quite a bit to do with the overall handling of the bike. So let's move on to the suspension.
Incredible suspension. Like having a pro suspension tuner adjusting the suspenders in 10 milliseconds as you ride…but better, no bathroom breaks!.
Suspension
In almost all of the written and video reviews I consumed, most talked about the 'radar' as the headline feature. I talk about the radar later, but for me the semi-active suspension is what's mind bending to me. Read on….!
This may be the most influential aspect of the MS that drove me to consider looking at one. I've repeated time and time again in this article as well as others that for me the most important elements of a motorcycle are; suspension, brakes, and tire pressure. When I read that this bike has electronically controlled semi-active suspension, I was not quite sure what that meant. I"m still not quite certain what 'semi-active' means. 
Scratch that last statement! I was made aware of an incredible article "Ducati Multistrada 2013 Skyhook technical" written by the late Kevin Ash that clearly explains how the Skyhook system works!!! He talks about the new engine in the 2013 MS, but two thirds of the article is about Skyhook.
Here is a small excerpt from that link: "The new suspension is motorcycling's first semi-active system, along with the BMW HP4's. It works by continuously altering the damping front and rear according to a wide range of parameters, but the most important is its response to the speed of movement of the suspension. This is measured by two sensors at each end of the bike. One is positioned on the unsprung mass so it moves up and down with the wheel. The other is above it, attached to the sprung mass – the main body of the bike. The constantly changing distance between these is integrated mathematically to determine the speed, and using this, the Skyhook ECU adjusts the damping to predetermined settings."
And I had an AH HA moment when I read this statement in his article!
Ergonomically I feel like I'm on a Temperapedic foam couch suspended by the most incredible suspension that constantly adjusts in 10 milliseconds to what the wheels are encountering.
"This is why it's not immediately obvious in terms of feel that Skyhook is any better than a conventional system. You need to try the bike in a wide range of conditions and discover how it always feels as if it's set up for them."
Thanks for the education Kevin and rest in peace.
The electronic connection on the top of the left fork tube adjusts the fork's compression and rebound damping.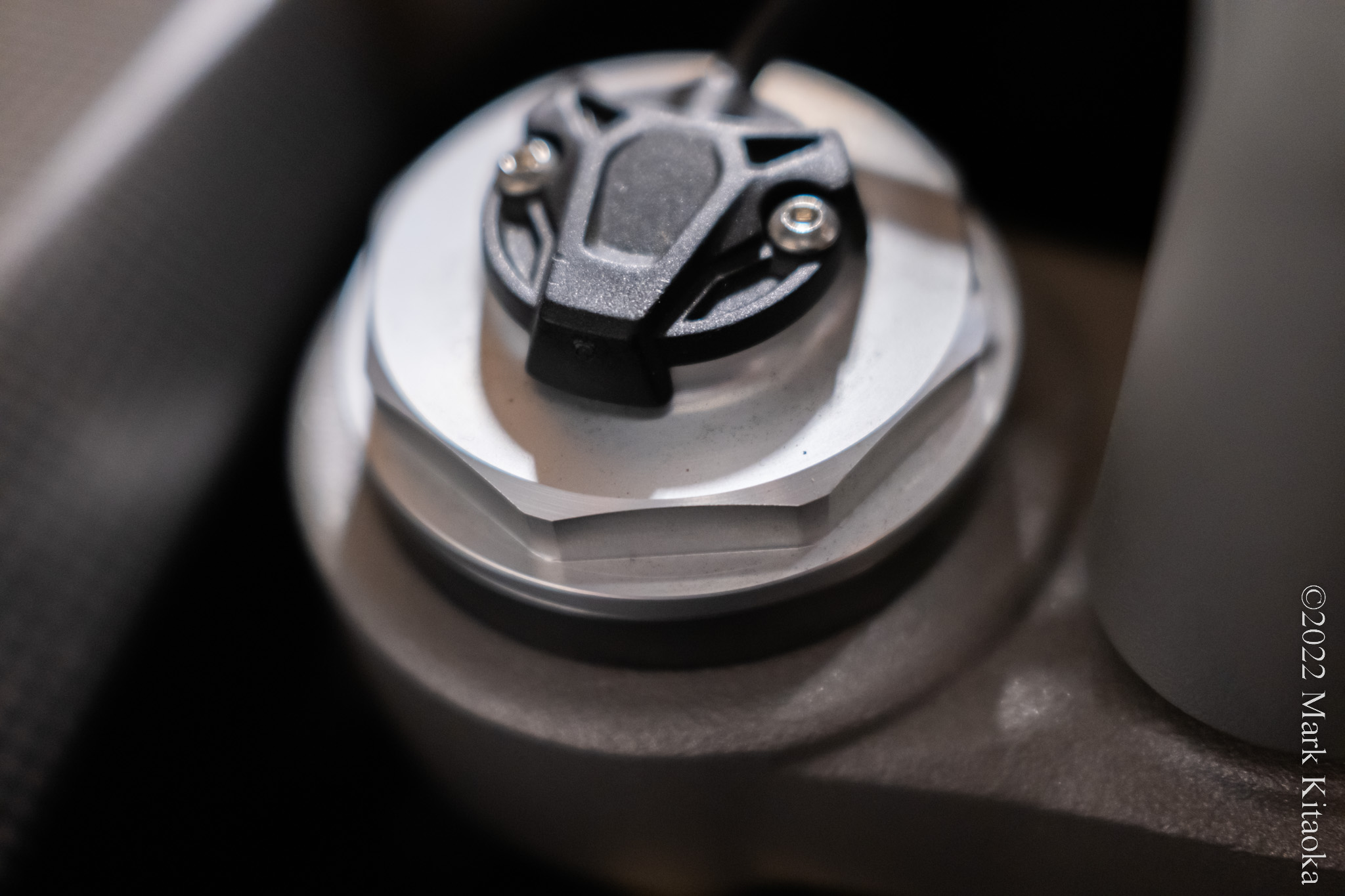 This nut on the right fork tube is the only analog adjustment for the suspension. It adjusts the fork's preload.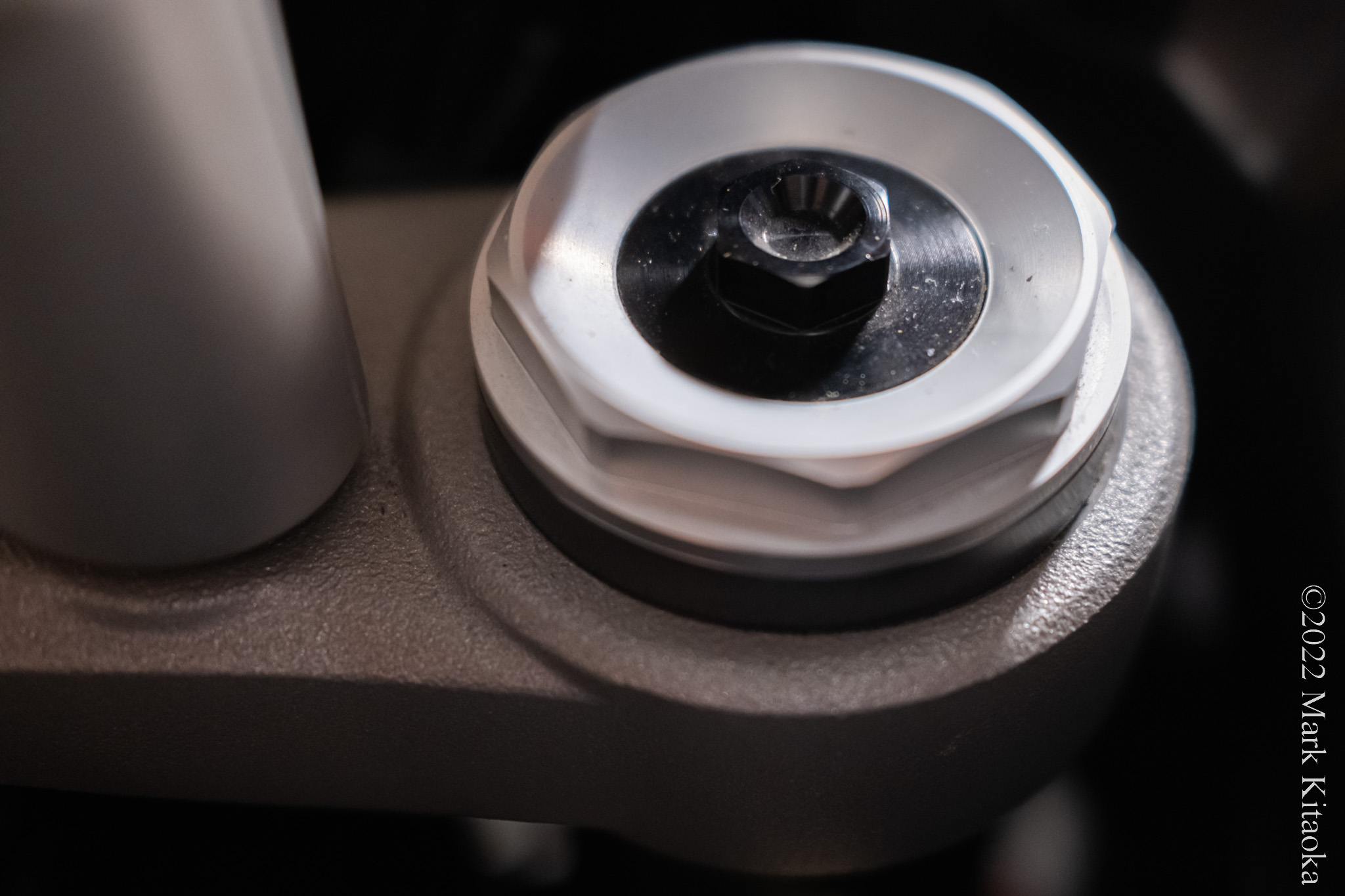 This electronic connection on the rear shock adjusts the damping and preload.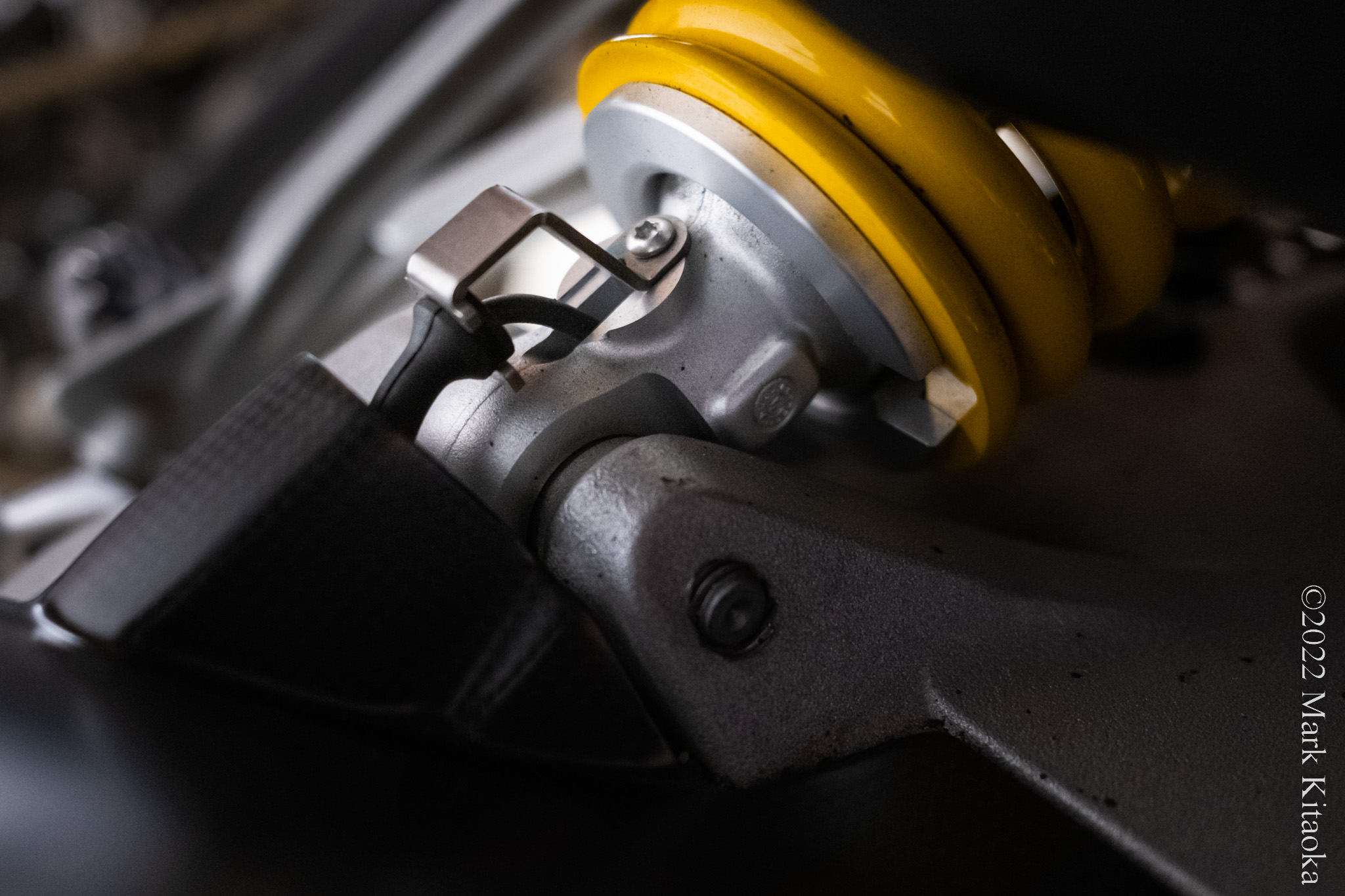 One of the things that were frustrating to me about my DSR was how difficult it was to adjust the spring preload on the rear shock. My least favorite method is two nuts that screw down to either compress the spring or extend it to soften it, the second nut to lock it in place. And it was located next to the very fragile finned controller. At least my RC51's Ohlins shock had a hand controlled remote preload adjuster. Granted, not much adjustment was available, but not much was needed for the track. As I watched videos about the magic of electronically controlled suspension they all gave a very basic and cursory explanation. One helmet for one rider, one helmet plus luggage for, you guessed it a rider and luggage, and so forth. And an Auto Leveling preload that calculates the preload based on weight as well as user-defined settings! Even though those seemed basic the ability to adjust preload WITH AN EFFING JOYSTICK bent my simple mind. No more spanners scraped knuckles and cussing. Gosh if it got any easier, the Princess could get a manicure!
From this point, I will go into more of the refined adjustments available on the MS. More mind-bending than I could ever imagine, having used a spanner, a small flat-end screwdriver, a zip tie around the right fork stanchion, and the bottom-out bumper on my shock to 'measure' sag. Now it feels like those methods are akin to using my checkbook to buy stuff at a store in 2022. (sorry, not sorry to those who still do)
The Suspension menu is activated by pressing the small button with the shock on the left-hand switchgear cluster. 
Pressing and HOLDING that button activates the MIN preload setting to lower the bike. That feature can be deactivated by holding the button down for another three seconds or after the bike goes 70MPH or faster.
This shows the MIN preload setting activated which is located just below the current Mode selected.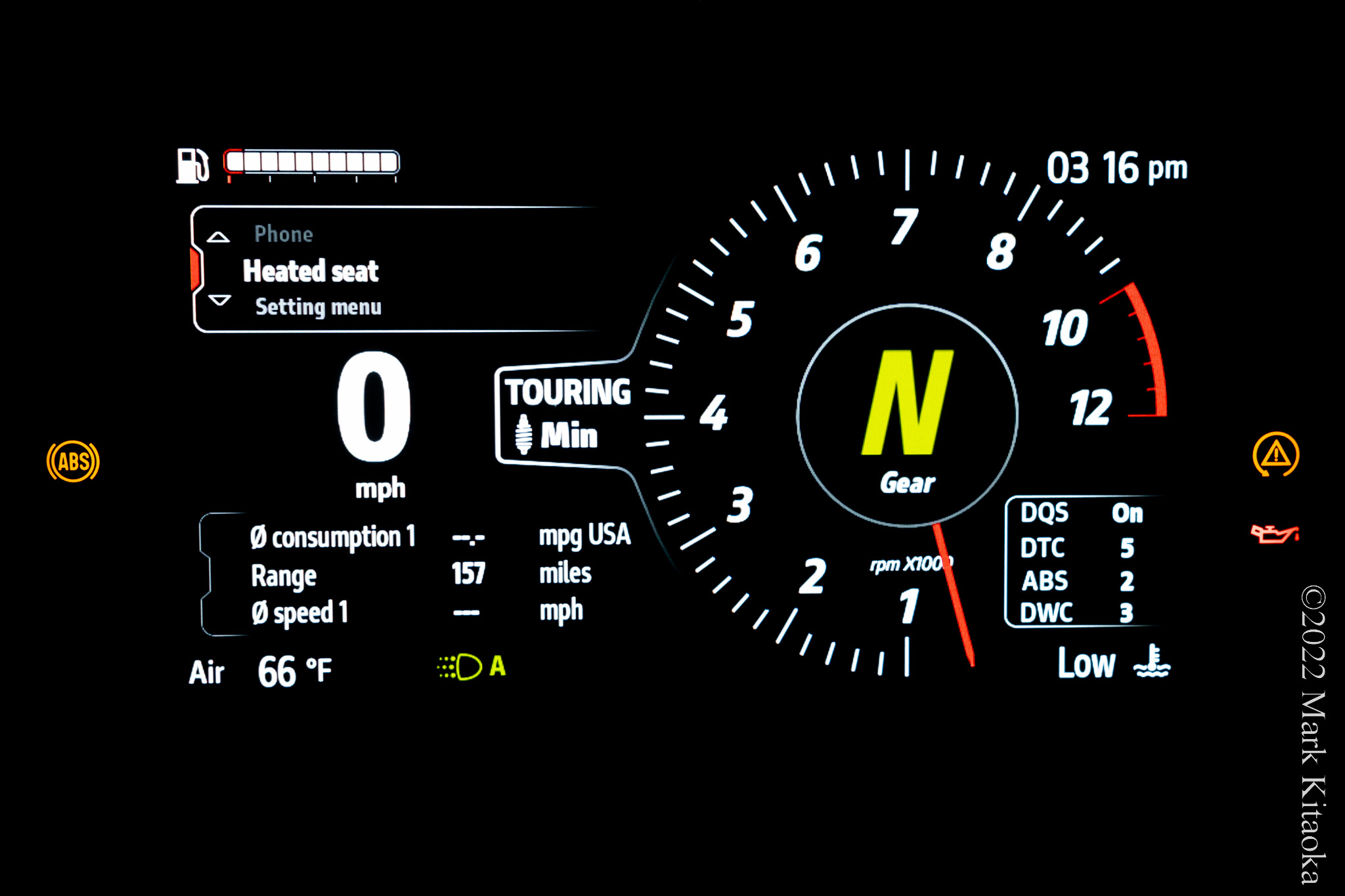 Once 70MPH is reached or the Suspension button is held again for 3 seconds, the preload goes to the setting selected before enabling MIN preload. In this example, single helmet/single rider.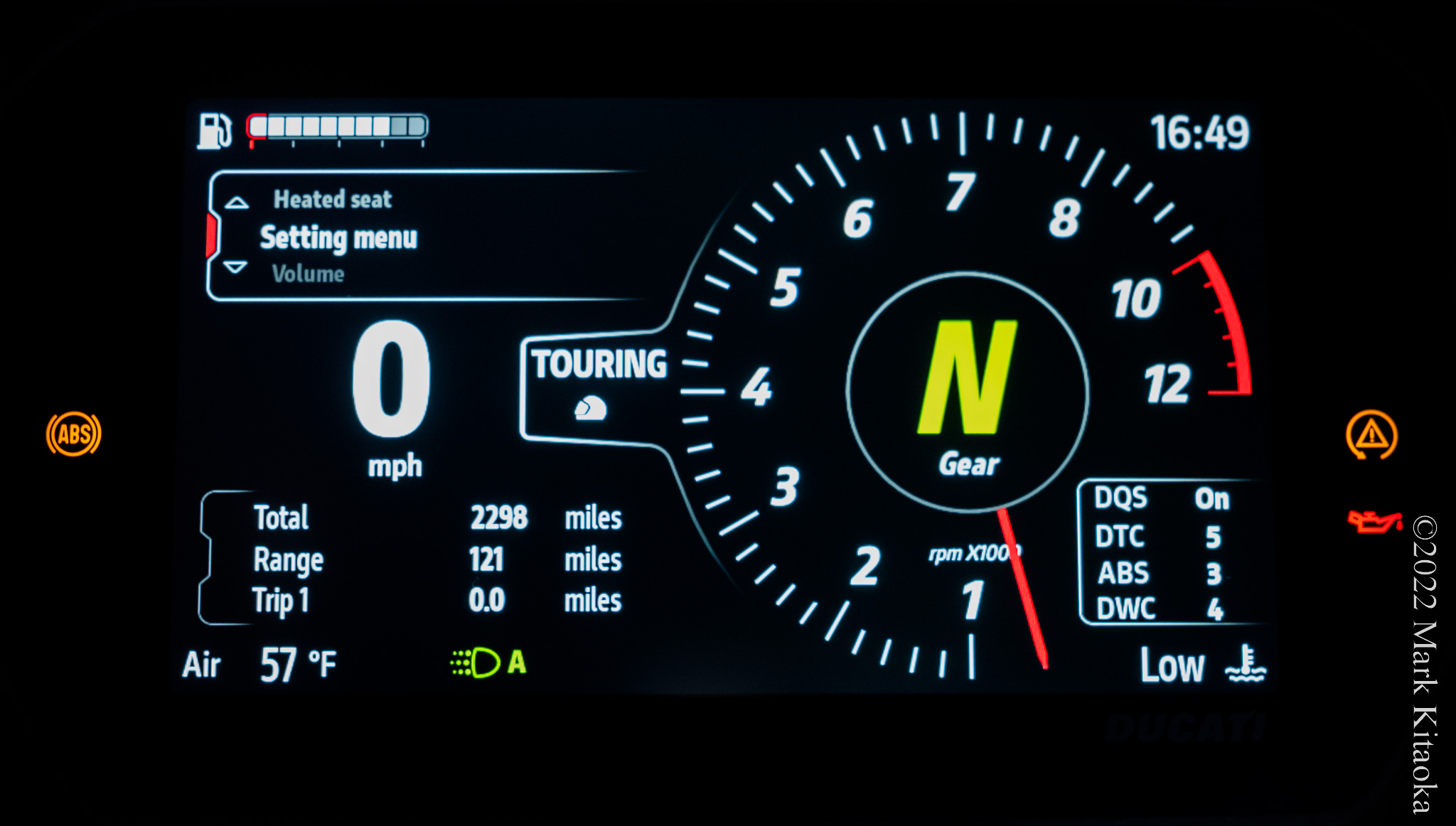 Let's get into a bit more detail about suspension choices.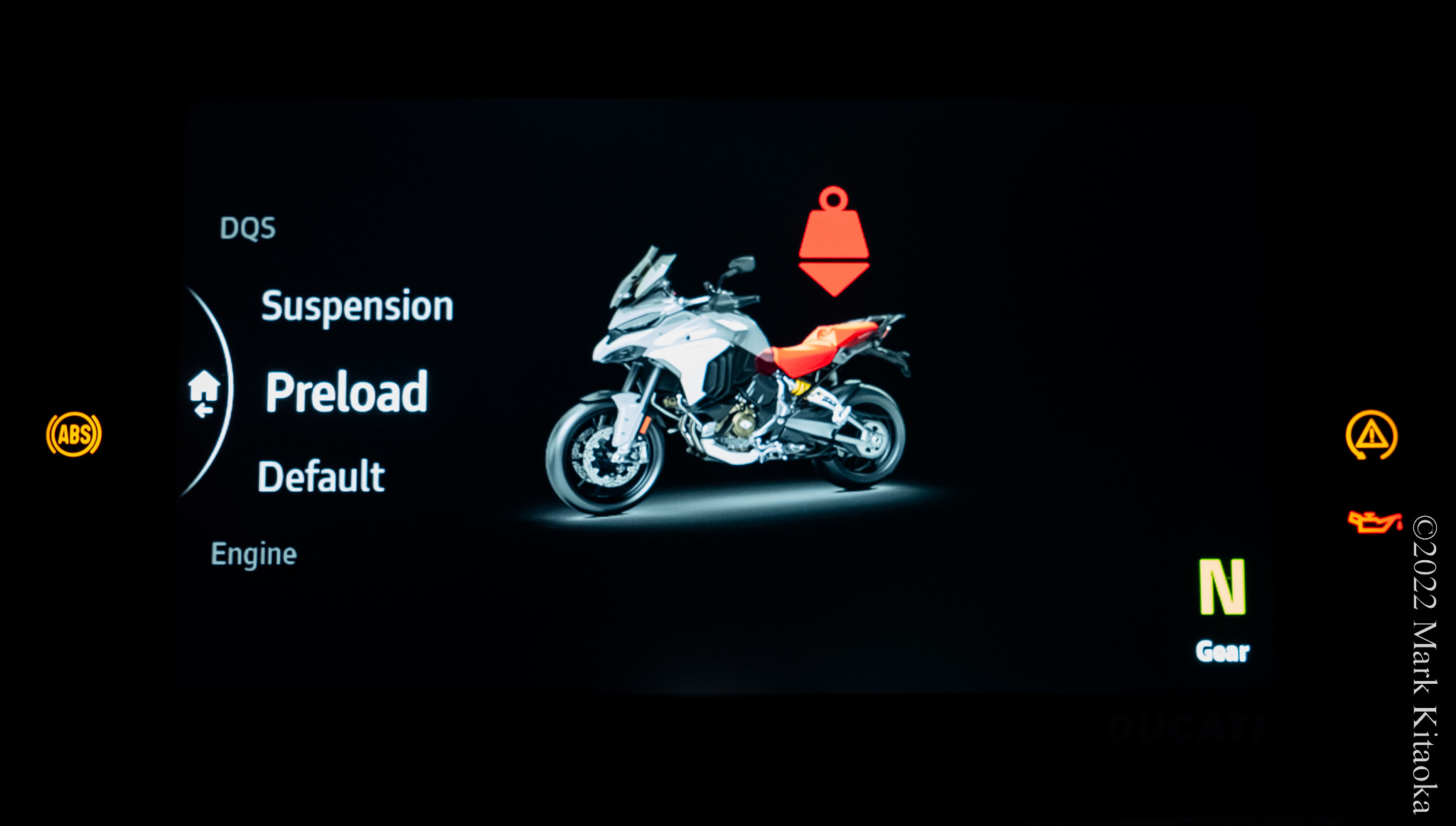 By entering the Settings menu, we are able to enter two areas by riding Mode for suspension settings beyond the ones mentioned above. One for Suspension and one for Preload. In this example, I'm using the Touring Mode.
As you can see the Preload setting for Touring is for one helmet, a single rider. The range for the preload is from 1 to 24. EACH MODE, Urban, Touring, Enduro, and Sport can be adjusted for specific preload, based on one helmet, two helmets, etc allowing a 24 point range of adjustment! I have set my one helmet preload to level 8, which is displayed on the right side of the screen. As an example, I can set my Touring preload for one helmet and luggage to 12, and for Sport mode, one helmet and luggage to 20 preload. Now when I select one rider with luggage in a mode, the specific preload I dialed in is unique to my settings.
Ducati wisely offers a Default setting for all of the menu selections. Like software used on your computer, it can get complicated. Like going to the optometrist and hearing that question, "Better one or two? Better two or three? Better one or three?" So the ability to 'reset' your settings to Default is a great feature.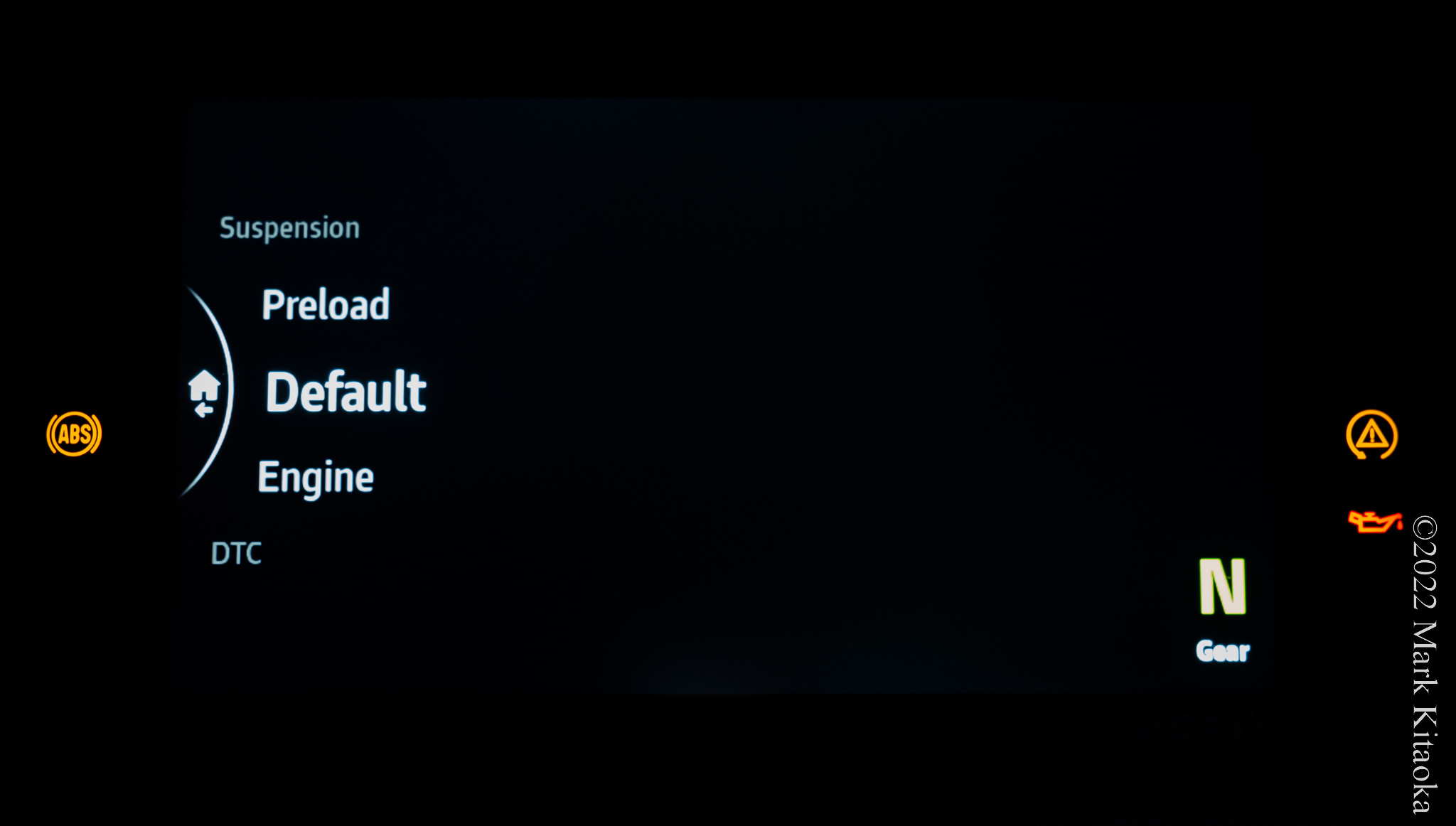 Now let's move on to Suspension, again under the Settings menu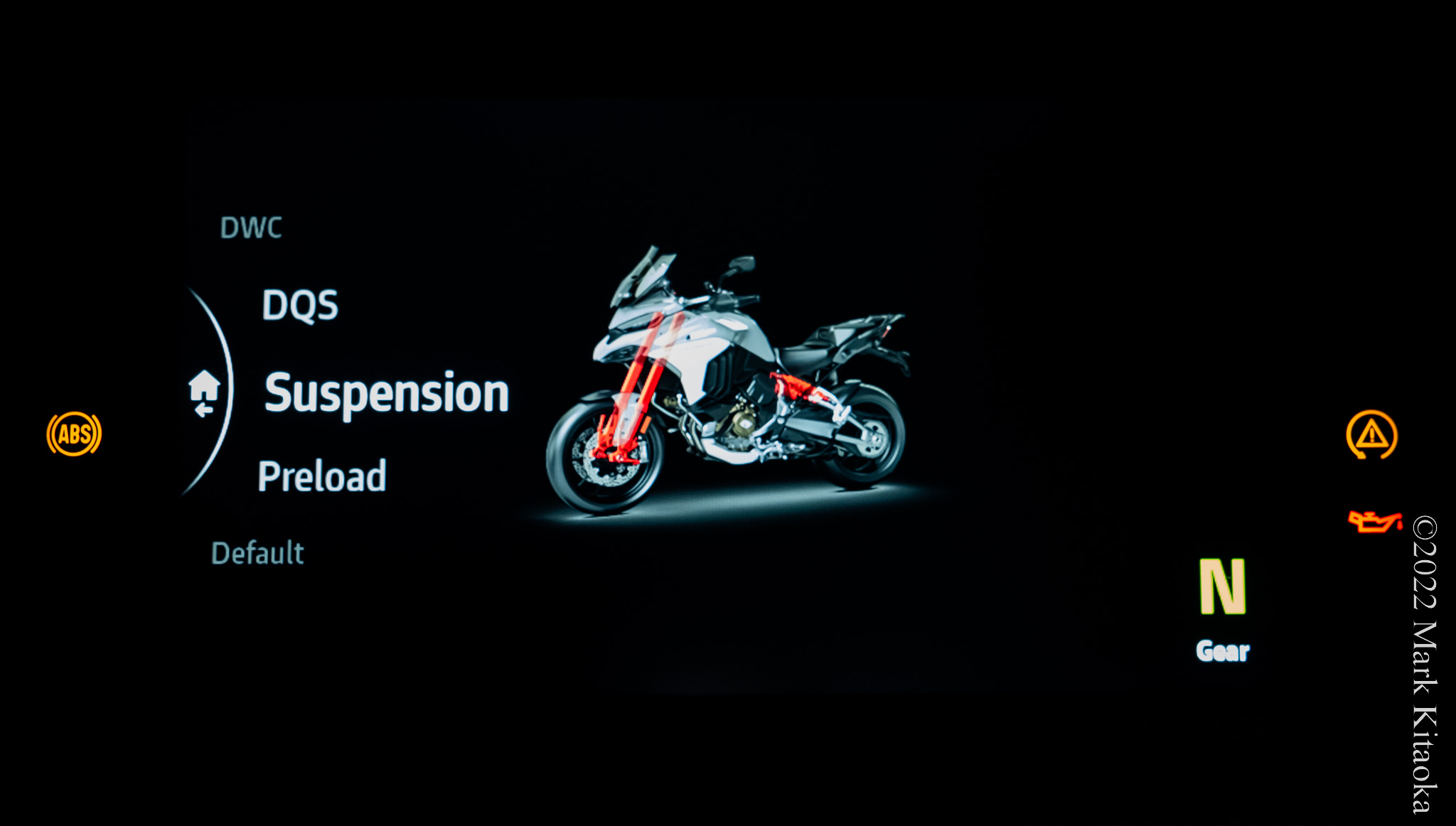 Like the Preload the Suspension settings are specific to the Modes. So what you set in Touring can differ from Sport, Urban, and Enduro. In this example, we will be in my Touring Suspension area. Suspension settings by mode are Front or Rear.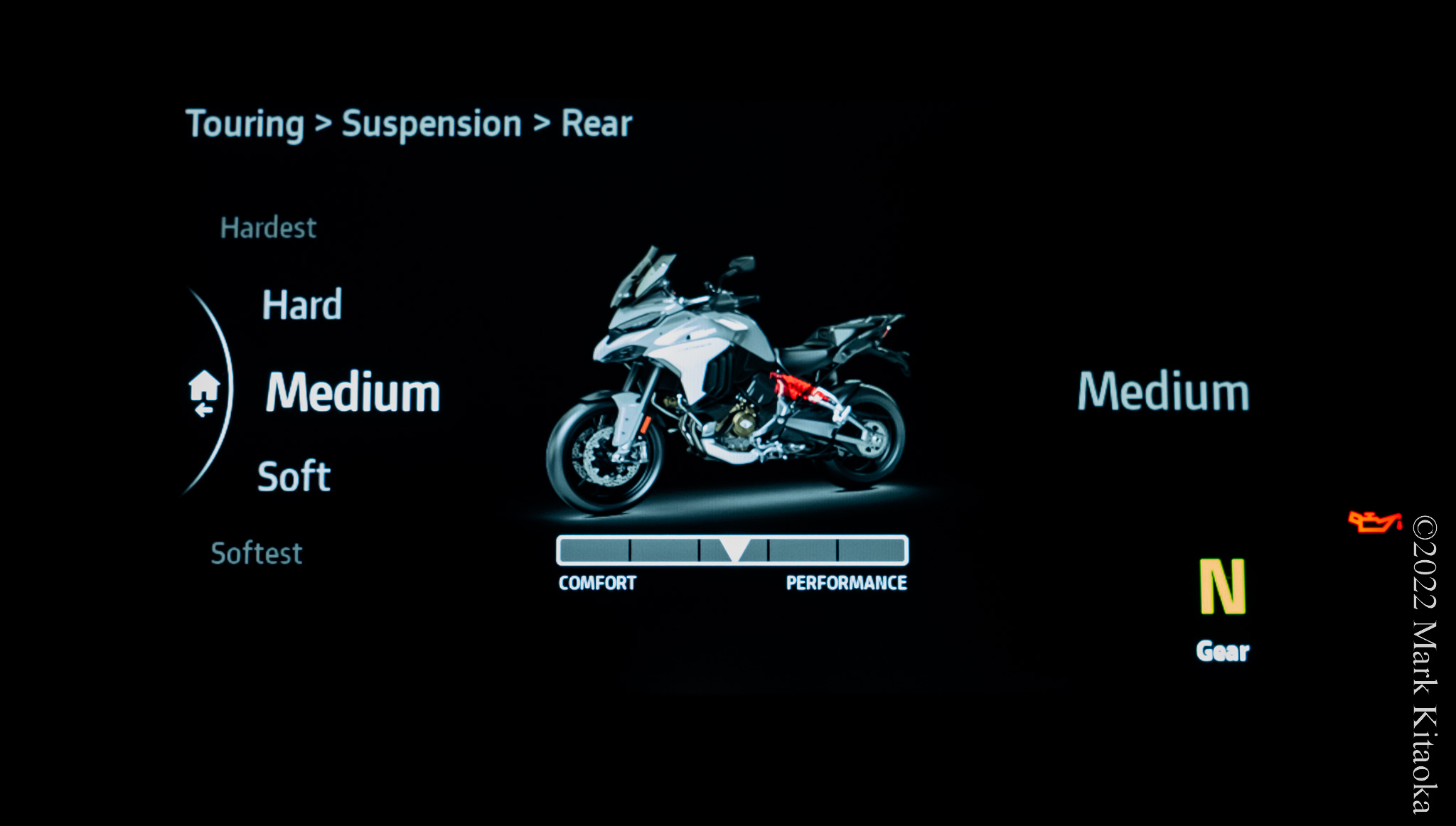 Both the front and rear suspension settings allow you to choose between Softest and Hardest. Your current selection is displayed on the right side of the menu. In this instance, I've set my Touring Suspension to Medium. The bar graph below the bike's drawing shows the suspension's balance. In this case, it's right in the middle between Comfort and Performance.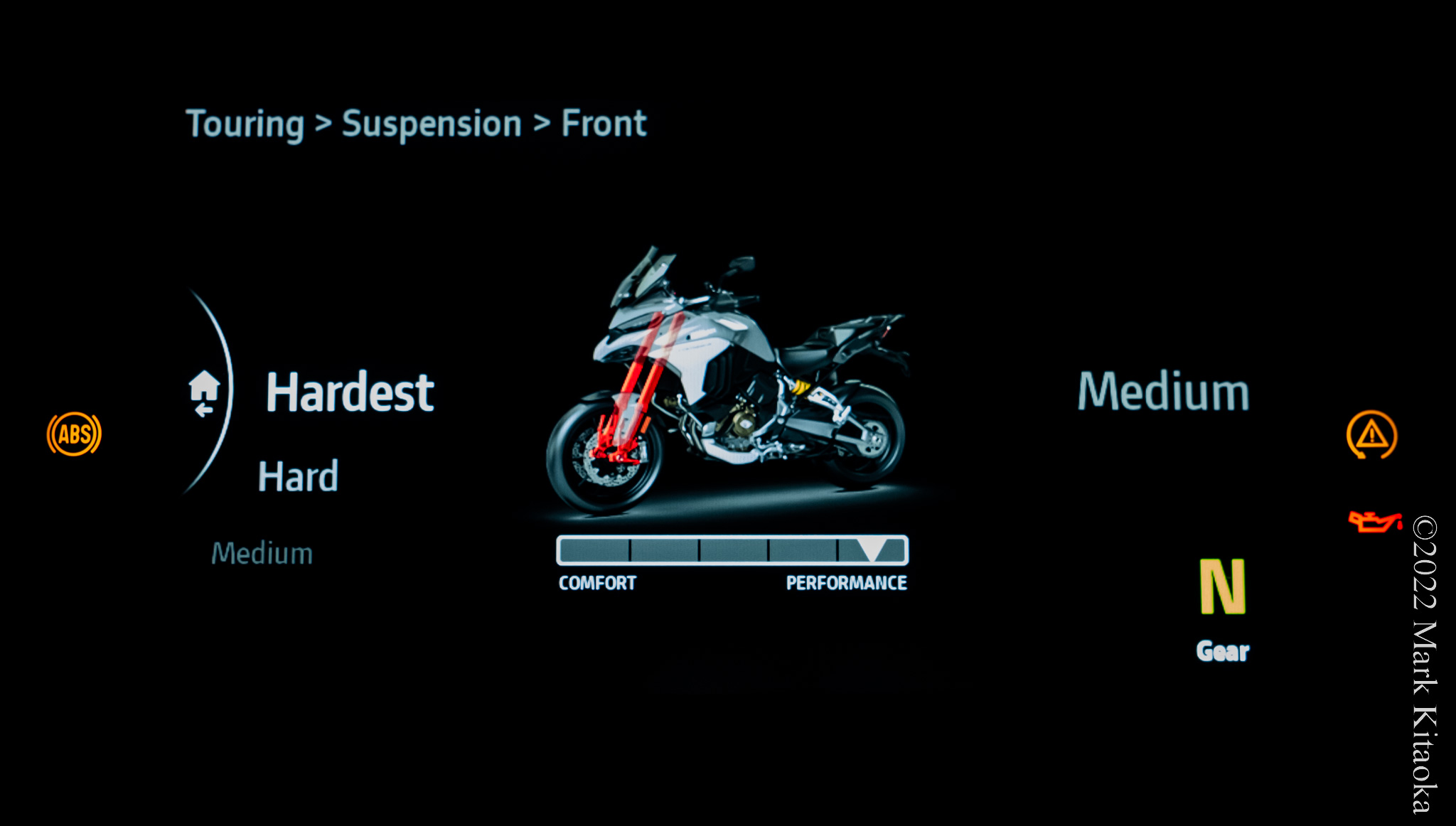 And just like with the preload settings Suspension settings are specific to the Modes, Sport, Touring, etc. with your selected settings indicated on the right side.
I grew up and was trained in the era of measuring preload, adjusting high and low-speed compression, and compensating for those adjustments in the rebound. I'm really happy to have been trained by one of the best in the business who was the crew chief for Erion Racing back in the day. I've said many times that Dan has forgotten more than I'll ever know about suspension. Having the ability to adjust those features using a joystick (other than the fork preload) is truly mind-bending to me. And if I F it up, I can hit reset by using the Default feature.
Here is 'an honest' statement. I've fiddled with the suspension, in just one mode and can feel the difference after adjusting the Suspension for the fork and shock in the Settings menu. BUT because it is so granular in adjustment levels, I've gone back to the default settings just to clear my mind. I have not owned this bike long enough to come close to understanding how all of the suspension variables affect my riding. But man I look forward to experimenting to find out what works best for me and when. Incredible. And yes the default settings under each suspension level, one rider, etc. are well done, even without adjusting them specifically for me. It's ME who needs to become more skilled with this new tool, not the other way around.
Usable Tech that applies in the real world
Features
Riding Modes
The bike has four riding modes. Sport, Touring, Urban, and Enduro which are accessed by pressing the Mode button on the left hand switch gear and using the joystick to select one. This can be done on the fly once you select the mode and close the throttle, twisting it toward the front of the bike.
Each mode is color coded and the specific settings for:
Engine Power setting

DTC (Ducati Traction Control)

ABS (Anti-lock Braking System)

DWC (Ducati Wheelie Control)

Front Suspension

Rear Suspension, (both refer to damping levels)

Preload (only rear shock level

DQS (Ducati Quick Shifter) 
At the track it was common practice to maintain a notebook where we would write down our various settings during track time. Weather, track conditions, track temperature, and how we had each set up our suspension, brakes, tire pressures, etc. Old habits die hard and even though I'll never use this bike for competition, I still like to document how I've set things up. Besides, my memory is sh!t these days. So I've made a small matrix of the default settings for the MS as set by the factory for a single rider and rider with a passenger and luggage. There are other level selections, but I didn't want to list them all here. The point is selecting the pictures under preload does NOT mean the level is the same for each. It depends on the mode and the level set by the user under Settings for each level of helmets/luggage. Assuming one helmet under each mode results in the same level of preload was what I assumed at the beginning. And we all know what assume means…

The statuses are displayed to the right of each Mode. Each can be adjusted under the Settings menu and for safety reasons, those can only be adjusted when the bike is not in motion.
I'd like to explain that each Mode can be set up differently than the OEM's default mode settings. I'm giving an example of how I've altered Urban mode to my own settings. Remember that these individual settings for DTC, Engine, ABS, etc. are done under the Setting menu. In this example when I select Urban for ride Mode this is how my settings appear.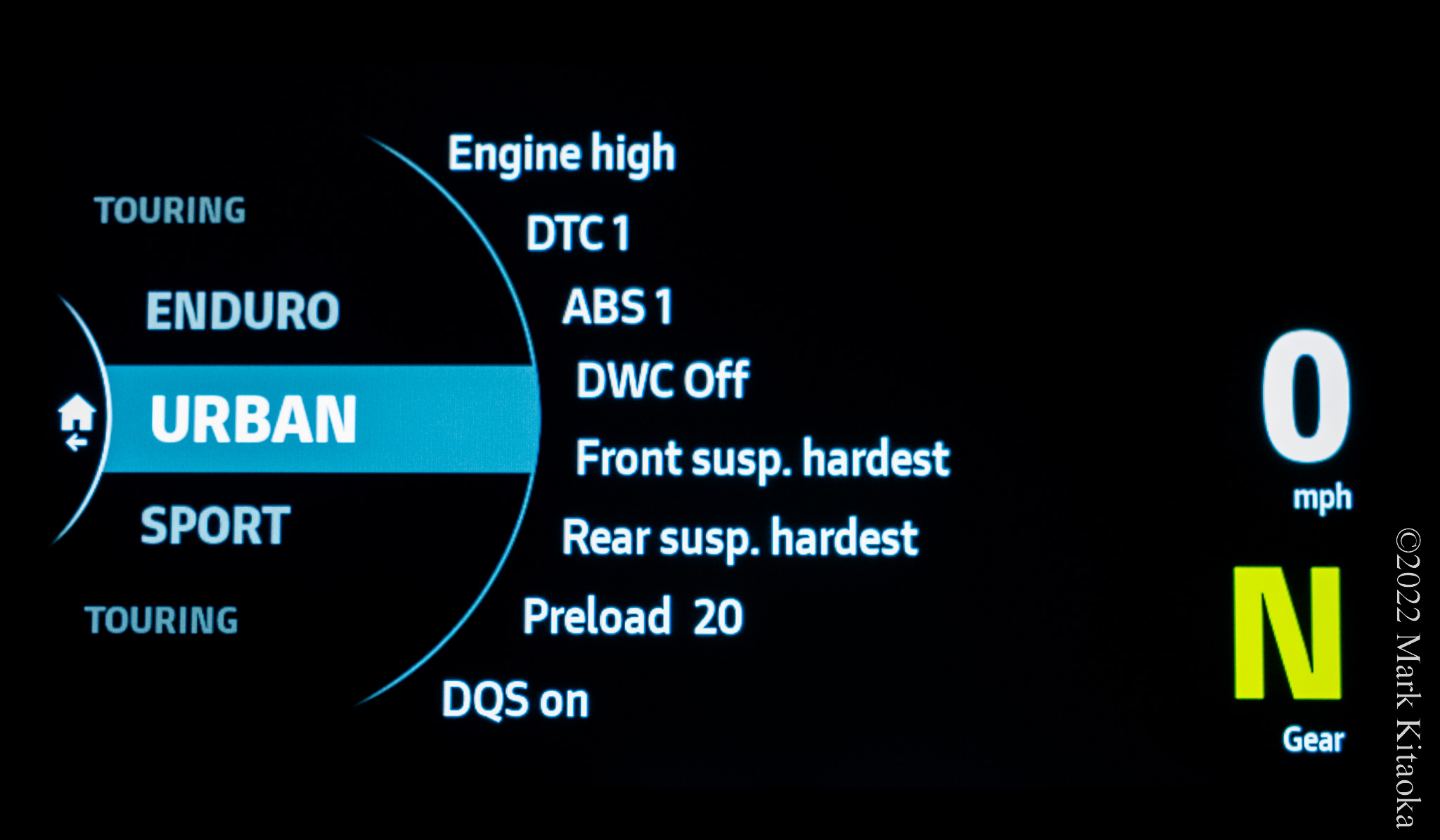 Obviously WAY different than before. My Urban mode example is now even more aggressive than the OEM Sport mode. In my Cons section, I said that I'd like to be able to rename the modes. By doing so I could then name them in the way I'm using them. Here is how I set up Urban under the Settings menu
Invariably someone will ask, "Why would you set up Urban that way!!!" This is ONLY an example of how each mode can be customized which may or may not match its mode title.
I want to state I don't contend what I've covered here in no way represents all of the various ways this bike can be altered and customized to each person. Only owning the bike for a little over six months means I still have a ton to learn and discover. I was not made aware of what I just covered in any YouTube videos I watched or even from the dealer's brief orientation of the bike. The reality is I would not expect them to do so either because this bike is SO SOPHISTICATED. 
VHC (vehicle hold control AKA hill hold)
I had never even heard of a hill-hold feature on a bike. When the dealer explained it to me before I rode home I thought to myself, "Wow cool, but who the hell needs something like that?" I live in the SF Bay Area and am on my way home from the dealer, guess what! I used this feature and was damn happy to have it. Holding in either the front or rear brake FIRMLY for two seconds enables the VHC and this light appears on the dash.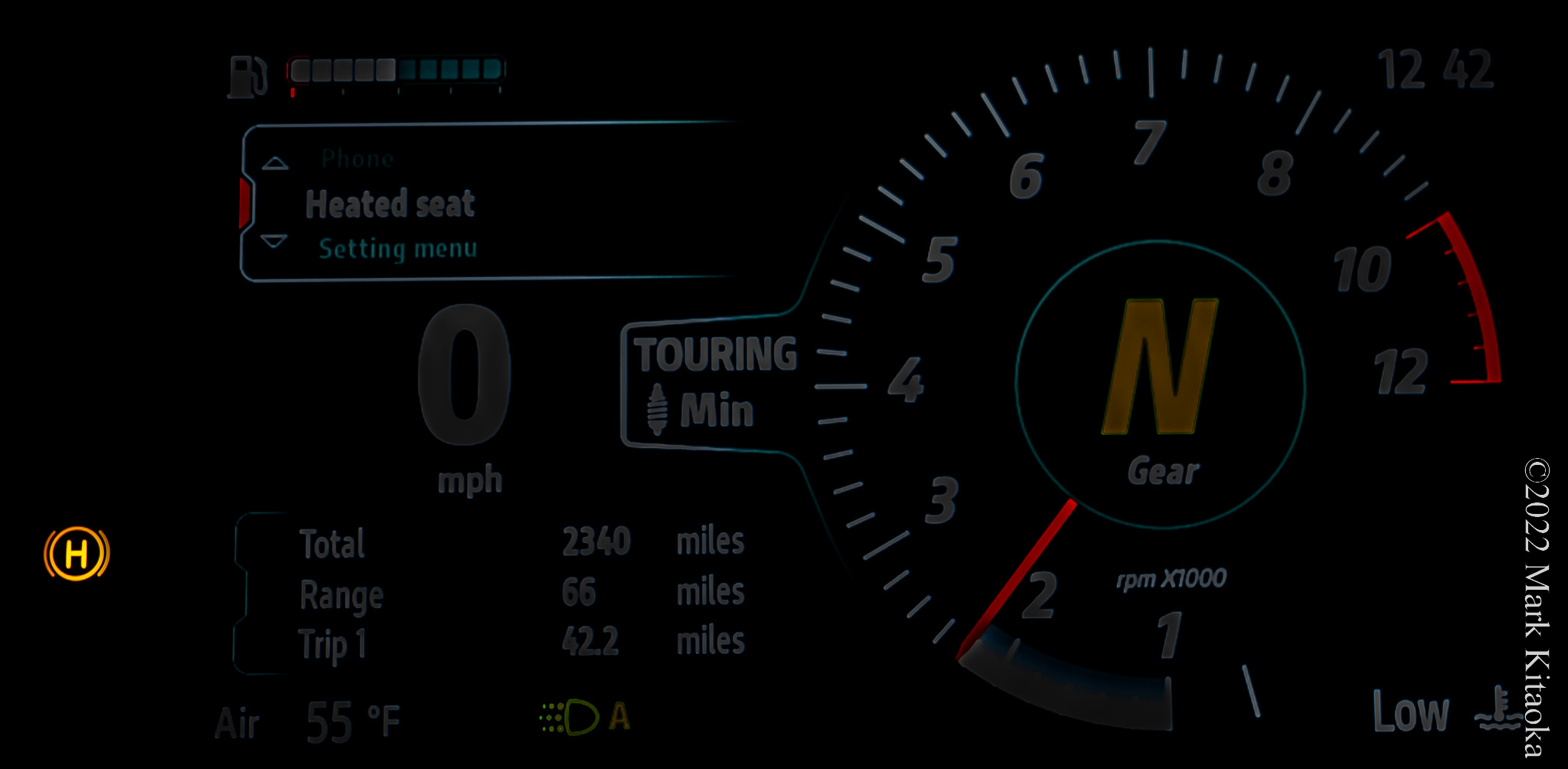 Bike loaded down with luggage? Have a passenger? Or both? On a steep slope? Man, hill hold is a godsend and it's one of those features I didn't know I needed until I had it. VHC will hold the bike for 180 seconds, not 10 like I've read on some forums. And when it does begin to deactivate the H light flashes and the brake GRADUALLY releases. Page 310 in the Owner's manual covers this.
Adaptive Cruise Control
So all of the hubbub on YouTube talks about the 'radar' of the MS. Yes the forward facing radar is what's responsible for the Adaptive Cruise Control, ACC. In the past, I never had cruise control (CC) on my motorcycle. During long trips, I bought one of those plastic thingies that I could put on my throttle and rest the heel of my palm on it to relieve some of the cramp I'd get on long trips. Yep, it was crude, but it did the trick. In my car, a 2005 Infiniti G35 6MT, I have CC, but not ACC. On long trips, it's great, set the speed, relax my right foot, and glide along the freeway. When someone would merge, pull in front of me, or I was gaining on the vehicle in front of my car, I'd tap the brake pedal, which would then deactivate the CC, or push in the clutch pedal. Space would open up in front of me again and I'd hit the RES button for resume. So I expected something very similar on the MS using ACC….WRONG! Oh so wrong.
ACC is enabled by pressing the on/off button on the left switchgear panel.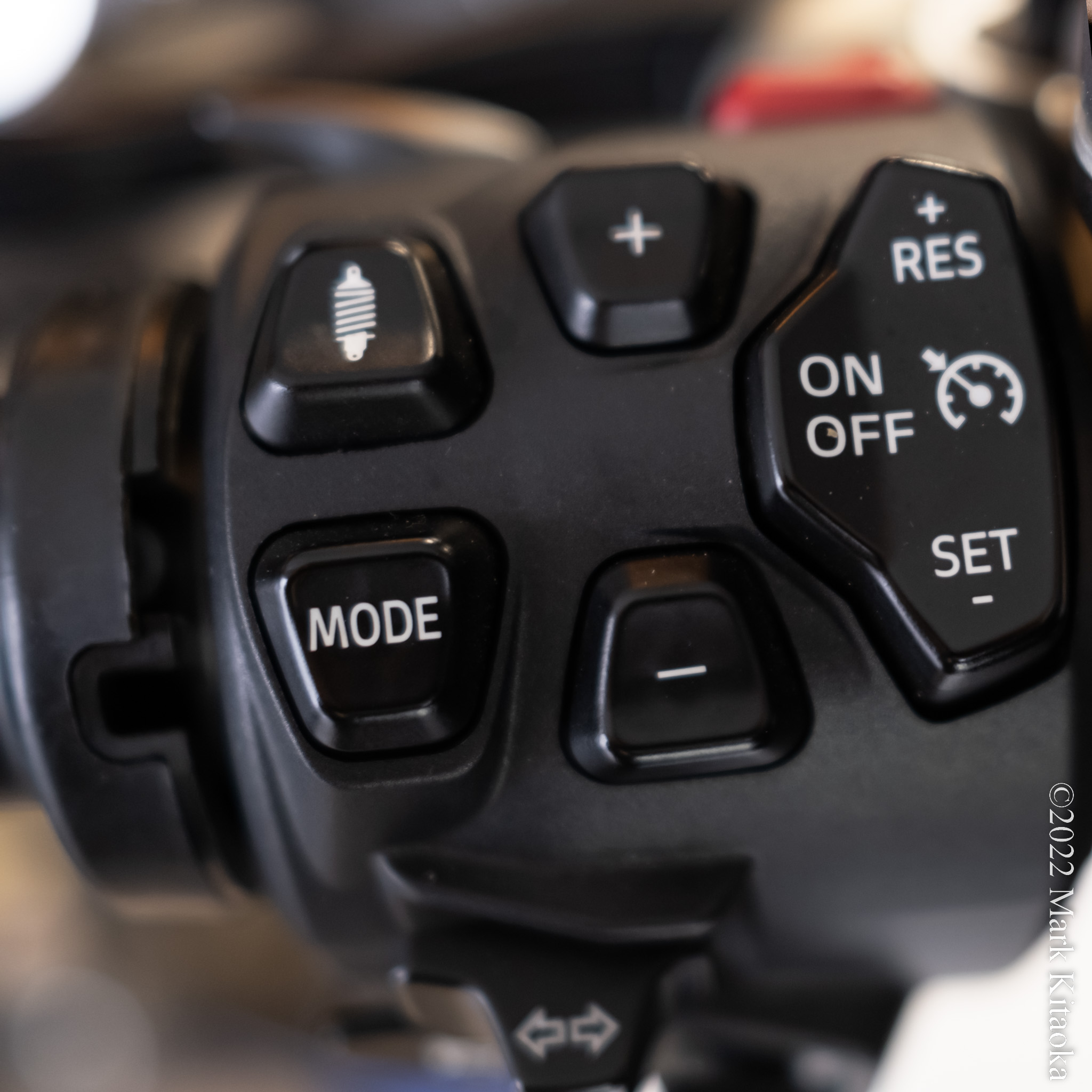 Speed is set by pressing the Set button once you have reached the speed of your choice. If you wish to increase the speed setting, pressing the + button above the RES increases the ACC speed. ACC indicator light appears on the dash.
In the lower right corner of the dash there is an indicator gauge which displays your preference for the spacing you select to the vehicle in front of you. Near, Medium, Far, or Very Far. In the image below I have selected Very Far. Those distances can be selected in one of two ways. Through the Adaptive Cruise Control setting in the Setting menu. Or by pressing the + or – button on the left-hand switchgear panel.
Using the ACC menu under Settings brings up these screens where you choose your distance to the vehicle in front of you.
Using the + or – buttons change the following distance as you ride and is indicated by the little car icon in the lower right corner. In this image, it is greyed out because I'm not moving. In real use the bike and lines are green.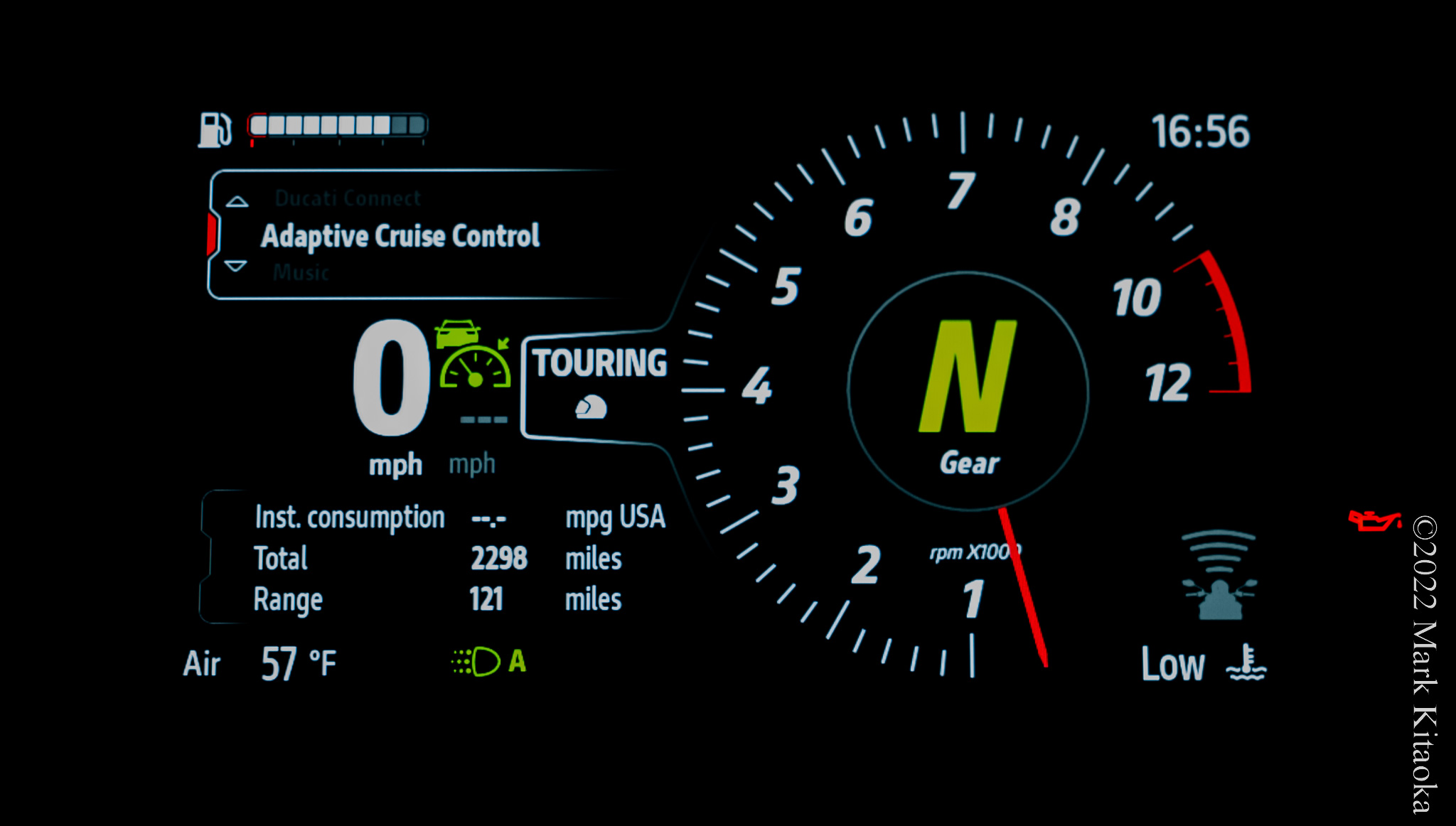 In California lane splitting is legal and I often do just that when traffic is poor. I do NOT use ACC when lane splitting. When traffic is 'normal' meaning it is flowing then I have found out just how valuable ACC is for me. I realize that many riders here like to remain in the fast lane or number 1 lane on the freeway. I do that too, but more often than not, I stay in lanes 2 or 3. When I am gaining on the vehicle in front of me and don't wish to pass, the ACC maintains the level of distance I have chosen and if a vehicle merges in front of me, the ACC accommodates those instances as well. This makes freeway travel much less stressful for me than not using ACC. Unlike non adaptive CC where I have to deactivate and then re-enable the CC as I'm gaining on the vehicle in front of me, ACC eliminates that hassle.
In those instances where I wish to move several lanes to the left or right when ACC is enabled, I simply twist the throttle forward, which deactivates ACC, and then twist the throttle to pass the vehicles across multiple lanes. I prefer this over tapping either brake to deactivate ACC. Once I'm happy in the lane I'm occupying, I simply press the RES button on the ACC and I'm back to cruising. I keep two fingers covering the front brake lever at all times. Because I don't need to grip the throttle to maintain my speed, my hand is relaxed. Some may not like ACC, but I have found it performs well and adds safety and comfort to riding on the freeway. I become less fatigued, which is one of the factors that can lead to a lack of concentration.
Blind Spot Detection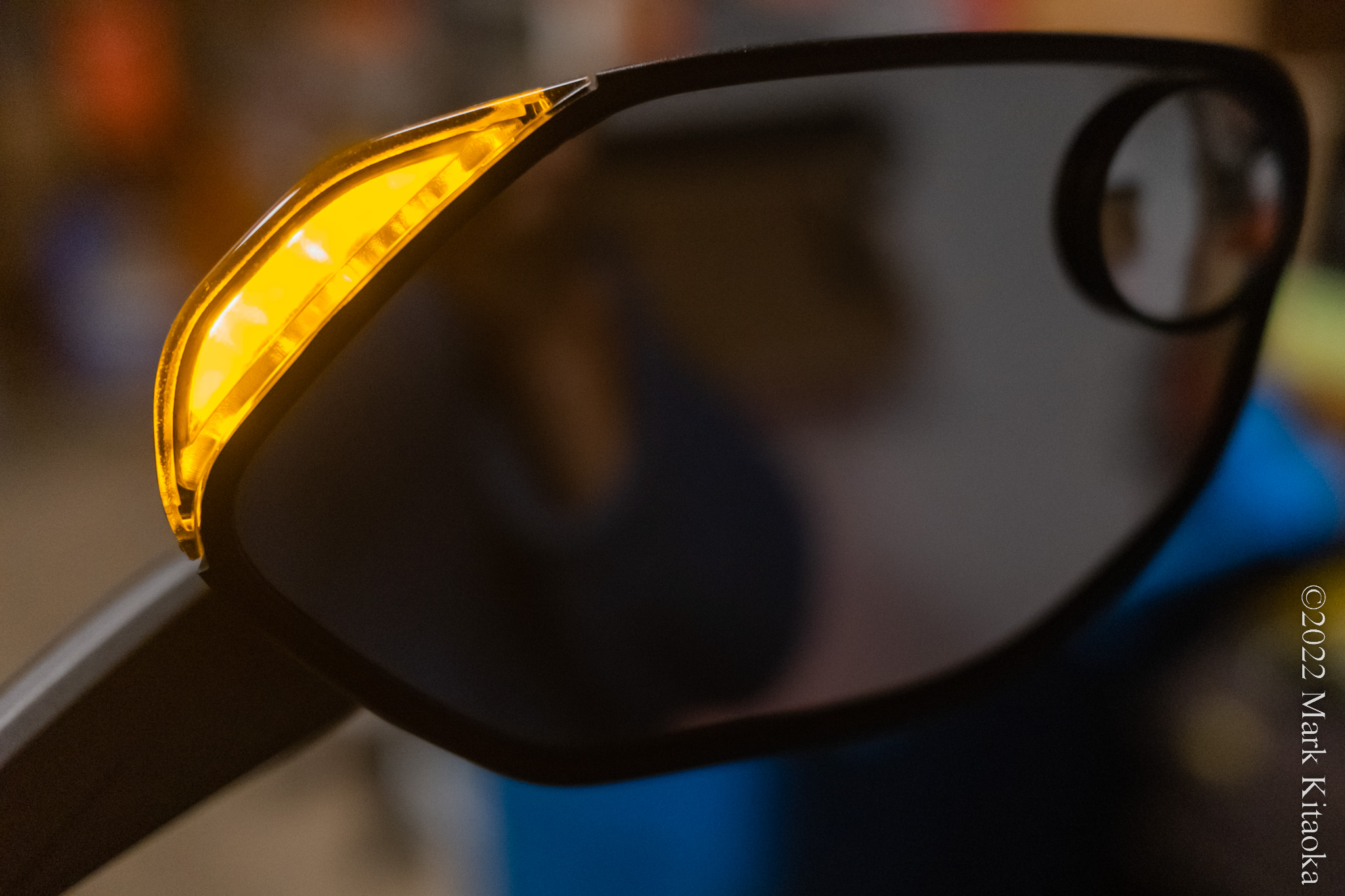 The rear radar is responsible for the Blind Spot Detection (BSD) warning lights which are located on each rearview mirror. Prior to BSD, I have always installed very small convex blind spot mirrors which you can see in this photo, on all of my vehicles, motorcycles as well as cars. I adjust my mirrors so that the convex mirrors cover the blind spots on my bike. I immediately installed those mirrors on the MS when I got her home, habit. And yes, I still head-check before changing lanes, even with the BSD and small mirrors. BUT…
What I discovered is the BSD work VERY WELL. In those cases where a vehicle is approaching VERY FAST before entering my blind spot on either side, the radar takes that into consideration and alerts me that the vehicle presents a threat. Of course, a head check 'can' alert me to this as well, but having the extra warning is welcome. And at night, especially if it is raining, my mirrors, including the small convex mirrors have water drops on them which distorts my rearward vision in the mirrors. Head check of course, but the yellow warning lights in those cases are a godsend, truly. ESPECIALLY IN THOSE INSTANCES WHERE AHOLES are accelerating and weaving between lanes to pass everyone. The warning lights are bright in the daytime and can be adjusted to lower levels of illumination in the Setting Menu.
And the mirrors themselves are good. They buzz some at certain speeds which I believe has to do with engine RPM. I've arranged both in such a manner that allows great rearward visibility in addition to side visibility. After mounting Double Take Adventure mirrors on the bike, I noticed that no vibration in the mirrors exist.  I may attempt to fabricate some RAM mount ends on the MS's mirrors to eliminate any buzz. I'm old enough to recall cars without seat belts, airbags, child seat laws, collapsable steering wheels, etc. BSD will eventually become OEM required, much like ABS simply because I feel it prevents accidents and deaths on motorcycles. Enough said.
MIN rear preload
I have talked about the MIN preload feature before but want to reiterate that for someone who shares my inseam length of 30" or less, the MIN feature is welcomed. It really does help quite a bit in controlling the bike in low-speed situations like parking. One tip, deactivate the MIN feature before using the center stand. Makes my life much easier doing so setting the preload to Rider/Luggage/Passenger. Raises the rear shock making using the center stand much easier.
Heated grips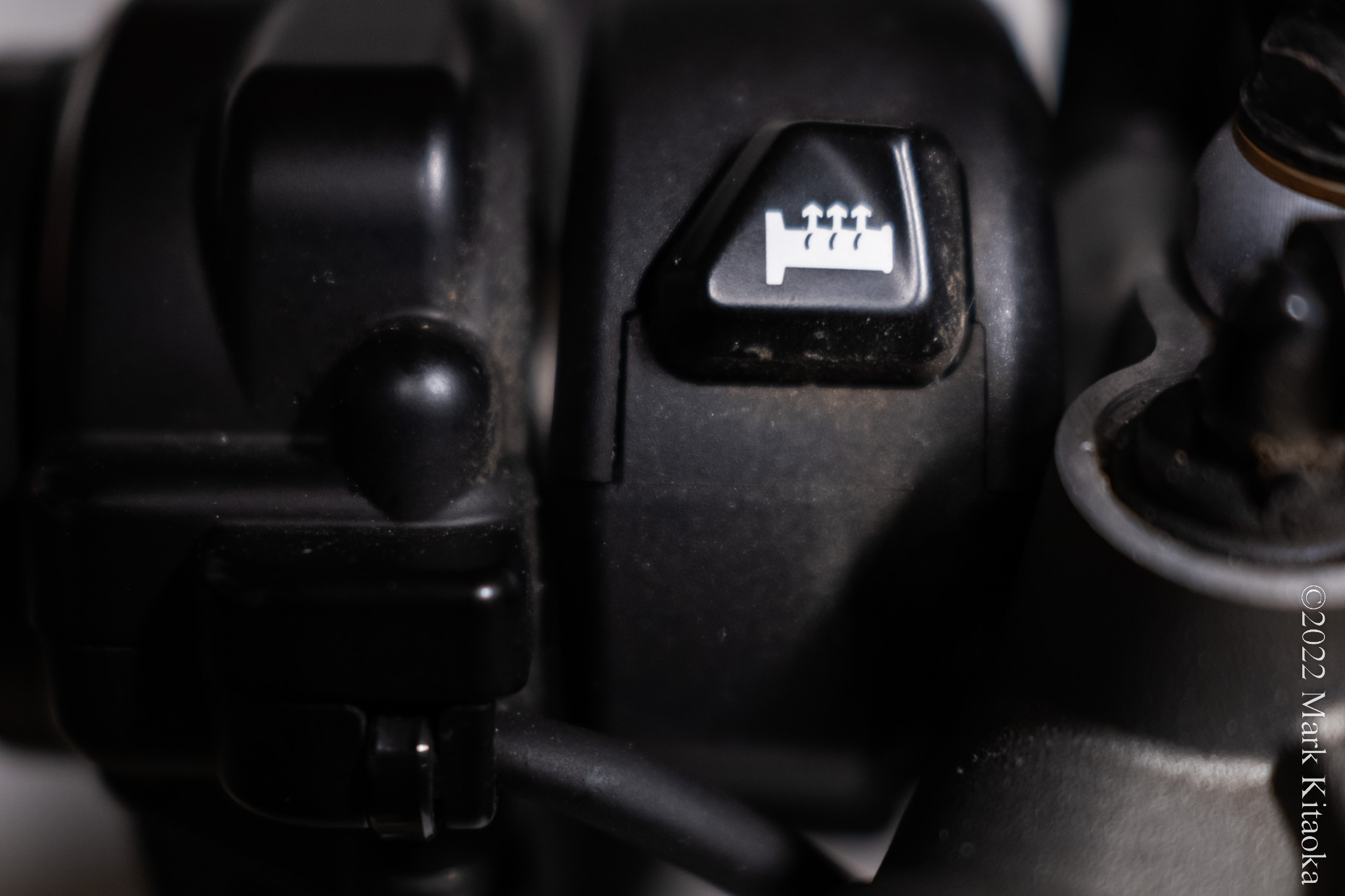 In the past I have installed heated grips on all of my street bikes. The type that wrap around the handlebars so that I can choose what grips I prefer. My MS came with the software update that allows control of the heated grips by simply using the button located on the forward side of the right hand switch gear. I believe that in earlier models of the MS you needed to press that button and then adjust the heat levels through the menu. Ducati has done away with that in a firmware update at the start of 2022.
With each press of the heat grip button, it cycles through the three increasing levels of heat; 1, 2, 3, and finally off. The grip icon located on the dash in the lower right hand corner displays the current heat level.
Heated Seat(s)
I have never had a bike with a heated seat. I do have them in my car and really appreciate the feature. In order to activate this feature you must select the Heated Seat choice in the Setting Menu as shown above. There are two levels, Low and High. The passenger seat is also heated and the passenger can control the level of heat with a three way switch located at the front of the seat. The heat icons appear just above the grip icons in the lower right and corner of the dash when they are active along with the heat level of each seat. All of my heat settings appear in grey since the bike was not actually running. When it is, they appear in green.
My experience with the heated seat is it keeps my core temperature higher than without it being active. This means that the garments I wear on my upper body can be reduced, which allows more freedom of movement. And my lower body seldom needs thermals when using the heated seat. I did purchase the Ducati lower seat (shown in this shot), and when placed in the low seat height position on the bike, I can damn near flat foot the MS with both feet. Very cool that the low seat has this stitching on it too. It's just as comfortable as the OEM version and heats just as well.
Keyless Ignition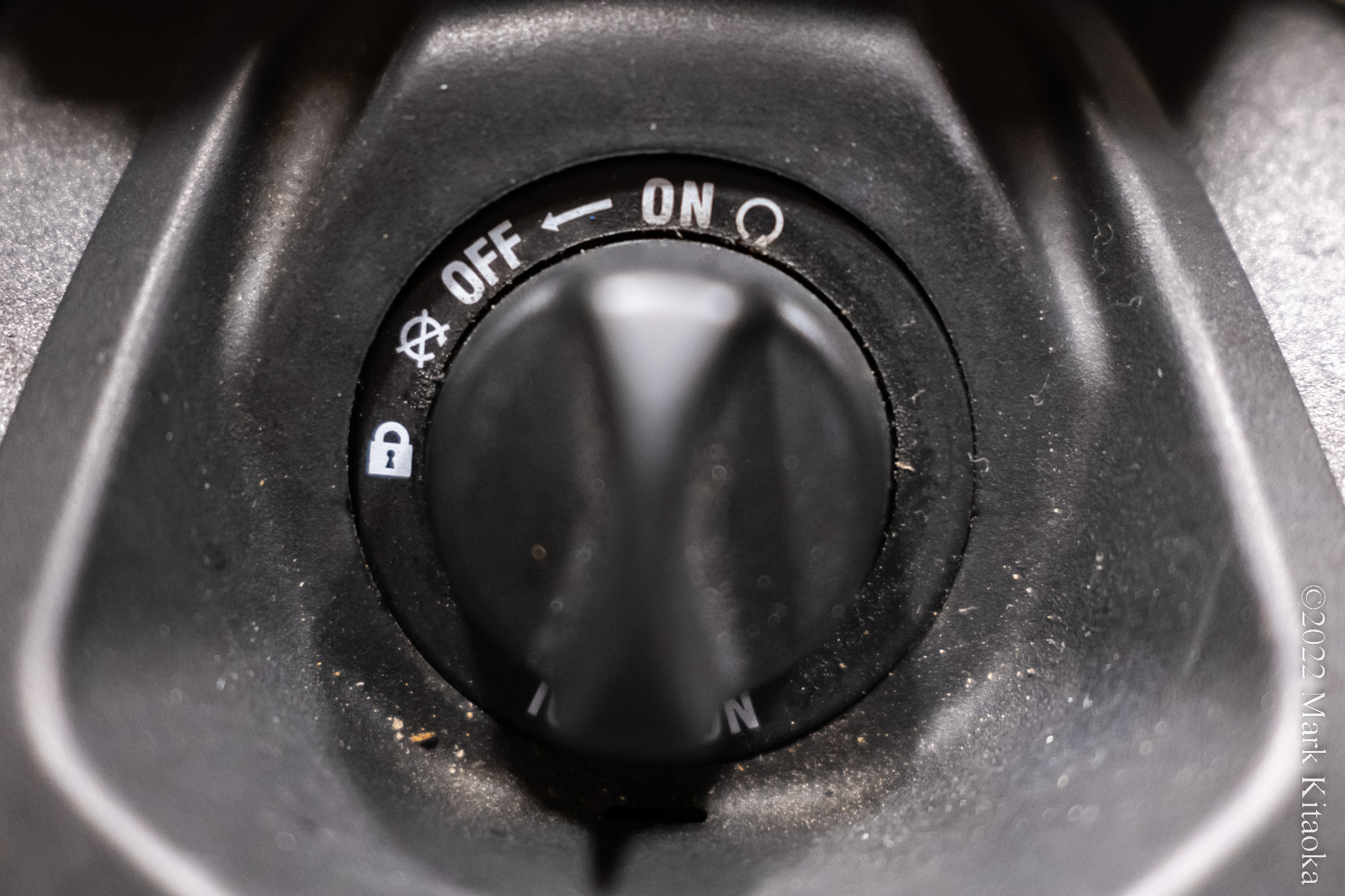 When I was considering the purchase of the Energica Experia, I knew I wanted it with keyless ignition. Only ONCE in my past have I lost my bike key and once was enough. Sure if I had planned better I would have carried a spare key with me, but shoulda, woulda, coulda doesn't mean squat when you just DIDN'T. So having keyless on the MS is wonderful and I didn't expect the additional features.
If I 'forget' my FOB, or I've misplaced it somewhere I can use a PIN to start the bike. The PIN is set by the owner and can be changed simply by entering the Settings Menu and entering the current PIN and then the new one if so desired. Forget your PIN, lost your FOB, and the Red backup key? Call your mother and yell at her for raising an idiot. We can play what if's all day. And yes you still need the key attached to the FOB to unlock your gas filler cap and panniers.
I had one of my Honda 600 F4's where some dirtbag tried to steal it. Used a hammer and flat end screwdriver to break my ignition which in turn allowed the scumbucket to try to roll the bike away. Disk lock stopped him. Anyway, the MS uses an electronic lock to secure the pin into the triple clamp. No ignition lock to break AND the lock works with the steering at full lock to the left OR RIGHT. Why I find this so great is there have been times when I wanted to fork lock my prior bikes and because of the angle of the pavement, turning to full lock to the left would make the bike too unstable on the kickstand. To my knowledge, I believe that most bikes allow fork locks only to the left. But hey, I'm a dinosaur so I may be all wet.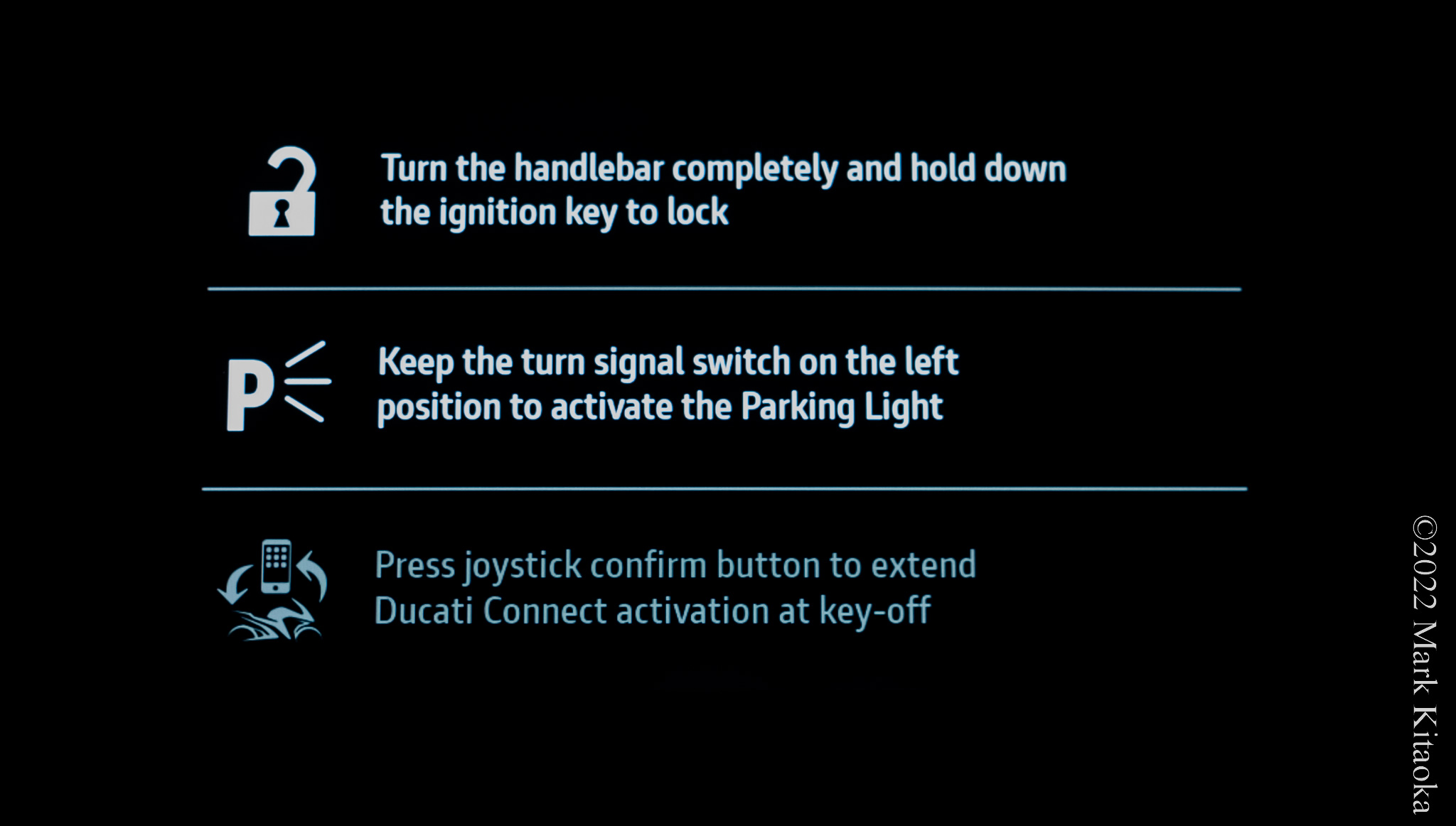 And of course one of the main reasons I love keyless is I can leave the key in my pocket. When I need gas or to unlock the panniers, I then have to do the non-Princess thing and dip into my pocket for the key. So I had a key cut that I keep in a convenient place when I get gas.
I don't use the Parking Light feature or the Ducati Connect program, so no comment on those.
USB Charging sockets
The MS has two DIN 12v sockets, one located on the right side of the fairing and the other placed under the seat. There is a third USB charging port in the small pocket designed to hold a cell phone. It is too small to hold my cell phone, a Samsung S10 Plus and since the pocket is not ventilated it is not good for electronic devices. I use mine to store a small bike tool and a USB charging device when I wish to use the front 12v socket.
12v socket under the passenger seat.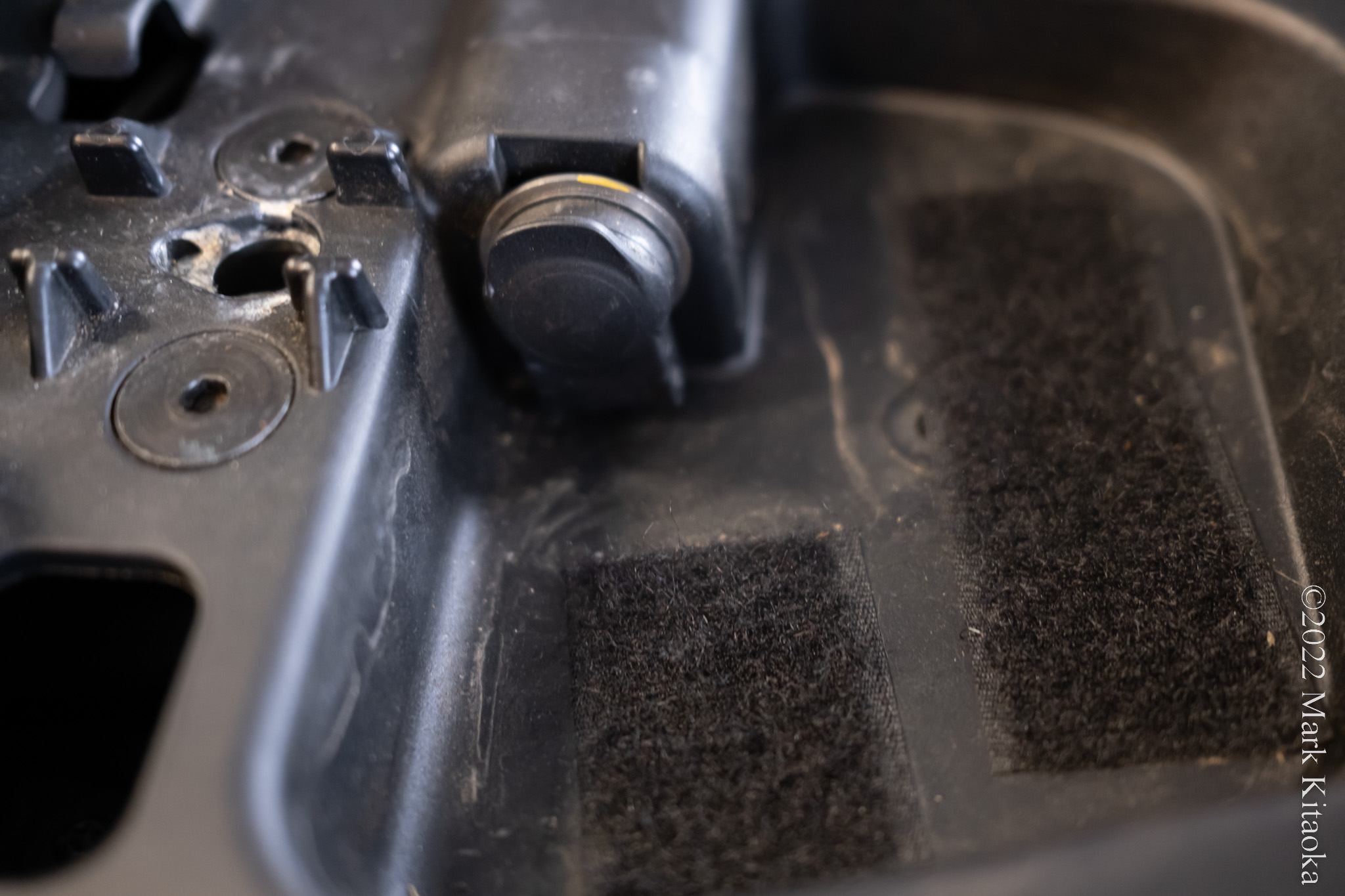 Tire repair kit
Also located under the passenger seat, Ducati includes a tire repair kit and inflation canisters. A chain adjustment guide is also included in that kit.
The chain adjustment guide is inserted on the lower portion of the swingarm's left side. The etched lines in the guide are meant to line up with the chain's pins as the proper amount of chain tension with the bike on its sidestand. It is all explained in the owner's manual.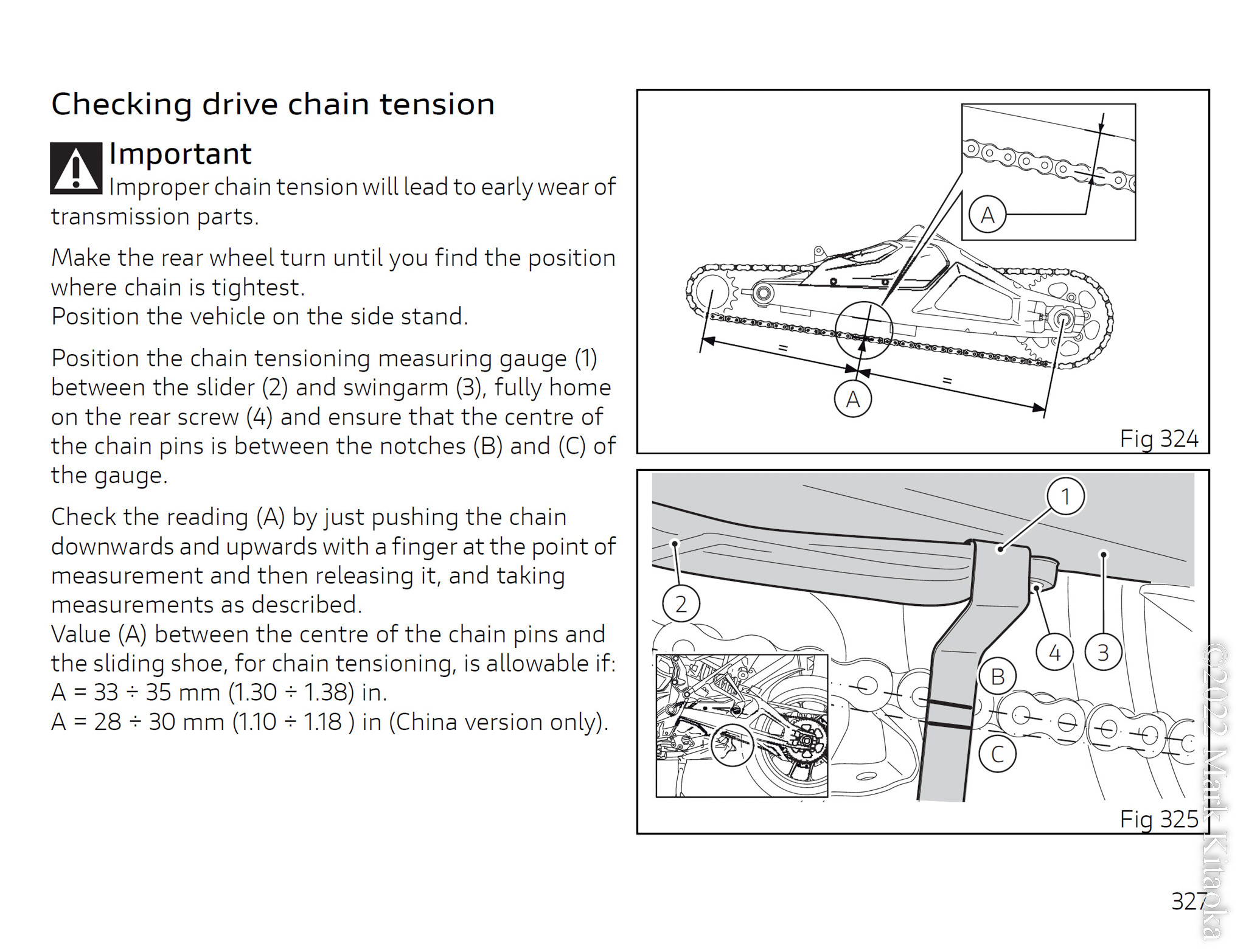 My chain was slightly loose according to the guide.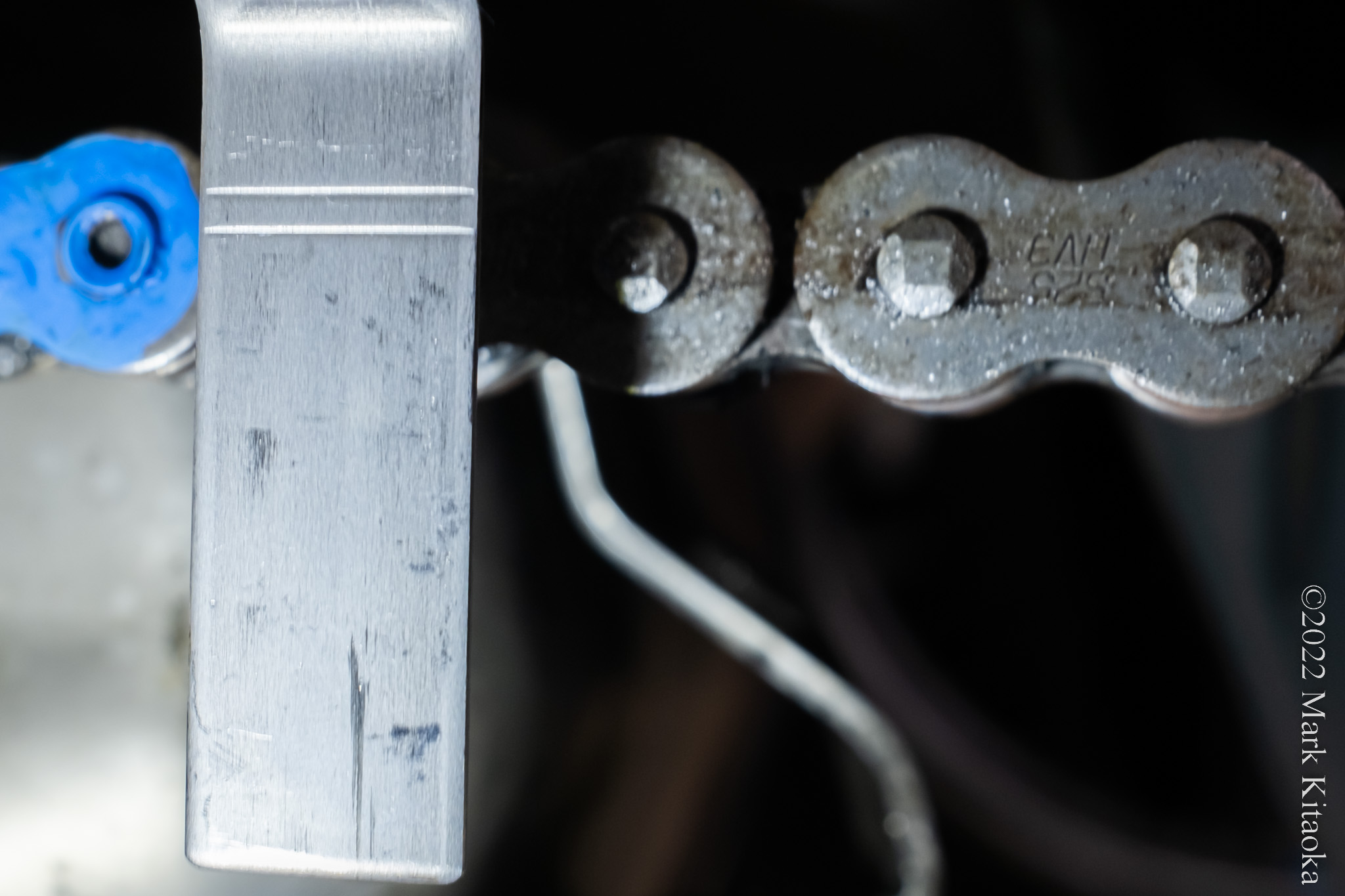 After adjusting the chain tension the pins line up with the guidelines. The Blue link is me painting the master link. Old habit.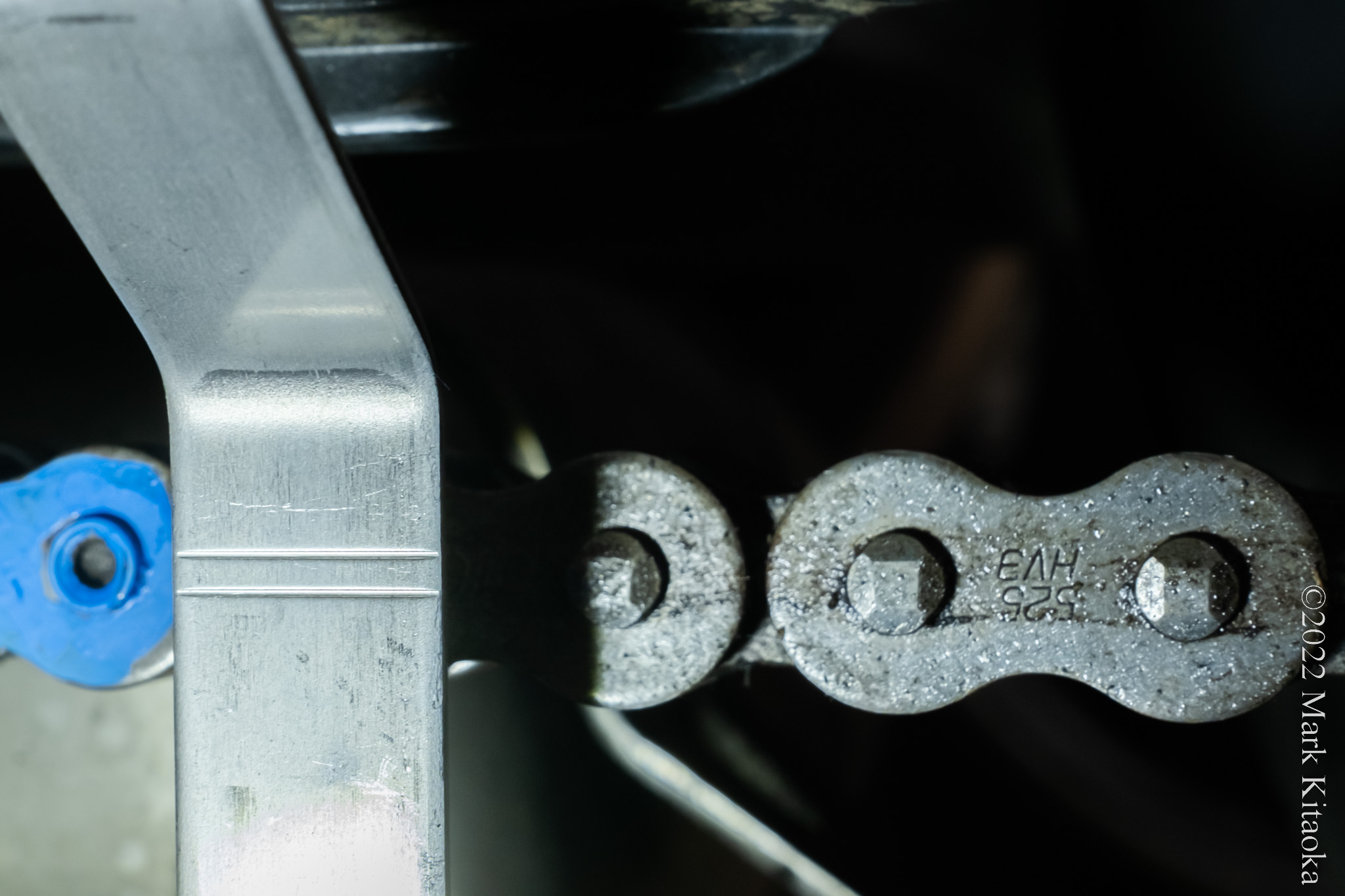 Dash angle adjustment dial
The dash screen is coated with a material that really reduces glare. It's a great feature. And there is a small wheel located under the screen that allows you to adjust the angle based on your preference.
Rear seat fore/aft adjustment wheel
The rider seat is adjustable for two heights based on the channels the seat supports are inserted into. The passenger seat is adjustable for fore/aft placement based on the passenger's preference. Simply rotating the small wheel that holds the passenger seat locking pin allows you to mount the seat more forward or rearward.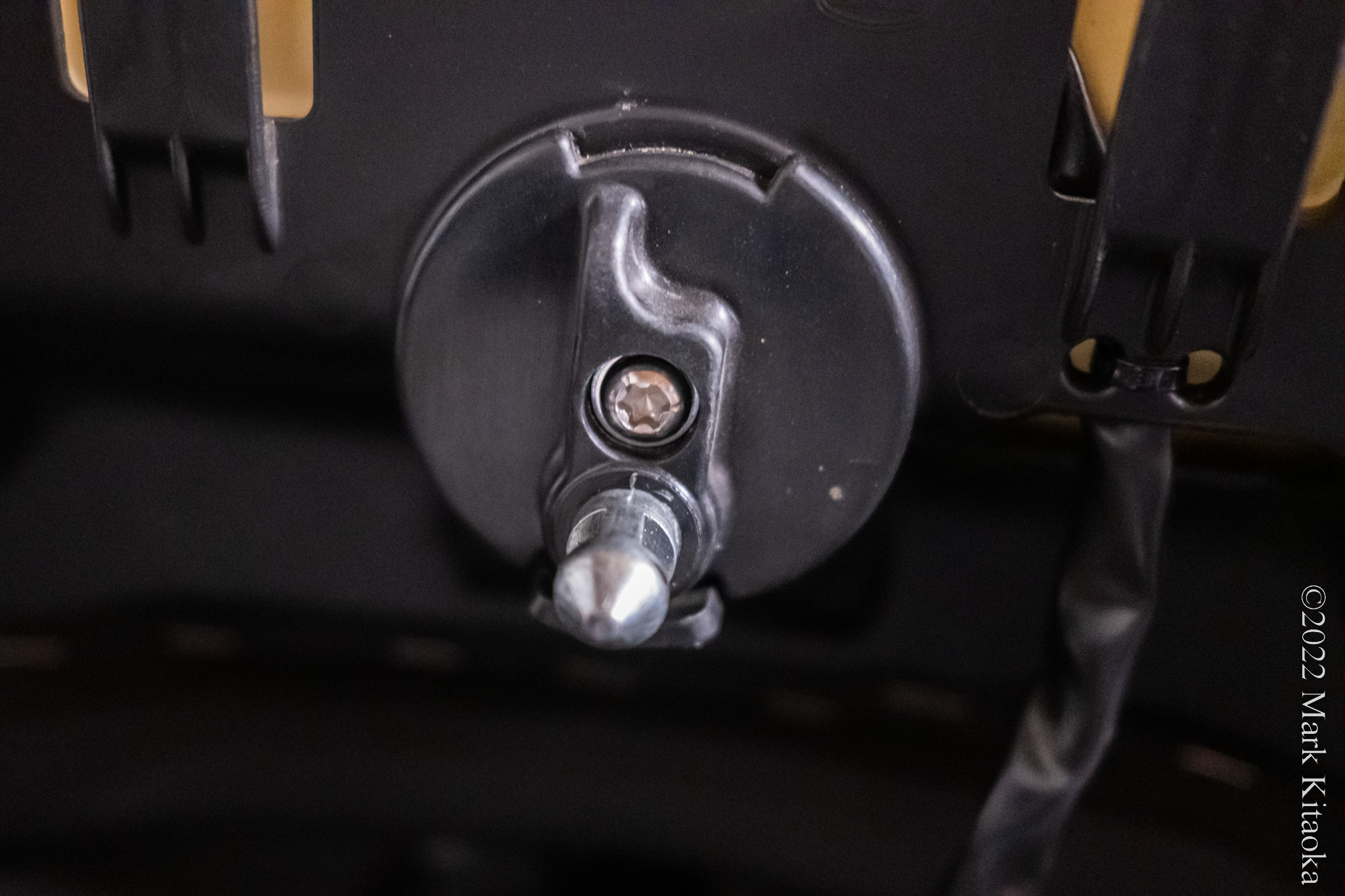 Right angle tire inflation valves
This is a small thing, but after YEARS of owning motorcycles, I can fully appreciate having the  right angle tire inflation valves over straight ones. I only wish the MS included tire pressure monitors on a bike at this price point. I've installed my own which is what you see in this image.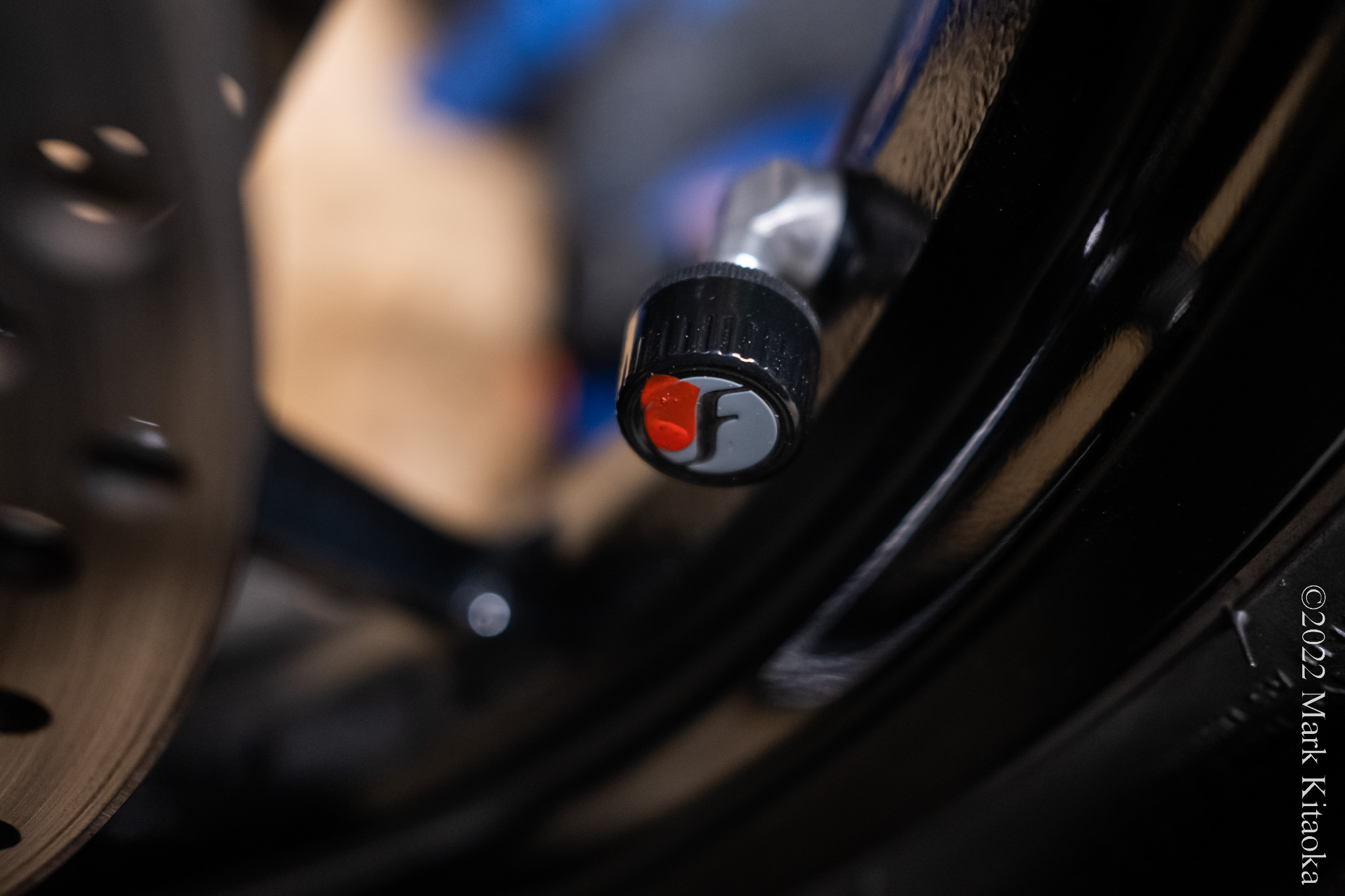 Controls
I have found the switchgear well manufactured and easy to use. Sure it took me a few days to mentally adjust to so many buttons on the switchgear. But now, after only a few months they have become second nature to me. I really appreciate that they are well illuminated too. Not just some ring of light around each button, but their actual icons or words are illuminated. Well done Ducati!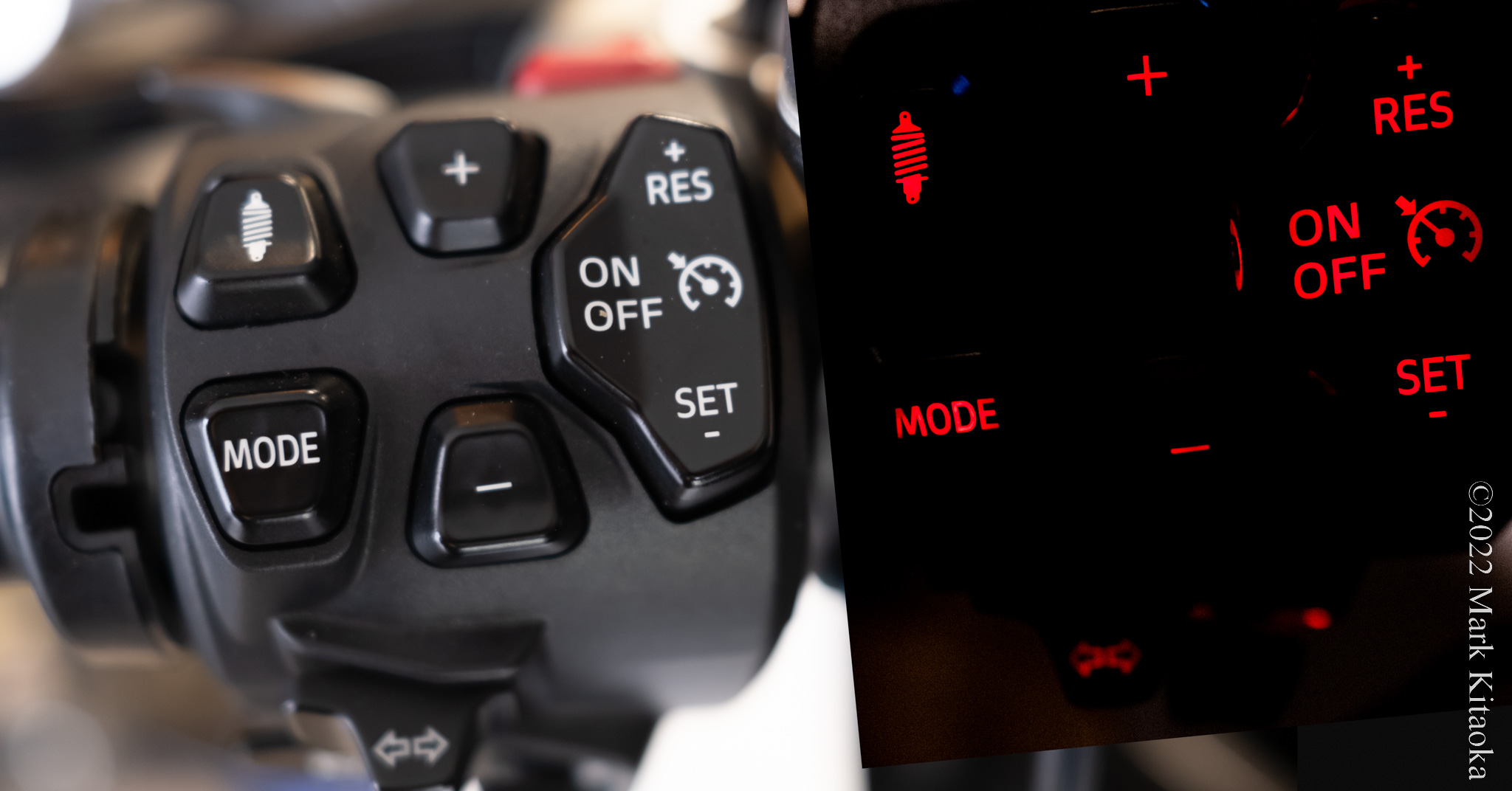 I also appreciate that both the clutch and brake levers are adjustable for reach. I have mentioned this in the Brake section, but wanted to say that the clutch side also includes that feature.
Usage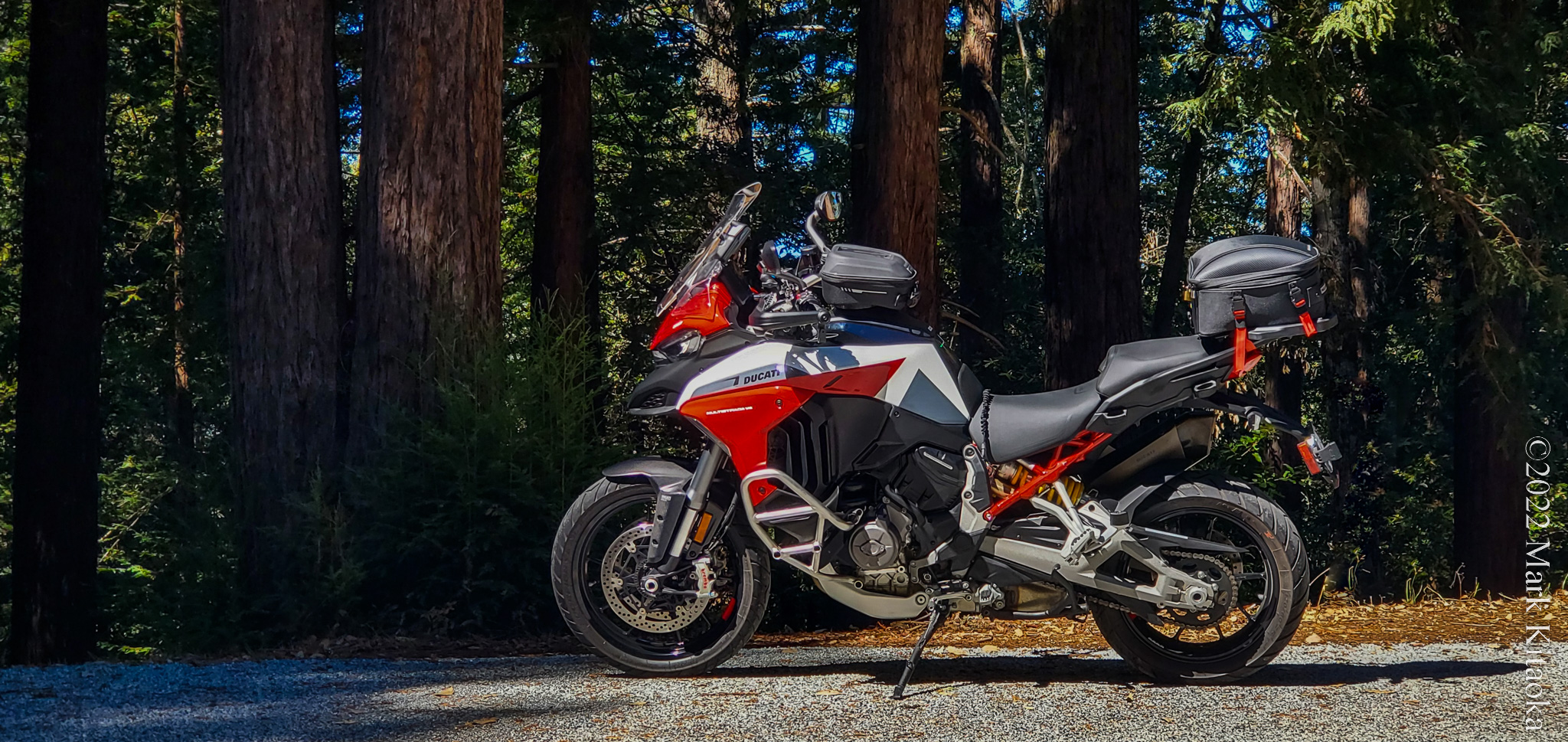 In one of my statements toward the end of the Power section, I mention that my reasons for buying this bike were simply to use it in as many situations where and how I ride as possible. I also don't know what "Adventure Bike" means. OK, so the motorcycle media and marketing departments use that term to 'classify' a genre of motorcycles. I found the bike that is just right for this time in my life, for the type of riding I do and plan to do as well as my skill level. So if Adventure Bike, ADV is what the MSV4S is what it's called, OK but that didn't influence my buying decision.
The design of the MSV4S compares to an MMA fighter in a tuxedo while holding the hand of his favorite six year old niece. Strong AF, but gentle at the same time.
In addition, I don't have the MS to compare to any other bike other than my RC51 and Zero DSR and bikes I've owned in the past. None of them are really that comparable to this one. And no I didn't consider the KTM or BMW. Like anything else in life, they just didn't interest me. Don't like the looks, much like if someone decides to talk or not talk to me based on how I look. Fair? No, but that's life. Looks are so subjective. One person's definition of someone 'hot' may be ugly to someone else. I LOVE the look of the MS, the lines, the livery and the aggressive stance of the bike.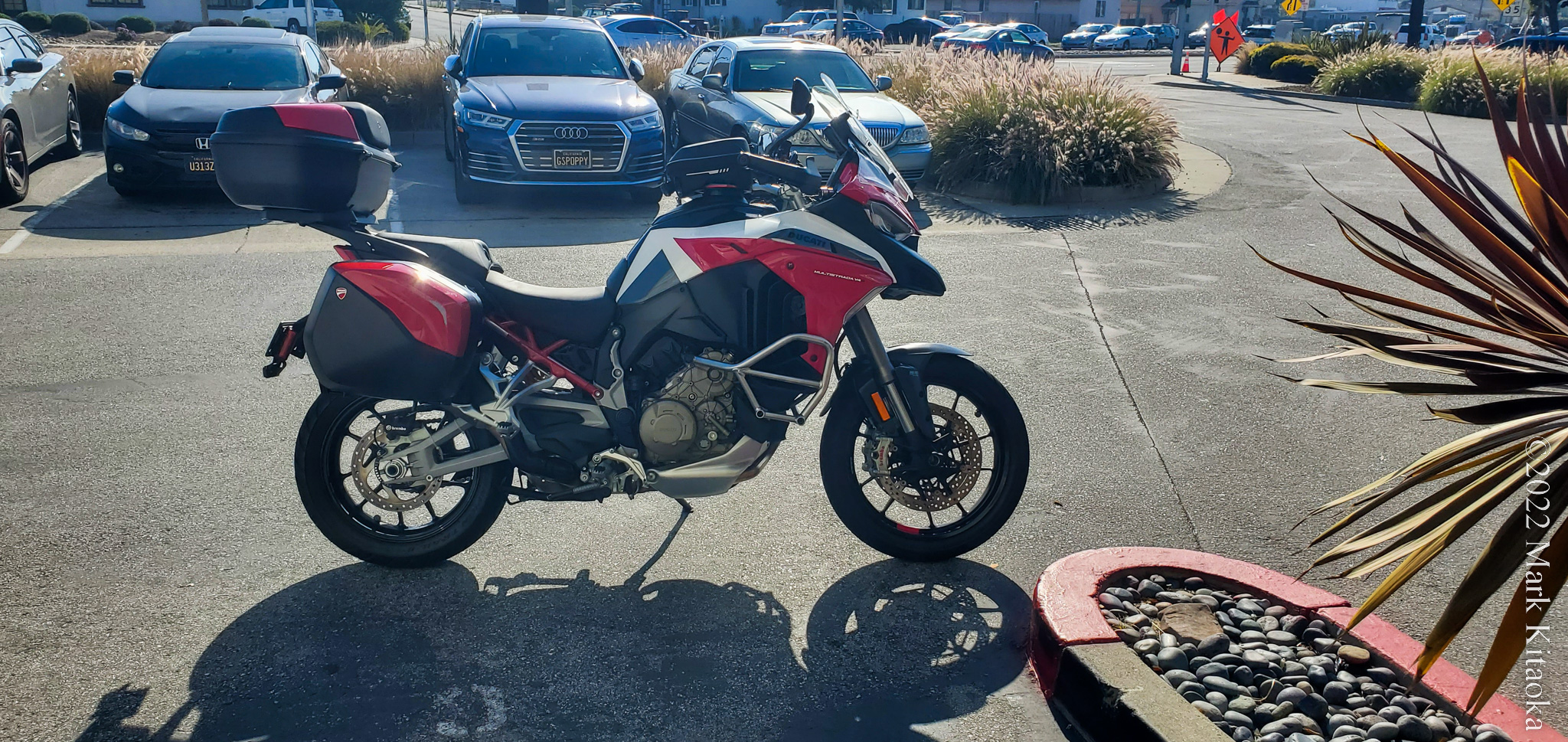 The ways I plan to use the bike are for weekday trips up or down the coast, to some of my favorite former street riding spots along highways 35, 84, and 9. Ride up to Oroville along Feather River Canyon, up to Tomales Bay, etc. Longer trips to LA, San Diego, or Barstow. And yes to ride in the desert areas too. A nice trip from California to Moab and back. No not enduro riding, since I never did that before. The whole usage thing is so individual. I like the option of the ability to go off-road, just to explore a bit. Much like those who buy SUVs with 4WD, the majority of the time for most owners, it's not used much, but it's nice to know it's there if one decides to head up to the snow or do a bit of off-roading.
Some may take this bike on an around-the-world tour or ride in areas shown in marketing or press releases. That's great, I just know my skill and desire level for riding and in that context, it's just right. I will primarily stay on the pavement, which is what I learned owning my DSR. Yes, I went off the road and it was a blast. But on the pavement is where I lived 90% of that time, even though I 'thought' I'd be off-road more when I purchased the DSR. Had nothing to do with charging either. Just the reality of my riding desires during ownership.
There are certainly those who contend that they will/would use the bike properly which is fine. I didn't buy my bike for others, just for what I wished to do. You know, proper for me.
I did discover that on any off-road excursions where I was standing on the pegs for more than five minutes, my feet began to ache. The pegs are pretty thin front to back so I replaced them with wider ones and they also allow me to adjust the angle and height of the pegs. Now standing is much more comfortable, even for extended periods of time.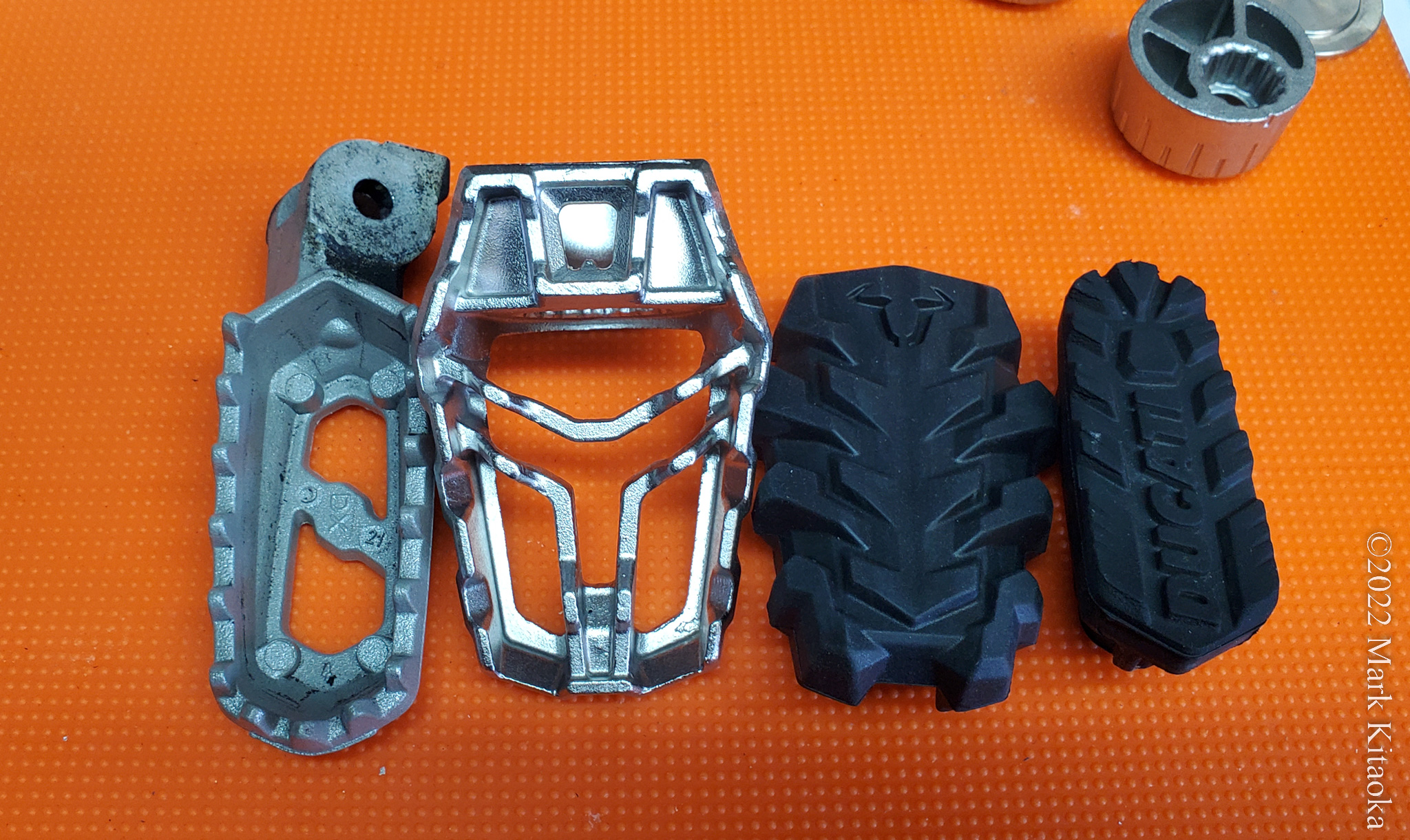 My first overnight trip was down to Monterey, CA from where I live. I was a bit nervous since I had never left any bike overnight outside of my garage other than when our team went bike camping. And hell our bikes were right outside of our tents. So I bought a cover, made sure to lock the bike, and found a great spot right in front of the hotel.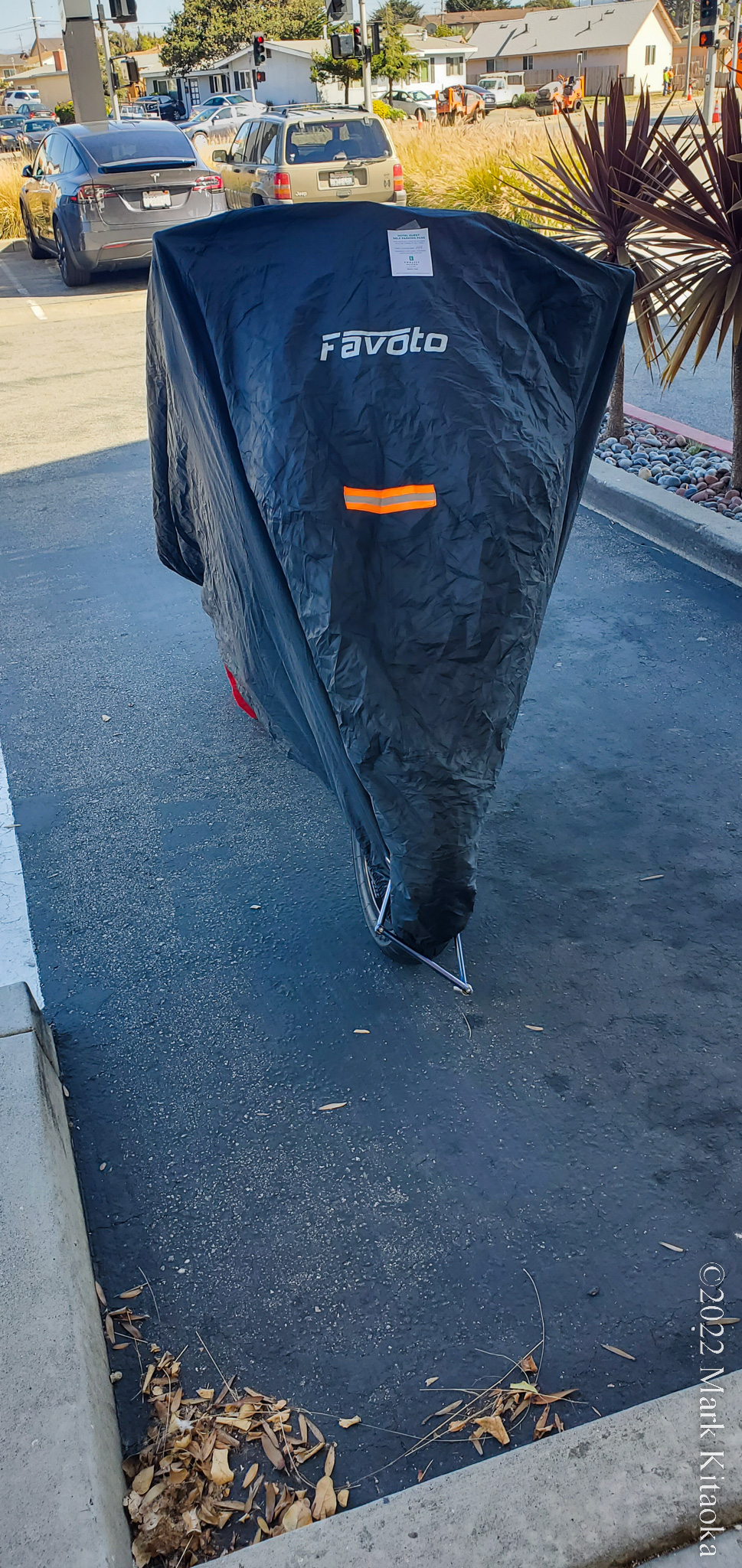 At the beginning of this piece, I mentioned how I had done three tips overs in less than one mile. It was at the beginning of my trip to Monterey that this happened.
Raced my entire life, motocross, Barstow to Vegas twice, and finally a track instructor for Keigwin's at the Track, the OG group. Anyway, I've never owned a bike this heavy and never used luggage. I was on 92 heading west and it was bumper-to-bumper traffic. Was fine until the first downhill right-hander the turn cambers to the right downward, AKA a banked turn. As I tried to lean the bike uphill I stumbled and the bike fell to the right, so a tip-over. Two men stopped to help me pick up the bike. I wear a Helite vest and it activated. So I changed the cartridge and continued on. When I remembered I didn't clip in the Helite tether I pulled over about ¼ mile later and when I went to put my right foot down I slipped on the gravel; tip over number two. The vest deployed again. Again two stopped to help me pick up the bike. But this is when I got really nervous….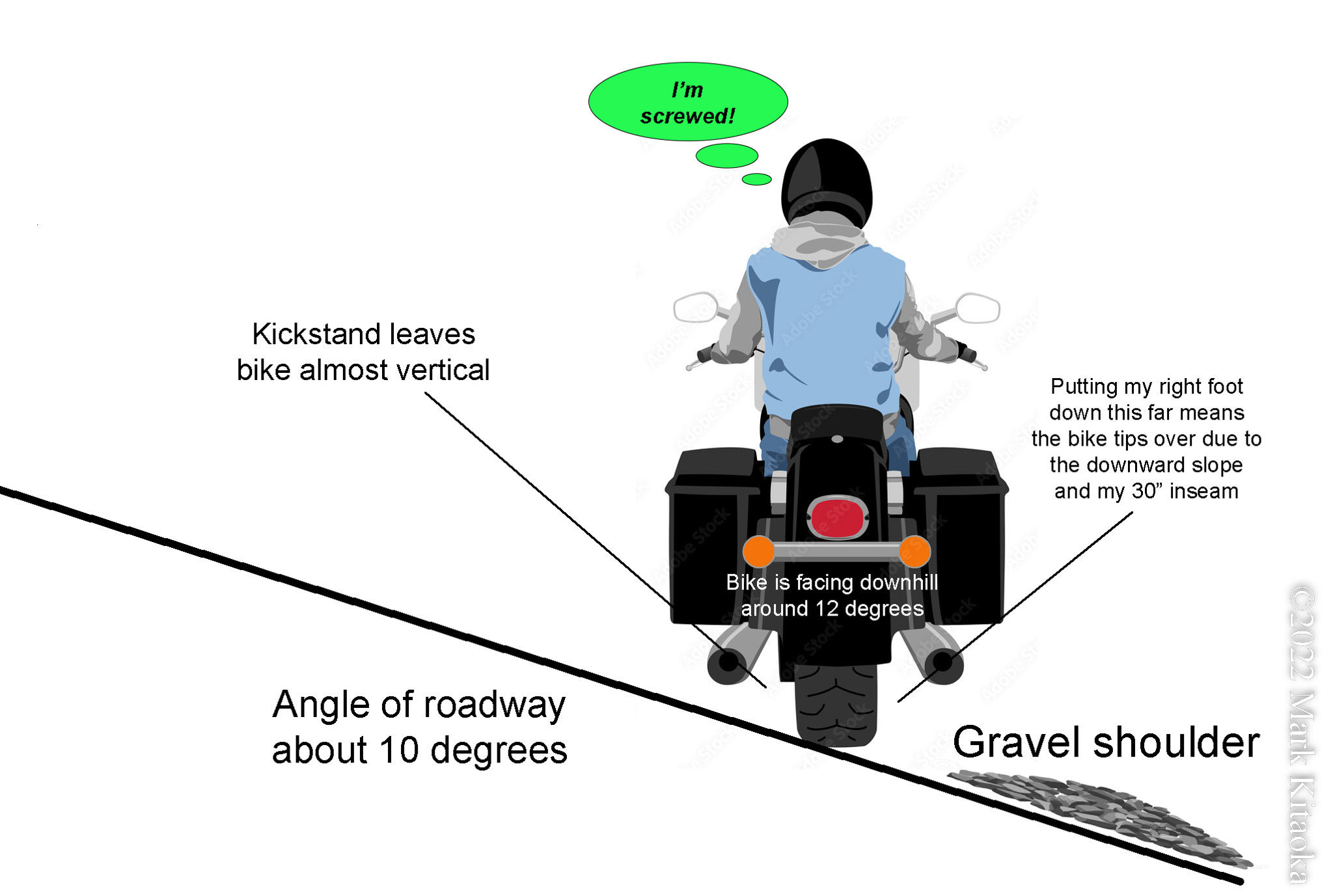 The bike on the kickstand was almost vertical because of the slope. The slope to the right meant that I could NOT put my right foot down on the ground without tipping the bike over because it was too far from my inseam reach. AND the bike was pointing downhill. I literally sat there for 20 minutes trying to figure out WTF to do. Thought about calling AAA to just have a guy hold the bike from the back so I could put it in gear and take off. But instead, I did what I call a cowboy start. Put the bike in gear, stood next to the bike on the left, holding the front brake on, lifted the side stand, put my left foot on the left peg and let out the clutch. Weaved into traffic and swung my leg over. Was on my way until….
 I noticed that the right-hand mirror had pivoted completely around, so when I got to a flat area, put the kickstand down, but NOT all the way so when I dismounted guess what; it fell over on the left. An older woman and gentleman stopped to help me pick up the bike. So three tip-overs in less than one mile! No, I was not embarrassed and I was not pissed about the scars now on Joy, my name for the bike since she brings me joy. It was at that time I discovered that the mirror mounts were not properly installed since the reverse thread was on the right-hand side; meaning it loosens clockwise. I carry tools with me so that's when I changed the mounts, albeit later on Hwy 1 where I stopped at a restaurant parking lot to gather myself after three fucking tip-overs in less than a mile!
I thought about just turning around and going home for two seconds. But then I remembered how my dad brought me up…not to be a pussy and give up. Here's what I learned:
I had the suspension set to "Auto Level" and should have placed it in MIN mode. Never having ridden the bike with luggage taught me to 'practice' before loading down my new bike.

On my way back two days later I set the preload to Rider and enabled MIN even though I was loaded down with both panniers and top box totalling about 60 pounds of weight for all three. I was careful to balance the weight as evenly as possible. Because Google Maps directed me to take back roads to avoid a traffic accident approaching Santa Cruz, the road was just like 92, with lots of stop-and-go traffic and cambered turns in hilly terrain. But this time I could touch both feet on the ground when I had to stop. No issues and the VHC parking brake is wonderful in those instances too when I was loaded down with luggage in hilly stop-and-go cambered terrain.

When I got back I purchased an Eastbound Motorcycle Hoist MotoWinch LC2500. There are other designs on the market, but I found this one best fits my needs for a variety of reasons. If my editor wants me to review it, I'll be happy to do so. Had no one been able to help me get the bike up or I was too injured to lift the bike I would have been totally hosed. Yes, I've watched the videos about how to lift a heavy bike, but wanted something small and effective for the next time my bike falls over. I prefer to ride alone and will occasionally venture into remote off-road areas so this is a MUST for me. And yes I keep this in my topbox. Storing this in either side pannier means if the bike falls over on 'that side' (

Murphy's Law

) I'm hosed and stupid for not thinking ahead.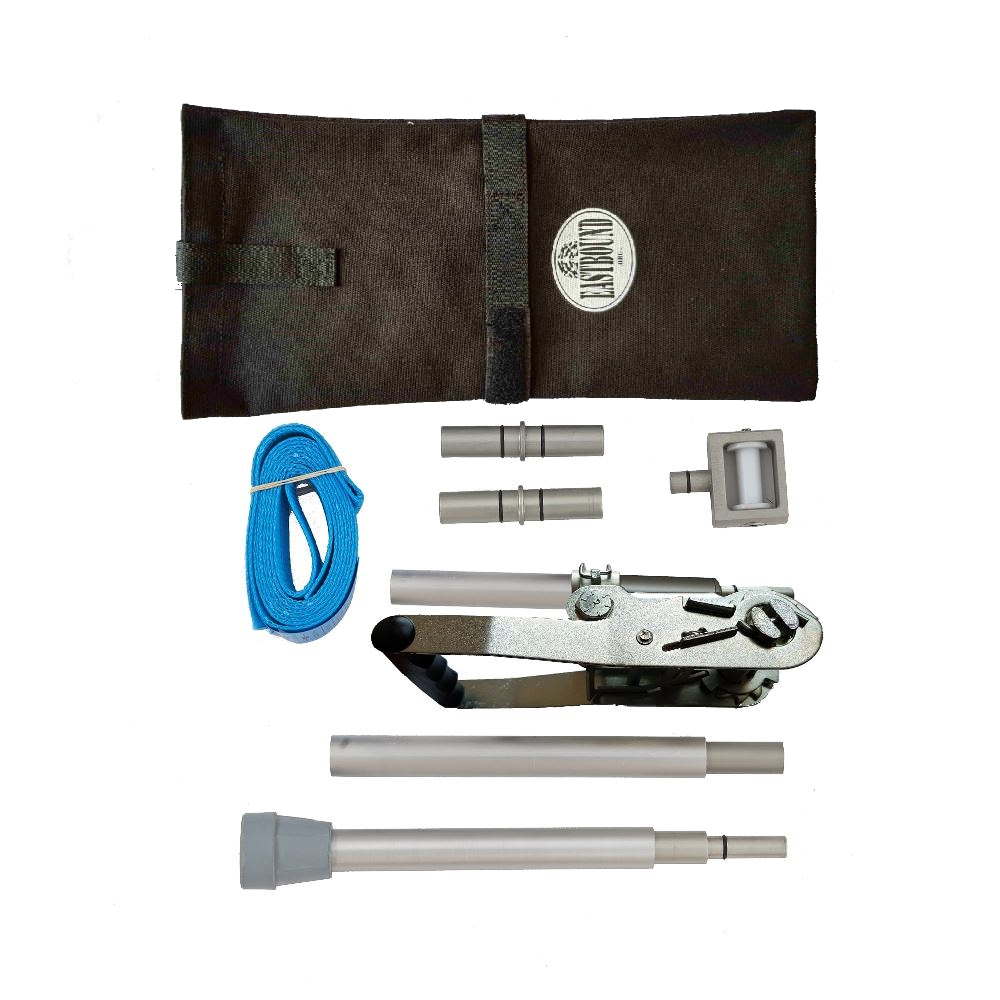 Why tell you all of this? In the hopes that you may learn from my story and experience. My pals say they'd never admit something like this. Am I embarrassed? Phuck no I'm not. I figured the sh!t out and kept going…and falling over! I'd be damn embarrassed if I had given up and gone home rather than continue on to Monterey. Fall down seven, get up eight, a famous Japanese saying. At least it was only three….
Luggage
I have never owned a bike that came with luggage. I find the attachment method well done without the use of metal racks. For times when I plan to do quite a bit of off-road camping, I will purchase some soft luggage for my MS. Just my personal preference, but for long trips where I don't plan to camp, the OEM luggage will work well. The two panniers come with the bike I bought. The top box was extra. Ducati supplies a keyway that matches the others in the event a top box is purchased.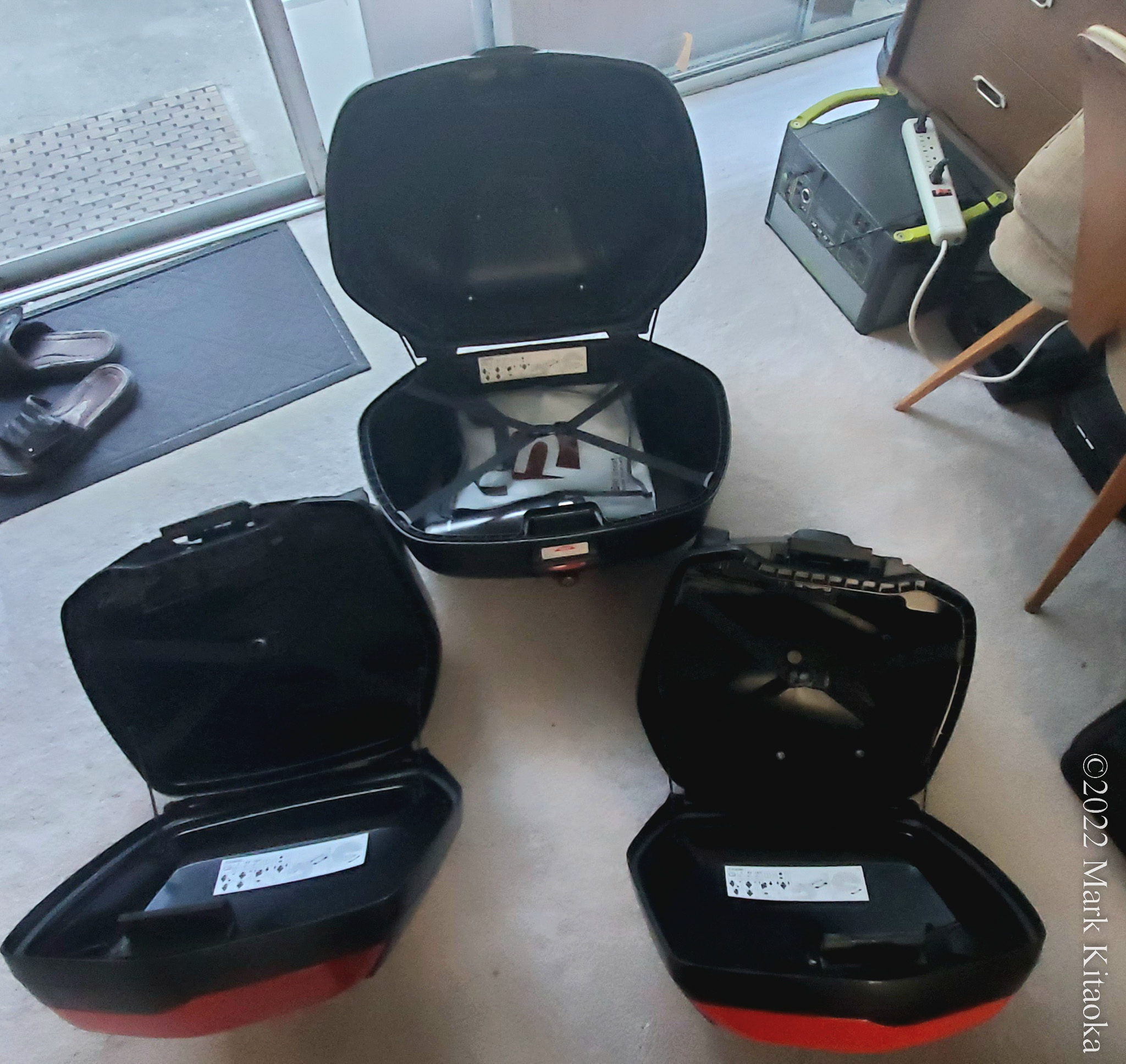 Here I'm using my luggage on my first trip. Stayed in a hotel for a couple of nights so I decided to use one of their carts to haul my stuff from my room. Age made me lazy…and smart.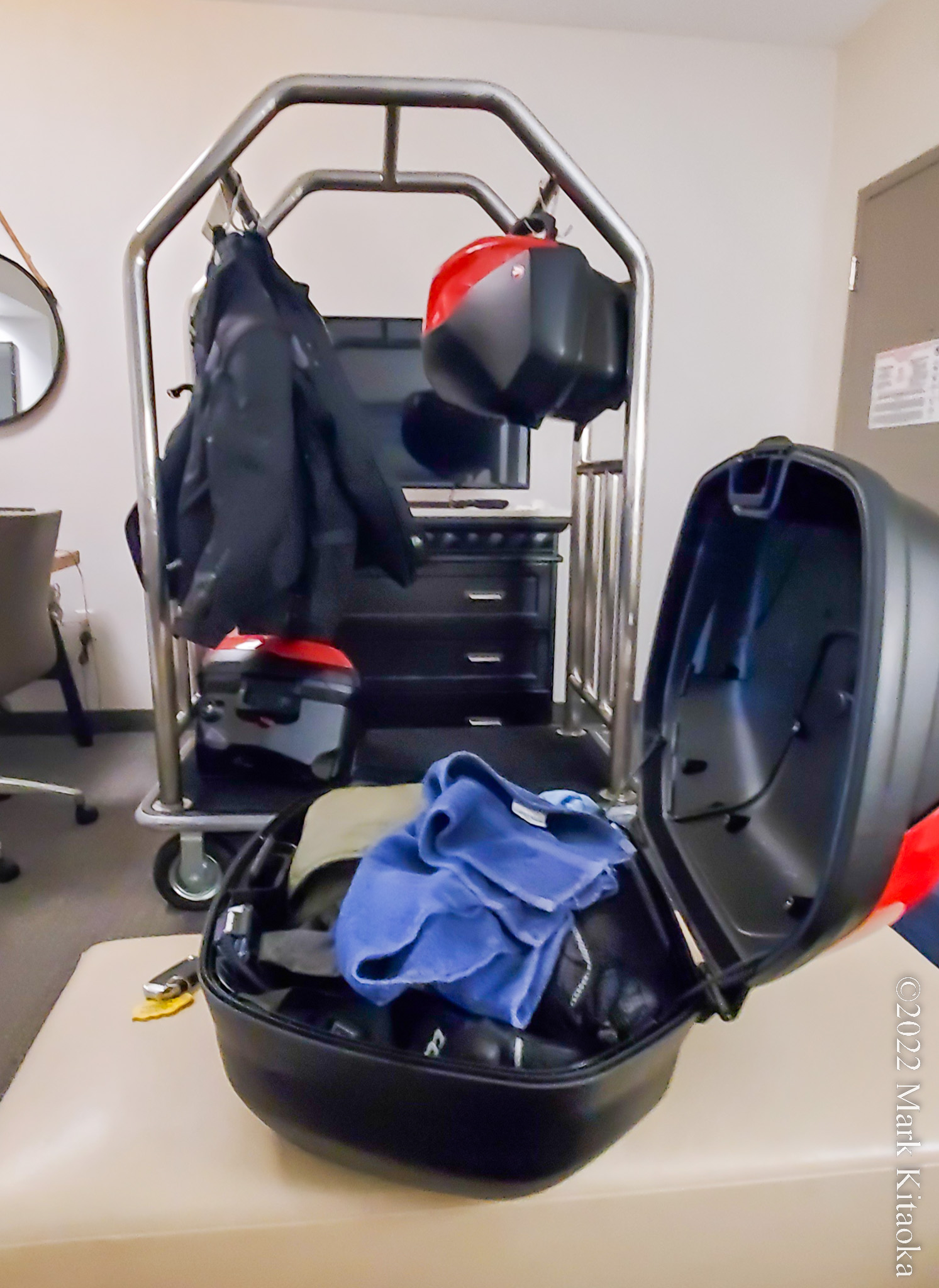 I opted to purchase a Givi small tank bag that attaches to a ring around the fuel filler. Quick on and off which holds just some little items like my gloves and a water bottle. This one allows me to plug a power cord into the MS power socket and then has a three-outlet USB hub inside the tank bag. I use it to charge my camera batteries or portable air compressor.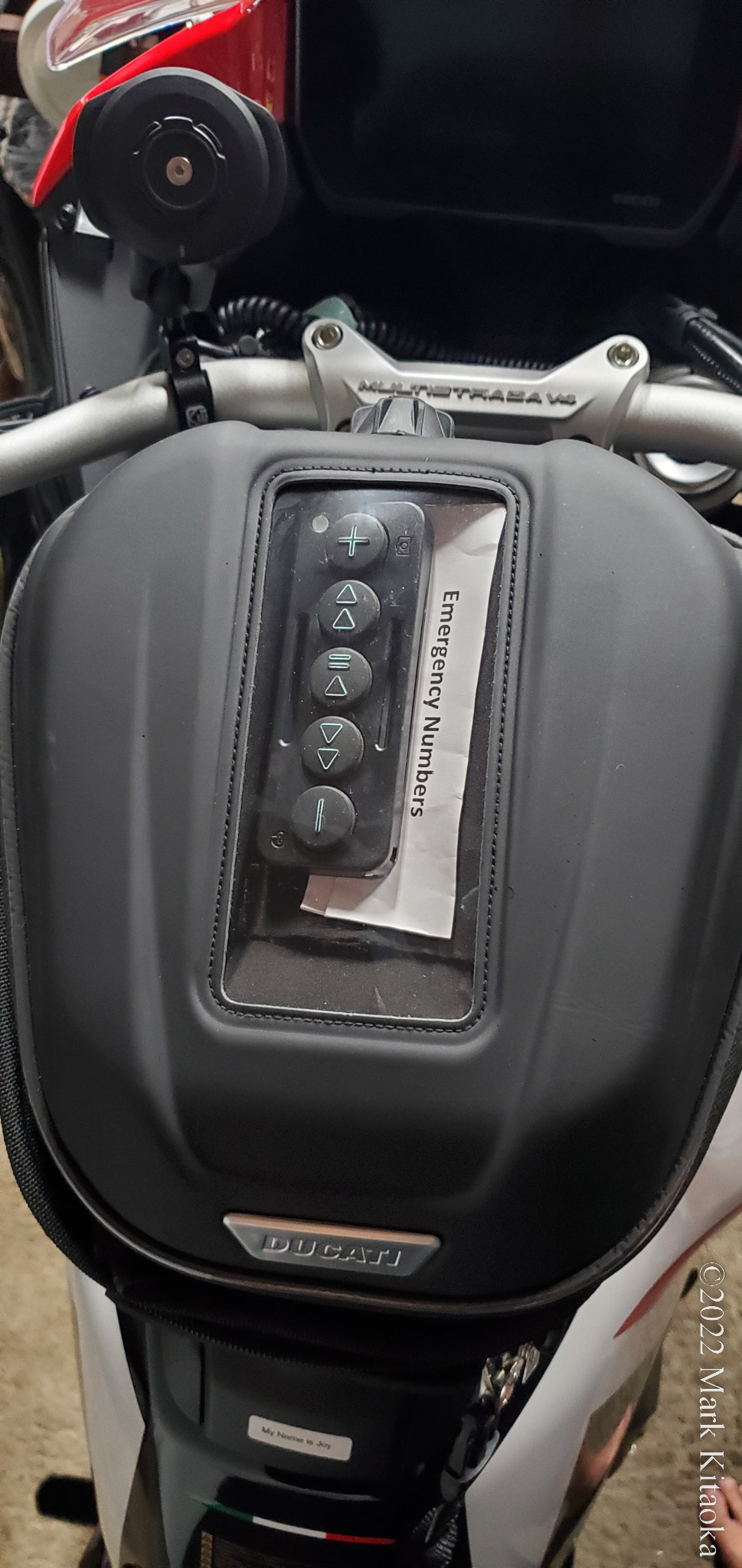 Final Thoughts
Like people, no bike is 'perfect' for everyone. And the MS is no exception. For me, it is just the right bike though. The level of power, the suspension, the braking, and the looks all drive a passion in me for this motorcycle. Like I said at the beginning, this is my first Ducati and in all likelihood will be my last motorcycle purchase. I'm not the type that likes to own multiple motorcycles at the same time. Just not my thing.
Here is how I've addressed the 'cons' I sighted at the beginning of this article:
The cell phone holder pocket is too small and becomes too hot for modern-sized cell phones. 
The Ducati Connect app needs serious development for the user interface
I use my phone and when Ducati releases a firmware update that fixes it, I'll give that a go.
An intermittent dash black screen on start-up after the bike sits for weeks
Did not affect the function of the bike and only happened once., I need to do a firmware update to correct this issue
Intermediate to high ABS settings makes the brakes feel glazed
Adjusted the ABS to reduce that feeling. Will go with a different pad compound in the future.
Non-X ring chain installed
When I replace the chain, I will do so with an X ringer
The rear brake pedal is too low, and not a lot of adjustment is available
Figured out how to raise the pedal through fabricating one.
Pegs are too thin for standing for any length of time
Quickshift upshifts are a bit bumpy at lower RPM I've never owned or ridden a bike with a Quickshfter. So smooth, but not so much in lower gears around town.
I use the clutch around town
Inability to rename Modes (Princess whine)
Would need Ducati to allow that. In the meantime, I just remember how I've set up each Mode
Gas cap requires a key * (Princess whine)
Had a key cut that I just carry around my neck
Tire pressure monitors not included *
Found a solution

Like looks, how a bike feels is SO INDIVIDUAL. Sure you can say

"Wow so and so test editor says the MS is wonderful."

Another

"MEH it's not as good as this or that."

For me, it's WONDERFUL.
The feel of the bike is what I admire the most. It's so smooth and the power is linear. It's so docile around town or just puttering along back roads. The handling is remarkable due to the suspension and frame geometry. Of course, it's not as sharp turning in as a race bike, but it turns sharp and holds a line so very well. The acceleration from the midpoint to the max is breathtaking. I have yet to ride her in three-digit temps, but so far in stop-and-go traffic, it's been fine. You will believe what you want. The dual personality of the engine, the suspension that is other worldly, the usable technology all combine to make this bike an incredible experience for me. Explain to me what a sneeze feels like if I've never sneezed. Or how an orange taste and feels if someone has never had one. Sure it's a motorcycle with two wheels and an engine. For me it combines so many of the aspects I always wished were wrapped into one machine. And it just feels right to me. Nit pick or fan boy all you want. Makes no difference to me.
I know this is a long article. It's not intended to be a how-to, or a user's guide even though at times it may seem like it. I've taken the time to write this long-ass piece because it contains information I would want to know beyond what I see/hear on YouTube videos. So many times I hear that people 'want' more/less/whatever adjustments. If only the bike had statements they'd put down the cash. I call bullshit on both of those. Too good a deal? Then it must be cheap. Too expensive? Then who would buy one?
For me, this bike has enough adjustments to adapt it to me. And in reality, once I fiddle with the changes I want to make, it will become a set-it-and-forget-it proposition. In some cases, there will be adjustments that I never use, but like to know about. Just like any sophisticated piece of kit, how I use it is up to me and I appreciate the availability of options. The way Ducati has executed this bike impressed me enough to save after-tax dollars to buy one. In the end, it's the feeling of the bike, the power delivery, the handling, and the joy of riding. Faults, of course, there are some. Yet not enough to give me pause or ones I can't figure out how to fix for myself.
I'd also like to mention that I had really hoped the newest EV bikes would incorporate all or at least some of the features incorporated into the MS. I don't know many people who have experienced FIRST HAND owning an electric motorcycle and then returned to ICE. Doesn't mean there aren't any, I just don't personally know any. One of the features I would really like that is offered by Zero, Energica, etc. is a slow reverse and forward. With bikes this heavy combined with seat height more challenging to us short of inseam, those two features would be wonderful. But a reverse I imagine is much easier to implement on an electric motor than an ICE one.
I don't work for Ducati, get money from YouTube Likes or Subscribes. Nope no matter how many people read, comment on, or view this article, I got paid a small stipend by wBW to write it and that's it. My motivation is to pass along the information I feel may be of help to others.
I love behind-the-scenes videos or films. Game of Thrones BTS films is mindblowing to me. Anyway, Ducati released a film about the thought processes and how MSV4's concepts came to fruition. I realize that the film is made by Ducati so for those who are suspicious of their mothers, and feel it's fake news, don't bother watching this. It's fascinating to me – the thought processes that went into the bike. Here is that video. Take it for what it's worth to you. 
My final thought? If my middle (senior citizen) age is showing, I know what I really like and could care less what others think. Buy and ride what floats your boat. I am.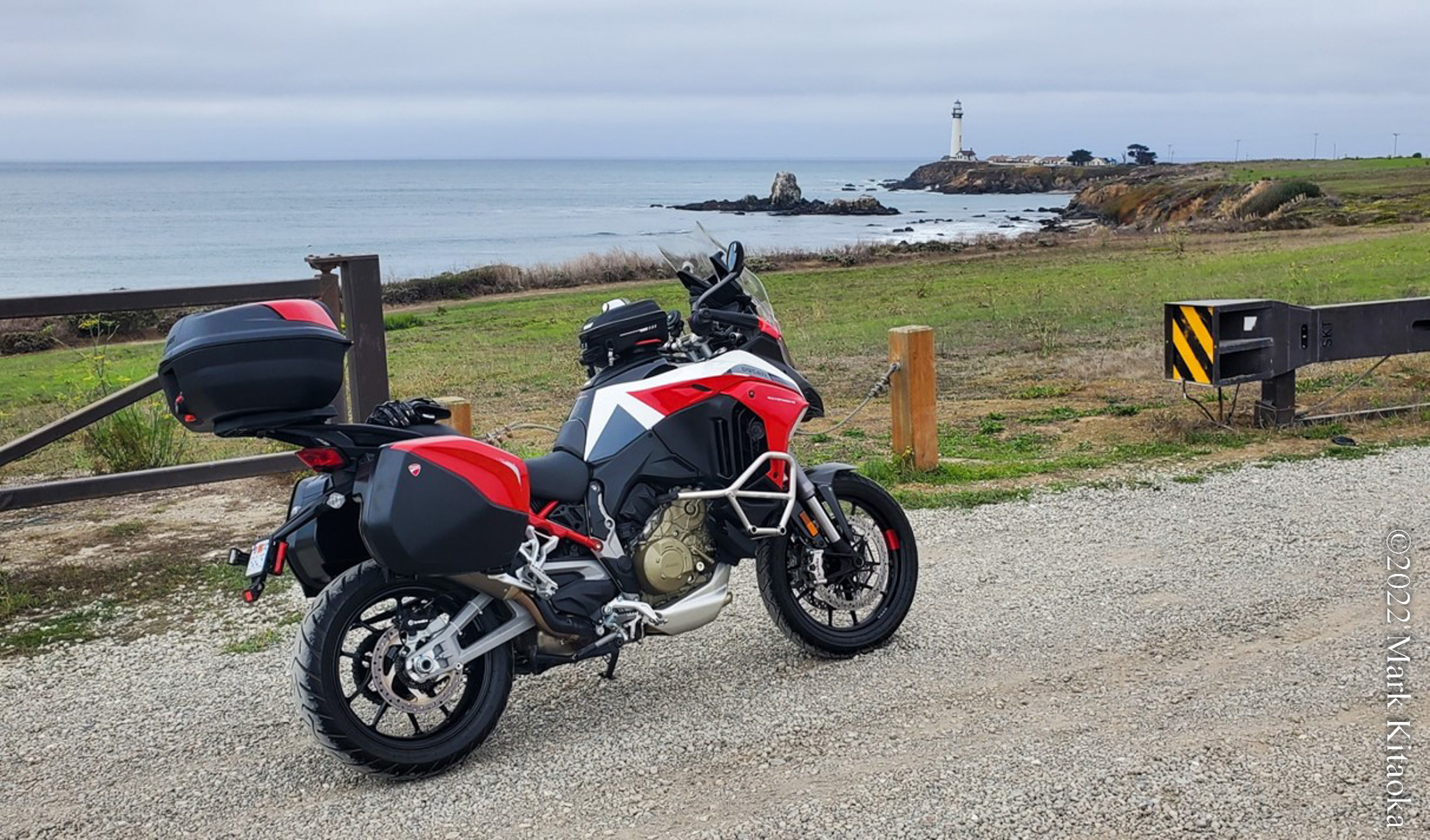 I dedicate this article to the memory Of Dan Kyle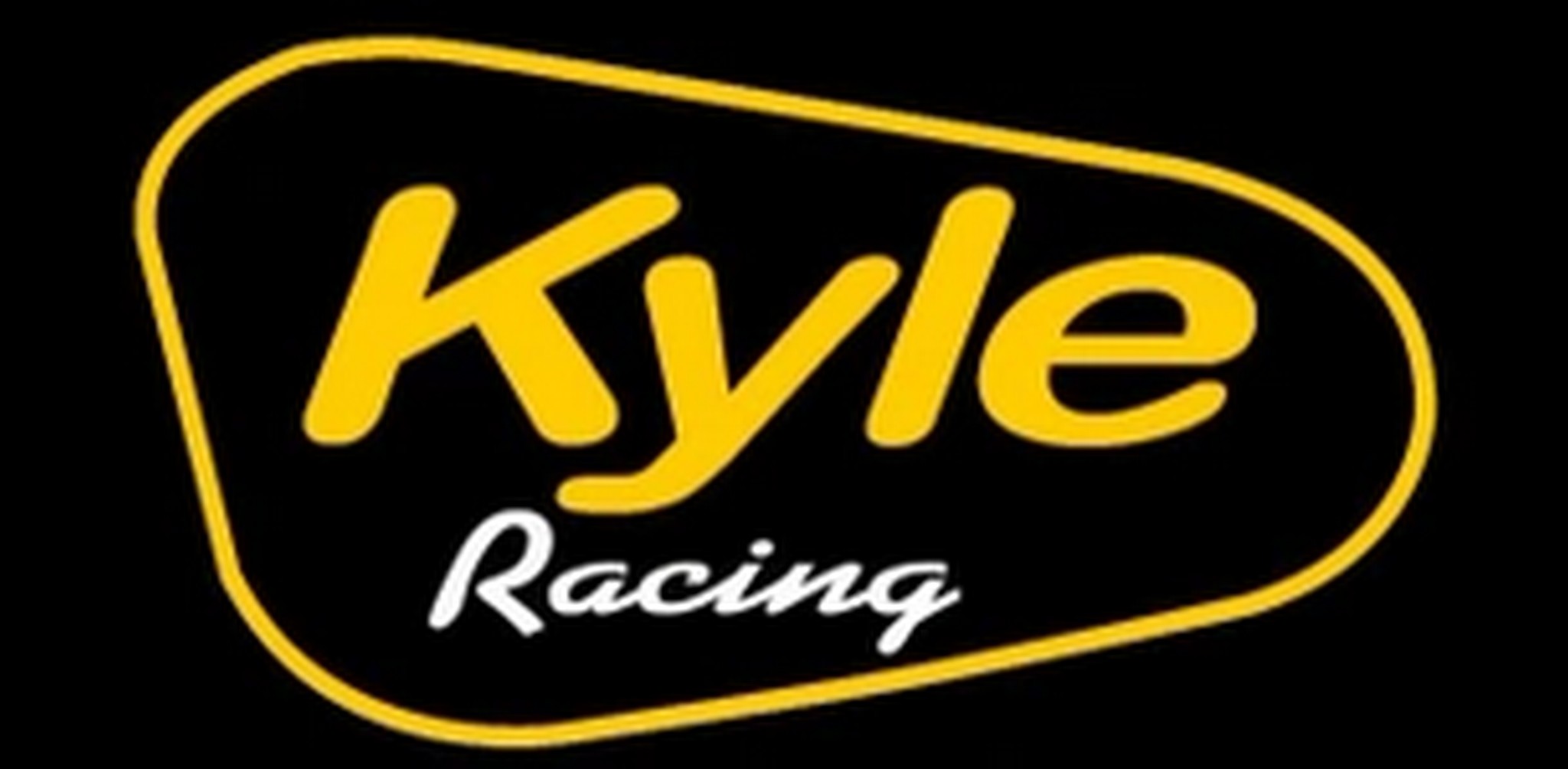 Image Courtesy of Kyle Racing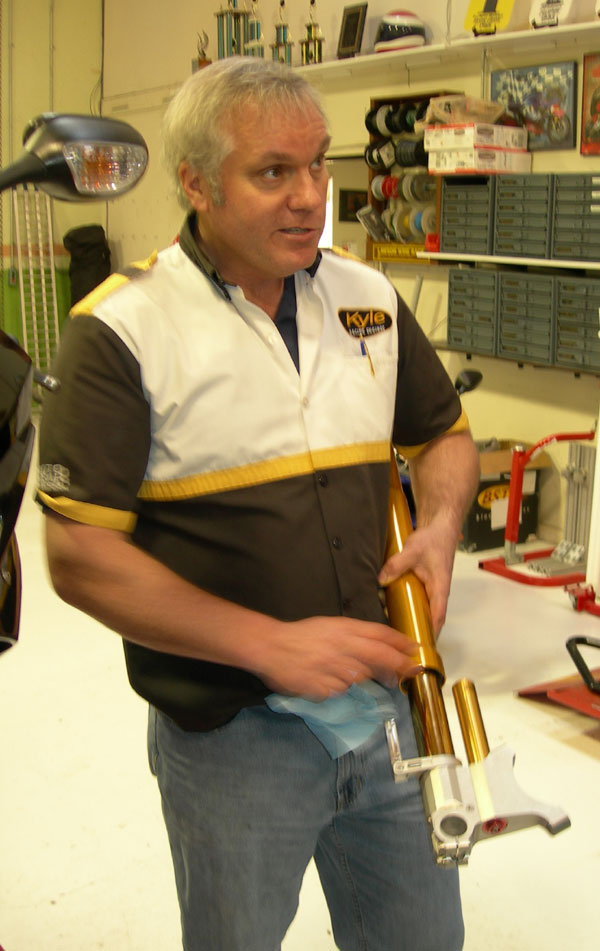 Image Courtesy of Peter Verdone designs
I was saddened to learn as I just finished this article that Dan Kyle passed away in January of 2022 from non-Covid-19 related health issues. I had traveled down to Monterey, CA for other reasons and thought it would be great to just drop by his shop for a surprise visit. When I arrived a voice greeted me as I entered the shop. "Hey, I'm looking for that good-for-nothing Dan!" Joe, the man in the shop said he wasn't there and when I asked when he'd return he let me know that Dan had passed away. I had to sit down and Joe explained to me what had happened.
Throughout my time at the track, Dan was the individual who advised/helped/coached me on suspension, PowerCommander settings, Dyno Runs, and the properties of titanium versus aluminum or steel. Small tricks like how to properly align fork tubes in triple trees, adjusting high-speed compression settings, an untold number of things he had learned as the Crew Chief and engine builder for both Two Brothers and Erion Racing teams for Honda HRC in the 1980s and 90s. They won 5 AMA road racing championships under his watch. His knowledge level and his kindness in sharing his knowledge with me were remarkable. Dan was willing to share his knowledge with others as well.
One day just before I left his shop he said to me, "Hey, hold on a minute I want to give you something." He went back into his shop and emerged with these two crew shirts. "I think you've learned enough to earn these. The Erion one was from when I was Crew Chief for them. It's when I was 'slimmer' and I'm too fat for it anymore. The other is just my crew shirt, hell you've spent enough time and money here to deserve it! Hahahaha."
Sure Dan had his share of trouble with the law, I have too, just a different arm of the law. I have never encountered many people who are so willing to share what they know with me. No bullshit sales stuff, just facts from experience. And for that along with his humor, I will be forever grateful. Rest in peace my friend, I'll see you soon enough. We can both shovel coal down there together and laugh!