Review Summary
The Alpinestars RT-8 Gore-Tex Boots are effective multi-season waterproof boots. They offer great comfort and flexibility while off the bike, and the innovative in step internal lacing system makes it easy to get the right fit. I wish they offered more protection for the price, but you should still give these a close look if you are in the market for all-around mid-height touring/adventure boots.
Pros
Solid construction
Great walking comfort
Gore-Tex waterproofing
CE Level 1/2 protection
Excellent fit using the internal lacing system
Reasonably lightweight
Cons
CE Level could be better
Only 1-year warranty
High price at $380 USD
Review Summary
The Alpinestars RT-8 Gore-Tex provides all-day comfort both on and off the bike.
The RT-8 gives multi-season versatility.
The RT-8 uses an innovative internal lacing system for an excellent, snug fit.
A great all-around pair of touring boots with CE certification, but as always, Gore-Tex comes at a price.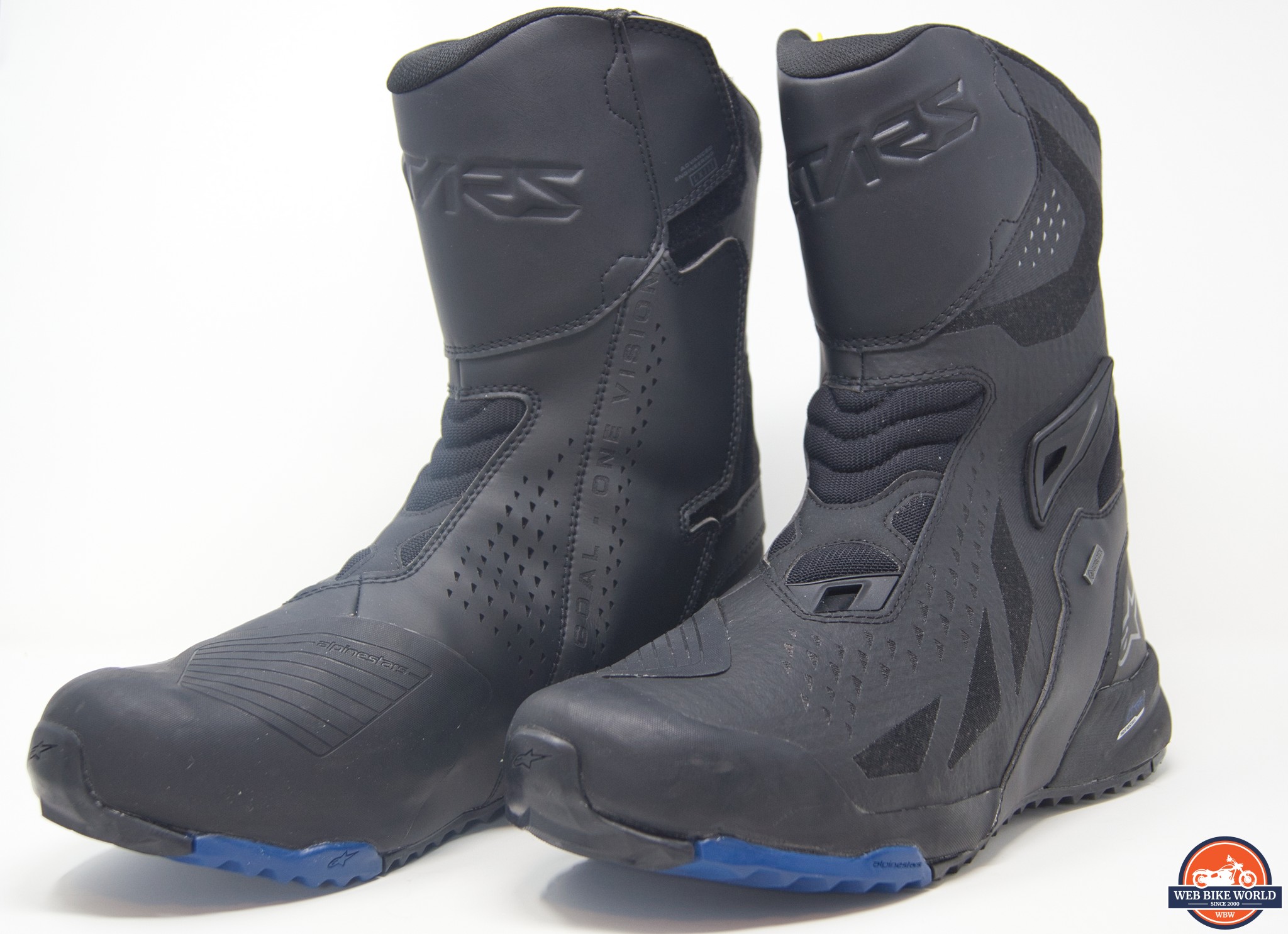 Alpinestars RT-8 Gore-Tex Boots: Mid-season, Mid-length Gore-Tex Boots
At the start of the season, I was offered the opportunity to review Alpinestars RT-8 Gore-Tex Boots and jumped at the chance. They arrived in mid-May, it is now mid-July, and I have used the RT-8 on most rides this season.
The RT-8 Gore-Tex are touring boots for around $380 USD. In addition, to Gore-Tex waterproofing, they offer great comfort on and off the bike.
I tested the boots on a new-to-me Husqvarna Norden 901.
About Alpinestars
Alpinestars has been redefining protection for motorcyclists ever since the company was established in 1963. Commitment to innovation has led Alpinestars to become the world-leading manufacturer of professional motorsport racing products, motorcycling airbag protection, high-performance apparel, technical footwear, and helmets. Alpinestars understands that the best design and research are achieved under extreme conditions. Our involvement in Formula 1, NASCAR, MotoGP, World SBK, AMA Supercross and Motocross, MXGP, Dakar, and more has led to the creation of the most advanced technical equipment for the racing world's top athletes.
These words, "One Goal. One Vision," summarize the idea that Alpinestars shares the same goal and vision as our champion athletes. Innovation is key to this, and we strive to constantly improve our products for like-minded, passionate people who share a love for riding and racing as we do.
Alpinestars is in the process of obtaining our B-Corp Certification and, in doing so, becoming a more sustainable company, helping to create a stronger global environmental impact.
Alpinestars develops products for men, women, and kids. Categories include: Auto Racing / Karting / Motocross / Enduro/ Dual-Sport / Road Racing / Commuting / Touring / Adventure Riding / Urban Riding / V-Twins / Mountain Biking / Flat Track / Endurance Racing and Dakar. Each riding or driving discipline has its own specific protection capability and need. We want to make riding a motorcycle as safe and as comfortable as driving a car. We want to mitigate injury to riders and drivers by constantly pushing the level of protection that can be achieved.
The Alpinestars story is well worth a read. See their story at About Alpinestars.
Alpinestars RT-8 Gore-Tex Boot Features
As you would expect from a leader in motorcycle boots, and with Gore-Tex in the model name, the Alpinestars boots are loaded with features: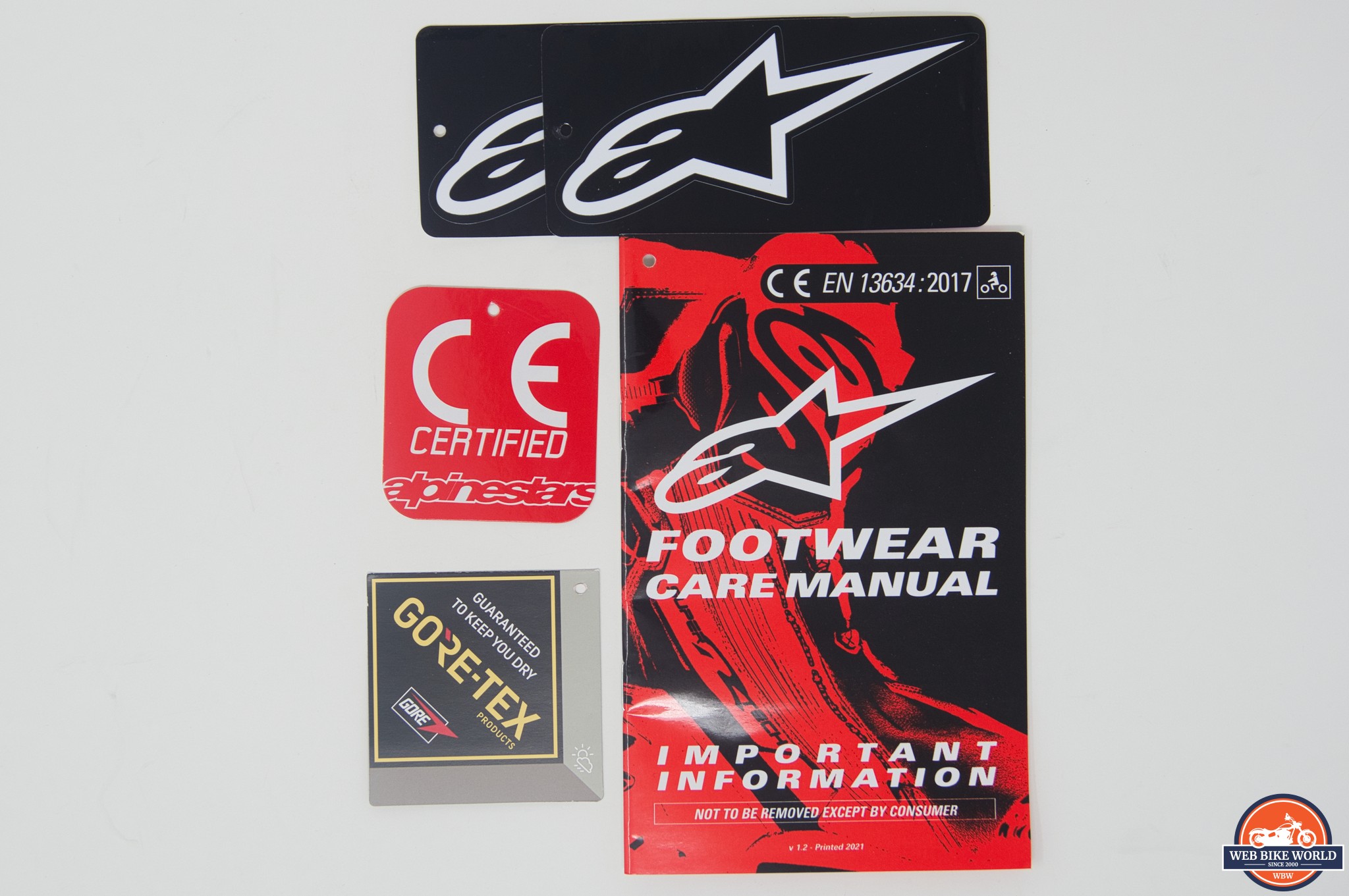 Waterproof Gore-Tex® membrane
Microfiber and synthetic high-resistance textile
Transversal Protection Frame (TPF) protects the foot while delivering the necessary support on the footrest without compromising the front foot flexion.
Shift pad extra layer
Reinforced shin area to protect against impacts
Innovative instep fast lace adjuster
New sole unit for optimal protection and walking comfort
CE Certified
Visit the Alpinestars RT-8 Gore-Tex product page for a complete list of features.
First Impressions of the Alpinestars RT-8 Gore-Tex Boots
When I first opened the box, I liked the traditional touring style, but with a bit of extra tread on the sole for walking. Add to that a bright yellow lace appearing from the top of the boots. More on that later.
The first ride was an all-day ride of 400 km, a good first test. The RT-8s passed that initial ride with no problems.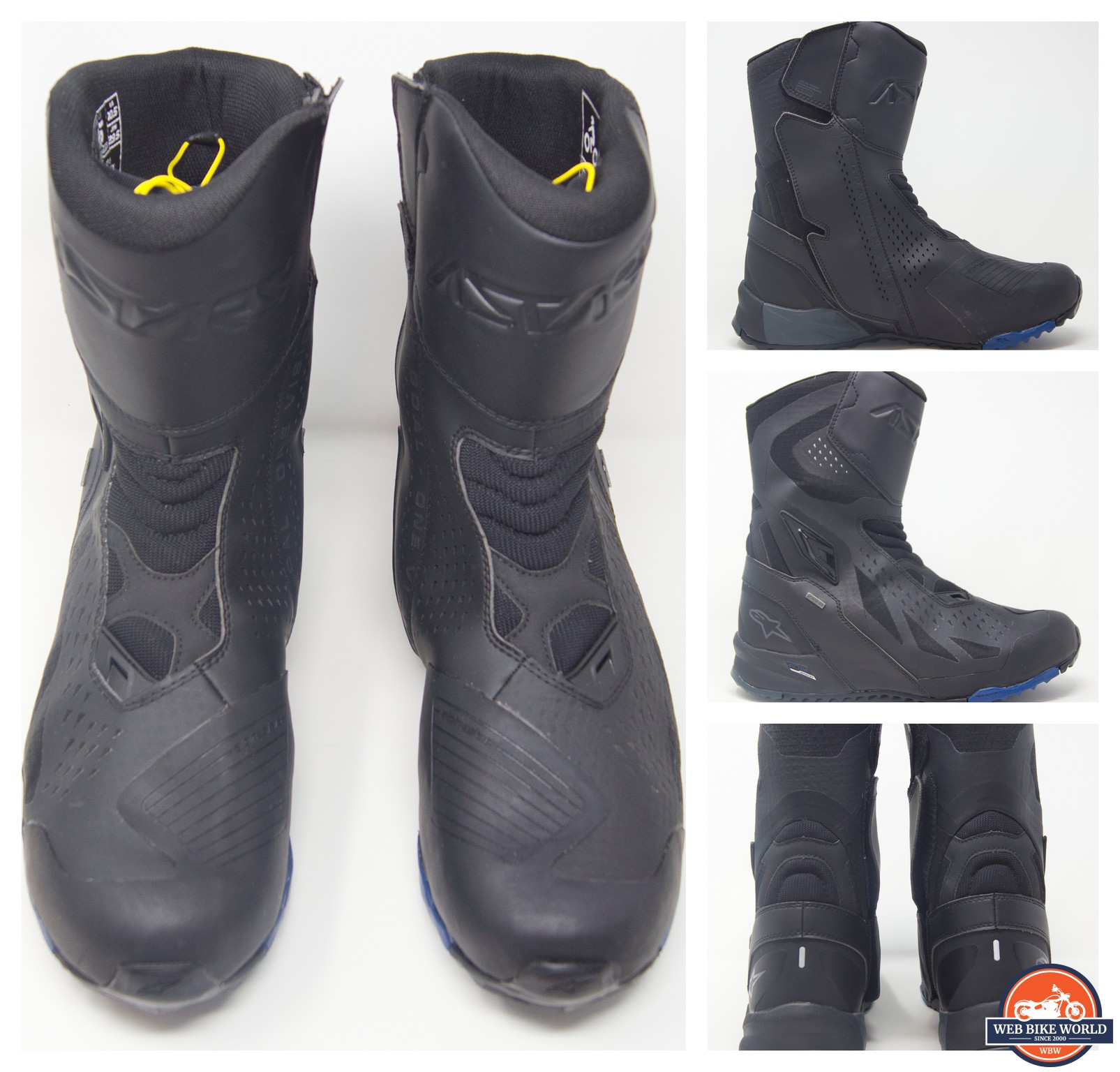 After two months and two thousand kilometers of riding, these are my thoughts on the Alpinestars RT-8 Gore-Tex Boots.
Alpinestars RT-8 Gore-Tex Boot Construction
Based on the label inside the boot, I will attempt to translate it with help from the Alpinestars product page.

Materials
1st Row – Outershell Upper (other material)
blend of microfiber and synthetic high-resistance textile laminated by a seamless PU
2nd Row – Inner Lining (textile)
3rd Row –  Outer Sole (other material)
Synthetic integrated Transversal Protection Frame (TPF) protects the foot while delivering the necessary support on the footrest without compromising the front foot flexion for superior walking comfort.

Protection
The Alpinestars RT-8 Gore-Tex Boots feature multiple layers of protection:
CE Certified.
Alpinestars integrated Transversal Protection Frame (TPF) protects the foot while delivering the necessary support on the footrest without compromising the front foot flexion for superior walking comfort.
Reinforced heel counter and toe box.
Shift pad extra layer.
Reinforced shin area.
TPU ankle skid plate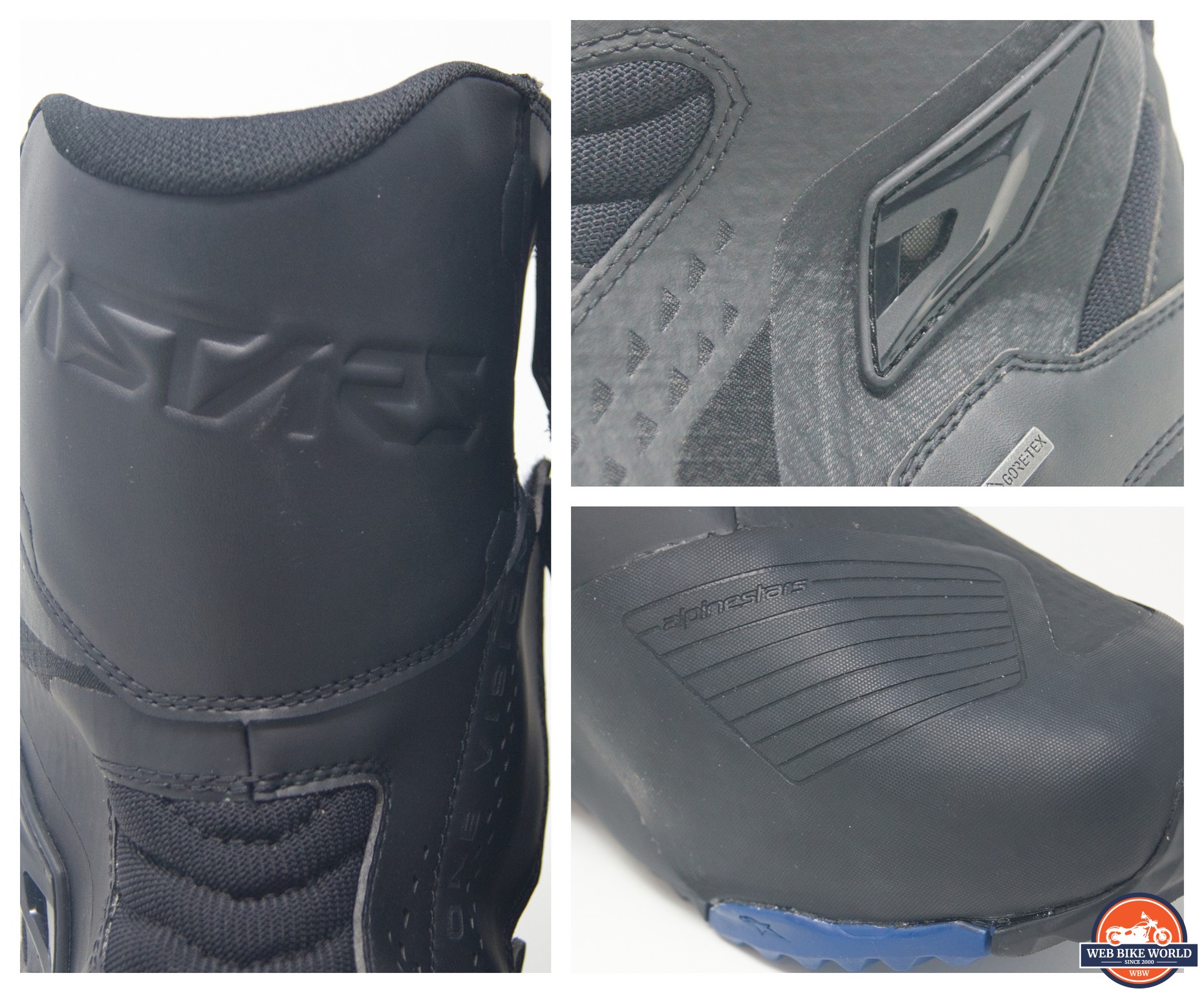 There is a CE standard for motorcycle boots, EN 13634:2017. I will attempt a brief explanation.
The motorcycle icon on the CE label pictured below indicates that these are motorcycle boots. Below the icon is the CE standard tested—in this case, EN13634:2017—and a series of four numbers. Each number represents a specific test result (1 or 2) in the following order (from left to right):
Height (1 – Ankle Height, 2 – Shin Height)
Abrasion (1 – Basic Pass, 2 – Superior Pass)
Impact Cut (1 – Basic Pass, 2 – Superior Pass)
Transverse Rigidity (1 – Basic Pass, 2 – Superior Pass)
The final line represents optional testing. This line may include:
IPA/IPS – Impact protection to the ankle or shin
WR – Resistance to water penetration
FO – Resistance to fuel and oil on the sole
SRA/SRB/SRC – Slip resistance of the sole
B – Breathability of uppers
WAD – Water absorption/desorption if inner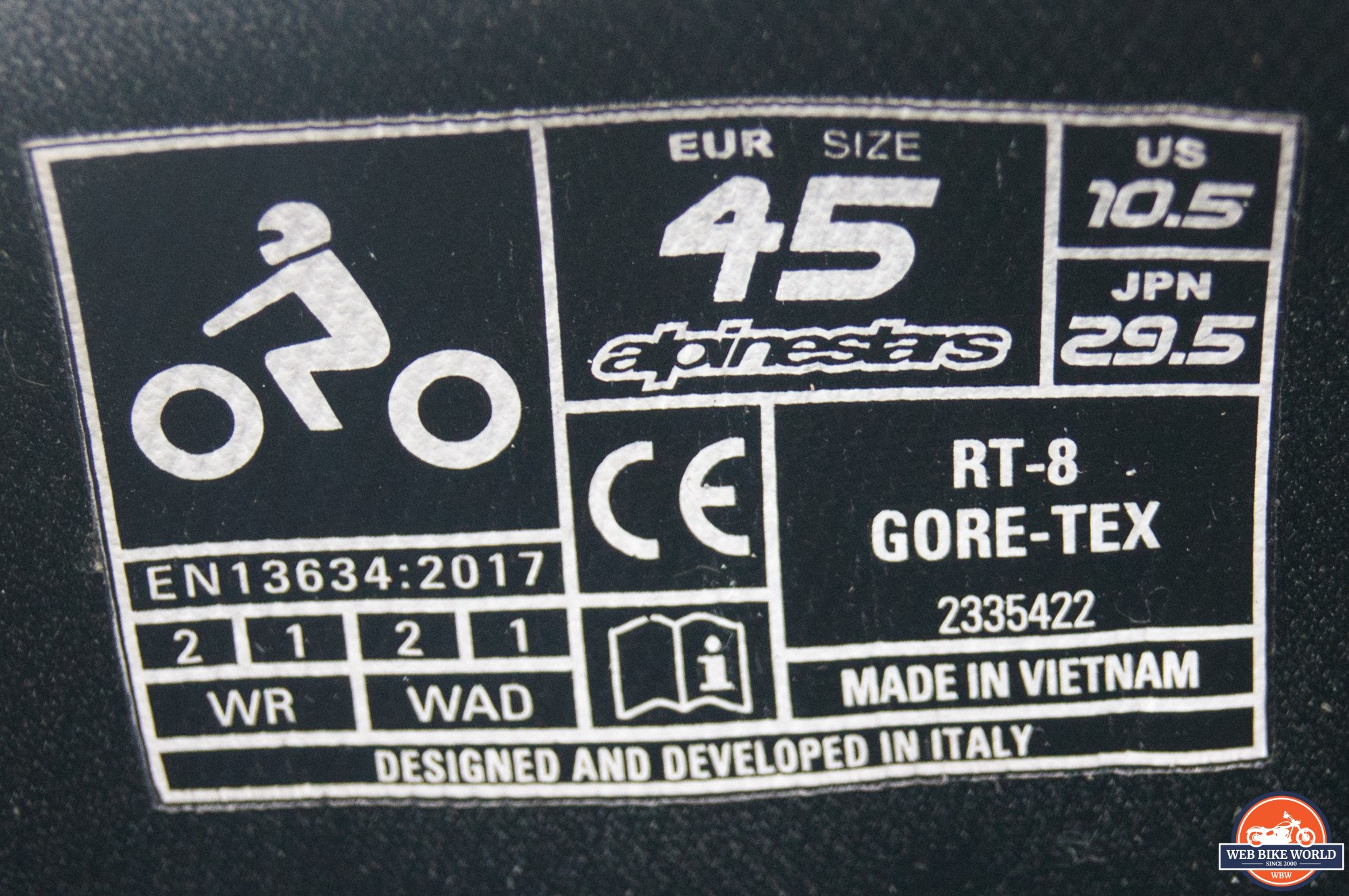 These boots are certified according to the EN 13634 Standard, published in 2017, and have achieved level 2 | 1 | 2 | 1 | WR | WAD rating.
This result is good but could be better.  The REV'IT Pioneer GTX boots I reviewed last season achieved level 2 | 2 | 2 | 2 | WR | SRB rating.
Waterproofing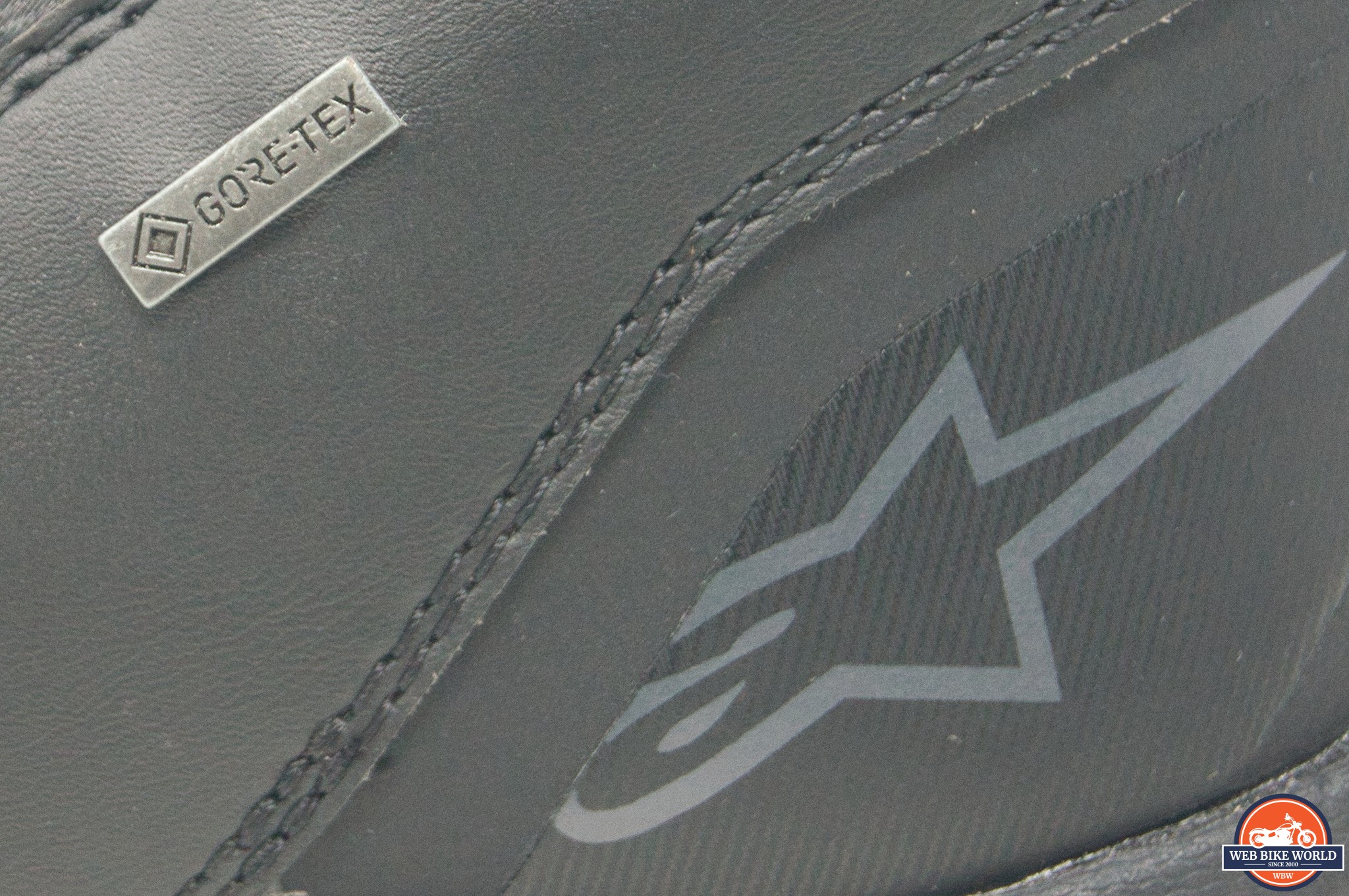 The RT-8 Gore-Tex boots use Gore-Tex offering weather protection and comfort.
The side tongue is gusseted, allowing the waterproofing to reach a height of eight inches. Using the boots inside waterproof riding pants should be no issue riding in the rain or shallow water. These are touring boots. You could be in trouble if stuck in a stream deeper than eight inches. Waterproof boots full of water become boot-shaped buckets.
As expected with Gore-Tex products, my feet stayed dry during several rainy rides.

Retention
Alpinestars uses a zipper and velcro retention system. It allows a large opening to slide your foot in or out quickly.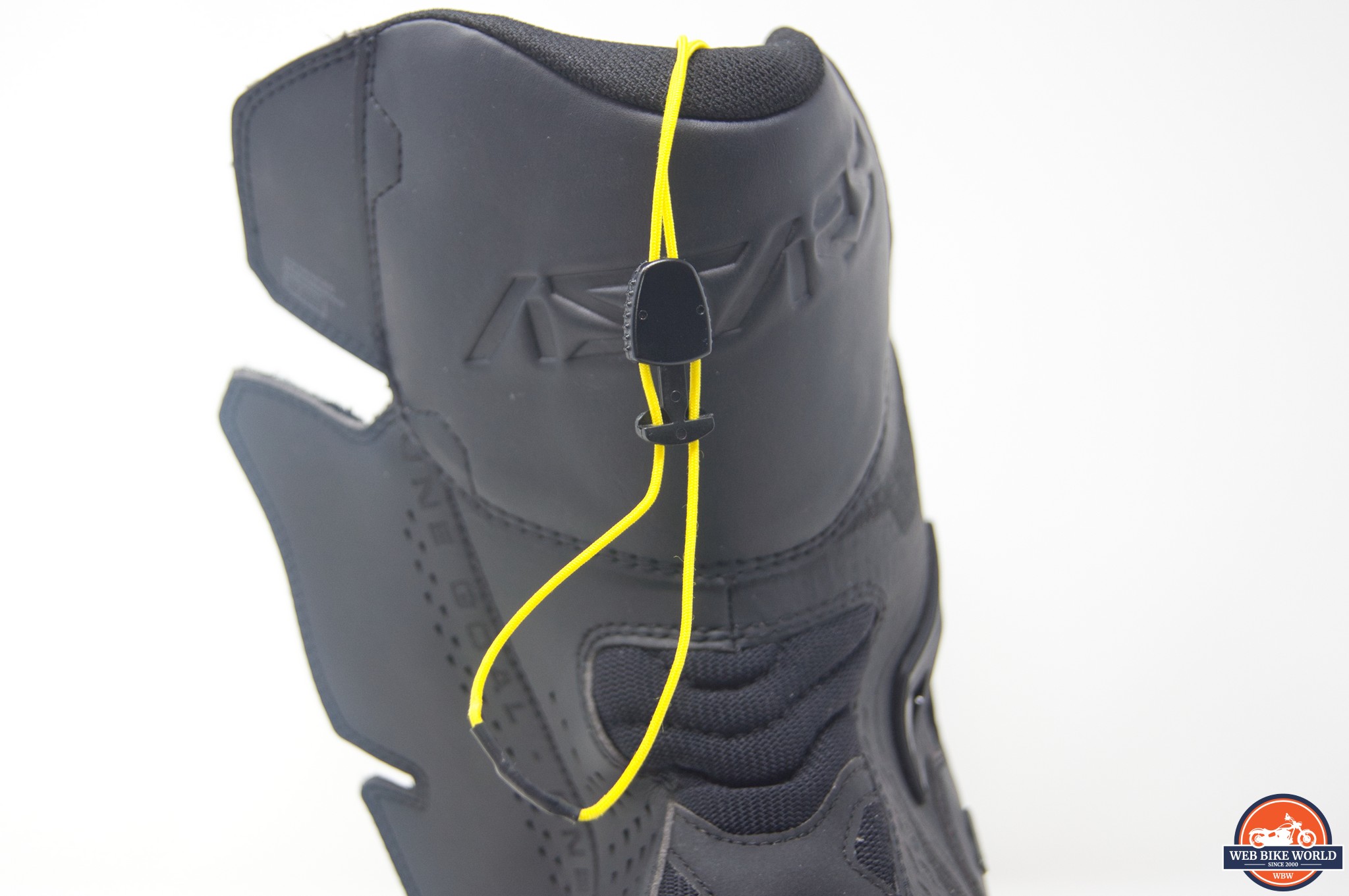 But wait, there's more.  The RT-8s have a hidden secret (well, mostly hidden).  Alpinestars has included an internal lacing system using the yellow loop at the top of the boot.  Simply pull on the loop, and slide the retainer down to the base. This tightens the boot around your foot for a nice snug fit. There is a small pocket to place the excess lacing.
You can leave the retainer in place and unzip the boot for removal.  If that is too tight, it is easy to release the retainer.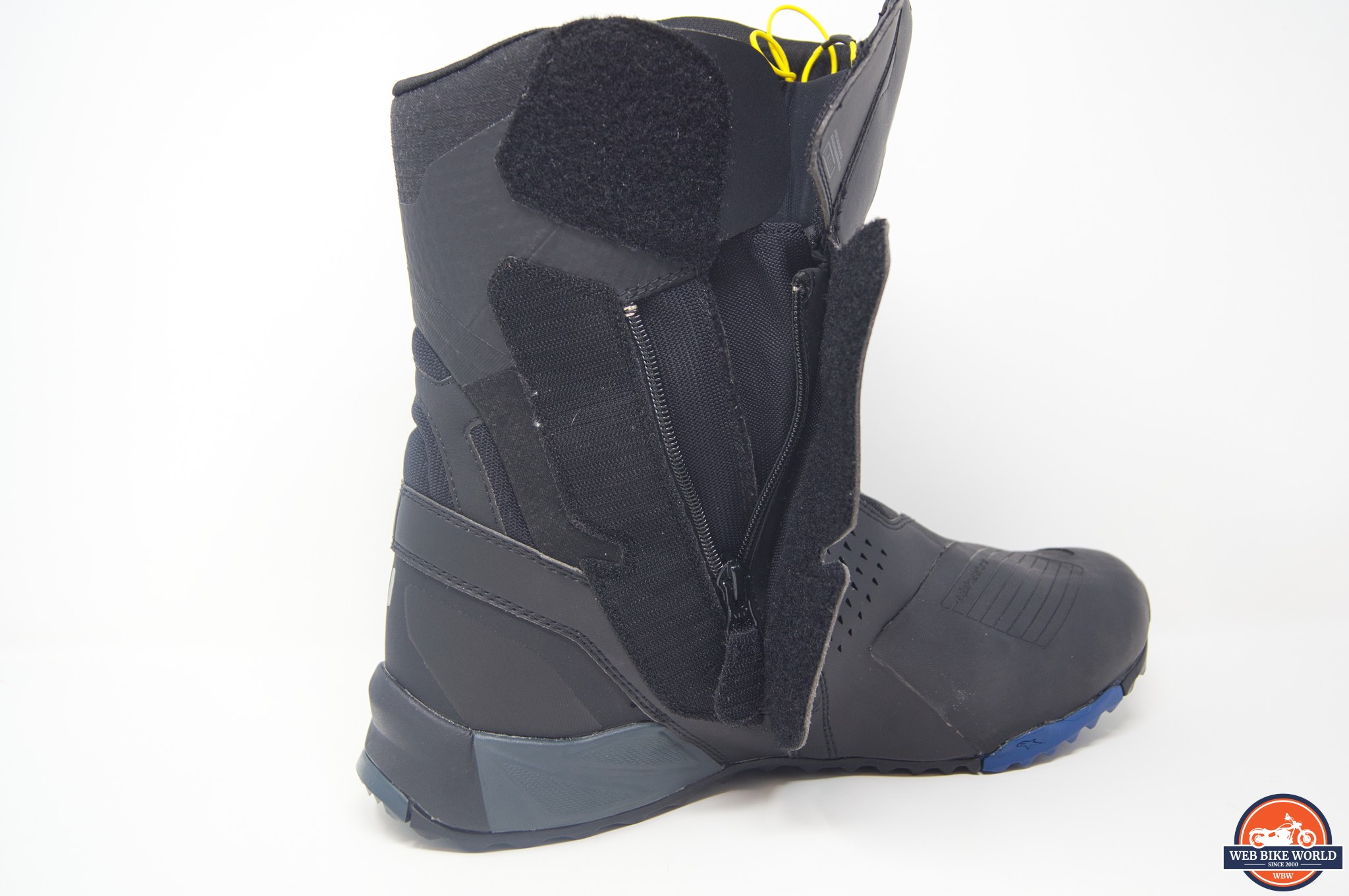 I found the system to work great!
Insole
Alpinestars uses their standard ventilated insole in the RT-8. I found it to be very comfortable.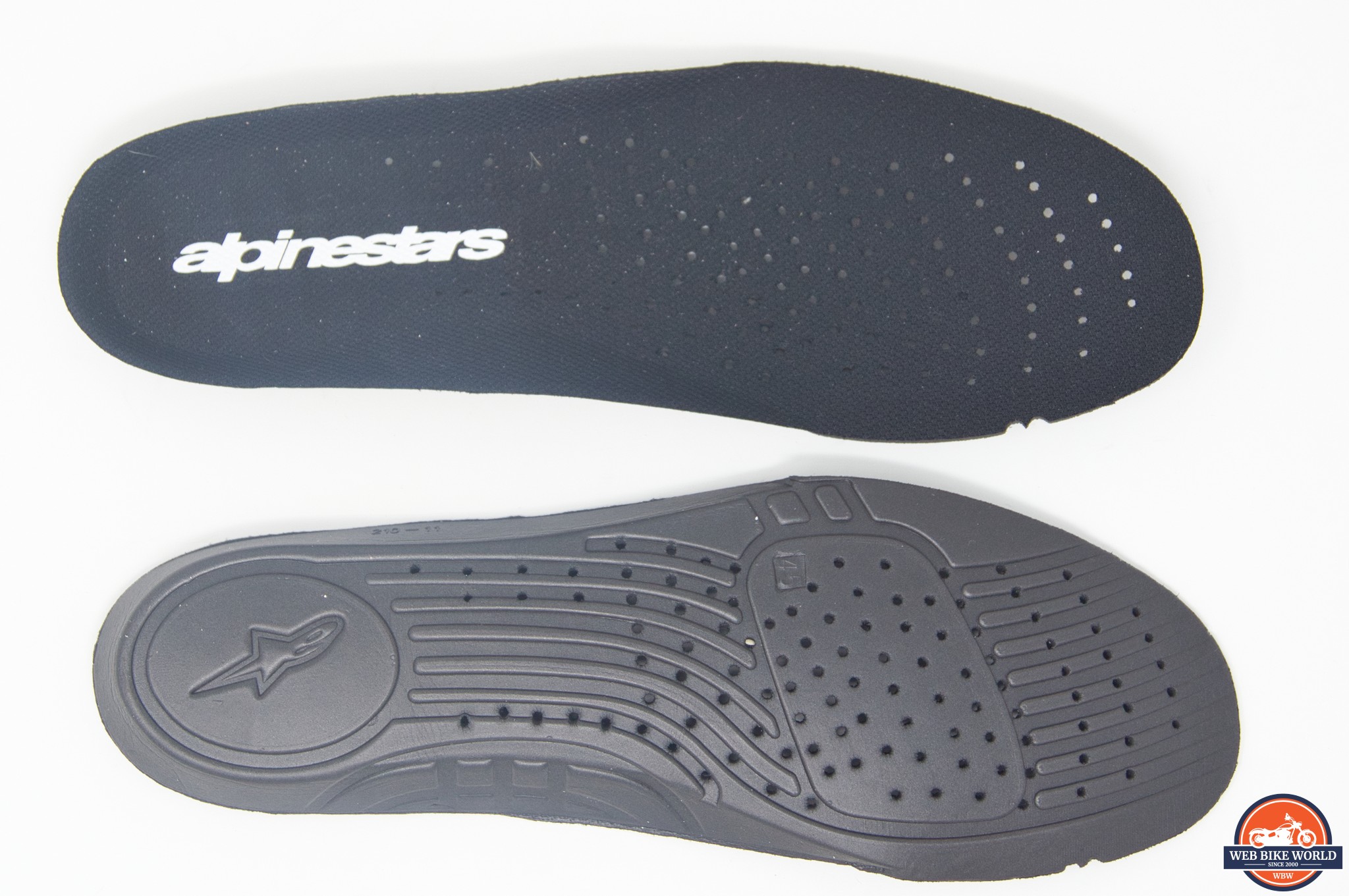 Sole
Alpinestar states, ' a new sole constriction derived from our latest performance shoes, the RT-8 sole unit offers unrivalled walking all-day comfort, on and off the bike. With a very efficient and durable lug pattern capable of tackling any terrain ground'.
The sole is stiff while offering flexibility toward the toe box.
The sole provides good grip and stability. Additionally, they are highly comfortable when riding or walking.
Ventilation
I found the RT-8 to be very comfortable in hot weather. The Gore-Tex offers a breathable interior. The exterior includes perforations in synthetic fabric and mesh fabric.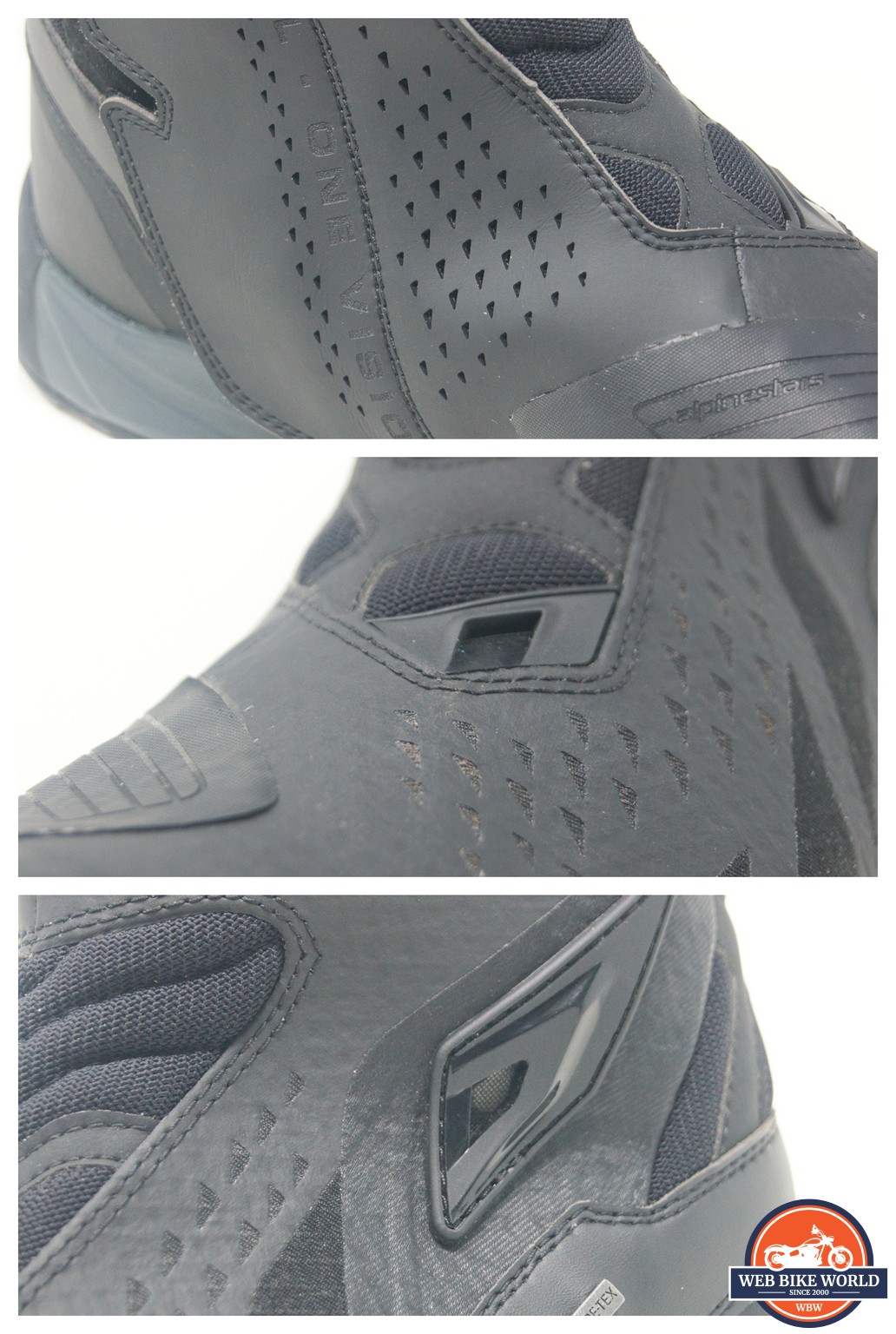 Reflective Elements
There is a small reflective strip on the back of each heel. It's hard to make boots that genuinely function as hi-viz motorcycle gear, but every little bit helps.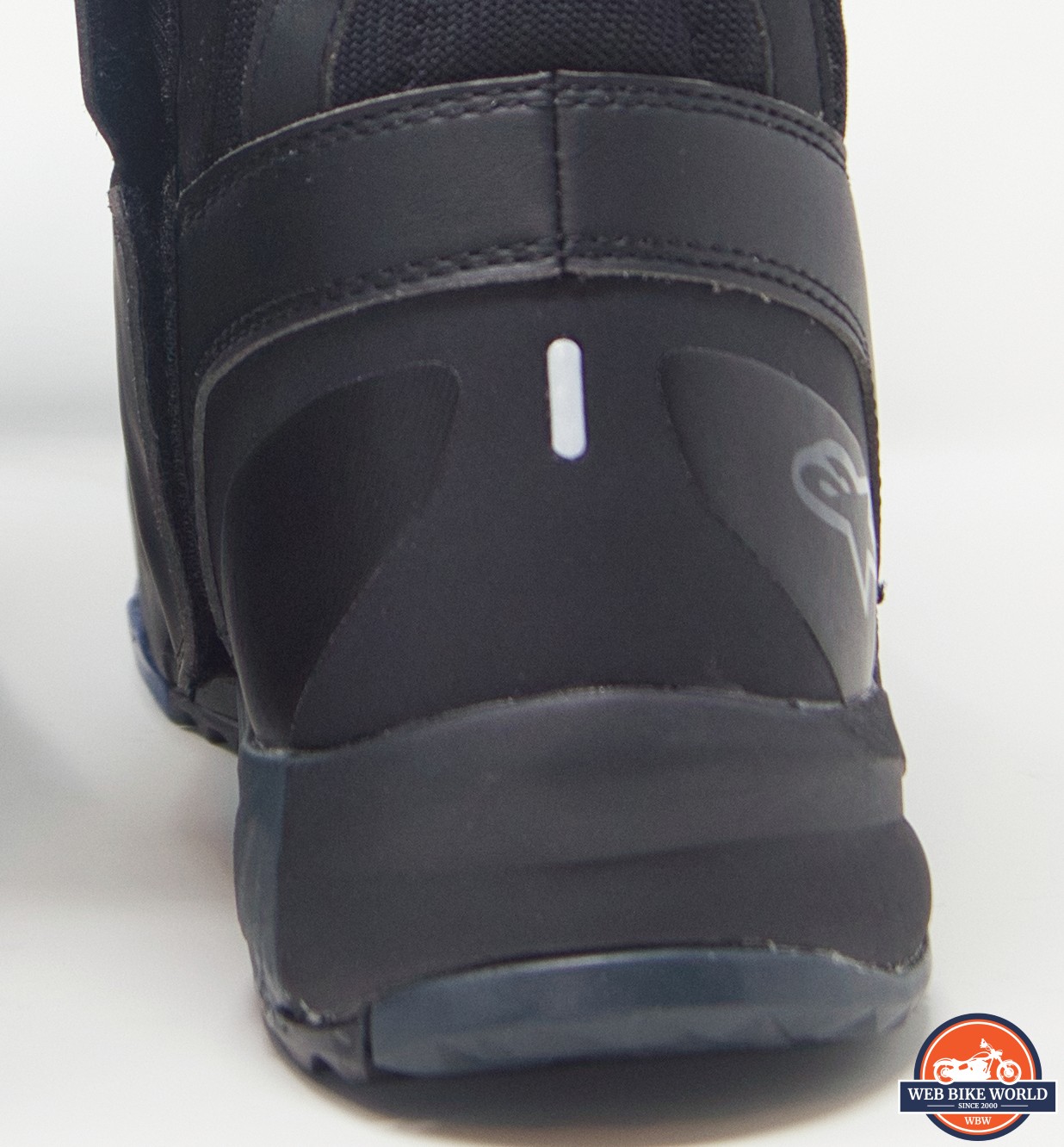 Branding
Initially, I thought the branding was minimal, but I kept finding more. Alpinestars and Gore-Tex branding are on the outside of the heel. You can also find the ASTARS logo embossed on the shin and the Alpinestars slogan 'ONE GOAL ONE VISION' embossed on the weather flap. Upon closer inspection, you can find the Astar logo on the end of the toe, the inside sole, and the bottom of the sole (toe and heel).  Oh yeah, don't forget 'Alpinestar' on the shift pad.
The branding may not be minimal, but it is somehow subtle!

Colorways
The Alpinestars RT-8 Gore-Tex Boots come in black.
Overall Build Quality
The Alpinestars RT-8 Gore-Tex boots are very well put together. During my review period, I have not encountered any problems with the build quality.
Alpinestars RT-8 Gore-Tex Boot Fit & Feel
Sizing
I typically wear size 11 shoes but always refer to the sizing charts. There is no size 11 on the chart, putting me between a size 45 and 46. I had read that Alpinestar boots can run large, so I ordered the 45.
The following Alpinestars footwear sizing chart is from RevZilla:
Alpinestars Men's Touring Boots Sizing
| | |
| --- | --- |
| EU Size | USA Size |
| 36 | 3.5 |
| 37 | 4 |
| 38 | 5 |
| 39 | 6 |
| 40 | 6.5 |
| 41 | 7.5 |
| 42 | 8 |
| 43 | 9 |
| 44 | 9.5 |
| 45 | 10.5 |
| 46 | 11.5 |
| 47 | 12 |
| 48 | 12.5 |
| 49 | 13.5 |
| 50 | 14 |
Sizing information is provided by the manufacturer and does not guarantee a perfect fit.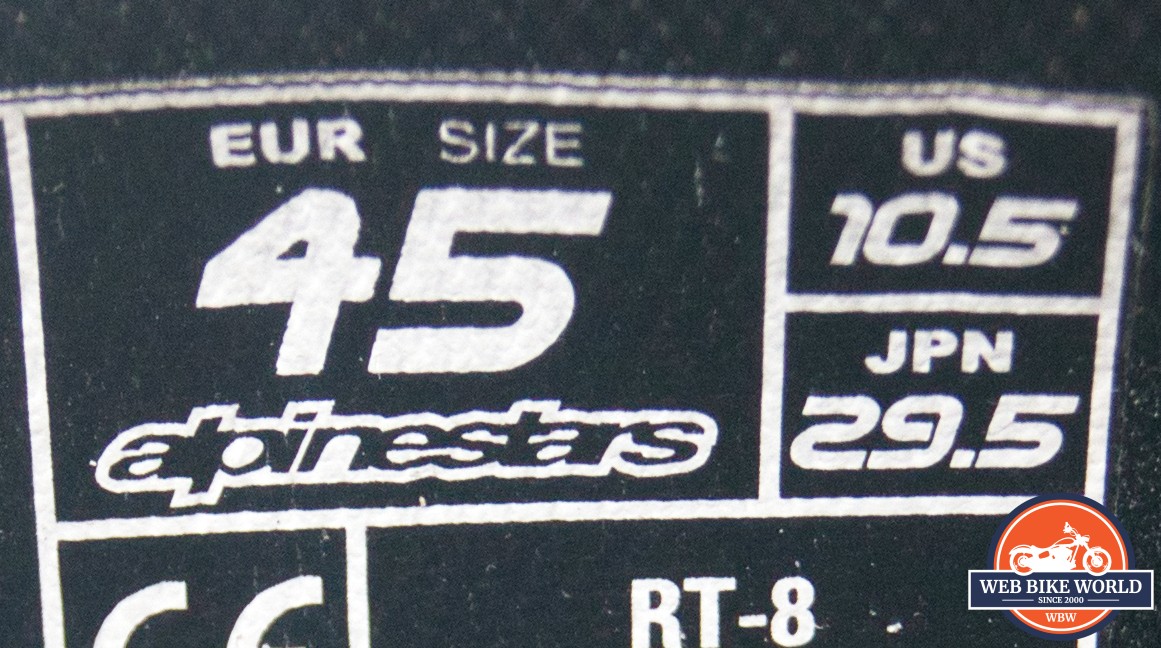 Even with ordering the smaller size, I still have room for some thick socks for our cold Canadian spring and fall riding. If you are unable to try them on, order a size smaller.
Comfort
One of the things that attracted me to the RT-8 Gore-Tex boots is that they are marketed as 'a protective touring boot engineered for superior comfort on and off the bike.'
From the first time I put them on, they were comfortable.  They had a slight stiffness, but less than I expected. They were great for running errands, walking around points of interest while traveling, or hanging out after a ride.
For me, the sole has a good compromise between stiffness when riding and flexibility when walking.
A single boot weighed 823 grams (1.8 lbs) on my cheap kitchen scale.  As a comparison, the REV'IT Pioneer GTX boots I reviewed last season weighed 913 grams (2.0 lbs).
The side zipper made putting the RT-8s on and taking off easy. The velcro closure and internal lacing system do a great job of holding your feet in place. An additional comfort item is the integrated gear shift pad. It is molded into the toe and side panel.
I used the boots from slightly above freezing to warm summer weather. I had no issue with cold feet (with heavy socks) or my feet getting hot (or smelly).
The mid-height hit a sweet spot for my riding type. Overall I rate the comfort of the RT-8 Gore-Tex boots as EXCELLENT!
Care Instructions
I recommend cleaning with a damp cloth.  Gore-Tex offers an excellent website for Gore-Tex Footwear Care.
Warranty
I could not find a webpage with warranty information.  I contacted Alpinestars USA, and they confirmed for Canada and USA – "Our warranty (US and Canada) is 12 months from the date of purchase. It covers the product's workmanship but does not cover user wear and tear issues or crash/impact damage".
Alpinestars RT-8 Gore-Tex Boot Road Testing
Most of my use was between 3 degrees Celsius (37 degrees Fahrenheit) and 32 degrees Celsius (90 degrees Fahrenheit), including several rides in the rain.  I found the boots to be comfortable throughout the temperature range.
The Alpinestars RT-8 Gore-Tex is waterproof. I had the opportunity to use the boots on several rainy rides.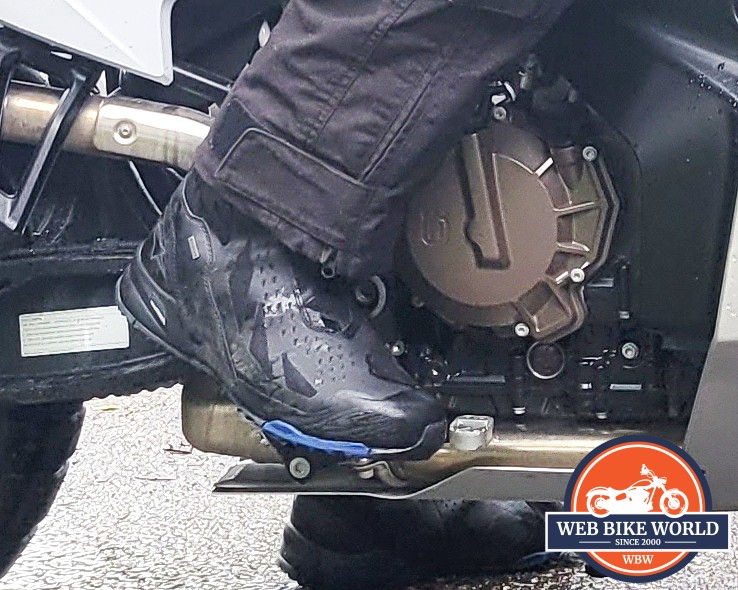 The boots use Gore-Tex technology. This laminated technology allows for a comfortable, lightweight, breathable pair of boots.
When on the bike, the treaded sole felt planted when stopped in wet and dry conditions on pavement and loose gravel. The sole had a good amount of stiffness when seated or standing on the pegs.
The boots worked great. My feet were comfortable in all conditions. I have used the boots in various situations around town, on secondary and major highways, and even a short stint on dirt roads.
Final Thoughts about the Alpinestars RT-8 Gore-Tex Boots
Let's start by saying that I like these boots!
This usually is where I start with the negatives, quickly followed by the positives. The negatives are few. First, they are pricey.  Although, in the range of Alpinestars touring boots, there are more expensive. Second, the CE levels are at a different level than other similar boots that I have reviewed. Third, I expected a two-year warranty in this price range.
There are plenty of positives: riding and walking comfort, a functional mid-height design, Gore-Tex waterproofing, an internal lacing system, and great looks.
Near the end of last season, I decided it was time to change my ride.  Days before the arrival of the RT-8s, I made the change to a Husqvarna Norden 901. I enjoy riding back roads but hate turning around when the road changes to gravel. Often I will continue for a way on the gravel, but I always felt uncomfortable on previous bikes. I intend not to go off-road (at least yet) but off the pavement.
The Alpinestars are not adventure boots, but the addition of the well-treaded soles makes them very capable for my intended type of riding. Mainly road/touring with a bit of gravel thrown in.
If you are looking for proper adventure boots to go off-road, you will need taller boots with additional protection.
So, for the touring rider who wants walking comfort when visiting sites along the way or at their final destination, Alpinestars has hit the mark with the RT-8 Gore-Tex boots.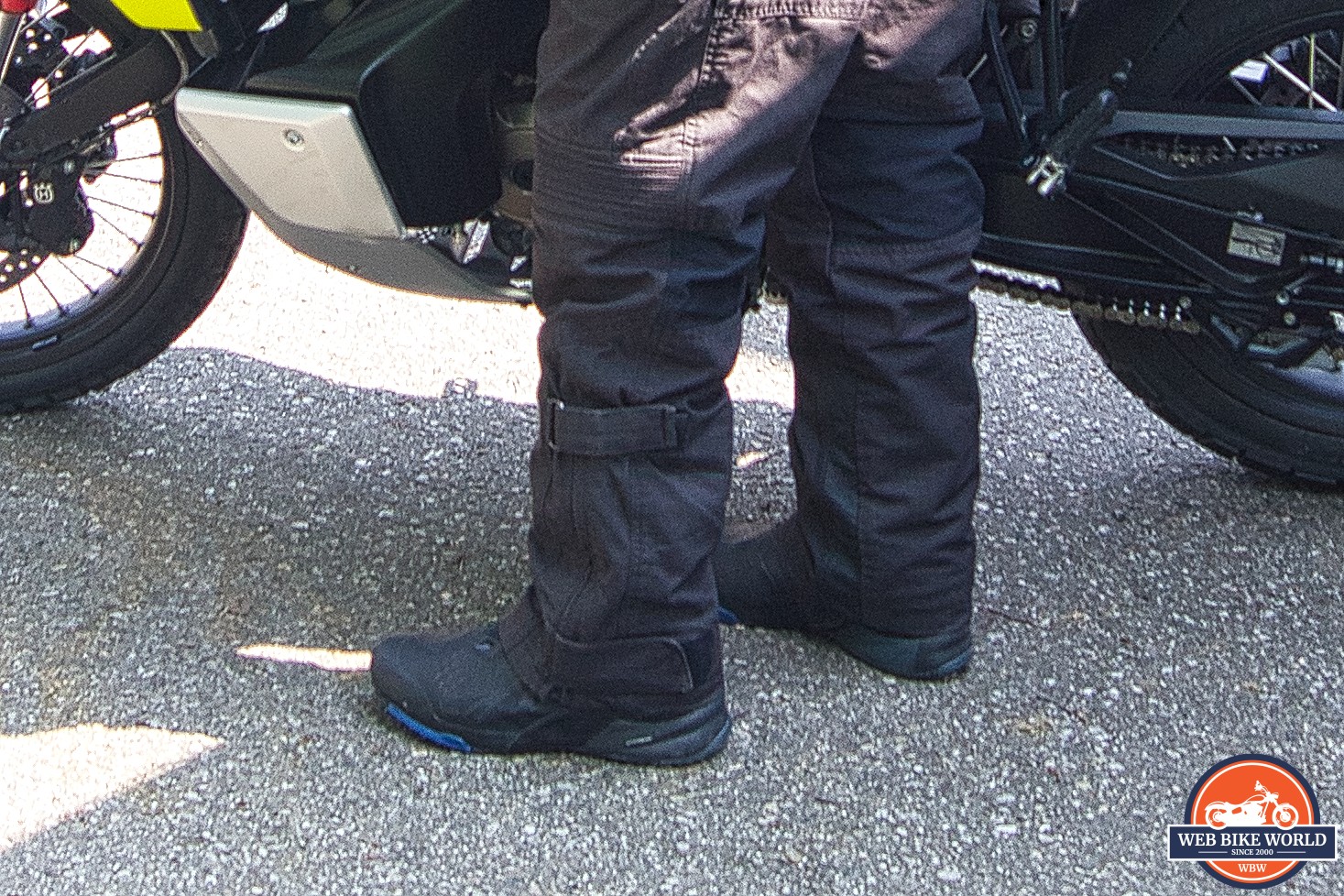 Pros
Solid construction
Great walking comfort
Gore-Tex waterproofing
CE Level 1/2 protection
Excellent fit using the internal lacing system
Reasonably lightweight
Cons
CE Level could be better
Only 1-year warranty
High price
Sizing
Specs
Manufacturer: Alpinestars
Price: (When Tested) $380 USD
Made In: Vietnam
Colors: Black
Sizes: 36 to 50 (3.5 to 14)
Review Period: May – July 2023
Important Links / Where to Buy