Airbags have been credited with being the biggest lifesaver since the invention of the seatbelt and now they are slowly coming to motorcycles and riders.
The latest is an airbag vest and jacket developed jointly by BMW and Dainese. There is no word yet from BMW Motorrad Australia or Dainese distributors about a release date or price, but it will be very expensive.
The Dainese Tech-air waistcoat, alone, will cost about €2000 ($A2700). Alpinestars says the system will need servicing every two years, costs another €200 ($A270).  If the airbag deploys, it will have to be sent back to the company for a recharge service, costing €500 ($A685).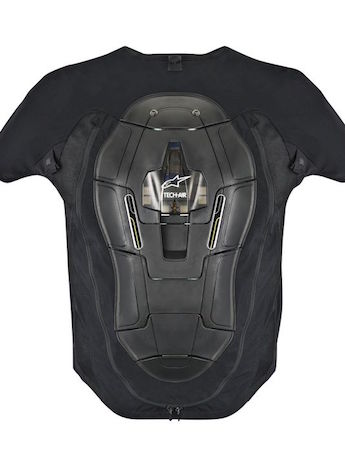 Honda introduced an airbag on its Gold Wing a few years ago, but it's yet to spread to other bikes. Meanwhile, motorcycle apparel manufacturers have slowly been adding airbags to rider gear and they are in use in MotoGP.
Ducati was the first with an airbag suit that was linked to its Multistrada with sensors that detect a crash and trigger the airbag in 45 milliseconds.
They beat BMW to the punch when they announced nearly two years that they would work with Dainese to develop motorcycles and apparel with independent airbags.
The first product to be launched under this cooperation will be a BMW Motorrad jacket jointly developed by BMW Motorrad and Alpinestars, combined with an airbag waistcoat developed using Alpinestars technology.
The patented Dainese D-Air Protect System features an explosively inflatable airbag designed to protect riders in a crash, similar to the airbags in your car.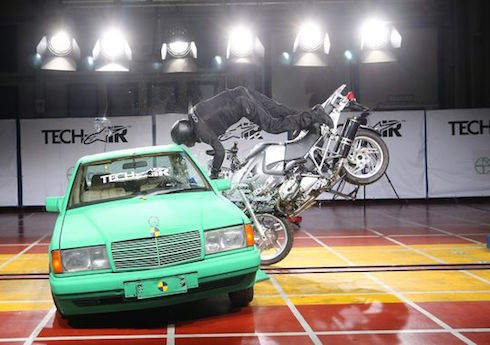 The self-contained street airbag system functions without the need for sensors on the bike, like the Ducati, so riders can switch between bikes without reconfiguring or reinitialising a bike-to-rider set-up.
BMW Motorrad has tested the system with a DoubleR RaceAir one-piece leather race suit in Munich and had promised a Street System which can be retrofitted to their bikes by 2015.
While that has not yet eventuated, the BMW jacket with Alpinestars' Tech-Air airbag waistcoat will be released later this year.
Meanwhile, British company Helite has developed an airbag vest called the Turtle which is depicted in this video.
It features an airbag and a hard-shell back protector like a turtle. The layer-like configuration is aimed to provide resistance towards sharp and pointy objects that a rider may encounter during a crash, such as broken motorcycle parts, glass shards, fences, or poles.
Helite claims the turtle minimises risk serious injury to internal organs, keeps the head aligned with the neck and spine to avoid spine hyper-flexion injury and absorbs and distributes the force of impact over the surface area of the airbag to reduct trauma.