AFX FX-21 Off-Road Helmet With "Conehead" Liner
The AFX FX-21 is a comfortable and very lightweight helmet that can be used for both on- and and off-road adventures.
The EPS liner features the "Conehead" dual-density molding technology, which fuses two layers of EPS in a shape that is claimed to help distribute impact loads and reduce overall weight.
The AFX FX-21 meets the DOT and ECE safety standards and it meets or exceeds FIM, AMA, CMRC and other professional motocross racing standards, according to the manufacturer.
The helmet is very comfortable and has a large eye port, which fits even the largest sized "over-the-glasses" goggles.
The large adjustable "peak" on top is firmly mounted using three aluminum screws and it's one of the few peaks that actually does help to shade the overhead sun from the rider's eyes.
The helmet is very comfortable to wear and comes in a few solid colors but the "Multi" graphics cost only $10.00 more and are available in a wide range of colors.
This type of helmet is a lot of fun to wear on the street or in the dirt and — like all AFX helmets — the price can't be beat.
Anyone with a dual-sport or adventure-touring bike should have one in their helmet quiver.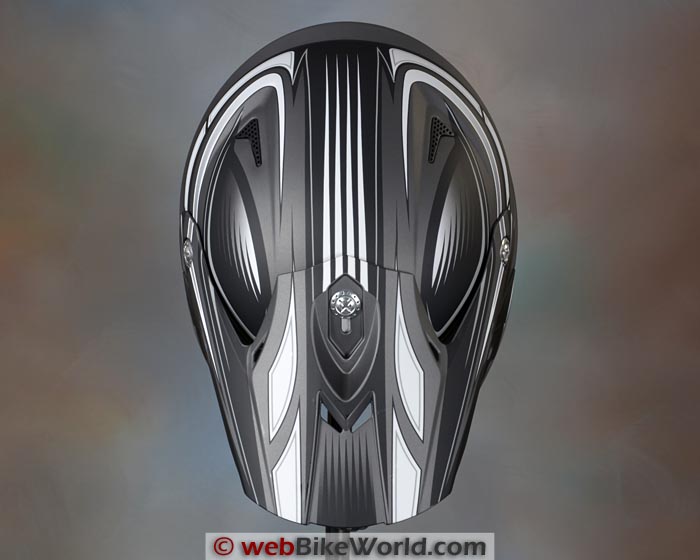 ---
Where to Buy AFX FX-21 Helmet
Check Reviews & Prices on Amazon
Check Reviews & Prices On RevZilla
See More Motorcycle Helmets, Motorcycle Visor, Motorcycle Intercom
---
The AFX FX-21: Paint, Graphics and Overall Quality
OK, so the FX-21 isn't an Arai VX4 Pro (preview), a Shoei VFX-R (review)  or a pro-level Airoh Aviator (review). Even AFX will tell you they're not trying to compete in that range.
But the FX-21 has one big thing going for it: price. At $129.95 list for solids and 10 bucks more for the "Multi" graphic, we're talking chump change compared to everything else.
And it gets even better, because street price is currently running a hair over $110 for the solid and $118 for the Multi.
Beyond the low price, the FX-21 has a lot more going for it.
The matte Multi graphics suit the helmet shell shape, with its streamlined look compliments of the peak and the extended nose that characterizes this helmet type.
Solid colors are available in orange, black and gray and the Multi graphics come in this silver version shown here, along with other "safety" colors like orange, red, green and more.
The graphics have been perfectly applied on this example, with no flaws. In fact, they've done a better job here than we've seen on some helmets costing two or three times as much.
The liner is also very comfortable and the flush-mounted vent inserts are a good idea, because they're both sleek-looking and easy to install on the manufacturing line. Simpler is usually better and that's the case here.
The peak also comes in for special mention because it's mounted with three aluminum screws, which make it feel more solid than just about any other off-road style helmet we've reviewed, regardless of price.
And guess what? It's actually functional, because it's long enough and placed correctly to provide shade for the rider in overhead sun. Again, that's more than can be said for helmets of this type costing lots more.
Now we're not saying this 110-buck helmet is equivalent to that Arai.
But truth be told, once it's on your head, it's hard to tell the difference. And there's a lot to be said for not spending as much for a helmet that's basically designed to take a beating.
If you look closely enough, you'll see that the gasket material isn't quite perfectly aligned and there's a slight gap here and there where the cheek pads meet the helmet shell. But you'd have to look for it and none of this affections functionality.
By the way, there's one more thing: the FX-21 uses the "Conehead" EPS liner technology.
It's a dual-density foam that's molded together, with the inner portion having a series of cone-shaped spikes that are claimed to "act like a crumple zone around the head to absorb and dissipate impact forces more effectively than current liners in helmets".
The Conehead liner also helps reduce weight and the FX-21 is one of the lightest helmets we've ever reviewed on webBikeWorld, with this size large tipping the scale at just 1351 grams while meeting both DOT and ECE helmet safety standards.
Score: We'll give the AFX FX-21 an "Outstanding" rating for excellent quality, finish, light weight and solid feel. See the Summary Table at the bottom of the page for a description of our rating system.
AFX FX-21 Helmet Fit, Internal Shape and Liner
This size large FX-21 fits just as expected, although a 60 cm head is about max. The AFX size chart lists a size L at 60-61 cm but 61 cm would probably be pushing it, depending on the head shape.
We're calling this one a "Neutral" fit, because it seems to fit comfortably on a variety of head shapes, even Rick's "Earth" shaped head that is widest at the temples.
It's a nice, snug fit all the way around and while the padding may not feel overly thick, it's all in the right places for an all-around comfortable feel.
The liner and cheek pads are removable and washable. They are made with a hypoallergenic and antimicrobial nylon fabric.
We don't know how many shell sizes span the head size range of the FX-21 but we'd guess there would have to at least be two. It's possible that the size L is the largest head size in the smallest shell size, but we don't know that for sure.
Goggles and Eye Port
One of the most important aspects of wearing an off-road type helmet is choosing the right goggles. There are standard goggles and "over-the-glasses" goggles for eyeglass wearers and both fit with no problems in the FX-21 eye port.
Here are a few tips on choosing goggles:
Don't go cheap (get good quality construction and optics); make sure they fit comfortably, sealing all the way around; make sure they have filtered ventilation and, most importantly, make sure they're not too big.
In fact, it's probably better to go with the smallest size goggles that fit you comfortably while also providing adequate horizontal and vertical visibility.
Goggles that are too large can fit awkwardly over your nose, affecting breathing, much like it is when you have a cold.
So it's important to choose a pair that has a correct fit over the bridge of the nose.
The Scott OTG (Over the Glasses) goggles (review) are still Rick's favorite and about the largest you'll find, designed to fit over big eyeglasses and other Scott, Smith, Oakley and other brands are available here.
The FX-21 eye port works fine with these, so any other goggle type will probably fit also. Scott goggles can be found for as low as around $23.00, a good deal.
The large eye port in the FX-21 provides excellent peripheral vision, even with the big Scott goggles. In fact, we think this helmet works better with goggles than any other off-road type we've reviewed.
There's really not much of a difference in outward visibility, even with the OTG goggles with their larger-than-normal depth to fit eyeglasses.

More information on helmet fit can be found in the webBikeWorld Motorcycle Helmet FAQ page, along with the chart that lists the helmet weights of webBikeWorld reviewed helmets and also by shape on the webBikeWorld Motorcycle Helmet Shapes page.
Score:  We'll give the AFX FX-21 an "Outstanding" rating for shape, comfort, padding, fit and eye port.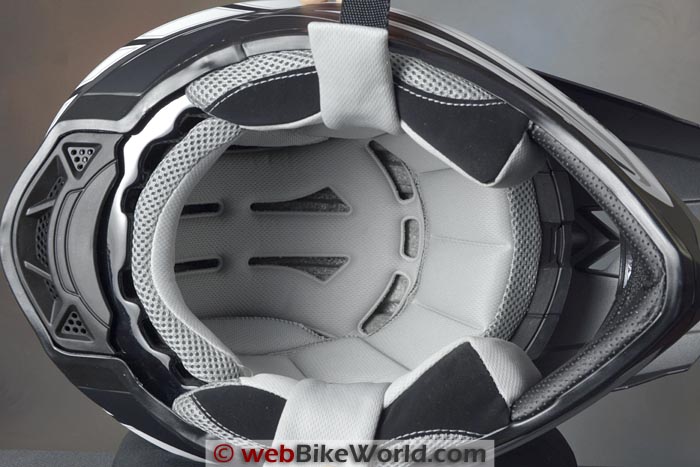 ---
Where to Buy AFX FX-21 Helmet
Check Reviews & Prices on Amazon
Check Reviews & Prices On RevZilla
See More Motorcycle Helmets, Motorcycle Visor, Motorcycle Intercom
---
Conehead EPS
We've described the Conehead molded liner technology previously, in the webBikeWorld review of the AFX FX-120.
To repeat, the Conehead EPS liner is a dual-density system with "cones" molded to the inner part of the EPS (illustrated below).
The manufacturer claims better performance — that is, longer impact absorption duration — and the FX-21 meets DOT and ECE safety standards.
Just like with the FX-120, it's difficult to know without independent lab test results whether the system is an improvement over standard EPS liner types.
But again, kudos to AFX for trying something new and squeezing every last drop of value out of the low price point for the FX-21 also.
The two semi-circular pointed rims along the back of the FX-21 serve a dual purpose.
First, they help hold the goggle strap in place (see photos below) and second, they serve as an anchor for the special Conehead EPS liner to attach it to the inside of the helmet shell, as you can see in the photo below.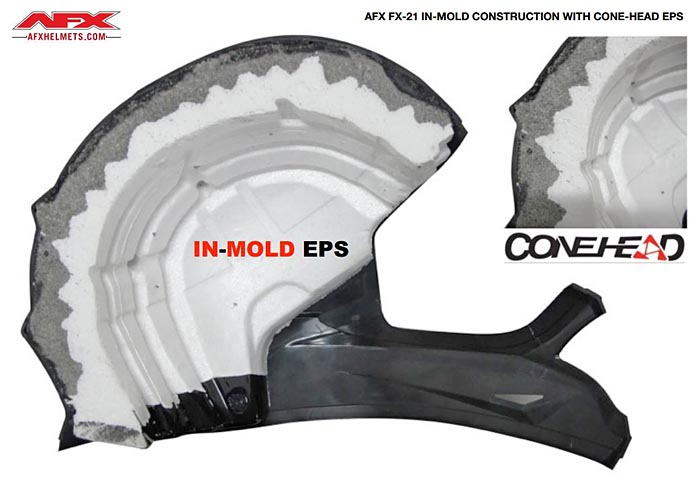 AFX FX-21 "Conehead" molded dual-density EPS liner cutaway.

The inner "cones" in the dual-density liner are designed to absorb impact compression energy.
The FX-21 Peak
The FX-21 may not seem as radical as the Airoh Aviator, but that's not a bad thing. The simple design still looks the part and fewer added-on bits can mean it will survive more rugged use.
The Multi graphics play a big role here, because they give the helmet an angular look.
The peak is the "make or break" feature on an off-road helmet — figuratively and literally. The mounting system for the peak is important, along with the aerodynamics.
The FX-21 does a good job at both; the mounting system uses three aluminum screws (sides and center) and holds the peak firmly in place. The system also allows a small adjustment range.
The peak is also molded to minimize flex, which also helps and the air flows smoothly over and around, minimizing lift. And finally, it's long enough to actually block the overhead sun.
While all of this sounds simple, apparently it's not, because some of the off-road helmet designs don't get it right, especially in the realm of less expensive helmets.

Score: The FX-21 has excellent eye port visibility in all directions, so we'll give it an "Excellent" rating overall.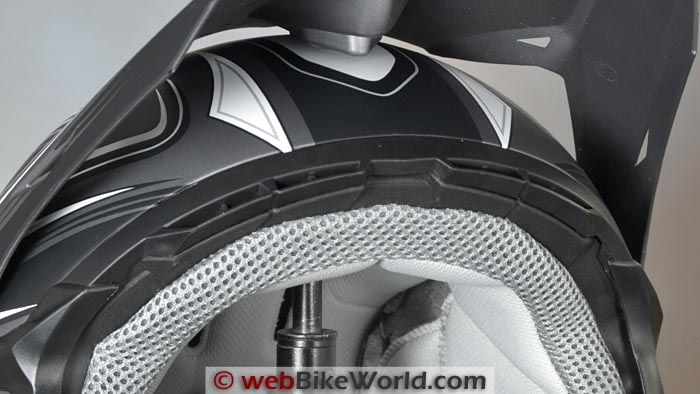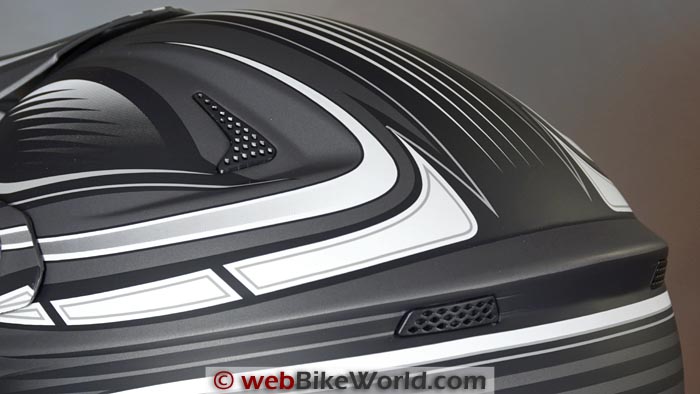 Ventilation
Since this type of helmet has an open face, overall ventilation isn't as important because air is always flowing into the helmet, as long as you're moving.
The standard off-road helmet chin vent is there, at the end of the long(ish) snout. It's backed by a removable foam filter to keep out dust and dirt.
Two small mesh-covered intakes, one on each side of the chin bar, seem to be for looks only, as they don't flow air into the chin bar itself.
The FX-21 has a pair of brow ports for air entry and it's difficult to tell, but the air seems to travel into the helmet, up and over the Conehead EPS liner and out the four exhaust ports in the rear.
But there are no channels down through the EPS and into the helmet, so the air that flows through never really reaches the rider.
The bottom line is that the overall shell ventilation on the FX-21 isn't exceptional, but it's not as critical in this type of helmet and the liner is comfortable enough and enough air enters the helmet to keep it relatively cool anyway.

Score: We'll give the FX-21 ventilation system a "Very Good" rating.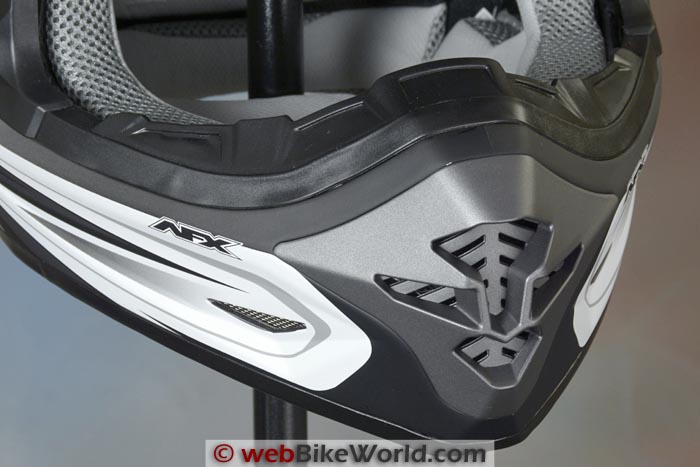 Noise Levels
The FX-21 has good aerodynamics, with minimal lift from the peak. This helps to keep noise levels low with no surprises.
There's an overall slight wind rushing noise due to the open-face design, but the smooth shell shape minimizes edges that might cause noise.
Also, when wearing the FX-21 while riding the Suzuki V-Strom 1000 ABS (Blog), the wind flows off the top of the windscreen and over and under the peak. This might generate some noise but it isn't bad at all with the FX-21, which is a pleasant surprise.
Overall, we rate the FX-21 as quieter than expected, with better noise control that many other full-face or other helmet types.
Note that our helmet evaluations are a combined effort of several riders over time on different types of motorcycles with and without windscreens.
Evaluators wear correctly fitted, high quality ear plugs (even when evaluating motorcycle intercom systems).
Always protect your hearing when riding a motorcycle. See the wBW Earplug Reviews for more information on choosing and wearing earplugs.
Note also that perceived noise levels will vary, depending on the individual.
Noise can be caused by many factors, including helmet fit, the type of motorcycle and windscreen, wind speed and direction and even the rider's clothing.
For more information on helmet noise, visit the wBW Motorcycle Helmet Noise page.
Score:  We'll give the FX-21 an "Excellent" rating for better than average noise control.
wBW Video: AFX FX-21 Helmet
---
Where to Buy AFX FX-21 Helmet
Check Reviews & Prices on Amazon
Check Reviews & Prices On RevZilla
See More Motorcycle Helmets, Motorcycle Visor, Motorcycle Intercom
---
Helmet Weight
While the expensive Airoh Aviator is so far the lightest helmet we've ever reviewed on webBikeWorld.com at 1115 grams (size XL), the FX-21 isn't far behind at just 1351 grams (2 lbs., 15-3/4 oz.).
That's very light and it makes a real difference in comfort. Supposedly the Conehead liner makes a difference and the overall shell shape also helps to give the helmet a firm feel with little flex.
Other helmets reviewed on webBikeWorld in this flyweight range include the Akuma Phantom II MFR (review) at 1367 grams; the AGV AX-8 (review) in size large, which weighs 1394 grams and the Lazer Monaco (review) flip-up helmet in size large, which weighed 1406 grams.
Note also that all of the helmets reviewed on webBikeWorld have been weighed and the weights are available on the wBW Motorcycle Helmet Weights page, along with a chart that lists the helmets by weight and shape on the wBW Motorcycle Helmet Shapes page.
Score:  We'll give the AFX FX-21 an "Outstanding" rating for its ultra-low weight and excellent fit and balance.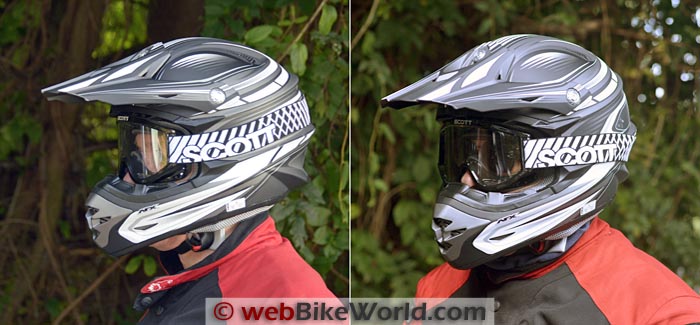 Miscellaneous
The FX-21 has a comfortable chin strap with a double D-ring attachment system.
The chin strap has a separate plastic snap to secure the extra length and it is located correctly and in proportion to the helmet and shell size.
The helmet meets both the DOT and ECE safety standards and includes the AFX lifetime warranty.
Conclusion
The AFX FX-21 is a surprisingly good helmet for the price, with ultra-light weight, a comfortable fit, a solid peak and excellent build quality.
If you're looking for an off-road helmet for true off-roading, or if you're a dual-sport owner in search of a more "authentic" experience or even if you've just wanted to try an off-road helmet on- or off-road, the FX-21 is an excellent choice and you don't have to mortgage the bike to own one.
w

BW

 Review: AFX FX-21 Helmet
List Price (2014): $129.95 (Solids) or $139.95 (Multi graphics)
Made In: China
Colors: Orange, Gray and Black solid or 9 different "Multi" graphics colors.
Sizes: XS-2XL Shell Sizes: Unknown
Review Date: September 2014
Note:
 For informational use only. All material and photographs are Copyright © webWorld International, LLC since 2000. All rights reserved. See the webBikeWorld® 
Site Info page
. Product specifications, features and details may change or differ from our descriptions. Always check before purchasing. Read the
Terms and Conditions
!
---
Where to Buy AFX FX-21 Helmet
Check Reviews & Prices on Amazon
Check Reviews & Prices On RevZilla
See More Motorcycle Helmets, Motorcycle Visor, Motorcycle Intercom
---
Owner Comments and Feedback
Other WebBikeWorld Helmet Posts