Unique ATVs with Custom Builds
The following custom ATVs are unique and a testament to the ingenuity of their respective builders. Each began as a common ATV or motorcycle base and transformed it into a custom four wheeler with thought provoking design. Some even have tracks, take a look.
Hayabuquad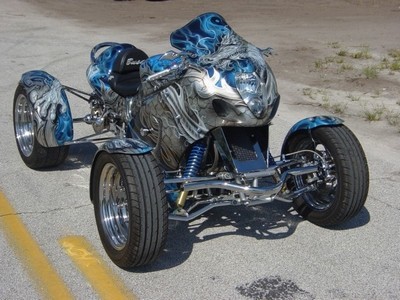 Perhaps inspired by the Quadrazuma ATV this custom Hybrid ATV, known as the Hayabuquad, looks just as solid. It sports an outstanding dragon and blue flame custom paint job and seating for two.
As its name suggests the Hayabuquad is custom built from a Suzuki Hayabusa frame, with two wheels too many. I can't emphasize enough just how much time and patience it takes to not only custom paint a beauty like this but to polish it into a mirror like shine.
The looks may not be for everyone, but you have to appreciate the effort and attention to detail! Source – motoblog.it. Also, if you're curious about the ATV values of these custom quads the answer is priceless.
Polaris Concept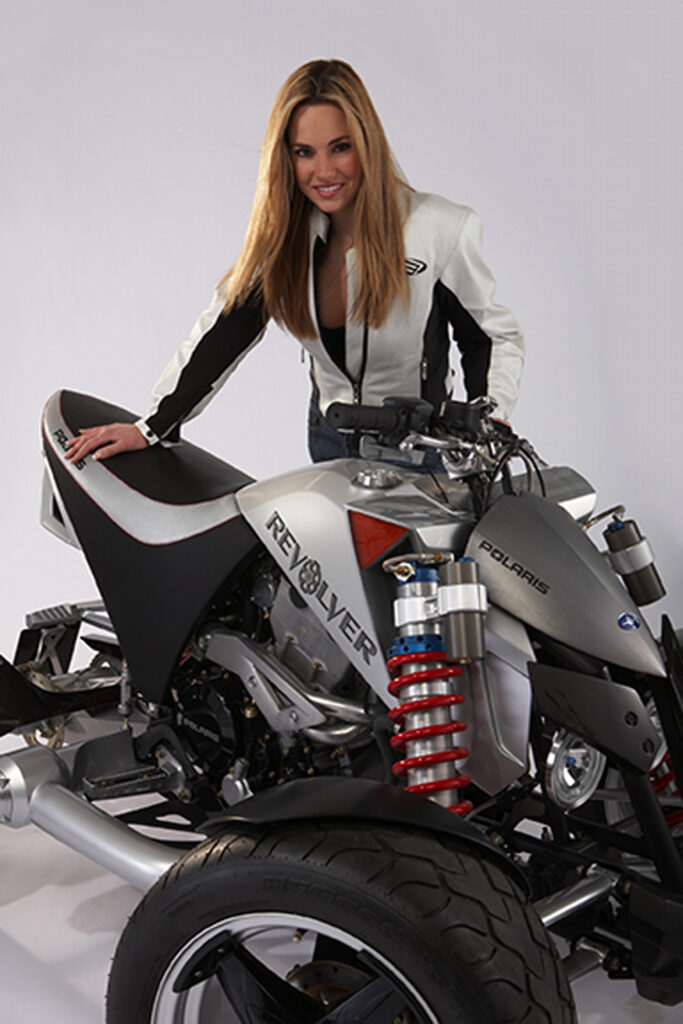 The Polaris Revolver Concept ATV was designed with a European market in mind because many European ATV riders drive their quads on the road. I've been patiently waiting to see where Polaris would take their award winning concept, and secretly hoping it would be available in the U.S., no word yet on a final production release date.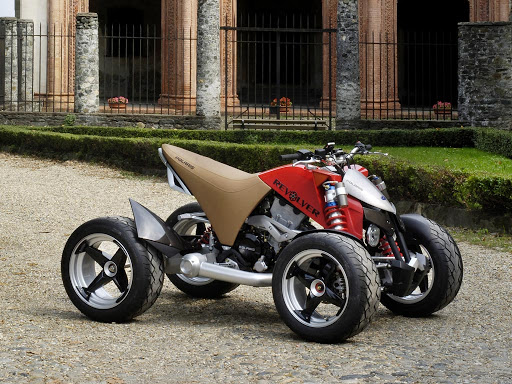 Polaris Revolver Model – The 2005 Paris auto show where this sport quadricycle was first revealed set the ATV universe buzzing for more. Polaris re-worked the original model to enter the 2007 Micheline Design Challenge where it gained a lot of prestige and created even more buzz. When will it enter production?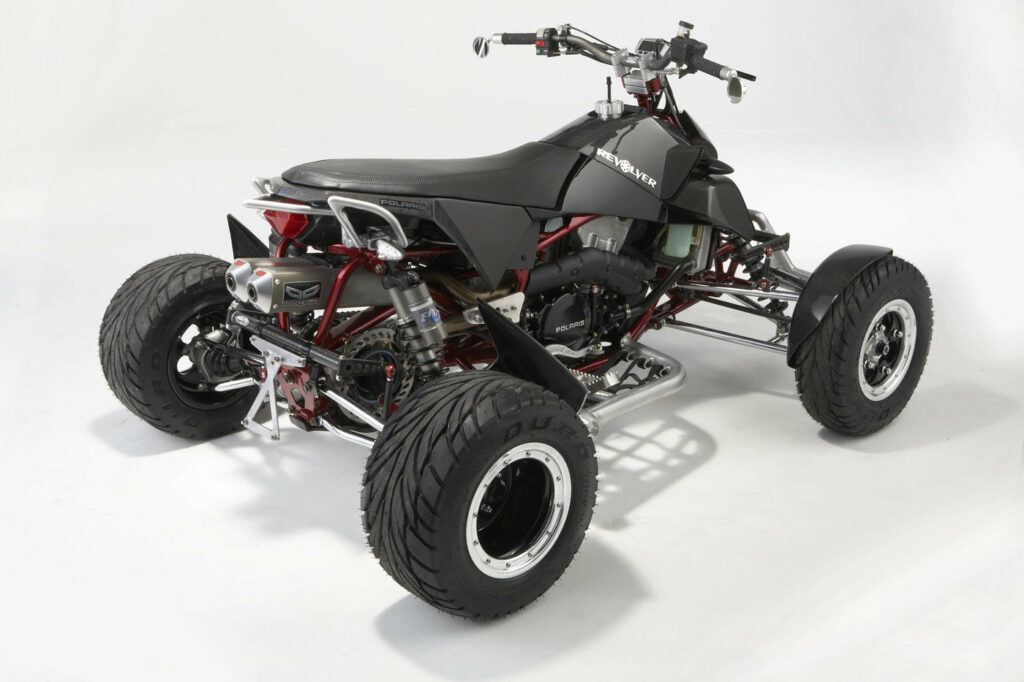 The Revolver ATV was close to being launched into production in early 2007 judging by the wording used in Polaris Industries press releases however timing is everything and the economy is suffering on a global scale right now. Perhaps when it shows signs of rebounding Polaris will set the road-legal concept revolver ATV on it's course in history. IF Polaris ever releases it in U.S. markets I wouldn't be surprised by a name change, how does road warrior sound ?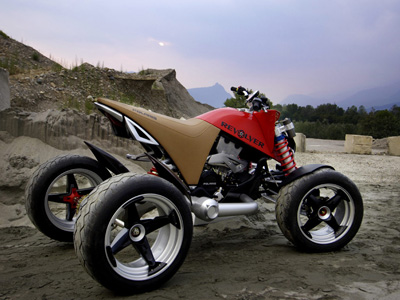 Polaris Concept ATV design is ongoing and prior to recession Polaris was fast becoming a market leader in small vehicle sales with significant yearly sales. Polaris is well known in the snowmobile market and has successfully parlayed it's in house design and production teams into amazing new ATV ideas. Whatever the future brings I'm counting on Polaris to be there bringing us cutting edge products like the revolver concept.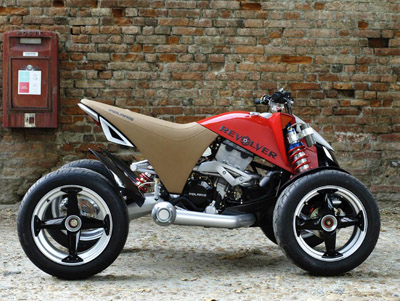 The Polaris Revolver may still be on hold in a huge warehouse filled with awesomeness but if Santa has his way this year my wish of seeing this beauty produced, and distributed in the U.S., may not be very far away. Seeing quads, four wheelers and ATV's on public roads is still a rare occasion in the U.S., it's against the law in many places, but that is slowly changing as people realize it's better to improve safety regulations than to ignore emerging fuel conserving transportation. ATV's can have all of the power a motorcycle does but they also have three times the rubber touching the ground.
Platune Sand-X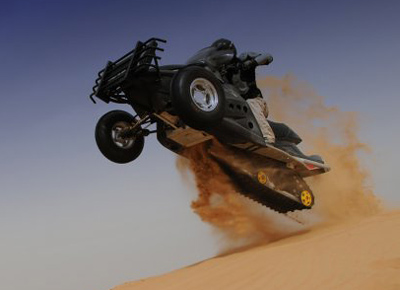 You've no doubt heard about Sand-X by now, you know, the co-creators of the sand dune vehicle that can go from 0-100 kph in under 3 seconds when a Yamaha Raptor 700 requires over 5 seconds to achieve the same? It's as much fun in the dunes as the Honda Odyssey ATV was back in the day.
According to the official platune website Gulf News once wrote that this is the fastest, safest and most powerful dune bike. I don't know, I've seen some radical sand rails in my SandX Engine time, but in all fairness the SandX with it's ATV front and snowmobile-like rear can go over any terrain so it gets from point A to point B in a straight line no matter what the dunes are like.
Engine: Rotax 800R Power T.E.K.
Displacement: 799.5 cc / 48.8 cu
Bore: 3.2 in / 82 mm
Stroke: 3 in / 75.7 mm
Maximum Engine Speed: 8150 RPM
Carburetion: 2X TM-40
Exhaust System: Single tuned-pipe
Not convinced you want one? take a look at 1:33 into this Sand-X Hybrid ATV Video… 0 to 100KPH in 2.8 seconds?!!
Shoe ATV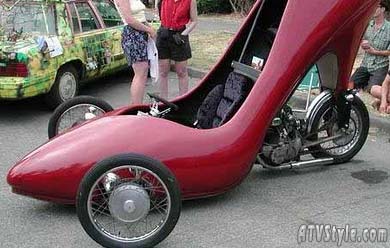 It's not your average Yamaha ATV or Honda ATV but it sure covers a whole new sort of terrain so we're giving this weird shoe ATV a home on ATVStyle. If nothing else it covers new terrain with style! The picture isn't new but details about it are hard to come by so we set out to find it's owner. We got a good tip from a feline friend that it was being kept in a barn in the next town so we set out to find it.

It turns out that our feline friend has a grudge against some local characters and intentionally misled us. We had arranged to meet the supposed owner in a public parking lot but as you can see our presence wasn't welcome. We took a quick picture of the snarky fellow we did meet for prosperity.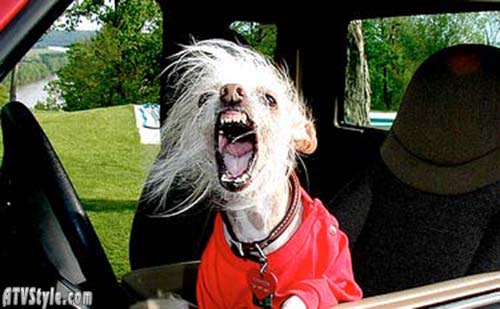 Keep an eye out for the matching pair.
F3 Adrenaline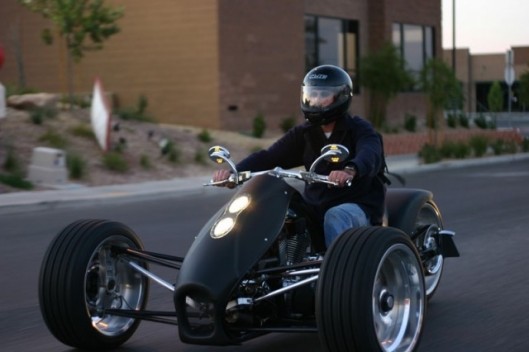 The F3 Adrenaline trike was introduced to the world by TriRod Motorcycles at this time last year and I wanted to remind everyone that it's not too late to add it to your santa wish list this year. The popularity of three wheel trikes is on the rise because they fit in a middle area between motorcycles and cars. Safer than a motorcycle but more sporty than a car The F3 Adrenaline is fun to ride.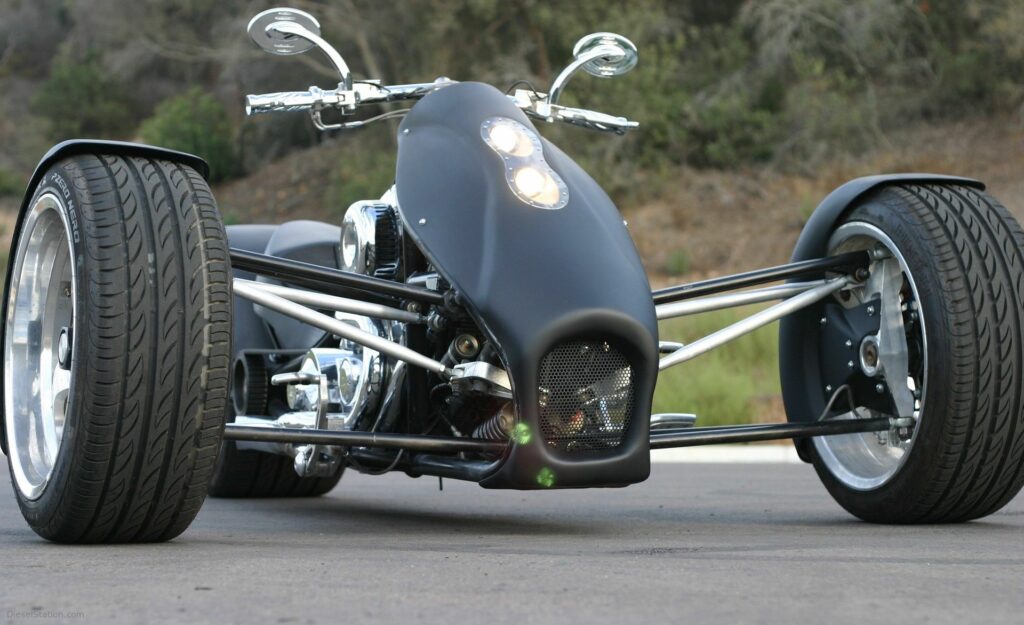 The F3 Adrenaline Trike was designed from the ground up to go fast, the specs: DIMENSIONS Wheelbase 76 in Track 60 in Ground Clearance 4 in Seat Height 19.5 in Dry Weight 750 lbs GVWR 1100 lbs.
CHASSIS Main Frame TriRod 2-1 Straddle Mount, Steel Tubular Frame Seat 2 Up Fuel Tank 4.5 gallons Front Fenders Carbon Fiber – Upright Mount Rear Fender Carbon Fiber – Swing Arm Mount Body Panels Carbon Fiber Saddle Bags Optional – Frame Mount, Hard Bags Windscreen Sport/Half Windscreen – Body Panel/Frame Mount Foot Controls Forward Controls – Billet Aluminum Hand Controls Performance Machine Billet Aluminum
SUSPENSION/STEERING Front Suspension Double, Unequal, Non-Parallel A-Arm, Rocker with Pull Rod, Inboard Shocks (Penske Racing Shocks) Front Hubs Heat Treated Chrome-Moly, Tapered Bearings Front Uprights Billet Aluminum Rear Suspension Mono-Shock, Rocker & Linkage Steering Handle Bars, Electronic Power Steering Assist.
DRIVETRAIN Engine JIMS Twin Cam – B, 120 Cubic Inch – Natural Finish/Chrome Exhaust 2 into 1 Transmission 6-Speed, Overdrive, Right Side Drive, Natural Finish/Chrome Primary Drive Double Row Chain, Closed Primary, Oil Bath, Chrome Inner Cover, Chrome Outer Cover Secondary Drive 125 Tooth Belt, Kevlar Reinforced Final Drive 125 Tooth Belt, Kevlar Reinforced Clutch Wet, 9 Plate Reverse Drive Optional – Electric.
WHEELS/TIRES Front Rims 18 x 9, Billet Aluminum, Speed Nut Front Tires 235/40-18, Pirelli P Zero Nero Rear Rim 20 x 12, Billet Aluminum Rear Tire 325/25-20, Pirelli P Zero Nero.
BRAKES Calipers Rear – Billet Aluminum, 2 Piston, Front – Billet Aluminum, 4 Piston Rotors Motorcycle Type, Stainless Steel, 10" Rear, 13" Front (Floating Rotors).
ELECTRICAL Charging System 32 amp Gauges Analog Speedometer with Digital Odometer and Tripmeter, LED Indicator Lights, Fuel Gauge Optional Electronics Power Port – Gauge Area Lighting Halogen Headlight – Flush Mount with Bodywork, Tailight/Turn Signals – LED.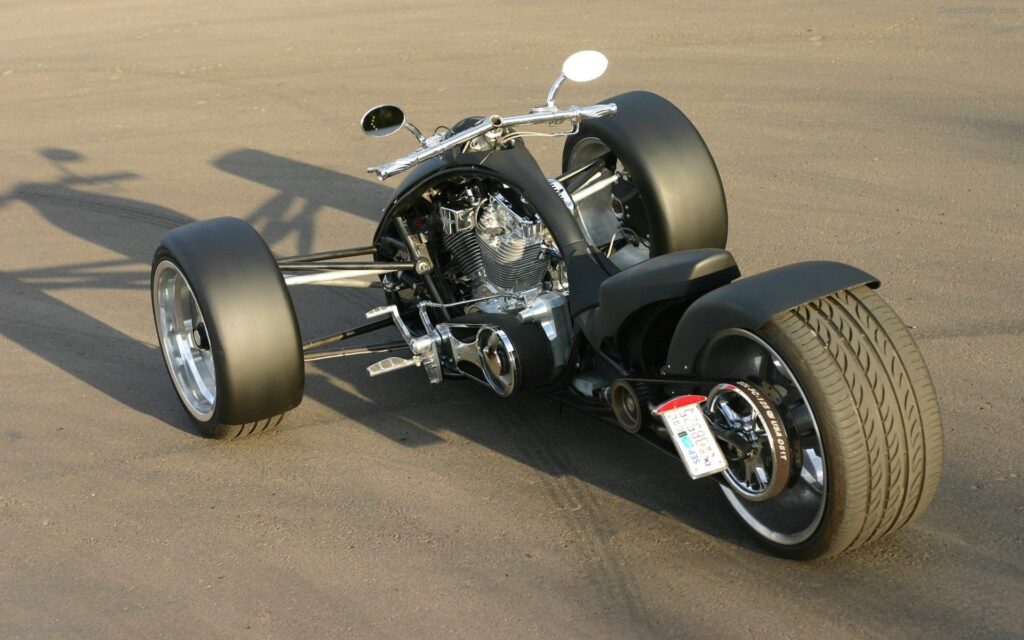 Harley Davidson powers the F3 Adrenaline so you know it's going to have a reliable, and loud, engine and performance to go with it. You can drive hard into the corners, come out safely and look/feel good doing it. I know it's not an ATV but that doesn't mean you can't drive something similar when you're not busy off-road!
Bad Genetic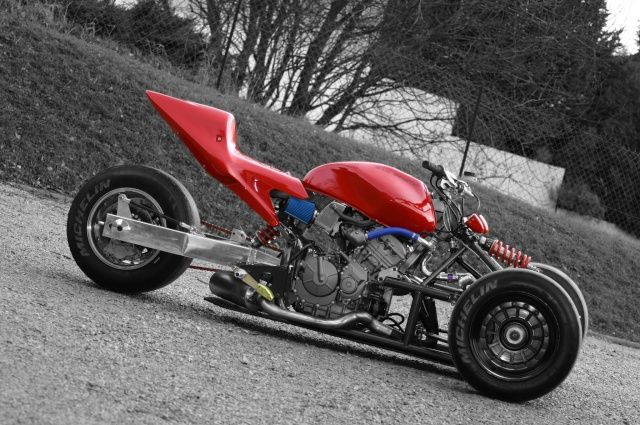 This custom trike is called 'Bad Genetic' and is a hybrid ATV built on a Honda 600 Hornet frame. Very few details are available on this custom build but look to the french site mototuning.com for updates. You can email the builder and ask for specs via 'badgenetic at hotmail dot fr'.
Bad genetic is built for straight line speed and everything about the stance on this Hybrid ATV screams fast. The front center shock and front sub-frame likely act as dampeners for when the monster rear slick yanks the front end off the asphalt during acceleration and not so kindly slams it down again.
The Cushman Trackster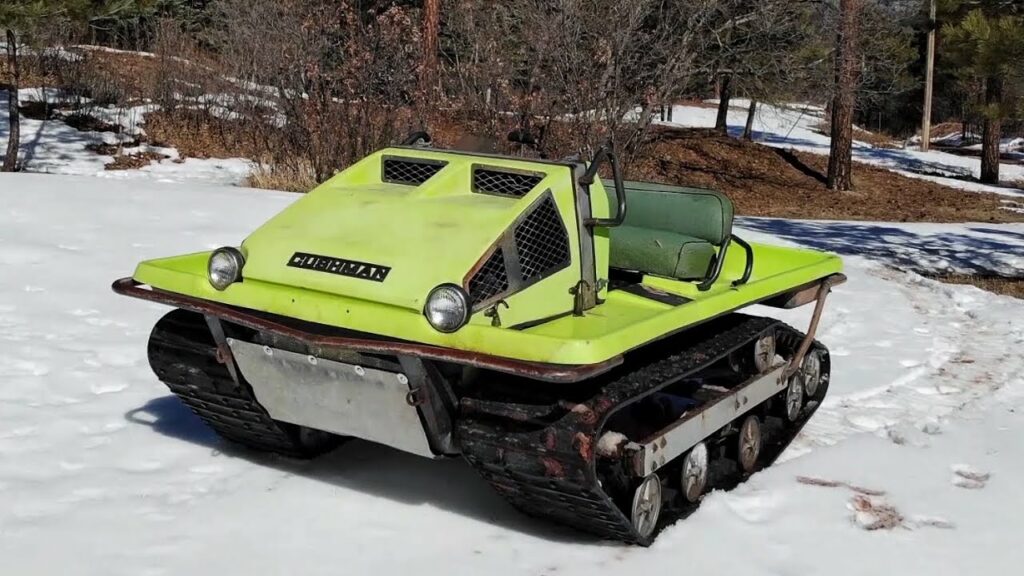 The first Cushman Trackster came off the assembly line on Feb 13th, 1970. I was marketed as a fun utility all-terrain vehicle capable of performing many different tasks. Buyers had a lot of accessory options to choose from including a molded ring that allowed it to float. A fold down windshield and removable padded bench seat made the trackster an ideal cargo hauler as well.
What I like most about the Cushman Trackster, besides its gnarly look, is that it is truly a go anywhere vehicle. It's capable of operating in sand and snow and it has a zero-turn radius allowing it to spin in a tight radius.
Ripsaw, The Tracked Military ATV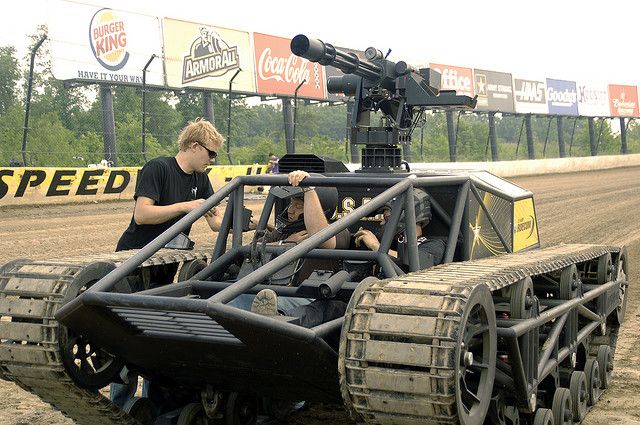 Mike and Jeff Howe are twin brothers who grew up in Elliot Maine fascinated with chemistry and science and enjoyed experimenting with ideas and available materials. The Ripsaw tracked ATV has slowly evolved as one of those projects and is ultimately designed to be an unmanned ground vehicle(UGV) but in it's early stages it was controlled manually. Mike shared a story with Dick Gordon for North Carolina public radio station WUNC, co-produced by American Public Media, and I want you to try and visualize this, on how the Ripsaw ATV evolved towards being unmanned.
The Rip Saw Tracked ATV is made of tubular steel and powered by a big block engine so in comparison with a standard tank it's light and powerful. Mike decided to climb on top at an early stage, before it had a roll cage, and using wire controls he wanted to see what it could do. Mike hit the throttle and the acceleration lifted the front off the ground so much so that it scared him a little and he let off the gas, bringing the front end down hard. It dawned on the Howe brothers that by being so light and having tracks capable of spinning in place, which is near impossible on standard tanks, they needed to keep it that way. Adding plate armor to protect a human would greatly reduce its performance and so the decision was made develop it into a UGV.
p>The Defense Advanced Research Projects Agency (D.A.R.P.A.) took notice once Mike and Jeff proved that the Rip Saw had potential as an autonomous robotic vehicle and have since funded its further development but to get to that stage the Howe brothers needed to prove they had an idea worthy of further attention. They entered their manned version into the 2005 D.A.R.P.A. Grand Challenge, a race across the Mojave desert, and won.
Howe and Howe Technologies started development of the Rip Saw MS1 (military spec 1) you see in the image at the top of this page in January of 2008. The MS1 Rip Saw was equipped with weapons and tested by ARDEC, an advanced research department of the military, to prove its capability in saving human lives in combat. The brothers are also furthering the development of PAV1 and PAV1.2 which are among the worlds smallest, if not the smallest, armored ATVs. The PAV1 and PAV1.2 were commissioned by the Civil Protection Service of California for use as a special weapons and tactics (S.W.A.T.) capacity and the PAV1.2 was delivered for testing by the CPS in January of 2009.
The Rip Saw Tracked ATV has come a long way since the Howe brothers first began creating it and I'm wondering if the future holds any improvements to standard sport ATVs derived from their research on these exceptional machines. As with all public creations perception is important so while you were watching the Rip Saw Tracked ATV video above you got the impression that this thing destroys the environment you're right but it isn't designed to be sold to the public as you see it. In other words don't expect to see the Rip Saw tearing through your favorite riding areas, it's busy defending our troops and for that it deserves our support.
Polaris MV800 Military Quad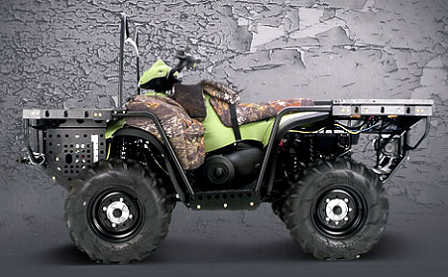 Polaris Industries was awarded an Army contract in August of 2007 to build the MV800 multi-fuel military ATV. The contract to produce and deliver ATVs will continue for three years and the first Military ATV units have been delivered, lets take a look.
One of the requirements for the Polaris MV800 military ATV was that it run on standard military JP8 fuel. Polaris met that requirement and the multi-fueled engine can also run on gasoline or diesel if needed. Being able to run on multiple fuel sources keeps our troops safe should one particular source not be readily available.
Here is what Polaris has to say about the MV800.
"Our War-fighters are operating in some of the world's harshest conditions. We are committed to providing them with all terrain vehicles that can make their job easier and increase their mission effectiveness." The MV800 is built to do just that.!
The multi-fuel engine on this military ATV is aptly named the "Patriot Engine' and was designed in partnership with Orbital Corporation, an Australian research and development firm. Thanks for keeping our military safe Polaris.
More Unique and custom ATVs will be added over time. Own one?