7EYE Motorcycle Sunglasses Image Gallery
As you can see in the right-hand column, we have plenty of webBikeWorld reviews about motorcycle helmet visors, visor cleaners, anti-fog treatments (and more on the way), sun shades and more.
But we never quite got around to motorcycle sunglasses, for some reason.
It certainly couldn't be for lack of choices, because  there are dozens of different brands and types of motorcycle-specific sunglasses for sale today.
But thanks to the kind folks at Panoptx, who pointed out our error of omission.
They sent us a couple of pair (are two sunglasses two pair, a pair, two pairs or a pair squared?) of their new-for-2007 "Speed" series, we now have a motorcycle sunglasses review for your reading enjoyment.
The Panoptx brand celebrates its 10th anniversary this year.
They're known to motorcyclists as the company that "developed the technology that combines the protection and performance benefits of goggles with the style of sunglasses".
Panoptx offers several different eyewear "Collections", with sunglasses designed for fishing, skiing, snowboarding and general sports in addition to eyewear designed for military and tactical use.
Panoptx Sunglasses
One of the most popular Panoptx sunglasses are the Velocity CV series; they have a removable and replaceable eye cup that fits on to the inside of the eyewear surrounding the eyes.
The eye cup is designed to keep wind and debris from blowing into the rider's eyes when wearing an open-face helmet.
These are very popular with cruiser owners and there's no question that they look a lot better than a pair of goggles!  The Velocity FX series is similar, but the eye cup is non-removable.
The Panoptx Taku and Zephyr shown here are part of the Speed series, and these use an "Air Dam" instead of an eye cup. These sunglasses are designed for use in a full-face helmet and for general use.
They're also called "SR 75"; a "Speed Rating" that is 75% of the full eye cup series; that is, they are 75% as effective at blocking wind and debris, including wind, dust, pollen, UV light and glare.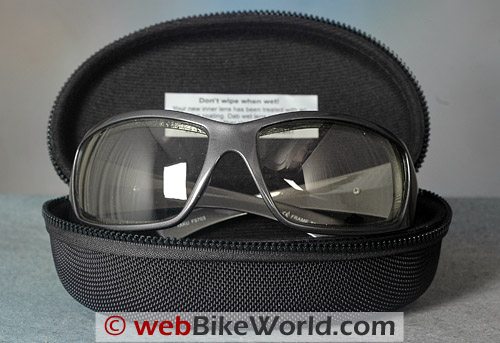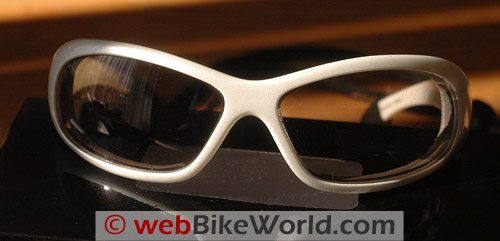 Sunglass Types
The Taku is the men's model in the gray frame in these photos; it's also available in Gloss Black and Horn, which is a faux tortoise-shell pattern.
The Zephyr is designed for women and it's available in the Bone frame color shown here in addition to Sandalwood and Glossy Black.
The Panoptx "AirDam" that surrounds the inside of the lenses is made from EVA foam and it does seem effective in blocking some of the glare that otherwise might leak through the top and sides.
But in general, the design of the Taku and Zephyr are very effective at blocking the sun and glare anyway, even without the AirDam.
The frames have a nice wrap-around shape and wide temples, which does seem to help block much of the sun and glare, and they may be better in this regard than sunglasses without the same features.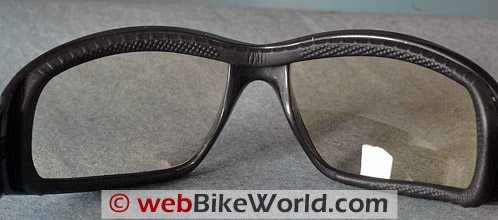 Lenses and Options
Several different types of lenses are available for all of the Panoptx motorcycle sunglasses, including the "PureTec" Day/Night light-sensitive (photochromic) lenses shown on the Taku and Zephyr in these photos.
The Day/Night lenses range from 85% down to 18% light transmission.
The lenses are slightly tinted indoors or in the shade, but they get nice and dark outside as long as they are irradiated by UV light from the sun.
Note that some motorcycle visors block UV light, so the sunglass darkening effect may vary.
Other available lenses include the "ColorTec" in copper or gray with a slight metallic coating for higher contrast, and polarized lenses are also available.
All of the motorcycle sunglass lenses are also treated with an anti-fog coating, and it really seems to work — Panoptx should sell their secret formula to helmet visor manufacturers!
Between the various frame types, lenses and coatings, there are quite a few choices, and prospective owners can even build their own sunglasses online by mixing and matching frame types, frame colors and lens types.
The lenses are made from something called "NXT", which apparently was designed for use in military helicopters due to its ability to absorb a bullet without shattering.
The use of NXT also seems to help the photochromatic characteristics of the lens; it seems to change very quickly from light to dark and NXT is also claimed to hold its photochromatic capability longer than other types of materials.
And there's a bonus: NXT can combine both polarization and the photochromatic treatment in a single lens.
NXT lenses are also claimed to be 15% lighter than CR-39 and 10% lighter than polycarbonate lenses, and this is proven by the very light weight of the Taku at a mere 32 grams (1.125 oz.).
In fact, when you first pick them up, the sunglasses feel "cheap" because they don't have the heft that gives them a "presence". But no fears, because the quality is there.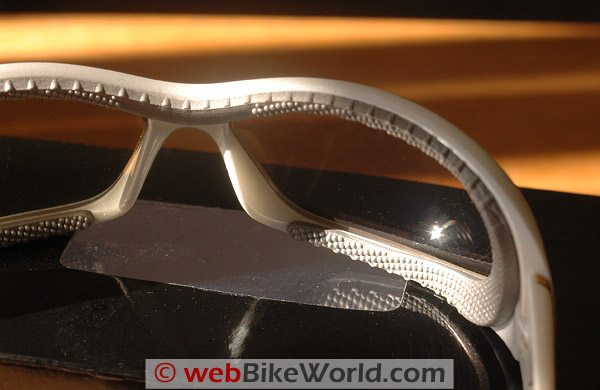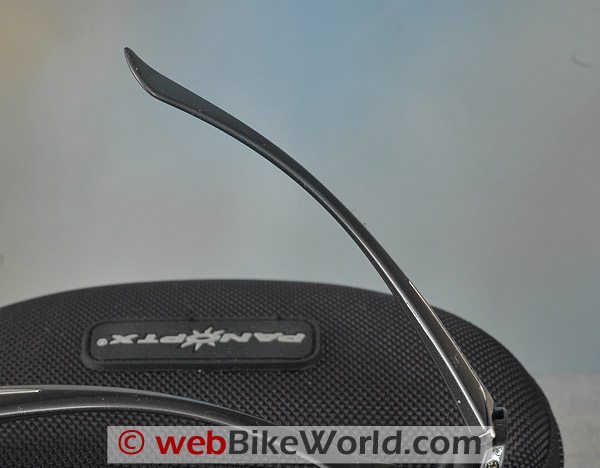 Riding With Panoptx
Kim feels that the Zephyr sunglasses could have a darker tint; we're not sure if the automobile glass in the car blocks some of the UV light, preventing the photochromatic lenses from darkening?
Our men's Taku does seem to require a dose of full sunlight to become darker, but the lenses do seem to transition back and forth more quickly than other photochromatic lenses (or visors) we've used.
Both the Taku and the Zephyr seem to fit slightly different than our expectations.
The men's Taku is designed for medium to large heads (although the website says small to large) and the women's Zephyr sunglasses are designed for smaller heads.
It took a slight adjustment to get both versions to fit comfortably inside full-face helmets, but once we figured it out, it hasn't been a problem.
The helmet may have to be adjusted slightly for the eyewear to fit comfortably (some full- and open-face helmets must be pushed down and forward on the rider's face to fit correctly).
But the temples are very thin and they do seem to slide easily between the rider's face and the liner in most helmets.
The Taku has a relatively wide nose opening, which makes them feel loose when worn without a helmet.
But once they're held in place inside the helmet, the wide lens combined with the wrap-around styling makes the frames disappear from peripheral vision and they provide excellent coverage and sight lines.
The sunglasses come with a very nice semi-hard zippered case, a neck lanyard, a micro-fiber cleaning cloth and an owner's manual with instructions on cleaning and care.
If you've priced a pair of prescription eyeglasses lately, you'll probably agree that the Panoptx motorcycle sunglasses are actually very reasonably priced, especially considering the quality and style.
Panoptx will also fit prescription lenses for the frames.
Conclusion
The quality, design and the ability to customize Panoptx sunglasses for the individual wearer are strong selling points.
But they also have motorcycle-specific features that make these a pleasure to use both on and off the bike.
Master Listing of All wBW Motorcycle Product Reviews
w

BW

 Review: Panoptx (7EYE) Motorcycle Sunglasses
Manufacturer: Panoptx
List Price (2007): $75.00-$175.00
Colors: Taku: Horn, Glossy Black, and Charcoal. Zephyr: Bone, Glossy Black and Sandalwood.
Made In: Taiwan
Review Date: November 2007
Note:
 For informational use only. All material and photographs are Copyright © webWorld International, LLC since 2000. All rights reserved. See the webBikeWorld® 
Site Info page
. Product specifications, features and details may change or differ from our descriptions. Always check before purchasing. Read the
Terms and Conditions
!
Owner Comments and Feedback
ADDENDUM: Panoptx to Launch 7EYE Brand
November 28, 2007 – Panoptx announced that it will launch a new logo in January 2008, a stylized numeral "7" tied to a new brand: 7EYE.
The first Panoptx frames bearing the 7EYE logo are already being introduced as the "Seven by Panoptx Limited Edition III", with new versions of the Taku and Whirlwind.
The entire product line will be in stores in January of 2008.
A complete line of 7EYE by Panoptx products for all categories will be ready by mid-January 2008.
Most models will bear familiar names and fits to help retailers through the transition, including the Bora, Churada and Whirlwind in the Seal Protection Factor (SPF) 100 collection, and the Taku, Zephyr, Vortex and Gale in the SPF75 series.
---
From "E.M." (04/11):  "I want to thank you for your reviews. I'm a lady solo rider on a budget and I read and re-read and so on . . . before I make a purchase. Like many others I want the best bang for my buck.
One of my favorite lines, from my mother-in-law, "I'm too poor to be cheap" That's me. So many many thanks for the reviews. I'm a petite 5′ 100lbs – so the desired fit is hard to find.
I've been looking for some quality sunglasses and I  wanted to give a heads up that the Zephyr in Bone (reviewed on your website) is on sale for $59.50 regularly $119 at 7eye.com (formerly Panoptx).
Just click on the 50% off Limited Time Closeouts. I just ordered them.
I'm so excited because I loved the bone color on your website but when I went to 7eye they didn't have them, but then I clicked on the closeouts and voila!"
---
From "J.W." (4/10):  "I had a number of polarized sunglasses before I started riding again a few years ago. I did notice interference with both my helmet visor (Gmax68s) and windscreen (BMW F650GS Dakar, OEM).
I would describe it as color distortion, not any actual bars or blocking of light.
When I look at the side and rear windows of some cars I do see this "bar" interference effect. Still, the distortion with my visor and windscreen is disorienting enough that I have made it a point not to buy polarized sunglasses since."
---
From "W.C.":  "I have a pair for several years now and I still like them.
I have a pair with the day/night lens. I only wear them when it is not really bright out. They block the wind very well.
I agree I never wear polarized lenses on a bike, not only is it annoying with the visor down, but it is hard to see wet and slick spots on the road b/c the lenses take away the glare."
---
From "M.A.":  "As usual, your reviews of new products never fail to drum up interest among your readers.
Who could resist reading about the newest, coolest shades on the market, especially with cold weather settling in? We all need something to dream about for the next warm spring day.
A short note of caution though: polarized lenses are BAD news when it comes to most (if not all) motorcycle face shields and windscreens.
Although I haven't had the opportunity to try them all, each and every helmet visor and motorcycle windshield I've ever looked through with a set of polarized sunglasses has had the same visual effect — dark bars and stripes clearly visible due to the polarizing effect, which impede the ability for the rider to see clearly if at all.
If you concur, would you consider adding a short note/warning to the review about the effect of polarizing sunglasses?"
Editor's Reply: I've been wearing polarized clip-ons over my regular eyeglasses for years with many different helmets and visors, and although occasionally I may see a spot or two, I really haven't had any problems at all.
So either I'm really used to it or perhaps it isn't much of an issue?  Does anyone else have a comment on this?
---
From "C.":  "I've got 2 pairs… The "Bora" in transition and the "Gale". Both are prescription bifocal. The service and the quality is outstanding!  I highly recommend them.
If you wear a full face or any style helmet with a visor, they do not change that much. Same, in the car. That's why I got a pair of "Gale" with Copper42."
---
From "P.C.":  "There's a line in the review that says, "we're not sure if the automobile glass in the car blocks some of the UV light".
I just wanted to point out all glass blocks UV. If Kim was testing the tinting of the glasses inside her car, she was probably looking at very little no tinting at all."