In no particular order, here are 7 Motorcycle Helmets that have raised the bar in Technology.
Wearable Tech is making headway in 2017 and the Motorcycle industry is keeping pace with these new high-tech helmets and smart motorcycle helmets. 
I'm a bit of a geek myself and when advances like these Helmets with HUD (Heads-up-Display) and Rearview starting to hit the scene, I can't help but want a new "Big Boy Toy."
Go faster, ride harder, and live longer.
1.  Reevu – A HUD Motorcycle Helmet

First up is the Reevu HUD Helmet. The Helmet was design with style in mind as well solving a problem that plagues most street biker riders – not being able to see behind you. The "rear-view mirror" found in cars and trucks does not translate well into the design of a motorcycle. And the 2 tiny little side mirrors don't seem to be able to provide hardly enough rear road visibility.
Enter the Reevu. Safety, comfort, and low street/wind noise are high priorities for the makers of this high-tech motorcycle helmet. The HUD (or Heads-up-Display) offers a real-time display of what is going on behind you. Essentially, this helmet bends the travel of any light all the way around the shell of the helmet – just like the mirror in a car. Motorcycle racing sports get the most benefit out of this innovation.
And in the case of a zombie apocalypse, you might want to see if they are gaining on you too. 🙂
With the recent release of the new Nuviz HUD attachement, you can now transform any helmet into a HUD smart helmet.
2.  Skully AR-1 – *Update = Project Cancelled.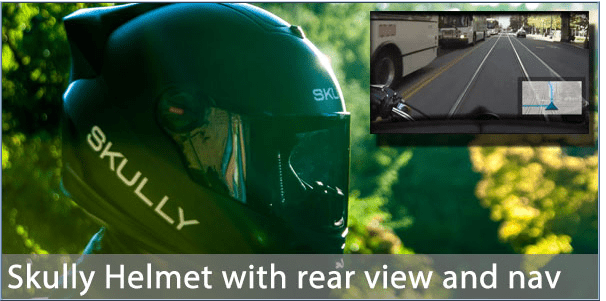 The SKULLY AR-1 is an upgrade to your high-tech motorcycle helmet arsenal. With a built-in ultra wide-angle rear view camera and transparent Heads-Up Display (HUD), this helmet displays your blind spots right in front of you.
The visor goes from light to dark at the push of a button. With fully integrated Bluetooth speakers and built-in GPS navigation, you get turn-by-turn directions even in areas of low reception, and you get to rock out while riding.

Increase your road visibility by adding extra lighting to your motorcycle helmet. Wireless LED kits for converting your favorite helmet are available to in multiple colors and and controller option. Here is how to install one.
Here are my favorite Lightmode Helmet Designs. 
4. Bluetooth Motorcycle Helmets – Make your music mobile.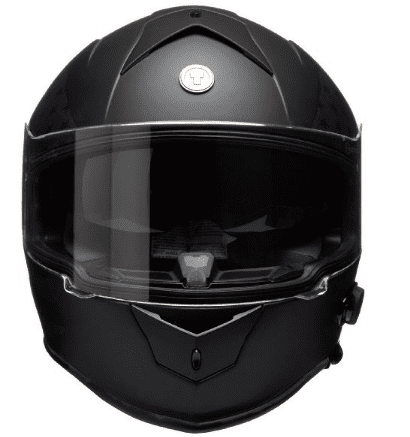 Bluetooth motorcycle helmets have built in speakers to listen to your favorite music on the go.
Some manufacturers like Torc offer them installed from the factory, and kits are available to convert your favorite custom motorcycle helmet into a beat-box road worthy lid.
5. Livemap  – The GPS & HUD Motorcycle Helmet
Livemap is currently in a crowdfunding mode and the website has a Kickstarter-like feel to it with perks and rewards along the right-hand side of the homepage for various donation levels.
Unique hi-tech motorbike helmet with built-in navigation system and voice controlled interface.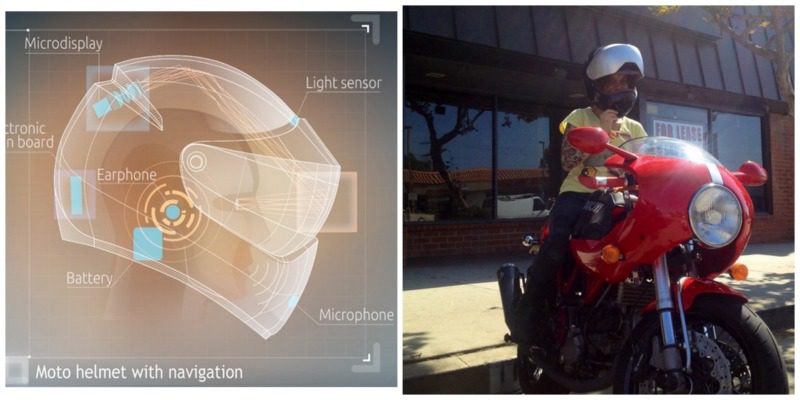 This helmet combines GPS capabilities and a Heads-up-display system with a voice controlled interface. Did you say GPSHUDVC? Yes, yes I did. 
GPS + HUD + Voice Control = Awesome.
Planned to launch in the US mid-summer 2017. 2018?
6.  Bluetooth Headsets – Partner Communication
Why get yourself a new helmet when you can upgrade your own with some technology of the 21st. century. Unless you are one of the cafe-racer hipster types, then all you need some some good beard oil. I kid, I kid.  🙂
Going on a long ride with your partner? Perhaps you want to chat with another biker in the group about the sights along the way. Bluetooth earbuds are also making this easier everyday.
By hooking up a Bluetooth headset you can.  Models vary in size and cost.
7.  Motorcycle Helmet Cameras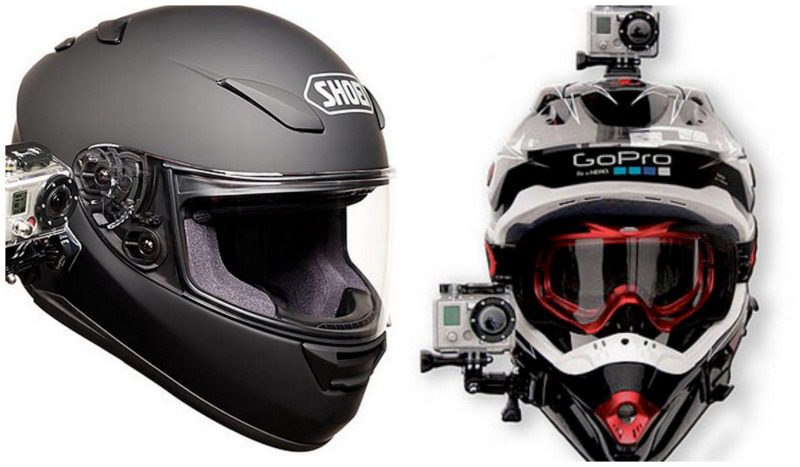 The Go Pro is a camera built specifically for sports recording. It is the most versatile camera on the market and has a huge user fan base that can back up the claim, "Wear it, Mount it, Love it."
Once you experience a Go Pro for yourself, only then will you join the Pros.
Whichever route you take to upgrade into the High-tech lifestyle while riding your own motorcycle, you are going to love your new found freedom. Any features here that you would like to see someday in a motorcycle helmet? Night vision? Image capturing? Personally, I like all of the above combined into one sick motorcycle helmet won't mess my hair up 🙂
Need some more inspiration? Thought you would never ask.
Here are 10 Helmet Concepts that I wish I could buy today.
More from this site:
[pt_view id="dd169a9cee"]