If you've ever dreamed of riding timeless Royal Enfield motorcycles on the world's highest roads in the Himalayan mountains, now is the time to book.
Extreme Bike Tours is offering a free hotel room upgrade from three to five-star luxury at the Delhi Hyatt Regency for new bookings on their 2016 Himalayan adventures with the offer expiring on September 30, 2015.
The upgrade offer includes one night before and one night after the tour starting and finishing in Delhi on June 18, 2016, and one night at the end of the July 5 tour which starts in the Himalayan town of Manali and ends in Delhi.
Both "Mighty Himalayan" tours will take riders deep into India's far north Himalayan region and over the 5600m-high Khardung La Pass – the highest motorable road on Earth.
Another highlight of Extreme Bike Tours' flagship tours is the remote and wild Nubra Valley – a desolately beautiful and high-altitude cold desert frequented by hardy nomads and rare, twin-humped camels.
Guests will ride classic Indian Royal Enfield Bullet 500 motorbikes across 1300km of remote and spectacular roads in far north India and see gushing waterfalls, ancient monasteries cloaked by prayer flags and soaring, snow-capped peaks.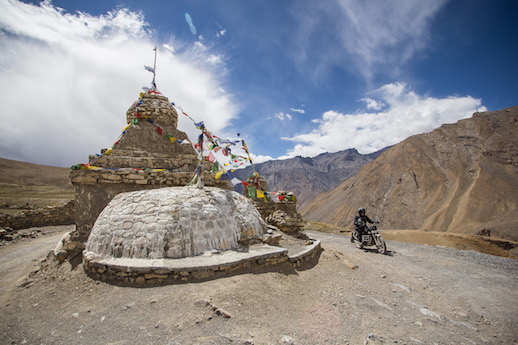 Accommodation among the world's loftiest mountains will be in a combination of tents, rustic guesthouses and hotels along the road.
The two Mighty Himalayan tours departing June 18 and July 5, 2016, are available for US$4334 per rider or US$3371 for pillion passengers sitting behind crew/drivers or in the support vehicle. Fares include accommodation, meals, fuel, transfers and local flight connections.
To access the offer, email info@extremebiketours.com or visit www.extremebiketours.com.
Extreme Bike Tours is based in India and owned by former Englishman and adrenalin junkie, Zander Combe who owns two original 1991 Royal Enfield 500 Bullets with the kick start and gears on the wrong side. One is his original tour bike.
"We're called Extreme Bike Tours because of the locations we go to, not the way we ride or anything else," he says. "Anyone who is a confident rider on a licence can come on our tours. It's about the location rather than riding around trying to kill ourselves."