Review Summary
Gauntlet style, goatskin racing gloves with CE Level 2 protective qualities not typically found at this price. Has actual stingray skin on the palms and carbon fiber armor backed by thick Viscofoam in the wrist, palm and finger areas. Fits like a… glove and feels strong. Very hard to beat the combination of price, quality, and comfort.
Pros
High quality materials used in construction
Excellent price
High protection
Race proven design
Ergonomic curve shape
Surprisingly warm
Decent airflow
Cons
Fuzzy edges on leather and Kevlar
Lacks Hi-Viz or reflective elements
Triple Closure is a bit awkward
New product to North America
Some stitching isn't straight
4SR 96 Stingray Racing Gloves Image Gallery
4SR: The New Kid In Town
While attending AimExpo in October I happened upon a display booth for 4SR products.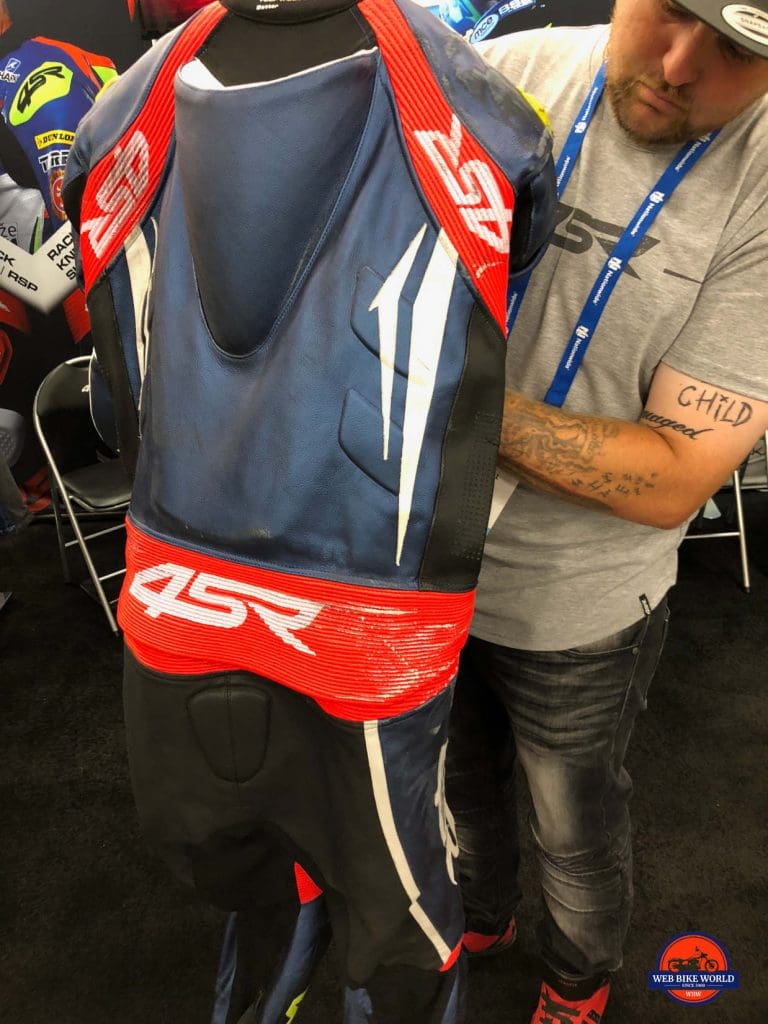 4 Street Racing is a Czech manufacturer well known in Europe on the race track and in the everyday riding gear market but is a new arrival to North American shores. After speaking at length with Jerry Nickell Sr and Junior (the father and son team from Texas who are distributing the product line here) I was eager to review some of the gear.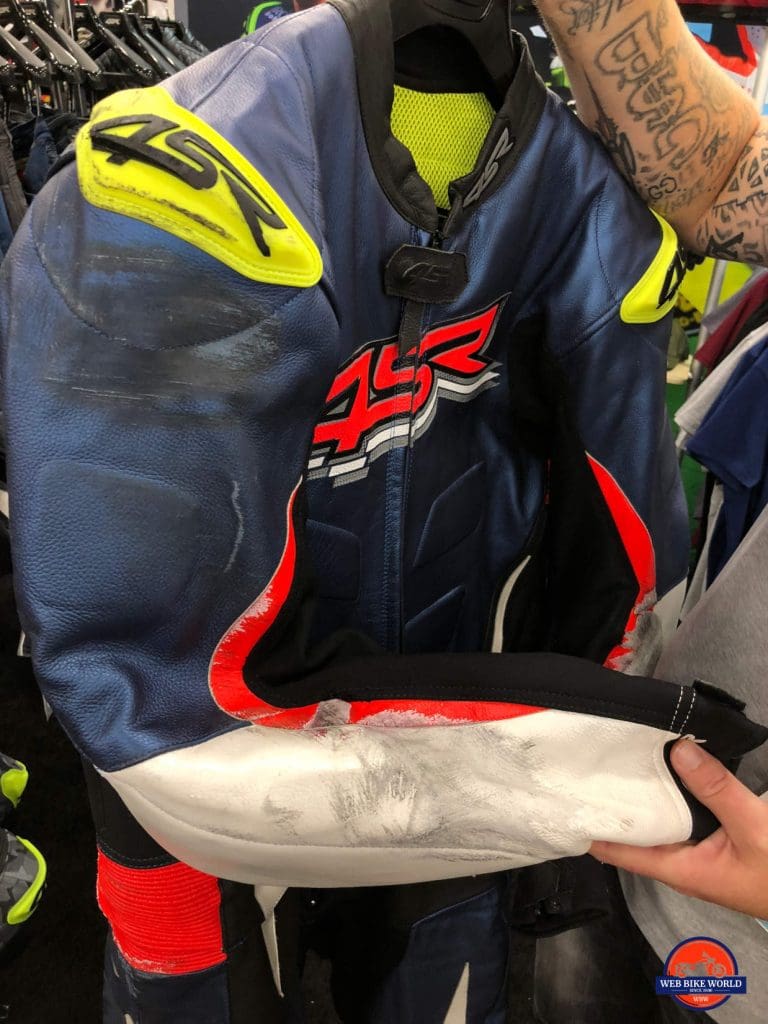 Jerry Sr had recently sacrificed his body in the name of testing one of their race suits when he low-sided at 70 mph. As you can see in the photos the suit held up well in a slide and Jerry was unhurt. The leather used is thick yet supple, the seams are double or triple stitched and the armor is all CE Level 2 in everything 4SR makes.

The 96 Stingray Race Gloves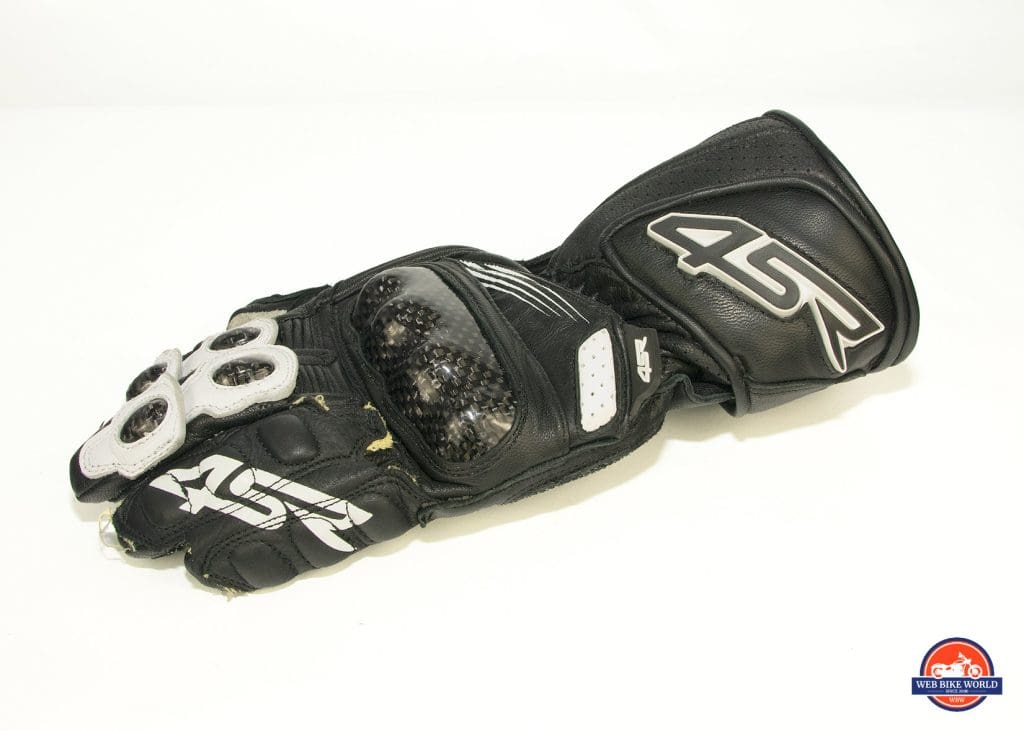 The Nickels happily presented me with a pair of 96 Stingray gloves to review. These are arguably the best and most expensive ($190) racing gloves in the 4SR lineup.
First Impressions
Carbon Fiber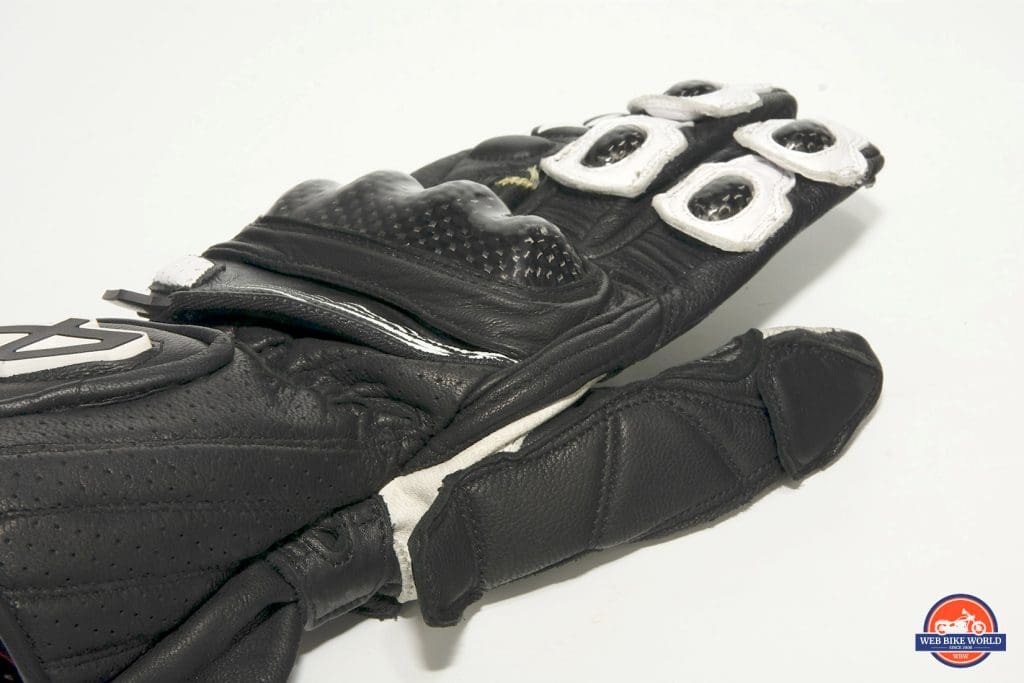 The knuckle area has hard resin-covered carbon fiber armor along with peanut sized caps over the finger joints of the first and second digits. I love the look of these purely white on black gloves, but adding in the carbon fiber makes good seem even better.
Weightless
I didn't bother weighing the 96 Stingray because they're virtually weightless thanks in part to the carbon fiber goodness.
Leather & Viscofoam
Holding these gloves and massaging them with my fingers reveals hidden protection covering the entire top half other than where the wrist bends. There's Viscofoam (memory foam) everywhere underneath the goatskin leather exterior.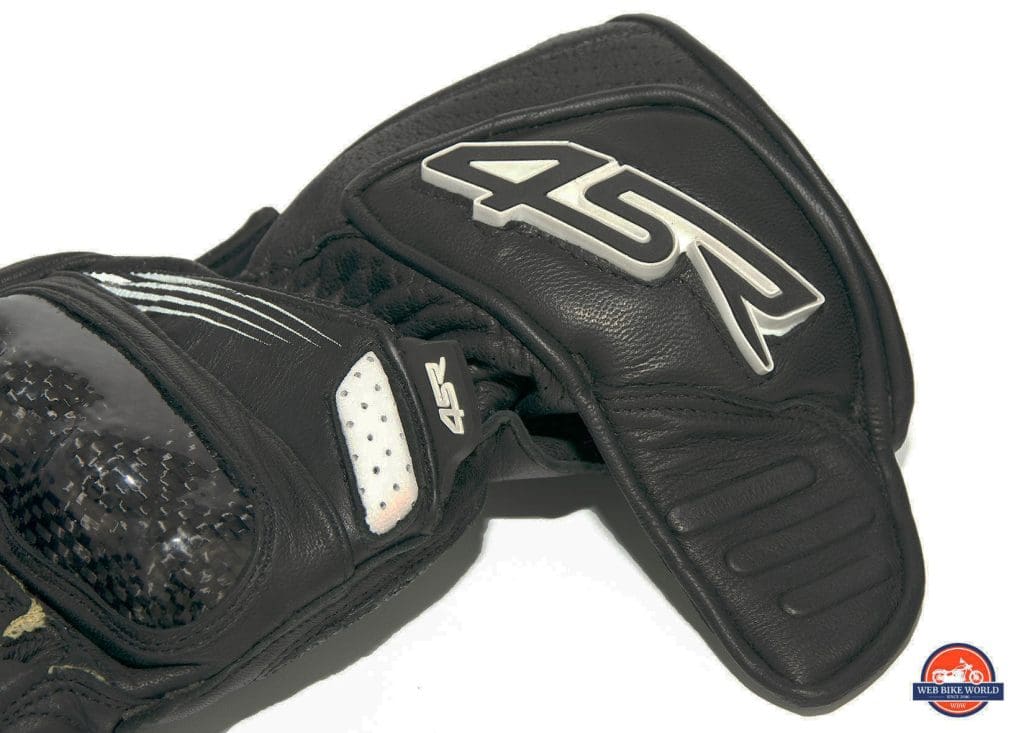 It ranges from about a ¼ inch thick padding on top of the thumb nail bed to ½ inch at the thickest area covering the ulna bone.
Goatskin & Pittards Leather
Goatskin is softer and stronger than cow leather. It's also water resistant and twice as tough as kangaroo skin from what I've read.
In handling these gloves I definitely see how the soft part is accurate. They freely move in my hands and I haven't even put them on yet!
Pittards leather covers the palms of these gloves. It's the preferred leather for cricket and baseball batting gloves because it offers unbeaten tactile feedback to the fingers. Pittards stays flexible even after repeated doses of sweat saturation from hands.
4SR refused to compromise on the quality of material used to construct these gloves.
Stitching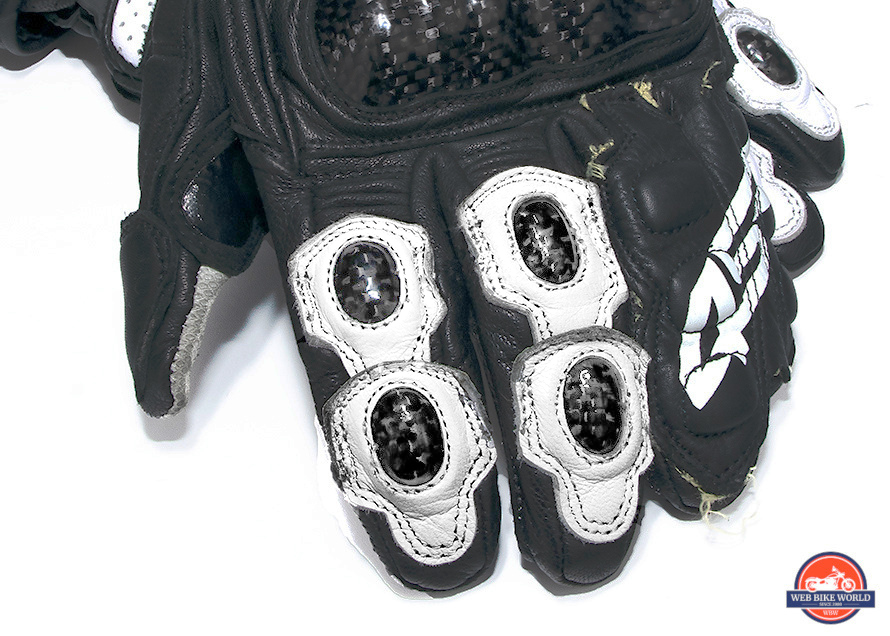 Some of the stitching isn't uniformly sewn along the sections of leather on these gloves. Specifically stitching on the leather surrounding the finger armor isn't completely straight. Disappointing to see this, but it does help explain how they keep the price point lower than the competition.
The Kevlar Connection
The ring and little fingers come connected together with a leather patch as is commonplace with racing gloves in order to help protect the pinky in a crash situation.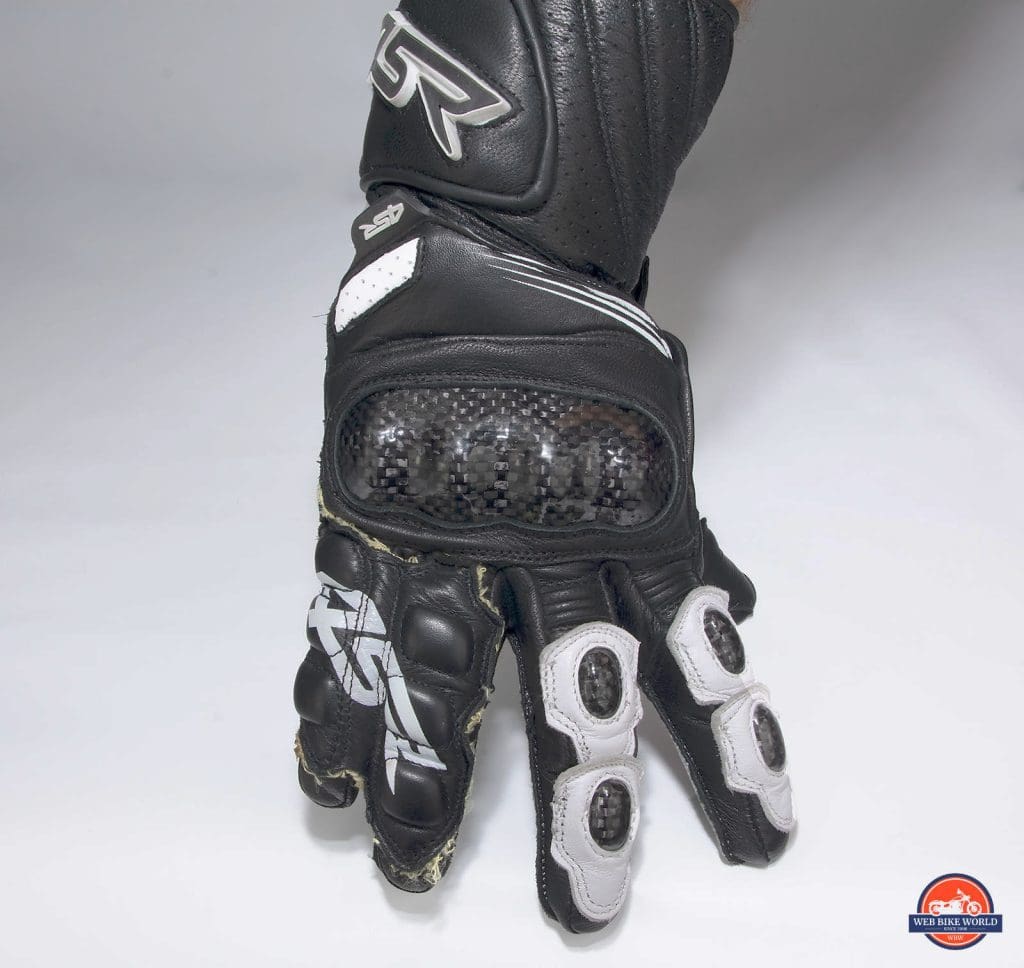 What catches my eye on this leather covering are several fuzzy, yellow hairs hanging off the edges of the leather patch. It looks quite shoddy, to be honest.
Then it occurs to me leather doesn't produce yellow strands like this, but Kevlar can.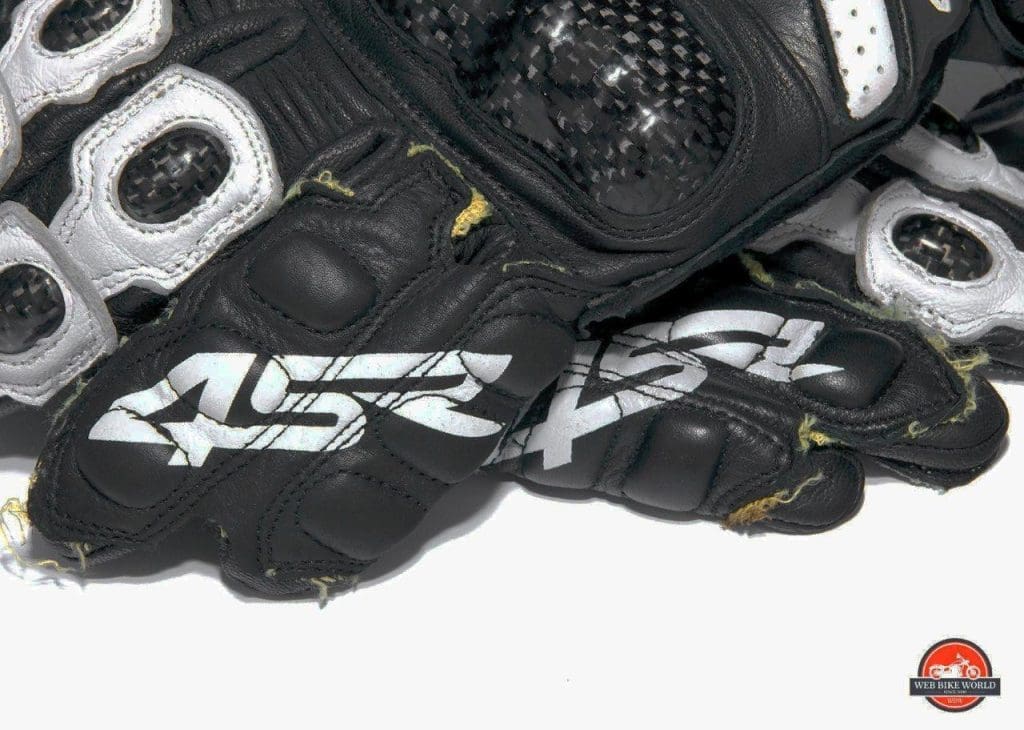 Despite the ugly appearance this turns out to be another pleasant surprise about the 96 Stingray gloves: Kevlar reinforcement running beneath the leather on top of the hand below the foam. The Kevlar lining is also found in the high-stress palm areas under a shiny black covering.
These are some skookum gloves and I haven't even gotten to the reason behind the Stingray moniker yet.
Palm Area Protection
I flip the gloves over for a look at the palm/scaphoid area to find two large patches of black stingray skin.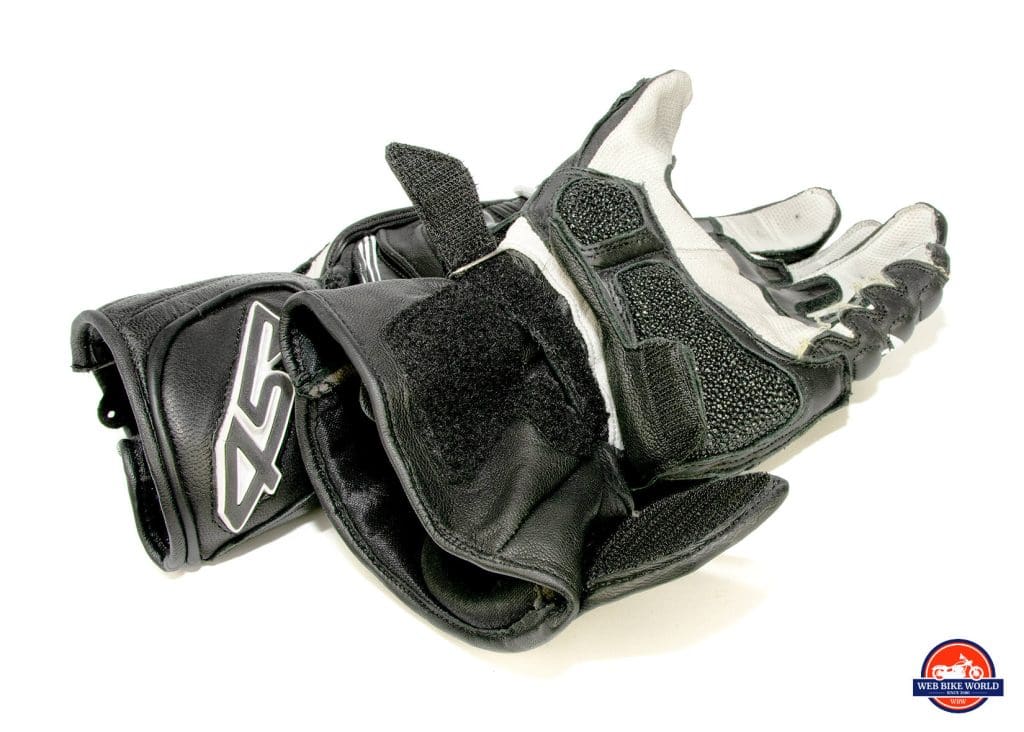 Stingray Skin
I've touched the skin of living sharks and rays before (what a thrill!). I would describe it being the consistency of heavy sandpaper with larger lumps of grit embedded in it. The stuff on these gloves is similarly abrasive, yet has a plastic or TPU slippery quality to it all at once. It would be excellent in preventing injury in a crash from what I can tell when combined with the thick Viscofoam padding and Kevlar lining running behind it.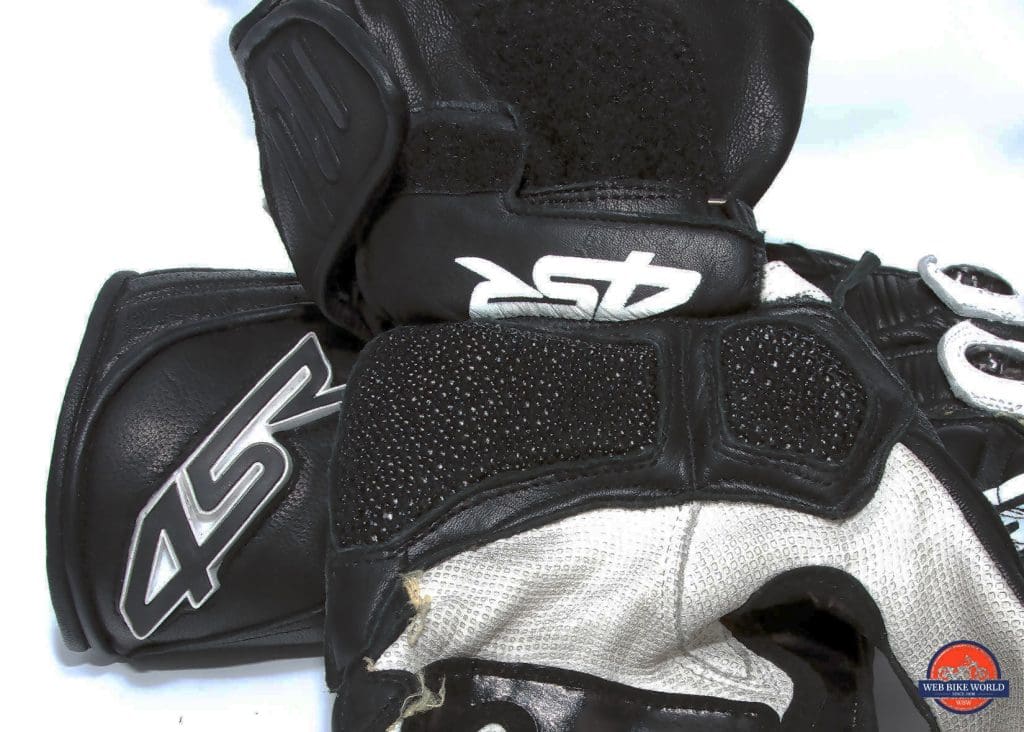 I'm shocked to find it on these gloves at this price point.
Fitment
I finally pull on the gloves for a try after inspecting them. I'm immediately happy with the fit. It's evenly snug all around without pinching in any area. I credit the kevlar, goatskin and Pittards leather content for this bliss. It stretches just enough, but not too much.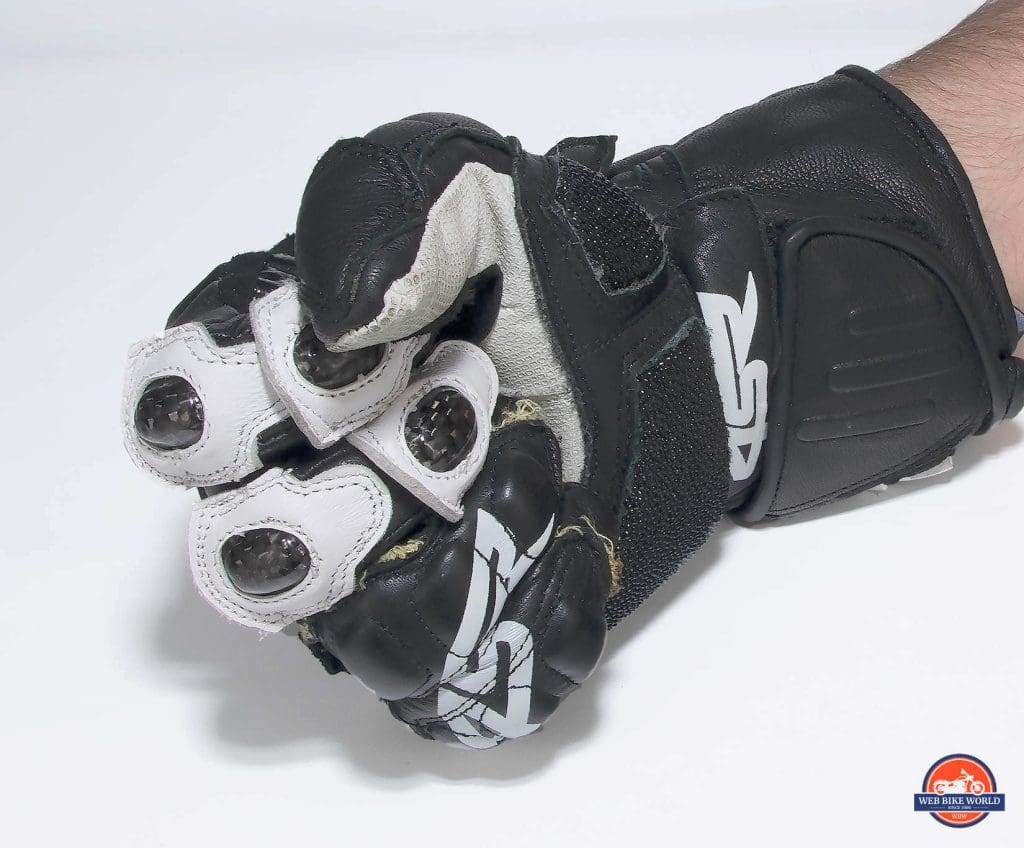 These are brand new gloves! They're not broken in at all but almost feel like they are. Typically leather gloves give about 10% after break-in and I wonder if these will go limp after some aggressive test riding with my Ninja.
Time will tell.
My Size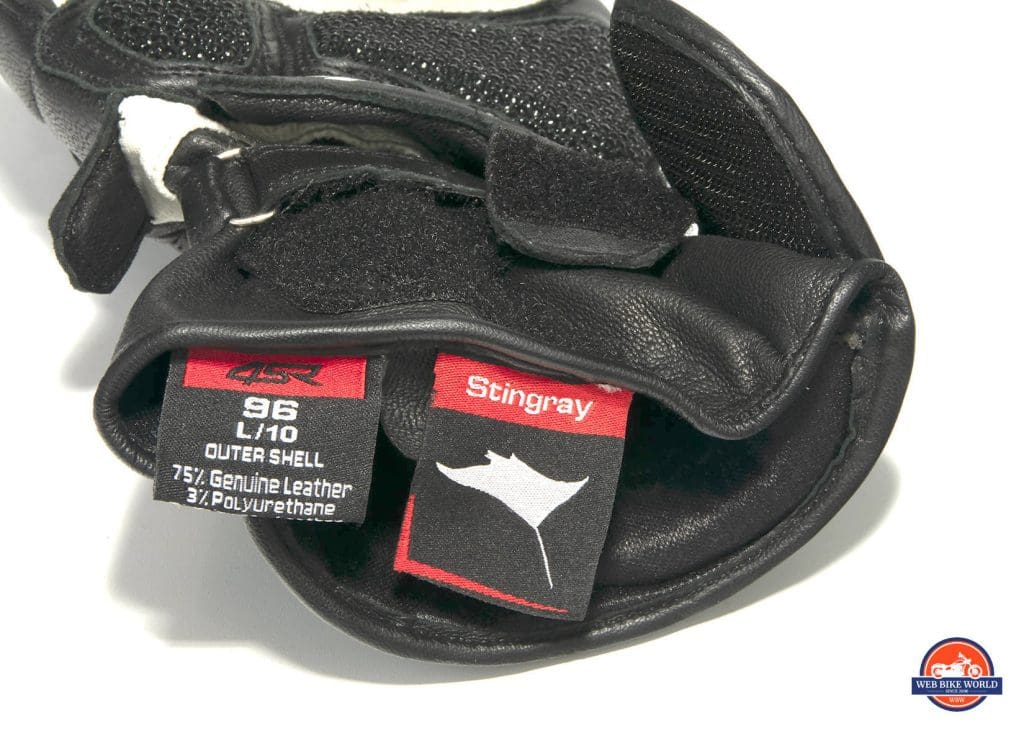 My hand measurement is just about 8.5 inches across the widest part and I would class my fingers average in length but slightly thicker than the norm at the knuckles. These size Large/10 glove fingers all fit right to the end of my digits except for the thumb which comes up about a ¼ inch short. The narrow middle section of my thumb doesn't fit as tightly as the fingers do either.
I guess people in Czechoslovakia have larger thumbs than I do?
Triple Closure Feature
Closure One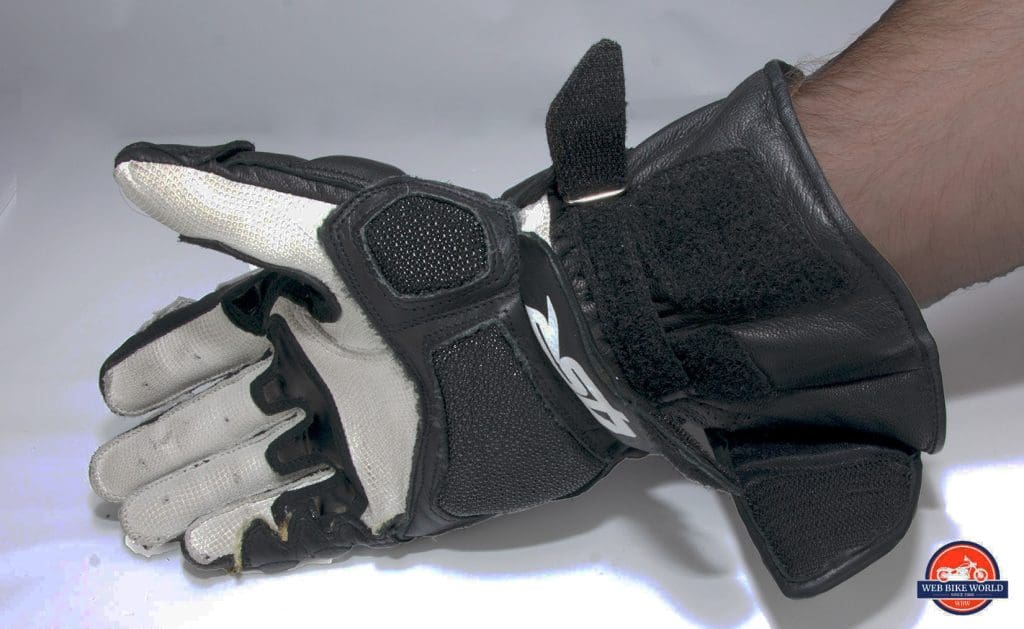 The first closure is a velcro covered tunnel strap that rides through a steel loop and back on the wrist area to tighten up any small amount of slop there. I again note how nicely the goatskin leather gives ever so slightly when you pull on this strap. It feels slightly elastic.
Closure Two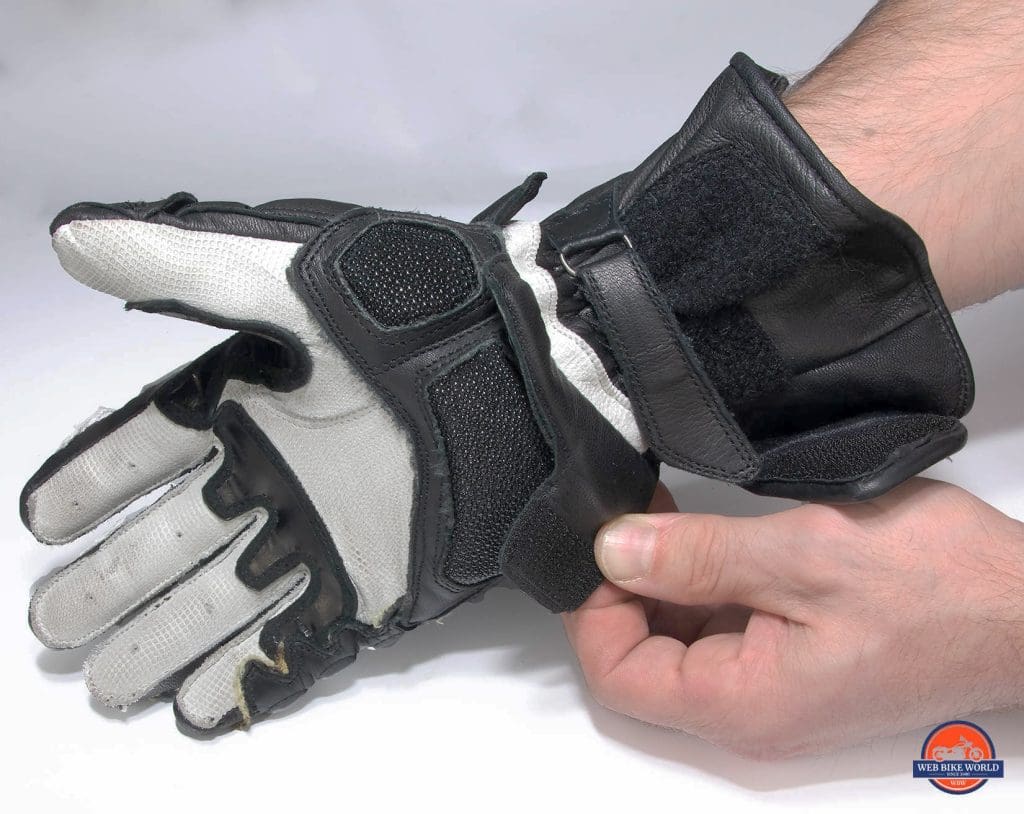 A large flap of Viscofoam-infused leather used to cover the velcro tunnel strap closure in order to prevent it from being damaged in a slide. It's a bit awkward to get closed and there are better closure systems on the market in other gloves. After donning and doffing the Stingrays a few times I've got the hang of it but I still don't love it. The Velcro is effective at holding it shut securely.
Closure Three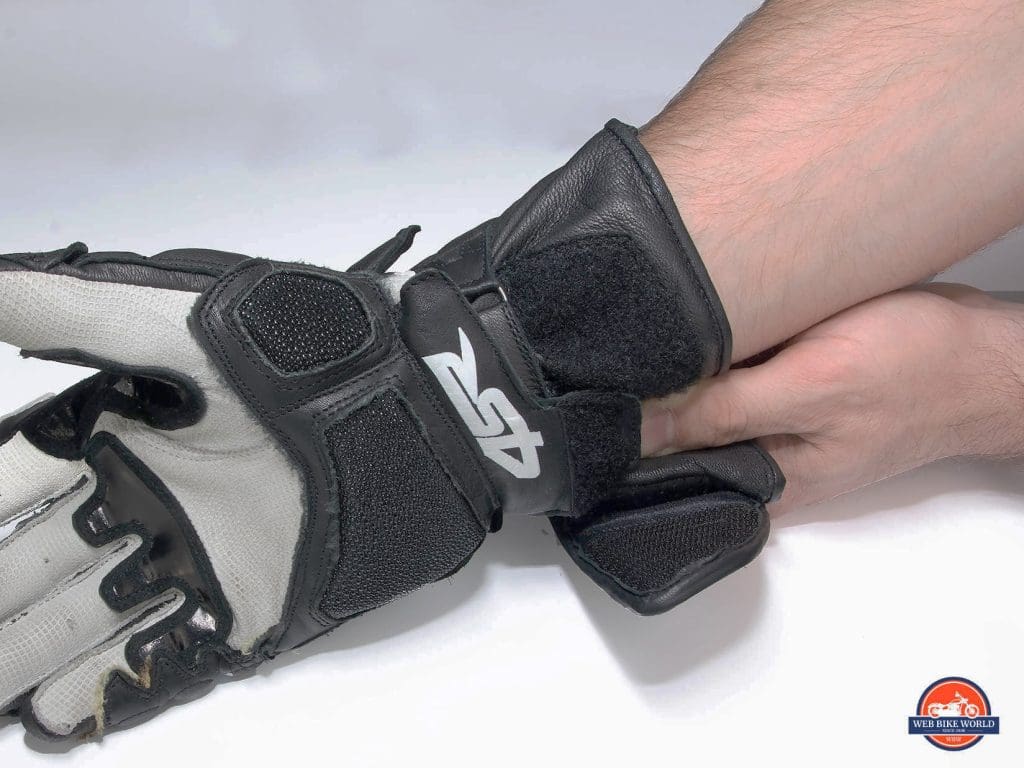 The final closure is a large flap of leather impregnated with even more Viscofoam that hinges from the outside of the wrist inwards towards the thumb side.
I would have preferred a longer strap that reaches fully across the gauntlet portion of the glove instead of this style which only goes about halfway, but it catches and holds on the velcro solidly and doesn't give. I feel confident even in a crash there's no way these gloves would back off one iota and expose my hands to slide injury.
With the gloves on and fully adjusted it's time to hit the road.
On The Bike Testing
I managed to test these gloves at 85 degrees while in Las Vegas and back home in Canada down to a low of 40 degrees.
Air Flow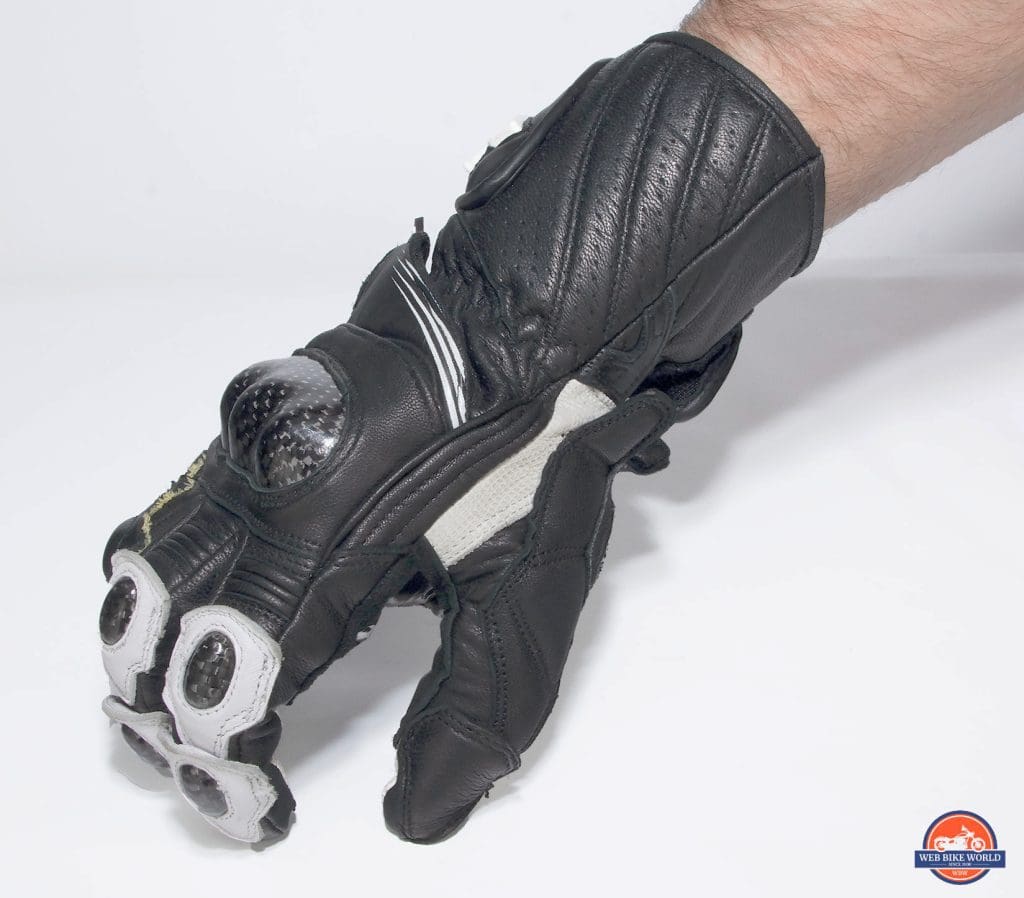 In the hot weather testing, my hands did perspire noticeably, but the perforations in the leather around the wrist area and between the fingers allowed cooling to occur fairly well even in traffic.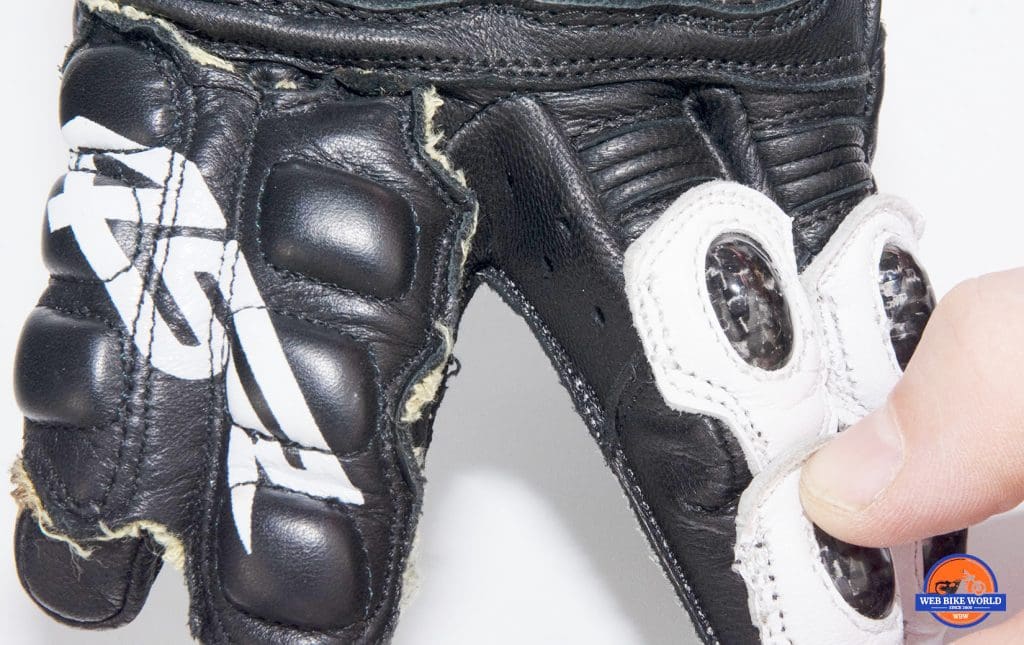 The thin leather palm side of the gloves has two small holes in each finger to allow easier insertion and removal of fingers to help prevent a vacuum from forming. I figure they aid somewhat with exhausting perspiration too.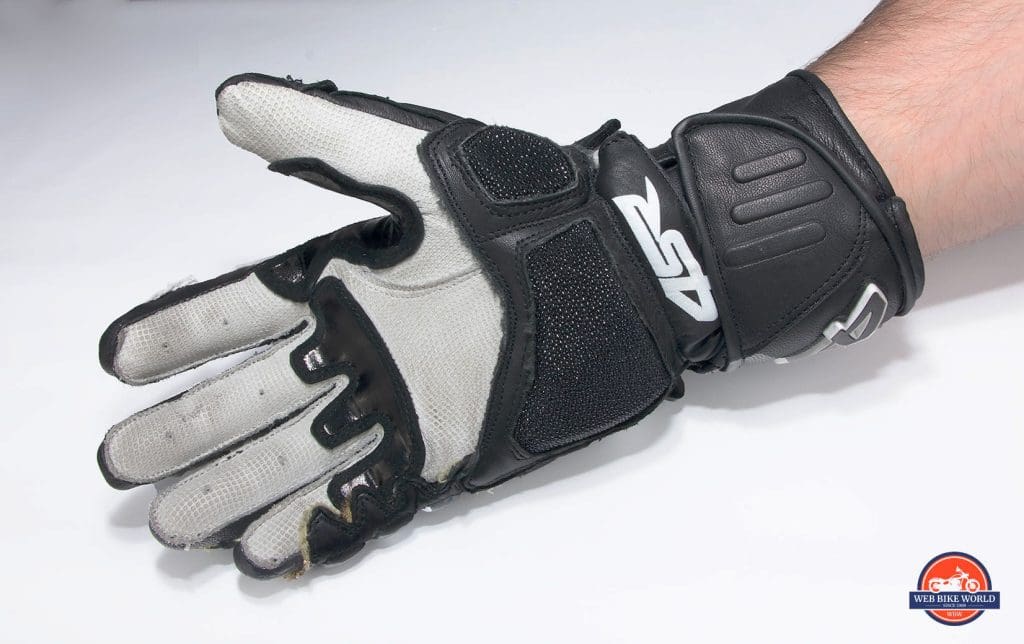 I wonder if these small holes will enlarge over time and eventually wear away into larger openings and the gloves wearing out prematurely? Thus far, over the course of 600 miles riding there was little to no change in the size of these vents.
Warmth
I was very surprised at how well these gloves did in the colder weather testing, but shouldn't have been. All that Viscofoam definitely acts as an effective layer of insulation to keep my hand temperature comfortable down into the 50s. At those temperatures, I found the heated grips on my bike necessary to stay comfortable, but as far as the wind chill bothering me goes – no problem at all.
Touch Sensitivity
The supple leather on these Stingrays allows for easy manipulation of buttons and controls on the handlebars. The extra length on the end of the thumb got in my way a couple of times, but not enough to make me unhappy with them.
There aren't any touchpad-friendly areas on any of the fingertips to allow a wearer to use their touchscreen phone, but it would surprise me if there was. There's little doubt these really are racing-specific gloves with that single purpose in mind.
The thinner palm area leather impressed me with the fact I could faintly feel the ridges in my bike's grips through them, but also makes me wonder about long-term durability despite the fact my research shows goatskin lasts longer than cowhide.
Grip Numbness
I often have an issue with numbness forming gradually (sometimes quickly) due to stitching in the palm area of gloves being too thick. When I grip the throttle a vein/vessel running close to the base of my index finger becomes easily irritated and limits blood flow to my thumb and finger when squished.
Many gloves fail this test for me, but the Stingray ones did quite well overall. I only noticed minor numbness on two occasions out of the 6 rides I've taken wearing these gloves.
Final Verdict
The 96 Stingray is above average in every category I can think of especially when factoring in the low purchase price of $190.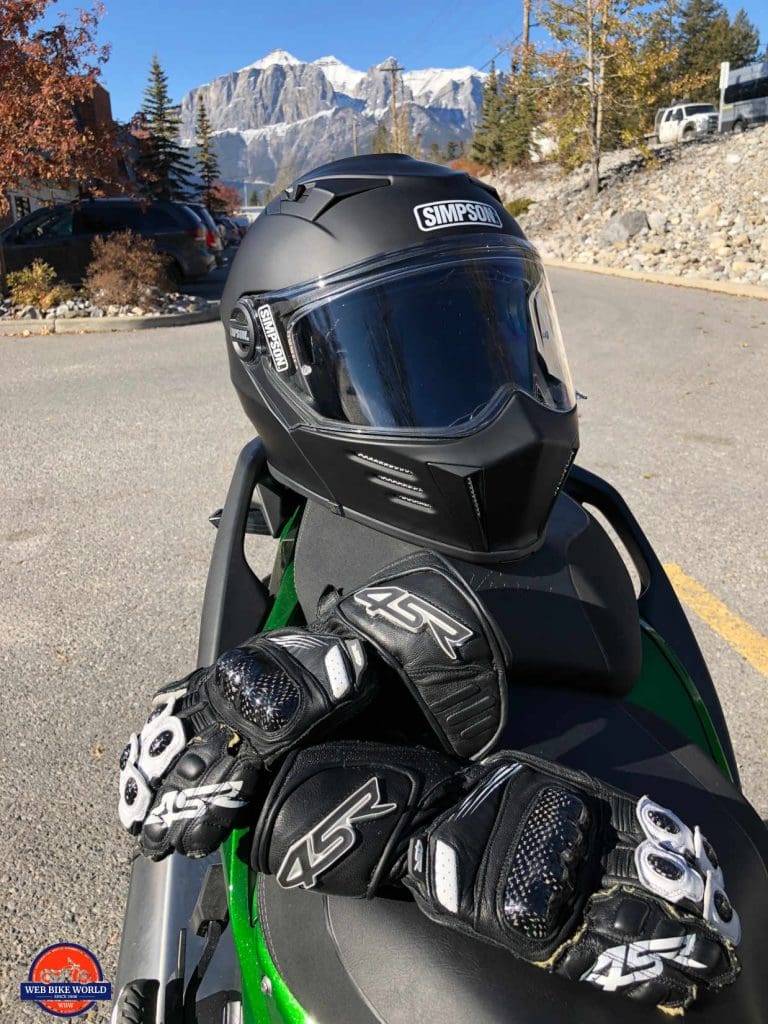 If I ever end up crashing on a bike I hope it's these 4SR gloves that I'm wearing out of all the gloves I own. They would make a bigger difference than my other ones for sure.
Competitors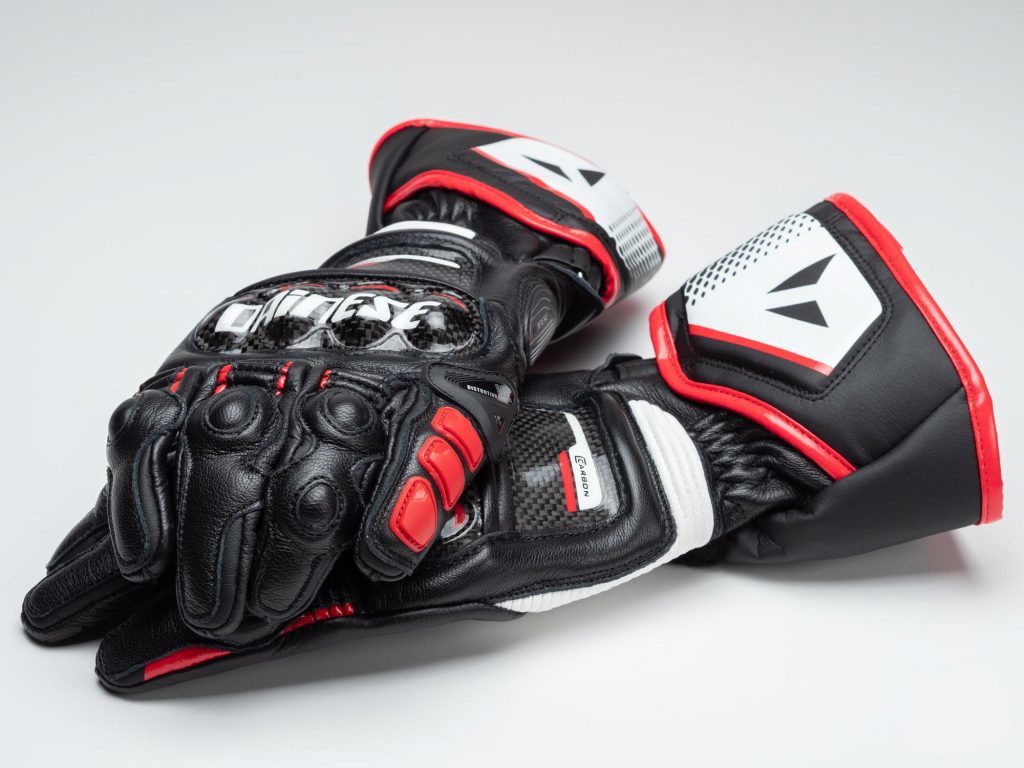 Yes, $190 is still a pile of money to spend on gloves, but comparatively, it's a bargain. Refer to Brandon's recent review of the Dainese D1 Druid long gloves which retail at $229.99. That's $40 more without the same level of protection or comfort.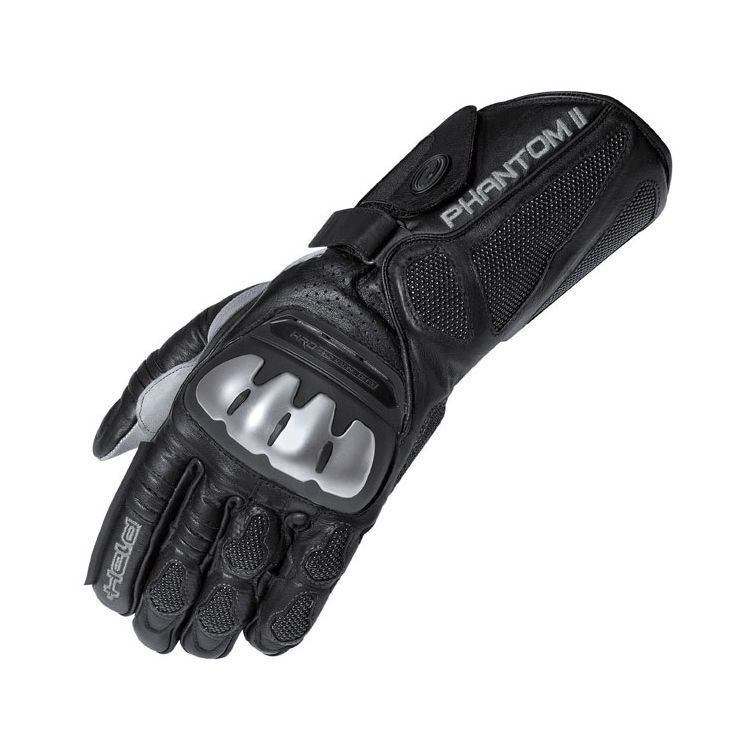 These 4SR gloves should be closer to the $300 mark as evidenced by more similarly outfitted gloves on the market such as the Held Phantom II. Those Phantom II gloves have titanium knuckle protectors, Rayskin and even Superfabric along with more ergonomic closures which do make them the best, but are they really $135 better? Almost twice the price of the 96 Stingrays?
Maybe…
I haven't tested the Held Phantom gloves myself but they are the best selling race gloves on the market for good reasons. I'm sure a seasoned racer would be able to show exactly why I should drop the extra $135, but I doubt I would deem them worthy of the extra cost in my more limited sphere of use. If you race regularly perhaps the choice is easier.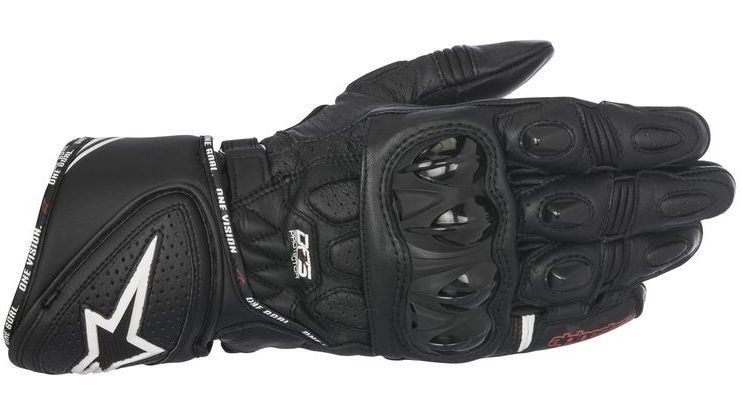 The Alpinestars GP Plus R gloves are considered a bargain-priced race glove at $199.95 with decent protective qualities. They're good value, but don't quite have the level of protection these 96 Stingray ones do from what I can tell.
Coming Soon
As I mentioned Jerry Sr and Jr are close to finalizing distribution of these and other 4SR products with sellers in the US like our friends at Revzilla, but at the time of this writing, it's not yet there, unfortunately.
You can still order the gloves from the Czech HQ from the 4SR website in the meantime.
The Jerrys hope to have us review more products from their lineup moving forward and that feeling is mutual.
Pros
High-quality materials used in construction
Excellent price
High protection
Race proven design
Ergonomic curve shape
Surprisingly warm
Decent airflow
Cons
Fuzzy edges on leather and Kevlar
Lacks Hi-Viz or reflective elements
Triple Closure is awkward
New product to North America
Some stitching isn't straight
Specs
Manufacturer: 4 Street Racing
Price (When Tested): $190
Made In: Pakistan
Alternative models & colors: Three color schemes
Sizes: Small to XXL
Review Date: November 30, 2018