The Breakdown
The Druid D1 Long gloves from Dainese offer very good, if not excellent, protective features for spirited street riding as well as track use. All of this protection does compromise comfort to a point making it less attractive as a glove for longer rides. The construction is top notch and should prove to be durable over time.
Pros
High-quality construction, Very protective, if not comprehensive, design, Attractive colorways (including Hi-Viz), Good price for the quality of construction and materials
Cons
Sizing runs large, Overall fitment is "different", Lacks scaphoid protection / slider
Riding gloves are for more than just protection. Gloves are the interface point between one's hands and the majority of controls on a motorcycle. The front brake, the throttle, the clutch, and of course steering input are all transmitted from the hands to these various controls with gloves sitting in between them.
Good quality riding gloves have to provide protection from impacts and abrasion while still offering good feel and flexibility, something that isn't always easy. That's why when I was presented with the opportunity to review a pair of Dainese riding gloves I lept at the chance.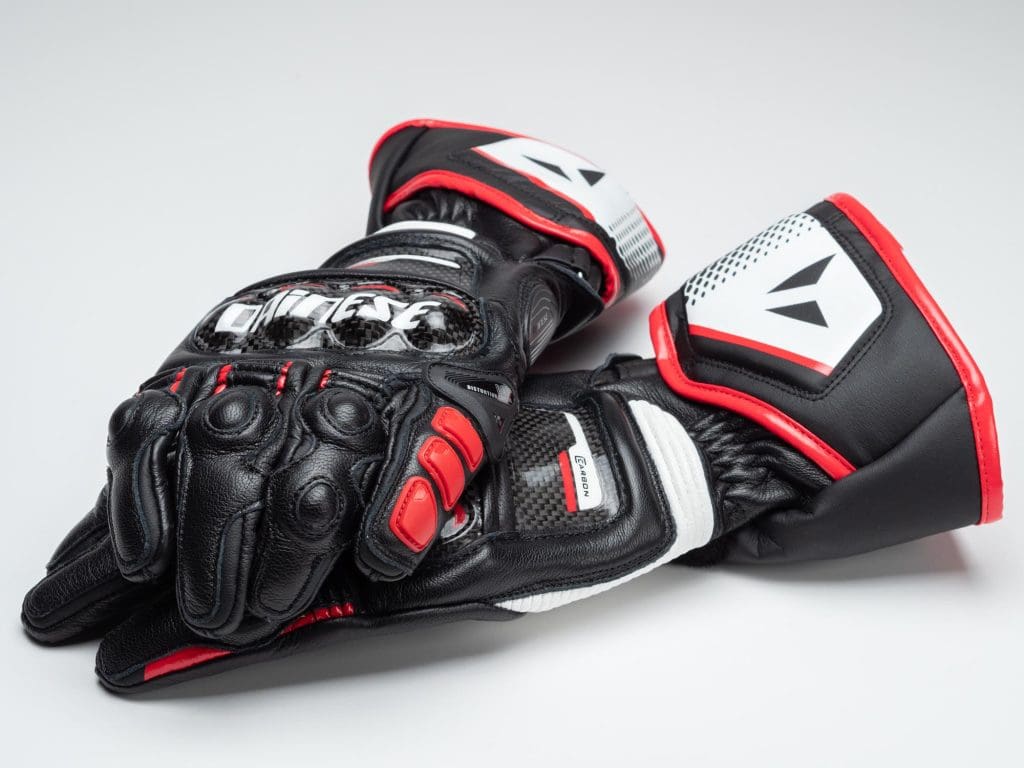 I've owned and reviewed some Dainese gear over the past few years and I've always been impressed with the quality of their products. This shouldn't be much of a surprise as Dainese is considered by many to be one of the leading manufacturers of quality motorcycle gear.
Despite this fact, many people don't realize where Dainese came from and what else they make in addition to motorcycle specific gear. Let's take a minute to look at this.
Shopping Now? We Recommend:
webBikeWorld has worked closely with RevZilla over the years to provide our testers with products to review. In addition to being a great site to shop from, they're also a great partner.
RevZilla

Free shipping on orders over $40
30-day no-nonsense return policy
Excellent selection of all major brands
Awesome pricing
Amazon

Free shipping (with Amazon Prime)
30-day return policy
Excellent selection
Competitive pricing
Who is Dainese
Dainese started out life in 1972 when 24-year-old motorcycle enthusiast Lino Dainese took on the task of improving safety and ergonomics in sports where safety gear was required.
Lino's vision became reality in 1974 where he unveiled his products at the company's Milan showroom. Here the world got a first look at the potential Dainese possessed in combining style and performance. No longer would black be the only color associated with protective motorcycle gear.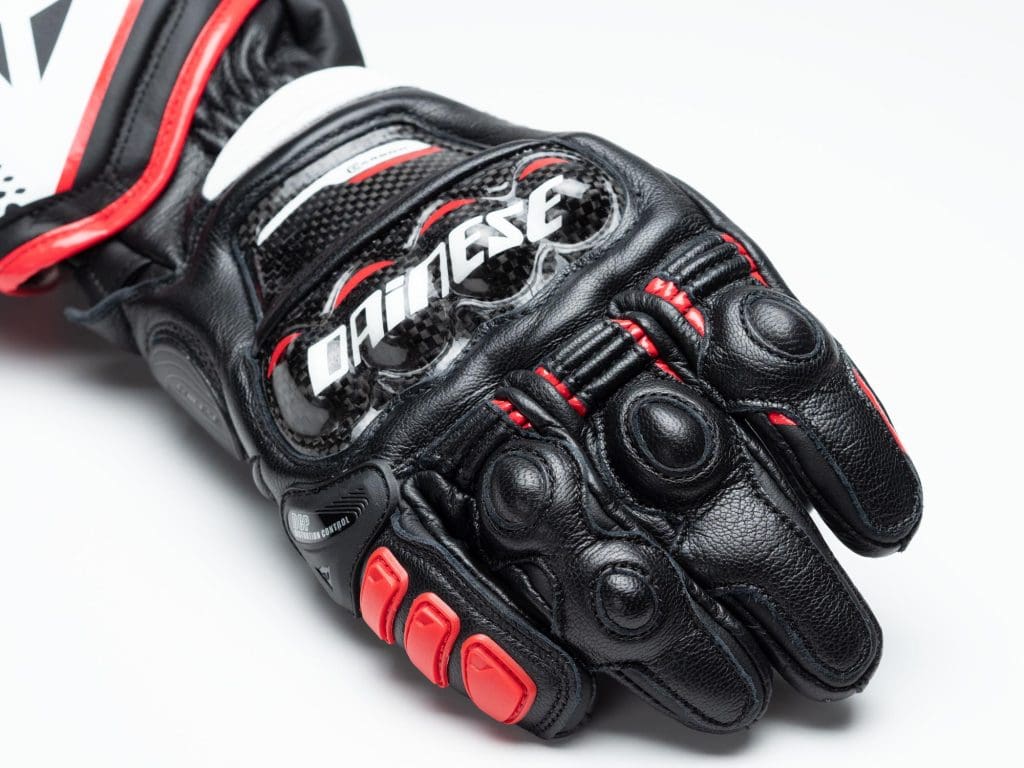 That 1974 reveal kicked off decades of innovations including the back protector first worn on a track by Barry Sheehan (1978) and the knee slider created for Kenny Roberts in 1980. The story continues with the creation of the aerodynamic speed hump, gloves with rigid inserts, and most recently the creation of the SkinSuit for use on the International Space Station.
You can read up on the entire history over at their website but the point is that riding gear coming from Dainese has pedigree. Needless to say, I had high expectations for the gloves I received from Revzilla for review. Let's take a look at how reality compared to expectation.
The Dainese Druid D1 Long Gloves
The Druid D1 Long gloves represent the "upper middle" ground in the current range of leather gauntlet sport gloves from Dainese. The Druid's slot in under the Race Pro In and Full Metal 6 racing gloves (the Four Stroke Long is on the way out of the lineup). The former is designed with a smaller cuff to go inside a jacket/suit sleeve, hence the "In" part of the name.
The Druid D1 Long gloves are designed for protection and safety suitable for spirited street riding as well as track days but with some consideration of comfort for longer rides. Seeing as they replace the Druid ST gloves, this makes sense, but we'll see how well they do in this area a bit later on. First, let's take a look at the highlights.
The Druid D1 Long gloves are surprisingly complex on paper (pixel?). The shell of the glove is all leather which includes goat, sheep, and a synthetic "micro sheep" leathers as well as some Amica suede reinforcement.
(I'm assuming that "micro sheep" refers to a synthetic microfiber type leather rather than being made from very tiny sheep).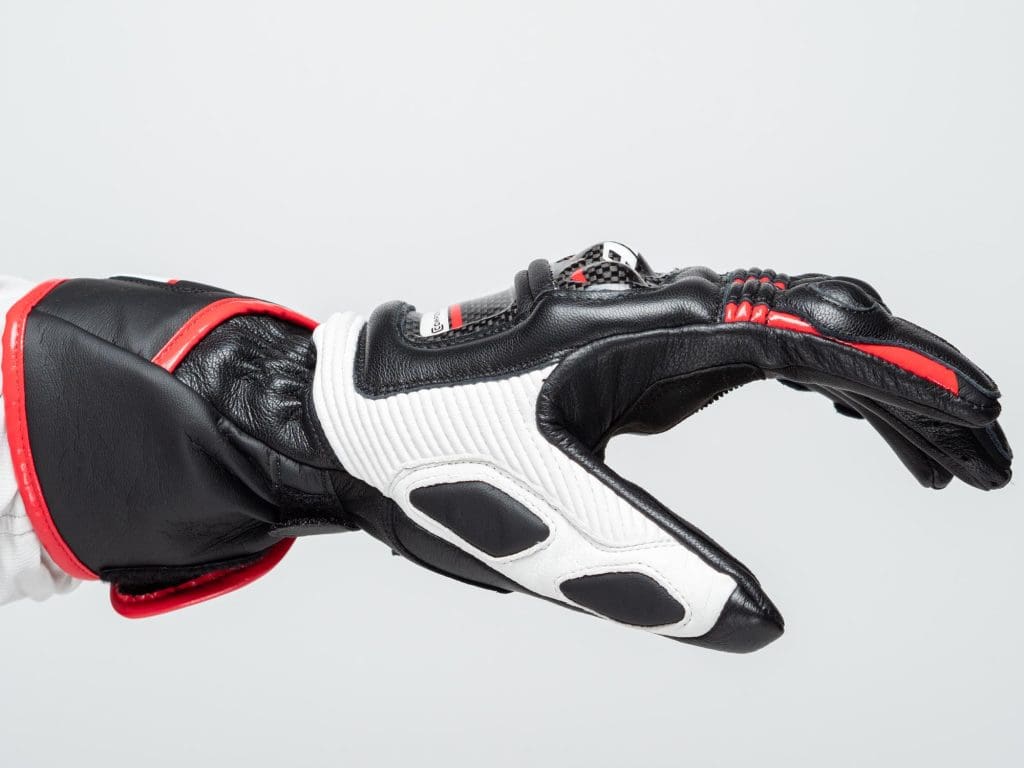 There are many protective hard parts including carbon fiber and TPU materials adding up to ten separate pieces scattered around the glove shell. Throw in four separate accordion style stretch panels and you have quite a lot of action happening on the Druid gloves.
Considering the materials and construction details going into production of this gloves, the $229.00 MSRP seems perfectly reasonable and maybe even a bit of a bargain.
The Druid D1 Long gloves are available in a wide range of sizes from XS to 3XL which should cover most riders. These sizes are all in men's but there is a similar glove in a women's version called the Carbon D1 available in long and short configurations.
The Druid's are available in four colors including black, black/red, black/hi-viz yellow, and black/red/white which is the colorway we have for these review gloves. I chose the black/white/red specifically as I appreciate any extra visibility I can get in my riding gear. Plus, I felt this is the best-looking color scheme of the available options, but that's entirely subjective.
Now let's dig into the details.
Construction
I mentioned earlier there are a lot of components that go into these gloves so I'll do my best to break it down into "bite-size" chunks. The shell is all leather including sheep and goat with the palm making use of the goat leather for the best feel vs. strength ratio. I can't swear to it but I believe the "micro sheep" material is used over the soft padded areas such as the those appearing on the thumb.
Amica suede is used to reinforce the area between the thumb and the first joint of the forefinger. I'm not sure why an extra layer of goat leather wouldn't have been a better choice here but it is there nonetheless.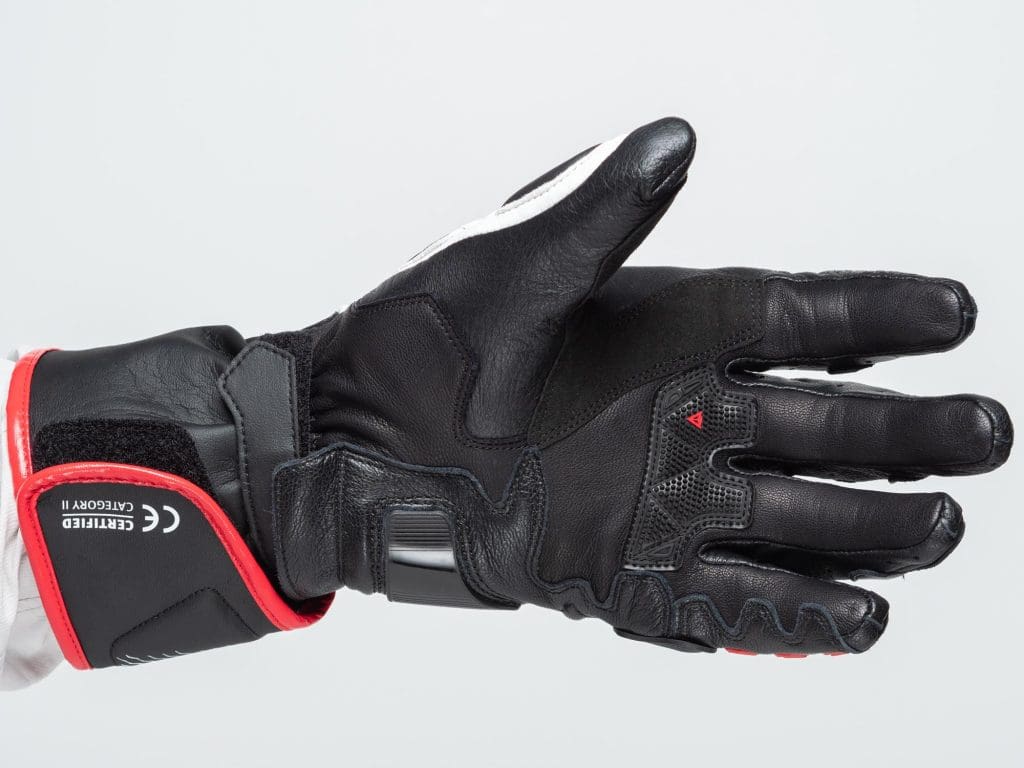 Adjacent to the Amica suede is what is often referred to as the "Rossi" or "Dainese Tickler". This refers to a textured bit of TPU that rests over the base of the middle and ring fingers at the top of the palm. It's designed to provide a little extra grip on the throttle when one has their fingers covering or even engaging the brake while still holding the throttle in position.
The wrist strap, which runs under the wrist, appears to be made from the "micro sheep" leather and is .75 inches (19mm) wide. This loops back over itself and connects with hook and loop fastener.
The Gauntlet is large enough to accommodate most jackets at 11.5 inches (292mm) opening circumference and the closure is a single leather flap with some extra padding on top. I appreciate this simpler approach to gauntlet closure, especially compared to other multi-flap designs. It is less bulky and faster to work with.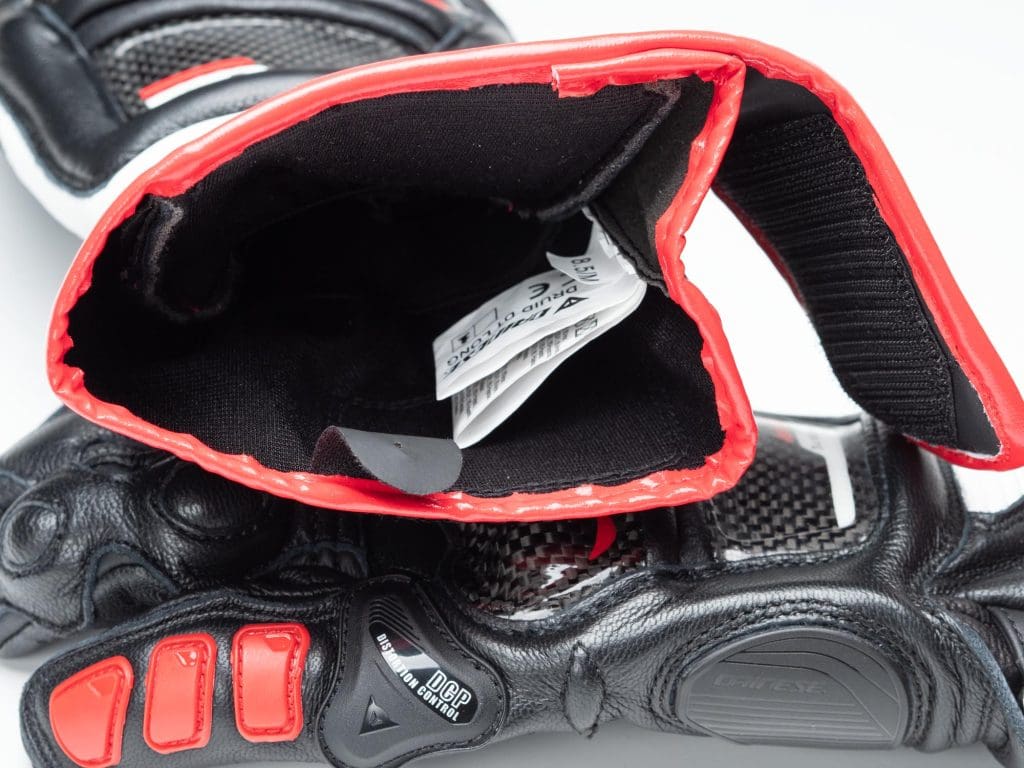 Moving to the back of the wrist and hand we have a large bit of foam padding under leather on the gauntlet. In this colorway, this area is white and has the Dainese logo on it. As we move up toward the back of the hand there is a section of elasticated leather to help provide a secure fit around the wrist.
More elastic is found just ahead of this location which is part of a larger accordion stretch panel that covers a large portion of the thumb as it wraps around and underneath. Jumping to the knuckles we have smaller stretch panels at the fore, middle, and ring fingers for flexibility's sake.
Backing up for a moment, there are two carbon fiber protectors on the back of the hand. One in the traditional spot over the knuckles which is of the floating variety and then a separate protector over the back of the hand. That's some serious hard parts and it doesn't end there.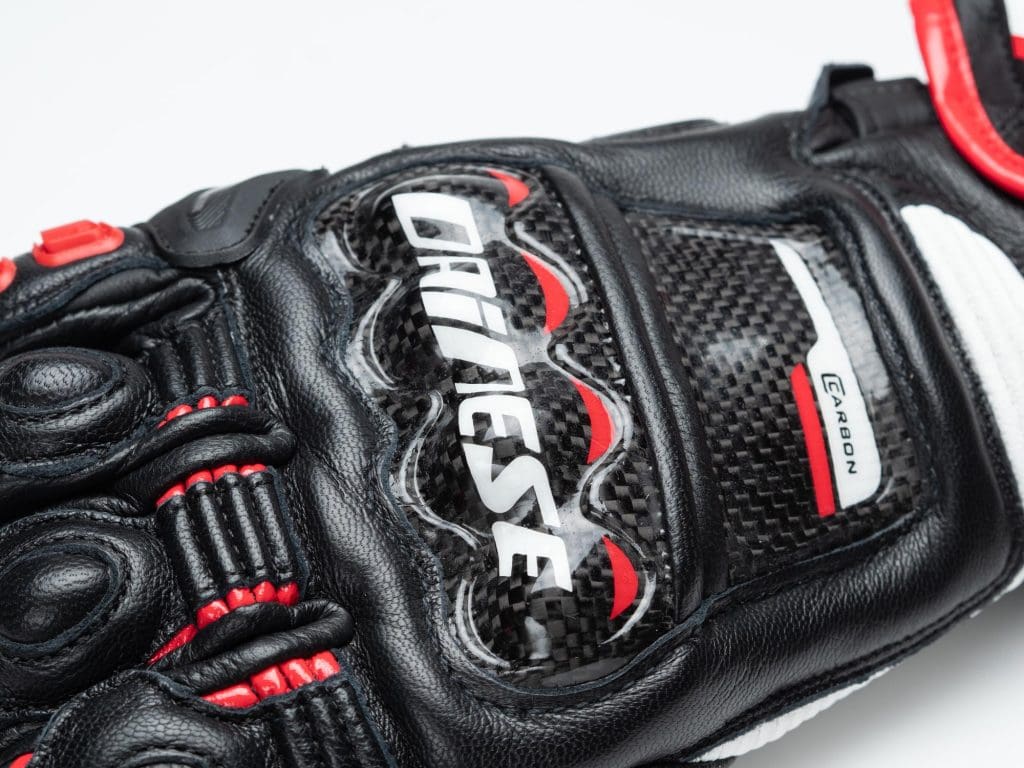 The fore and middle fingers each have a hard protector on top of an extra layer of leather and the ring finger gets two of these. The little finger gets a lot of love with a total of four small protectors running down the outside facing side of the finger as part of Dainese's Distortion Control Protection (DCP). So with all those protectors you'd think that was plenty, but wait, there's more!
Over the pisiform/lunate bones of the hand is another TPU protector. This one curves around from the top to the underside near the base of the thumb. So with ten protectors in these varied places, construction has to be complex.
The good news is that despite the complexity, the construction is very clean and the quality is outstanding. There isn't a misplaced stitch or pulled thread to be found. The cut and quality of the leather is exactly the high quality I would expect from Dainese. Likewise, the styling and color is just fantastic. Looks aren't everything, though, so let's have a look at the protective features in more detail.
Shopping Now? We Recommend:
webBikeWorld has worked closely with RevZilla over the years to provide our testers with products to review. In addition to being a great site to shop from, they're also a great partner.
RevZilla

Free shipping on orders over $40
30-day no-nonsense return policy
Excellent selection of all major brands
Awesome pricing
Amazon

Free shipping (with Amazon Prime)
30-day return policy
Excellent selection
Competitive pricing
Protective Features
As I described above, the Druid D1 Long gloves offer a lot of protection and they are CE certified as Level 1 protective gear. Specifically, EN 13594/2010 STANDARD CAT. II Level 1 is the certification for those interested. It's important to keep in mind that certifications aren't everything as we'll see in a minute. First though, let's run down the good stuff.
The gloves are leather from gauntlet to fingertips which is a good start to any protective glove. The back portion of the gauntlet has a large area that is padded with .25" (6.35mm) foam padding that covers around one half to two thirds the circumference of the wrist depending on how far the gauntlet is cinched.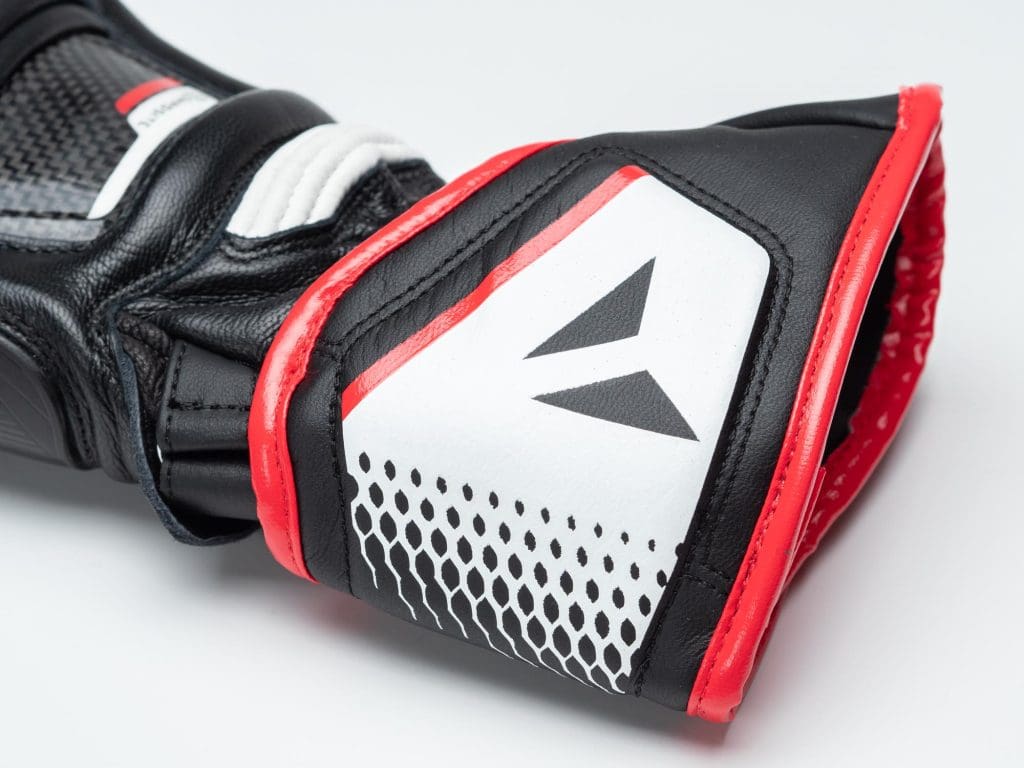 There is a very large area of hook and loop fastener keeping the gauntlet closed so it should be able to take a lot of abuse before being pulled open. The wrist strap also appears to be rather robust and has a leather flap covering a portion of it to help it resist being pulled open during a slide.
Moving up the outside facing edge of the hand we have a TPU pisiform protector made from a smooth and flexible plastic. This should allow that portion of the hand to slide over a road/track surface rather than catch and grip it. This can reduce the chance of breaking the wrist in the event of a fall.
Several smaller TPU pieces are present along the edge of the little finger which, like the pisiform protector, allow the outside facing edge of the little finger to slide on a road surface rather than catch and potentially cause over extension of the finger. This is what Dainese's Distortion Control Protection (DCP) is all about and one can see this labeled on the larger of the little finger protectors.
The tops of the remaining fingers are covered with an additional layer of leather and some TPU bits are also in place with foam backing that is topped with a layer of leather. These make for smallish, but substantial impact and abrasion protection in this area.
Over the knuckles is a very stiff carbon fiber protector with the Dainese logo emblazoned upon it while the back of the hand gets its own trapezoid shaped carbon fiber protector. Both protectors appear to be true carbon fiber, unlike some protectors that are just a pattern under some epoxy or other clear resin.
Did I mention that these protectors are stiff? These carbon fiber bits have little flex and feel very substantial. Fortunately, they are backed with foam so they don't cause discomfort underneath them. The knuckle protector is of a floating design but the "float" is pretty small. Making a fist while wearing the gloves moves the protector just a little.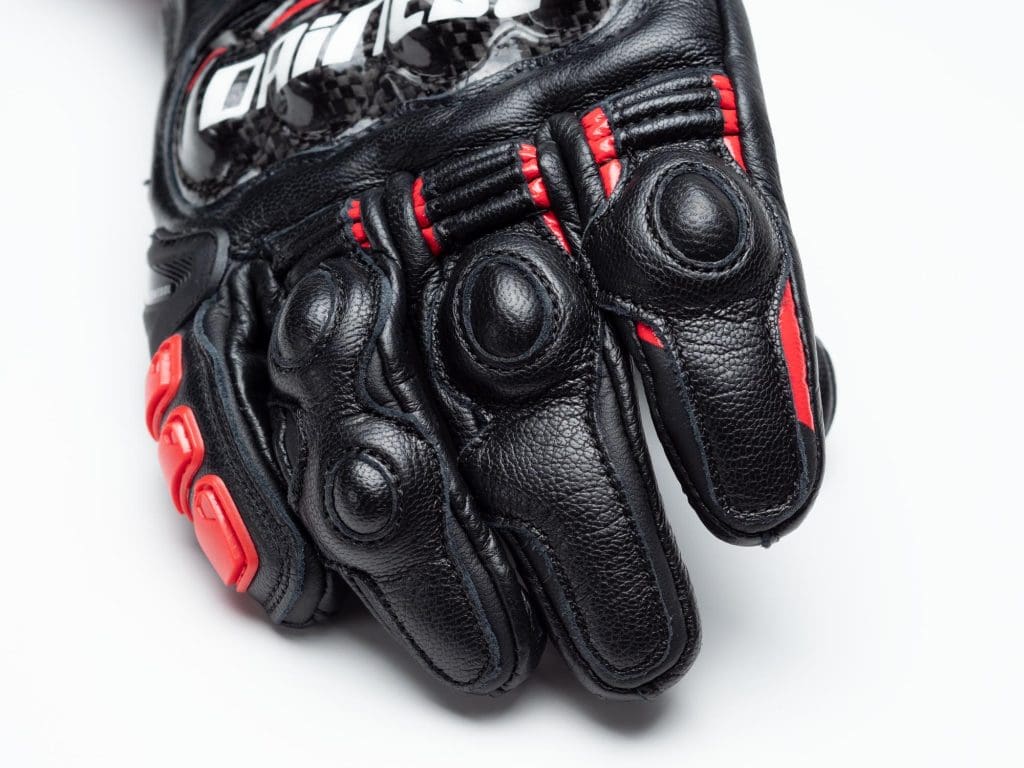 This has all been good news so far but the thumb area is another matter. For impact protection, there are two padded leather bits on top. For the scaphoid, we essentially get nothing. In fact, the single layer of leather at the heel of the hand/base of the thumb feels like the thinnest area on the entire glove. It is soft and is a nice quality leather, but I find the lack of protection in this area to be a huge miss on Dainese's part.
So overall the protection is very impressive, or rather it would be, if not for the lack of scaphoid protection. I would rather have lost some protection in other areas to have this spot protected.
Fit and Comfort
As expected, this portion of the review is going to be very subjective. I want to make this clear before moving forward as I found the Druid D1 Long gloves to be a mixed bag in both the fit and comfort areas. I'll explain.
The Druid D1 Long gloves have a decidedly American fit which was not what I was expecting. Most gloves, and frankly most other gear, from European manufacturers tend to run on the slimmer cut side. In many brands such as Knox or Alpinestars, I can wear a medium glove but it will be snug and sometimes I have to go up to a size large as I did with the Klim Induction gloves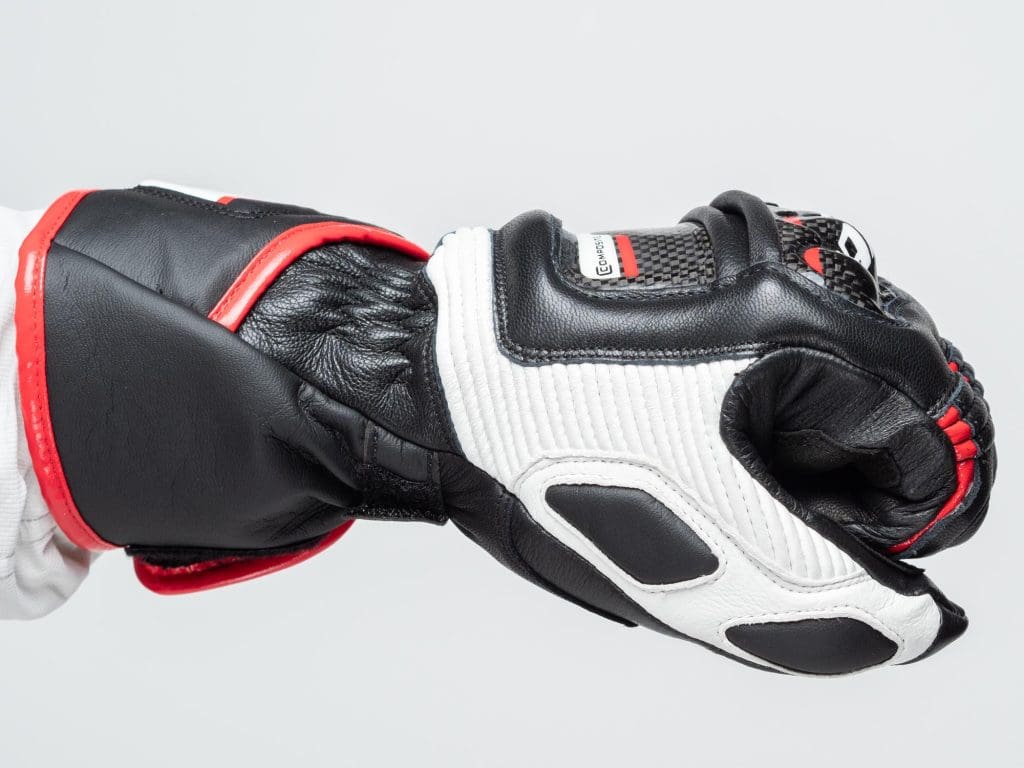 To make the fit a bit more confusing, Dainese lists the Druid D1 Long gloves as having a "slim" fit. I can't agree with their opinion here. The size mediums I received are a little bit big. Not too much to necessitate a smaller size but the fingers run a little long and I have long fingers already. The thumb has plenty of extra material on it for me to the point where it bunches up a bit when wrapping one's hand around a grip.
Bunching up also occurs between the elasticized area around the wrist and the carbon fiber protector at the back of the hand. The accordion stretch panel in this location seems redundant and creates extra bulk where it isn't needed.
The same can be said about the small stretch panels at the top/base of the index, middle, and ring fingers. These panels aren't really stretching as much as they are serving to push one's fingers into the curved position. This might seem like a good idea but when riding on the street it makes it tiring when one covers the brake lever. I can see how on the track this might not be an issue.
I want to point out again that fit and comfort is a very subjective thing. That being said, I found these to be a strange fitting glove and as a result, not that comfortable to wear. I had the opportunity to hand the gloves to my friend and fellow wBW reviewer, Kevin Anderson to get his input.
Kevin typically wears a size large glove but he's only about a half size larger than me when it comes to gloves. The Druid D1 long gloves fit a little better on him with his thicker fingers and overall larger hands but he still felt the fit was "odd". He also found the same bunching up issues I ran into.
Another thing we both noticed was that the floating design of the knuckle protector was more restrictive than similar designs on other gloves. Making a fist does get the protector to move, but it is a very stiff movement. This would likely improve over time as the gloves break in more but we both noticed it so there it is.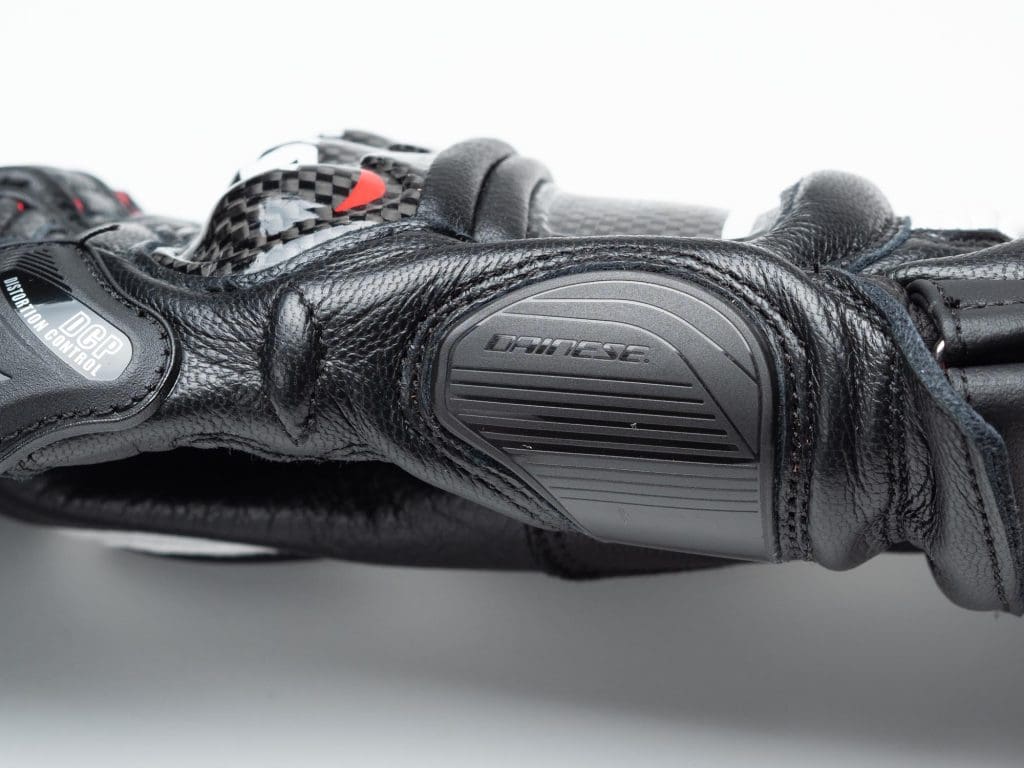 I've been running down the negatives here but I should point out that despite the above shortcomings, the Druid D1 Long gloves offer some of the best "feel" at the controls. The top of the hand and fingers on the interior has a soft and thin nylon ( or polyester) lining but the lower areas are unlined and offer direct contact to the leather that is touching the grips and levers. This would be of great benefit to the track rider where overall feel and protection might be more important than long-term comfort.
As far as seasonal / temperature range Dainese sends some mixed signals here by calling them out as suited for "Summer" temperatures and at the same time specifying that they are "Wind Blocker"'s. The latter specification is the most accurate as the small perforations on the side of the fingers don't vent very well and I found the gloves to feel hotter than my other full gauntlet gloves (Roadgear Cheetah's) that are not specific summer weight gloves.
Conclusion
The Druid D1 Long gloves started off very strong in my initial evaluation. When I first received them I noted the high quality of the materials and the exemplary way those materials are put together. This gave me high hopes that I had found my next every day full gauntlet glove.
Unfortunately the odd fit and associated lesser comfort, due to said fit, has me placing these gloves on the shelf now that the review is complete. I have no doubt that there are plenty of hands out there for which these gloves will be better suited but I'm not one of them (nor was Kevin).
The protection offered by these gloves is excellent where the protection exists. The omission of scaphoid protection is, in my opinion, a big miss here. The previous version, the Druid ST, at least provided some padding in this space. Why that was removed with this iteration is a mystery to me.
Despite my concerns, there is no getting around the fact that these are beautifully constructed and they live up to the quality standard I expect from Dainese.
If one has the right shaped/sized hands for the Druid D1 Long gloves, they offer a good balance of protection and comfort for spirited street and/or track use for the price. Adding some scaphoid protection would make them a much better glove in my opinion even if it added $20.00 to $30.00 (USD) to the cost.
Pros
High-quality construction
Very protective design
Attractive colorways (including Hi-Viz)
Good price for the quality of construction and materials
Cons
Sizing runs large
Overall fitment is "odd"
Lacks scaphoid protection / slider
Specs
Manufacturer: Dainese
Price (When Tested): $229.95 (USD)
Made In: Vietnam
Alternative models & colors: Black, Black/Red, Black/Hi-Viz Yellow, Black/Red/White
Sizes: XS – XXXL
Review Date: September 2018
Shopping Now? We Recommend:
webBikeWorld has worked closely with RevZilla over the years to provide our testers with products to review. In addition to being a great site to shop from, they're also a great partner.
RevZilla

Free shipping on orders over $40
30-day no-nonsense return policy
Excellent selection of all major brands
Awesome pricing
Amazon

Free shipping (with Amazon Prime)
30-day return policy
Excellent selection
Competitive pricing
Dainese Druid D1 Long Image Gallery