Review Summary
2Wheel.com is an eCommerce site offering motorcycle, atv, utv and snowmobile gear and accessories. The site design is quite busy but it is fast and responsive. Search could use some improvements as one may find items in a category and drilling down but they may not turn up in a search. This could be a missed opportunity for the buyer and seller.
Pros
Site responsiveness is quick
Responsive design works well on desktop and mobile devices
Ordering process is very smooth
Super fast order verification and information emails
Cons
Pages are busy with offers and sales
Search results inconsistent
Shipping process slow in this transaction
Editors note: the shipping section of this review has been updated to provide additional clarity on January 18, 2019. 
Introduction
So this holiday season I was presented with a request to do a review unlike I have done before. Our content editor asked if I would check out an eCommerce site that sells motorcycle, atv/utv, and snowmobile gear and accessories.
I was sort of struck a bit sideways at first as I have never really thought about reviewing a site as part of my reviews for webBikeWorld. I thought about this for a few minutes and I realized I should be able to offer some relevant insight after all. (We'll see) 🙂
I have been purchasing motorcycle gear for myself and for reviews for over ten years and have used a variety of online stores during this time. I also manage and design websites for myself including MotorcycleWords.com, MotosportPhotos.com, and Jacksonphotoworks.com so I'm not uninformed as to what it takes to build an effective web presence.
Since this is a new genre of review I needed to determine what aspects of a website would be of most interest to our readers. Here is what I came up:
Overall site experience including:

Speed of site response
Mobile device display
Search options

Range of products on offer for motorcyclists and pricing
Ordering process
Customer service
Received product packaging and shipping speed
Return Policy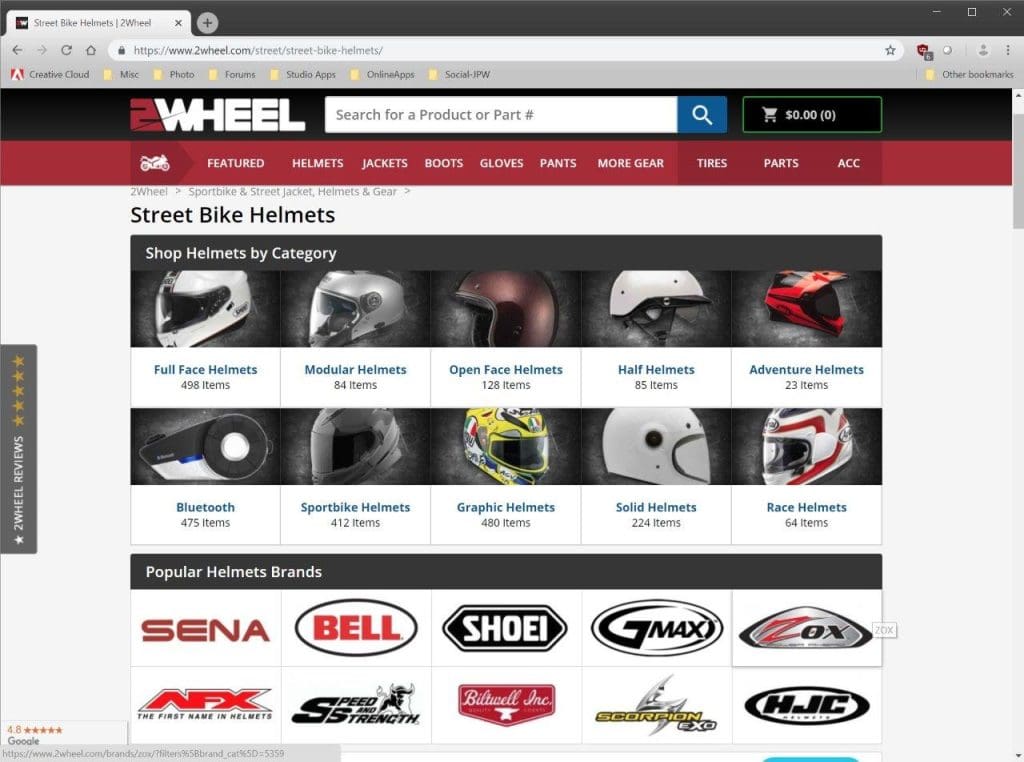 I want to encourage our readers to let us know if there are any aspects you feel got overlooked in this review that should be included in future ones.
It should be noted that 2Wheel.com was not aware I was reviewing their site and I didn't use an email address that might tip them off. The intent here is to be treated just like any other buyer so we can get an unbiased and objective look at how they operate.
With that out of the way let's dig in.
2Wheel.com Site Experience
2Wheel.com is definitely a sales vehicle. There is no mistaking this fact the moment one first pulls the site up in their browser. I suppose it's neither good or bad since one has likely come to the site to make a purchase or at least do some price comparison.
The upper portion of the page is quite a busy space with a gray toolbar at the very top. This toolbar has links to one's account and other personalized information as well as a brace of drop down menus with information about the company and a comprehensive list of customer service options. I have to say that placing this info in easy reach for customers is well done and certainly covers all the bases I can think of.
Under the toolbar is the 2Wheel logo sitting next to a large search box which is in turn bookended by a shopping cart image. Below this is a multilevel menu breaking their products into categories such as Street, Dirt, Snow, and more. The sub menu under each category changes color depending on which category one has chosen which is a subtle, but convenient touch.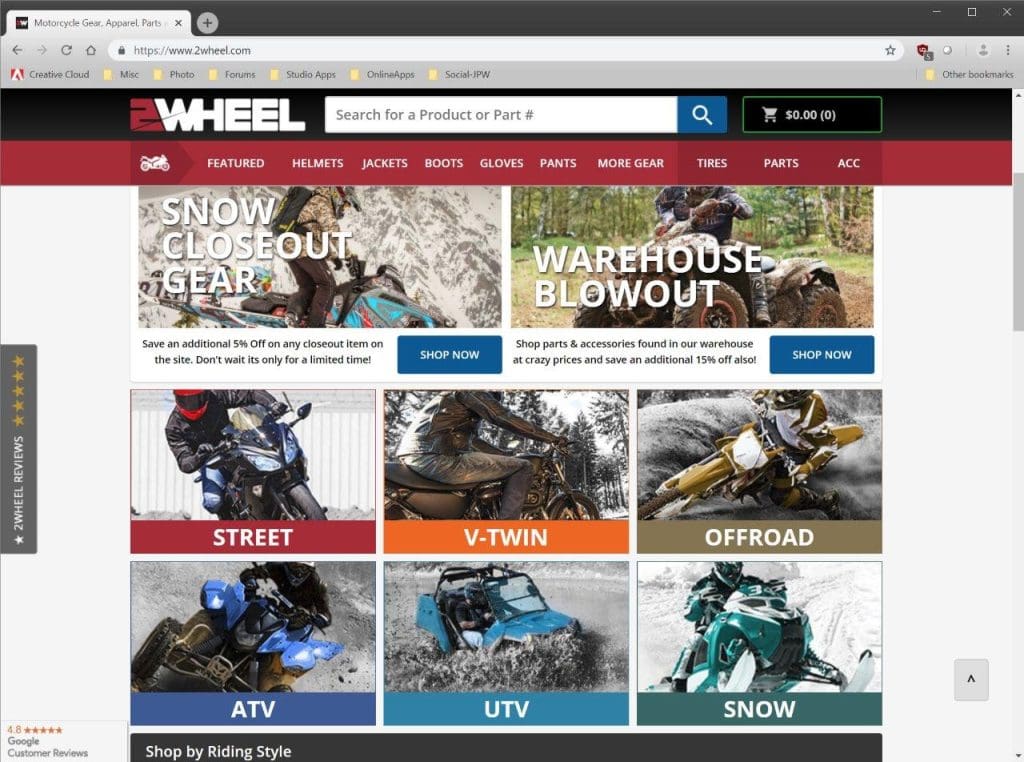 Beneath this is a banner showing a weekly "on sale" advert while underneath the banner a coupon code is displayed. I wasn't kidding when I said this site is a sales vehicle but I'm not quite hating it for this as they have some clever design touches that I appreciate. For instance, as one scrolls down the page the top toolbar, category menu, Sale banner, and coupon code all disappear.
This rolling up of these elements allows for more browser space for perusing the site contents. One can scroll back up to the top of the page to have these elements reappear if needed. This feature does help reduce the overall sense of "clutter" I first felt when landing on the 2Wheel.com site.
Speed & Search
I found the 2Wheel.com site very responsive and quick to work with. Pages load quickly and filtering results when viewing large amounts of items is pretty quick as well. I can't find fault with the experience as far as speed goes. Search has an issue, however.
I found if I searched for a certain item that I knew was on their site using a pair of words that should have returned this item in the results, it didn't appear in the results. Here's an example I was able to consistently reproduce.
I was browsing their offerings from Bell Helmets and noticed they had the Bell Star MIPS Equipped Classic helmet still in stock in a few sizes and on closeout. The next time I went back to the site I wanted to look into getting one of these and searched for "Bell Star" from the main search.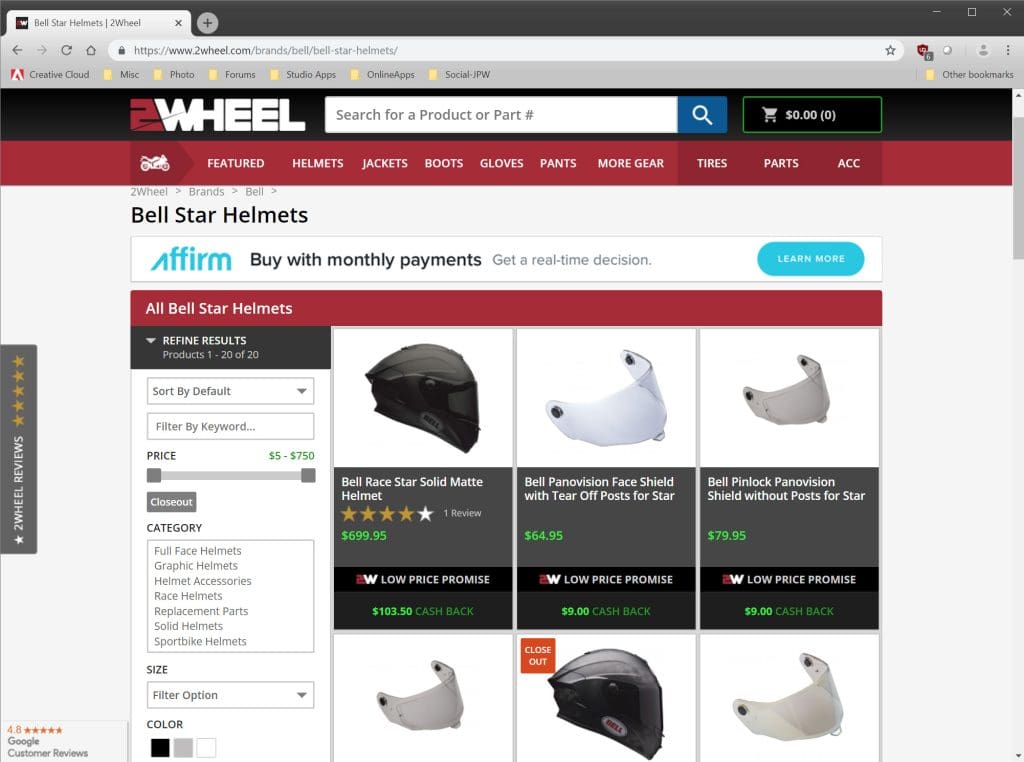 Several items were returned in the search including several other Bell Star variants (including closeouts) but the MIPS equipped Classic I saw earlier was not included. Just to make sure it was still available, I used the menu navigation and pulled up all the full face Bell helmets. Sure enough, the one I was looking for was still there and appeared available in most all sizes.
I get it that search can be a bit wonky at times but I think a top priority for a site like this should be getting accurate search results. In this case both the buyer and seller would have missed an opportunity.
Responsive Design
Not to be confused with site response "speed", responsive design refers to how a website layout changes when being viewed on a mobile device. Testing on my Android phone demonstrated a nicely abbreviated version of the top bar and a the replacement of the main navigation menu with the mobile friendly "hamburger" menu. This is the type of menu that appears as three horizontal lines in the upper left corner that expands when clicked.
Viewing the site on an iPad Air showed little, if any, difference from the desktop experience. All the menu elements appear to remain in place and the site reacts just as it does on a laptop or desktop screen with the same "roll-up" effect. This seems about right as the site appears a little "narrow" when viewed on a standard 1080p computer display.
Site Security
The site does have a valid security certificate issued by GoDaddy which is currently valid through 12/11/2020. When I viewed the main page there were 30 cookies in use. That may sound like a lot but it is actually less than some of the more popular motorcycle apparel and accessory sites out there.
As is typical of a lot of online retails sites, there were some external connection made to other sites such as googlecommerce.com and affirm.com. I only counted 9 in total (4 of which my ad blocker blocked) which is also much lower than some other sites offer similar goods. Overall this is a good showing in my book.
Product Range (Motorcycles)
Since this is a review for webBikeWorld.com I focused on motorcycle related items specifically for this review. Plus I wouldn't feel qualified to pass judgement over ATV/UTV and snowmobile gear and the breadth of what one should expect to find.
The website breaks down motorcycle related products by Street, V-twin, and Dirt. While I feel "cruiser" might be a better title than v-twin I know what they mean. Still, I don't think the gear and equipment listed in this category would be at home on the typical SV650 rider much less some Aprilia riders, and practically all Ducati sportbike riders. Just sayin'.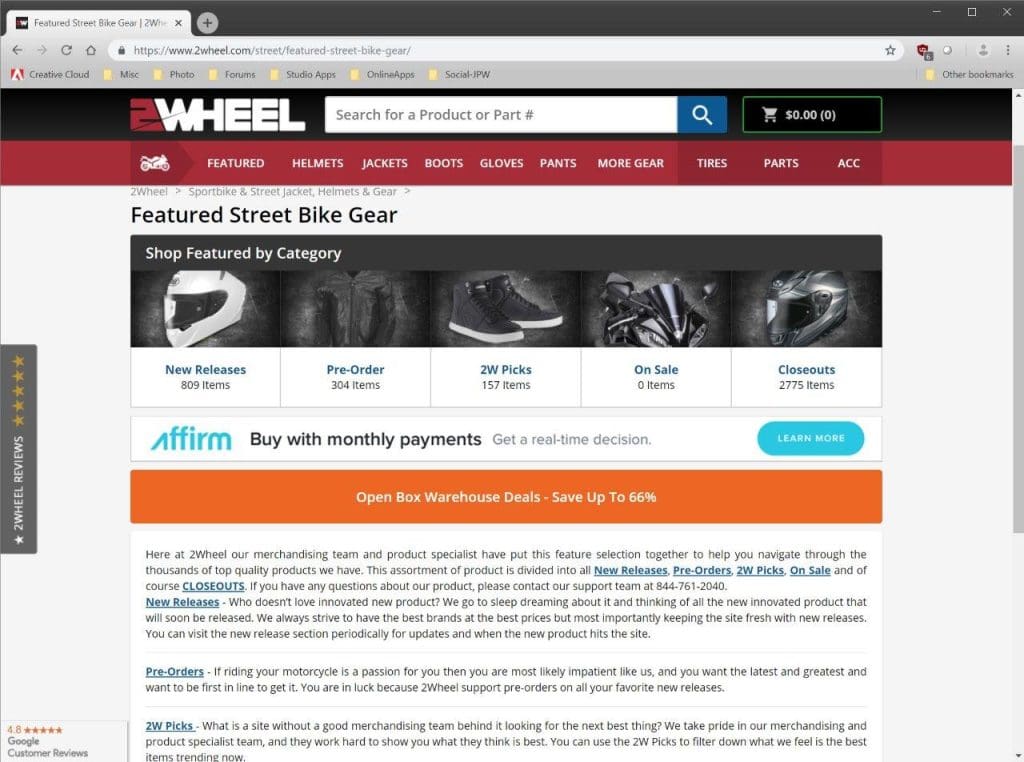 Semantics notwithstanding, the various sections have a good range of products listed. For instance, clicking "Jackets" under the Street category returns just over 500 results from over 20 manufacturers. That's a good showing and seems on par with other online retailers.
Pricing
Pricing was very good and in line with other major online retailers. In some cases the pricing was exactly the same while some items were a little less. There were also a few that were more pricey on 2Wheel.com than say, a site with a name similar to a large radioactive lizard.
Looking at the areas where there were differences both high and low seemed to be items on closeout in one site and not in the other. This is not unsurprising. 2Wheel.com makes it clear they will price match competition so they might be able to match that lower price from other dealers.
One thing I'd like to say about pricing is I don't feel it is the most important standard by which a retailer (online or otherwise) should be judged. Customer service is most important to me and I believe many riders will agree. Paying a few dollars more from a dealer that will stand behind their products is worth it to most of us.
Return Policy
Since it is often the case that one hasn't had a chance to try on a new helmet or article of riding gear when ordering online there can be concerns about getting the correct fit. Since sizing can vary from manufacturer to manufacturer or even different lines within one makers' lineup, a flexible return policy is helpful.
2Wheel.com does offer a free return policy for an item that doesn't fit properly and will send the buyer a shipping label to return the item if that is the case. Like most sellers, the returned item must be in original condition with all the packaging and tags.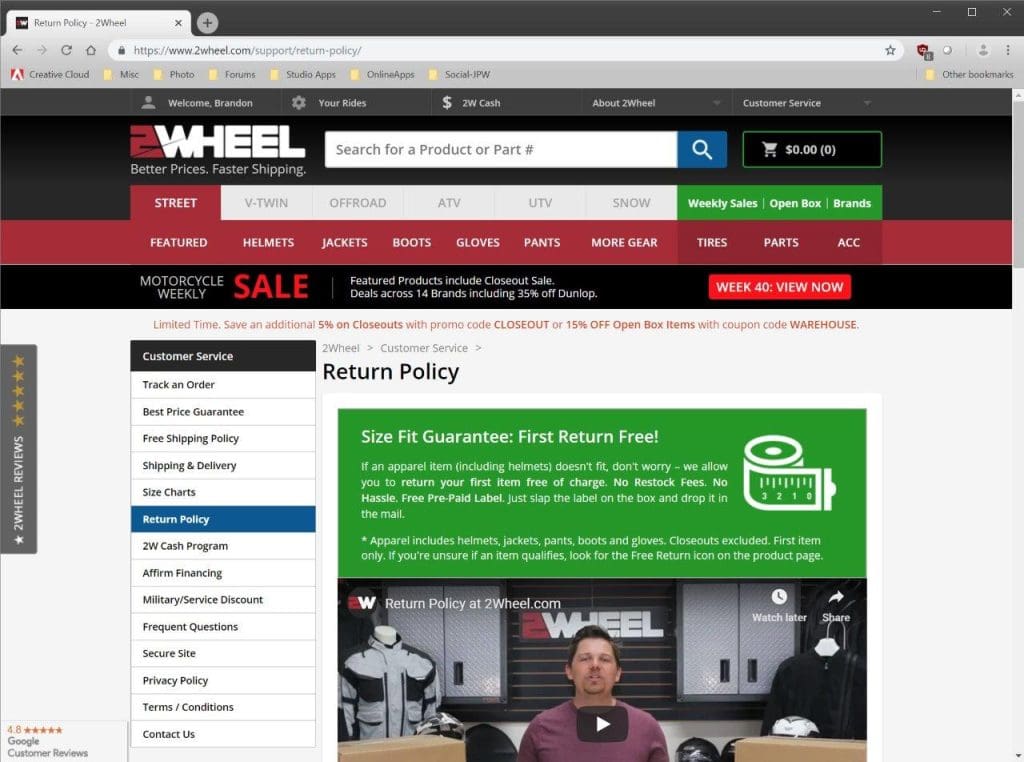 Ordering Process & Customer Service
I was concerned that the ordering process might be a bit cumbersome given the "busy" first impression I had of the 2Wheel.com website. It turns out it was one of the smoothest online purchasing experiences I've had.
As part of the review process I was directed to make a purchase so I could evaluate the ordering and payment process. At the same time I wanted to get an item that could also be reviewed on its own so I went looking for a helmet we had not reviewed before. After reviewing the options in the price range I was given by webBikeWorld I found what I wanted and shortly after was looking at my chosen item in the shopping cart.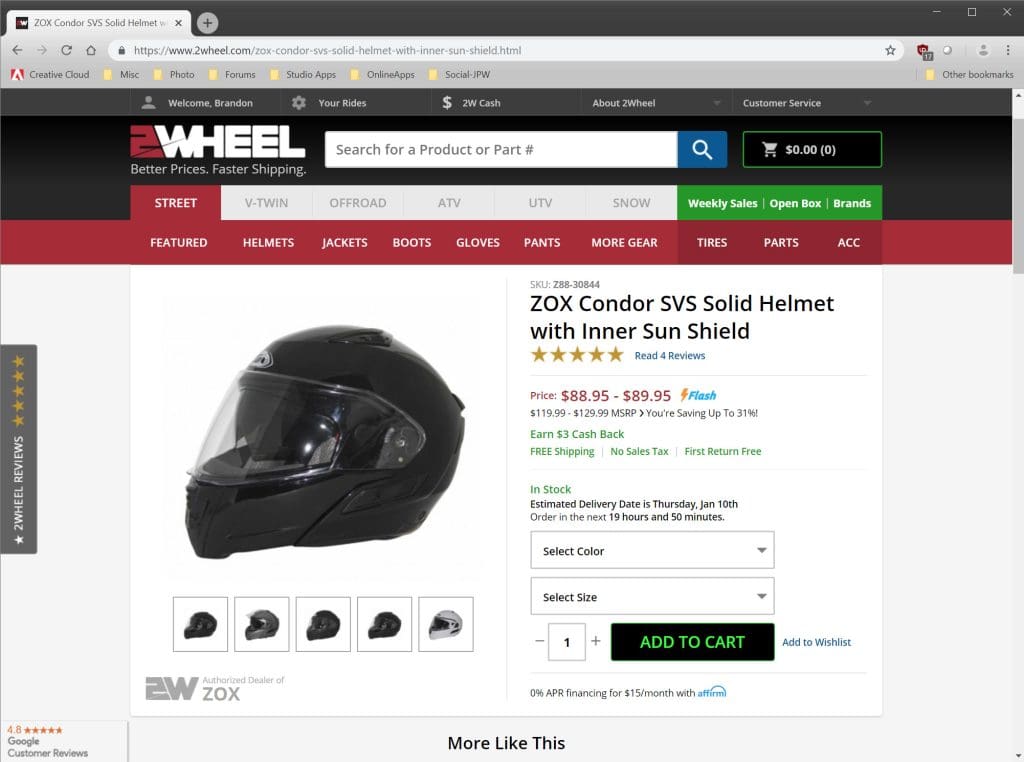 From there it was a pretty quick process to provide the usual information required for an online purchase and get to the payment portion of the transaction. I do have to say that whoever put this part of the site together did a good job with the interface because it stepped one through the input process smoothly and quickly. My concern about a cumbersome process was unfounded.
Back to the payment process, one is given several choices for payment beyond just credit cards including PayPal, Apple Pay, Google Pay and Affirm Payments. In addition there is an automated system (chat bot) that will appear if there are any potential discounts that may apply to your purchase.
I wasn't fortunate enough to receive any such discounts but the item I purchased was at a pretty good price anyway as it was on closeout. From there I completed the process using a credit card and that was it.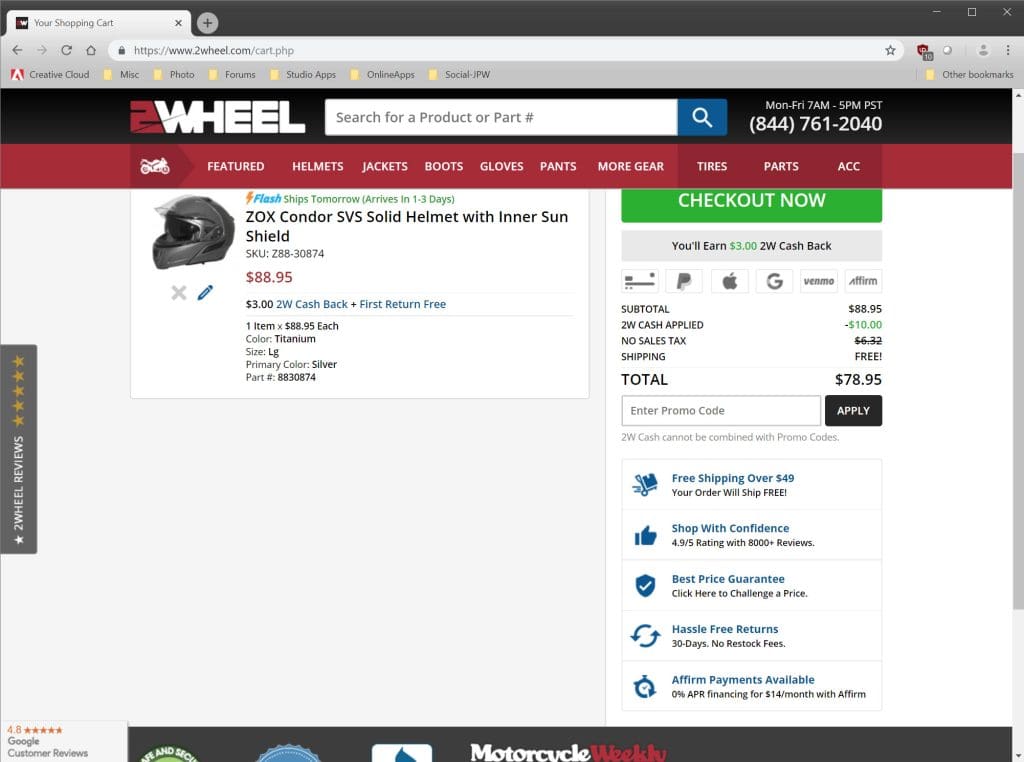 Within the first minute after ordering I received an email confirmation of my order and a subsequent email minutes later informing me that the helmet was located and was in process. The next business day I received an email that the item was packaged and awaiting tracking info. That's a lot of emails but I can't fault them for giving me too much information regarding the status of my order.
I haven't had cause to reach out to customer service but the contact options are easy to find. In addition, they provide a staggering amount of details surrounding their policies, discounts, terms, Someone spent some time trying to anticipate consumer questions and it shows.
Product Shipping & Packaging
Jan 19, 2019 Update
The specific helmet that was ordered for this review, the AGV K-5 S, did not have express 1-3 day shipping available. At the time of ordering, 2Wheel.com estimated shipping within 1 business day and arrival within 4 business days after that.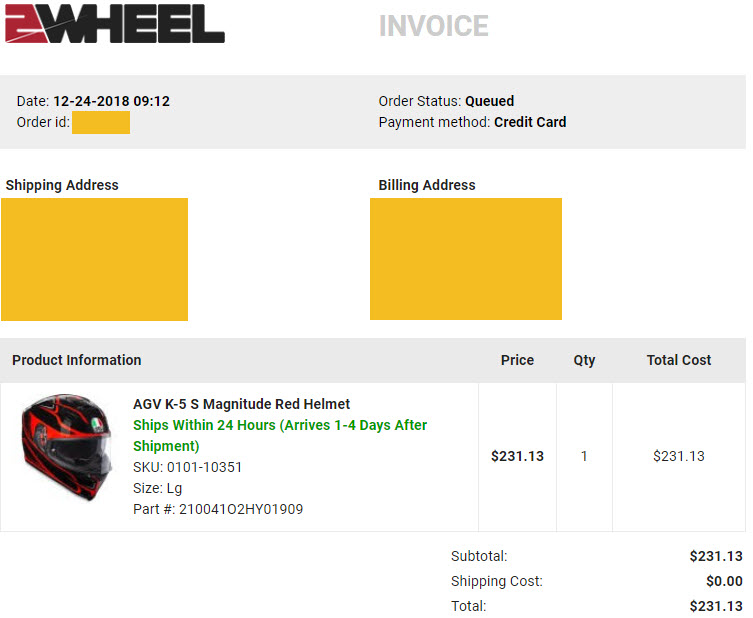 ---
All was looking pretty promising up to this point. The site works well enough and the prices are in line with other major online retailers being better in some areas, and not as good in others. Shipping seems to be where one should be careful about expectations.
Looking at the "About" section of the 2Wheel.com website they claim, "We provide fast 1-3 day shipping utilizing the closest location in a network of nearly 100 warehouses across the United States." This doesn't exactly meet up with the reality of how long it took to receive my specific order. Let's go to the details.
First off, I want to say that I did choose the worst time to place an order. It was placed on the morning of Monday, December 24th (Christmas Eve). I doubted much would happen until Wednesday the 26th. I was surprised however to get two automated messages on the 24th saying that one, my order had been queued and then two, it had been processed and was awaiting packaging. Fair enough.
On the 26th around noon CST, I received another email from 2Wheel.com saying that my order had been packaged and that tracking information would soon follow. These emails are based on a template and I noticed a new sentence had been added to the current status of "Packaged" saying that "One or more of your items have longer lead times".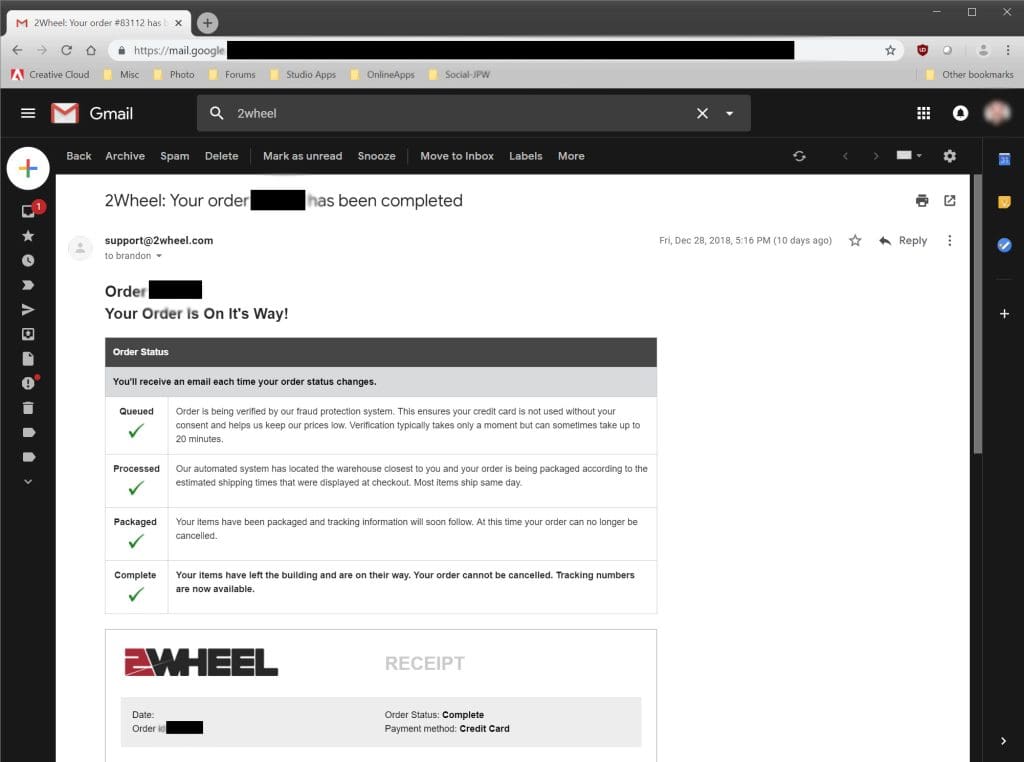 I didn't see that new phrase until I went back through the emails to research for this review. This helped me understand why it took until Friday evening, December 28th, for me to receive notice from 2Wheel that the package had left the building. By the way, Los Angeles is pretty far from Nashville, TN so the "utilizing the closest location" mentioned earlier didn't pan out in this case.
The box actually left LA in the wee hours of the morning on Saturday the 29th with an expected delivery date of Monday, January 7th. Even with the Holidays and Sundays removed that left 6 business days from the shipping date. That's double the claimed 1-3 days time mentioned earlier plus two more business days from the date I placed the order for 8 business days required to get this helmet.
Is this typical? Since I have only purchased one item I would like to think this is an aberration but it does give me pause about ordering in the future. I can order from places in New York and Texas that will ship their items out the same day if I order before noon and they often arrive in two days. I may have saved some money in this case but I would rather have paid a little more and gotten the product in less time.
Packaging
The helmet I ordered arrived packed well in what I would consider standard helmet packaging. The helmet box itself was placed inside another box and arrived undamaged.
Unboxing the helmet revealed the unit in perfect new condition with all tags and sundry visor covers in place. At the very good discount closeout price, there's always concern about getting a returned or open-boxed item but this was undoubtedly brand new. It even had that new helmet smell.
Conclusion
The overall process for ordering merchandise from 2Wheel.com was very smooth and despite the lag in the shipping, the helmet I received was exactly as it should have been. I do appreciate the status updates from their site on the order progress and even though I didn't have to reach out to customer service the ease of finding contact information is appreciated.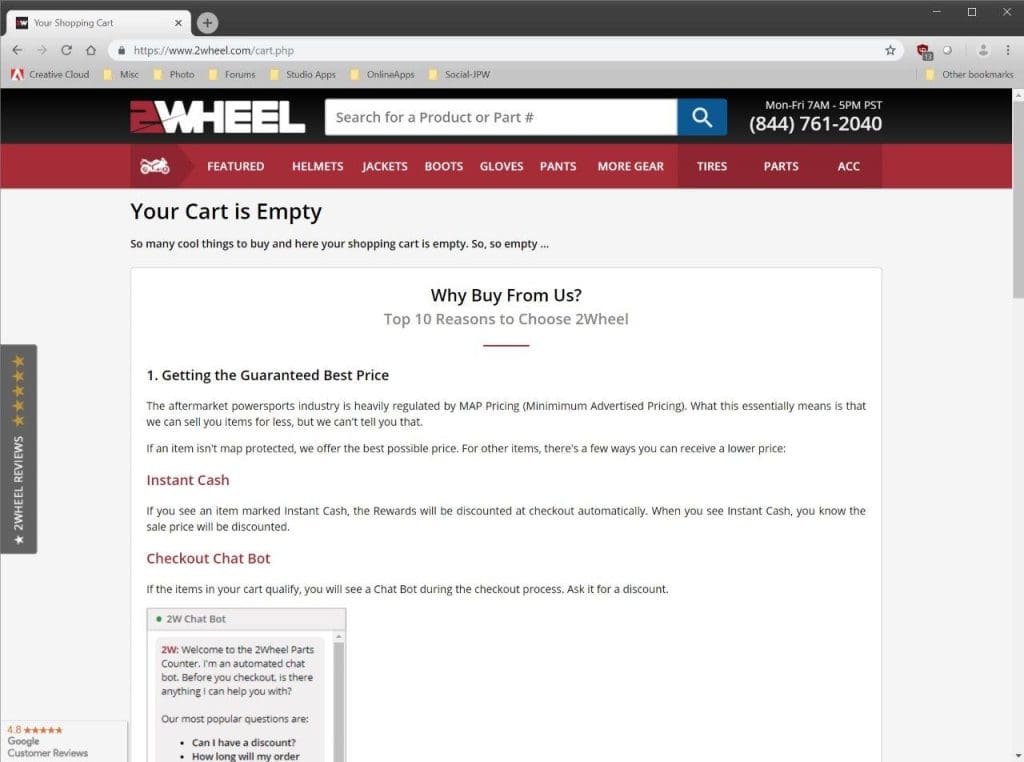 At this point, I will give a solid "give them a try". As I understand it, webBikeWorld.com will be getting some more items for product reviews from 2Wheel.com in the coming weeks. I intend to follow up with our team to find out how their own experiences are with shipping times.
If you, our reader, decide to give them a try I encourage you to let us know how your transactions go whether good or bad.
Pros
Site responsiveness is quick
Responsive design works well on desktop and mobile devices
Ordering process is very smooth
Super fast order verification and information emails
Cons
Pages are busy with offers and sales
Search results inconsistent
Shipping process slow in this transaction