We love to showcase amazing brands that bring high-quality products to the powersports space. Do you know of a brand that deserves some time to shine? Let us know!
Summary
Accessories that make your motorcycle more comfortable don't always look great, but Canadian brand Luimoto is out to change that with their premium aftermarket seat covers, gel inserts, and tank grips.

Luimoto is based in Vancouver, BC. Co-founders Will and Patrick run a tight operation where every product is carefully designed and assembled in-house to ensure quality control.

Using premium materials—like marine-grade vinyl and Japanese synthetic suede—gives Luimoto's seat covers better weather protection than the fabrics that cover most OEM seats, while providing superior comfort and traction as well.

You can buy Luimoto seat covers for practically any motorcycle on the market, and the brand also lets you place custom orders for products with special materials, stitching, or embroidery. Use their gel inserts to reduce road shock and their tank grips for additional control if you want to enjoy the full Luimoto experience.
Saddle Up in Style: How Luimoto Aims to Make Your Seat the Most Exciting Part of Your Bike
Most motorcycle mods focus on performance, but comfort is a close second—after all, the more time you can spend in the saddle, the harder you can ride without feeling it in your knees or back. The problem with a lot of comfort-focused upgrades is that, well, they just don't look good. And for many brands, straddling the line between comfort and style seems harder than standing on your pegs while going over rumble strips at 90 miles per hour.
Naturally, when Canadian brand Luimoto told us they were setting out to do exactly that (the comfort thing, not the rumble strips thing), we had to admit we were a little apprehensive. But against all odds, the Luimoto team has managed to pull off a trick worthy of the motocross event at Monster Jam. Read on to find out why we're recommending that you use your posterior to get familiar with one of their covers.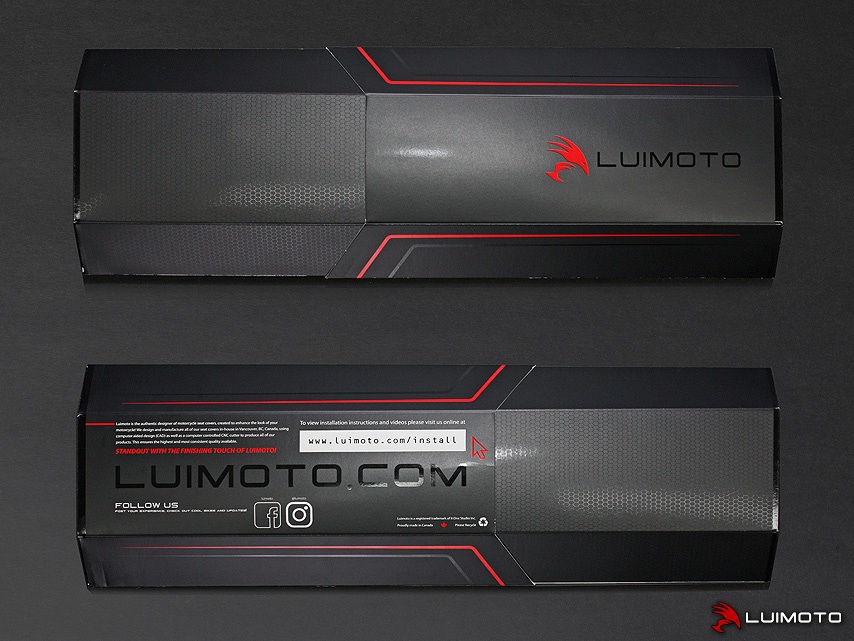 Who is Luimoto & Where Do They Come From?
If you haven't heard of these guys, they're a small company based in Vancouver, British Columbia—the same neck of the woods this writer calls home. Vancouver's arguably one of the greatest cities on planet Earth to ride in (as long as you don't mind a few ticket-happy cops), with plenty of Harley bros and crotch-rocket jockeys alike using the city's well-maintained roads to get a little wind therapy during the nearly snowless year.
Luimoto seems determined to cater to both of these markets. They make covers for a wide range of popular moto brands and models, and the finished products manage to impress on both ends of the sport-bike-to-cruiser spectrum. It's the little details that sell each one—you can find vintage-inspired diamond stitching on their cruiser covers, or pleated suede ideal for Hondas and Kawasakis.
And that's not all. In addition to seat covers for riders and passengers, you can get seat inserts designed to reduce shock and fatigue, along with matching tank grips and more. They'll even customize your order with special materials, stitching, and embroidery—so you can turn your seat into an honest-to-goodness work of art that'll turn heads whenever your rear end isn't blocking it.
The Origin
When I reached out to brand co-founders Will and Patrick for a little more information about Luimoto's ethos and genesis, they got back to me right away. Patrick was more than happy to tell me how the company got up and running—and in the immortal words of Peter Parker from Sam Raimi's Spiderman, "This, like any story worth telling, is all about a girl."
Okay, maybe that's pushing it a little. But as the story goes, Pat had a girlfriend who often rode two-up with him on his sport bike and didn't exactly love the experience of perching on the pillion. Fair enough—as you probably know already, most sport bike passenger seats are, um, not great. Don't believe us? Ask Reddit.
So Patrick, being the dutiful boyfriend he was, went to a local upholstery shop to try and find foam he could add to the seat. What he found instead was a type of carbon fiber material he'd never seen before—but which made the seat significantly more comfortable and grippy once wrapped around it. Ultimately, Pat reached out to Will for help turning this DIY fix into a viable product, and Luimoto was born.
The Mission
Both Will and Patrick are avid riders themselves, and their willingness to pull back the curtain and share even the smallest details of their process made it fairly obvious that everyone at the business is deeply connected to the products they sell—these most certainly aren't some cheap accessories made who-knows-where with who-knows-what.
Luimoto's raison d'etre, according to Will, is to elevate your riding experience. Easy to say, but harder to do. When I ask how they achieve that lofty goal, he's candid and direct: by investing heavily in design and materials to create offerings that provide style, comfort, and traction (take it from someone whose current bike has over 160 lb-ft of torque—you want your butt to stay planted when that speedo needle jumps).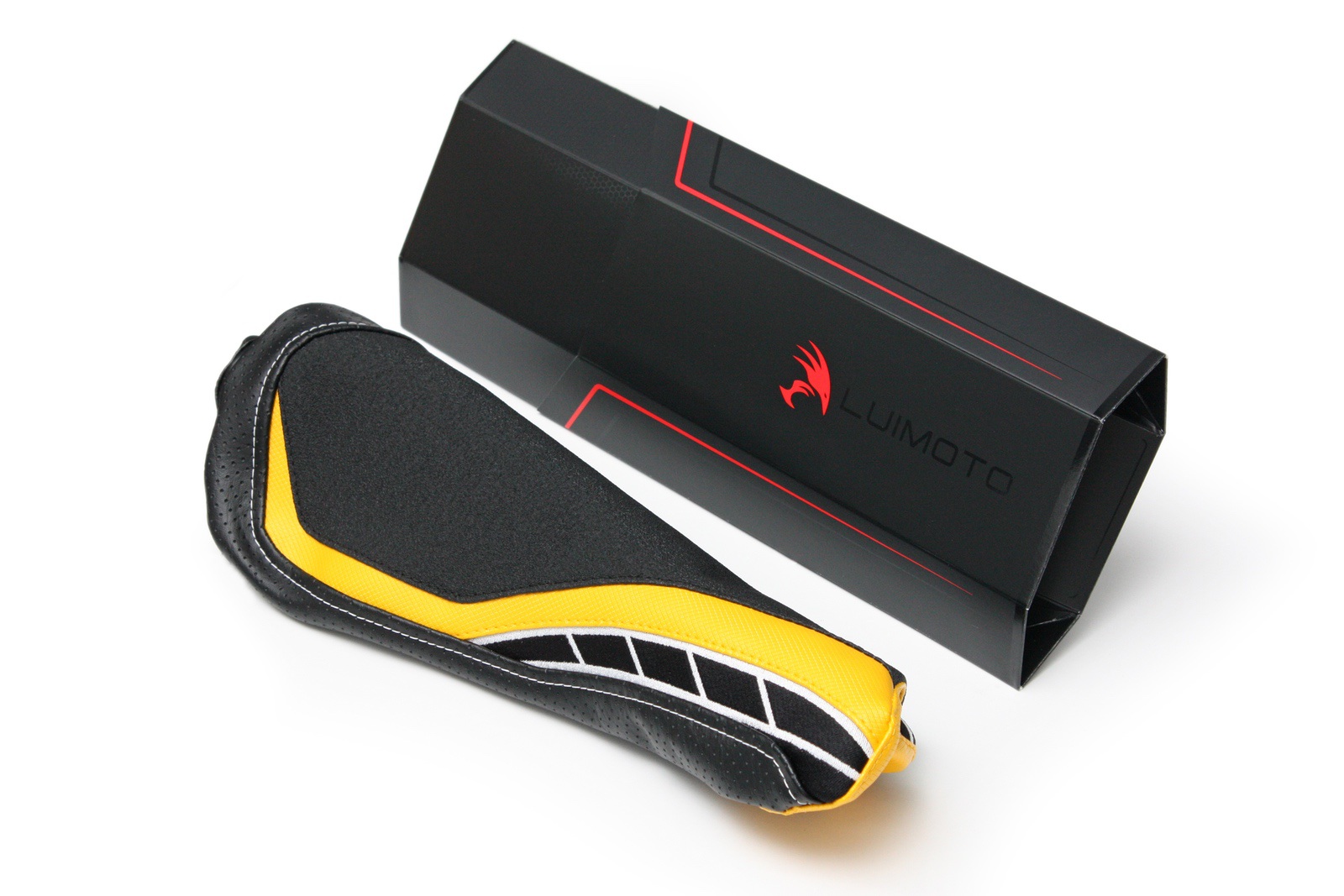 Key Features
So what kinds of designs and materials get you the most traction without chafing or making your bike into the world's ugliest road sofa? Luimoto's based in my hometown, so I decided to find out for myself. Here's what I noticed that sets their covers apart from a lot of what else is on the market.
Marine-Grade Vinyl:

This is tough stuff. In fact, it's what you find on open-air watercraft. That's because it's more weather-resistant than the OEM fabrics on most motorcycle seat covers. Translation? You can stop worrying about the rain soaking through and ruining your foam over time.
Japanese Synthetic Suede:

Of course, vinyl's not very grippy—so you need something that'll help you stick in the saddle comfortably. Suede's great for that, but not so great when exposed to the elements. The answer? Synthetic suede. Japan makes some of the best, and it looks almost exactly like the real thing.
Made in Country:

The material might be from halfway around the world, but everything Luimoto makes comes together in North America—in-house at their Vancouver headquarters, to be exact. That means when you order an aftermarket seat cover or a one-off custom piece, you get a premium product assembled under the direct supervision of the team that sold it to you. This is what accountability looks like, and it's refreshing in an industry that sometimes feels increasingly dominated by cheaper, mass-produced products.
Seat 'Em for Yourself: 3 Luimoto Products Worth a Look
Will, Patrick, and their team can make a seat cover for pretty much any motorcycle out there—so there's not much point talking about covers for specific models. But there's more than one type of seat cover—and as we said earlier, Luimoto also has a few other items on offer for riders who want a more comprehensive experience.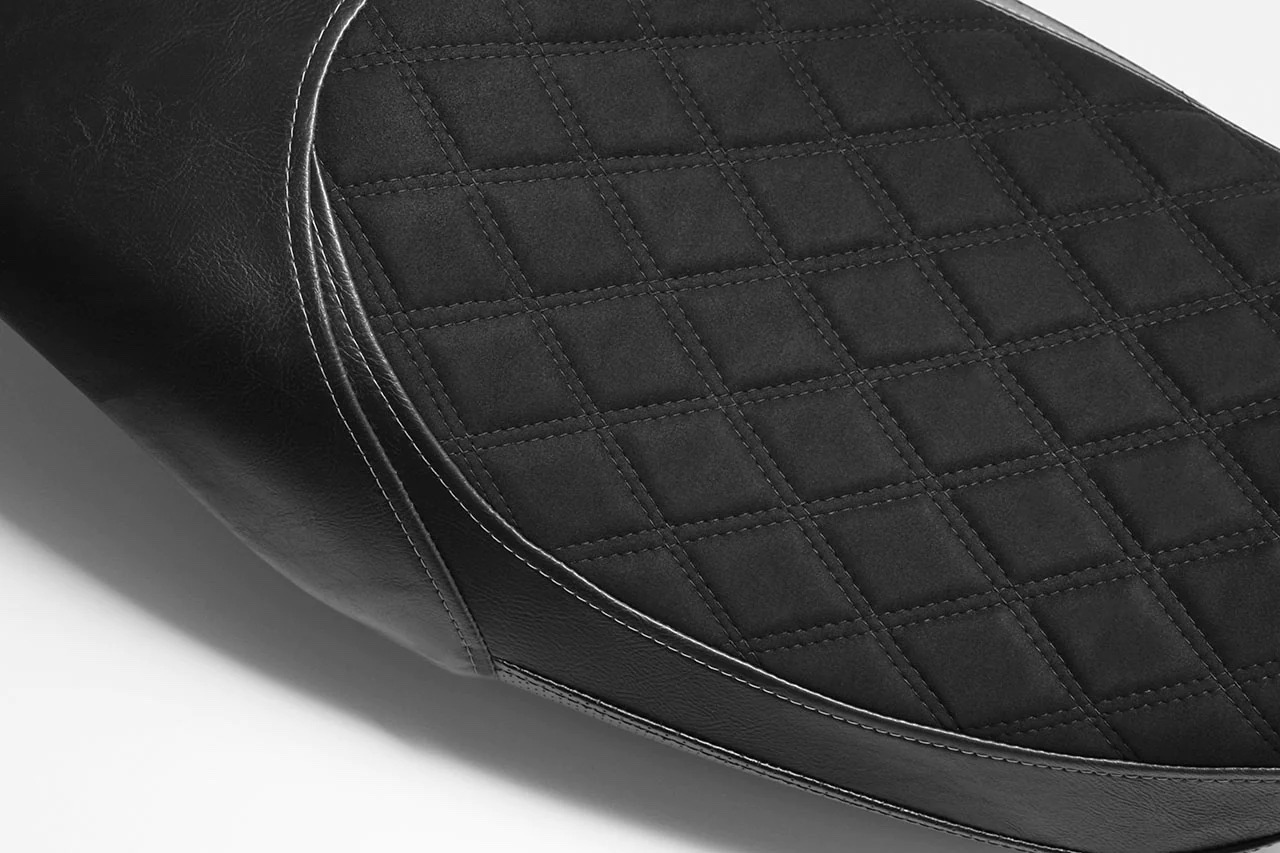 Seat Covers
Every seat cover Luimoto makes is specifically designed for the model it gets installed on. These aren't one-size-fits-all products—you get a cover that matches the aesthetics and profile of your bike so that the lines (and the vibes) stay intact. Luimoto breaks their seat covers down into the following three categories:
Rider seat covers

cover the foam in the area where you sit, and are ideal for bikes with solo or bobber-style seats.
Passenger seat covers

cover the foam on your pillion seat (what little there is on some sportier models), and offer an extra layer of comfort for your traveling companions.
Custom seat covers

are any one-off products Luimoto makes. These include any seat covers augmented with special stitching, materials, or embroidery.
All seat covers use the marine-grade vinyl and Japanese synthetic suede mentioned earlier, unless you request other custom materials when you place your order.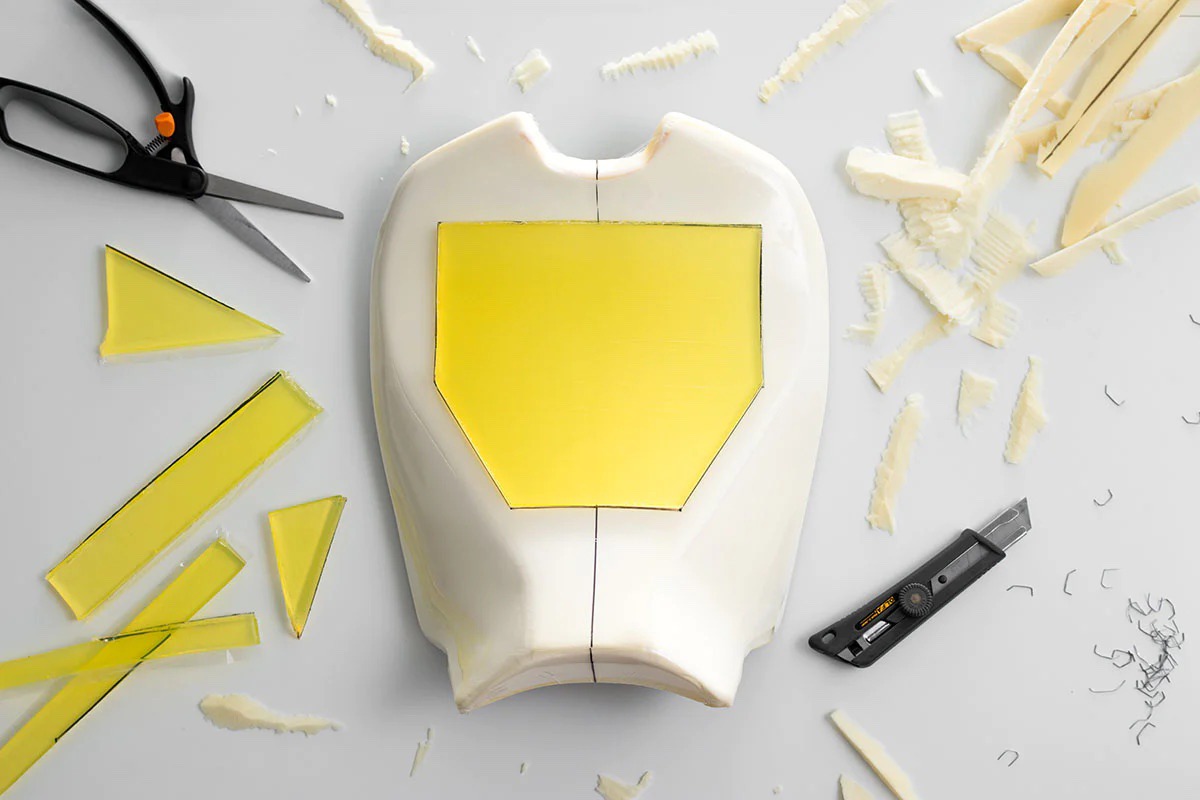 Seat Inserts
Remember that foam we talked about earlier—the stuff Patrick was looking for at the upholstery shop before he found the carbon fiber stuff? As it turns out, that led to a different Luimoto product.
These Premium Gold Gel Inserts are engineered to reduce your fatigue by soaking up the shocks you'd normally get from going over bumps and cracks in the road. Here's a quick overview of how they work:
All inserts are designed to be installed in the existing foam of your seat (so that its shape can be preserved when the cover goes back on).

You'll need a few simple tools to do the job yourself—like needle nose pliers, a utility knife, scissors, and 40-100 grit sandpaper.

Alternatively, Luimoto's

gel installation service

lets you ship your seat to them and pay a fee to have the gel inserted for you. This is ideal if you don't feel comfortable cutting into the foam of your seat by yourself.
Not sure if you want to try the installation on your own? Get a sense of what's involved by watching this step-by-step instructional video.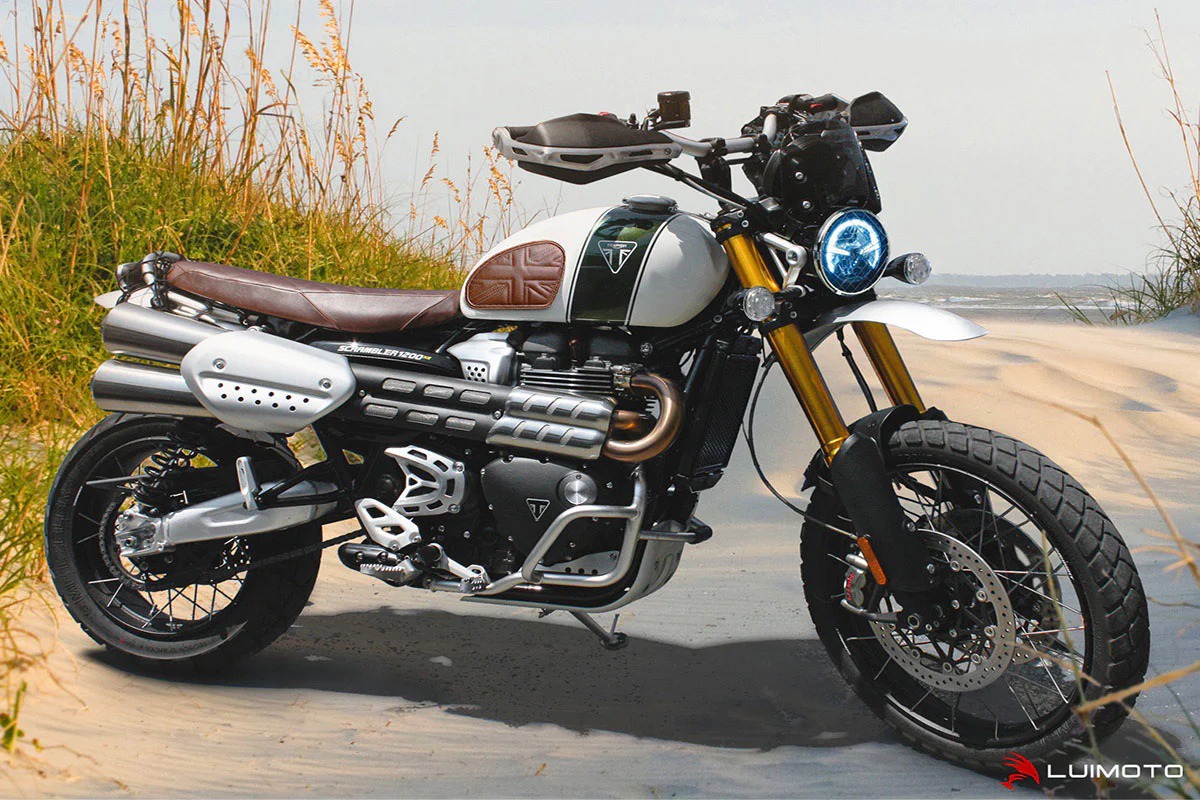 Tank Grips
Finally, these small but useful patches use the same marine-grade materials as Luimoto's seat covers but attach to each side of your tank via 3M adhesive to provide extra grip for your legs. Ask anyone who doesn't drop the knee whenever they turn (i.e. most riders who aren't MotoGP contestants) and they'll tell you—the amount of contact you can maintain with your tank can have a substantial impact on your acceleration, braking, and cornering. Check out Luimoto's tank grips here.
Reuniting Comfort & Style for Riders of All Kinds
Making moto seats more comfortable without turning them into goofy or gaudy cushions was a big job, but someone had to do it. I'm hoping to do a full review of the products above sometime in the New Year, but until then it feels safe to say that Luimoto's earned our attention and admiration here at wBW for their smart use of weather-resistant materials in eye-catching designs. If you get your hands on one of these covers before I do, be sure to let us know about your experience in the comments section—here's to making your seat the most exciting part of your ride!