If I were someone who wanted an inexpensive way to travel around 60 km (~37 miles) every day and didn't want to take a car, an ebike like the T4B Victory would be on my list.
The need for reliable and affordable transportation is only increasing, especially as communities grow and people look for alternatives to owning a vehicle. My recent ebike reviews have been on bikes mostly in the mid-market segment (bikes in the $2,000 – $3,500 USD range), but competition is fiercest at the entry-level, and not all of those bikes are ones that I'd recommend riding.
The Victory, however, is a good entry-level ebike, priced at the upper end of the entry-level ebike segment at $1,499 USD ($2,000 CAD). For your money, you're getting a reinforced step-thru frame, hydraulic brakes, an 8-speed Shimano Altus groupset, and a maximum range of 72 km (45 miles) from the 12 Ah battery.
It's equipped with the right components that are useful for its commuter use case, and has some smart design choices that elevate it compared to the parts-bin bikes that are typical of this price point. It's a good choice for commutes on paved pathways or groomed trails, and it makes surprisingly few compromises to achieve its affordability.
Words & Photography: Cameron Martel
T4B loaned us this ebike for a week for this review. I want to thank Ebikes Calgary for facilitating the loan. webBikeWorld does not have a financial relationship with T4B or Ebikes Calgary.
2023 T4B Victory Specifications
MSRP:

$1,499 USD /

$2,000 CAD

Where to Buy:

CalgaryEBikes.ca

Warranty:

1-year

Top Speed:

22 mph / 35 kph (can be unlocked for no speed limiter)

Range:  

72 km (45 miles) claimed

Bike Weight:

25 kg (55 lbs)

Weight capacity:

118 kg / 260 lbs

Motor:

Bafang 500-watt hub motor

PAS:

Cadence sensor, 5 settings

Brakes:

Taiwan Star Union hydraulic brakes with 160 mm rotors

Gearing:

Shimano Altus 8-speed

Battery:

48V 12 Ah battery with Samsung cells

Wheels:

Panaracer 27.5"x2.4" tires

Others: SR Suntour XCM 80 mm suspension forks, adjustable stem, fenders, rear rack
Designed For all the Commuters Out There
With swept-back handlebars, a wide saddle seat, fenders, and a multi-functional rear rack, the Victory can comfortably transport you. Its cadence pedal assist system is tuned to provide appropriate power at logical intervals, and the 8-speed groupset means that you can actually enjoy pedaling this bike on varied terrain.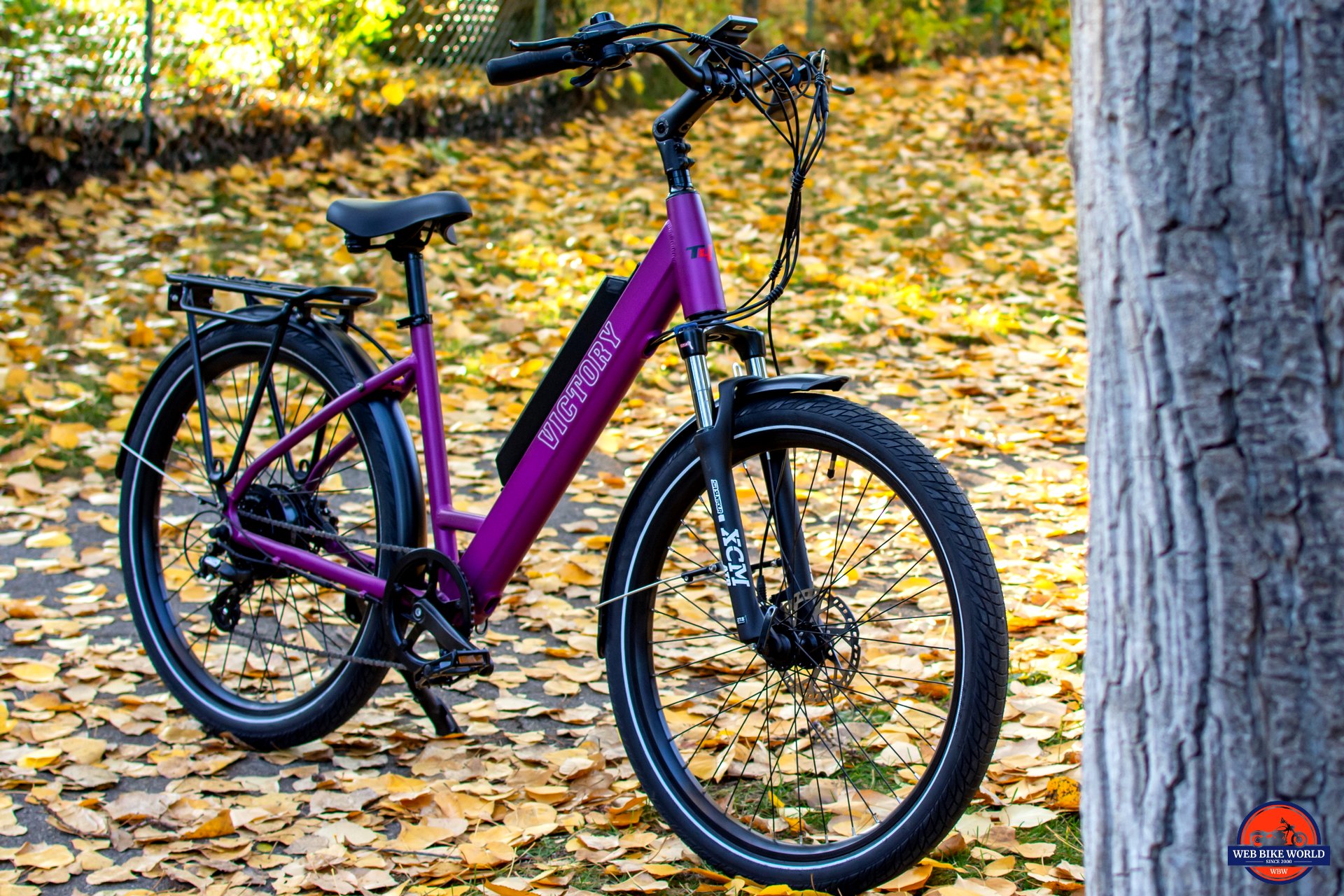 Its low-step-thru frame is quite low for a bike with 27.5" wheels (another ebike I reviewed earlier this year, the Surface 604 Rook V-Shape, is slightly lower for the size). For people who are carrying bags, or if you have a mobility consideration to think about, the low step-thru frame makes it much easier to mount and dismount the bike.
T4B didn't take any risks when designing the bike's geometry or feature set. The Victory has a laid-back, relaxed riding position, with comfortable bars and ergonomic grips. It ships with an adjustable stem, allowing you to adjust the height of the handlebars and really dial in your riding position.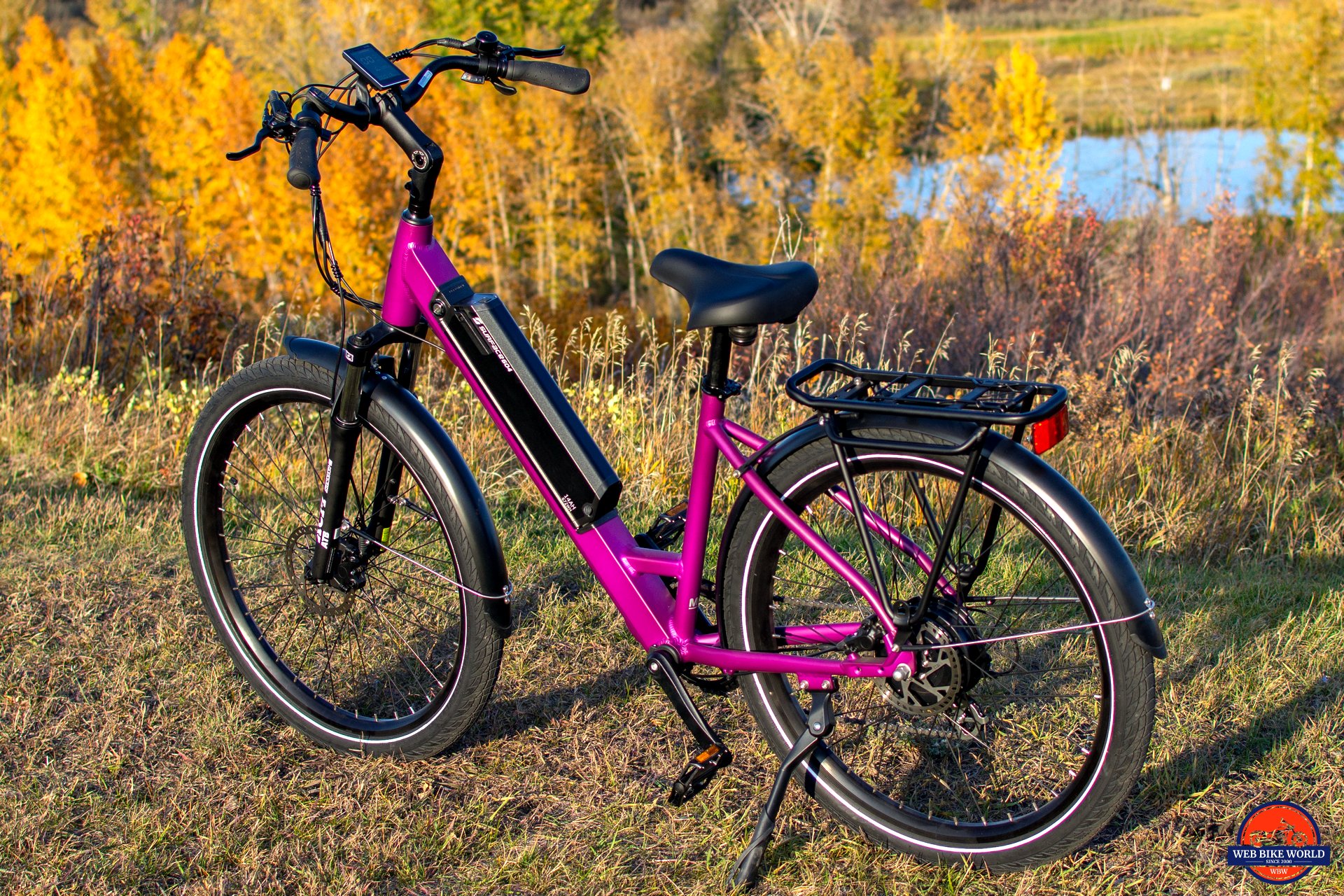 The rear rack has a spring mechanism that allows you to clamp down onto bags and handles, and the rack's metal sides allow you to hang pannier bags off of the side.
T4B uses a standard-sized battery type and mount, which bodes well for the longevity of your investment. One of the most expensive components of an ebike is the battery itself, and purchasing an ebike with a proprietary or frame-integrated battery means potential servicing headaches down the road. The setup used on the Victory is a fairly universal choice, meaning that finding replacement parts in the future will be easy.
Successfully Conquering the Urban Environment
At 55 lbs with the battery loaded, the Victory is hardly a light ebike, but it's also not heavy (you want heavy? Check out the 88-lb Himiway Cobra Pro). The large frame – shown here – is ideal for people around 5'6" – 6'; you can also get a medium frame that is better suited for people between 5' and 5'5".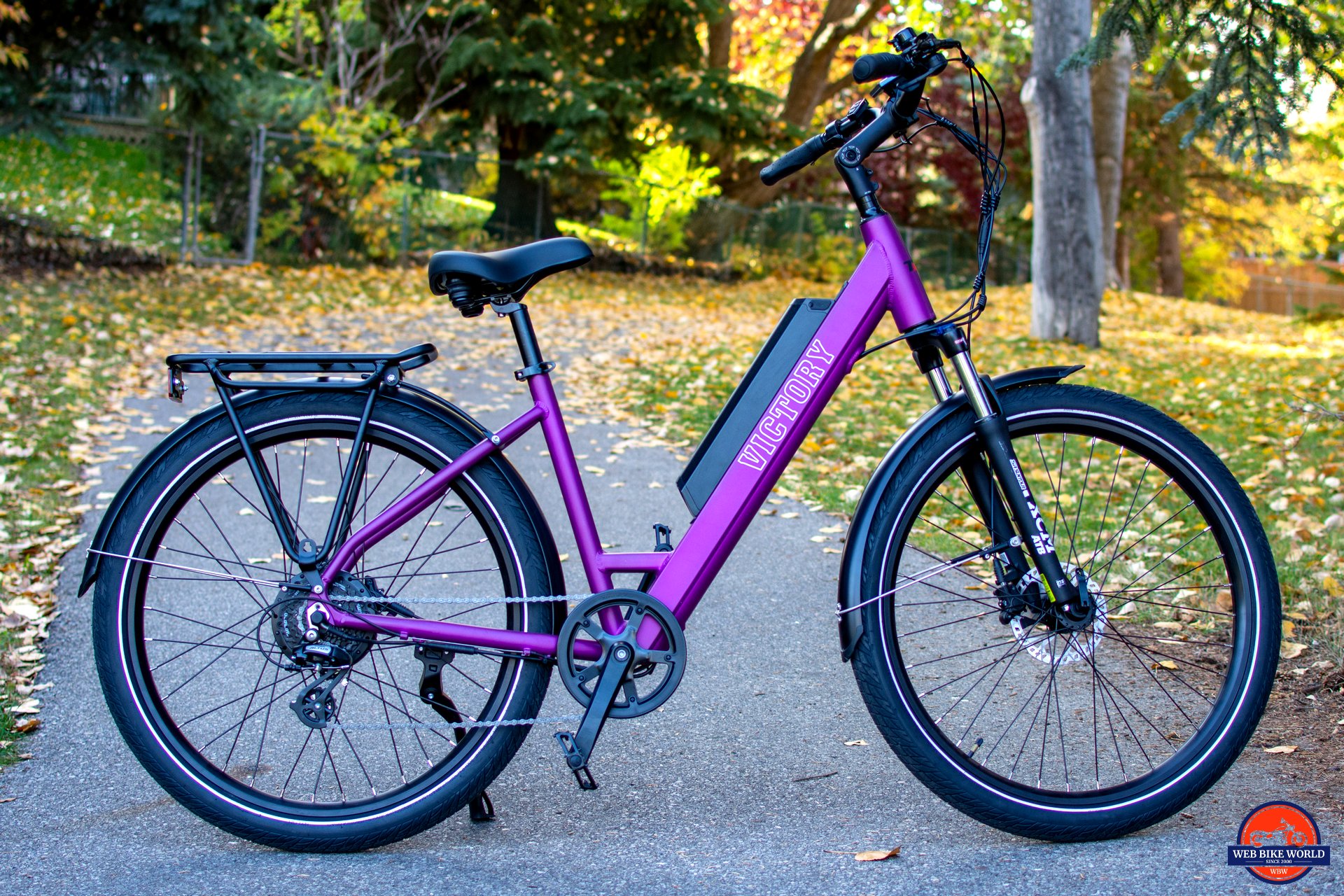 At 6'2", the specs say that I'm slightly too tall, but thanks to the adjustable stem, I was able to raise the bars to suit my preference. I think people as tall as 6'4" could ride this bike comfortably by making use of the adjustable stem.
I appreciate the wide saddle, too, since I'm not planning on riding aggressively, and I'd prefer to remain seated most of the time when riding a bike like this. 
Many bikes at this price use the Shimano Tourney 7-speed groupset, a barebones-but-fine option. The Victory's Altus 8-speed offers an additional gear and a shifting mechanism that I greatly prefer to the Tourney. Paired with the 12-32T cassette, the extra gear gives the Victory good mobility over most hills without the electric motor lending a hand. Add the motor, and the Victory has no problems navigating all but the steepest hills.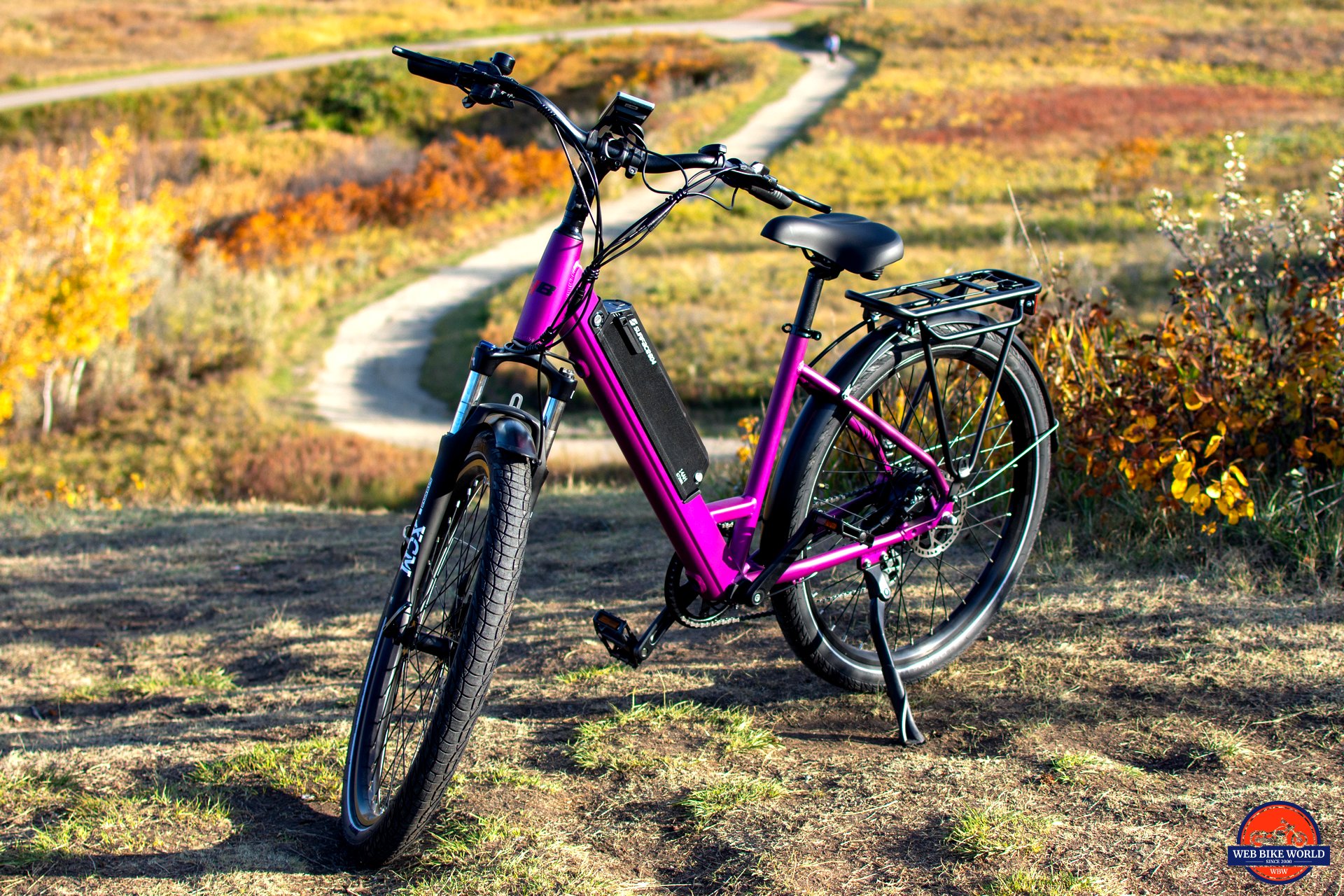 You should keep the hills you target on the reasonable side and ensure they're paved. The Panaracer tires are fine on the pavement but lose their grip on dirt and rocks. They were also okay on groomed gravel trails, but they dig in during deeper stretches as the knobless tires lose their bite.
I have similar sentiments about the suspension forks, which are suitable for the pavement but fall short when the road gets bumpy. With 80 mm of travel, these coil forks aren't going to cushion trail riding, but they're good enough for the street and can be locked out if you want.
Power
The Bafang 500-watt hub motor used in the Victory is ubiquitous on hundreds of ebike models. It outputs around 80 nm of torque, and thanks to a competent controller and the 48-volt setup,  it's pretty quick to get moving.
While the Victory may not be a motorcycle, it makes more than enough power for its use case. The motor can move the bike on throttle only across most terrain and up slight inclines. With even a little bit of pedal power from the rider, the Victory will climb anything you're likely to have in your urban environment.
Pedal assist level 1 gets you to about 18 kph (11 mph); level 2 gets you to 23 kph (14 mph); level 3 gets you to 28 kph (18 mph); level 4 and level 5 will both get you north of 33 kph (20 mph), with level 5 using the motor almost like cruise control (you barely have to pedal to stay at 33 kph).
Build Quality & Components
The team that designed the Victory and planned its spec sheet is clearly composed of people who actually ride bikes.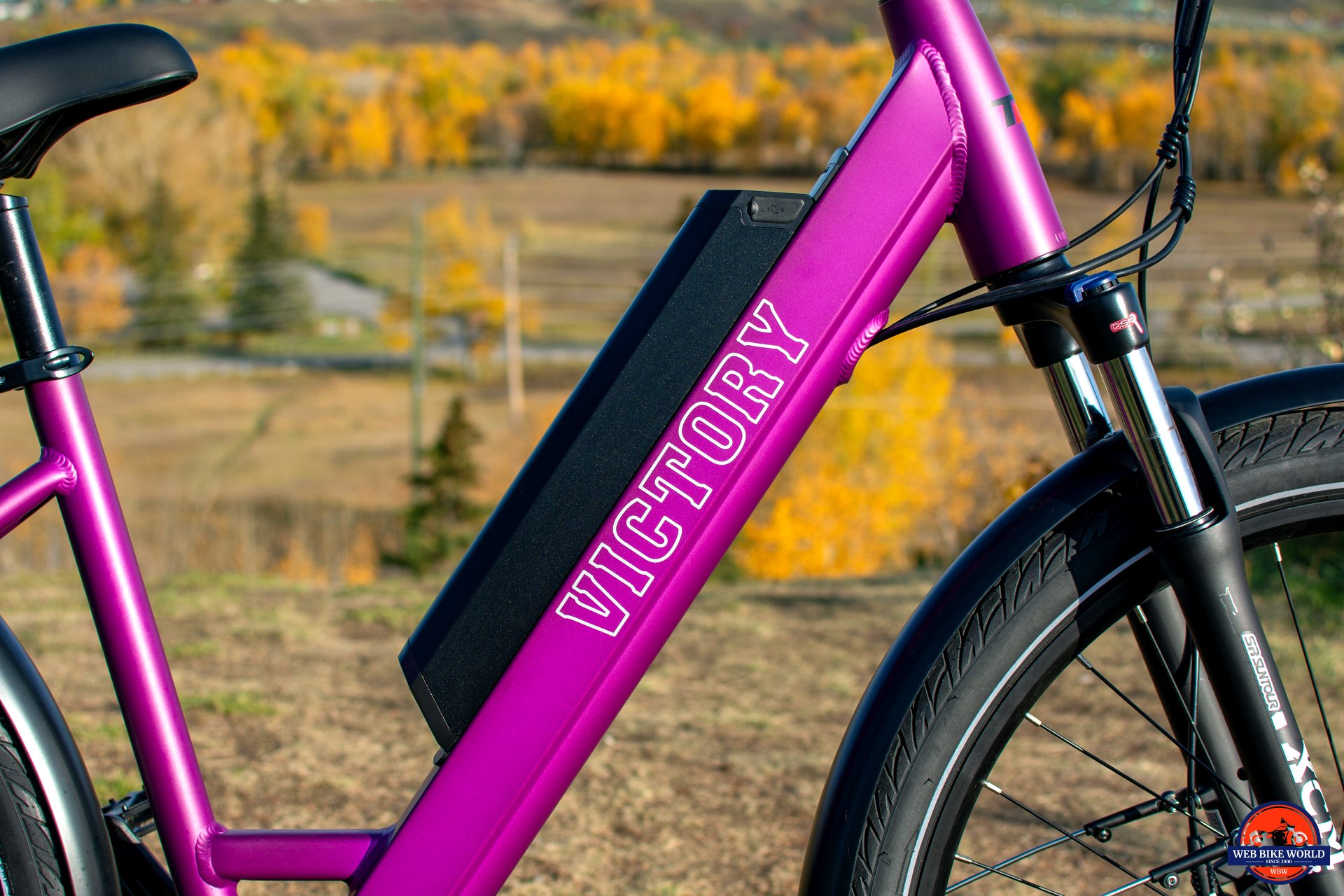 Wiring is hidden inside the frame, and since T4B didn't fit the Victory with big fat tires, the Victory looks much like any other bike. 
The Bafang motor is both reliable and easy to service, as is the Shimano Altus 8-speed groupset, and the Taiwan Star Union brakes – a no-name emulation of Tektro's entry-level hydraulic brakes – are a reasonable alternative to their brand-name counterparts.
Forks & Frame
The Victory's forks are the SR Suntour XCM ATB, which is an entry-level coil fork with preload adjustment. The model on the Victory has 80 mm of travel and can be locked out. These forks rock a quick-release axle.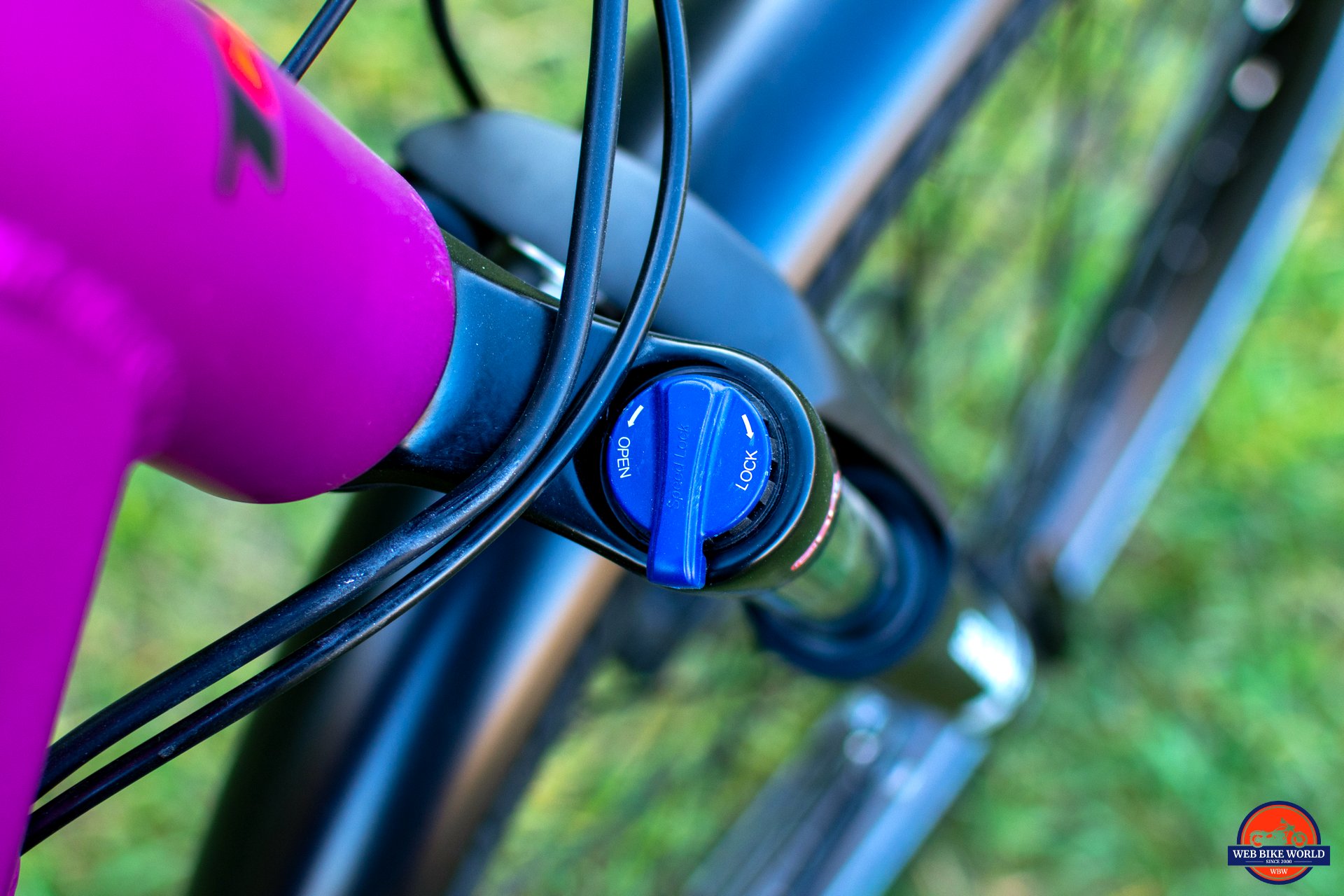 On their softest setting, the forks delivered a decent degree of cushioning while I rode on the street. They don't have much of a pogo-stick sensation on the pavement, but you'll notice a personality change immediately once the terrain gets bumpy. These forks are not meant for that type of riding; they're too stiff and clunky to manage off-road riding well.
Wheels & Tires
The Victory's 27.5" wheels ship with plastic fenders, which is a practical inclusion for a commuter bike like this.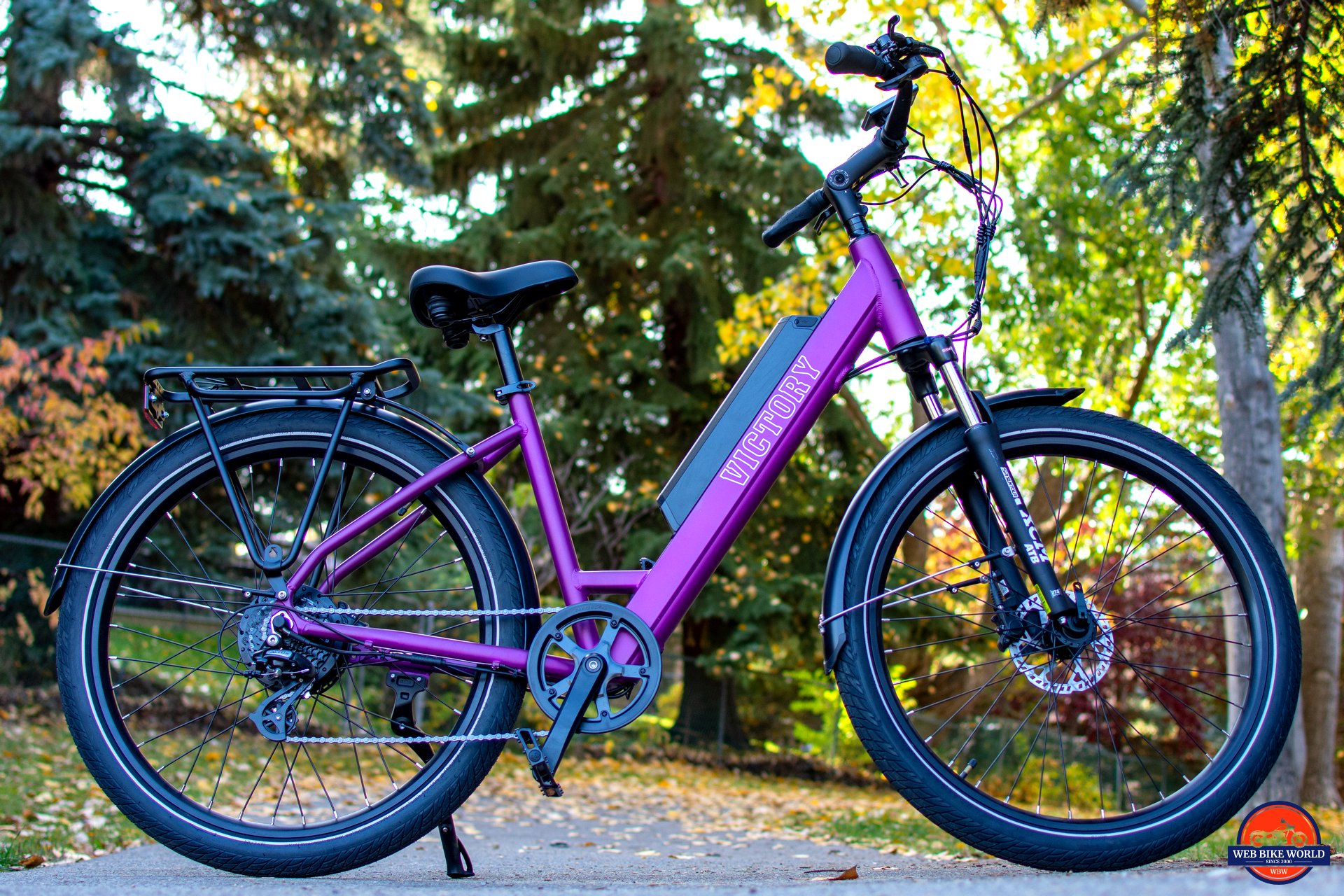 The Panaracer tires have a good tread pattern for dry and lightly wet conditions, but I would not take them in dirt, mud, sand, or snow. 
Brakes
The Tawan Star Union hydraulic brakes clamp via 2-piston calipers on 160 mm rotors. This combination has plenty of stopping power, but if your route has a lot of hills, you may want to consider upgrading to 180 mm brake rotors (which will have a bit more stopping power and heat dissipation).
The forks will allow up to a 180 mm brake disc, so the option is there if you want to size up from the stock 160 mm rotors.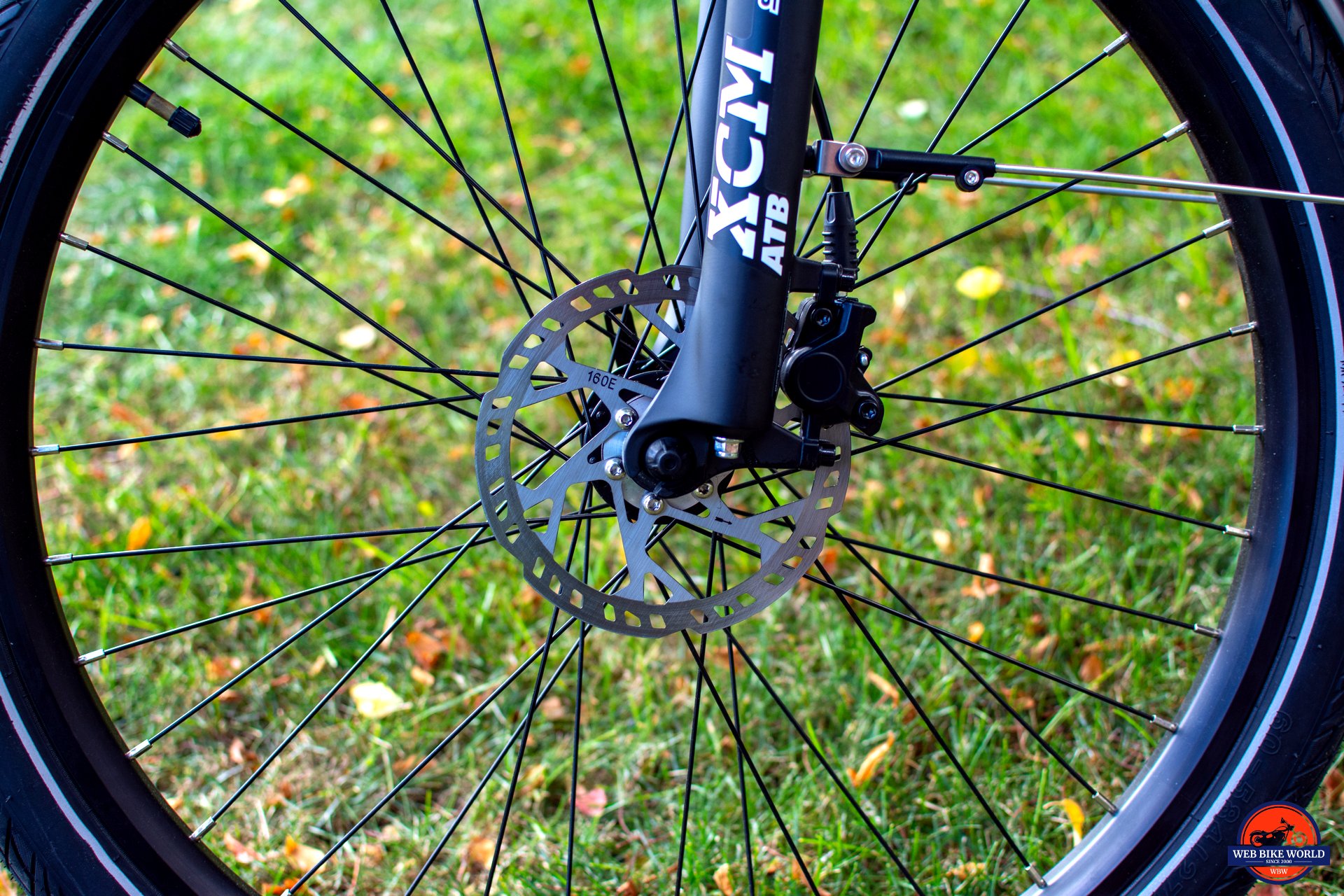 Taiwan Star Union is a generic OEM brand with a very similar design to popular Tektro entry-level ebike brakes. My bike mechanic friend commented that he sees many of these brakes on newer ebikes, and that they're a decent clone of their brand-name counterparts.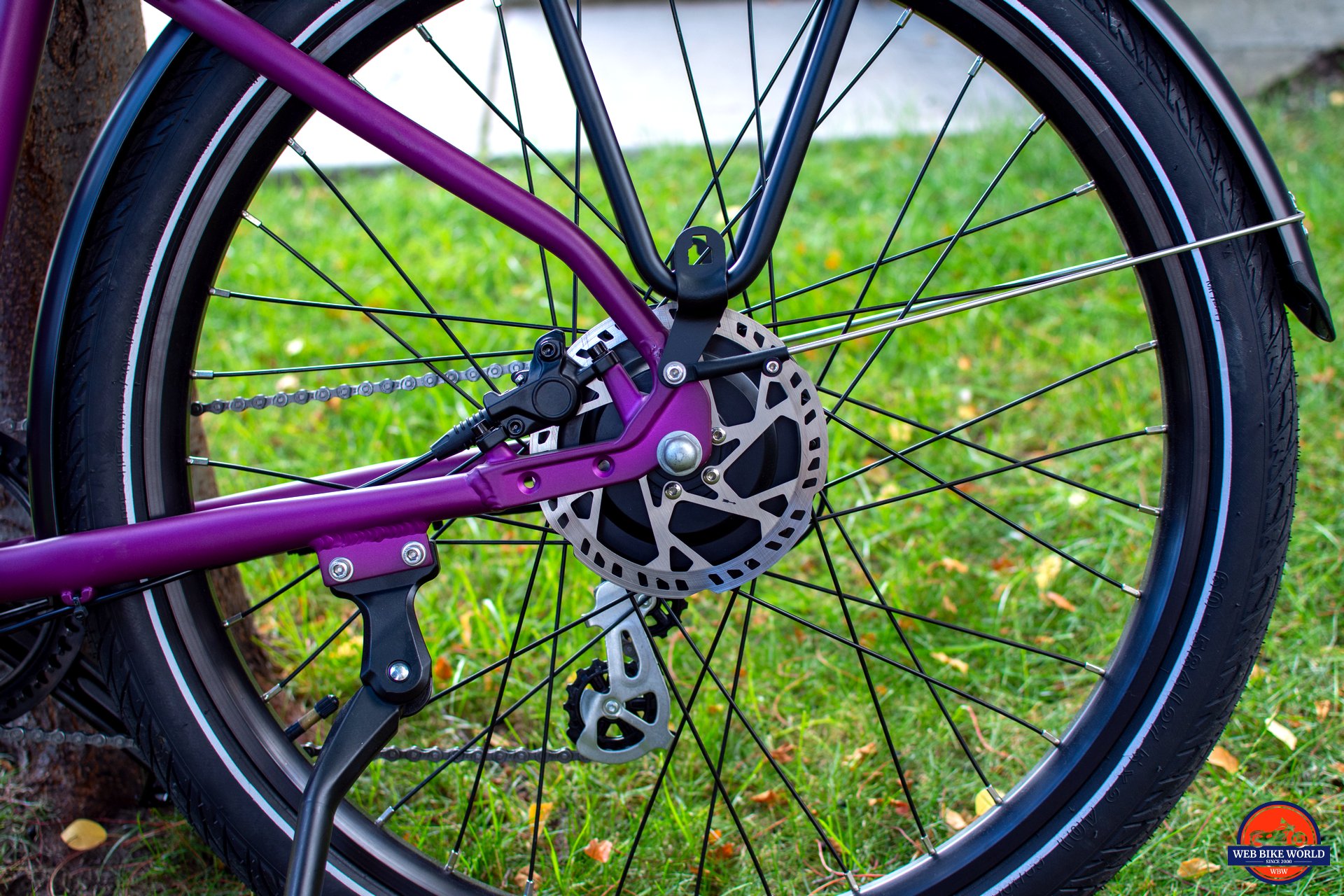 When testing an ebike like this, it's impossible to get a sense of the longevity of the brakes. I don't have the bike in my possession long enough to accrue the kind of mileage needed to test that. However, a good endorsement is that my bike mechanic isn't unhappy with them.
Brand aside, the brakes clamp down hard and will stop the bike quickly. You can lock up both wheels if you want, and you could hit a brake stand if you wanted (or weren't being careful). But, these are also small rotors, so you have to be mindful of heat since they'll fade quickly compared to larger rotors. If you're riding this bike responsibly, the smaller rotors won't be noticeable at all.
Handlebars, Display, & Shifting
The handlebars are assertively swept-back, and T4B has wrapped them in comfortable rubber cruiser-style grips. The large monochromatic LCD is in the middle of the bars, which tells you your battery life, speed, range, amount of power (watts) currently being applied, and mileage.
While the display may not be a full color like many ebikes on the market today, it is bright, easy to read, and does its job well.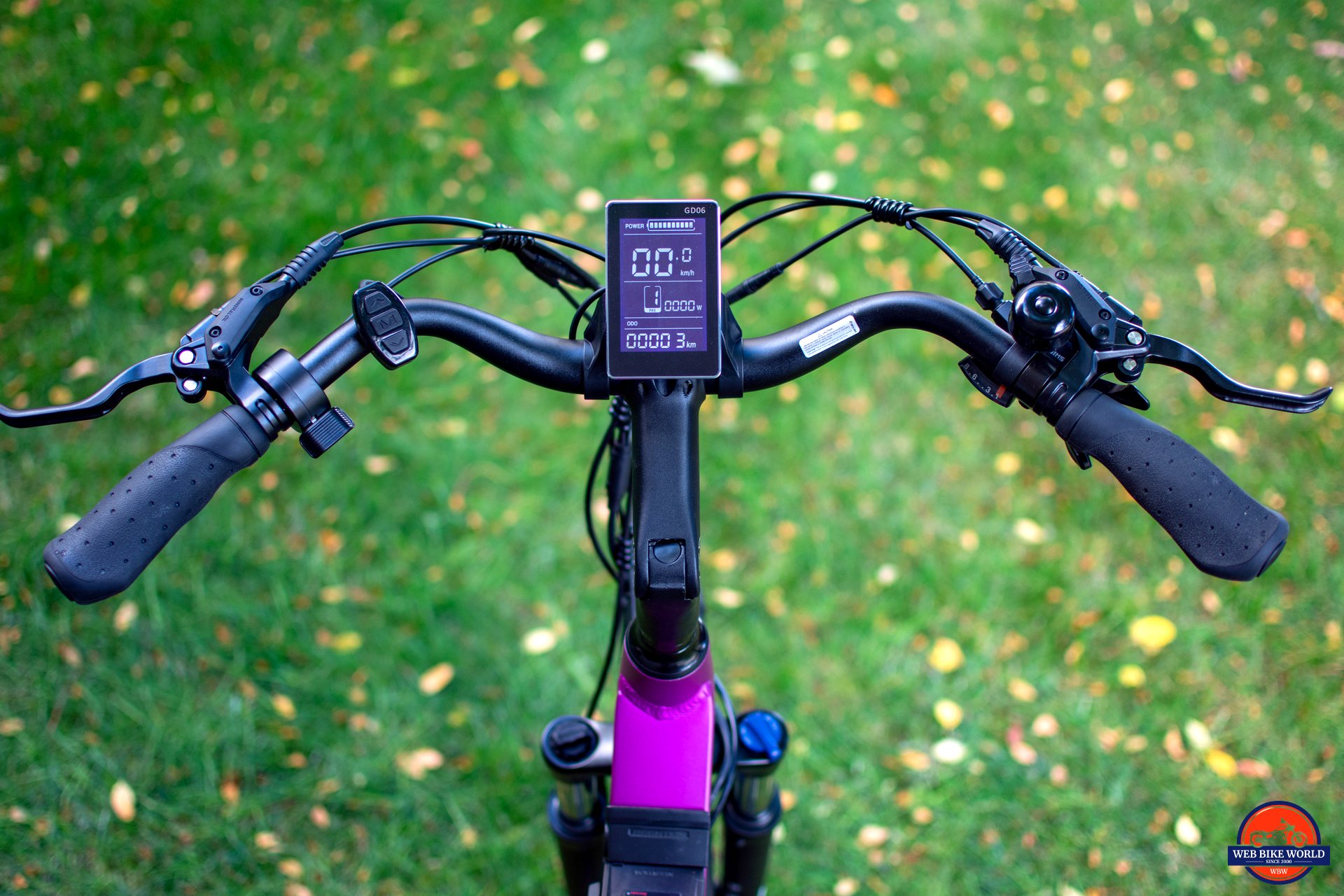 The left handlebar has a thumb throttle and display input pad. The up/down arrows change the pedal assist level, and the M button serves as both the power button (on long press) and changes the display modes (odometer, trip, etc.).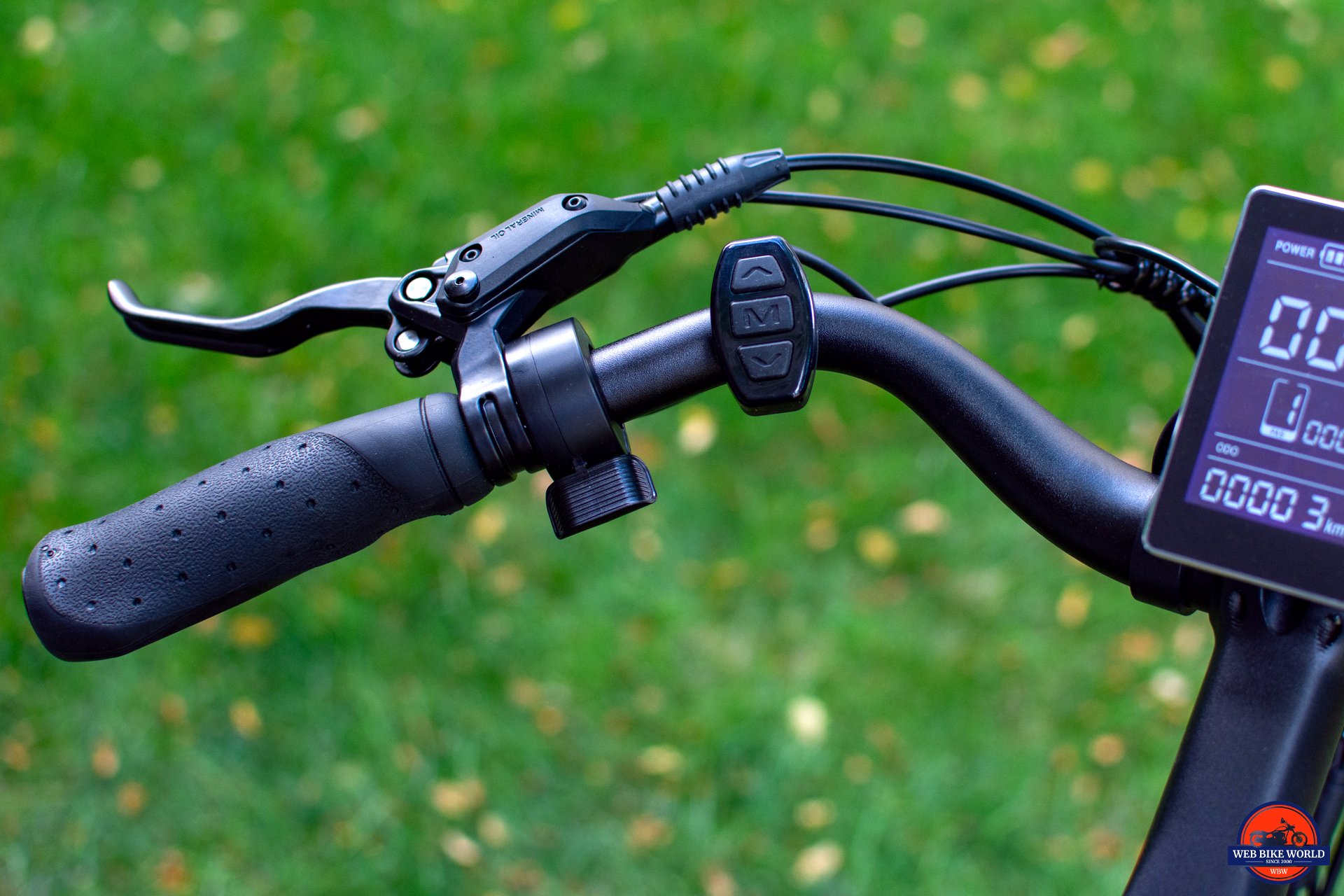 The right handlebars have the bell and shifter. The shifter has a gear display, which I like as a nice quality-of-life feature. Shifts are snappy and precise, and I like the bottom thumb/index finger activation (vs. the top lever on the inferior Tourney shifter usually found at this price point).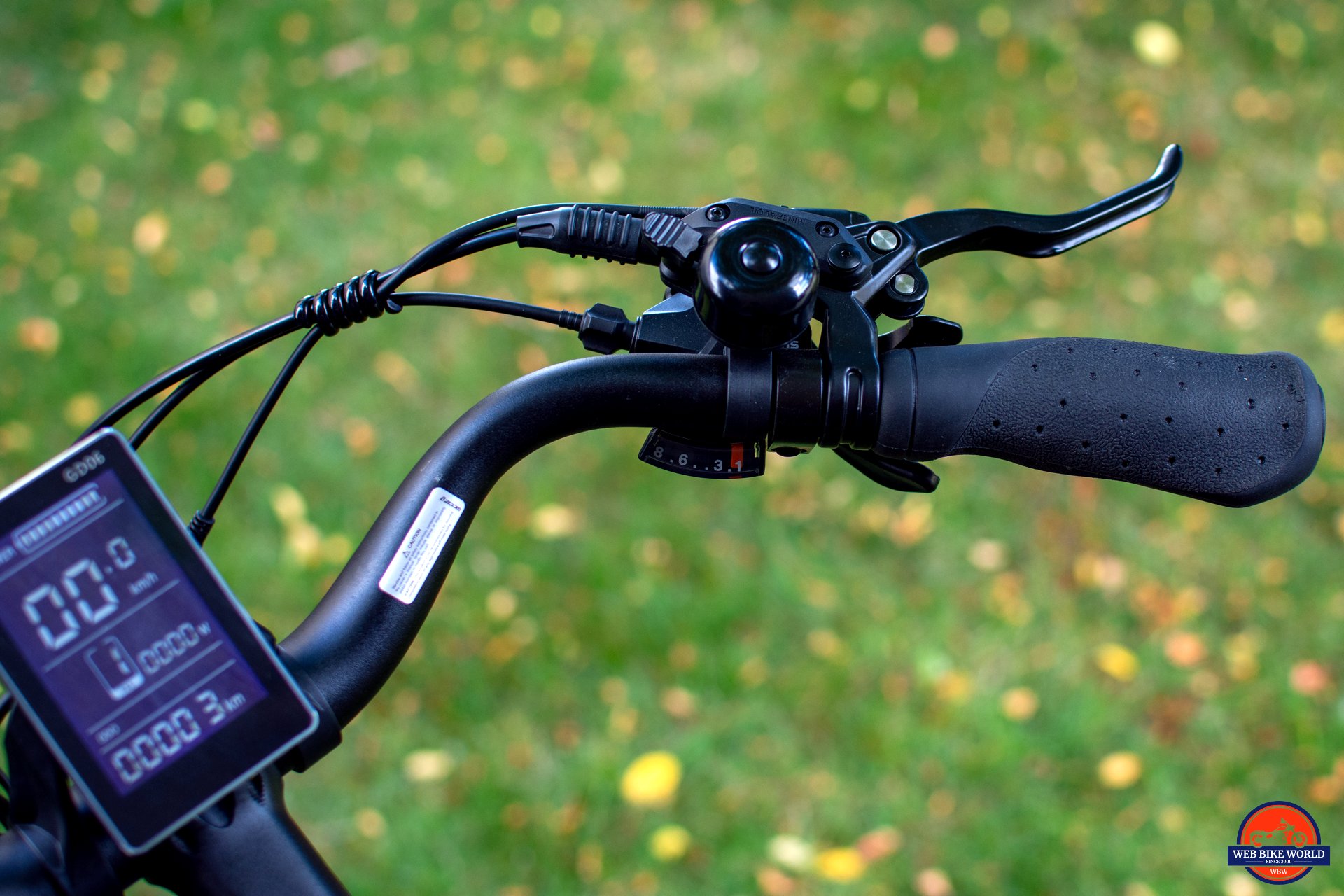 The Victory has prioritized usefulness where it matters: a big and easy-to-read screen, comfortable bars, and a comfortable seating position. You could cover many miles in this saddle and feel great at the other end.
Rear Rack
A rack on a daily rider is a must. The Victory's is a fairly standard model, with a spring-loaded clamping mechanism to help it latch onto whatever gear you're transporting.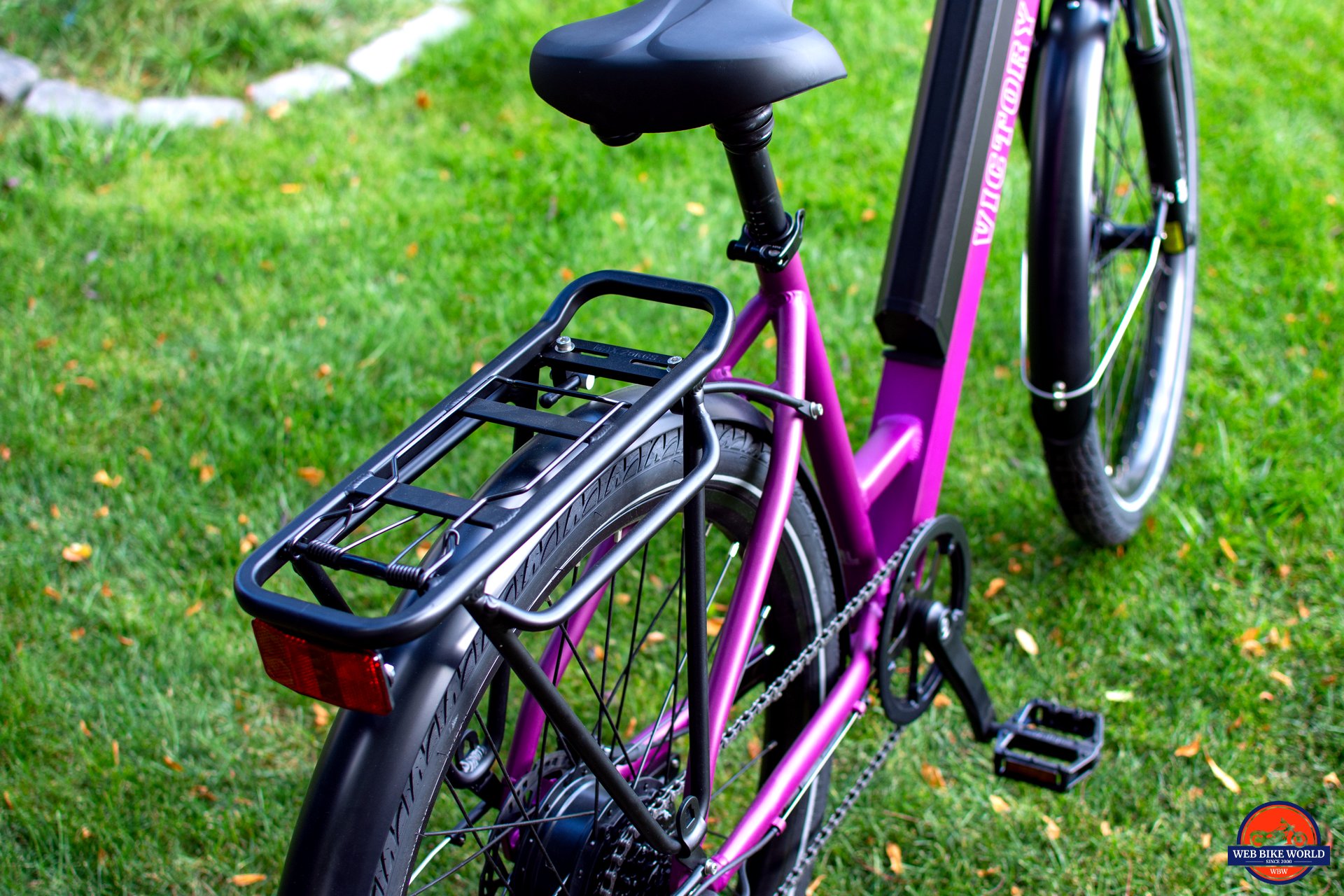 The rack looks and feels robust, and its side racks protect the rear wheel from anything you're carrying. It's not robust enough to support the weight of another person (or even a child), but it'll absolutely hold your bag or a grocery crate.
A Comfortable and Well-Priced Daily Rider
The Victory makes smart choices on where to save money on components or features. With fenders and a rack, the Victory can be lived with, and the powertrain and range will take it far.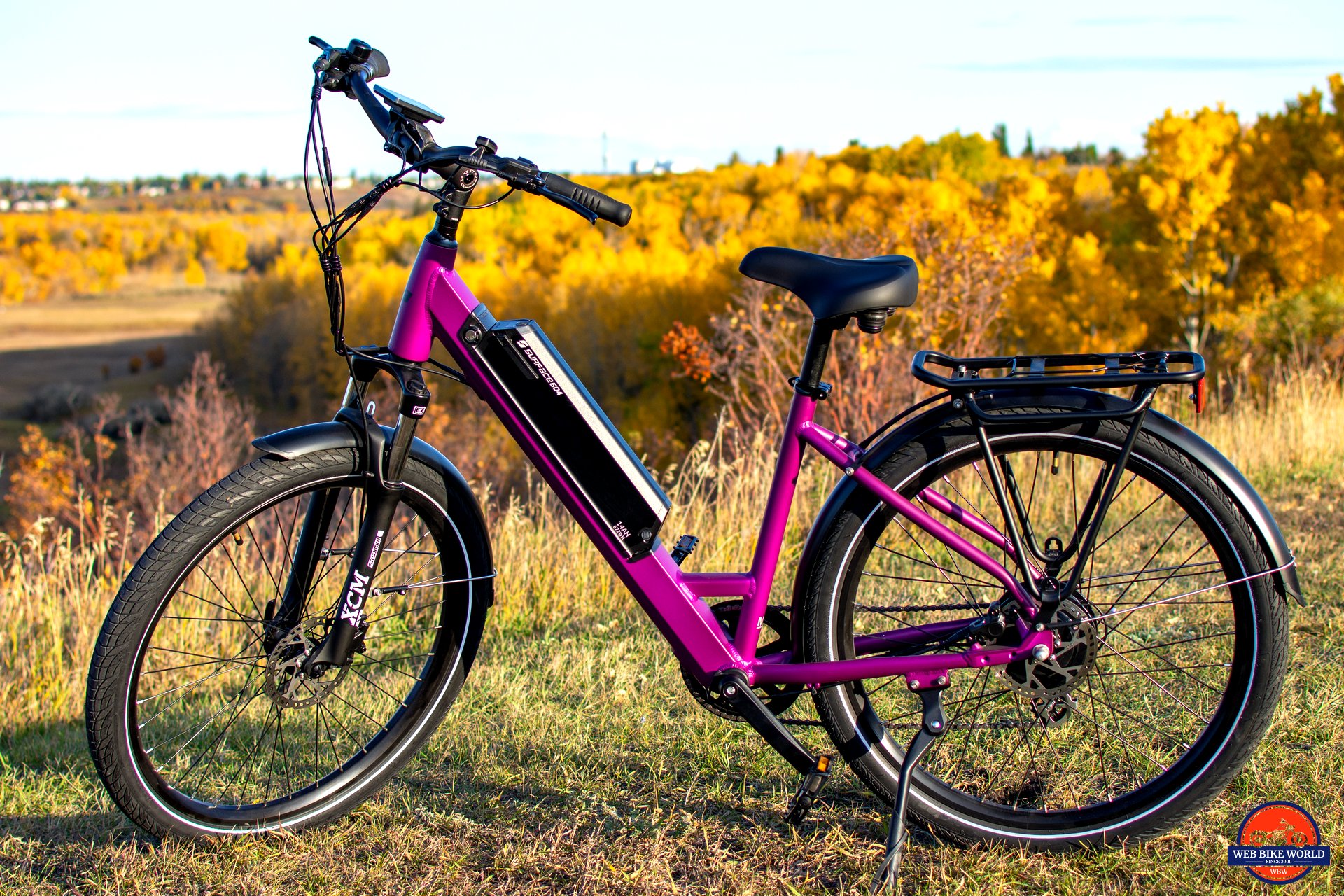 Considering its affordable sub-$1,500 ($2,000 CAD) price, there is almost nothing on the Victory to gripe about. The Victory is equipped with the right blend of component quality and affordability, and is a pretty good value overall.
I'd probably swap the rotors for the bigger 180 mm options once the originals needed replacing. I'd also add a suspension seatpost and mount a crate on the rear rack to make grocery-getting a bit easier.
During my rides, I found the battery and range claims to be pretty accurate. It averaged 26 km for four bars of battery life, which implies a total range of around 60 – 65 km during my mixed-use riding.
All told, the T4B Victory is a great entry-level commuter class-2 ebike.
Review Summary
The T4B Victory demonstrates that affordable ebikes don't need to skimp on the features that matter most. With a tried and true Bafang 500-watt motor, hydraulic brakes, and a very-reliable Shimano Altus groupset, the Victory hits an affordable price point without sacrificing on component quality. It's nimble, with plenty of power, and has a good range; it's an ideal daily commuter.
Pros
Good value
Hydraulic brakes + 8-speed groupset
70 km / 45 miles of range