Review Summary
As BMW's top-shelf, boxer engine-powered sports tourer, the R 1250 RS impresses with a mix of great looks, comfy riding position and an avalanche of accessories, too .
The large flat twin engine has bucketloads of both horses and torque, along with variable valve timing and – if you opt for the Akrapovic end can like you see here, a very satisfying roar on more generous applications of the right wrist.
There's a whole lot to like, especially if you tick some of BMW's options boxes. As tested, the bike had semi-active suspension, tyre pressure indicators, hill start, automatic headlights, cruise control and a quickshifter. But I found the last two lacked the finesse of their Japanese counterparts.
When you boil motorcycling down to its bare bones, there's only one real equation that matters; the one that pits comfort against speed. Go long-distance touring on a proper sportbike and you'll end up hating the thing with an unbridled passion by the end of the ride. Similarly, if you tried your cruiser or tourer on a track you'd no doubt be left eating the dust of the fast crew with their impossibly uncomfortable riding positions and sky high torque curves. It's like fire and water. They are both crucial elements for survival but they get on about as well as Democrats and Republicans when they are in the same room together.
This is the inherent dichotomy of sports tourers. There's no magic middle ground where a bike can be as fast on track as it is comfortable on a cross-continental ride. There's always compromises involved. The more comfortable the riding position, the sooner the pegs will touch down in the twisties and the softer, more pliant the suspension is on your butt and back, the more the bike will wallow and bounce when you push it hard. Like alcohol and hangovers or ying and yang, it's just the way of the universe.
So it was with this mindset that I signed up to park this red, white and blue Bavarian in my own personcave for a week or two so I could get to the bottom of things and draw a few hard-earned and possibly sore-wristed conclusions on exactly where and how the R 1250 RS went about striking its own very colourful, "M Sport" balance. Also note that last month I was hurtling around on Yamaha's brand new Tracer 9 GT, so that will be a rather fertile ground for some comparos.
But enough about me and my glamorous lifestyle as a warehouse for BMW and Yamaha to store bikes at rent-free. Let's start the story propper with a quick outline of exactly what this new-fangled R 1250 RS is, followed by a scene of me schlepping my old, sorry arse to a BMW dealership in Sydney located exactly nowhere near my own house. The things I do for you guys…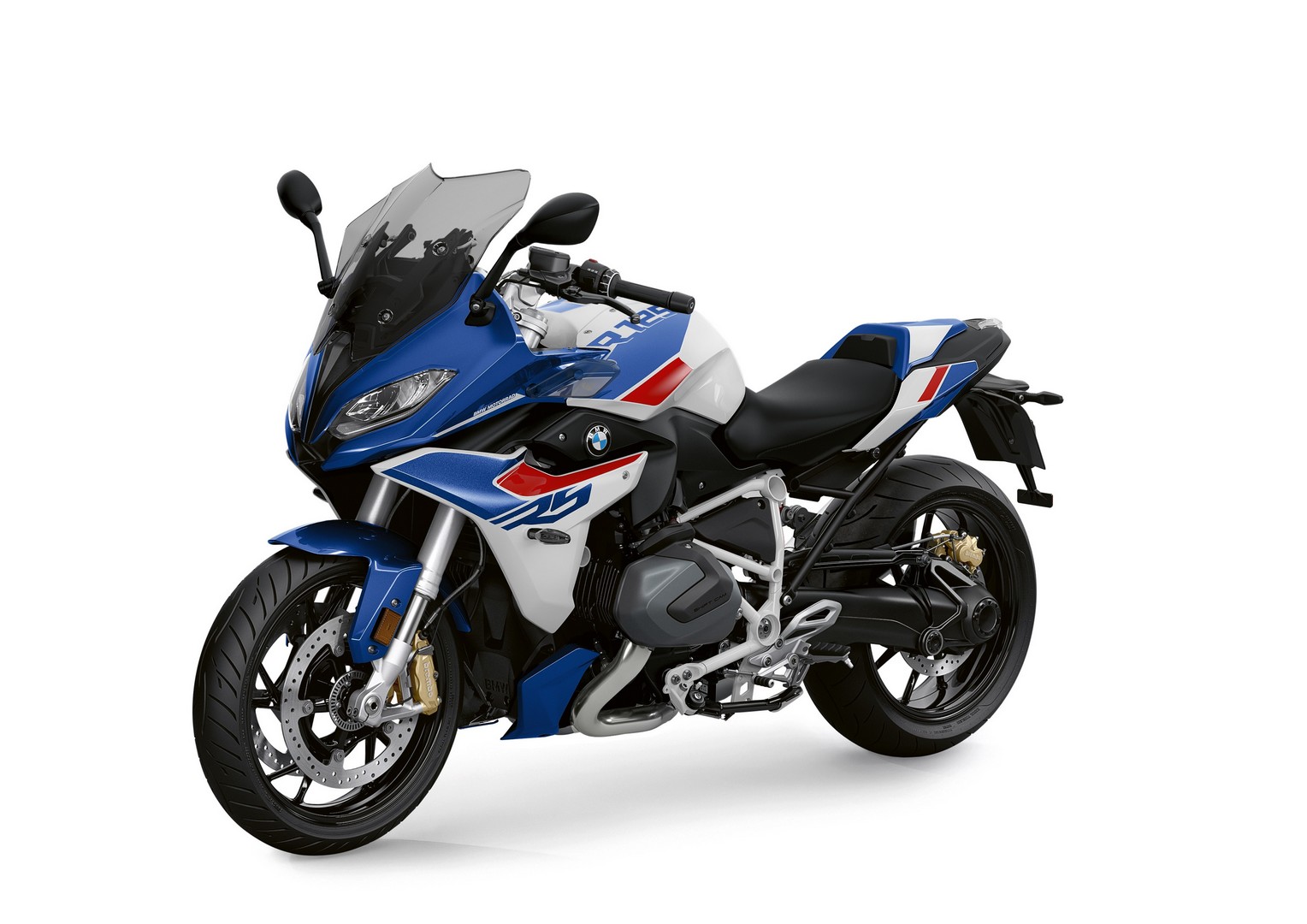 Features of the 2023 BMW R 1250 RS Sports Tourer
Saying the 2023 R 1250 RS has a good range of features would be under egging the pudding to the point of serving a bowl of milk for dessert. After many days of riding the thing I was still – with much childish excitement – discovering features like hill start and the bike's "sport" dash display at regular intervals. No doubt there were ones I didn't find, too. Imagine being caught in a landside of BMW add-ons and accessories. That'll get you close. But please note that the bike you see in my pictures here is the "RS Sport"version that comes as standard with an Akrapovic can, daytime riding lights, gear shift assist pro, riding mode pro, white LED indicators and it has also been blinged up quite a bit with two of BMW's "Option 719" billet packs. In general, BMW's option packs tend to be quite "adaptable," meaning that you might see an R1250 RS identical to this one but without the features I've mentioned below.
Engine
Definitely not an option is the latest version of BMW's now-100-year-old "hallmark" engine configuration, you'd have to be the grand emperor of the terminally naive to have not guessed that, yes, the R 1250 RS is pushed down the road by the famous and very German Boxer engine. Like Harley's v-twins, they come with a shedload of character and their own particular set of quirks; depending on your own preferences, this may appeal or detract from the purchase proposition. This particular incarnation of the powerplant is equipped with BMW's new-for-2018 "ShiftCam" technology, meaning variable valve timing to laypersons like you or I. And it's actually 1254cc in capacity, so you get an extra 4ccs for free. Danke, Deutschland.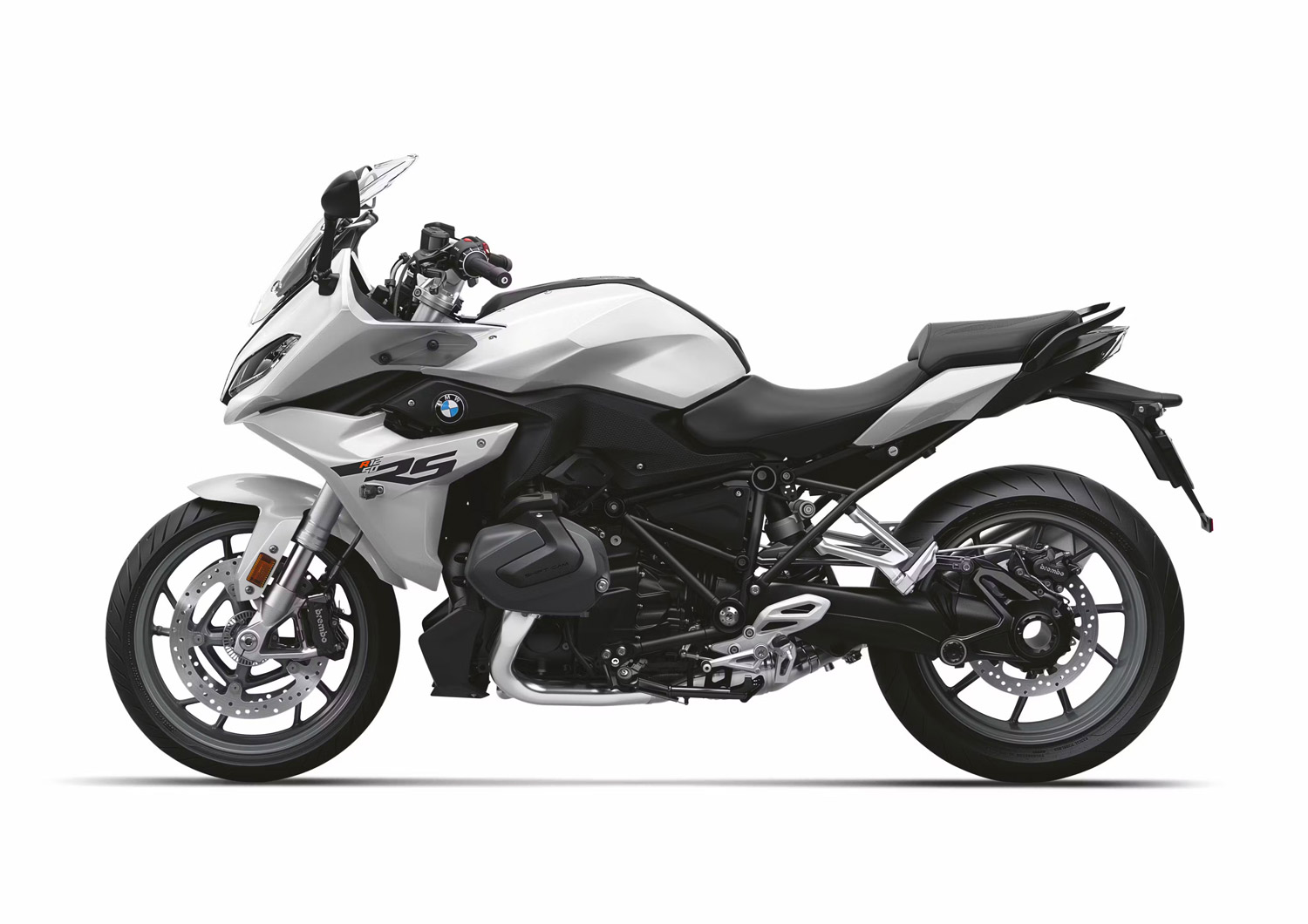 Electronically-Controlled Suspension Damping and Preload
Opt for the bike's dynamics package and you'll get a semi-active suspension system that talks to its various other ABS, ASC, and CPU mates so that the bike knows how best to set the suspension damping and preload with significantly better contact between road and tyres." Naturally, the system is also linked to the bike's ride modes so that suspension's feel and stiffness changes depending on what setting you have the bike's ride mode set to, speaking of which…
Quickshifter and Dynamic Pro Riding Modes
That dynamics package will also get you a quickshifter on both up and down changes and two more riding modes over and above the standard rain, road and eco options. Again, all these options can get a little confusing to pretty much anyone bar a BMW salesperson (and even then I'm guessing that they may have to consult a sales manual or three), but some of them are "linked" so that, say, you couldn't have the additional riding modes without the semi-active suspension or the quick shifter. Whatever the case, the quickshifter and the two new modes talk amongst themselves and other sensors on the bike to offer you even more sporty riding options should you encounter a race track on your holiday touring. And here I was thinking that only the Swiss army made multi-purpose tools.
Other Features
The trailing-end of this features-deluge includes tyre pressure sensors, keyless fob, cruise control, hill assist, LED lights, heated everything, anti-skid torque control on the rear wheel, a centre stand, a bunch of charging possibilities and a bloody big, shiny, carbon fibre, titanium and stainless Akrapovic end can. In addition, my loaner bike was smothered in Option 719 billet pieces that included a crankcase cover and some shiny cylinder head parts. To be honest, I thought they sat a little uncomfortably on the bike's racing colours and seem in my eyes to be more suited to an R18 or maybe R nineT than something as racy as this. Oh, and there's a two-up seating option if the mood takes you. See the image below.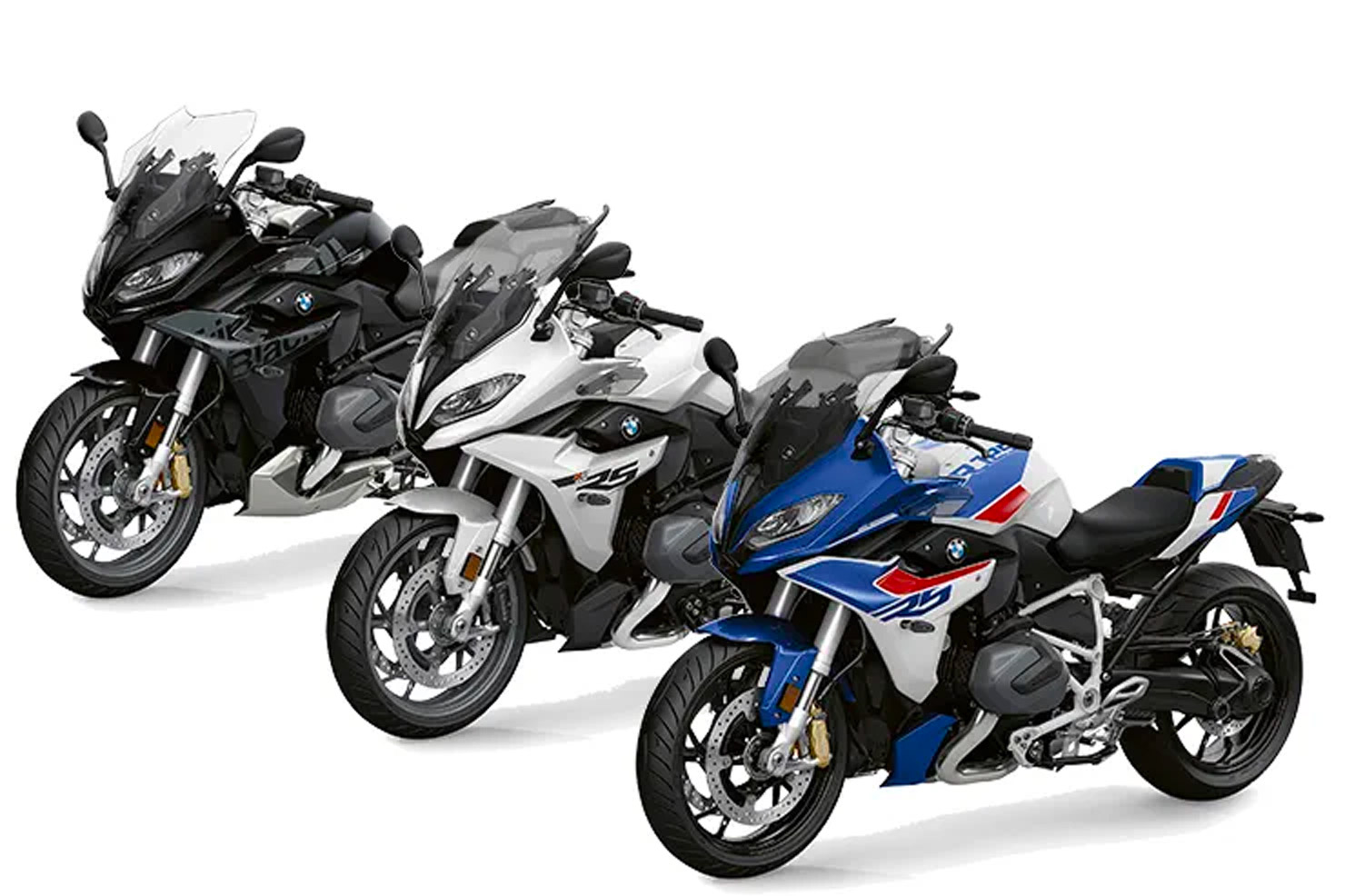 Specs
But back to the boxer donk in all its glory. It's a 1254cc, two-cylinder, air/liquid-cooled, four-stroke boxer engine with two overhead spur-gear driven camshafts, one counterbalance shaft and BMW ShiftCam variable intake camshaft control. Compression is at 12.5:1. It puts out a beefy 136 hp at 7,750 rpm and 105 lb-ft at 6,250 rpm thanks to the go-juice delivered from a 17.7 ltr (4.7 gal) tank. The bike weighs in at a substantial 243 kgs (536 lbs) and your legs will have to be at least 832 mm (33 inches) for your feet to touch the ground when seated, but it's also variable up and down depending on which seating options you choose. My bike came with Michelin Road 5 GT tyres, with 120/70 ZR17s on the front and 180/55 ZR17s out back.
Initial Impressions of the 2023 BMW R 1250 RS Sports Tourer
Biding my time in the dealer's lot while I waited for the staff to wheel the RS over to me like some spoiled brat, I spied what I thought was a new S 1000 RR being wrestled in the distance. Having previously spoken to the BMW guys about riding this bike too, I wondered if someone had their wires crossed (me, most likely) and if I was actually going to be riding this bike home instead of the  R 1250 RS we had been discussing, but my bad as this was indeed the bike I was to receive. Be it my rear-first view of the bike or the M Sport colours, but here was a bike that was decidedly more sporty than I was expecting. But once I was walking around the bike and scoping those familiar boxer fists, all the pieces fell into their proper place; that screen was no tiny racetrack jobby and those bars were high enough to hang washing off. Sport tourer it is, then.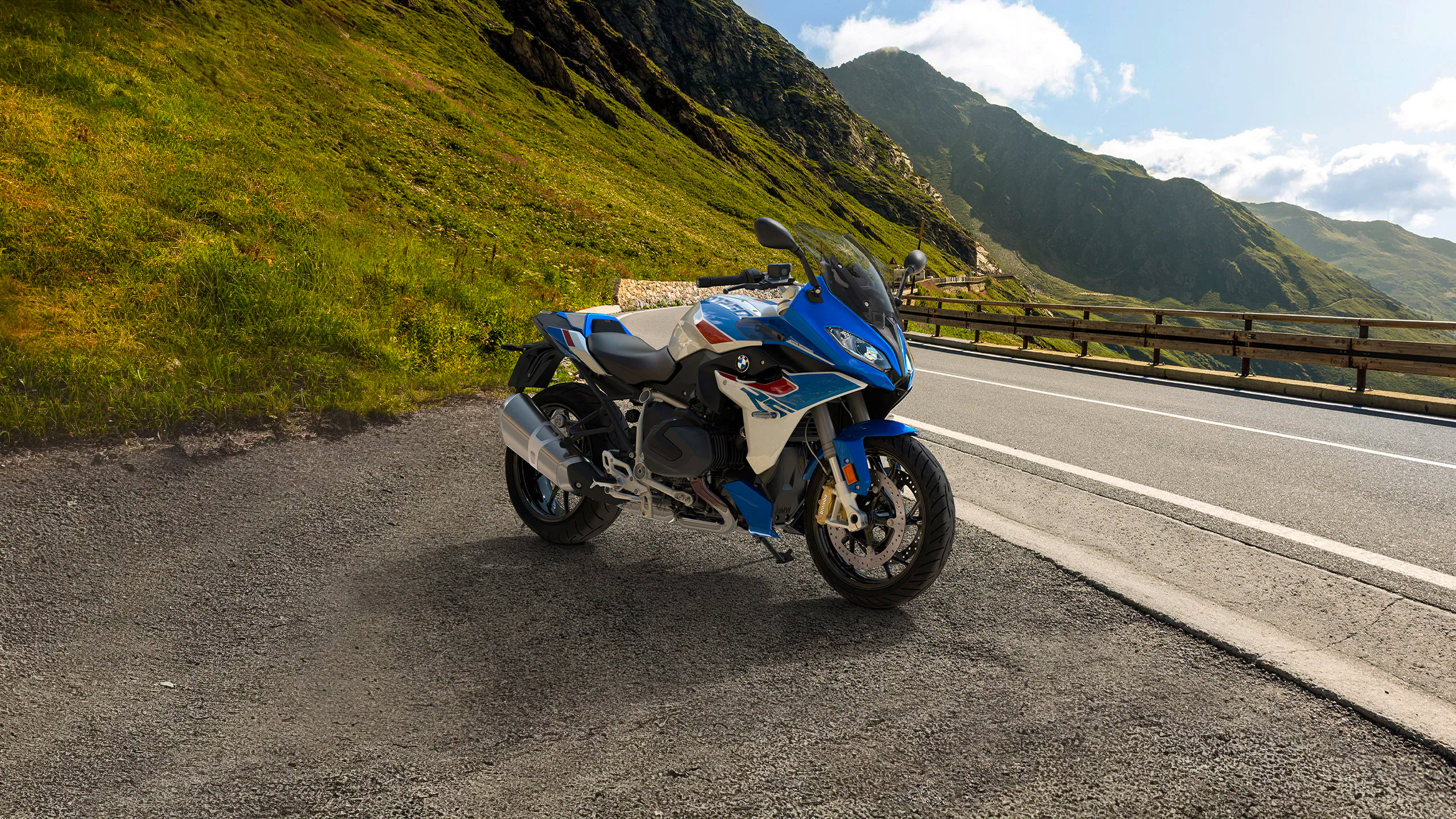 Thor's Hammer
The bike's wind-deflecting frontal section does afford it a kind of "battering ram" side profile; this is only increased by the high windscreen. Without any baggage attached at the back of the RS, in my eyes it took on a decidedly Thor's Hammer shape. But not overly so; again I'm probably channelling my mental image of the Yamaha Tracer 9 GT when I'm making these observations; it's luggage gave its silhouette a more symmetrical shape. Also note that the rear wheel is a fair ways away from the front and not particularly large in either width or diameter which all adds to the bike's subtle "reverse arrow" looks.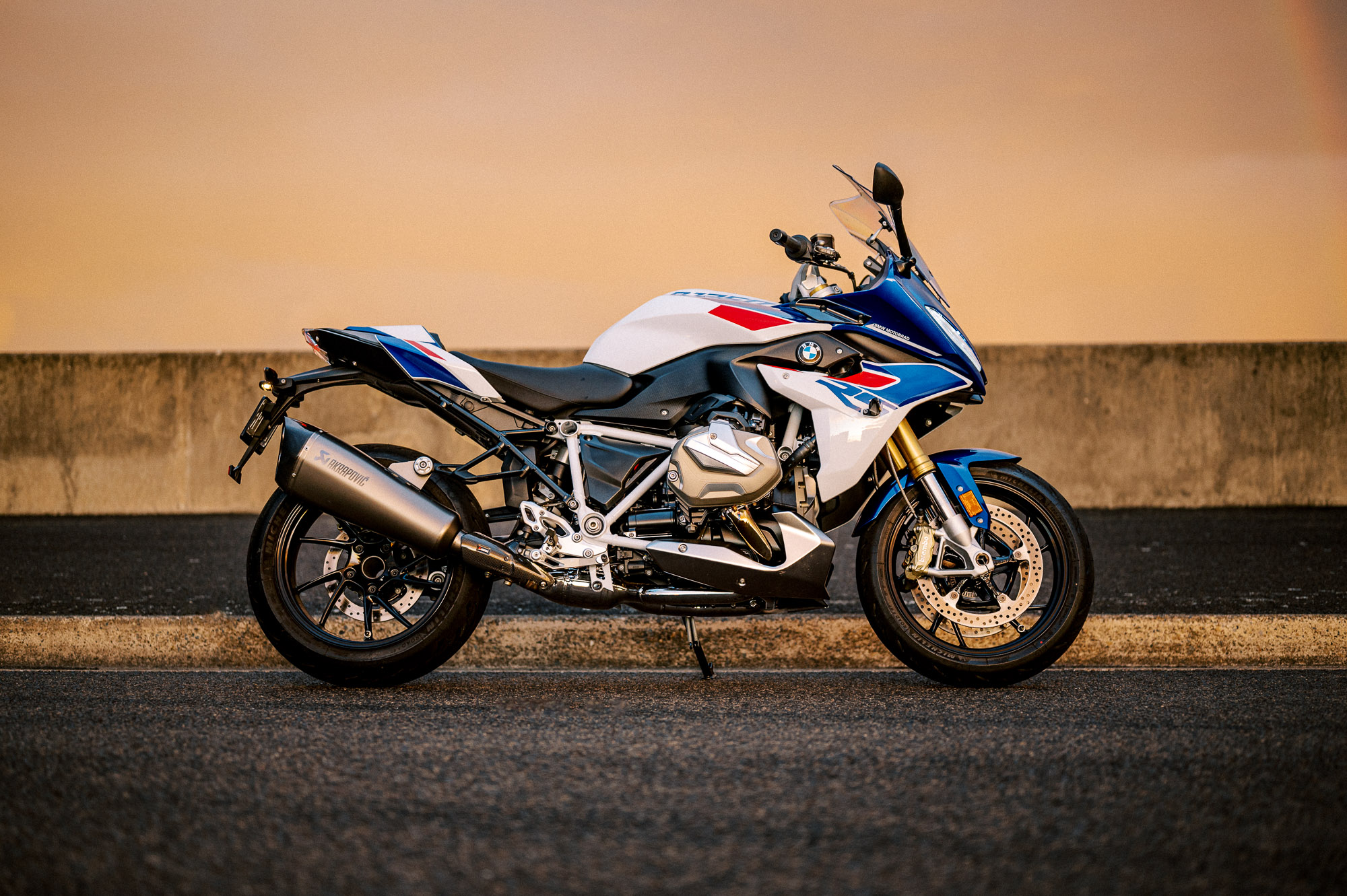 Planting my backside on the unfortunate single-seater perch, the sheer quantity of switches offered up to the rider is truly epic. As you'd expect, they are all of a very high quality but you'd best make yourself familiar with them while the bike's stationary and not, as I managed to do, start tackling them while the bike is moving. Saving my skin was the fact that those cunning Germans had spent more than a little time making sure they all did exactly what I expected them to so that the piddling amount of an attention span I have left was not too overtaxed. And smack bang in the middle of this button wonderland was the bike's screen. With its anti-glare, matte-ish finish and bright backlight, it's a pleasure to behold but beware fingerprints as they seem to stand out like the dog's proverbials once your greasy tappers were engaged.
Getting Fobbed Off
Build quality is usually a moot point on all of BMW's creations, and the R 1250 RS is no exception. Looking for faults would be a textbook exercise in anal retentive enablement. It's bloody beautiful. Ignition is handled by a keyless fob which I find to be a really handy addition to any bike's repertoire; if I had a dollar for every time I've walked away from a bike to get a coffee only to realise 5 minutes later that the keys are still in the ignition and it's ready and waiting for the nearest do-badder to hop on it and tear off into the sunset… Maybe when it does actually happen I'll learn my lesson, but for now a key fob like the Beemers makes the whole key thing beautifully redundant.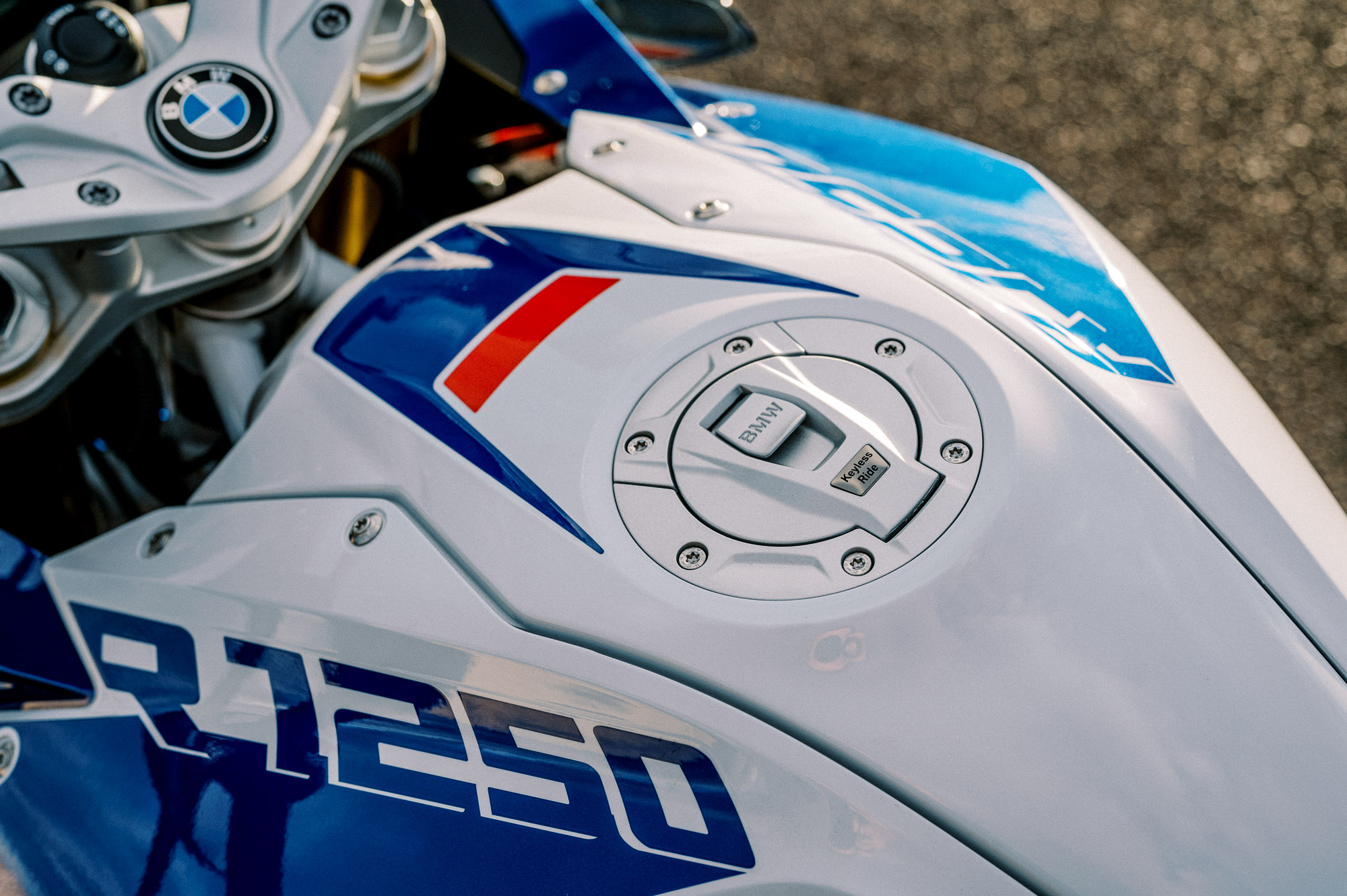 Now there's only so long a note-taking motorcyclist can stand in the main area of a busy dealership and make nerdy little scrawls on switch feel and wireless technology before the people whose job it is to sell bikes tell them to stop wanking and start riding, so that's what I did. But not without a longing glance at the bike's slick-as Akrapovic can. Spinning the belly of the bike into life via the starter switch, that muted boxer growl that I know and love so well made itself be heard. I wouldn't say that the Akro can transformed the sound into something that was entirely different to the stock tunes, but it did have a real grit to it, especially under load.
Some final observations before I hit the road. The bike's two-position screen is a manual affair that needs a little practice to be moved while, ahem, moving. But it is possible and in both its positions it's well below my eyeline. Thank god. Yes, it is equipped with BMW's jog wheel tech. Oh, and there's a sneaky little air intake on the bike's right-hand-side fairing just beneath the BMW roundel. So thinking about how badass the similarly-placed snorkel on their original R nineT retro looked and how they seem to have dropped it from their freshly-revealed R 12 nineT, I stop frustrating the shop staff and promptly remove myself and my new bike to the (un)safety of a typically chaotic Parramatta road.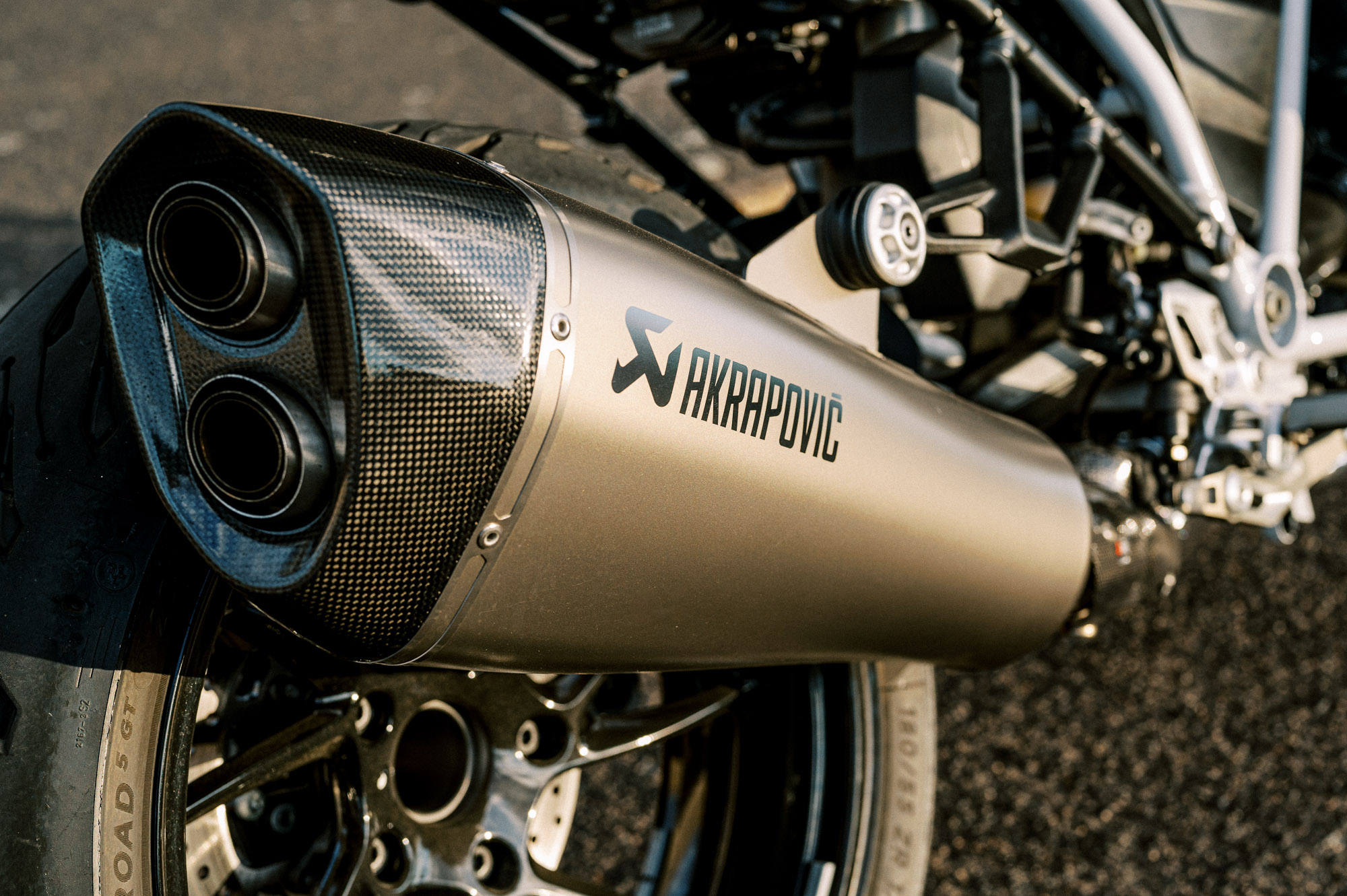 Riding the 2023 BMW R 1250 RS Sports Tourer
Riding in the City
That typical boxer balance shines through with the R 1250 RS as it does with so many other BMW motorrads. Somehow the bike feels incredibly solid and contiguous while their low centre of gravity also gives you the distinct impression that the bike is pivoting around a point about 300mm beneath the surface of the road. Banish any thoughts of a tippy-toed racing prima donna that feels like it's going to fall at the mere whisper of the word "balance". It's the same way they manage to make a 270 kg R 1250 GS feel like a bmx bike that's been attacked by an angle grinder.
The riding position is instantly comfy with plenty of legroom and only the slightest suggestion of a forward lean towards the bars. I adjust the mirrors and allow my thumbs to attack the 427 different switches with a mindless, chaotic glee not seen since January 6th, 2021. While it's simply not possible to design the perfect interface whereby you can do anything you want with zero experience, I find BMW's "UX" to be pretty damn intuitive. The things that need to be on the bars are indeed thusly placed. And smashing through the on-screen pages reveals some nice little surprises like tyre pressures in real time, and a sporty variation of the instrument cluster that has this nifty little readout of lean angle, traction control and braking force. So you can focus on the road and belt through a nice, fast set of corners then check out the dash to see how far you got the bike leaned over and if you were hamfisted enough to trigger any ABS or Traction control.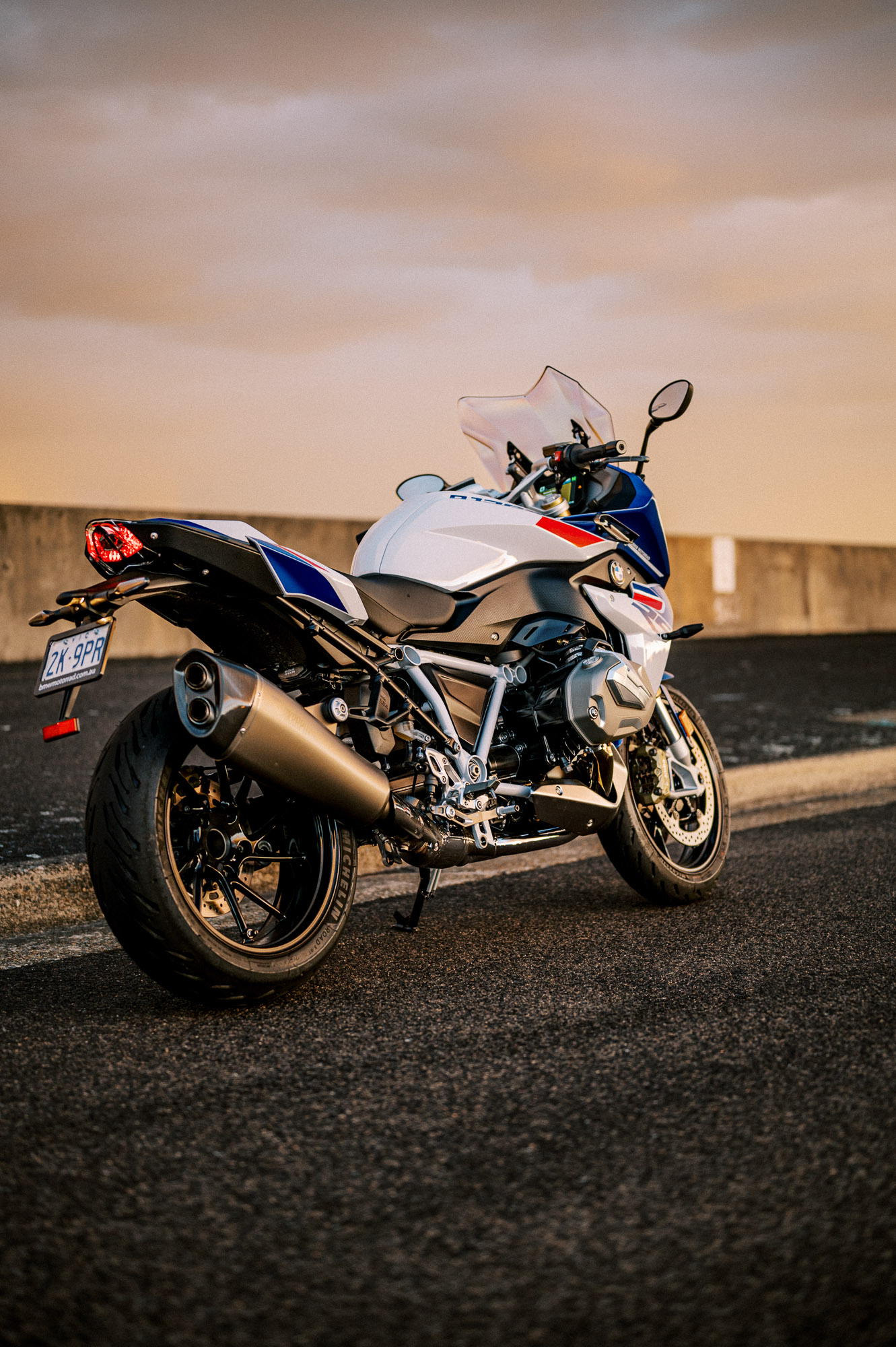 But I'm getting ahead of myself here, because at this stage I was still well and truly city-bound. Not on my usual test route and just trying to get the bike home safely, I resigned myself to a false start of sorts. I usually try and get one big ride in so that I go from the shock of the new to being old friends of sorts all in the same day and session. But no such luck for the Beemer. As an amusing aside, the time the bike spent in my garage coincided with a non-riding mate dropping by for a chat. Laying eyes on the bike, he went into instant "big kid" mode and started to ask questions about how fast it was and what it was like to ride. It was clear from his reaction that the bike certainly ticks the "impress your friends' box. And then some.
But  the day arrived and I was back on the road again atop my very colourful German steed – this time with a little more knowledge. I was now able to adjust the screen on the go and spent a little more time focusing on the exhaust note. While far from outlandish (especially at low revs) it does kick some gentle derriere once the revs come up. It never outstayed its welcome, though. Like the baby bear's porridge in Goldilocks, this one was just right. Unless your aim is to make pedestrian's ears bleed, I'm fairly certain the Akrapovic can will impress.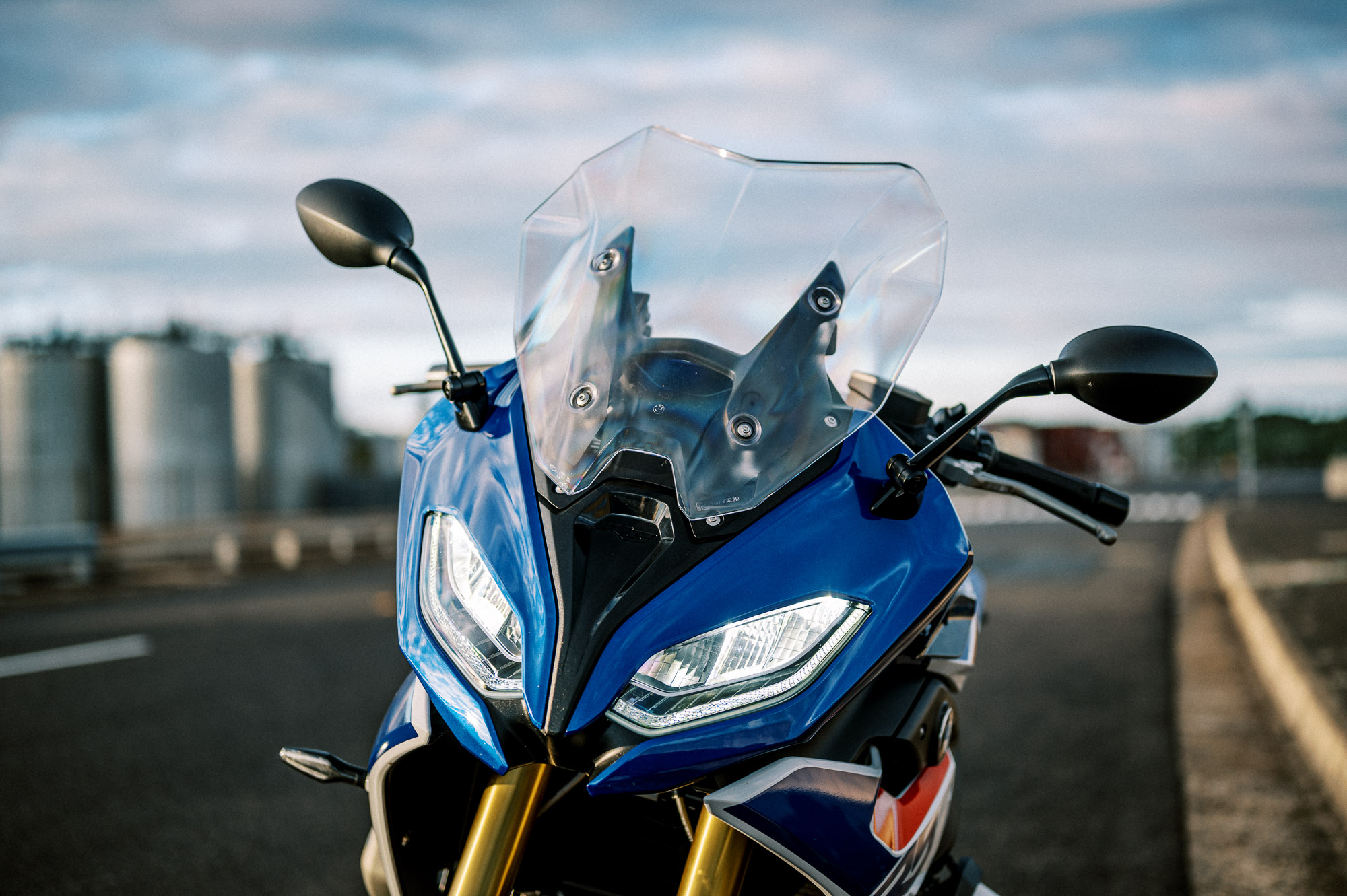 What didn't impress – at least around town – was the bike's quickshifter. At speeds at or below 80 km/h, I found it to be unexpectedly rough and even a little jerky. Now you could argue that using it in traffic and at low speeds is probably exactly the opposite situation that it was designed for but as anyone with a quick shifter will tell you, it's a novelty that most new owners will want to unleash anywhere and everywhere. Indeed, that's exactly what I've done with review bikes in the past and I remember exactly none of them acting all uppity at the prospect of having to change gears when not being ridden at 10/10th or while undergoing a textbook acceleration up through the gears on an empty road.
Brief applications of throttle before I hit the open road were very promising; that vibey boxer power delivery was as strong as ever and the buzz bomb pulse jet exhaust note that'll be burnt into you brain should you ever have the good fortune to hear an old BMW donk running without mufflers was also making an appearance. As with my Yamaha Tracer 9 GT ride before this one, Sydney's autumn winds had again reared their blustery heads. But the German's lack of luggage and less sail-boaty front screen meant that crosswinds weren't as effective at pushing the bike around as I rode out of cover and onto more unprotected stretches of road.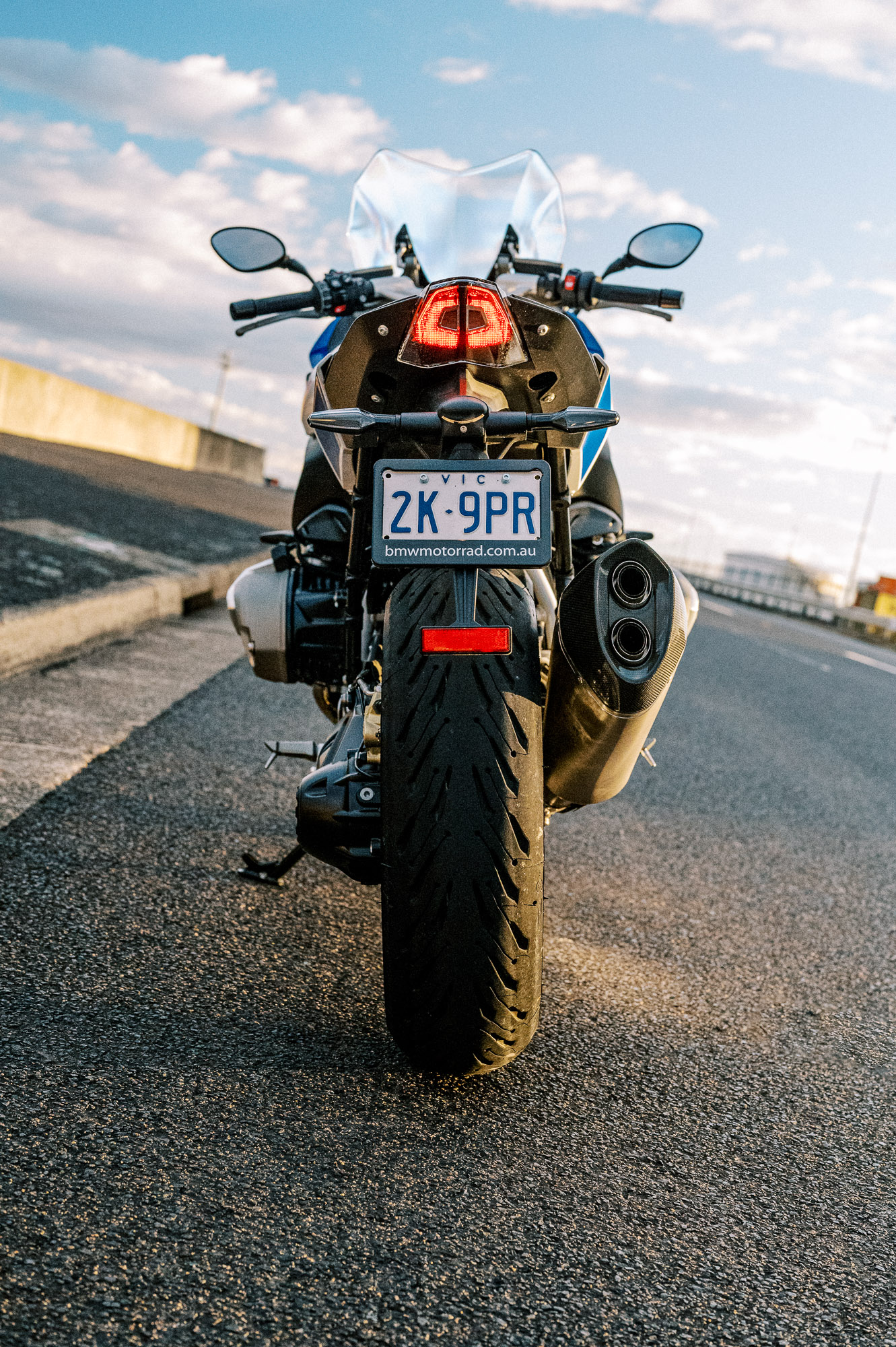 But now it was time to get a little more serious because before us lay The Royal National Park's Lady Carrington Drive. Part mini Nurburgring and part Jurassic Park rainforest, it's a stellar test of a bike's handling abilities while also throwing keen motorcycle operators some lovely sections of coast ridge runs including tempting glimpses of the Pacific Ocean off in the eastern distance. As with most big, more powerful bikes, the "Nasho" can prove to be a little too tight and confined for proper displays of performance and handling, but the results are no doubt still useful.
Riding in the Curves
Up until now, my mind's needle had been distinctly leaning towards the touring side of the dial for the R 1250, but I'm pleasantly surprised by how the bike handles these tight forest bends. While a 240 kg bike with a wheelbase like this will never be able to match the lean in and switchback rates of a balls-to-the-wall sportbike, the R 1250 impressed with its dynamism and abilities to dance along the road's abundance of radii. No pegs were scrapped and not for a second did I feel that I was nearing the bike's handling limits. Throw in more than a fair share of small and large branches scattered across the road thanks to the high winds and I was thankful that I didn't encounter any arm-sized pieces of wood at the same time I'd loaded up the rear suspension to the point where it was starting to squirm. Hell, I'm not even sure if I'd be able to manage that on an unwooded racetrack, such is the bike's handling prowess.
A little spooked by the debris, I relaxed into touring mode and stopped trying to push the bike and/or my own skills. Rewarding me, the R 1250 took a step back and melted into the background. Now it was just me and the road and again the bike impressed. Despite all those gaudy graphics and expensive end can, the bike can and will do "shut up and just let me be." There's little doubt that adding any more sport to the Beemer would make moments like this unlikely. Some might call this watering the bike's potential down. I'd prefer to call it "multidimensional".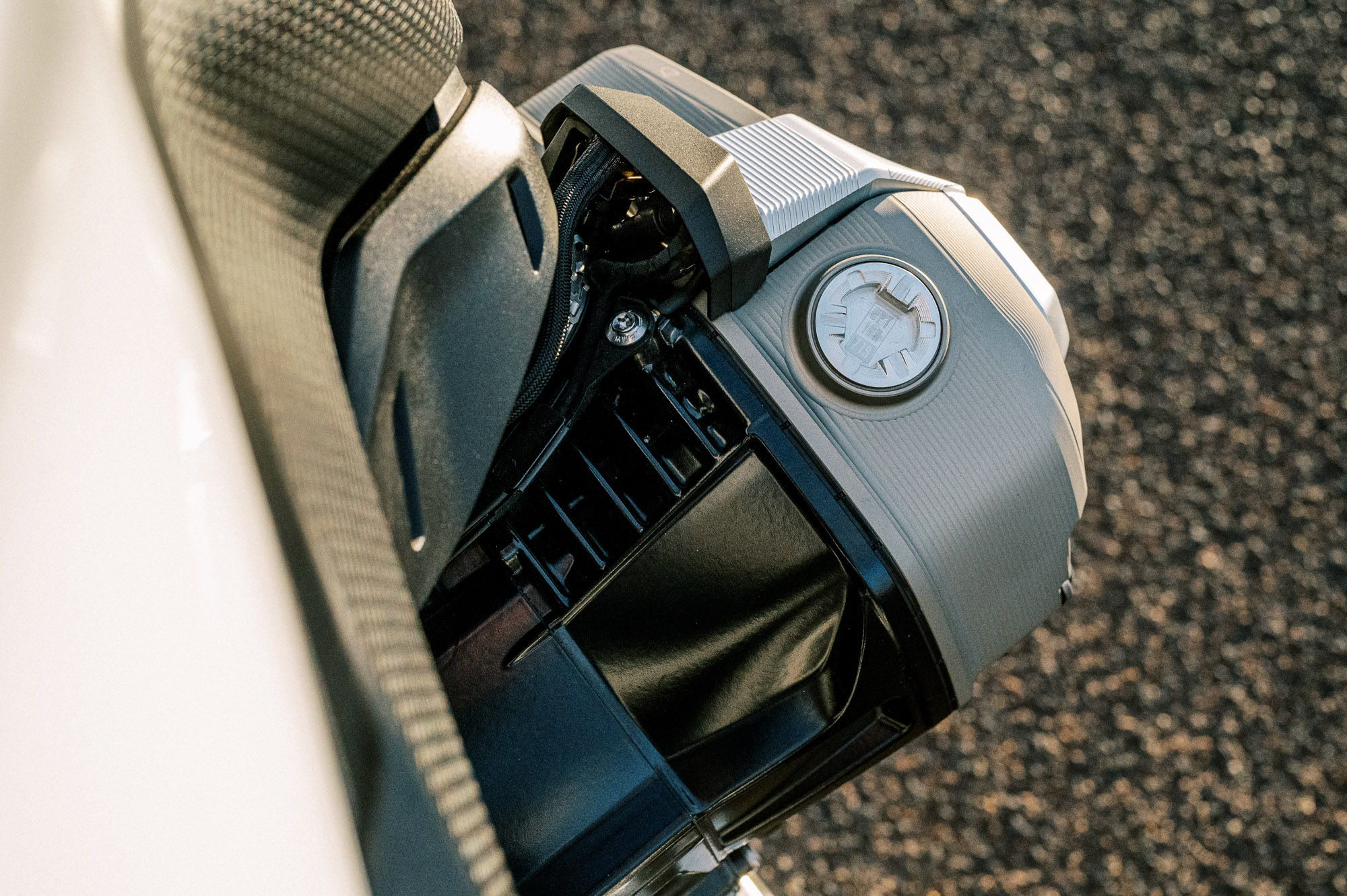 Here too the bike's quickshifter began to deliver on the brochure promises. Much more smooth and happy to play than around town, changes were now as slick as you'd expect with none of that "bike jerking out from underneath you." How dare I try and change gears outside some unseen and prescribed set of ideal conditions. To be clear, this isn't so much a fault of the bike as it is some spoiled rider who's been handed the keys and who then proceeds to try and make it jump through some hoops. While I think the quickshifter would be better off if it could handle gear changes in a wider set of circumstances, a long-term rider of the bike would soon adapt their style to work in harmony with the bike and rough changes would be a rare event.
Suspension of Disbelief
Out of the wilderness and onto the coastal ledge that marks the end of the Nasho, I adeptly avoided the nice policeman shooting me with his velocity-detecting laser gun and park the bike at the Bald Hill cafe. If there's a coffee shop in Australia with a better view than this, I'm not sure my brain could handle the input. Behold the 180 degree vista of a cold, angry pacific ocean covered in white caps and cargo ships trying desperately not to lose their moorings. The only thing that would make this any better would be the coffee I'm about to neck and a reduction of the bitterly cold, galeforce winds whipping across the carpark. I've never seen helmets being blown over bitumen before but I did on this day. And I was glad they weren't mine.
Still, the rubberneckers were not deterred. Attracted by the Beemers bright colours, up come the over 40s males keen to find out just what this bike is and how I'm finding it. If ever you wanted to trap a bunch of middle-aged men, I can't think of better bait than a shiny, new sport touring motorcycle. "Comfortable?" asks one of them? I notice that my wrists are a little sore. But only a little. "It is indeed," I say while smiling back.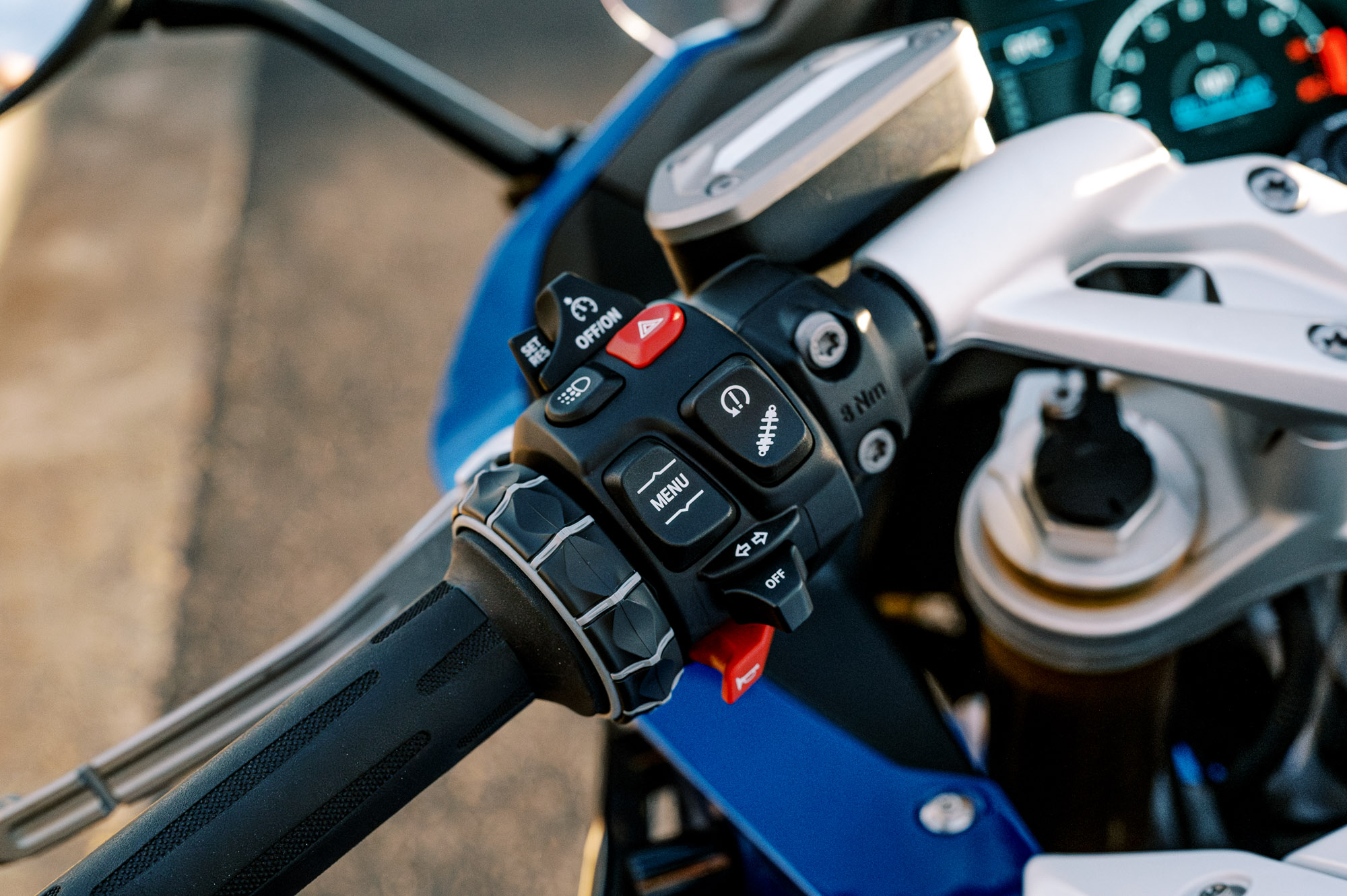 In a modification to my normal test loop, I avoided riding home and instead headed west from Bald Hill to the Princes Motorway. With it's 110 km/h top speed and more open, high speed corners it'd be a better test to check the bike's high speed cruising traits and its windscreen's gust deflecting performance. I'd run the cruise control through its paces as well. That'll do the trick.
With the screen in its uppermost position and with the cruise control set to somewhere around 115 km/h, I was detecting the turbulence hitting the top of my helmet. And with the screen down the blast seemed to hit me square in the visor. Being of average height, this made sense to me. The screen's not tall enough to provide full-body coverage, so an "above and below" helmet option seems to be what the Berlin technical wunderkinder were going for. If you require anything more than this, I'd suggest that an aftermarket extension to the bike's screen is probably worth a look, but note that it may well start to encroach on your field of view.
As for the cruise control, it's the same quality unit that you'll find on any of Beemer's latest and greatest. With a learning curve as flat as the Maldives, you'll be all over it in a matter of minutes. My only gripe is that like the quick shifter, it can be a little rough when used in certain conditions; once set, even the most gentle of front brake applications will result in it turning off and abruptly cutting the throttle. You're then left scrambling for more revs to make sure you're not suddenly doing 15 below the limit in fast-moving traffic.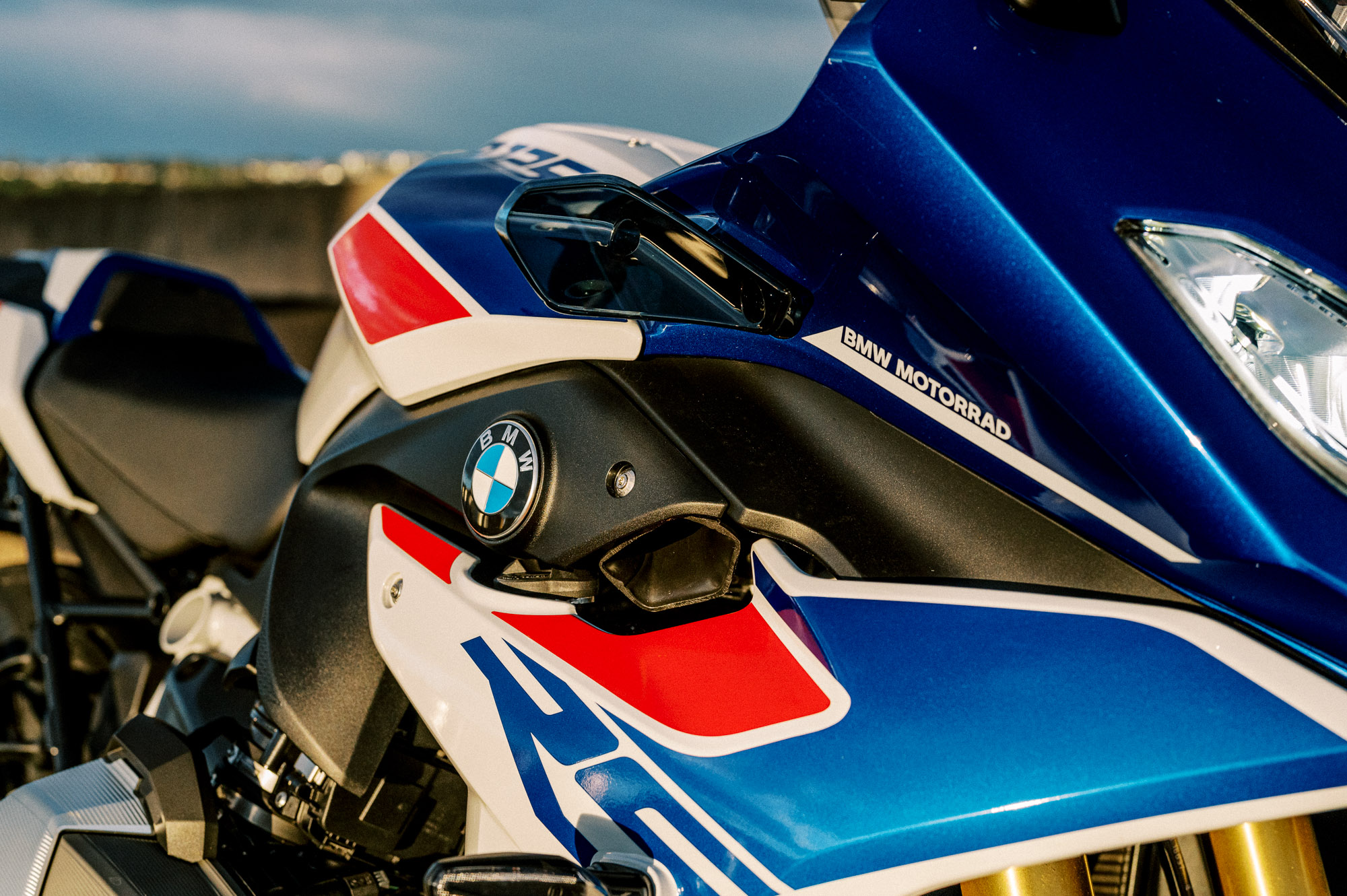 What Could Be Better on the 2023 BMW R 1250 RS Sports Tourer
With the caveat that (surprise, surprise!) the 2023 R 1250 RS is a supremely capable, very comfortable and enormously powerful motorcycle, the only real concerns I have are both to do with the bike's rider aids. And both are to do with a lack of refinement; I found both the quick shifter's low speed performance and the cruise control's cancelling traits to lack the smoothness and finesse I'd expect from a bike in this price range. I have no doubt that more saddle-time would mean that I'd get to know more about what the bike prefers me to do when quick shifting and where I should pre-position the throttle as I cancel the cruise control, so it's not like these are terminal flaws that would make either system unusable.
Hell they might even be adjustable somewhere deep inside the bike's OS. Or maybe they are fixable with a software upgrade? Speaking personally, I found the Yamaha Tracer 9 GT's quickshifter and cruise control a little more refined and "sorted" than the BMW's. Your mileage may vary.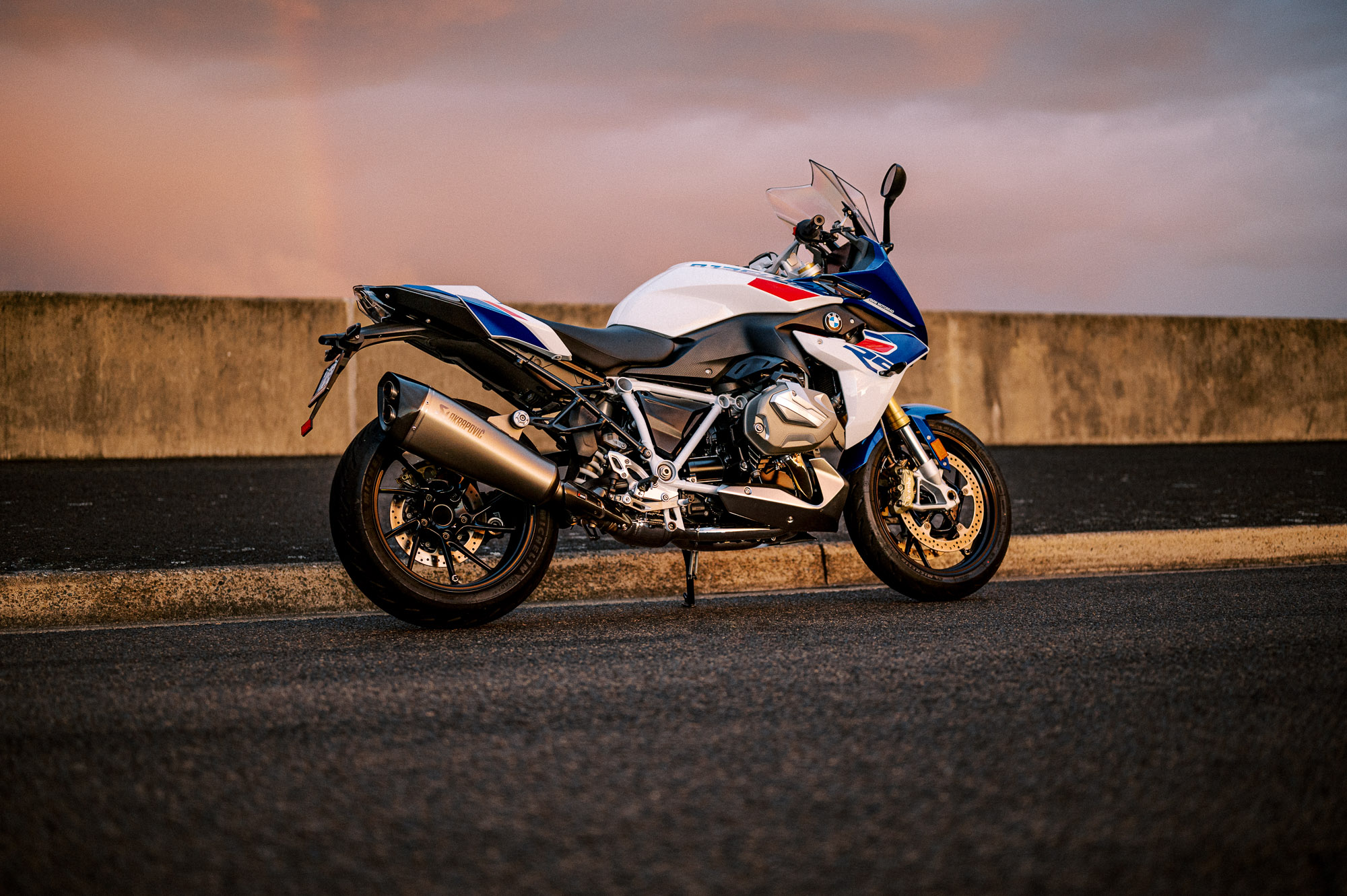 Final Thoughts on the 2023 BMW R 1250 RS Sports Tourer
In my opening gambit, I discussed finding out where the R 1250 RS sat in the sports versus touring spectrum. My impression now that I've had to give the beast back and mull over the idea in my head is that it's tipping the needle in the direction of "sports". With the slightly sporty riding position, a useful but small screen and nary a sign of any luggage to be seen in all of BMW's promotional photos, I think the company have pitched this bike to a middle aged rider who's still not over a bit of giddy-up in their bike but who is possibly getting tired of the sore hands and knees-beneath-the-chin riding position their S 1000 RR or similar is giving them currently. And while I realise that the Tracer 9 GT isn't batting in the same league as the BMW thanks to its smaller 890cc capacity, I'd put it and it's luggage and taller screen at somewhere around the three quarters mark on the way to the touring end of the metre.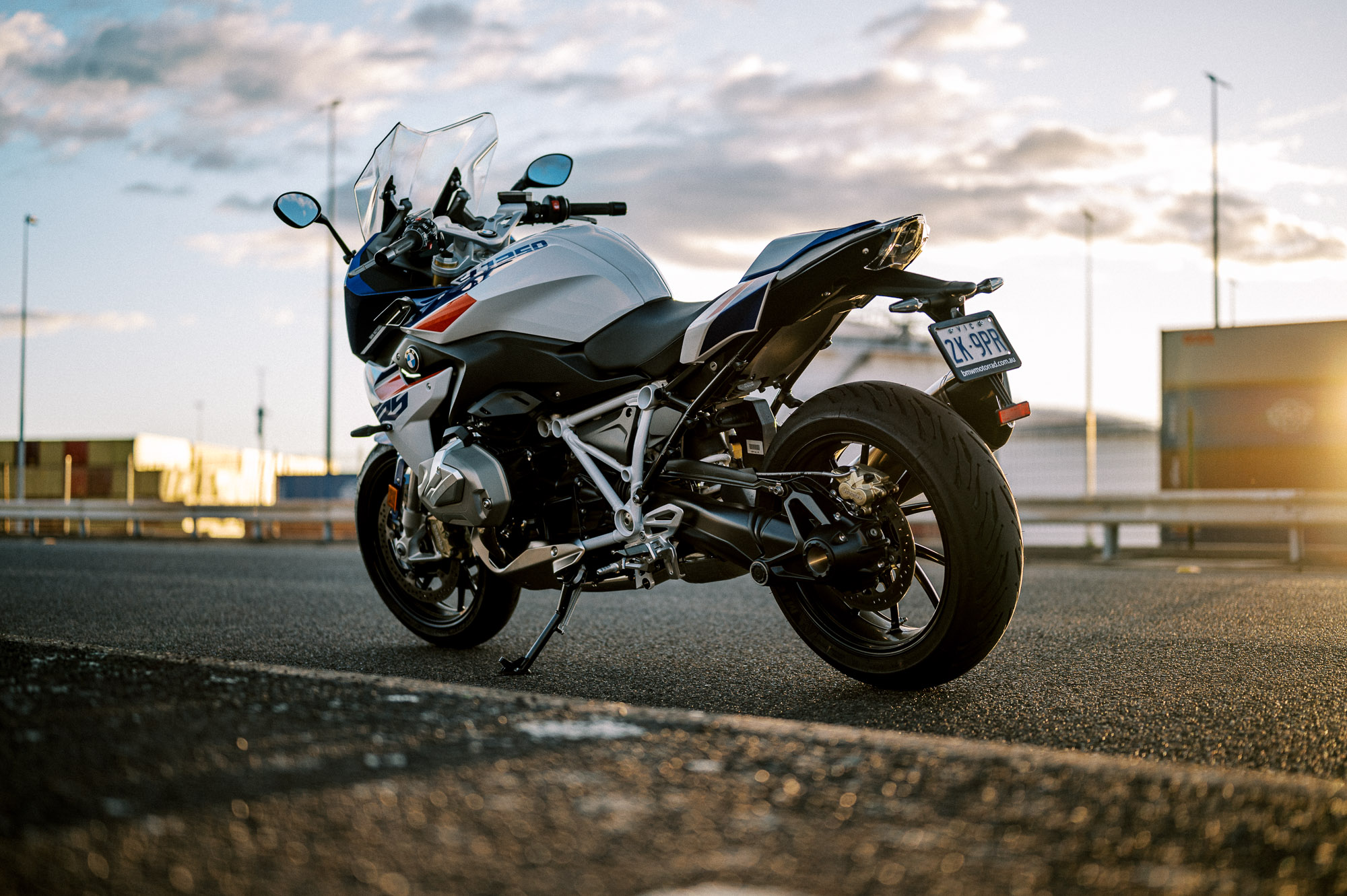 Sure, the bold graphics also suggest something similar as well; my mate's jaw hitting the floor when he laid eyes on it would be exhibit A. And note that Yamaha don't have a similar colourway for the Tracer.  It'd be an interesting test to wind back the clock and see how I would have approached the bike if I'd been given a more vanilla black or white colour option. But that's water under the bridge now. It's done and dusted and I had a blast (both literally and figuratively) on the R 1250 RS. If you are looking for a quick, comfortable bike with great quality and all the mod cons, you'd be a silly bugger not not give this patriotically embellished Beemer a quick fang around the block or twelve.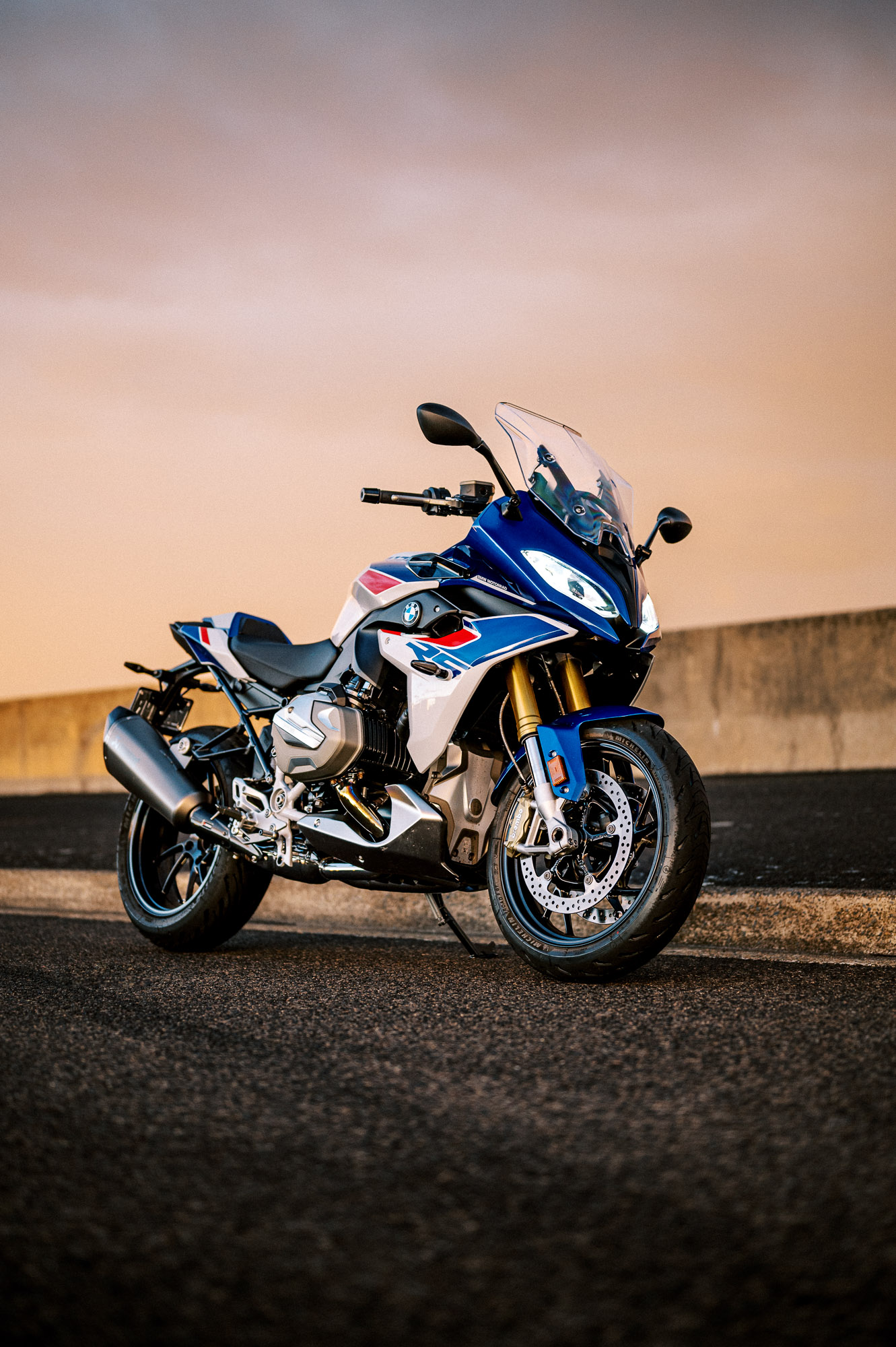 If you are wanting more comfort and the idea of luggage as standard appeals, then you'll also need to ride the Yamaha Tracer 9. But let's not turn this into an ad for Japan. BMW has clearly nailed it with the new R 1250 RS; I'm lucky enough to be able to ride new bikes all the time, so it's all too easy to become blaise about them and what they offer. But it's when you find yourself daydreaming about how a borrowed bike might possibly become a permanent addition to your already over packed garage… then you realise just how good they really are.
If you feel that you're after more of a single-minded proposition, then the sports touring category may not be for you. Besides, there's nothing stopping you from strapping some bags to an S 1000 R and riding off into the sunset. But for me, the gilding on the lily of the R 1250 RS is the engine. The inline power plants the Far East (And BMW themselves) have stacked up against a bike like this are no wallflowers in the engine department, but if you are someone who likes your bike to come with a bit of character and soul, BMW's always interesting boxer twins along with their very German, very slick way of bolting the whole package together will likely win you over in the way most others in the segment can't.
2023 BMW R 1250 RS Sports Tourer at a Glance
General Info

Price: $15,695 USD / $18,295 CAD
Key Features:
ABS/Traction Control/Brake control
6.5" TFT display
LED lighting
3 Riding Modes

Main Specs

Engine: 1254 cc 2 Cylinder air/liquid-cooled, four stroke boxer
Power: 136 horsepower
Torque: 105 lb-ft
Weight: 536 lbs (243 kgs)
Seat Height: 32.3 inches (820 mm)

Competitors

Suzuki GSX-S1000GT
Kawasaki Ninja 1000SX
Yamaha Tracer 9 GT
Pros
As quick as it is comfortable
All the accessory bells and whistles
Slick and charismatic
German quality abounds
Cons
Quick shifter could be more refined, especially at lower speeds
Cancelling the cruise control with front brake applications made the bike jump
Not cheap, and that's before you look at all the options
2023 BMW R 1250 RS Sports Tourer Photo Gallery