I had the pleasure of having the 2022 Speed Triple 1200 RR on loan from Triumph UK and I have to say what a pleasure that was.
I had the Speed Triple 1200 RS on loan last year and I found that a huge grin factor bike so I was eager to see how the RR compared.  Now, Triumph Motorcycles describes the RR as the "ultimate sports bike for the road". I was interested to see if this really is a sportsbike as it is not fully faired as one would expect a sportsbike to be.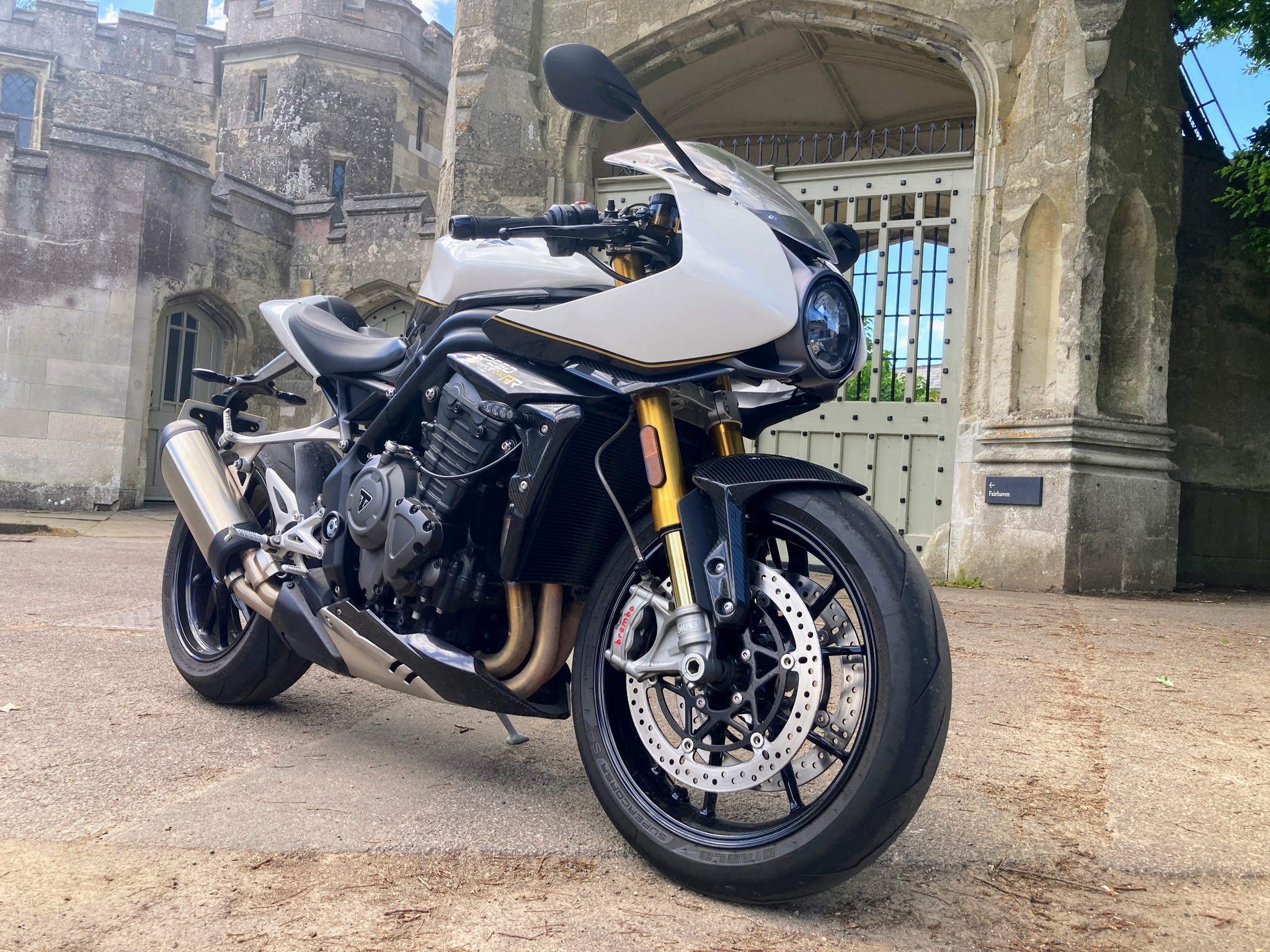 The Triumph Speed Triple 1200 RR at a Glance:
Ohlins Smart EC 2.0 electronically adjustable semi-active front and rear suspension;
ABS and switchable optimized cornering traction control;
Cruise control;
Front wheel lift control;
Brembo Style® monobloc front calipers;
Brembo twin-piston rear caliper and 220mm single disc;
6-speed gearbox with the slip and assist clutch;
Pirelli Diablo Supercorsa SP V3 tyres;
Colour 5" TFT instruments;
Five rider modes;
1160 cc liquid-cooled, 12 valve, DOHC, inline 3-cylinder engine;
180 ps;
Keyless system.
Let's get techy shall we – and there really is a lot of tech on this bike that could keep you quiet for ages playing with it all.
Triumph Speed Triple 1200 RR Electronic Suspension
We'll start with the Ohlins Smart EC 2.0 electronically adjustable semi-active front and rear suspension. At the time the RR was launched this was Ohlins most advanced suspension system available which has been specifically tuned to suit the RR's geometry.
This is fully adjustable even while riding via the TFT instruments, and, according to Triumph, uses a highly-advanced suspension control unit to continually monitor the input received, including riding style, speed and acceleration to automatically adjust both compression and rebound damping in response.
A clever bit of kit that I found to work really well giving the right amount of stiffness and control but at the same time a quite comfortable ride.
Some of the urban roads I rode on were very uneven and at times quite bumpy. Through the intercom, I could hear my o/h telling me in no uncertain words about how his bike was not liking those roads and the vibrations he was feeling through the bike.
I have to say that I was not experiencing anywhere near the level he was on the Speed Triple RR. Yes, I could feel that the road was bumpy in places but the suspension just sorted it out and did what it needed to do to give me as smooth a ride as possible.
Although the electronic aids are a brilliant addition to modern bikes, I do worry about the cost if these were to go wrong. Having all these great aids are brilliant until they go wrong and for some people who are on a limited budget, may render the bike unfixable. Are they really needed on your 'day to day bike' or should they be reserved more for track bikes?
Triumph Speed Triple 1200 RR ABS & Traction Control
The RR has optimised cornering ABS and switchable optimised cornering traction control, cruise control and, my favourite, front wheel lift control. I am a huge fan of this on a powerful bike as I am not a wheelie fan. I have been known to do the odd accidental wheelie and I swear a little bit of pee came out!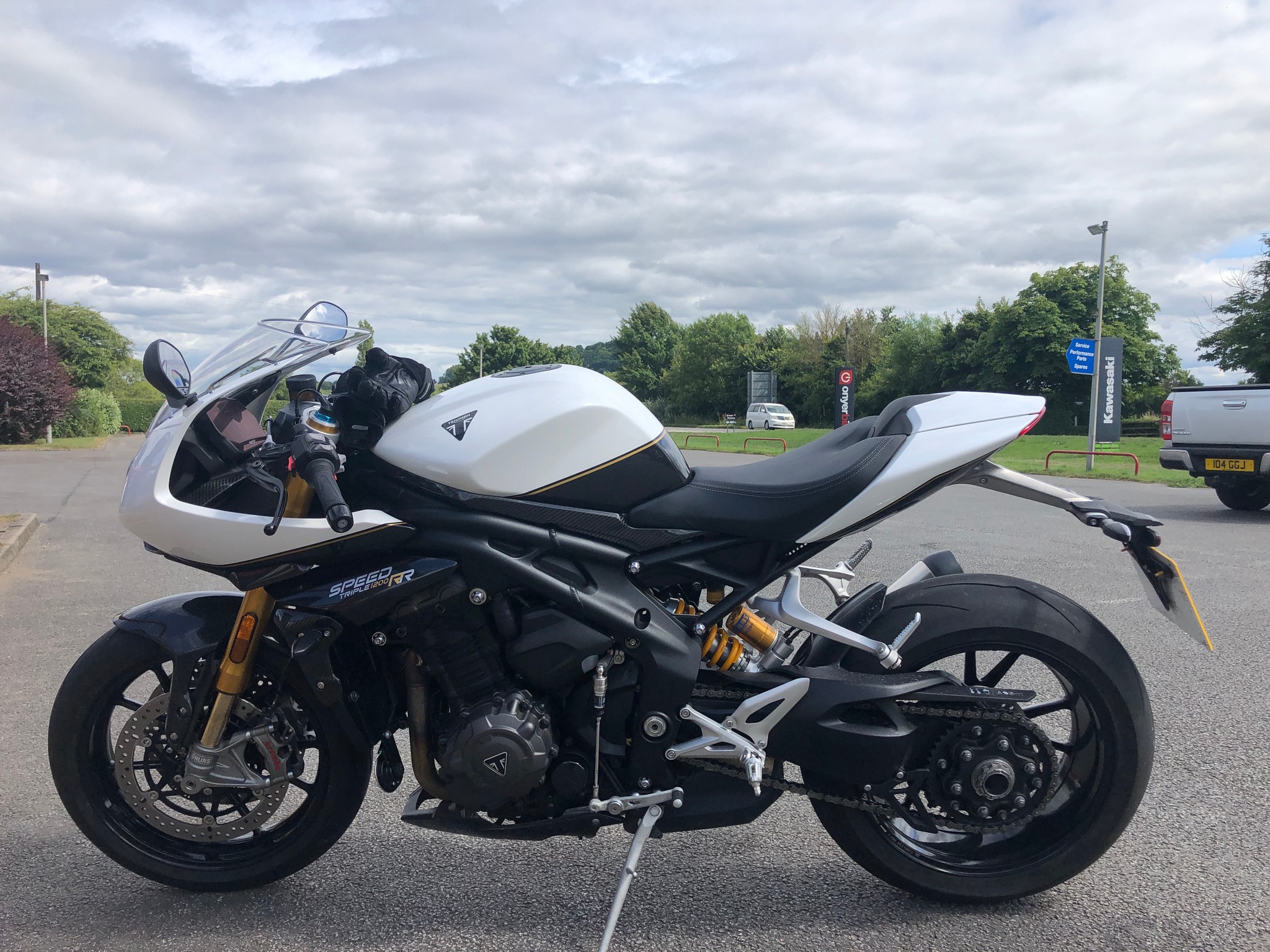 The RR turns into the corners lovely. The riding position pushes you further over the front wheel which in turn inspires confidence and gives you more feel. As I only rode the RR on public roads on lovely dry days, it would be great to see how these electronic aids fared on a track day.
Triumph Speed Triple 1200 RR Brakes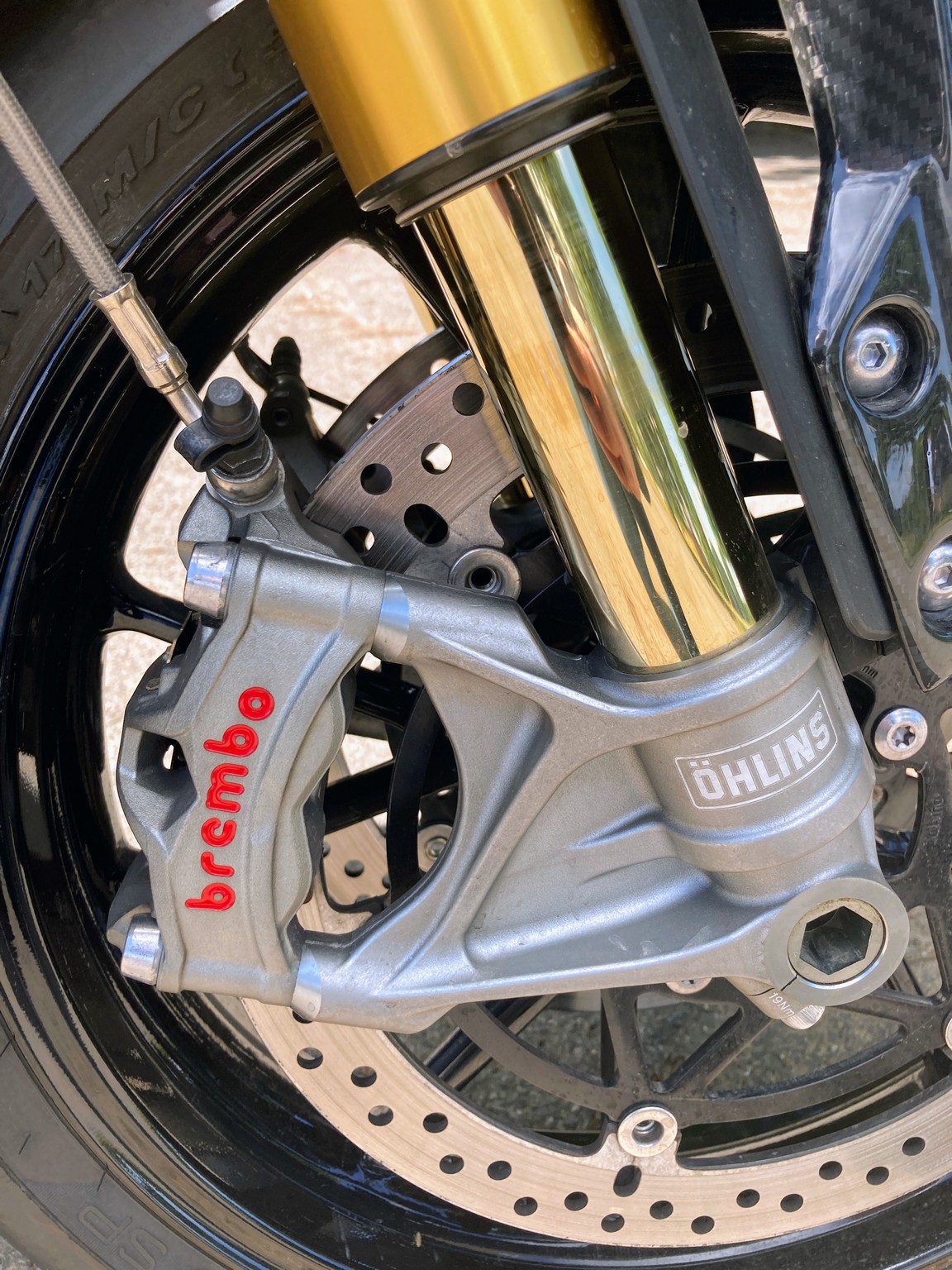 Lightweight track-spec twin Brembo Stylema® monobloc front calipers and lightweight 320mm floating front discs also appear on the RR which are controlled via a Brembo front brake lever with multi-click system for span and ratio adjustability. On the rear, there is a Brembo twin-piston caliper and 220mm single disc.
I really like the braking system on this bike, you only have to touch the brakes lightly and they start reacting. The braking is smooth and I have every confidence they will slow the bike down or stop it when I need them too.
This was especially apparent when a car decided to change lanes last minute at a set of traffic lights and I literally had to stand on the brakes to stop me going into the car. I can confirm that the Brembo brakes are, as always, brilliant and fade free. I can attest the brakes are definitely responsive!
Triumph Speed Triple 1200 RR Gearbox
The 6-speed gearbox is complimented with an up and down quickshifter. My bikes do not have this so when I get a bike with a quickshifter it takes me a couple of rides to remember I have this but once I get into using it, I do find this a good feature.
I find that it is better under medium to hard acceleration going up the gears and gives a smooth change between the gears coming down.
Would I pay extra to have this on my bike? No, I don't think I would as I enjoy the skill of making smooth gear changes myself.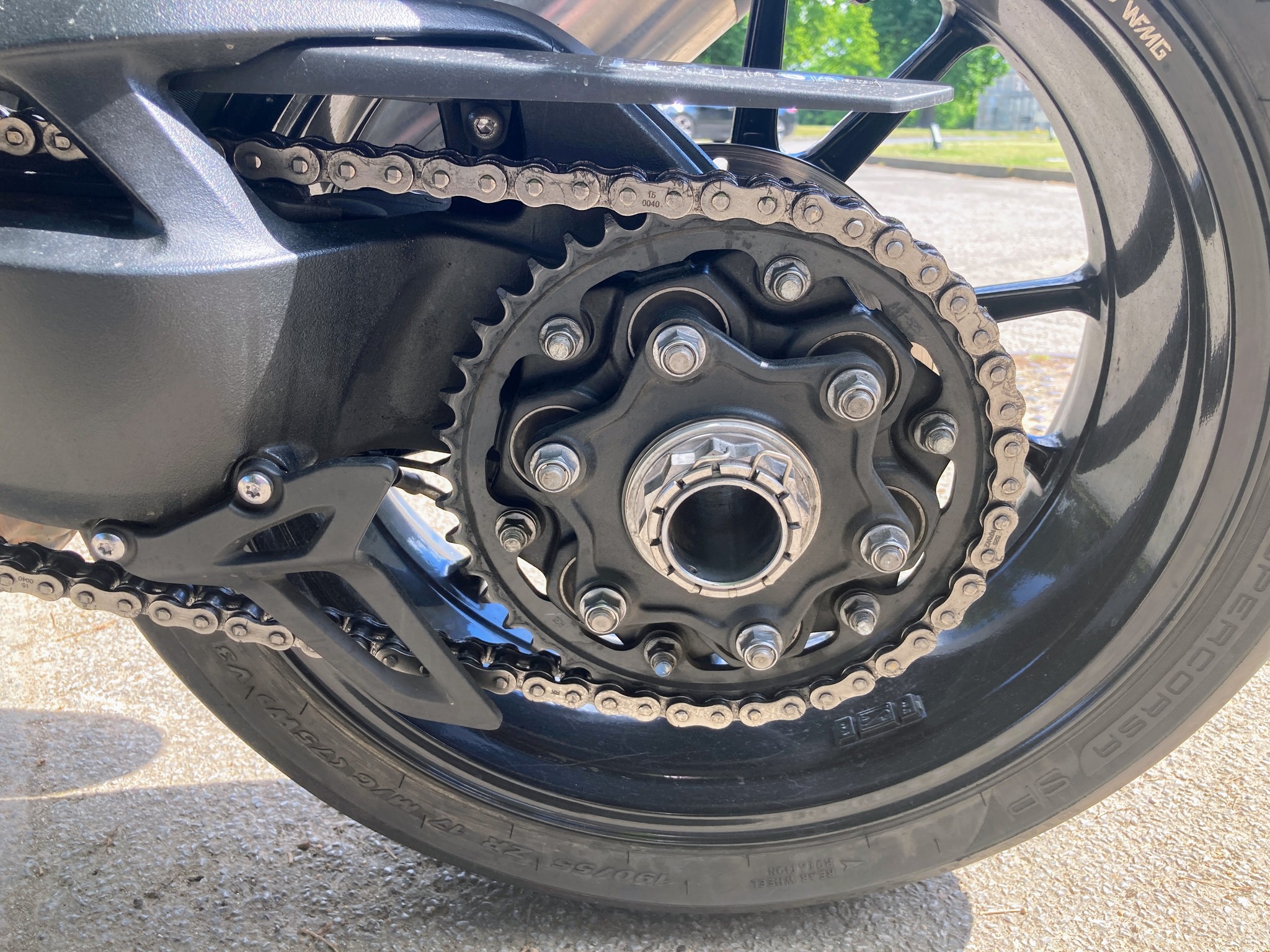 Interestingly, the quickshifter has been developed from information gathered through Triumph's involvement in the World Moto2TM championship. According to Triumph, it features an advanced sensor that gives the engine control unit a wealth of information, allowing both up and down gear shifts to be fully mapped against a number of parameters, exactly as the Moto2TM race teams do.
When up-shifting, the Triumph Shift Assist adjusts factors such as ignition, fuel, and throttle angle, to momentarily relieve the pressure on the gears and allow them to slide. This is a much more sophisticated system than a traditional quickshifter, which would simply cut the ignition. When down-shifting, again the system monitors and adjusts various parameters and precisely controls the throttle blips, guaranteeing a smooth shift.
Triumph Speed Triple 1200 RR Tires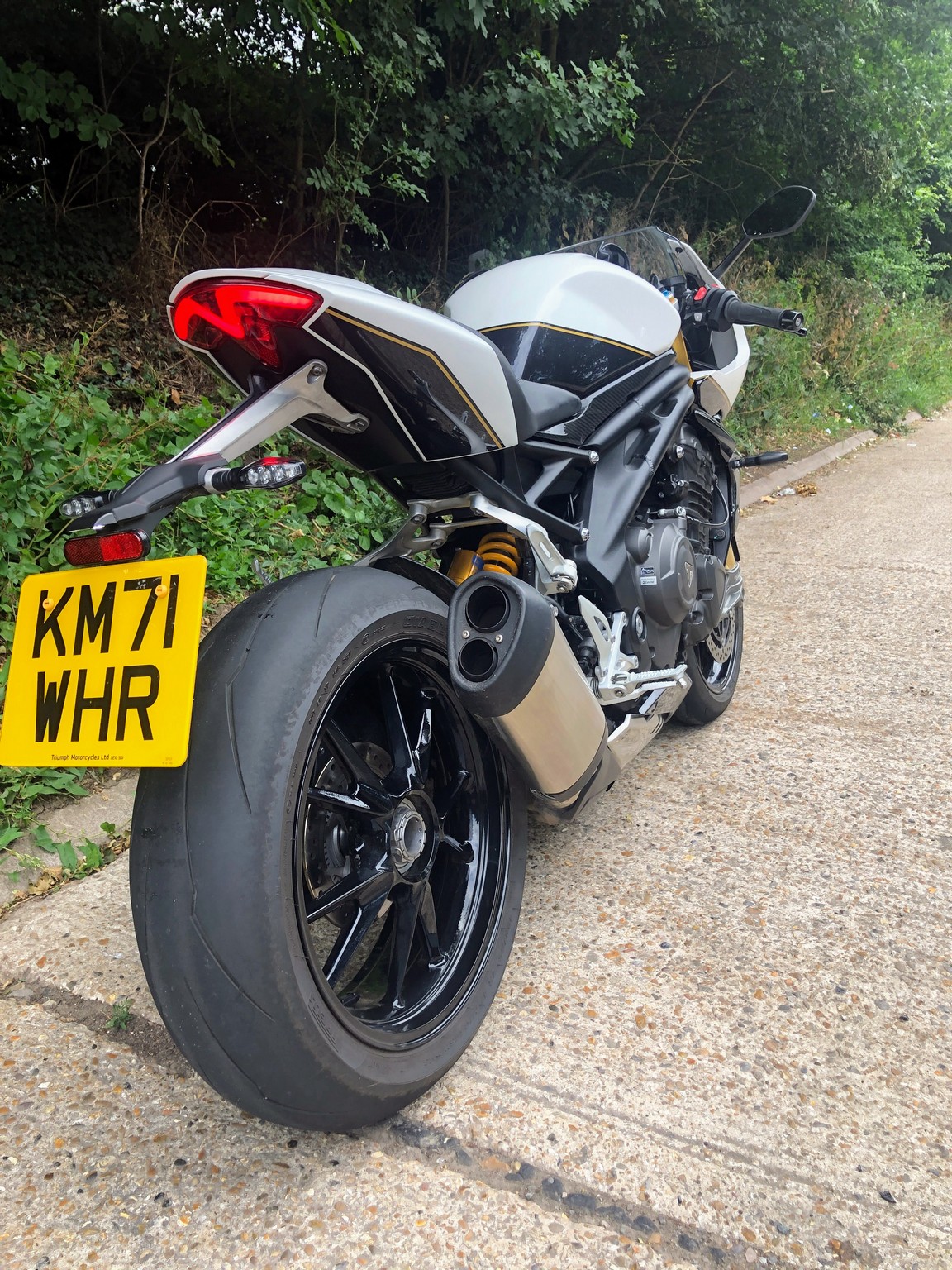 The RR comes with Pirelli Diablo Supercorsa SP V3 tyres as standard which are unique to the RR and are described as street legal track tyres. Also available for even more focused track use, is an approved track-only specification, the Pirelli Diablo Supercorsa SC2 V3.
Personally, I am not a fan of road-legal track tyres for everyday use on the bike. Although the Supercorsa's are good when the temperature is warm, I ride all year round and do not find that these work well in either the cold or rain.
On a hot dry sunny day, the Supercorsa's work extremely well and the bike handles really well on public roads. However, if you live in a temperate climate like the UK, we, unfortunately, do not get that many hot dry days.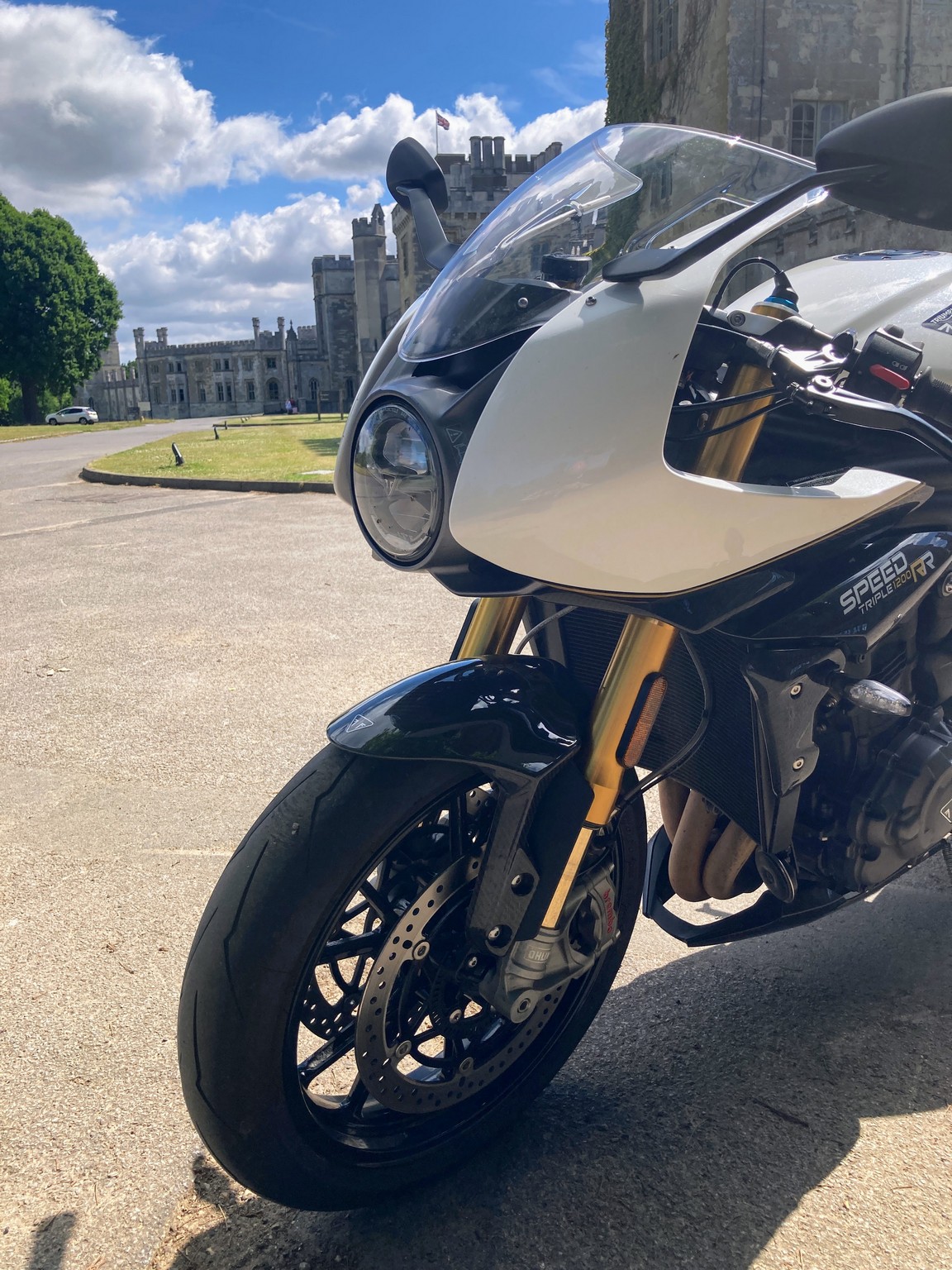 I know it is a personal choice, but I would change the tires to a more all-year riding tire. My favourite tires I like to have on my bike are the Michelin Road 6 tires, I have had these on my bikes for many years now. When I get a new bike and they do not come with Michelin Road 6's, they are fitted straight away.
I find these tires suit my riding style and give me the confidence I need when riding. I love the way they make the bike handle in the corners and the fact that I can ride in all weathers and know that they will handle just as well in rain or shine but still work really well in the heat or dry.
Triumph Speed Triple 1200 RR TFT Screen & Modes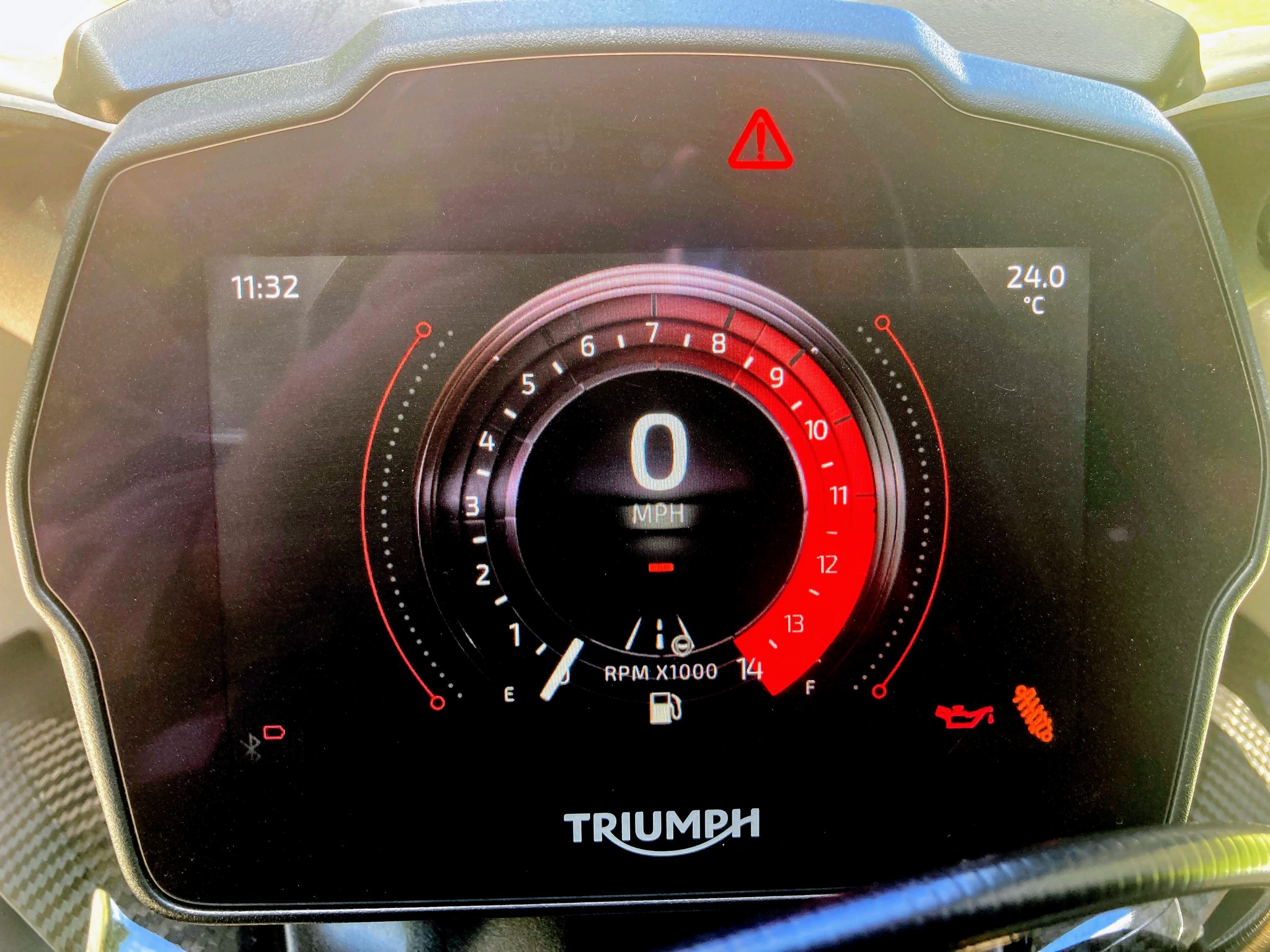 The RR is some bit of kit. Very clever and very techy which I know a lot of you like and if you like techy then you will definitely like the colour 5" TFT instruments which comes with the My Triumph connectivity system as standard. It is both android and IOS compatible, and you can make phone calls, play music and use turn-by-turn navigation which has been developed with Triumph in partnership with Google.
If you go to your App store on your phone, search My Triumph and download this app, register and you can pair the bike to your phone. Simple. Even I managed that and that's saying something!
I can select the destination I want and adjust the settings to avoid motorways, tolls, ferries etc. Once you've got your route, press start and navigation will begin.
In the settings you can select distance to show in kilometres or miles and fuel economy to MPG(UK); MPG (US); 1/100km and km/l. You can play around in the settings to set the app up to suit you and your bike.
The RR has five modes – road, rain, sport, rider-configurable, and track mode all of which have multiple levels of intervention you can choose from and all done via the TFT instruments. To change the modes, you simply press the mode button on the left side of the bar and then use the toggle to navigate the modes.
In order for the bike to be set up perfectly for you, you will need to spend a bit of time with the manual and bike together so you can play around.
So if you love techy, you will definitely love playing with all the different modes.
The TFT screen is really easy to read especially when glancing down whilst riding to have a quick look at the speed, time, fuel etc. although personally, I would like the clock slightly bigger.
Because of the design of the cockpit fairing, I didn't experience glare on the screen whilst riding, it is nicely protected from glare.
My Favourite Bit of Tech!
I have to say my personal favourite bit of tech on the RR has got to be the self-cancelling indicators that come as standard. Why are these not standard on every bike! If they were an optional extra, this would be a definite extra for me for my bikes.
Riding the Triumph Speed Triple 1200 RR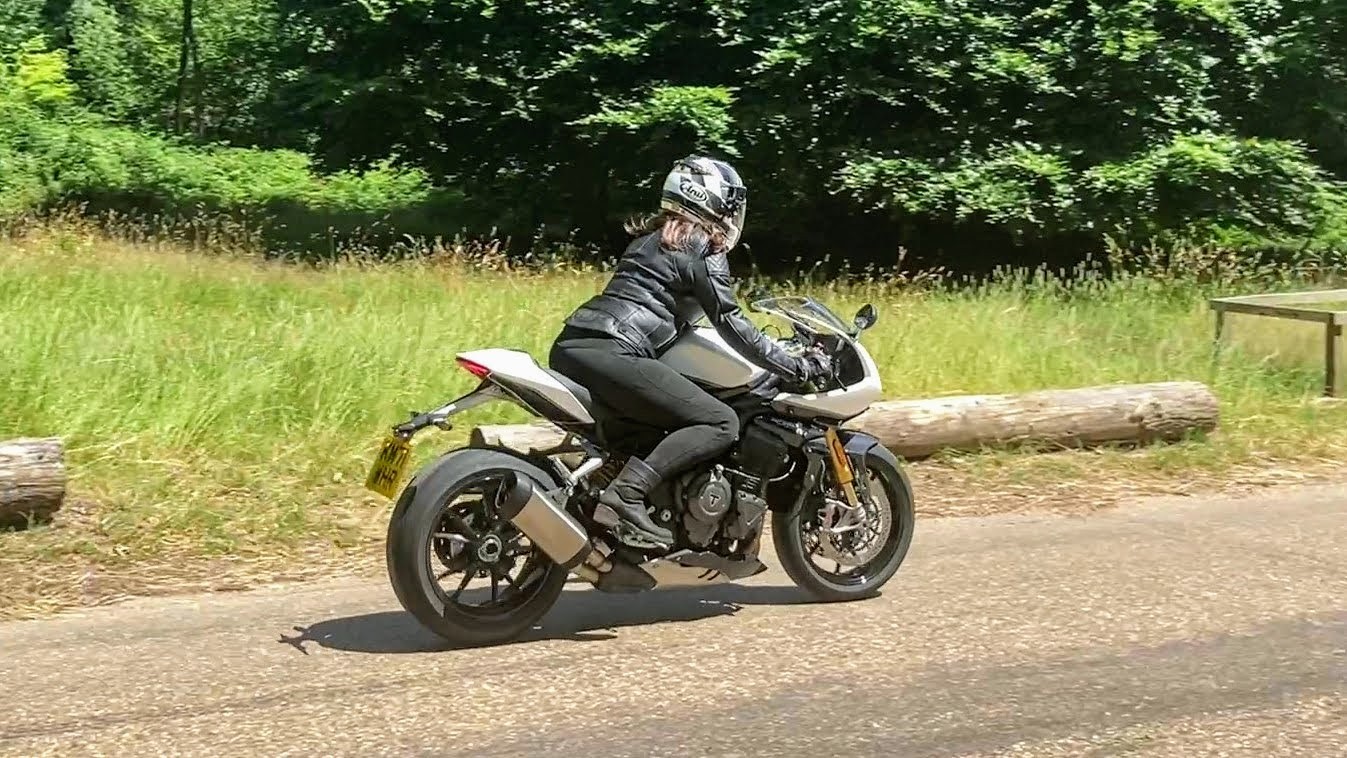 So that's a lot of the techy stuff covered but what's it like to ride I hear you ask.
Well, when I came back from my first ride on the bike I was a bit achy, my hands and arms especially. For me, the RR is an extreme riding position with clip-on bars and I am really hugging the tank. I am 5'6" and although my feet sit nicely on the floor (the seat height is 830 mm), I am really stretched leaning over the tank to reach the bars. I think a taller person with longer arms would not find this, or certainly not as much.
The RR only weighs 199kg so manoeuvring out of the garage is okay (this to me is as important as riding position, looks, speed etc because if I can't get it out of the garage then I'm not going very far).
I very quickly got used to the riding position and once I got out of town (let's face it no sports bikes are fun to ride around town) the RR came alive. It's like it was made for open roads. Not only does it go like stink, but it handles well too. I felt really comfortable on the RR when cornering, I had a lot of confidence in the bike that it would get me safely round the bends.
I am finding that when I am hugging the tank, knees bent and focused on my riding, I feel at one with the bike. I love the confidence the bikes gives me.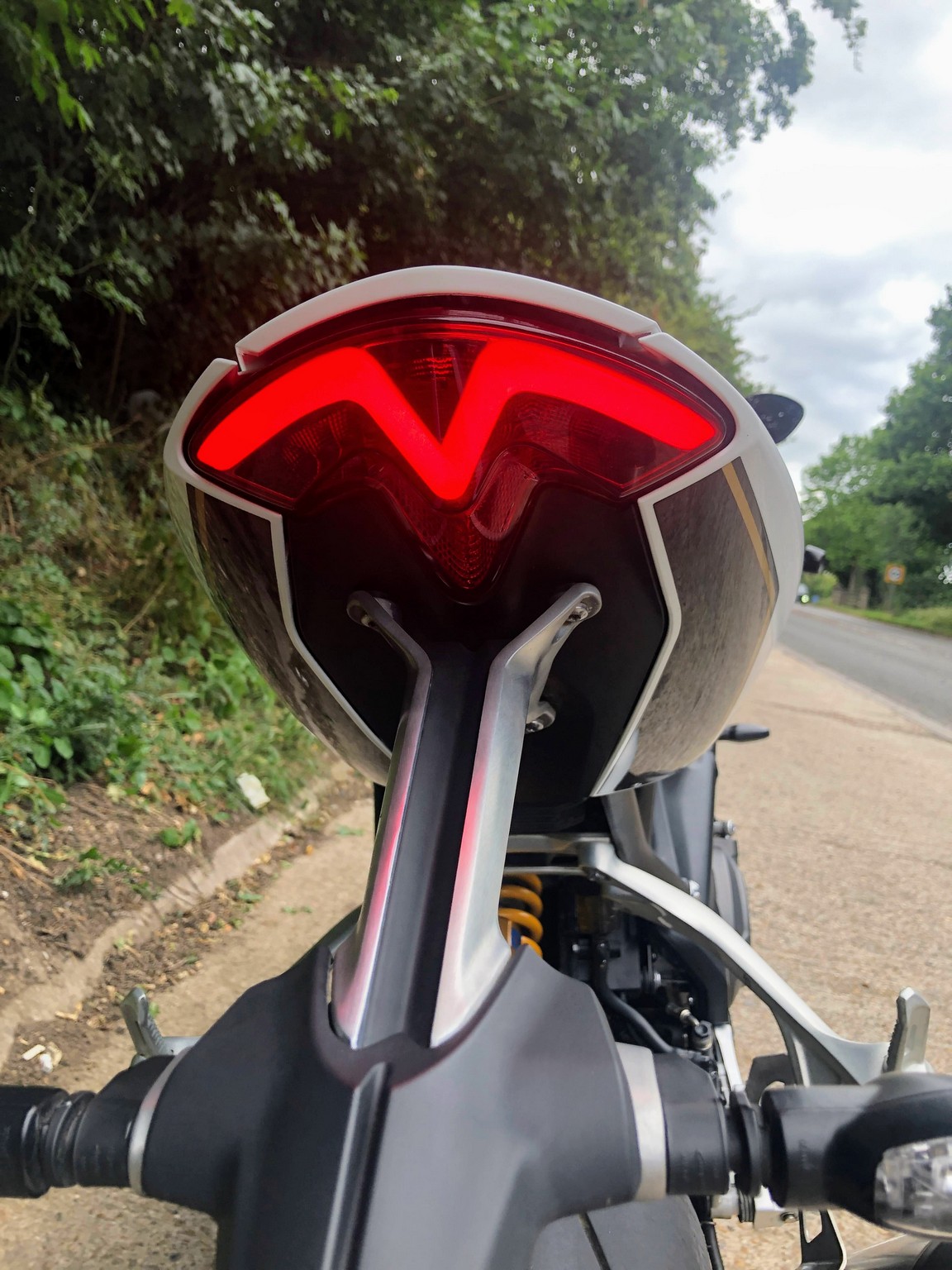 I am a real fan of the cockpit fairing and single-round LED headlight. Not only is it different, but it's also fresh and cool looking. I can imagine looking in my rearview mirror and seeing the RR approaching and thinking 'Wow, that is a cool bike'.
The distinctive rear light, which is integrated into the tail unit, is so in keeping with the styling of the RR but an absolute first purchase for me would be a tail tidy. I know it is a legal requirement for all new bikes that the number plate is the rearmost part of the bike, but the back end is just crying out for one.
I really like the single-sided swing arm styling of the RR and the exhaust, although as standard has quite a stylish exhaust, I would opt to change it out as I prefer a noisier and more aggressive sounding exhaust.
The engine is an 1160cc liquid-cooled, 12 valve, DOHC, inline 3-cylinder which is Euro5 compliant delivering 180PS and 125Nm of power and torque and deliver it does ☺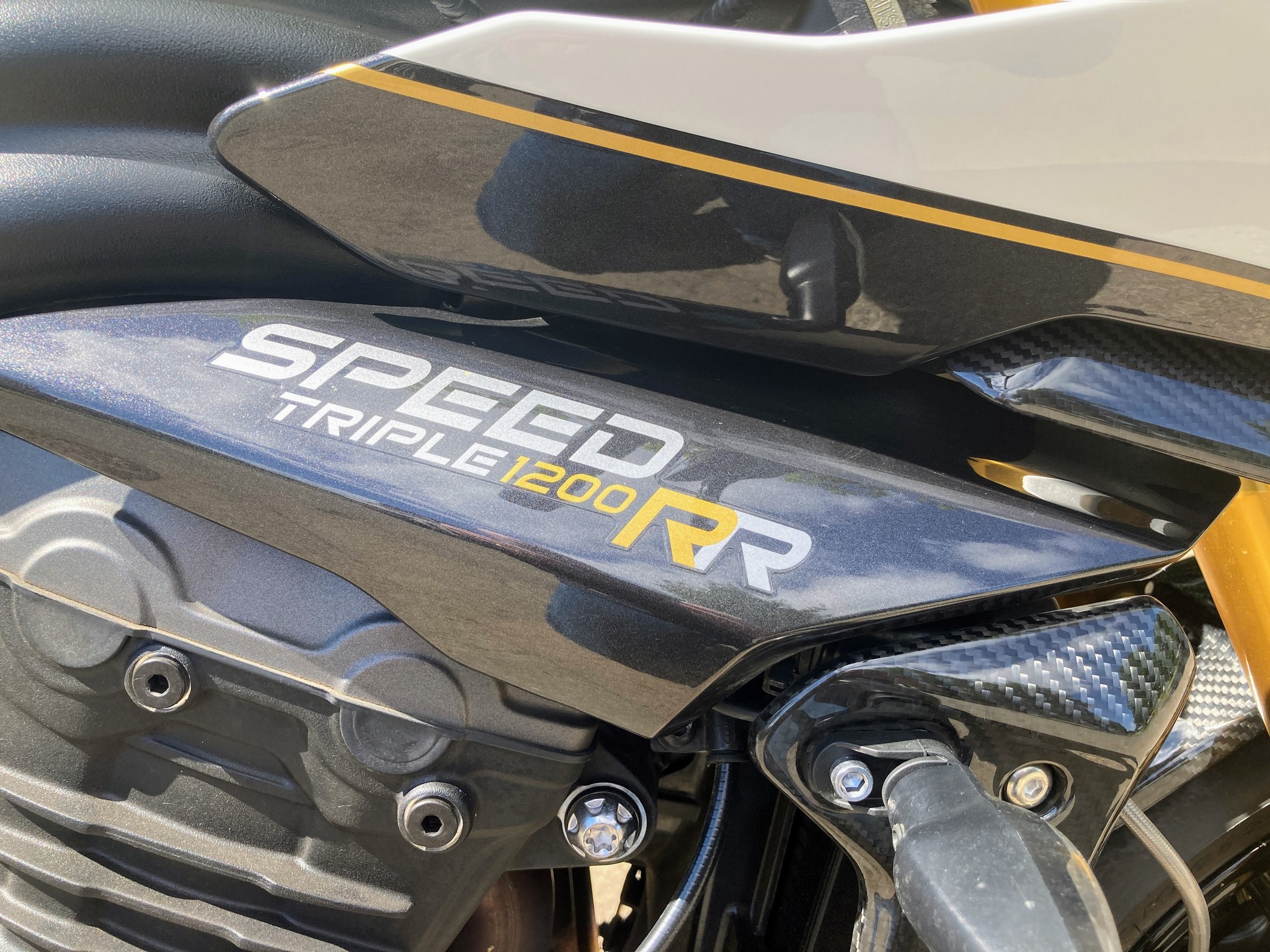 A full keyless system is in place for this bike so I made sure that I kept the fob in my bike jacket pocket and zipped up at all times so I wouldn't forget it or leave it somewhere and ride off without it! That would definitely be an oops moment :-O
There is cruise control on the bike which is really easy to set with the touch of a button on the bars and be done when riding along. Very useful especially if doing some motorway riding. I find when doing some long-distance riding, using the cruise control will give your hand a bit of a rest and makes motorway riding easier.
I really loved the combination of the sound of the engine and the exhaust when you open it up, I could feel myself grinning from ear to ear under my crash helmet! After a few days of riding the bike, I found the RR to be such fun to ride, it's light and easy and I really could see this bike as a great addition to the garage.
The Triumph Speed Triple 1200 RR Is A Strong Contender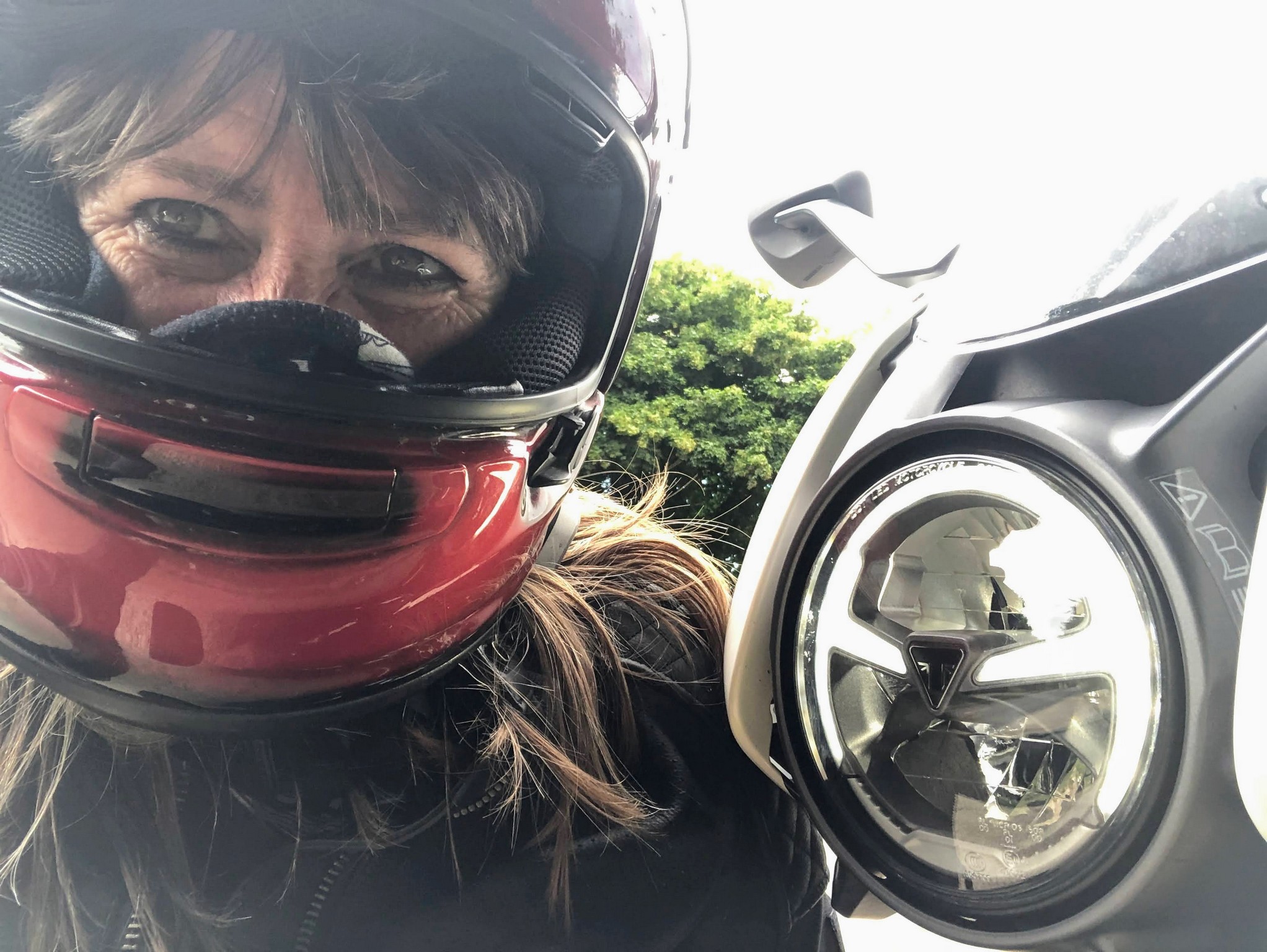 With an OTR price from £17,950 ($21,599 USD / $27,799 CAD) it is at the upper end of the market but I have to say, I do love it. I love the styling (especially the single round headlight), the acceleration, the cockpit fairing and I especially love the grin factor the bike gave me. If bikes were measured on grin factor, it would be a definite 5 out of 5 ☺
The RR is of course competing with other sportbikes in this market. For example, the BMW S1000RR pushing out 207bhp with a price of £16,440 ($19,657 USD / $25,319 CAD). The Yamaha R1 with an OTR from £18,200 ($21,761 USD / $28,029 CAD) with 200bhp. The Kawasaki Ninja ZX-10RR with 204bhp and an OTR price from £24,799 ($29,652 USD / $38,193 CAD). All very similar bikes to the RR with regard to BHP, performance, styling, modes and the amount of tech available.
I believe the RR is in there with the rest of the market in terms of price and spec but with any bike you are considering purchasing, the only way to know if it is the right bike for you is to get a test ride and see for yourself if it suits your riding style and of course, budget. It would definitely be a contender for me.
In conclusion, I would personally say that despite the slightly unusual looks, Triumph are correct, this is a sports bike for the real world on the road. It has the performance and handling but with slightly more comfort than you might expect and really reminded me of all the fun I used to have on my Yamaha R6.
It was a sad day when I had to give the bike back 🙁 but thank you Triumph for the loan of the Speed Triple 1200 RR, it was a privilege to ride ☺
– BikerKaz
2022 Triumph Speed Triple 1200 RR Video Review
2022 Triumph Speed Triple 1200 RR Photo Gallery