Radical hub-centre steering, traction control, cornering ABS, electronic suspension, engine modes and a whole new frame are believed to be coming for the 2018 Honda Goldwing.
Since the six-cylinder GL1800 was introduced in 2001, it as only received cosmetic updates, an airbag option and the addition of stripped down F6B and F6C models.
Many riders had been holding out for a two-litre model, but it is believed the engine will remain largely the same, although possibly compliant with Euro5, the next level of emissions control.
In another radical move, there may also be a smaller-capacity four-cylinder option in the base model and perhaps the introduction of F4B and F4C models.
The new Goldwing which is expected to be unveiled at the EICMA show in Milan in November.
Radical steering
The most radical of the changes is expected to be hub-centre steering.
Images of the bike with this bulky fork system have been around for a couple of years, but the rumour is that it will be introduce on the production  model.
Hub-centre steering has been around for a long time, but it is a complex engineering task that has only been deemed suitable for large and expensive motorcycles.
The advantages are lighter and tighter steering, no fork dive, bigger lean angles and no fork flex.
While the bike will otherwise look pretty much the same, the frame is believed to be different, most likely to accommodate the new forks.
Radical electronics
Other changes will be electronic.
It is likely to get the dual clutch transmission (DCT) which Honda has been promoting heavily lately, especially in their highly successful Africa Twin adventure bike. 
We can see real advantages in the automatic transmission for touring riders. It is also featured in their CTX700 cruiser, VFR1200 sports tourer and NC750S.
Another tip is that the bike will have seven gears as well as reverse, of course.
The 2018 Goldwing is also tipped to have traction control, several engine modes, cornering ABS and semi-active suspension.
Airbags retained
We suspect that the bike will retain an airbag option, despite the massive worldwide recall on Takata airbags and the recent death of a Sydney CRV driver.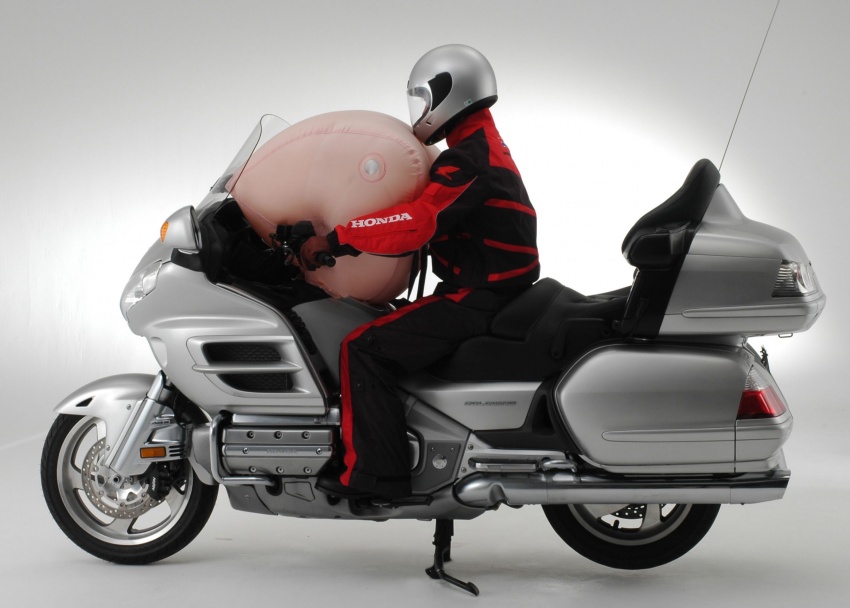 Honda Australia recently issued a plea for Goldwing owners to come forward and have their bike's airbag inspected after the official recall last year.
So far, less than a third of the 522 bikes affected in Australia have been returned to dealers for repair and to fit new inflators.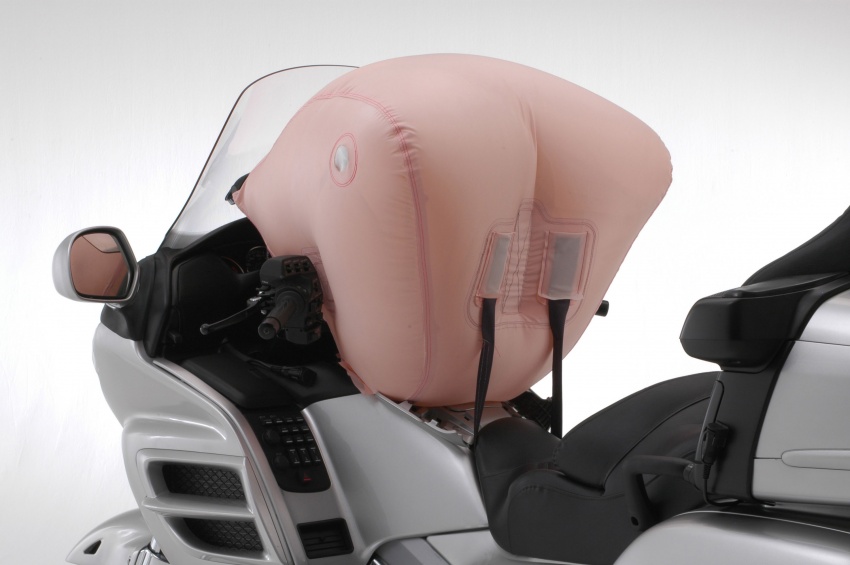 Meanwhile, Honda seems committed to airbags on motorcycles and scooters.
In fact, the company recently exhibited an airbag designed for scooters at the Honda Meeting in Tokyo.
It appears to b a different type of airbag to that deployed on the Goldwing with a high and wider cushion.