Breakout is expected to continue as Harley-Davidson Australia's top-selling bike after its latest upgrades, although it might be challenged by the now-wider Fat Boy.
The new Softail range, which now incorporates several former Dynas (Street Bob, Fat Bob and Low Rider), has two all-new frames.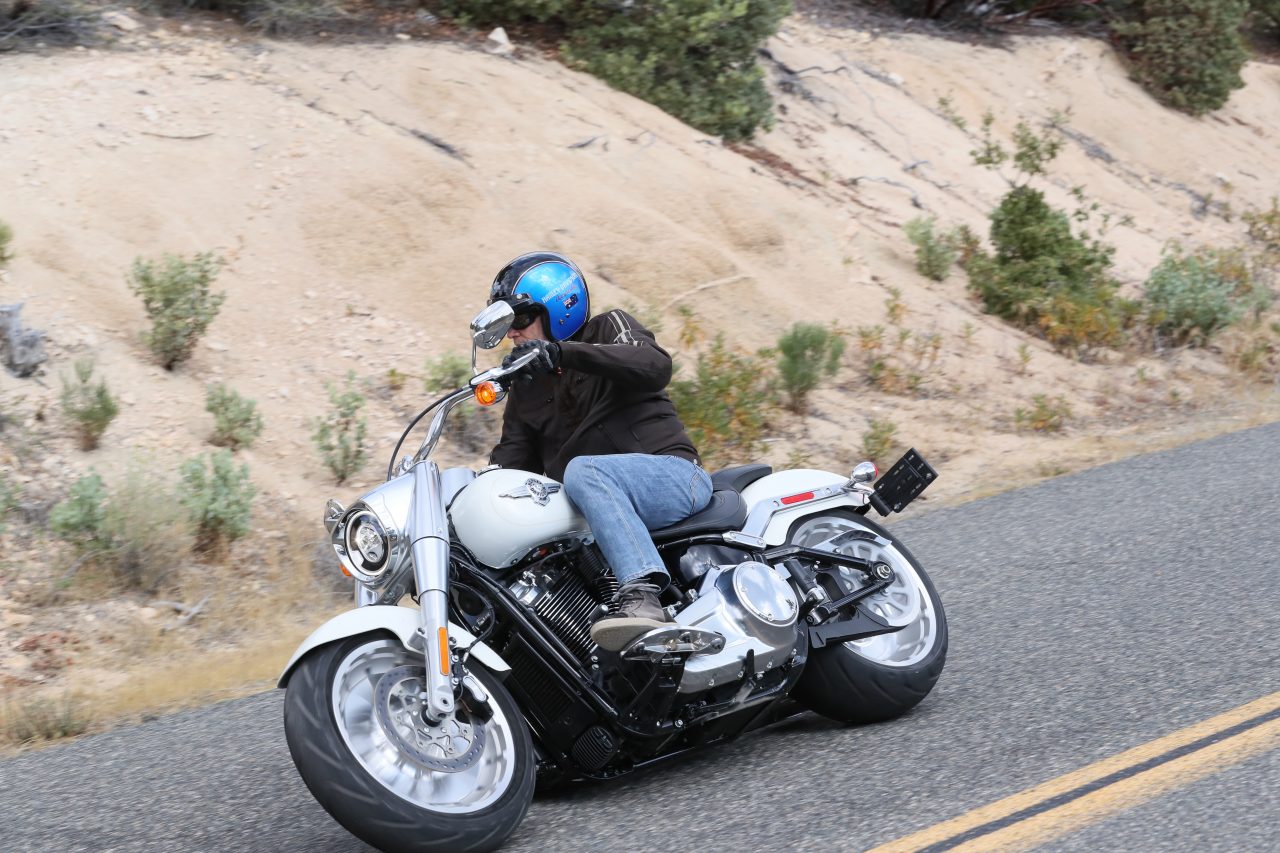 Click here to read all about the new range and prices.
The wide frame accommodates the massively wide 240mm-section rear tyre of the Breakout and now, the Fat Boy, too. The rest of the range have a narrow Softail frame.
But together with new styling, the Milwaukee Eight 107 and 114 engines, a stiffer frame and improved suspension, the bikes are so much better.
They also come in 115th anniversary models. Click here to read more about the anniversary editions.
I've just returned from the worldwide media launch in Los Angeles where the bikes were put through their paces with a hot and heavy run up twisting mountain roads to Big Bear Lake and back.
Softail Breakout
The Breakout has been the top seller for Harley in Australia for three years now for its simple fat-tyre, raked front and clean lines.
Now it looks a little cleaner with the previously messy wiring harness tucked neatly away in the spine of the frame.
For 2018, the Breakout also gets a new LED headlight tucked in like the V-Rod and Livewire, tiny digital instruments integrated into the handlebar risers and a lower-profile fuel tank.
While we didn't get a chance to ride the bike at night, LED headlights are known for their better illumination with more reach, a wider and more uniform spread of light and a whiter beam.
Softail program manager Brad McIlwee says the instruments are "barely legal" as they are so tiny, yet they are easy to read in any light conditions.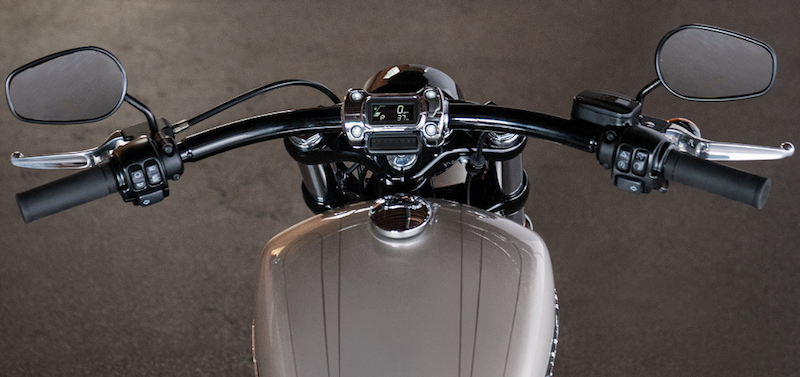 They include information such as speed, fuel and gear indicator and, by pressing the button on the left switchblock, you can toggle through several screens which provide other information such as range and trip meters.
You might need to keep an eye on that range, too, as the tank is smaller.
It looks thinner and creates a more exciting profile, but it should also decrease range.
The fuel capacity has gone from an 18.9L tank to 13.2L, but Harley says the bigger 107 Milwaukee Eight engine is more economical than the 103 Twin Cam it replaces. Besides, there is also a 15% drop in weight, or 17kg less.
However, if you opt – as many will – for the 114 engine, you could be scouting for a servo around 200km.
It now comes with dual-bending-valve forks and an adjustable rear shock with the preload adjuster knob conveniently down by your right side, so you can quickly pump it up when required.
Most importantly, the 34% stiffer frame completely reinvents the handling of this power cruiser.
It used to wallow and scrape on corners and wouldn't even go in a straight line without tracking over parallel cracks.
At the end of a long ride, your shoulders would be aching from the effort of keeping it tracking right.
Now, the bike feels easier to control with a slightly improved static lean angle and a much improved dynamic lean angle because it doesn't flex as much.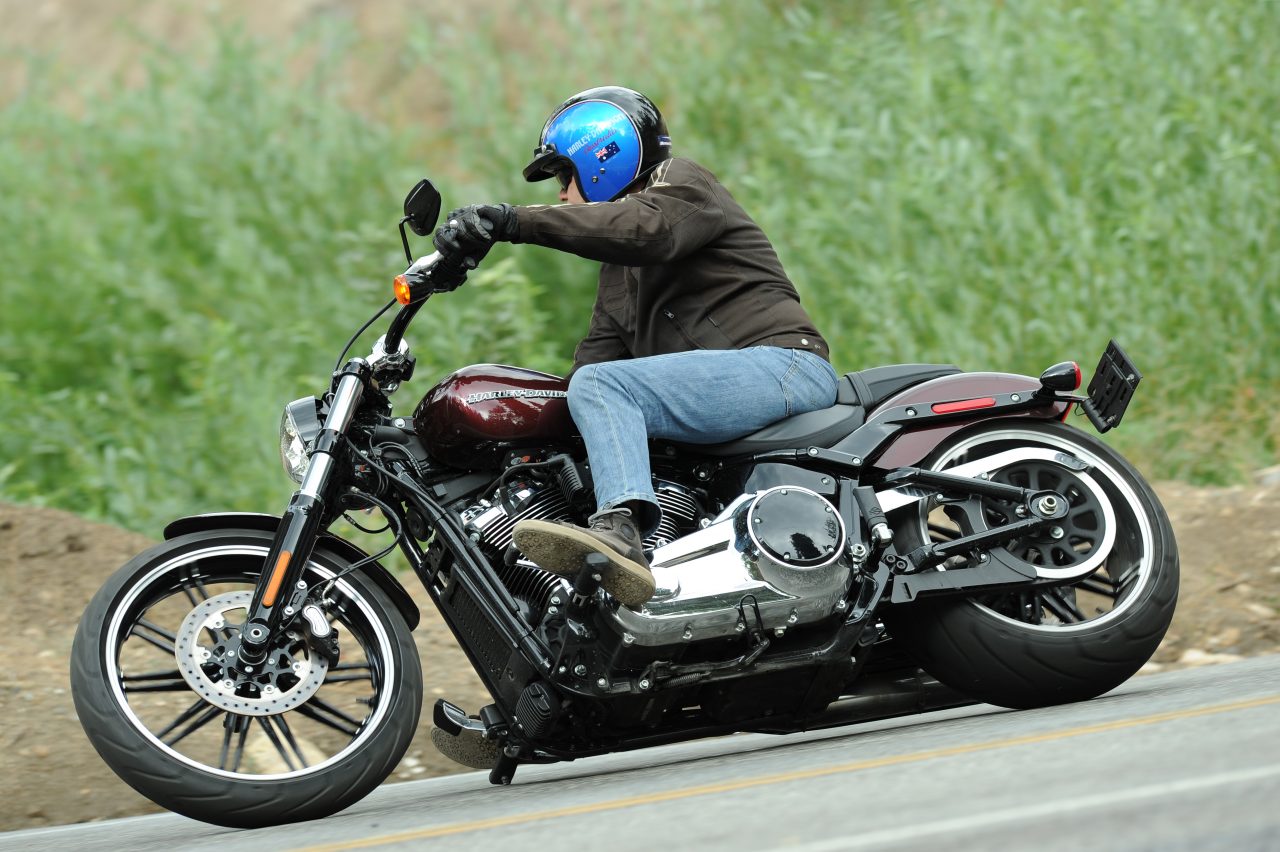 Softail styling manager Kirk Rasmussen says that to improve lean angle, they squeezed the swingarm and tilted the transmission up which raises primary cover and clutch pump.
It now scuttles along quite quickly through winding roads and you can use all that 240mm tyre.
Acceleration off the line is also greatly improved.
Brad says that compared with the previous Twin Cam, when the bikes reached 100km/h, the 107 would three bike lengths ahead and the 114 would be five bikes ahead.
Softail Fat Boy
Softail senior product manager Kevin Hintz says the Fat Boy is the "most copied motorcycle of all time".
"This model has a brand as strong as some other motorcycle brands," he says.
With its solid Lakester wheels and that fat 240mm tyre (up from 200mm), it has a "steamroller stance", he says.
However, it's less of a steamroller now with a 16kg weight-loss program.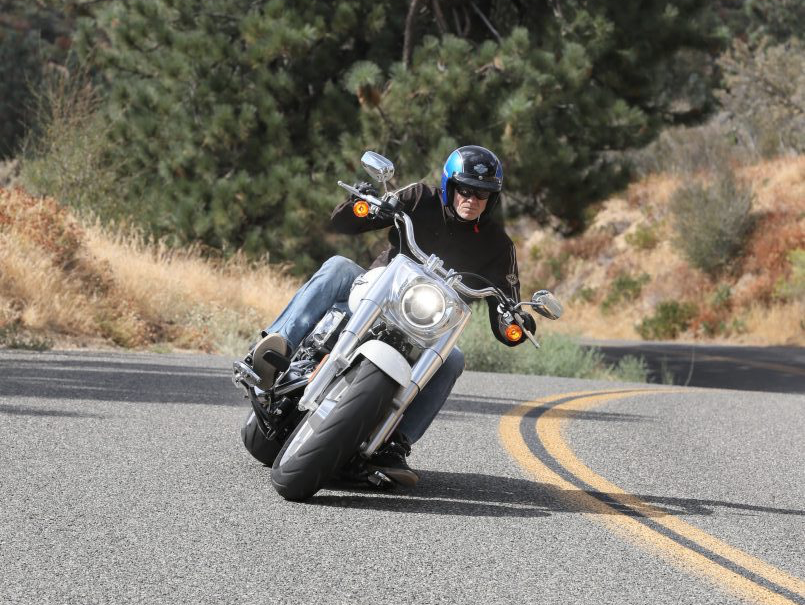 Styling has been modernised with a smaller "atomic-era" headlight nacelle, LED lights, satin chrome finish and midsweep exhaust.
Like the Breakout, it comes with an external preload adjuster and the stiffer frame, but instead of the dual-bending-valve forks, it gets a racing style cartridge.
While it steers lighter than before and lighter than the Breakout with its straight drag bars, it doesn't handle quite as nimbly nor corner quite as well as the Breakout thanks to the wider rear tyre, a bit more bulk and wide floorboards.
Perhaps Harley could have trimmed those floorboards as they have with the new Slim which now has surprisingly improved cornering clearance.
But that new 240mm wide tyre might just be the addition that puts this bike back at the top of the Australian Harley sales where it reigned for several years.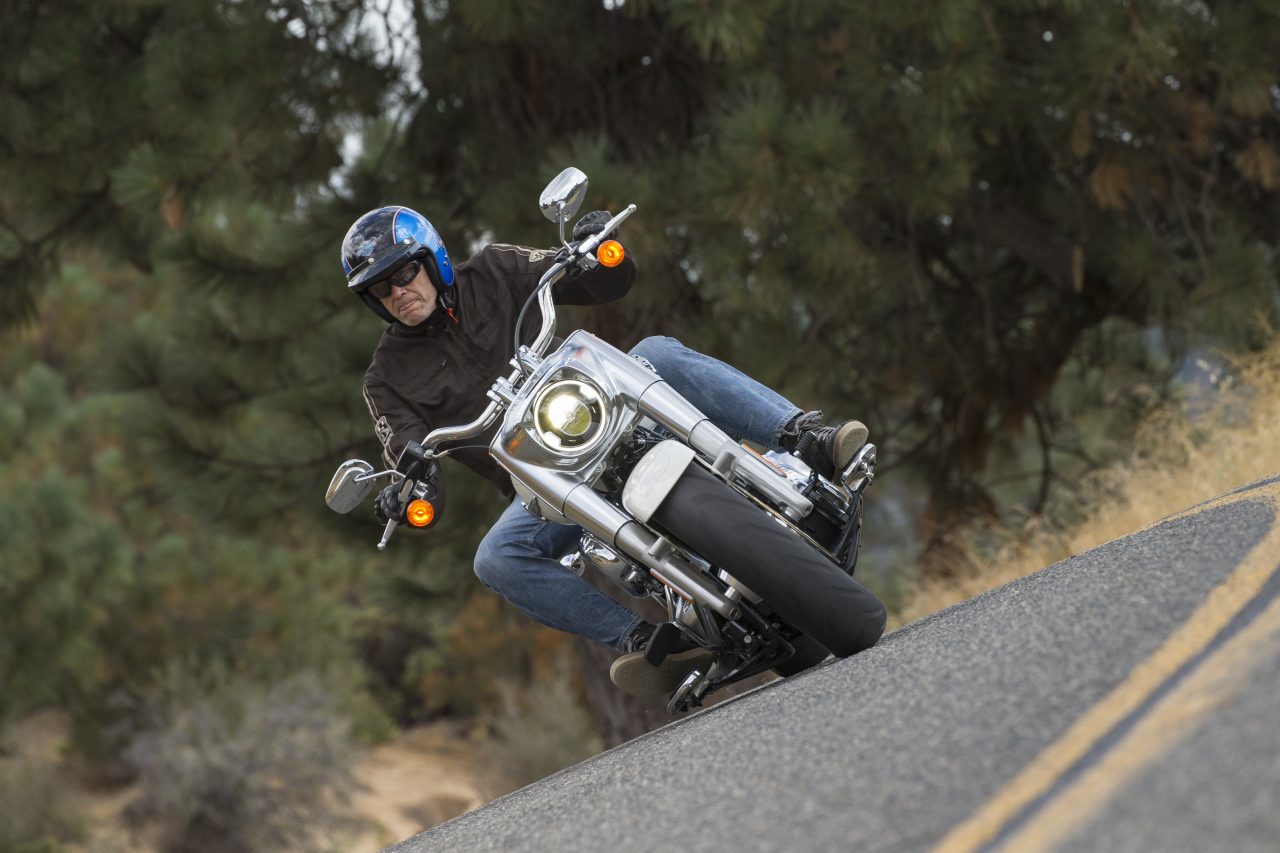 2018 Harley-Davidson Fat Boy and Breakout prices
| | | |
| --- | --- | --- |
| FLFB | Fat Boy® (107) | $30,995 (was $29,250) |
| FLFBS | Fat Boy® (114) | $33,995 (was $31,750) |
| FLFBS_ANV | Fat Boy® Anniversary (114) | $34,750 |
| FLFBS_ANX | Fat Boy® Anniversary (114) | $34,750 |
| FXBR | Breakout® (107) | $31,250 (was $29,750) |
| FXBRS | Breakout® (114) | $33,995 |
| FXBRS_ANX | Breakout® Anniversary (114) | $34,495 |