The new Harley-Davidson 750cc Street Rod should appeal to younger and more aggressive riders with its macho stance, budget price and sporty performance and exemplary handling.
In fact, I'd say it is the best-handling Harley yet!
The 750cc variant of the new learner-approved, Indian-made Street 500 ($11,495) arrives in Australia in May 2017 at $12,995.
It is a substantial step up from the 500, not only with its bigger engine, but also with far better fit and finish, neater cabling, LED taillight, macho 43mm forks and quality shocks. However, the messy tank welds are still visible and the levers non-adjustable.
We've just ridden the bike through the concrete jungle – and the real jungle – of Singapore where the maximum speed is 90km/h.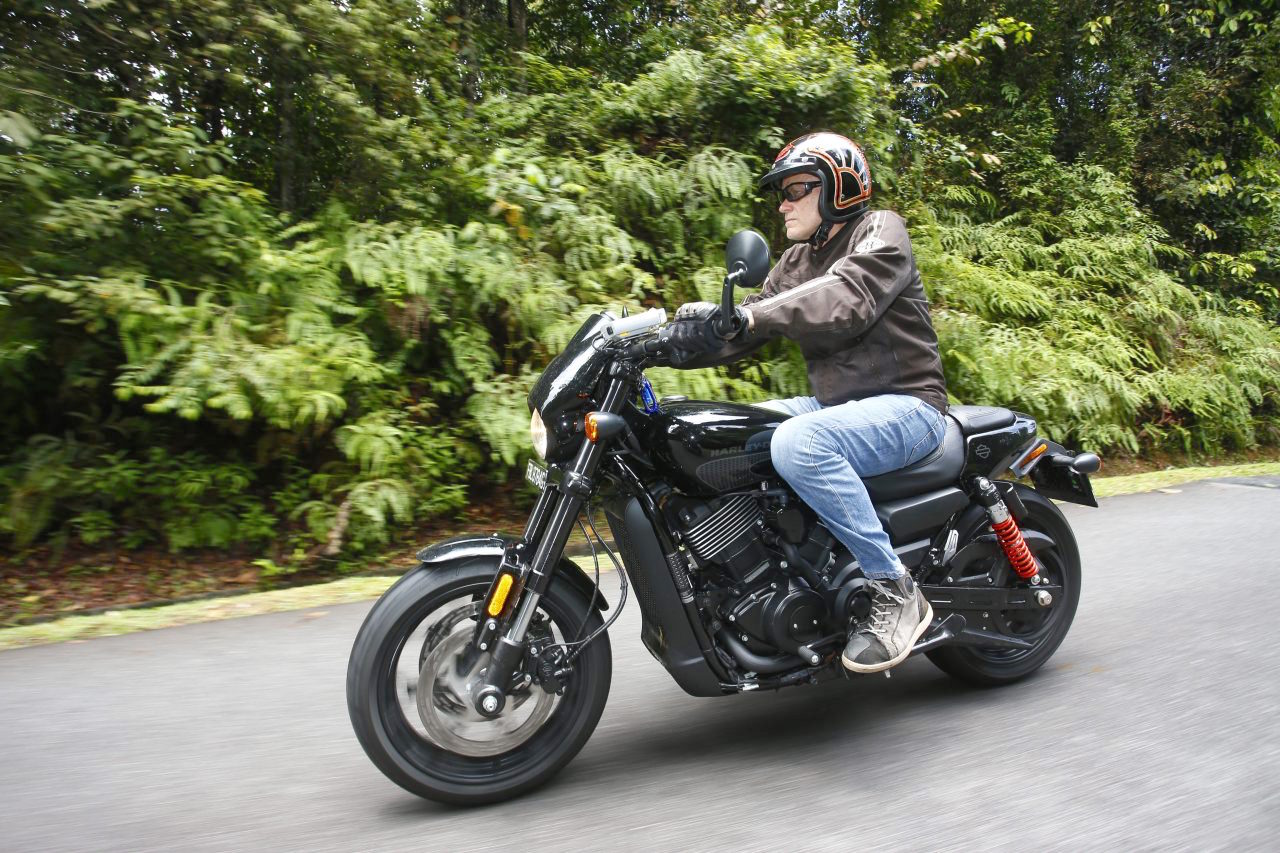 The day started out stormy, but the roads quickly dried so we were able to put the bike through its paces on some surprisingly twisty sections through the jungle, plenty of open highway and congested city streets.
As a concrete jungle carver, this is one sharp weapon thanks to its aggressive riding position, deep lean angles, and vastly improved suspension.
Punchy engine
Central to the Harley's appeal is its punchy liquid-cooled, single OHC 8V 60° V-Twin High Output Revolution X 750 engine.
It has new pistons, high lift cams, larger air box, new dual 42mm throttle bodies, new four-valve cylinder heads and shorter but higher volume exhaust to give it an 8% increase in torque to 65Nm @ 40000rpm.
Harley also claims a 18% bump in power, although they never provides those figures. It's believed to be around 50kW (about 70 horsepower).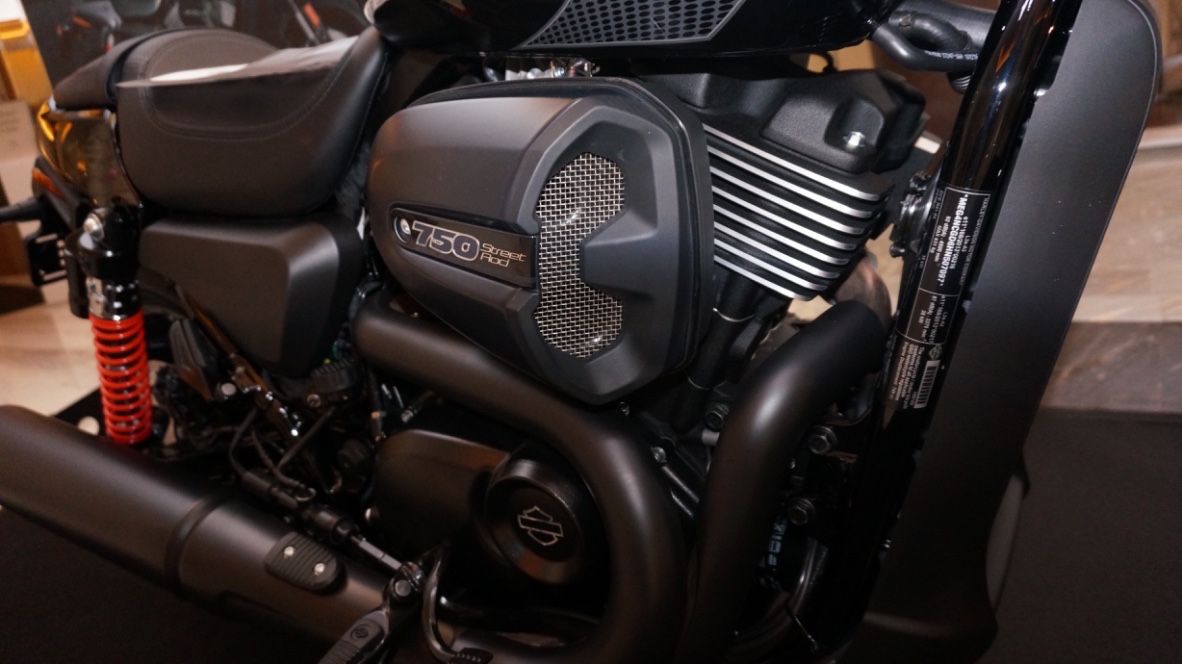 Compression ratio is raised from 11.0:1 to 12.0:1 and the redline goes from 8000 to 9000rpm.
The extra revs aren't really necessary as it seems to run out of puff about 6500rpm.
It's a flexible engine with plenty of midrange punch, a buzzy top end and no surging down low in heavy traffic.
However, it does get very hot in slow traffic and blows scorching air on to your right leg from the exhaust outlet.
When you stop and put your left leg down, you can also burn your inner thigh on the rear cylinder head.
While it might be hot, the engine is mechanically very quiet, leaving you to enjoy the somewhat muted but enjoyable baritone exhaust note that has a delicious gargle on the overrun.
It may be too quiet for some and an aftermarket exhaust should improve the note as well as the asthmatic top end.
The engine is married to a sweet and light gearbox that feels precise with no false neutrals.
Sometimes neutral can be difficult to find, so you have to click down gently from second, rather than up from first.
The clutch is pretty heavy which is a problem in traffic. I resorted to doing clutchless shifts which were easy going up and possible going down if you judiciously control the throttle.
Sharper handling
This is now the sharpest handling bike Harley has produced since the XR1200. Possibly with better ride thanks to the "Endurance" suspension.
It features sharper geometry with 43mm upside-down forks gripped by lightweight aluminium yokes. Fork rake is tightened from 32° to 27° for quicker steering.
The new rear shock absorbers have an external reservoir to increase fluid capacity and maintain damping consistency. Travel is increased 31% to 117mm.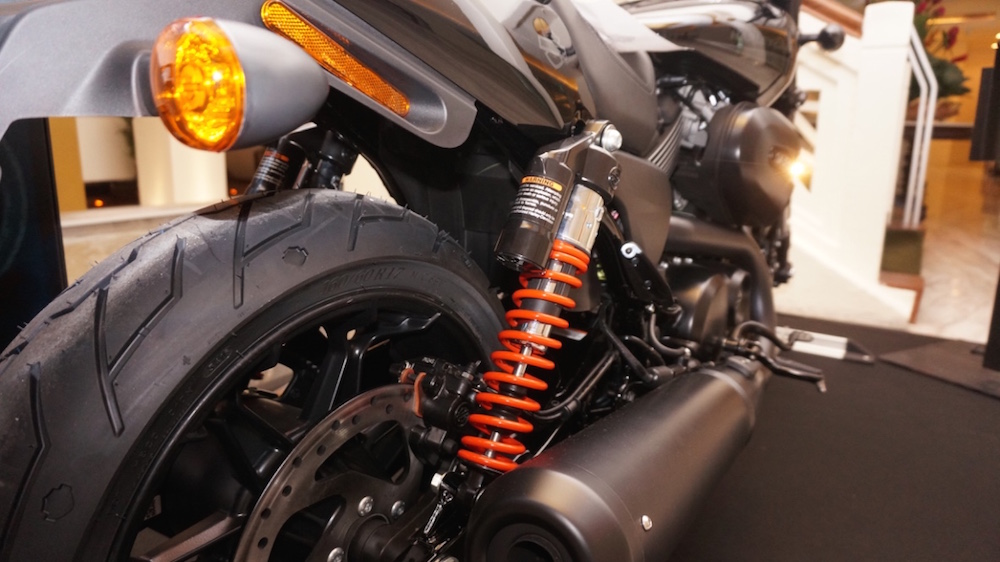 The swing arm is slightly longer to accommodate the taller shocks.
This gives it deeper lean angles up to 40.2 degrees on the left and 37.3 degrees on the right, compared with the Street 500 at about 28.5 degrees.
The suspension has plenty of compression damping for aggressive riding, yet the ride isn't compromised.
It's firm, but not harsh and even when you hit the rare bump on Singapore's smooth roads, it's abrupt but not jarring.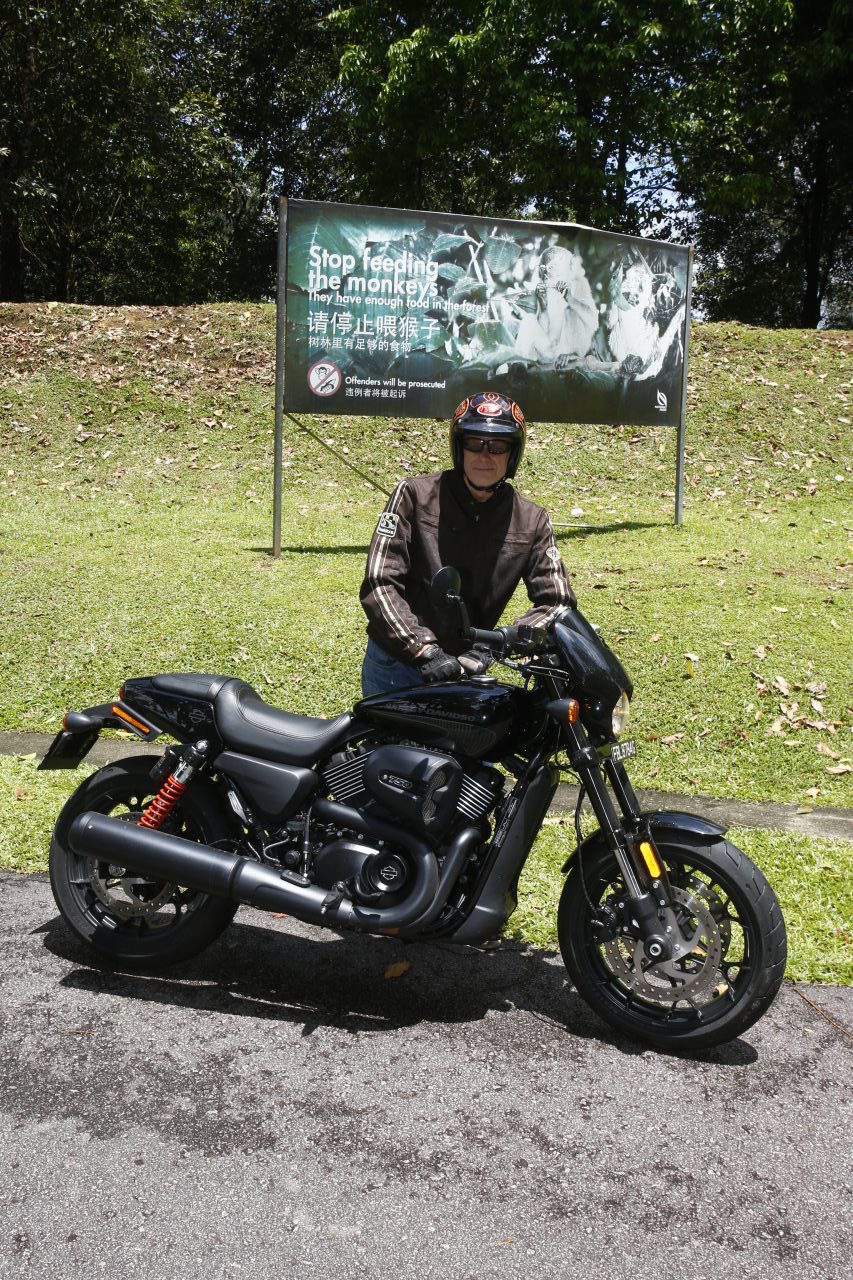 Just like the monkeys in the forest, we began to monkey around and started hitting the many speed bumps hard and getting some air.
The forks took the hits in their stride and the bike don't bounce around on landing. It felt very composed and stable, despite the rough treatment.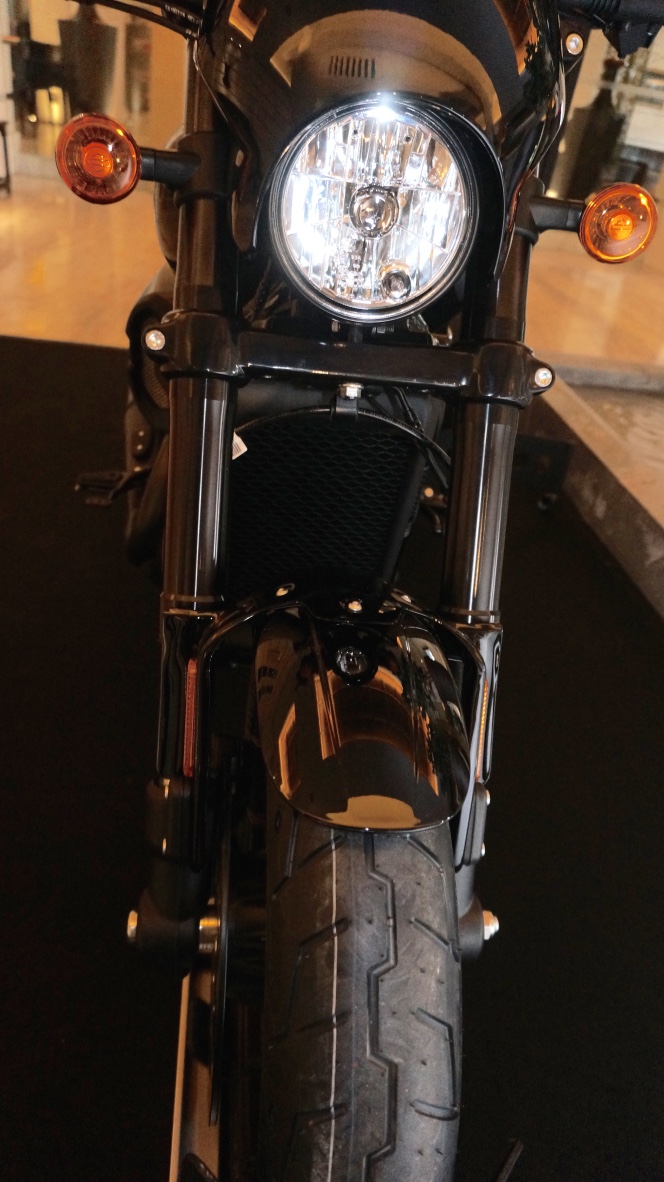 The wide handlebars and moderate weight also make it a lithe tool for quick changes of direction and manoeuvring through crowded Singapore traffic.
However, there is not a lot of room between lanes of vehicles with those bar-end mirrors making the bike 870mm wide.
It will fit, but it's daunting to the rider, especially squeezing past a couple of SUVs with high wing mirrors.
Harley should have made the mirrors able to be swivelled out of the way, yet still usable, not like on the Ducati Hyperstrada which fold back and are unusable.
If you like, you can swap the mirrors around so they are underneath the bars and less likely to hit wing mirrors of SUVs. However, you then may have trouble with hatchbacks and sedans.
It rides on exclusive 17-inch front and rear Open Spoke Black Cast aluminium wheels and new Michelin Scorcher 21 radial tyres, sized 120/70 R17V front and 160/60 R17V rear.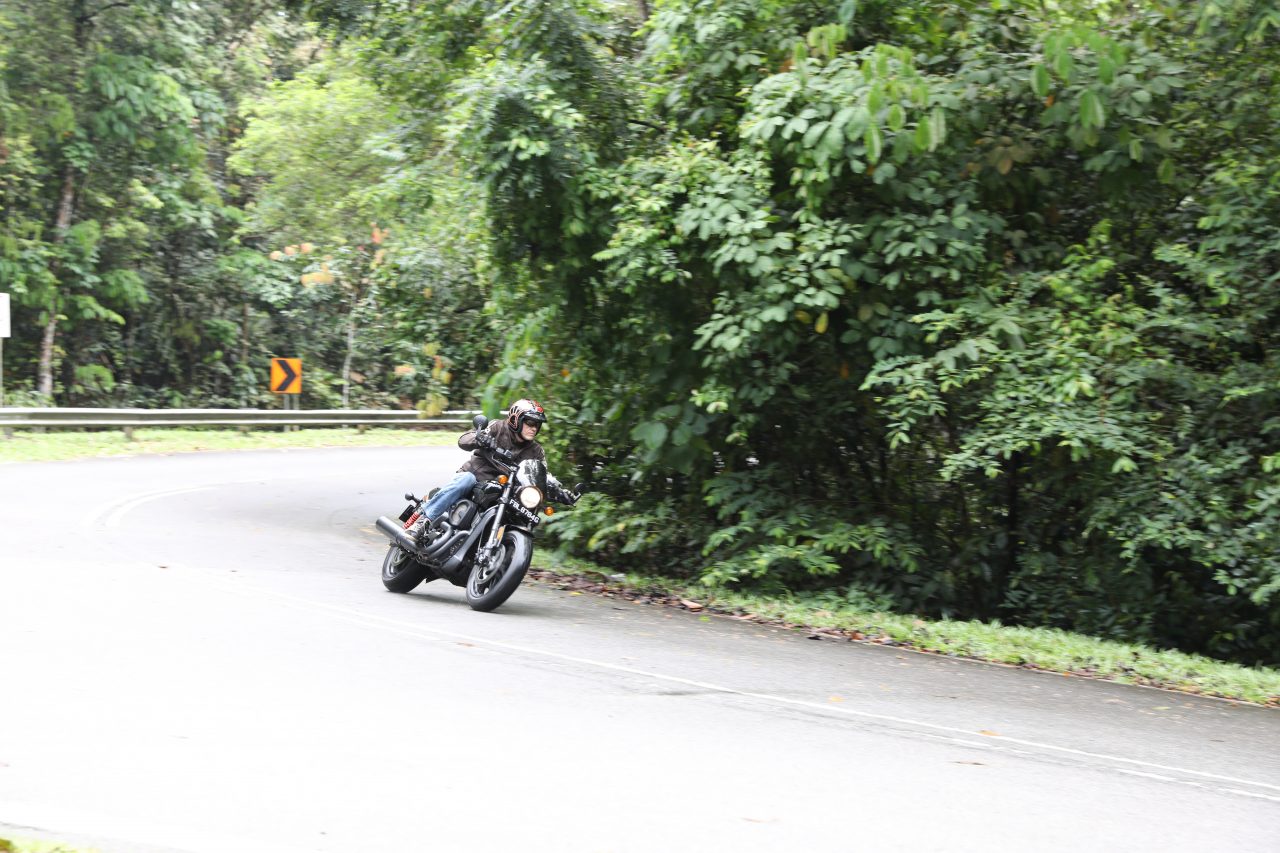 In the early wet conditions, they were a little greasy, especially in the mildew on the road edges. As the roads quickly dried and grew hot, the Scorchers settled in and became very grippy.
Brakes have been upgraded to dual two-piston calipers and 300mm front disc brakes with ABS.
They are now very strong, although there is no initial bite in the front and you have to pull hard for effect. When you do, they are very capable and there is little fork dive.
The rear single disc is also very strong and on the few occasions when the ABS activated on the wet roads, it came on smoothly and predictably.
Rider ergonomics
The rider now sits higher on the raised 765mm seat with a stretch forward to the wide drag bars and the footpegs raised and moved rearwards.
It feels more sporty than the Street 500, but with the tank moved slightly forward and up, it doesn't feel quite as cramped.
I'm 185cm and my knees sit up high above the tank which feels a little awkward, but you get used to it quickly and become one with the bike.
My big size 11 foot sits on top of the two-into-one muffler when I'm riding with the ball of my foot on the footpeg, so Harley has fitted a rubber rest on the pipe. It almost feels like a floorboard.
The seat feels very comfortable, but we never spent more than about an hour in the seat at any one time. It should be fine for the duration of the 13.1-litre duration of a tank of juice.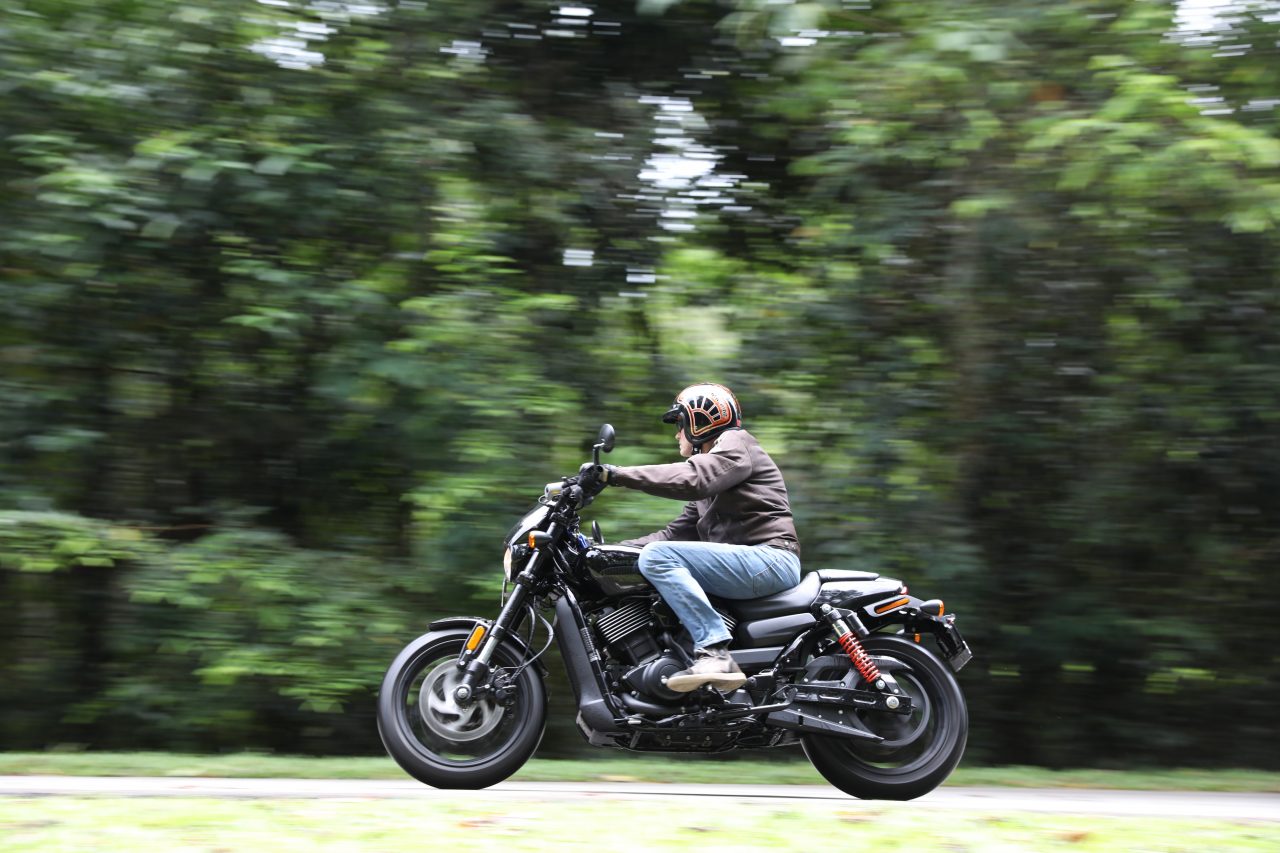 Features
Street Rod comes standard with Harley-Davidson's Smart Security System with remote immobiliser.
You still have to insert a key in the ignition, though.
Instruments are contained in a single, stylish pod set in a colour-matched cowl.
The analogue speedometer is easy to read as are the details in the small insert CD screen. It features odometer, two tripmeters, a clock and a gears/revs indicator that can be toggled via a switch on the instruments.
Controls seem good quality and easy to use.
Harley says there will be a host of special accessories available later this year. Many of the Street 500 accessories will also fit.
Target market
Harley-Davidson Australia and New Zealand marketing manager Adam Wright says the target market is urban riders aged 25-35.
In developing the bike, Motorcycle Product Portfolio director Peter Michael Keppler says they surveyed more than 3000 people in 10 countries.
He says the Street range has been a huge success selling more than 35,000 worldwide since its release in 2015.
The Street 750 outsells the same-size cruisers in the USA and the Street 500 has helped Harley to the top of Australian road bike sales.
He described the Street Rod as "Phase 2" of Street family. We expect there will be many more phases to come!
"People always want more. More performance, handling, capability and in all these fronts the Street Rod provides that.
"We have very high hopes for this bike.
Peter does not believe the Street Rod will cannibalise sales of its Sportster range and says it should attract new buyers to the brand.
He says the V-Rod Street Rod name was resurrected after 11 years because they both have a 60-degree engine.
While the V-Rod range ends this year, the Street Rod is not seen as a replacement, but as an extra option to attract new and younger customers who may never have heard of the equally sporty V-Rod Street Rod.
2017 Harley-Davidson Street Rod
Price: $12,995 rideaway ($13,995 New Zealand)
Available: from May
Engine: 749cc, liquid-cooled, Revolution X V-twin
Transmission 6-speed constant mesh spur gear
Torque: 65Nm @ 40000rpm
Length: 2130mm
Width: 870mm
Seat: 765mm
Clearance: 205mm
Lean angle: 37.3 degrees (rght), 40.2 (left)
Wheelbase: 1510mm
Wheels: 17-inch
Fuel: 13.1 litres
Wet weight: 238kg
Colours: vivid black, charcoal denim, olive gold