The Harley-Davidson Road King just gets better and better every year and the new 107 cubic-inch (1745cc) Milwaukee Eight engine gives it another quantum leap forward.
The Road King has long been my favourite Harley. It has the best chassis, it converts to a cruiser with the quick-release screen and bags, it's very comfortable, handles well, has the best cornering clearance of any Harley and it's a great two-up tourer.
In 2013, the Rushmore Project brought massive changes to the bike making it even more comfortable, better handling and more user friendly.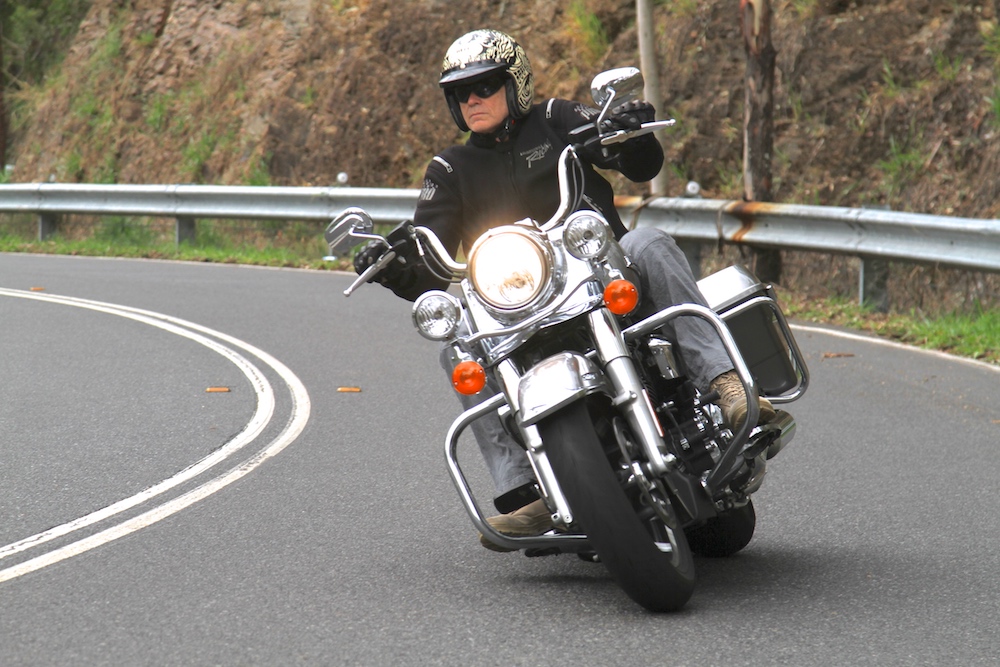 Last year, the Road King Classic with its soft bags and spoked white-walled wheels was replaced by the Road King featuring the single-latch and lockable hard panniers, easy-to-clean mag wheels and the fatter and wider pillion seat from the Heritage Softail.
Now, the 2017 model is even more powerful yet more smoother, quieter, yet louder, hotter, yet cooler!
The Milwaukee Eight is so called because they have gone from the Twin Cam to a quieter single chain-driven camshaft with four lighter valves per head. There's eight valves in all, hence "Milwaukee Eight".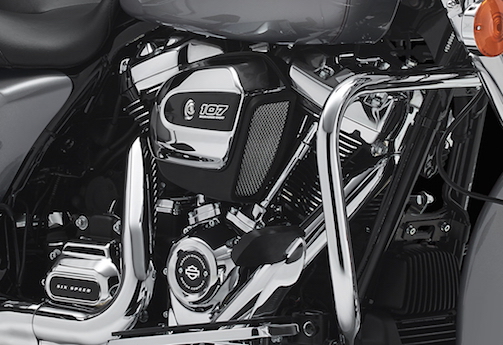 At the world launch in Washington State, USA, in September, I was enthused not only by the boost in grunt, but also by the new levels of refinement in the engine and transmission.
Finer internal tolerances and lighter components have made it mechanically quieter which means Harley's engineers have legally been able to ramp up the volume and bass in the exhaust.
Slicker gears, smoother and gruntier power, more happy noises with less clunking and grating certainly made for an enjoyable launch ride.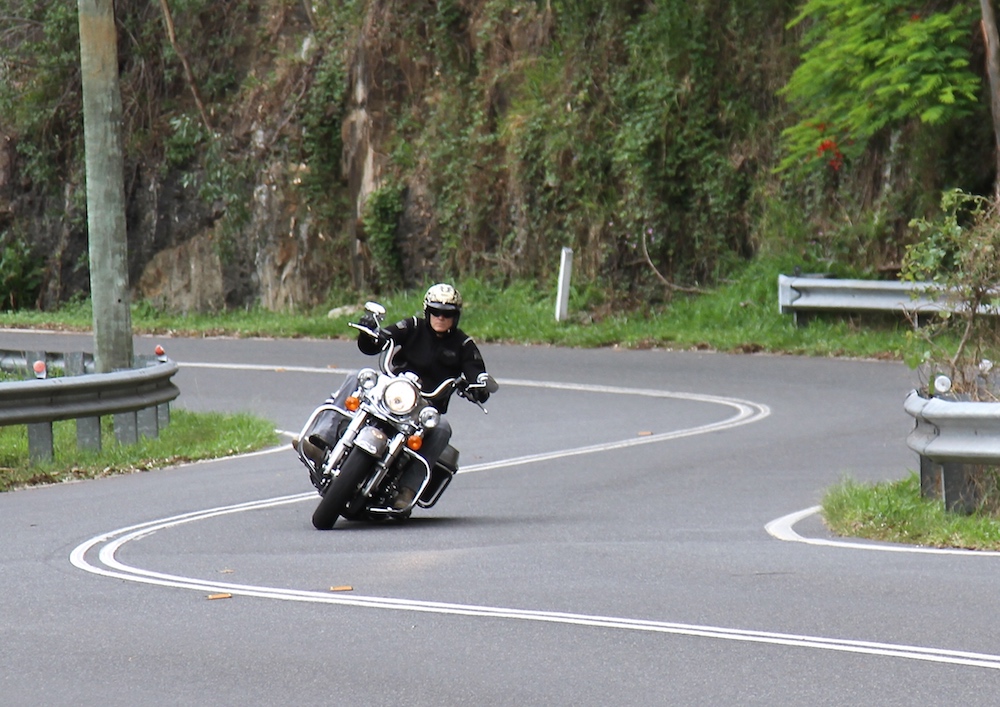 But it was fairly cool weather with no major traffic so I never really had the opportunity to test another of the company's claims about the cool running of the new Milwaukee Eight engine.
It didn't feel hot on our ride, so I was keen to test it in some slow traffic and a hot Queensland summer.
The hottest part of a V-twin is between the exhaust valve seats.  Together with the headers exiting on the right, this has always made Harleys very hot in slow traffic and on hot days.
The heat builds up on the inner right thigh and can become intolerable.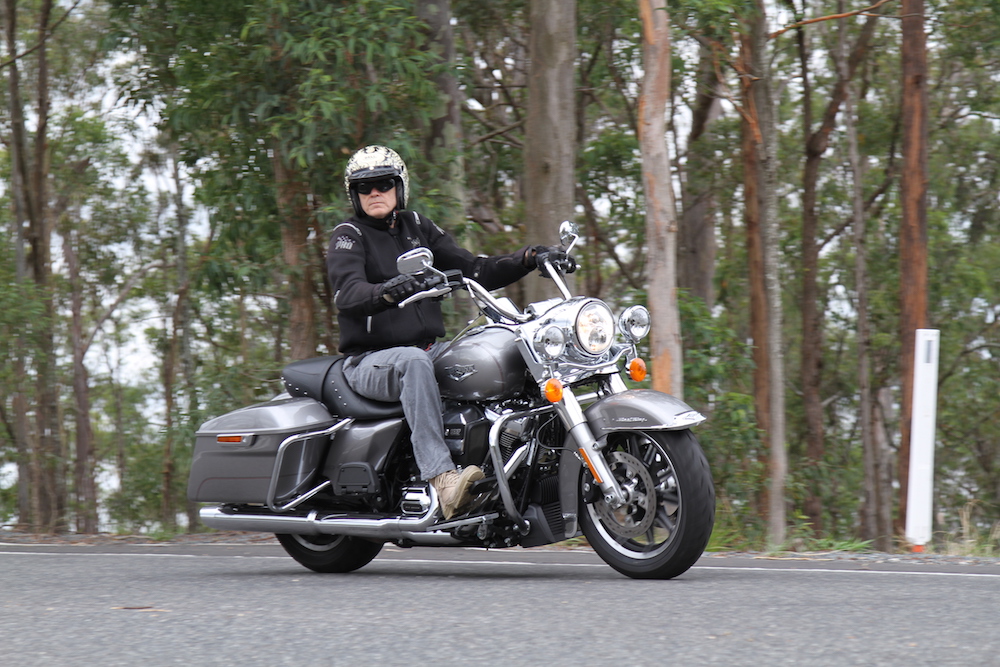 The developers of the new Milwaukee Eight advanced the ignition to make it cooler and now rely on knock sensors to detect per-ignition.
They have also dropped the rear header down from exhaust port and moved the catalytic converter rearwards.
I have to say it works. Up to a point.
There is no longer a build-up of heat on the inner thigh, but there is still plength of heat around the back of the leg. The pillion also complained about heat being directed at her right ankle.
It's not as bad as before and doesn't build up as much in traffic. And so long as your pillion wears high boots, there should be few problems there, too.
Heat never really builds up with the windscreen quickly removed, anyway. However we did get caught in  a few kilometres of slow Christmas traffic and it still gets quite hit at slow speeds.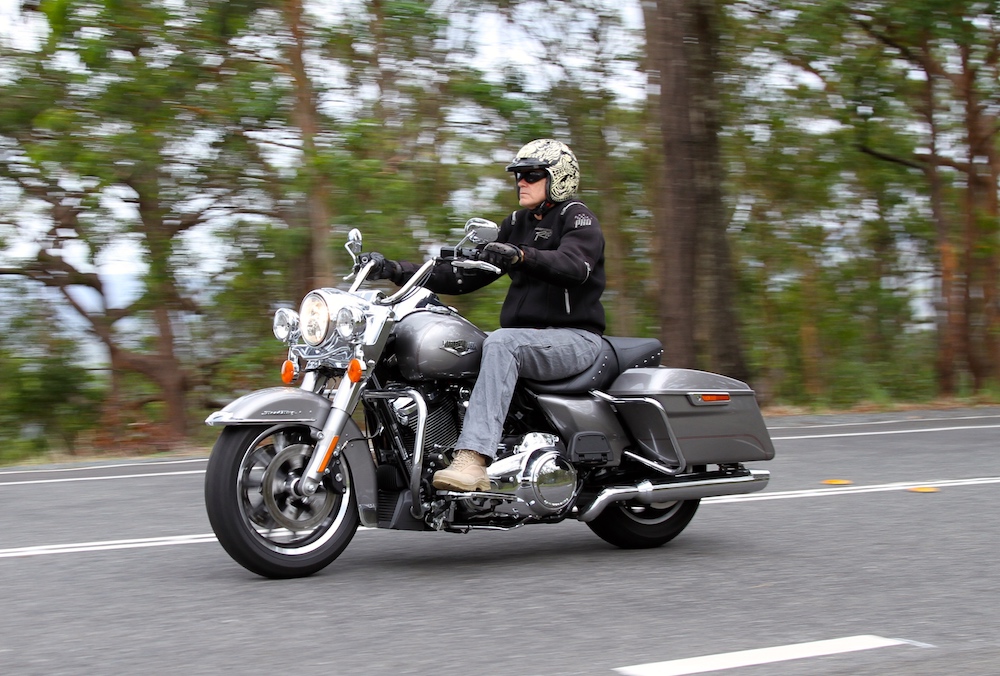 Another major development in the new model is the Showa dual bending valve forks and the new emulsion-technology rear shock absorbers.
This was another area that couldn't really be tested on the Washington launch as the roads there are too smooth.
Queensland's imperfect tar provides a much better platform to really test the suspension.
Again, it's a big improvement.
The front end doesn't jackhammer through the bars and the rear doesn't slam as much on big hits.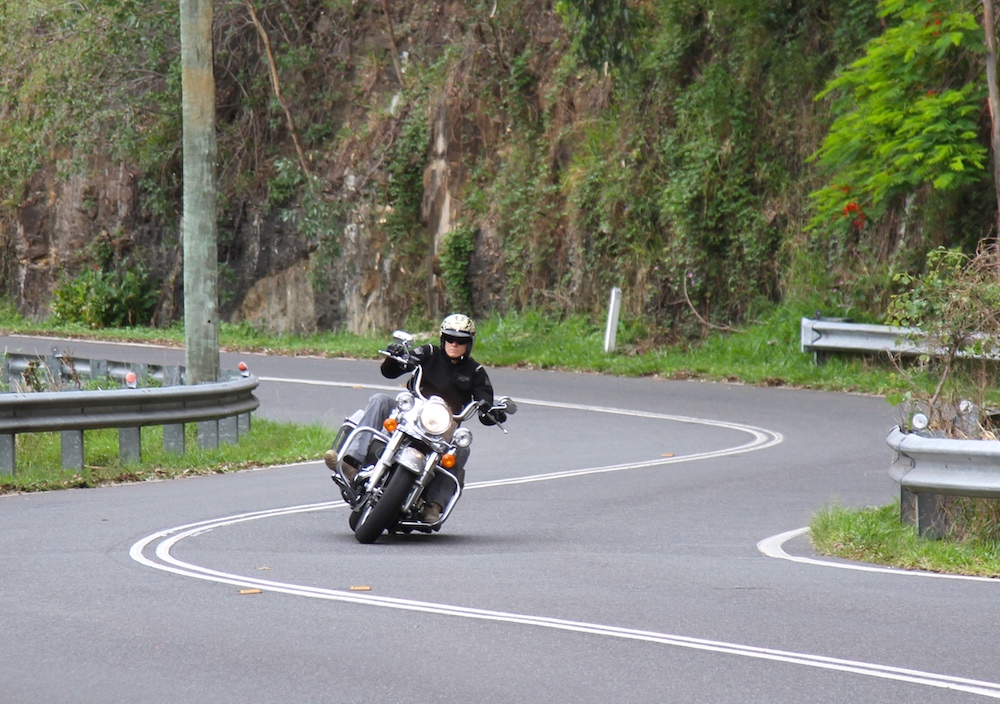 I also like the fact that the two rear springs can be easily adjusted with a single knob and they don't need to be readjusted all the time like an air shock that slowly leaks.
Simply set and forget.
They also offer 15 to 30% more pre-load adjustment for heavier loads.
Everything else is as I remember from the world media launch:
The transmission is slicker with neutral easier to find and less clunk between changes;

It idles smoother (and a little higher), revs easier and doesn't feel as asthmatic at high revs;

Seating position is slimmer thanks to a narrower primary and the bevelled air filter; and

Steering feels sharper and more direct.
It's a lot more bike for just $1500 more than last year's model.
Harley continues to update its Touring line-up, so we can expect even more refinement in coming years.
I would suggest still a little more attention be paid to heat dissipation, more information such as ambient temperature on the limited digital information screen and perhaps traction control or a rain mode engine map to account for the extra grunt!
Harley-Davidson FLHR Road King
Price: FLHR Road King $33,995 ($37,495 NZ)

Warranty: 24 months, unlimited mileage

Service: 1600/8000km

Engine: Milwaukee Eight 107 (1745cc) twin

Power: N?A

Torque: 150Nm (111ft-lb) @ 3250rpm

Transmission: 6-Speed Cruise Drive

Brakes: 300mm discs, 4-piston calipers, ABS

Suspension: Showa dual bending valve forks (117mm travel), hand-adjustable rear suspension (76mm travel)

Length: 2450mm

Seat: 705mm

Fuel: 22.7 litres

Dry weight: 362kg

Tyres: 17″/D408F BW 130/80 B17 65H; 16″/D407 BW 180/65 B16 81H