The internet is alive with rumours that the new 2017 Harley-Davidson range will feature 107 cubic inch (1753cc) engines, going one cube better than Victory Motorcycles.
The Harley-Davidson international launch will be held in the first week of September around Seattle and Motorbike Writer will be there.
We expect we will be riding several Touring models with the bigger 107 engine, after images of the engine were leaked on the Revzilla website with the mirror image of the photographer on the chrome air filter blurred out to protect their identity.
In the background you can see a workshop, so it could be a leak straight from the Harley factory floor!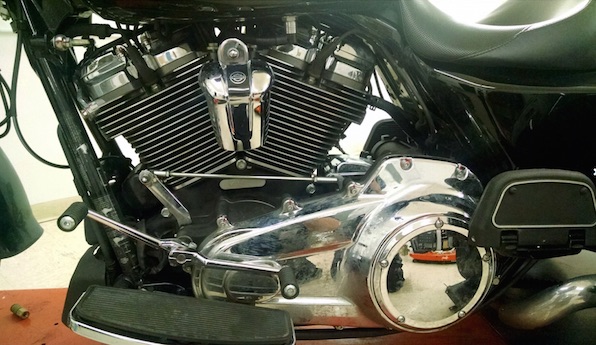 We asked Harley-Davidson Australia, but they say they don't talk about future product.
Harley-Davidson had introduced its Screamin' Eagle 110 engine to a few "S" models this year and there was some talk they could be rolled out across the range.
But the one cube increase makes a lot of sense as it is a tit-for-tat with fellow Americans Polaris Industries. When they relaunched the Indian Motorcycle it came with a 111 engine, one cube better than the Harley CVO models.
No doubt the 107 engine will be Euro 4 compliant as current models have to meet the tough new emissions standards from January 1, 2017.
To meet the new emissions targets, these single-cam engines are expected to have water- and oil-cooled, twin-spark, four-valve heads operated by a forked rocker. They will also have quieter chain-driven cams and will all sport the hydraulic clutch even though they've been having some issues with them.
That means the 107 cube should be rolled out across all models pretty quickly, otherwise Harley will miss out on vital sales in the European market.
Meanwhile, there are also rumours Harley-Davidson will have 114 (1868cc) and/or 131 (2146cc) engines for their CVOs and maybe more limited edition S models.
Who's to blame Harley for playing the cube war? After all, there is no replacement for displacement!