The arrival of the BMW G 310 R was delayed more than eight months, but it certainly has been worth the wait.
It was scheduled to arrive in Australia in late 2016, but didn't arrive until recently.
BMW Motorrad Australia boss Andreas Lundgren says the reason for the delay was quality control at the Indian factory.
The G 310 R is the product of a collaboration with Indian manufacturer TVS Motor Company at their Hosur plant near Bengaluru in the southern Indian state of Karnataka.
"The reason (for the delay) was some of components weren't good enough," Andreas says.
We have just tested the bike at the official media launch at Airlie Beach, Queensland, and can tell you it's a quality bike in fit and finish as well as on-road performance, as you would expect from a German-engineered product.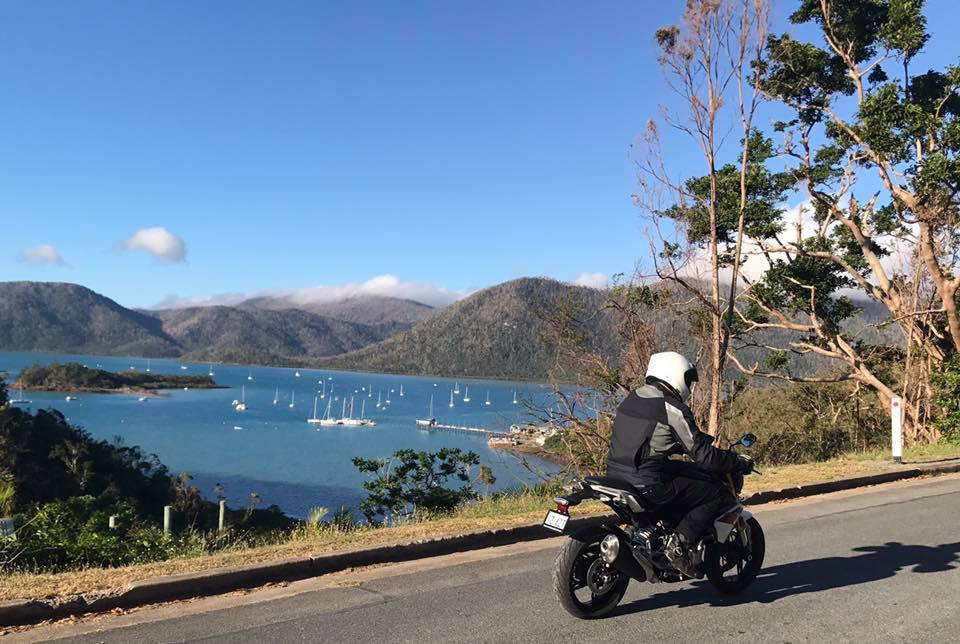 Bargain price
The G 310 R costs just $5790 plus on-road costs and comes standard with ABS in Strato Blue Metallic, Cosmic Black or an extra $75 for Pearl White Metallic. (*A list of accessories and prices is included below.)
Price is comparable to the Honda CBR300R ($5749), Benelli BN302 ($5590), Kawasaki Z300 ($5999), KTM 390 Duke ($6095), Royal Enfield Classic 350 ($6490 ride away) and Yamaha MT-03 ($6099).
Andreas says the learner-approved motorcycle is in a segment "where we haven't been operating before".
He says the G 650 was a LAMS bike, but only attracted returned riders and those downsizing, not learners or young riders.
"This is really our first stab at this segment," he says.
Fit, finish and features

It seems the manufacturing delays were warranted, because this bike looks and feels like a BMW.
Panel gaps are small and even, there are no ugly welds, bolts and clips are good quality and the paintwork is deep and lustrous.
It looks a little like an S 1000 R with its modern, angular features, gold-anodised upside-down forks and five-spoke gloss-black wheels.
A large and comprehensive liquid crystal display provides plenty of information which is always on display, not accessible through different screens.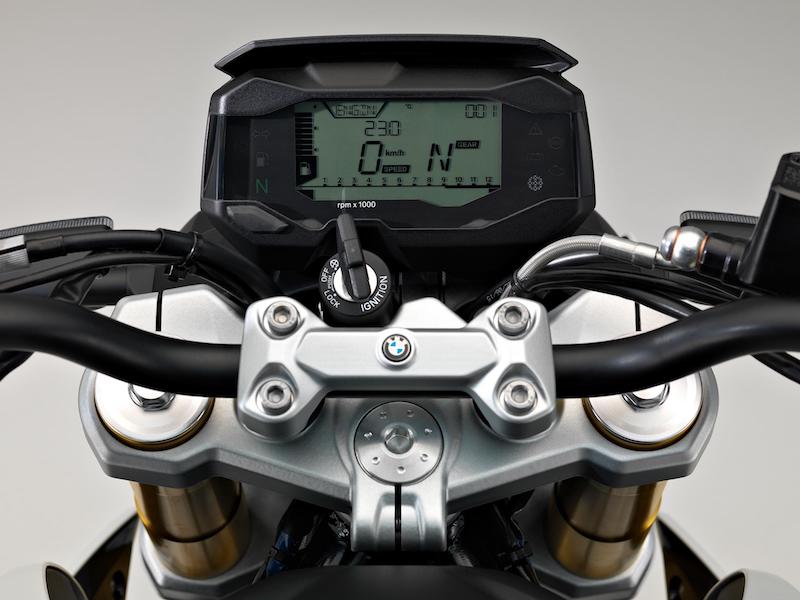 Information includes speed, revs, odometer, engine temperature, fuel gauge, clock and a gear indicator which is handy for novice riders.
Levers are non-adjustable, but like all BMWs motorcycles, it comes standard with steel braided brake lines and ABS.
The front single disc is 300mm and the rear is 240mm discs and it has "Bybre" callipers made under licence to Brembo.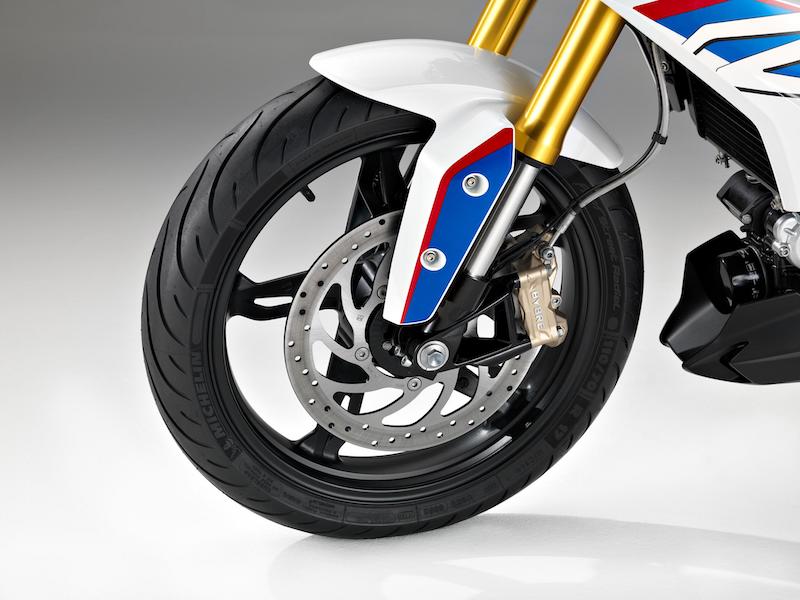 The G 310 R also features reasonable tyres for a small bike (110/70 R17 and 150/60 R17).
BMW Motorrad Australia marketing manager Nigel Harvey calls it "grown-up" rubber.
Single-cylinder powerplant
The G 310 R is powered by a liquid-cooled, single-cylinder, DOHC 313cc engine with 25kW of power at 9500 revs and maximum torque of 28Nm at 7500rpm and weighs only 158.5kg.
While that is not a lot of power, there is plenty of torque, smooth fuelling and a slick six-speed transmission that combine for swift and efficient progress.
At highway speed, it gets a little tingly after a while and you have to work the gears for overtaking and riding up steep hills.
Around town it is a very smooth, responsive and tractable engine. No jerky feel from the throttle, making small roundabouts, u-turns and lane filtering a breeze.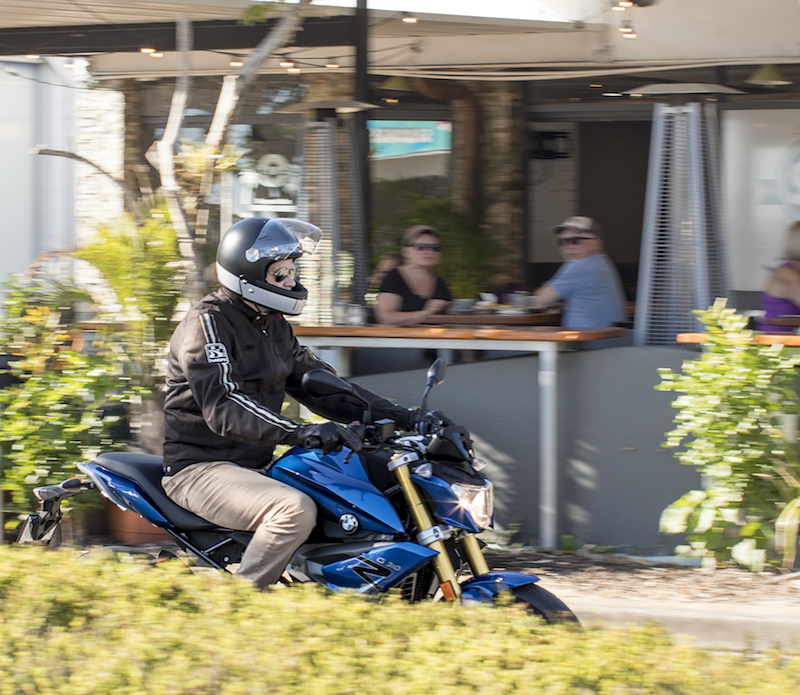 The transmission and clutch are light and positive, although it can be difficult to find neutral and I grabbed a couple of false neutrals between fourth, fifth and sixth.
However, the key to the success of this power plant is in its layout which has an affect on the handling as well as the rider comfort.
Unlike most single-cylinder engines, it slants backwards instead of forwards with the air intake more logically at the front and the exhaust at the back.
This places the heavy bottom end of the engine forward and low for better mass centralisation which gives the bike pose and balance.
Together with its aggressive steering geometry, the bike flicks quickly from side to side and turns sharply.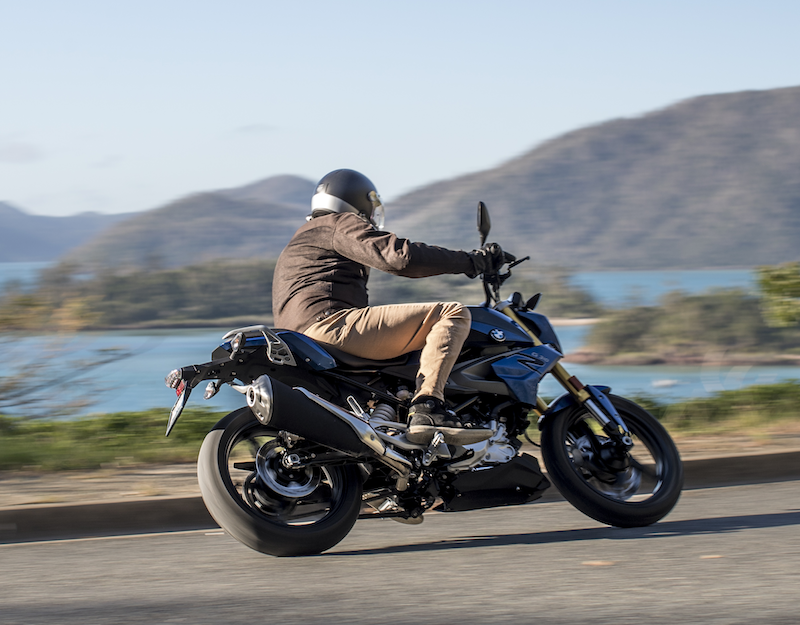 At the same time, the bottom of the engine is further from the rear, so the swingarm is a long 650mm, providing the stability at highway speeds; not what you would expect from such a compact, sharp-steering machine.
The 45-degree progressive rear spring rides nicely over the lumps and bumps of the urban landscape which is another surprise from a short wheelbase bike.
Only a series of sharp bumps tends to upset the rear suspension which is adjustable only for rear preload.
The non-adjustable forks are on the stiff side and give some kickback through the bars when you encounter mid-corner bumps.
Having the exhaust outlet at the back of the engine places most of the heat behind your legs so it doesn't get uncomfortably hot when idling through heavy traffic.
That's a great benefit for riders in hotter climates like North Queensland.
Track attack
The press launch included a brief ride through Airlie Beach traffic, and about 100km through the hills and down to some beaches.
Roads here are mainly smooth and there are few tight turns, so it didn't give us a great insight into how it will ride in real-world conditions.
We then headed to the Whitsunday Moto Sports Club go-kart track where they also race up to 600cc motorcycles.
Nigel says although the bike is not your typical track-day bike, "we feel strongly enough about the ride quality that we are taking it to the track".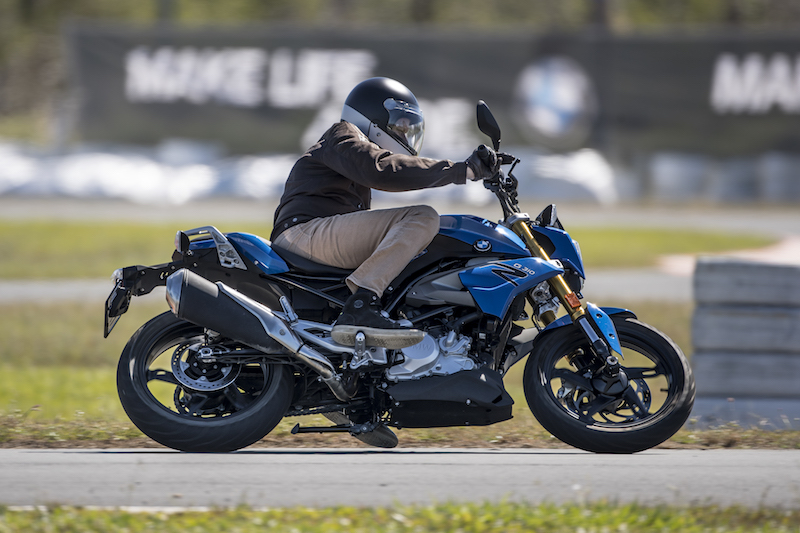 It's a smooth track, so it didn't really test out the ride quality, but certainly the stiff springs were well suited to this sort of riding.
Big lean angles had it squirming on the pointy edge of the tyres, but otherwise, it coped well with the smooth track.
Surprisingly, there were no reports of brake fade over several sessions despite the budget brake set-up.
The brakes lack initial effect and have a soft feel which doesn't relay exactly when they will start to bite.
However, they are very effective when applied strongly thanks to the combination of big discs and light weight.
Ergonomics
Our group of journalists included a range of heights from 162cm to 195cm and varied weights, yet the bike seemed to accommodate all sizes.
It comes standard with a narrow, 785mm seat, but you can buy a low 775mm seat or a tall 815mm comfort seat for $580.
Shame it doesn't come from the factory with that option.
Our bikes all had the standard seat which is very narrow and allows even short riders to comfortably put their feet on the ground.
I'm 187cm tall and I didn't really feel cramped on the bike, although there is no room on the seat to move forward or back, so you feel locked in.
Yet the seat feels comfortable for reasonably long spells in the saddle.
Reach to the bars is easy and there is a good length to the pegs.
Pillions will find the rear perch flat and wide with big grab handles and a moderate reach to the footpegs for comfortable, moderate-length trips.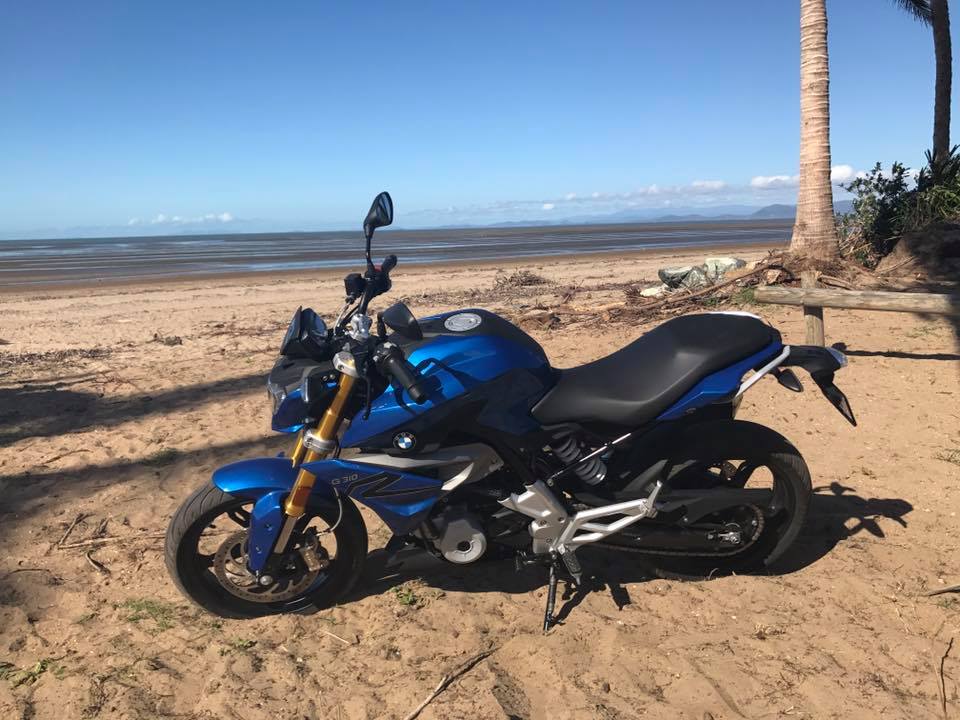 Conclusion
Forget about its Indian origins. This is definitely a German-engineered product with BMW's high quality finish.
Yet it comes at an attractive price with a two-year warranty, long 10,000km service intervals and has a miserly 3.33L/100km fuel economy.
That all adds up to making a very attractive package for price-conscious young people on a limited budget.
Once these young riders have been attracted to the premium brand, BMW hopes to hold their loyalty throughout their riding career as they trade up.
It's a business strategy that has served them ell with the 1 Series in their cars.
Not that owners will need to trade up too quickly as this bike is a well-balanced machine that will commute, whip through the hills and even do some touring with optional luggage fitted.
Even mature-aged riders like me would not feel out of place on this bike. As Nigel says, it's a grown-up machine.
But mainly it's a lot of fun.
As Andreas says, "the sum of all parts provides quite a compelling offer".
Optional accessories include 29 and 30-litre top boxes, centre stand, LED turn indicators, 12-volt socket and heated grips. (See below for a full list plus prices.)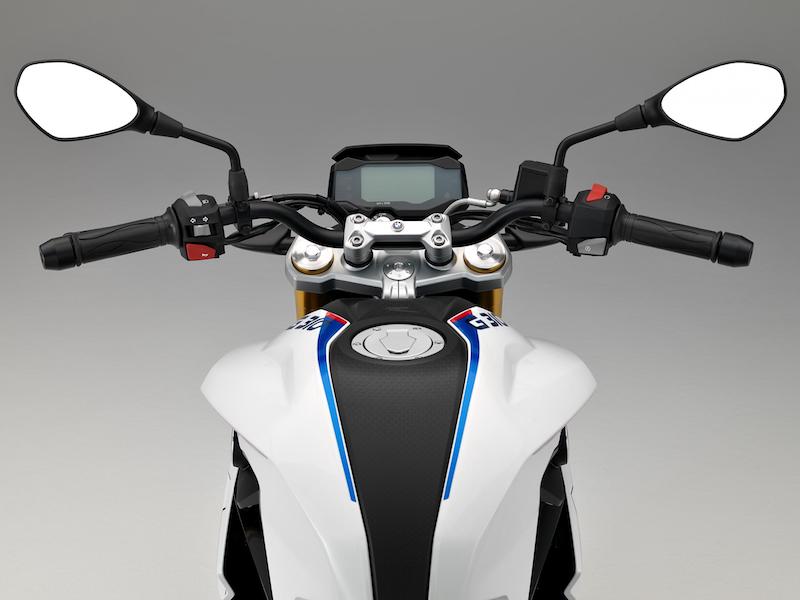 BMW G 310 R tech specs
| | | |
| --- | --- | --- |
| Warranty | 2 years | unlimited km |
Engine

Capacity

cc

313

Bore/stroke

mm

80/62

Output

kW/hp

25/34

at engine speed

rpm

9500

Torque

Nm

28

at engine speed

rpm

7500

Type

liquid-cooled single-cylinder engine

No. of cylinders

1

Compression/fuel

10.6:1 / premium unleaded (95 RON)

Valve/accelerator actuation

DOHC

Valves per cylinder

4

Ø intake/outlet

mm

33.5/27.2

Ø Throttle valves

mm

42

Engine control

BMS-E2

Emission control

closed-loop 3-way catalytic converter

Electrical system

Alternator

W

330

Battery

V/Ah

12/8

Headlamp

W

H4 12 V 60/55 W

Starter

kW

0.5

Power transmission – gearbox

Clutch

Multi-plate wet clutch

Gearbox

constant-mesh 6-speed gearbox

Primary ratio

3.083

Transmission ratios

I

3.000

II

2.063

III

1.588

IV

1.286

V

1.095

VI

0.955

Rear wheel drive

O-ring chain

Suspension

Frame construction type

Tubular steel frame in grid structure with bolt-on rear frame

Front wheel suspension

Telescopic fork, Ø 41mm

Rear wheel suspension

Aluminium swinging arm in conjunction with a directly mounted spring strut

Total spring travel, front/rear

mm

140/131

Wheel castor

mm

102.3

Wheelbase

mm

1374

Steering head angle

°

64.9

Brakes

front

Single-disc brake Ø 300 mm

rear

Single-disc brake Ø 240 mm

ABS

BMW Motorrad ABS
* BMW G 310 R accessories
Accessories

Retail Price

Storage

Top Case light, 29 l

$1,072

Top Case 30L

$1,072

Inner bag for top case

$150

Top Case 29L Light with adaptor plate & badge

$286

Luggage carrier

$300

Tank bag 13L – 20L

$220

Vario insert bag

$90

Vehicle Cover

$175

Safety

LED flashing turn indicator (4 of)

$325

Brake disc lock with alarm system

$340

BMW Motorrad warning triangle

$38

First-aid kit, large

$39

First-aid kit, small

$17

Plug-in Socket

$66

Ergonomics and comfort

Heated Handlebar grips

$178

Bench seat high

$580

Bench seat low

$580

Bench seat

$580

Centre Stand

$420

Maintenance and Technology

Motorcycle cleaning fluid

$24

Rim cleaner, 500 ml

$24

Chain cleaner 300 ml

$29

Chain spray 500 ml

$36

Insect remover, 500 ml

$29

Seat bench preservation-agent, 50 ml

$14

Gloss polish, 250 ml

$29